Bill Nye is the CEO of The Planetary Society, has his own Netflix show, flew on Air Force One with President Obama, and has at least six honorary doctorate degrees. But there's one thing that makes him prouder than all that combined.
Bill Nye has many feathers in his cap — he's the CEO of The Planetary Society, has a brand-new Netflix show, flew on Air Force One with President Obama, has at least six honorary doctorate degrees and two books to his name — but there's thing one he's most proud of, and he shares it with Tracey, a 19-year-old student just beginning her science studies at college. As she steps into a lifelong pursuit of science, Nye advises her on the greatest contribution scientists can make to their community. Dropping awe-inspiring facts and publishing groundbreaking findings are exciting parts of being a scientist but the greatest contribution a scientist can make is to educate people — especially kids from a young age — about the scientific method. Carl Sagan, Bill Nye's mentor, can explain this in better words than anyone: "Science is more than a body of knowledge, it's a way of thinking, a way of skeptically interrogating the universe with a fine understanding of human fallibility. If we are not able to ask skeptical questions, to interrogate those who tell us something is true, to be skeptical of those in authority, then we're up for grabs for the next charlatan — political or religious — who comes ambling along. The people have to be educated, and they have to practice their skepticism and their education otherwise we don't run the government, the government runs us." Bill Nye's most recent book is Unstoppable: Harnessing Science to Change the World.
Churchill displays a surprising amount of knowledge on a question that we are still wrestling with.
Winston Churchill is admired for his statesmanship today. Few know he was also a science writer.
He was also among the first to see Germany as a growing threat and helped modernize and prepare Britain for the oncoming fight. His speeches during the war helped soothe and strengthen the resolve of the British people. He also coined the phrase "iron curtain" in a speech a year after the war, regarding the Soviet Union and how it was beginning to control an enormous swath of Eastern Europe.
As one of history's foremost political and military leaders, Churchill is today looked upon with respect and admiration. What he is not well known for are his ruminations regarding science. According to a newly unearthed essay, the statesman contemplated our presence in the universe, and whether or not we are the only form of intelligent life.
Churchill was in fact a prolific writer. He'd been a military reporter and penned several books. But what's less well documented is that Churchill also wrote on topics as diverse as nuclear fission, cells, and evolution, with articles published throughout the 1920s and 30s. Some scholars believe that this newly discovered piece may have been inspired by the 1938 radio broadcast of The War of The Worlds by Orson Welles, which resulted in a "Mars fever."
Churchill kept close ties with scientists during and after the war, and was the first prime minister to bring on a science adviser. He spurred an interest in science in the country, supported the erecting of labs and telescopes, and even founded Churchill College, an institution much like MIT which has since turned out 32 Nobel Prize winners. During the war, he promoted the use of radar and supported the country's nuclear program.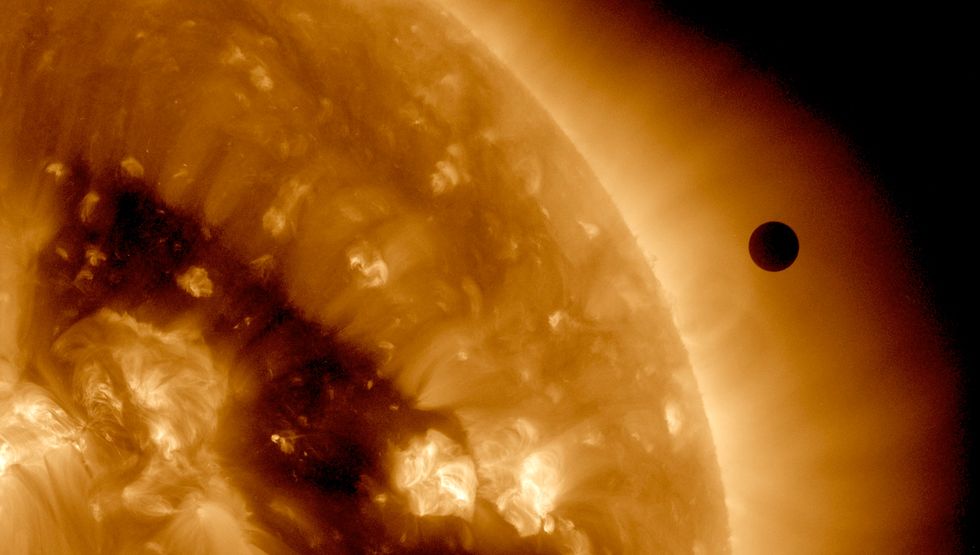 Churchill considered the Goldilocks Zone, and other astronomical principles in his argument.  
Still, it was a great shock when this newly discovered document entitled, "Are We Alone in the Universe?" was unearthed. The 11-page article was first written in 1939 and had been edited lightly for publication in the 1950s. Somehow, it had been forgotten. Then in the 1980s, a copy was given to the National Churchill Museum in Fulton, Missouri. There it remained until the museum's newest director, Timothy Riley, came across it in 2016.
After finding out it hadn't been published, he passed it on to the journal Nature. Soon, two other copies were found in UK archives. The journal didn't publish the article in its entirety.
Astrophysicist Dr. Mario Livio, who received the piece from Riley, penned the version in Nature. He told the BBC that copyright issues, for the time being, made its full publication impossible. But the museum is working to see that it will eventually be released. Livio gave insights into the famous leader's thinking, peppering his piece with quotes from the original text. Using the "Copernican Principle," Churchill argues that the vastness of the universe and the multiplicity of planets leads us to believe that we are not alone.
"The sun is merely one star in our galaxy, which contains several thousand millions of others" Churchill writes. From there, he presumes that there are probably other forms of "comparatively highly-organised life." Next, he concentrates on life's need for water. Though other liquids may support it, "nothing in our present knowledge entitles us to make such an assumption."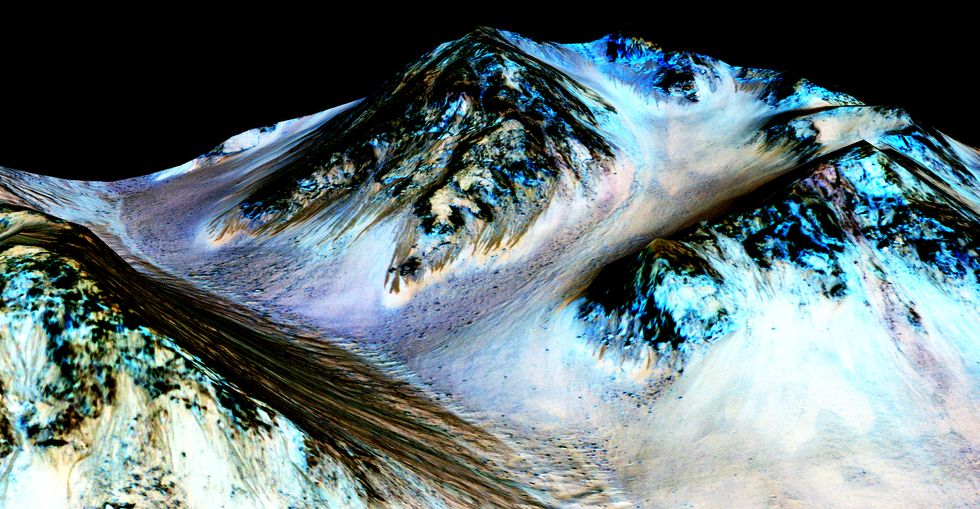 Water on Mars. Unfortunately, nothing lingers there now. But life may have inhabited the red planet in the past.
We are just beginning to learn that water is abundant in the universe, and can even be found on asteroids and on the moon. Next, Churchill concentrates on areas in solar systems which are in what we'd call today the "Goldilocks" zone, where a planet is far enough from a star as not to be too hot, but close enough so as not to be too cold. Having the right atmosphere and gravity to trap gases are important too, which Churchill considered.
He then states that Mars and Venus are our only neighbors who could harbor life. Venus's atmosphere is poisonous. But some studies suggest that it may have, at one time, been habitable. Today, astrobiologists consider Saturn's moon Titan or Jupiter's Europa as possible life-containing bodies.
Though Churchill says that our sun may be unique, he also states, "I am not sufficiently conceited to think that my sun is the only one with a family of planets." Churchill's words were extremely forward thinking, as the discovery of exoplanets only began two decades ago. He also foresaw the space program. "One day, possibly even in the not very distant future, it may be possible to travel to the Moon, or even to Venus and Mars." But whether we could cross the great distances to see if nearby exoplanets host life, Churchill was in doubt.
The then-prime-minister ends his essay by writing, "with hundreds of thousands of nebulae, each containing thousands of millions of suns, the odds are enormous that there must be immense numbers which possess planets whose circumstances would not render life impossible."
Then he says, "I, for one, am not so immensely impressed by the success we are making of our civilization here that I am prepared to think we are the only spot in this immense universe which contains living, thinking creatures, or that we are the highest type of mental and physical development which has ever appeared in the vast compass of space and time."
To learn more about this newly unearthed essay, click here: 
Scientists are planning a Scientists' March on Washington on April 22 to protest the Trump administration's anti-science policies.
Image via Spin (http://www.spin.com/2017/01/protest-signs-womens-march)
There are certain things that we accept as facts with no alternatives. The Earth is becoming warmer due to human action. The diversity of life arose by evolution. Politicians who devalue expertise risk making decisions that do not reflect reality and must be held accountable. An American government that ignores science to pursue ideological agendas endangers the world.
These are the words written by the organizers of the upcoming Scientists' March on Washington. The date has been set: on Earth Day, April 22, 2017, scientists hope to summon a sea of smart people with a love for science — like you — and the pursuit of knowledge.
The march grew out of a discussion on Reddit, with a private Facebook group and Twitter account launched on Monday, January 23. In just a couple of days, the group had 300,000 members. Their public Twitter account has 288,000 followers and their public Facebook page has 20,832 followers as of this writing. You can also sign up to receive email updates on the march. The organizers are also looking for help.
The scientific community has been under attack for a while now by Christians who take issue with Darwinian evolution, preferring the Bible's account. And while nobody wants climate change to be real, it is, though some would rather ignore the supporting evidence and overwhelming consensus of the scientific community to reinforce their own denial. There's a growing cult of ignorance in which people pride themselves on their lack of scientific knowledge, and it threatens to plunge us all into a new dark age.
Nowhere is this being felt more acutely than in the U.S., where the new Trump administration — along with many Congressional Republicans — is firm in its denial of climate change and in their desire to control the national conversation on a range of scientific issues. Through anti-science appointments, the barring of publications from federal science agencies, and the freeze of all research funding, it all amounts to an unprecedented attack on fact-based knowledge. It's the chilling — and terrifying — first step of a process in which truth can become whatever a group of politicians say it is.
To protect their findings, and the truth, scientists began frantically grabbing and preserving climate change data before the administration came into office. Since the inauguration, employees of muzzled departments have started rogue Twitter accounts as an uncensored outlet for information — unfortunately, many of these have now been handed over to others as employees fear for their jobs.
Caroline Weinberg, one of the march's organizers, says, "This is not a partisan issue. People from all parts of the political spectrum should be alarmed by these efforts to deny scientific progress. Scientific research moves us forward and we should not allow asinine policies to thwart it." She adds that science lovers are as welcome as scientists to participate in the march.
It has never been more important for scientists of all stripes to come together and have their voices heard in government.
— March for Science (@ScienceMarchDC) January 25, 2017
Top image via Spin.
The spreading of misinformation and doubt has undermined support for climate change. Despite broad consensus from climate scientists that humans are largely responsible for climate change, only 27% of Americans think there is agreement. New research points to a possible way to "vaccinate" against this misinformation.
Misinformation often spreads like a virus. Is there a vaccine?
Although the vast majority of climate scientists agree that humans are largely responsible for global warming, only 27% of Americans think that the climate scientists agree. In other words, there is an overwhelming consensus amongst experts but the general public thinks that there isn't a clear agreement. A steady onslaught of misinformation has undercut the public's understanding of the scientific consensus, and in turn lowered potential support.
According to recently published research in the journal Global Challenges, there may be a way to "vaccinate" the general public against dubious claims made by climate change skeptics.
Just like a vaccine, the process involves adding a small amount of the underlying virus in order to build up a greater resistance. By being exposed to the misinformation, along with a pre-bunking of that misinformation, participants we more apt to accept the correct information.
The research, Inoculating the Public against Misinformation about Climate Change, looked at ways to achieve greater acceptance of the underlying scientific agreement regarding climate change. Fighting the misperception that climate change is a He Said/She Said issue has been a major annoyance for scientists looking to enhance public support.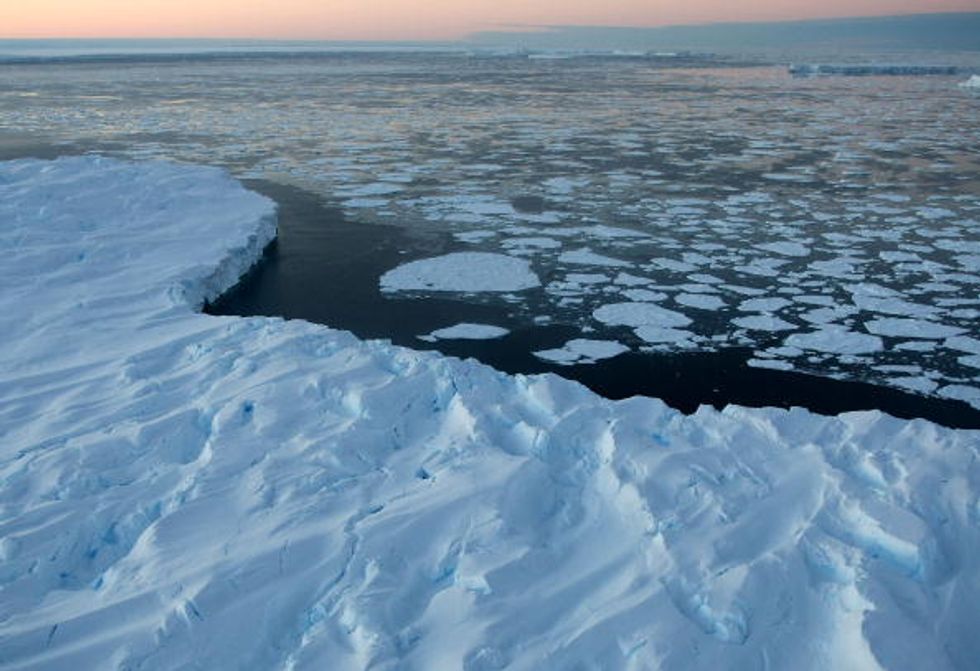 "Vaccinating" readers against misinformation spread by merchants of doubt is based on the Inoculation Theory, which aims to strengthen specific attitudes and make this less susceptible to change. Although the researchers applied this strategy specifically to the issue of climate change, their findings have potentially broad applications in our current truth-challenged environment. 
"Results indicate that the positive influence of the "consensus message" is largely negated when presented alongside such misinformation. Thus, in evaluating the efficacy of consensus messaging, scholars should recognize the potent role of misinformation in undermining real-world attempts to convey the scientific consensus."
Led by Sander van der Linden, the Director of the Cambridge Social Decision-Making Lab, the study concluded that participants could be inoculated against misinformation when given a warning to its politicization and lack of credibility. The researchers found that sticky misinformation often had the effect of canceling out the exposure to scientific consensus (in the form of a pie chart), but the misinformation (The Oregon Petition) was far less persuasive when pre-bunked (refutational pre-emption) for the participant.
"[W]e hypothesize that the process of inoculation will indeed protect pre-existing (positive) attitudes as well as help counteract motivated reasoning."
When participants were "vaccinated" with a perspective on the Oregon Petition ("some politically motivated groups use misleading tactics to try and convince the public that there is a lot of disagreement among scientists"), along with details regarding the petition's scientific credibility, the positive shift towards accepting the consensus was almost 13%.
In other words, battling misinformation should not be trying to fight fire with fire. It may be better to fight fire with fire and a firehose.
Why is This Important?
In 2013, the World Economic Forum warned against the spreading of "digital wildfires" that could wreak havoc for truth. How do we balance an open society with our need for truthful ideas? Our typical conception and faith in the "marketplace of ideas" is being challenged by an upended media environment that has witnessed the pervasive spreading of misinformation. 
"Let all with something to say be free to express themselves. The true and sound will survive. The false and unsound will be vanquished. Government should keep out of the battle and not weigh the odds in favor of one side or the other."-Fredrick Siebert, Four Theories of the Press (1956)
If the vast majority of climate scientists have formed a consensus on climate change, why do only 27% of Americans think they have? While lessening the role of traditional media gatekeepers offers opportunities to democratize the spreading of information, it has also provided fruitful pathways to the spreading of misinformation. Couple this with a tendency to apply false equivalency to issues that have broad consensus, along with echo chambers and confirmation bias, and you have a recipe for confusion.
Right now we are playing a giant game of post-truth Whac-A-Mole. We are going to need a better hammer.
===
Want to connect with me? Reach out @TechEthicist and on Facebook. 
===
Hilarious examples that prove how correlation does not equal causality.
No!!!!! (TYLER VIGEN)
Big Think has been talking about the dangers in confusing correlation with causality for some time. You know, how the amount of one thing seems to correspond to something else, and can we therefore conclude that the first caused the second, or vice versa? Nope. Make that a double-nope.
We've written about a university course that uses heavy metal to keep students from falling into this trap. And even ended our relationship with blogger Satoshi Kanazawa over this issue.
Sometimes things just look like each other without actually being at all connected. Here's the Nic Cage/drowning data:

(TYLER VIGEN)
It's not just an academic matter, either, as the confusion between correlation and causality can lead to dangerously wrong conclusions as it has for the people who incorrectly believe vaccines cause autism.
So let's have some fun with this, and enjoy just how idiotic the correspondences between obviously unrelated data sets can be. All of these are from author Tyler Vigen's awesome collection, including the Nicolas Cage/drowning one above. He also has a book, Spurious Connections. These are some of our favorites from Vigen's web page.
Here's a graph that "proves" that the more the U.S. spends on space, the more our suicide rate by hanging and other forms of asphyxiation goes up.

There are lots of reasons to question the value of the Miss America pageant, but this is new. The winner's age seems to cause murders by heat.

In what has to be the best endorsement for arcade game-playing, look at how many computer doctorates it "produces."

And finally, for those of us who have always resented those Scripps spelling smartypantses, venomous spiders feel us. And then bite us.

Got enough proof now for any argument that's based on ridiculous correspondences? There are more over at Vigen's website, and they're all pretty hilarious.