The mission could launch as soon as the 2030s, the researchers said.
A team of scientists have been developing a proposal that would send a semi-autonomous submarine to explore the seas of Titan, Saturn's largest moon.
Titan is the only body in our solar system that has large bodies of liquid on its surface.
It's also a top candidate in the search for alien life.
NASA scientists discover what two places in the solar system might have favorable conditions for alien life.
An illustration of an image from the Cassini spacecraft of Enceladus' south pole, showcasing its icy plume. Credits: NASA/JPL-Caltech
NASA scientists announced its Cassini spacecraft found evidence that the ocean on Enceladus, one of Saturn's 62 moons, may contain all the ingredients necessary for the emergence of life.
Cassini flew through plumes of gas bursting out from under the ice covering the oceans and detected a clear presence of molecular hydrogen. This might indicate the existence of hydrothermal vents on the moon's ocean floor. Such vents would be similar to Earth's hydrothermal vents where some scientists believe life on our planet originated. 
In the new findings, described the journal Science, scientists consider the possibility of a chemical reaction called methanogenesis taking place in the moon's underwater vents. This reaction has been shown to be crucial to the development of microbial life by providing an energy source for the microbes.
The researchers cannot at this point conclusively state if methanogenesis is indeed taking place under Enceladus's ice. It is also possible that this moon may be too young to have undergone the life-creating process. 
"Although we can't detect life, we've found that there's a food source there for it. It would be like a candy store for microbes," said the study's lead author Hunter Waite of the Southwest Research Institute in San Antonio.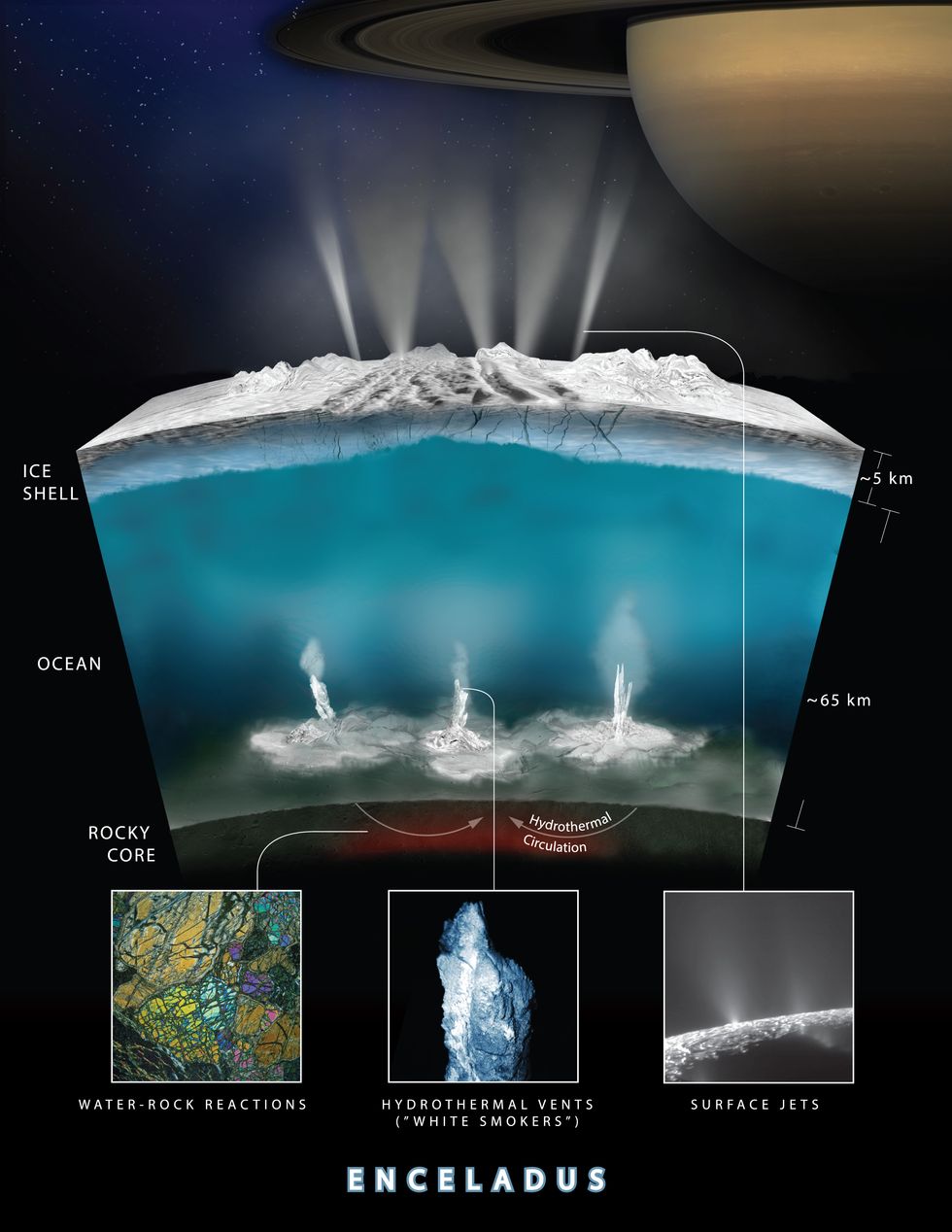 Thomas Zurbuchen, associate administrator for NASA's Science Mission Directorate in Washington, was also optimistic about the scope of Cassini's current achievement.
"This is the closest we've come, so far, to identifying a place with some of the ingredients needed for a habitable environment," stated Zurbuchen.
Since 2004, the Cassini spacecraft provided no shortage of discoveries. As its head of imaging science Carolyn Porco explained, Cassini conducted over a 100 more "close flyby maneuvers" than have been done so far in the entire planetary program. 
It has given us an unprecedented understanding of Saturn, with stunning new images, insights into its rings, atmosphere and moons. 
In 2005, the spacecraft landed the Huygens probe on Titan, Saturn's largest moon, a historic first for landing human machines in the outer solar system. The probe discovered a wealth of information, including an underground super-salty ocean. The Cassini-Huygens mission was carried out in cooperation between NASA, the European Space Agency and the Italian Space Agency.
Here's a film made by compiling imaging data from Cassini and the probe's instruments as it descended towards Titan:
Cassini also came amazingly close to Jupiter, providing us with the best photos we have of the gas giant.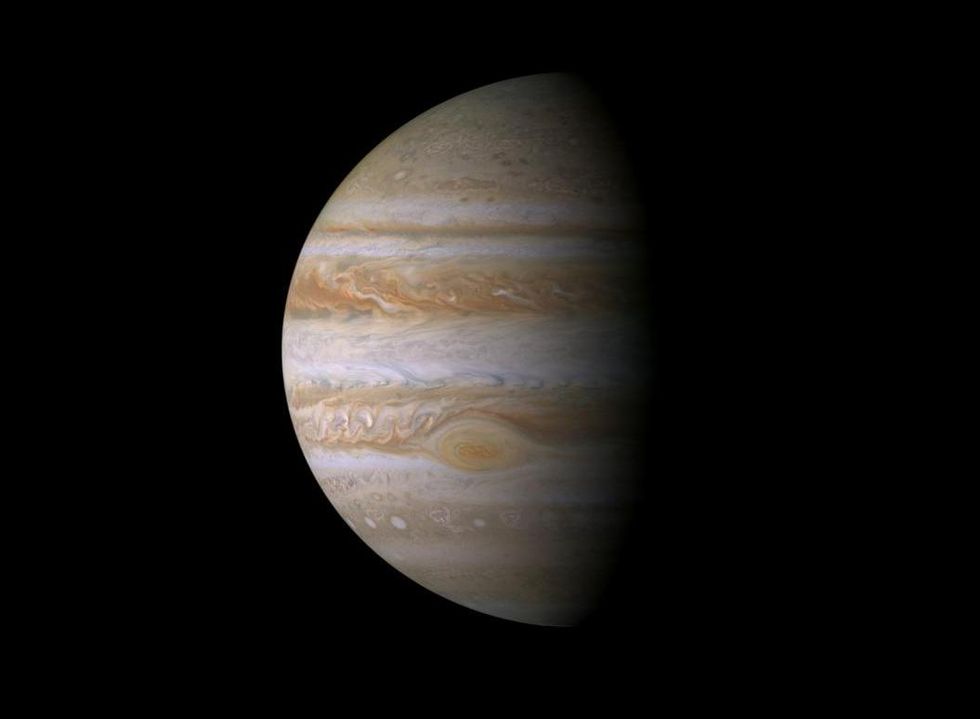 Composite photo of Jupiter, comprised of images taken by Cassini on December 29, 2000. Credit: NASA.
The spacecraft will be decommissioned on September 15, 2017 by being plunged to burn in Saturn's atmosphere. The reason for just a drastic demise lies in the fear that Cassini will soon run out of fuel and crash into one of Saturn's moons, the ones we now think may contain life. It's safer for it to burn up on entry than possibly contaminate the moons.
On its way down, the spacecraft will transmit more data and images. These will include new maps of Saturn's magnetic and gravity fields, and details on the composition of the planet's rings.
"It's inspiring, adventurous and romantic — a fitting end to this thrilling story of discovery," wrote NASA.
Watch this beautiful new film from NASA on Cassini's final journey:
Notably, another NASA team just published findings on a different ocean world that might have some form of life. Their paper on observations from the Hubble Space Telescope program showed new evidence of water vapor plumes found on Jupiter's moon Europa. In fact, they think they spotted a huge 62-mile-high plume over Europa's equator, in the same place a plume candidate was spotted in 2014. 
These warm plumes are thought to be potential hosts for life. Considering that Europa is billions of years older than Enceladus, the chances for life to have emerged there could actually be greater.
Europa. Credit: NASA
The mission might set a precedent for exploring bodies of water on other moons and worlds as well.
Titan, Saturn's largest moon.
Of all the bodies in our solar system, Saturn's moon Titan is one of the likeliest to harbor life. That's because it has an atmosphere and its surface is covered by lakes and seas of hydrocarbon. Due to this, NASA has proposed a concept for a mission—plunging a robot-driven, nuclear submarine into Titan's largest, northerly sea, called Kraken Mare. This body of "water" is 1,000 kilometers (600 miles) wide and 300 meters (1,000 feet) deep. It's as large as Lake Superior. The concept was announced by cryogenics engineer Jason Hartwig, at NASA's Innovative Advanced Concepts (NIAC) Symposium, last August. 
Donned the Titan sub, the autonomous vehicle would be six meters (20 ft.) long, with that typical submarine shape and have two ballast tanks, one on each side, for diving and resurfacing. Other features include a conning tower with cameras and sensors, and a long fin across its back, serving as an antenna, which would relay data back to earth. Four propellers in the rear would propel it. The sub would be replete with cameras and a vast array of scientific instruments. Barring anything unforeseen (like being eaten by an extraterrestrial sea monster), it could have a long life. At its heart, two advanced Stirling Radioisotope Generators, fed on a slug of plutonium 238.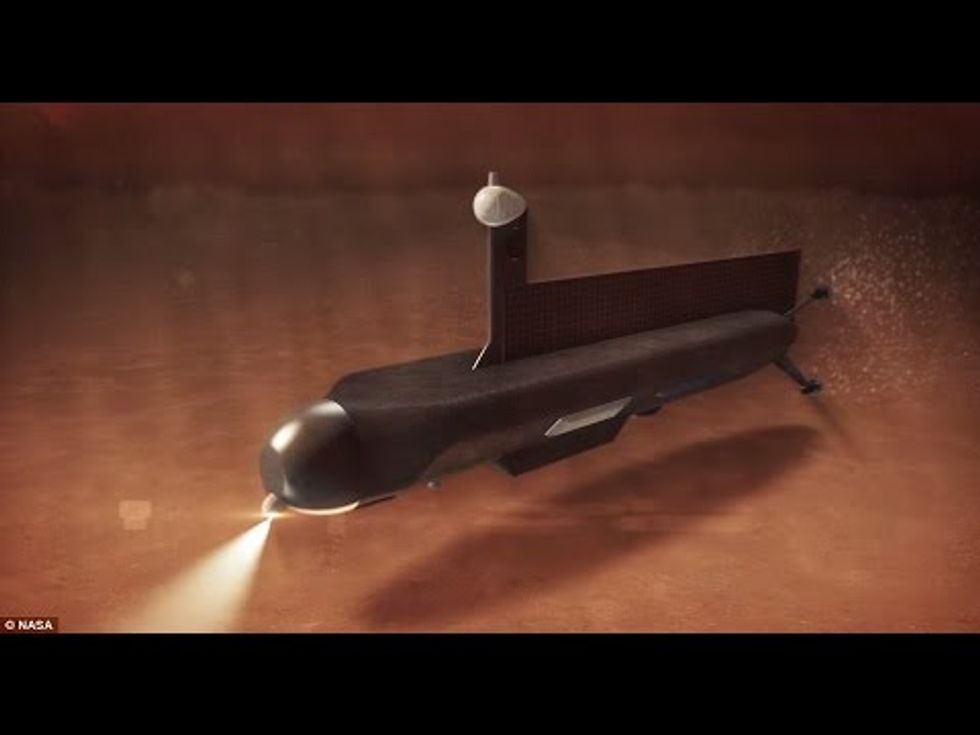 Proposed model of the Titan sub.
In a mission concept explanation, scientists explain that the sub would "…investigate a full spectrum of oceanographic phenomena: chemical composition of the liquid, surface and subsurface currents, mixing and layering in the 'water' column, tides, wind and waves, bathymetry (study of the sea bed), and bottom features and composition." It would even sample the silt at the bottom, to learn about the environment and search for organic compounds. If successful, the mission could set a precedent, giving NASA a new method for exploring bodies of water on moons and planets, such as the frozen oceans of Europa, one of Jupiter's moons. This is the second most likely candidate for life in our solar system, after Titan.  
The sub would travel a total of 1,000 kilometers (621 miles) and plunge depths estimated at 300 meters (approx. 984 ft.). Landing might be tricky. The Mars rovers Opportunity and Curiosity landed through a parachute and pod system. This is unlikely to work on a liquid surface.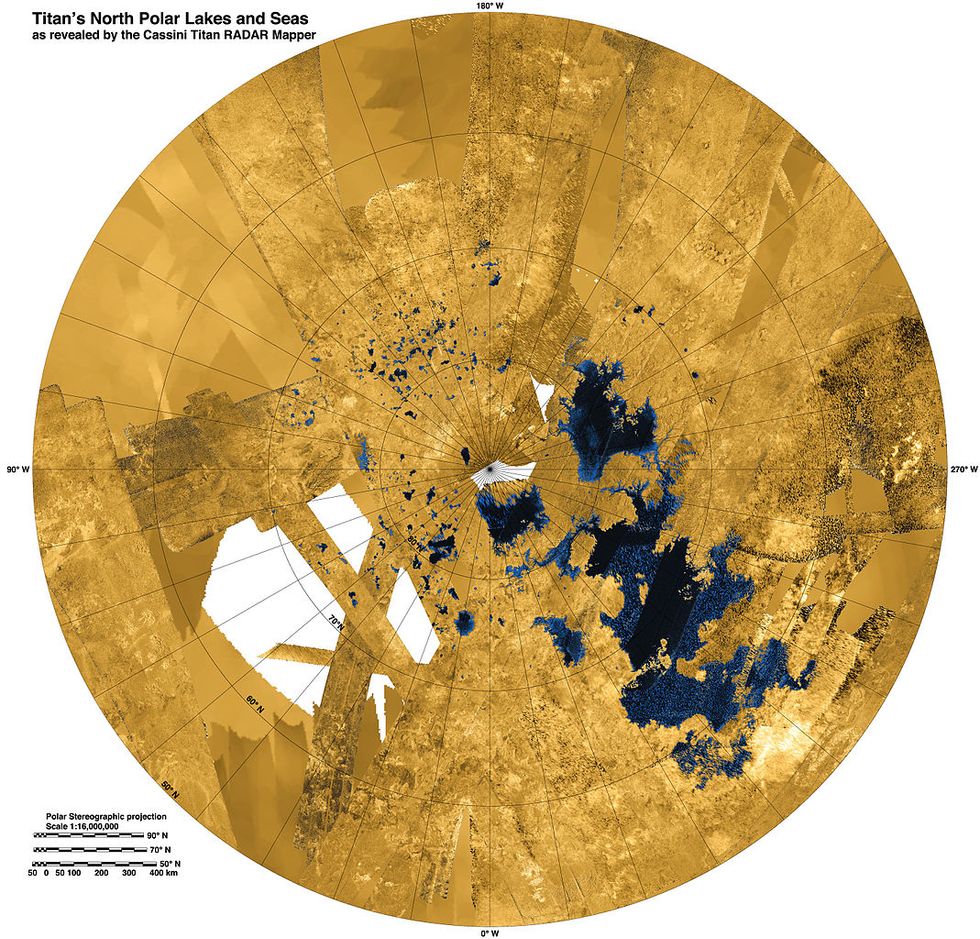 Titan's northern lakes and seas. NASA/JPL-Caltech/ASI/USGS
Ralph Lorenz is the lead designer of the Titan sub. He comes from Johns Hopkins University's Applied Physics Laboratory (APL). Lorenz proposes placing the sub within a space plane. The Air Force has such a plane, designed by DARPA, which few outside of the top brass know the details of. We do know that the unmanned X-37B has been tested several times, successfully, in space, orbiting earth for months at a time. 
Lorenz believes the sub could fit inside the cargo bay of such a plane. The plane could land on the so-called water and deliver the sub smoothly into Titan's sea. How the space plane would arrive there however is still unclear. Another issue might be signaling back to earth. A relay satellite may be required to make sure the data was received by NASA.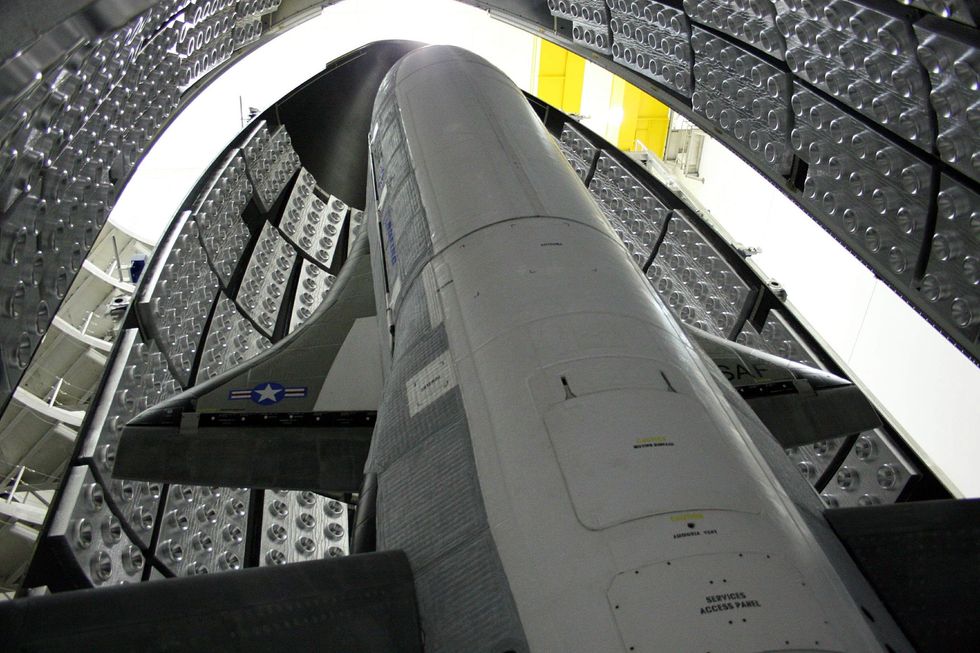 Boeing X-37B. Image by United States Air Force [Public domain], via Wikimedia Commons
So why Titan? This is one of the only bodies with complex meteorology, complete with clouds and an atmosphere. Another reason is the tremendous, though freezing cold seas. According to Lorenz, "Only Titan and Earth have open bodies of liquid like this." Scientists believe Titan may be something like how earth was in its early days. The difference is that Earth, being closer to the sun, is far warmer. Any life found on Titan would be far different from that on our own planet. Its seas are mostly liquid methane and ethane.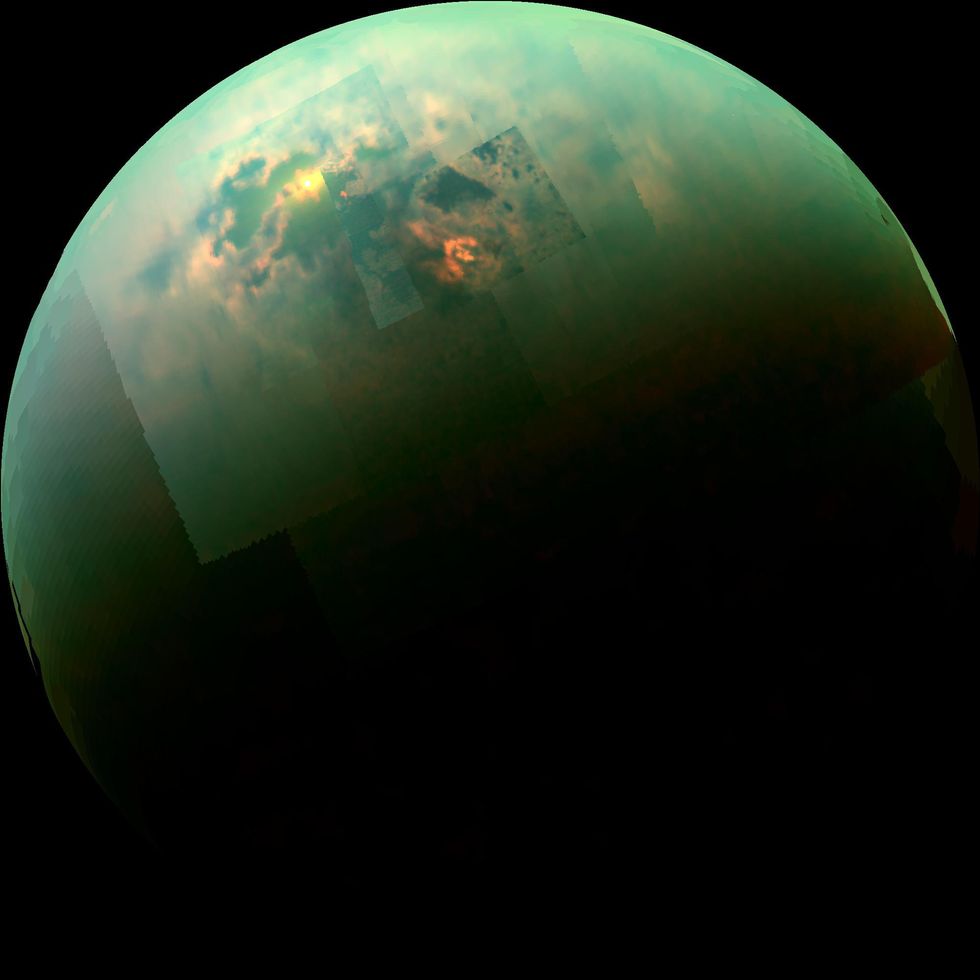 (Green) Near-infrared photo of Titan with sun glinting off its north polar seas. By NASA / JPL-Caltech / University of Arizona / University of Idaho [Public domain or Public domain], via Wikimedia Commons
With cyanide clouds and methane rain, and with very little oxygen, humans would not last long on its surface, unprotected. Still, the moon is believed to be rich in organic compounds. Besides these lakes and seas, its landscape is composed of ice, dunes, and rocks, so it may remind us of home, somewhat. This is the most earth-like body in space discovered thus far, with similar atmospheric and water cycles as our own planet. In this way, Titan hints at the possibility of big scientific discoveries.
Lorenz said of the moon, "Titan can inform us on the chemical processes that lead to life (as we know it, based on liquid water)." He went on "There is also the possibility, albeit a remote one, of alternate chemical systems executing the functions of life—metabolism, information storage and replication, etc.—in a completely different solvent: liquid methane."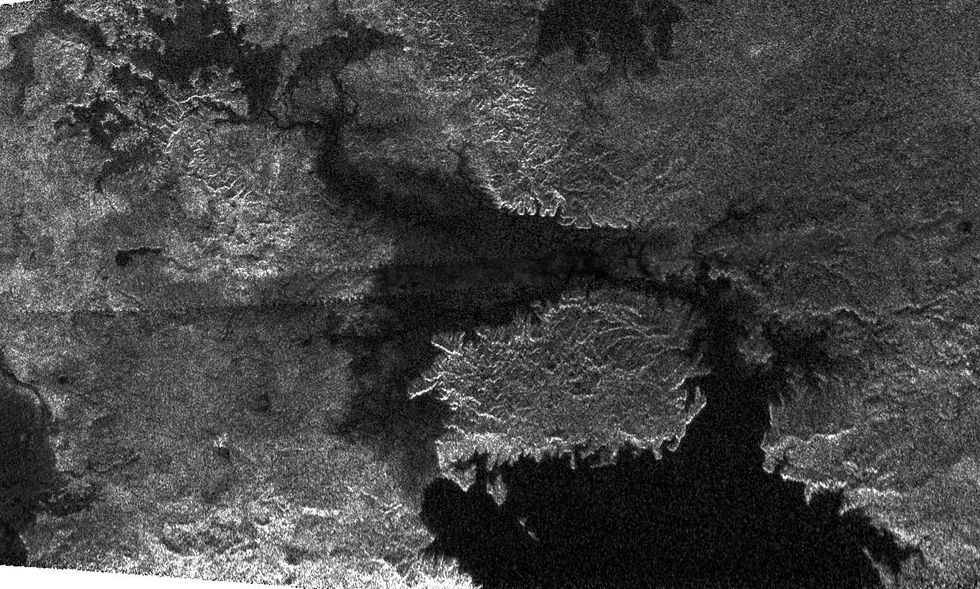 Kraken Mare. By NASA/JPL, Public Domain
After making it to Kraken Mare, the sub would deploy its periscope camera, to observe the shorelines of the sea and map it. It would also use sonar to map its bottom. The sub would then employ sensors to check out the sediments on the seafloor—which will show the moon's climate history, the liquid composition of the sea, and the presence of any organic components.
This mission wouldn't occur until around 2040. Scientists call the idea of photos from Titan "game changing." And few space enthusiasts can help but be gitty at the idea of landing a robot sub on another planet's moon. What's more, finding organic compounds there could potentially give us insights into how life might develop elsewhere in the galaxy.
To see NASA's concept video for the mission click here: