There's only one guy on this whole planet who's done both. He tells us what it's like to experience two of the most extreme feats.
Would you rather blast off into the cold emptiness of space in a fallible rocket, or drag yourself past 200 dead bodies to the inhospitable summit of Mount Everest? Former astronaut Scott Parazynski is the only person on Earth who has conquered both these extreme feats, and it turns out that the challenge closer to home is the one that made his heart race the most. Once you survive the rocket launch, space is rather tranquil, with beautiful views, and you're well looked after by the smartest support team of scientists in the country, Parazynski points out. On your way up the tallest mountain on Earth, however, the threat of death looms with every step. You cannot eat enough or breathe enough to nourish your body, and once you reach your goal -- guess what? You're only halfway. Listen to Parazynski describe these two incredible experiences, and the psychological impact of finding somewhere lonelier than the dark nothingness of space. Scott Parazynski is the author of The Sky Below: A True Story of Summits, Space, and Speed.
Elon Musk publishes a visionary paper on his company's plans to colonize space.
Tesla CEO Elon Musk speaks during an event to launch the new Tesla Model X Crossover SUV on September 29, 2015 in Fremont, California. (Photo by Justin Sullivan/Getty Images). Rocket on Enceladus. Credit: SpaceX
Having previously teased that he'd like to put one million people on Mars, tech billionaire and serial enterpreneur Elon Musk released the specifics of his plan to colonize space. His paper "Making Humans a Multi-Planetary Species" outlines what kind of technology humans will need to make that dream a reality, including how to build a city on Mars, as well as the timeline for this endeavor.
Musk proposes that it's a necessity to make humans a space-faring civilization, citing the inevitable "doomsday event" that will befall us sooner or later. One big goal in making us a "multi-planetary species" would be to create a city on Mars that works not just an outpost but as a self-sustaining settlement that will drive the planet's colonization.
The SpaceX, Neuralink, and Tesla Motors CEO sees Mars as the best destination for such a city because it has conditions better suited for a human colony than other planets - it has atmosphere, it's rich in resources, its day is 24.5 hours, similar to Earth's. In fact, the red planet is so similar to Earth that "if we could warm Mars up, we would once again have a thick atmosphere and liquid oceans," writes Musk.
Here's how Musk compared Earth and Mars head to head:

The big problem in getting people to Mars now? Exorbitant costs of about $10 billion per person, if we were to use traditional "Appolo-style" approaches. Musk wants that number to go down by 5 million percent. If the number is closer to $200,000 per person (a median house price in the U.S.), Mars colonization would become a reality. Musk sees this number dropping even lower eventually, to below $100,000 per person.
How would Musk bridge that gap? Most of the improvement would come from rocket reusability, while other cost savings would lie in figuring out how to refill in orbit and produce propellant on Mars. Choosing the right propellant is also important. Musk says methane would be easier and cheaper to harvest on Mars than, for example, hydrogen.
Getting people to Mars and other planets would be the job of the Interplanetary Transport System, which will feature a booster and a spaceship powered by the Raptor engine, currently in development by SpaceX. It will be 3 times more powerful than the engine currently powering the Falcon 9 rocket from SpaceX.
The booster, which Musk aims to make reusable up to a 1,000 times, would have 42 Raptor engines, making it the most powerful rocket in history. The booster would also be capable of launching 300 metric tons into low Earth orbit. Compare that to NASA's Saturn V moon rocket which could lift 135 metric tons.
Here's how the whole system that SpaceX is looking to implement would operate: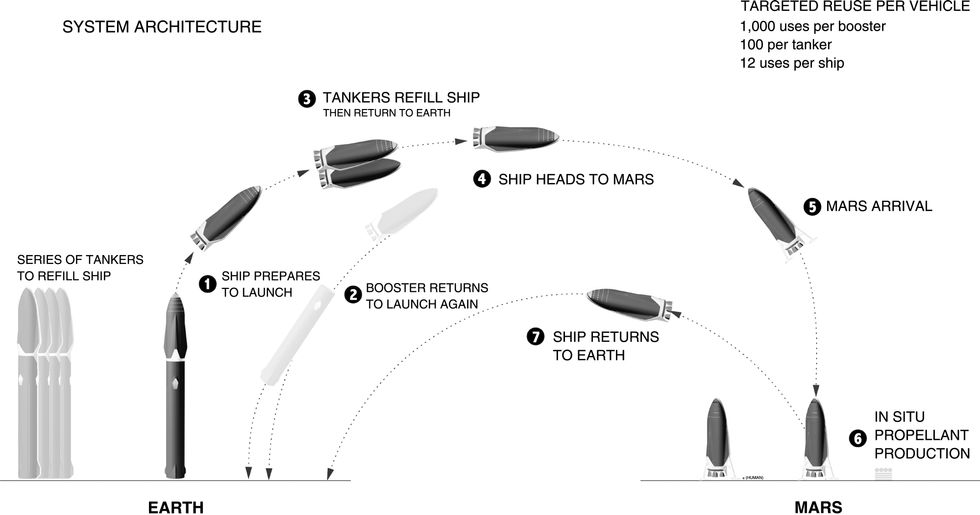 Musk also gives some details on how a trip to Mars aboard one of his ships would look like - a trip he estimates would take about 115 days. It's important to make such a journey "fun and exciting," with zero-gravity games, movies, lecture halls, cabins and a restaurant, Musk writes.
Once we figure out how to get humans to Mars in an efficient and consistent manner, Musk imagines that the colony there would need a million people for a self-sustaining city. To get them there would require 1,000 ships, each carrying 100 people. With travelling to the red planet possible every 26 months thanks to having to wait for favorable alignment with Earth, the whole process of colonizing Mars would take about 40-100 years after the first ship goes, which is currently planned for 2023.
Musk also considers going to other parts of the solar system by envisioning a system of planet or moon hopping. Besides creating and improving spacecraft, the key for further colonization of space would be to establish propellant depots in the asteroid belt or the moons of Jupiter or Saturn. That would enable flights to these and other planets.
How realistic are Musk's plans? The prolific enterpreneur has a proven track record in methodically carrying out his visions. He also sees the colonization of space as such a personal priority that he says he's making money primarily for that purpose:
"I should also add that the main reason I am personally accumulating assets is in order to fund this. I really do not have any other motivation for personally accumulating assets except to be able to make the biggest contribution I can to making life multi-planetary," writes Musk.
Scott Hubbard, the editor-in-chief of New Space, a peer-reviewed space exploration journal that published the paper, thinks Musk's paper is a great jumping-off point for further discussion:
"In my view, publishing this paper provides not only an opportunity for the spacefaring community to read the SpaceX vision in print with all the charts in context, but also serves as a valuable archival reference for future studies and planning. My goal is to make New Space the forum for publication of novel exploration concepts–particularly those that suggest an entrepreneurial path for humans traveling to deep space," said Hubbard.
The engine that could revolutionize space travel is pursued by scientists around the world.
As technological advancements continue at breakneck speed, recent developments raise hopes in the creation of the hypothetical "Em Drive". This electromagnetic propulsion drive or "Em Drive" would give us the capability to explore space in a revolutionary way, without needing fuel. It would theoretically allow for trips to Mars in about two months, while going to the moon would only take a few hours. Oh, it might also solve climate change, the energy crisis, and transform the aerospace industry as we know it. 
The EM Drive was first proposed as a possibility in 1999 by the British scientist Roger Shawyer. Since then the idea has also captured the imagination of scientists worldwide, with independent teams in countries like UK, China, Germany, Finland and the United States trying to make the Star-Trek-like technology a reality. Nine studies on the "Em Drive" have been published since 2012.
While the prospects of such a drive being developed boggle the mind, most physicists do not believe it's feasible.  One thing that is going against the possibility of the EM Drive is that it seems to contradict Newton's third law of motion, one of the foundational laws of classical mechanics. This law states that for every action, there is an equal and opposite reaction. But the EM Drive, going forward in one direction, would have no propellant. If nothing is generating thrust and pushing the rocket, how will it go forward?
The way the drive is supposed to work is by converting electricity into microwave photons, which are then fired into a closed cone-shaped cavity. The photons would push against the large end of the cone, making the small end accelerate in the opposite direction. Space vehicles powered by Em Drives would be much lighter without having to carry loads of fuel, able to achieve extremely high speeds. 
How close are we to testing anything like the EM Drive? 
A recent announcement from the American Institute of Aeronautics and Astronautics that it peer-reviewed a soon-to-be-published paper on the drive from NASA's research group Eagleworks has generated much cautious excitement. The fact that this paper, titled "Measurement of Impulsive Thrust from a Closed Radio Frequency Cavity in Vacuum", passed a peer review potentially suggests that this technology is becoming real. 
The EM Drive generated another dose of enthusiasm courtesy of the American inventor Guido Fetta. He announced that he'll put the Cannae Drive, a proprietary rocket engine he created based on Shawyer's original designs, on a mini-satellite (6U CubeSat). The satellite could be launched into space as early as six months from now. Shawyer himself is skeptical the Cannae Drive would generate much thrust. 
To learn more, check out this Em Drive presentation by Roger Shawyer:
Cover photo: EM Drive. Credit: Roger Shawyer, Satellite Propulsion Research Ltd.