Elon Musk's growing relationship with President Trump can result in revolutionizing the country's aging infrastructure.
Elon Musk recently surprised many by tweeting out support for Rex Tillerson, President Trump's Secretary of State nominee. Seen as a champion of clean energy, Musk seemed unlikely to get so publicly behind Tillerson, given his past as the CEO of ExxonMobil, a fossil fuel powerhouse. While the support for Tillerson appears influenced by Musk's recent meeting with Trump, one issue in particular may explain why Musk would offer his endorsement - carbon tax.
He singled that out in a Twitter interview with Gizmodo, where he first noted that Tillerson was a "competent" executive: 
"Also, he [Rex Tillerson] has publicly acknowledged for years that a carbon tax could make sense. There is no better person to push for that to become a reality than Tillerson. This is what matters far more than pipelines or opening oil reserves. The unpriced externality must be priced."
Indeed, Tillerson has supported carbon tax since at least 2007 as a preferred form of environmental regulation. In a 2009 speech he called it "predictable, transparent, and comparatively simple to understand and implement."
What would the carbon tax do? It would essentially be a fee tied to the carbon content of fuels, levied for releasing carbon dioxide into the atmosphere. Its proponents think it would reduce such emissions and slow down climate change and be a simpler form of environmental regulation. Some forms of carbon tax have so far been enacted in Australia, Sweden and other countries.
Elon Musk elaborated on why the carbon tax is necessary by describing the production of carbon dioxide (CO2) as consumption of the common good, an action that should have a reasonable price. 
"The problem is the age-old tragedy of the commons. The common good being consumed is atmospheric and oceanic carbon capacity, which currently has a price of zero. This results in an error in market signals and far more CO2 is generated than should be. We won't ever go to zero CO2, but the rate over time should be dropped far below what it is today," said Musk.
In a previous interview at Sorbonne in France, Musk compared the carbon tax to garbage collection, with the tax being necessary to reflect the cost of the consequences of consuming carbon.
"It's not as though we should say, in the case of garbage, 'Have a garbage-free society.' It's very difficult to have a garbage-free society. But it's just important that people pay for the garbage collection." 
As to how exactly the carbon tax would be effective, Musk thinks a gradual approach will have the right impact.
"Start low and increase it until the desired outcome is achieved. This can be offset by a reduction in other taxes, like sales tax, which is quite regressive. This is analogous to taxing cigarettes and alcohol more than fruits and vegetables, which everybody agrees makes sense. We should have higher taxes on the things that science says are probably bad for us than those that are probably good for us," explained Musk.
What's more, Elon Musk apparently brought up the carbon tax in his meeting with Trump. With Musk said to enjoy a burgeoning relationship with Trump, united by big thinking and potential overlapping interests in infrastructure projects like updating the electrical grid, his championing of the carbon tax may prove crucial. Will President Trump embrace it? So far there is little indication this would happen but it's also just the beginning of the new administration's term.
Musk's take on updating the electrical grid includes making it smart, with a plan existing for Tesla to at some point offer grid services through batteries that can be added to the grid.
Other infrastructure projects from Musk's head that could appeal to President Trump include his SpaceX business, with plans to colonize Mars, his new tunneling business, and even Hyperloops. Musk's proposal for superfast travel via hyperloops is nearing reality, with a full test coming in the next three months.
The unlikely pairing of two iconic figures of the modern age could result in a relationship that benefits American infrastructure for generations to come. Another visionary and controversial billionaire Peter Thiel, who has been close to both men, called them surprisingly similar - a factor that might prove deciding in such a partnership.
"I'm going to get in trouble, but they are [similar], actually," Thiel told the New York Times. "They're both grandmaster-level salespeople and these very much larger-than-life figures."
Cover photo:
U.S. President Donald Trump (C) greets Wendell Weeks (R) of Corning, Elon Musk of SpaceX (L) and other other business leaders as he arrives for a meeting in the Roosevelt Room at the White House January 23, 2017 in Washington, DC. (Photo by Chip Somodevilla/Getty Images)
The feud between some of the Rockefellers and ExxonMobil has intensified.
As Rex Tillerson, former CEO of ExxonMobil, underwent the confirmation process to become the next U.S. Secretary of State, a telling detail to the story involves one of the country's most famous families. Some of the Rockefellers have been involved in a public battle with ExxonMobil concerning the oil and gas giant's record on climate change. A major note of historical irony here is that their ancestor, the legendary industrialist John D. Rockefeller, founded Standard Oil which eventually turned into ExxonMobil.
John D. Rockefeller was the richest person in America's history and likely the richest person in modern history. He was a larger-than-life figure, who used his massive fortune for philanthropy, founding several universities and sponsoring medical research that minimized diseases like yellow fever. 
After Standard Oil was broken up in 1911 by the U.S. government for being a monopoly, the spinoff companies that were formed have become some of today's most important oil powers - ExxonMobil, BP, and Chevron. ExxonMobil, however, is the largest direct descendant of Standard Oil.
The Rockefellers of today have a combined fortune of $11 billion and are the 23rd richest family in the U.S. While their fortune was made in fossil fuels, they have led a decades-long effort to get ExxonMobil to address climate change. Some of the Rockefeller descendants have funded research on ExxonMobil using independent journalists, which claims to have found that the company knew about climate change for a long time but chose not to act upon it.
In 2016, the Rockefeller Family Fund announced that it would divest holdings from fossil fuel companies. They would do so over time except in the case of ExxonMobil which was singled out "for immediate divestment because of its morally reprehensible conduct."
They blame the company for actively fighting to discredit scientific research into the issue of climate change. David Kaiser, a fifth-generation descendant of John D. Rockefeller, published an article outlining some findings of their investigation, showing extensive lobbying efforts by ExxonMobil against the Kyoto Protocol treaty. The findings also allege successful efforts by the company to lobby Vice President Dick Cheney and President George W. Bush to replace government-related scientists who believed in climate change with skeptics.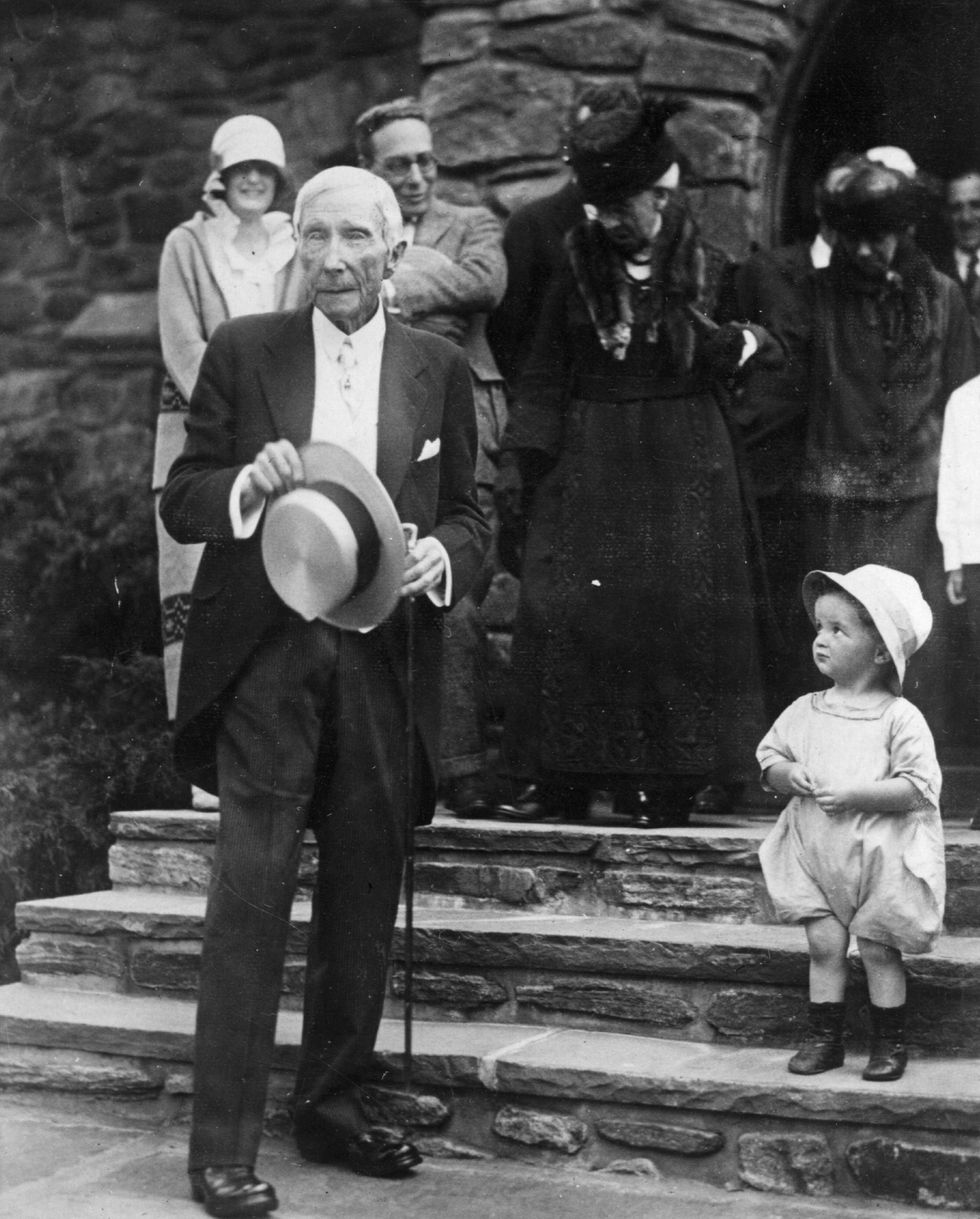 John D. Rockefeller (1839 - 1937) on his 84th birthday. (Photo by Topical Press Agency/Getty Image) 
In the interview with CBS This Morning, David Kaiser and Valerie Rockefeller Wayne, another fifth-generation descendant, discussed their position on ExxonMobil's actions. Kaiser called ExxonMobil "morally bankrupt", while Wayne attributed their speaking out to an issue that is doubly important in light of their family's history.
"Because the source of the family wealth is fossil fuels, we feel an enormous moral responsibility for our children, for everyone -- to move forward," she said. 
One example of the position ExxonMobil has taken over the years on climate change is in the quote by its former vice president Frank Sprow:
"This is complicated. Don't believe statements that say it's clear that things are warming. It's not clear," he told CBS News in a 2000 interview. 
Wayne and Kaiser want to influence the company to confront its role.
'What we would hope from Exxon is that they would admit what they've done - these decades of denial - and continue what they've started in a very small way to do now, which is to look at alternatives and we really hope they become an industry leader,' Wayne said. 'They can set the tone for the industry in doing more, but the truth has to come out,' she added.
Here's a helpful map if you want to keep track of the Rockefeller family tree: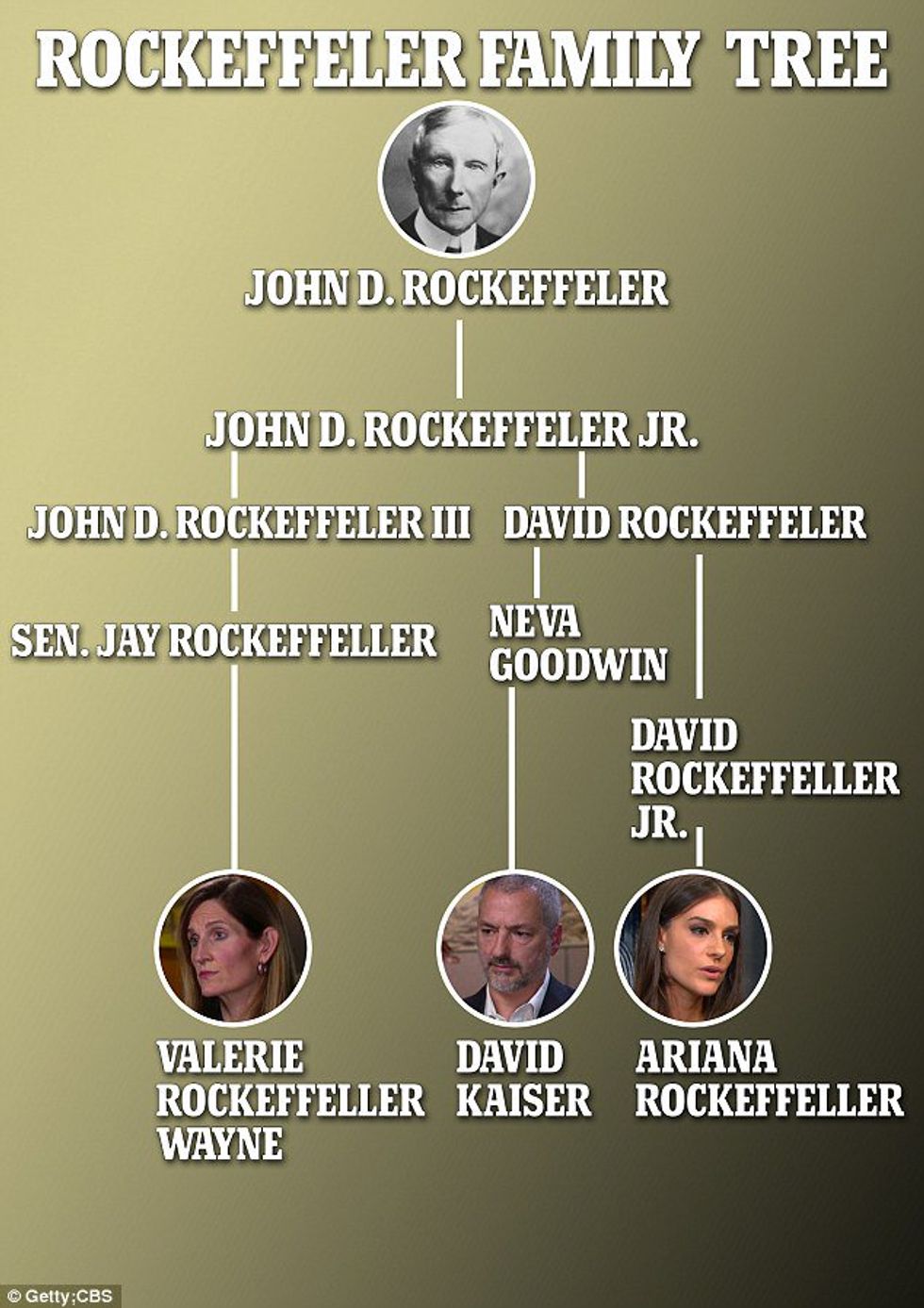 ExxonMobil has acknowledged publicly that climate change is real and claims to be spending billions on lowering greenhouse gas emissions. The company is, however, currently embroiled in fighting fraud investigations from New York and Massachusetts over whether it misled the public with regards to how much it knew about the climate situation.
The company has hit back at the Rockefellers, accusing them of plotting a conspiracy against ExxonMobil. Their official told CBS News that these kinds of public attacks on them are part of a "coordinated campaign... to vilify the company." 
Another family member, Ariana Rockefeller, Kaiser's cousin, also spoke out against her relatives.
"These family funds do not speak on behalf of all 200 family members," she said, referring to the funds that conducted the research into ExxonMobil, adding "I don't think denouncing a family legacy is the best way to go about doing this."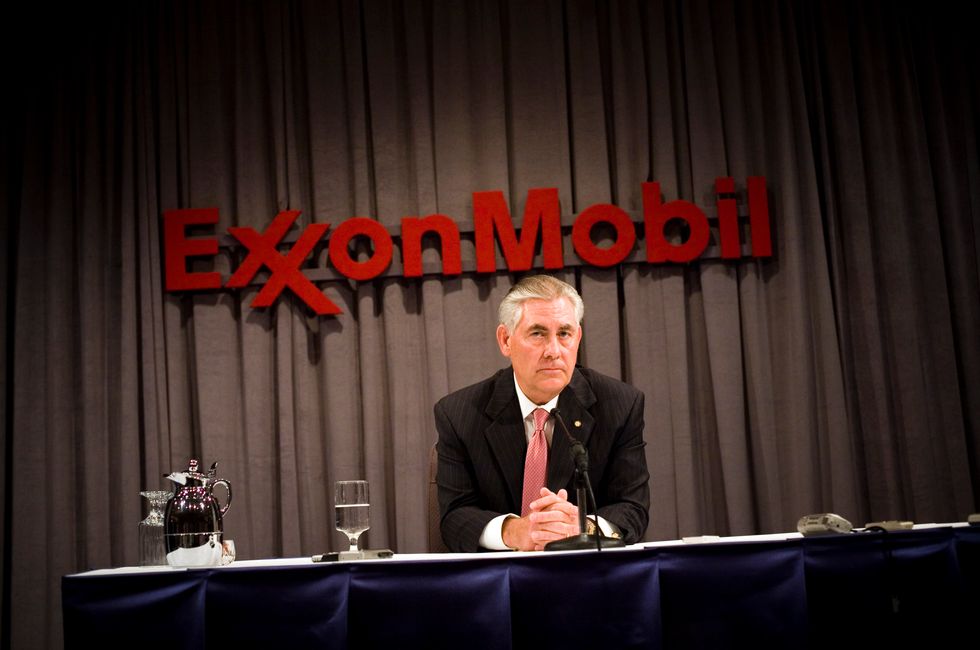 ExxonMobil Chairman Rex Tillerson speaks at a press conference after the ExxonMobil annual shareholders meeting at the Morton H. Meyerson Symphony Center May 28, 2008 in Dallas, Texas. (Photo by Brian Harkin/Getty Images)
For his part, Rex Tillerson said in the confirmation hearing that he does believe in climate change, but did not state that humans are responsible for it, pointing out that there's a lot we don't understand. As CEO, he actually had a clash with the Rockefellers in 2008, when they tried to take away one of his jobs during several shareholder votes. They wanted the company to address climate change while Tillerson defended the company's existing efforts, stating that "a lot of climate change policy is still up for debate".
Cover photos: 
American industrialist and philanthropist John Davison Rockefeller (1839 - 1937). (Photo by Topical Press Agency/Getty Images)
Fire burns from an oil distillation tower at the Al-Doura Oil Refinery April 24, 2003 in Baghdad, Iraq. (Photo by Mario Tama/Getty Images)