Bennett Singer explains why coming out matters—for the LGBTQ community and the straight community alike, and especially for those who are not in a safe position to do so.
Not everyone is in a position where it is wise or safe to come out as gay, lesbian, trans, or bisexual—but for those who can, it is a heroic and revolutionary act. We've known that since Harvey Milk campaigned for gay people to make themselves visible to their families and general public: the more stereotypes are met as actual people, the less we fear what is different. There has been an incredible shift in acceptance over the last 30 years and Bennett Singer, co-author of LGBTQ Stats: Lesbian, Gay, Bisexual, Transgender, and Queer People by the Numbers, puts it down to two primary things: media visibility and data collecting. Mainstream TV has steadily increased its positive portrayals of LGBTQ people, and prominent personalities like Ellen Degeneres are given prime time spots. Progress can also be measured by statistics, which increasingly reflect those people who have the courage to come out, and their families and friends who can now answer surveys more honestly. "Back in 1985 it was 24 percent of Americans who said they knew an open gay or lesbian person," says Singer. "By last year that had shifted up to 88 percent." Conducting these surveys is only half the power of them however, the rest is in the reporting of those stats. Acceptance works through a cycle of reminders and awareness, says Singer: "Growing awareness and growing reporting of this awareness leads to greater acceptance." Bennett Singer's most recent book is co-authored with his husband, David Deschamps: LGBTQ Stats: Lesbian, Gay, Bisexual, Transgender, and Queer People by the Numbers.
Cornel West talks about everyday poets, being the best of the human species, hope, what wokeness really means, and revolution.
Institutions—governmental, religious, financial, even revolution itself—have a way of turning stale and sour. "Thank God for the history of the heretics and the blasphemers. That's my crowd," says Dr. Cornel West. Quoting from some of history and literature's greatest thinkers and doers, West presents a poetic lecture on the role of hope in America's past and its future, and how to make your voice matter.
This video was filmed at the Los Angeles Hope Festival, a collaboration between Big Think and Hope & Optimism, a three-year initiative which supported interdisciplinary academic research into significant questions that remain under-explored. For more from Dr. Cornel West, head to cornelwest.com.
Mathematics professor Po-Shen Loh has created Expii, a free education tool that democratizes learning by turning your smartphone into a tutor.
Po-Shen Loh is a Hertz Foundation Fellow, Princeton-educated mathematician, Carnegie Mellon professor, the head coach of the U.S. International Math Olympiad team, and now he's adding start-up entrepreneur to his knock-out resume. Loh has created Expii, a math and science education tool that aims to turn every smartphone into a tutor. With the support of the Fannie and John Hertz Foundation, he pursued a PhD in combinatorics at the Pure Math Department at Princeton University.
The Hertz Foundation
mission is to provide unique financial and fellowship support to the nation's most remarkable PhD students in the hard sciences. Hertz Fellowships are among the most prestigious in the world, and the foundation has invested over $200 million in Hertz Fellows since 1963 (present value) and supported over 1,100 brilliant and creative young scientists, who have gone on to become Nobel laureates, high-ranking military personnel, astronauts, inventors, Silicon Valley leaders, and tenured university professors. For more information, visit
hertzfoundation.org
.
Bitcoin will bring a seismic shift in global finance, says Toni Lane Casserly: "If you are an institution with integrity, generally I would say you don't have anything to worry about." ... So long to the world as we know it.
Some of us are Bitcoin enthusiasts, while to others this digital currency exists in a far-off plane, spinning in the distant ether like Super Mario coins. To date, Bitcoin hasn't impacted most of our daily lives – but according to Toni Lane Casserly, co-founder of CoinTelegraph, that's going to change soon, and it's going to change us.
As she explains Bitcoin and Blockchain, Casserly illuminates how digital currency empowers the idea of money, and does something that is hard to imagine: it makes money honest. Every transaction that happens on Blockchain is stored permanently as a public ledger – it cannot be erased or disguised. It is a completely transparent system, and it may finally provide the accountability that global financial systems have needed for centuries.
There's an alarming quantity of red flags pointing to inequality and corruption within the world economy; it's widely recognized, and yet it seems almost impossible to correct this established system without toppling it all together. Banks and financial institutions rely on one commodity to stay powerful: people's trust. Trust is blindly handed over – because what's the alternative? – then systematically abused for the benefit of just a few key players. When something is so systematically entrenched, Casserly says, it takes something radically new to force a paradigm shift.
It makes sense that Bitcoin could turn into a benevolent and democratic force: it was started by underground activists and anarchists, and it's not the first time anarchy has evolved to become something oddly beautiful. Casserly draws an interesting comparison between Bitcoin and Burning Man: "What is Burning Man – the festival, the experience, the culture, the civilization – what is that other than the world's most evolved form of anarchy? Burning Man in the '70s were literally a bunch of awesome, cool anarchists going into the desert… and literally burning down the man." She continues, "I still don't think most people understand what is about to emerge in this modern technology landscape."
Driverless cars are nothing short of a revolution – not a technological revolution, but a social one, that will determine how fast we can accept, adapt and trust these new systems to change our lives.
Driverless cars may be borne out of science fiction, but they are fast becoming realities on tomorrow's roadways. The transition from driver to robot is nothing short of a revolution. Not a technological revolution, but a social one, that will determine how fast we can accept, adapt and trust these new systems to change how and where we live, work, play and interact with each other.
Japan's auto giant Nissan unveils the new robotic vehicle 'Pivo 2', equippeec with in-wheel electric motors to drive all wheels independently and to pivot its cabin at the company's headquarters in Tokyo. (Photo: YOSHIKAZU TSUNO/AFP/Getty Images)
If you've sat in a new vehicle over the last decade, odds are that you've come into contact with a computer that assists in the act of driving. That assistance might have been as simple as a beep from the console that tells you when you're about to back up into a light pole -- a mundane, accessory, maybe slightly annoying tool, not what anybody would put under the banner of science fiction. But that little beep is a harbinger for a coming revolution that will change the design of our cities and neighborhoods, our fundamental relationship with technology, and the way we work and live.
When I mention autonomous vehicles to people outside of the tech and transportation worlds, I'm usually either met with near-complete incomprehension or bordering-on-overwhelming excitement. One either hasn't heard or even dreamed that self-driving cars might be imminent, and is given to imagine them as futurist babble; or else one has been exposed to news of the rapid progress by tech and automotive companies in developing autonomous vehicles, has heard tell of a timeline to have such vehicles all over the road by 2021, and so has the vague conviction that the world is going to look quite a bit more like The Jetsons in the next five years or so. 
Neither of these types has quite the right idea, although the latter, excitable viewpoint is the one closest to the truth: Self-driving cars are coming, make no mistake, but we shouldn't expect them to suddenly, explosively appear en masse on America's roads, doing away with the act of driving in one fell swoop. Instead, we might look to that modest cautionary computer beep as a way to understand how self-driving cars will make their way into our lives: the technology will not come to us in a single wave, but in small cumulative increments, increasing in frequency, adding up, finally, into a revolutionary impact.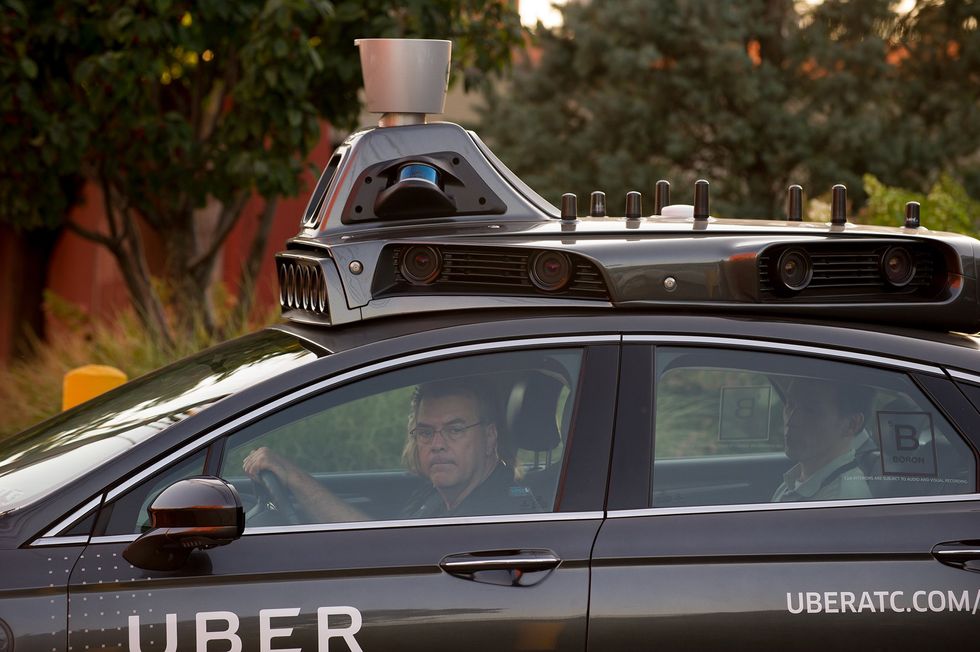 An Uber driverless Ford Fusion drives down Smallman Street on September, 22, 2016 in Pittsburgh, Pennsylvania. Uber has built its Uber Technical Center in Pittsburgh and is developing an autonomous vehicle that it hopes will be able to transport its millions of clients without the need for a driver. (Photo by Jeff Swensen/Getty Images)
Everybody is familiar with the first-ever form of driver-assistance technology. That honor goes to the automatic transmission, introduced to consumers in 1939, the same year as General Motors' "Futurama" presentation at the New York World's Fair, which brought the ideas of mass vehicle ownership, the interstate highway system, and self-driving cars into the popular consciousness, all at once. But it has taken 70 years for tech companies to view fully autonomous vehicles as a realizable goal, and with that clarion call has come a veritable slew of computerized driver-assistance tools that evolved over nearly a century, that have a dual purpose: first, the utilization of rapidly evolving information technologies to make driving safer and easier; second, and far more implicit, to help consumers grow comfortable with the idea of giving over their driving -- and their safety -- to a machine that is effectively a robot.
Here's a vague, speculative roadmap for how self-driving cars will make their way onto our roads. First, we will see (and are already seeing) the deployment of advanced driver assistance in luxury and commercial vehicles. Consequently, and perhaps counterintuitively, older drivers -- those most likely to buy high-end cars or to drive for a living -- will wind up being the first users of autonomous vehicle technologies. Next, we might expect freight and public transit networks to adopt the technology. The first fully autonomous vehicle on our streets will probably be a city bus or delivery truck.
At the same time, private companies like Uber and Lyft will be racing to develop their own autonomous fleets -- indeed, Uber is already testing the waters in Pittsburgh. It gets harder to make predictions beyond that point. Complete transition from the science fiction of driverless cars to science fact where nobody drives will be a series of transitions over time (See SAE Automation Levels) will, in fact, be a revolution that will change fundamentally how our society looks. How exactly those movements will be carried out is anyone's guess.
The thing of it is that near-fully autonomous vehicles already exist, and have already racked up hundreds of millions of miles on our roads. The technology is already here. But for it to be used to its fullest potential, and for the radical future that self-driving cars portend to become reality, we must wait for government, business, infrastructure, and all of us to become receptive to it. This slow, messy process of adaptation is where the revolution will be found, in the social rather than the technological sphere. Autonomous vehicles will bring disruptions in the labor force, in the design of our urban and suburban spaces, the idea of 'driver licensing,' our notion of trust and where we put it, in our concept of "ownership" and how we define ourselves by it, and, ultimately, the amount of mobility we enjoy.
MIT AgeLab's Adam Felts contributed to this article.
Here's an interesting crash course on computational ethics with Jerry Kaplan: