As its CEO, Bill Nye lays out the missions The Planetary Society would like to see NASA focus on over the next 20 years. NASA by nature goes where the future is, and Nye can't help but think of another industry that should follow suit.
Why is NASA so important? Let us count the ways – for its intellectual and physical daring, its spinoff technology that has advanced civilization generally (we wouldn't have the internet without NASA) – but perhaps chief among them is that no matter who you are in the world or how you feel about the United States, NASA earns global respect for its technological achievement and drive towards progress and efficiency. An industry that could learn from that ethos, rather than digging its heels in to delay the future, is fossil fuels. If everyone pulled together in the same direction, it would mean clean, renewable energy for everyone on Earth, much sooner. Bill Nye's most recent book is Unstoppable: Harnessing Science to Change the World.
Bill Nye's most recent book is Unstoppable: Harnessing Science to Change the World.
Pedal faster, we need the juice! The tech giant is about to become the world's greenest company. Here's how.
If she pedals fast enough maybe Google can harness it... (Photo by Justin Sullivan/Getty Images)
Google's about to become the world's largest green company.
According to The New York Times, the tech giant used as much energy in 2016 as the entire city of San Francisco. That's enough energy to power half a million American homes in the same time frame. Why? "Google's energy costs are much higher than usual because in addition to powering its offices, Google also runs several large data servers in many parts of the world," Popular Mechanics reports. Google's noticed that, too – and it's decided to take action.
In 2017, Google hopes to stop its energy drain by using only solar and wind technologies to power its headquarters and all worldwide data centers. "What Google has done over the last decade, with relatively little fanfare, is participate in a number of large-scale deals with renewable producers, typically guaranteeing to buy the energy they produce with their wind turbines and solar cells," reports The Times. Those guarantees, known as Renewable Energy Certificates, allow producers to obtain financing that helps them purchase more turbines or solar cells. Google plans to have all of its facilities and campuses purchase enough certificates to cover 100% of its energy output by next year.
Google's current renewable energy contracts. Credit: Yale Environment 360.
"We are the largest corporate purchaser of renewable energy in the world," Google vice president of data centers Joseph Kava told The Times. "It's good for the economy, good for business and good for our shareholders." There is truth to that; Google has seen both lower energy consumption and improved efficiency since investing in renewable energy. "Compared to five years ago, the company says it now delivers 3.5 times more computing power with the same amount of electricity in certain portions of its data centers," The Verge reports. They released a white paper to explain even more about their data savings.
Google's hope is that other companies will follow its lead. "I do know that a lot of learnings can be applied to other industries," Kava told The Verge. "If you're a large industrial plant, whether it's petrochemical, oil and gas, or just large metal fabrication, it's a lot of the same things. Power going in, which means heat, and getting that heat out."
Google hopes other tech companies will adopt alternative energy sources as well. "Microsoft says it has been 100 percent carbon neutral since 2014, but much of this comes from the purchase of carbon offsets," The Times explains "which are investments in things like tree planting or renewables projects." If Microsoft were to follow Google's lead and invest in renewable energy rather than purchase carbon offsets, the tech industry might very well help alternative energies gain enough traction to become viable mainstream power sources.
For all of its potential, there are a few caveats to Google's plan. Namely, it isn't actually going to power anything with renewable energy. It's just going to invest in it. "If they think they can actually support themselves with wind and solar panels, they should connect them directly to their data centers," Chris Warren, vice president of communications at the Institute for Energy Research (and alleged fossil fuel fan), told The Times. "In my mind it's a PR gimmick."
Yet, "Google support for the [alternative energy] industry could keep prices dropping, particularly relative to things like coal," reports The Times. If Google succeeds, it will become the first large corporation to run entirely on clean energy and that, as environmental strategy consultant Andrew Winston told us, could change the world for the better: 
Will this EU power be the first to prove that a modern, industrialized nation can make major shifts towards cleaner, greener energy without catastrophe?
Cars and traffic fill the A100 ring highway at dusk on November 3, 2014 in Berlin, Germany. (Photo by Sean Gallup/Getty Images)
New legislation may be the death of the internal combustion engine in Germany, and perhaps Europe at large. A bipartisan resolution was passed by the Bundesrat, one of the two highest legislative bodies in Germany, calling for a ban on the use of internal combustion engines on roads by 2030 to be passed in Brussels, which would affect all of the European Union.
The gravity of the resolution is made greater when the fact that German regulations are often the model for EU regulations is taken into account. That this resolution was passed by the nation with the largest automotive manufacturers in Europe and the home of the Autobahn is no less considerable.
One of the legislators who voted for the bill, Oliver Krischer, a member of the German Green Party, was quoted as saying; "If the Paris agreement to curb climate-warming emissions is to be taken seriously, no new combustion engine cars should be allowed on roads after 2030" in endorsement of the resolution. He references the recent Paris Agreement which seeks to curtail greenhouse gas pollution in signatory nations, which require Germany to make substantial reductions in its pollution output.

What might happen if Europe does phase out internal combustion? Luckily there is a similar case to compare it to, with a similar time frame and scope.
Several years ago, the Germans passed legislation calling for a phase-out of nuclear power; citing environmental and security concerns. The ambitious phase-out seeks to shut down all Germany's nuclear plants by no later than 2022. Nuclear power usage has declined from being the source of a third of all electricity production to less than a fifth in 2014. The plan is currently on track to be completed on schedule. 
The nuclear phase-out has been the catalyst for a series of initiatives to promote renewable power in Germany. While there were concerns about the consequences of a reduction in electricity production at the beginning, the transition has gone on without major issues. This has been made possible by aggressive policies to improve energy efficiency, strong regulations to encourage renewables, and large investments in clean energy. Plans to reach 35% renewable energy production nationally by 2020 are deemed achievable.

The phase-out seems to show that a modern, industrialized nation can make major shifts towards cleaner, greener energy without catastrophe. It can even be done quickly if the planning is done well enough.
So, is the land that gave us the modern internal combustion engine going to be the death of it? That remains uncertain, as the resolution has no legal force at this time. The German Transport Minister has reiterated the lack of legal power behind the resolution and declared the whole thing to be "utter nonsense". There is also the problem of how clean the non-petrol powered cars would be, if the energy used to power them isn't clean they can't be either.  
At the very least, a mere attempt to do something this far-reaching is likely to have tremendous effects on the state of alternative technologies for powering cars. If anybody can engineer a better, cleaner automobile, it would be the Germans.
How Costa Rica achieved 100% renewable energy, and what it means.
Estanquillos, Costa Rica
There's been a lot of excitement about Costa Rica's recent announcement that it got 100% of its electricity from clean renewable energy sources for 76 days straight, from the end of June through August. Its total for 2016 so far is 150 days altogether. Costa Rica set a goal of becoming carbon-neutral by 2021, though they've recently pushed that back to 2085.
It's great to have some good climate change news for a change — we need the inspiration — but remember how you heard that a thing that seems too good to be true probably isn't? Well, it's not that Costa Rica's claim isn't true, exactly. It's just that it leaves out some critical "buts." The country does have a genuine and exceptional commitment to fighting climate change, so while its story provides a glimmer of good news, it's really just a glimmer.
There's More to the Story Than Power
To begin with, it's Costa Rica's electrical grid that's been running on renewables, but not the transportation system — cars and buses — which accounts for nearly 70% of the country's energy consumption. (Less than 200 hybrid cars that can take advantage of the clean electricity have been imported.) Adding to the carbon dioxide levels are two big cement plants that burn coal and petroleum coke, and air quality is further affected by the many houses that still burn wood for heat.
But About That Clean, Renewable Electricity
Costa Rica has a hydroelectricity infrastructure that's supplied the majority of the country's power since 1989, according to Costa Rican think tank Nivela.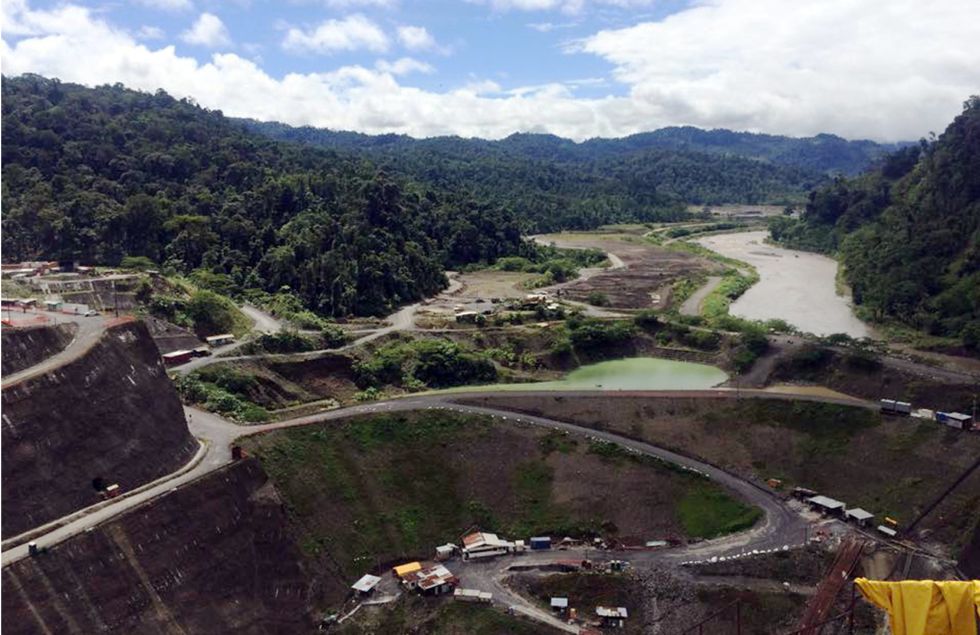 Reventazón DAM (ICE)
Some years this works better than others — the country suffered a major drought in 2014 — and 2015 and 2016 have been unusually rainy, keeping reservoirs full. The downside? The bountiful downpour is likely due to climate change. Paraguay is another country that gets almost all of its power from hydroelectric, thanks to their Itaipú Dam, and Brazil gets over 75% of its power from hydroelectricity.
Another 12.6% of Costa Rica's electricity comes from geothermal plants that pull heat from deep in the earth's crust.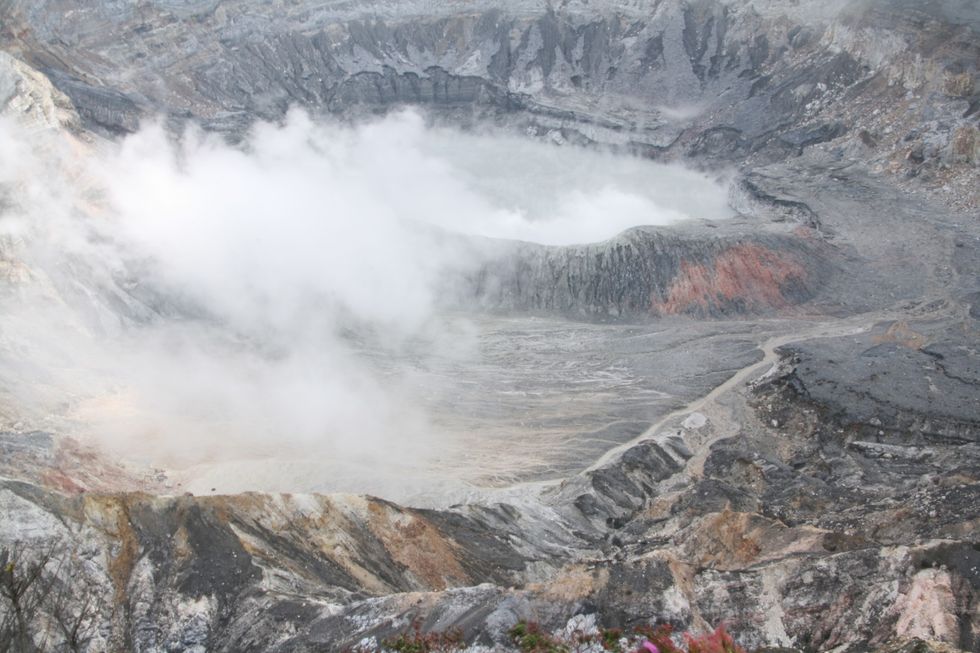 Geothermal resource
Costa Rica gets another 2% of its electrical power from wind turbines, with a little bit of additional energy coming from biomass burning and solar.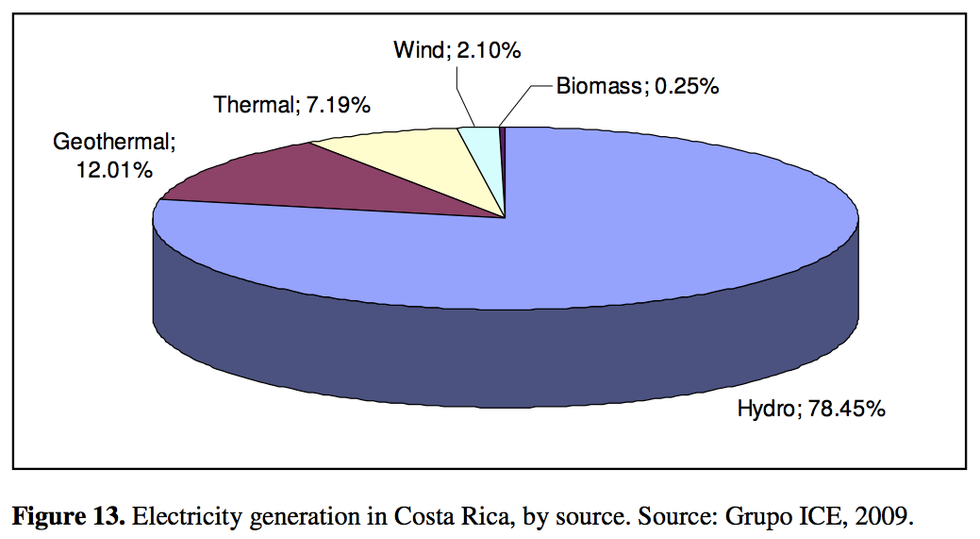 Iceland gets 99% of its electric power from a similar mix of sources: Dammed rivers supply hydroelectric power that meets 70% of demand, and geothermal energy from the collision of the two continental plates the country straddles takes care of the other 30%.
Size Matters
It's great that Costa Rica's doing so well meeting demand with clean energy, but its small size means it can get by with producing far less than many countries. 51,000 square kilometres in size — about half of Kentucky — with only 5 million people and no real heavy industry, demand in 2015 was met with 10,713 gigawatt-hours of electricity. Compare that to about 4 million gigawatt-hours needed in the U.S. during the same year, and you see why Costa Rica has a smaller mountain to climb than many.
In larger countries, producing sufficient hydroelectric and geothermal power may have to wait for technology beyond what we currently have. The destruction required to even attempt to produce the power larger countries need now would be unacceptable, and likely impossible anyway.
Costa Rica's Role
The best way to take the good news from Costa Rica is to count the country among a number of other inspiring nations working diligently to leverage current technology and take advantage of naturally occurring resource opportunities as they arise. Costa Rica joins them at the leading edge of the global effort to safely and non-destructively meet our need for clean, renewable energy.