Breakthrough technology uses multiplexing entanglement to make an ultra-secure quantum internet.
Credit: Copyright ÖAW/Klaus Pichler
Scientists devise the largest-ever quantum communications network.
The technology is much cheaper than previous attempts and promises to be hacker-proof.
The 'multiplexing' system devised by the researchers splits light particles that carry information.
Scientists are closer to creating a hacker-proof quantum internet thanks to a promising new invention. A team led by the University of Bristol in the U.K. found a method of securing online communication that relies on the laws of physics.
The approach aims to make any message sent over the internet interception-proof.
The study's lead author Dr. Siddarth Joshi, of the university's Quantum Engineering Technology (QET) Labs, called their work a "massive breakthrough" that makes quantum internet possible. The potential of such a network has run into tremendous costs, resources, and research time while sacrificing security. What the researchers created is "scalable, relatively cheap and, most important of all, impregnable," shared Joshi, adding that "it's an exciting game changer and paves the way for much more rapid development and widespread rollout of this technology."
With hackers seemingly always a step ahead of any protections we've been putting in place on our current internet communications, there's strong motivation for finding a much more secure alternative that wouldn't lead to expensive and damaging privacy breaches. But while's it been hailed for decades as a possible solution, quantum internet hasn't yet been devised to the point of usefulness.
One method of secure encryption already invented, called quantum key distribution, relies on transmitting photons – particles of light. This can be used to share information between two users, using a secret key to encrypt data. The drawback of this tech – it needs a large infrastructure to expand, with each user requiring a separate transmitter and receiver.
"Sharing messages in this way, known as trusted nodes, is just not good enough because it uses so much extra hardware which could leak and would no longer be totally secure," Dr. Joshi explained.
Quantum network in operation.
Credit: Siddarth K. Joshi
What Joshi's team came up with utilizes quantum entanglement, the ability of two particles at different locations to mimic each other. The developed system also sports traffic management that helps control the network, allowing to prioritize user connections.

"Instead of having to replicate the whole communication system, this latest methodology, called multiplexing, splits the light particles, emitted by a single system, so they can be received by multiple users efficiently," elaborated Dr. Joshi.
Artist's drawing of the quantum network, with the glowing lines showing quantum entanglement shared by 8 users.
Credit: Holly Caskie
In fact, the researchers were able to make a network for eight users that only needs eight receiver boxes, not 56 as would be the case under the old approach. The boxes were linked to Bristol's optical fiber network and were successful in sending messages using the quantum communication. Not only was this very secure but the technique relied on existing technology, requiring less hardware and much less financial investment. Previous quantum systems spent years in construction, with costs running into millions and even billions. The new network was made in just months for under $400,000.
The relatively low costs allow the multiplexing entanglement technology to be scaled up widely, propose the scientists, who think they can be "serving not just hundreds or thousands, but potentially millions of users in the not too distant future," as stated Dr. Joshi.
Check out the new research in the journal Science Advances.
Researchers devise groundbreaking new methods to create and duplicate single-atom transistors for quantum computers.
Adobe Stock.
Researchers from the National Institute of Standards and Technology (NIST) and the University of Maryland were able to create single-atom transistors for only the second time ever.
They also achieved an unprecedented quantum mechanics feat, allowing for the future development of computers.
The tiny devices could be crucial in creating qubits, leading to next-generation technology.
Tiny technologies could have tremendous effects on the next generation of computers, supercharging memory and processing abilities. Key to these advancements would be the creation of transistors that are the size of several or even single atoms. Newly-published research from scientists at the National Institute of Standards and Technology (NIST) and the University of Maryland provides a blueprint on how to create such microscopic tech.
A big challenge to this endeavor is in figuring out how to duplicate such small transistors, which would act like small on-off switches, reports Science News. Utilizing the recipe they devised, the team led by NIST became just the second ever to create a single-atom transistor and the first ever to produce a series of transistors with only a single electron each, whose geometry could be manipulated at the atomic level.
The scientists were also able to gain control over the quantum phenomenon of quantum tunneling, changing the rate at which individual electrons travelled through a physical gap or the transistor's electrical barrier. The significance of managing this process lies in allowing the transistors to get "entangled" according to the laws of quantum mechanics. This can lead to new ways of creating quantum bits (qubits) – the basic unit of information in quantum computing.
Check out how the researchers were able to fabricate single-atom and few-atom transistors:
Fabricating Single-Atom Transistors
Their methods for precisely duplicating the devices that can work as qubits featured key innovations like sealing the phosphorus atoms involved with layers of silicon to protect them and then sending electricity to the embedded atoms, as NIST researcher Richard Silver explained.
"We believe our method of applying the layers provides more stable and precise atomic-scale devices," he added.
What's also remarkable about their achievement is that this approach of making electrical contact with the micro transistors has a nearly 100% success rate. This allows the devices to operate as part of a circuit. As Silver's colleague on the research, Jonathan Wyrick, stated, "You can have the best single-atom-transistor device in the world, but if you can't make contact with it, it's useless."
The researchers also included Xiqiao Wang, Michael Stewart Jr., and Curt Richter.
Check out their study in Communications Physics.
A team of researchers reverses the arrow of time in quantum experiments.
Credit: Pixabay
It's not quite time travel, but scientists appear to have reversed the arrow of time in quantum systems. The "arrow of time" is the concept that natural processes run forward, not in reverse. An international team of researchers was able to show that given specific conditions, heat can flow from a cold quantum particle to one that's hotter. 
The arrow of time is derived from the second law of thermodynamics, which says that entropy increases over time. Entropy is the measure of disorder. The law explains why it's hard to unbreak stuff or why a hot cup of tea will eventually turn cold. It just doesn't usually work the other way. 
What the scientists found is that "the arrow of time is not an absolute concept, but a relative concept," as says the study's co-author Eric Lutz, a theoretical physicist at the University of Erlangen-Nürnberg in Germany. His lab was able to reverse the flow of heat in two quantum particles. They were correlated, meaning that their properties were linked, similarly to quantum entanglement but less strong. The special quality of correlated particles is that they share some information with each other. This property is not possible for bigger objects. 
The researchers, led by the physicist Roberto Serra from the Federal University of ABC in Santo André, Brazil, manipulated molecules of chloroform. These are made of carbon, hydrogen and chlorine atoms.
The scientists heated up the nucleus of the hydrogen atom more than the nucleus of the carbon and observed how the energy flowed. In an uncorrelated state, the heat flowed as expected, from hot to cold. But when the nuclei became correlated, heat flowed backwards with the hotter hydrogen nucleus getting hotter and the cooler carbon getting cooler. 
The significance of the experiment lies in demonstrating an exception to the second law of thermodynamics, which doesn't take into account correlated particles.  
While odd behavior at the quantum level may be hard to grasp, what is more tangibly exciting is that the scientists are aiming to use these particle quirks to design super-small quantum engines.
You can read their study here.
If you've ever wondered which part of physics covers which part of space, fret no more. Here is an awesome map that lays it all out.
Map of Physics by Dominic Walliman
Space is big. Really big. You just won't believe how vastly, hugely, mindbogglingly big it is. But DON'T PANIC. Physics is on it. And if you've ever wondered which part of physics covers which part of space, fret no more. Here is an awesome map that lays it all out.
Dominic Walliman, "youtuber, science writer and physicist," has created a wonderful infographic that shows the many branches of physics and how they all come together. He has accompanied it with a brief but informative video that gives a chronological overview of each branch and explains the matters (and energies) it is concerned with. 
You may learn, for example, that Condensed Matter Physics describes the quantum physics of many atoms together in solids and liquids and is where technologies like computers and lasers come from. You may also learn that Quantum Field Theory is the closest we've gotten to bridging the gap between quantum physics and the Special Theory of Relativity but Quantum Field Theory has not yet found a way to include gravity (!) in it. (That feels like a pretty big gap.)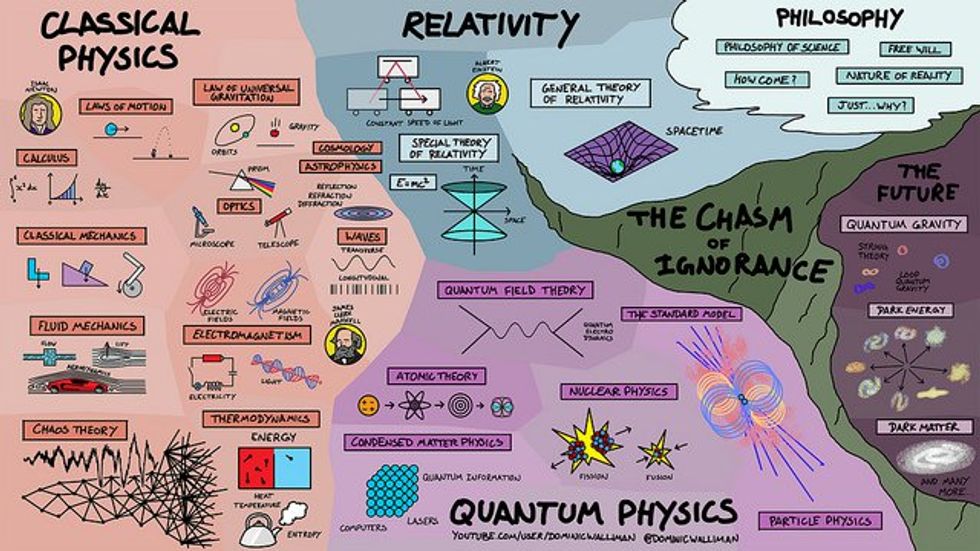 Credit: Dominic Walliman / Full resolution image here.
Walliman made the map to help people who may feel lost in physics like he once was. 
"When you are learning a new subject, I think the single most useful thing is a good mind map that lays out all the subject areas so you know where the information you are learning fits in. I can remember so many times, sitting in a lecture, having no idea what the prof was talking about and how it related to other subjects.

I think this is often the case when I'm explaining physics to other people. I know physics really well (one would hope so after doing it for such a long time), so I thought I would make a map of all of physics as it is now. This is all the stuff we know about physics - and a few things we know we don't know."
He has created several other mind maps and videos, like a map of chemistry, a map of mathematics and a map of computer science.
While the map of physics sure seems daunting as is, it actually only covers scientific fields that describe about 5% of the universe. With dark energy and dark matter making up the other 95%, there are many new branches of physics we can be expecting in the future. 
A new conception of quantum mechanics rests on the idea that parallel universes exist, and that they interact with our own to create weird and wonderful quantum phenomena.
Wikicommons
Quantum mechanics is hard to do. The great physicist Richard Feynman once remarked "It is safe to say that nobody understands quantum mechanics" and that statement was regarded as correct. The problem isn't in the math, even an undergraduate can use Schrödinger's equation, it is in what the math means.
We are all familiar with several interpretations of what the math could mean, from cats that are both dead and alive to an infinite multiverse where every possible history does happen. How to prove which of these interpretations is correct is another problem; as parallel universes are postulated to not interact with one another and scientists don't quite have the stomach to put cats in quantum booby traps. With no ability to experiment, the math is all we know for sure.
But, a radical new interpretation might hold the answer, and in a manner that could be tested.
The idea is called the Many Interacting Worlds hypothesis, the or MIW. The core concept is that a plethora of universes have always existed side by side, and that they subtly influence the ones near them to differ from themselves. The bizarre effects of quantum mechanics that we observe and are confused by, such as quantum tunneling and the double slit experiment, are really caused by the interactions between these universes.
The hypothesis says the probabilistic nature we ascribe to certain events is really uncertainty caused by our not knowing which universe we are in, and that if we knew where we were physics would again be deterministic. The authors of the study say as little as two existent universes would be enough to assure quantum effects take place. They show they can account for basic quantum phenomena using their ideas.
What makes this model different from the others?
Firstly, it "contains nothing that corresponds to the mysterious quantum wave function," except when the number of modeled universes is infinite. When the model contains only one universe, it simplifies to a classical, Newtonian system. Quantum physicist and author of the hypothesis Michael Hall called this element "surprising" and said that it means that their hypothesis "incorporates both classical and quantum theory".  A vital step for any interpretation that wants to make headway.

Another key difference is that the proposed words in this hypothesis interact with one another. Because of this, scientists could devise an experiment to show if the predicted interaction was taking place; supporting or disproving the hypothesis. Since science typically holds falsifiability to be a gold standard, this is a great leap forward for quantum theory.
So, is this model going to be of any use?
At the moment, the model is still speculative and unlikely to become the new standard interpretation anytime soon. The authors of the hypothesis hope that their concept "will be useful in planning experiments to test and exploit quantum phenomena such as entanglement. Our findings include new algorithms for simulating such phenomena and may even suggest new ways to extend standard quantum mechanics."

Even if the ideas are proven false, or never catch on as a paradigm for interpreting quantum phenomena, the researchers hope to advance our understanding of science anyway. As they say in their press release, "while Richard Feynman may have had a point when he said 'I think I can safely say that nobody understands quantum mechanics,' there is still much to be gained by trying to do so".