What's the difference between brainwashing and rehabilitation?
The book and movie, A Clockwork Orange, powerfully asks us to consider the murky lines between rehabilitation, brainwashing, and dehumanization.
There are a variety of ways, from hormonal treatment to surgical lobotomies, to force a person to be more law abiding, calm, or moral.
Is a world with less free will but also with less suffering one in which we would want to live?
Alex is a criminal. A violent and sadistic criminal. So, we decide to do something about it. We're going to "rehabilitate" him.
Using a new and exciting "Ludovico" technique, we'll change his brain chemistry to make him an upstanding, moral citizen. Alex will be forced to watch violent movies as his body is pumped with nausea-inducing drugs. After a while, he'll come to associate violence with this horrible sickness. And, after a course of Ludovico, Alex can happily return to society, never again doing an immoral or illegal act. He'll no longer be a danger to himself or anyone else.
This is the story of A Clockwork Orange by Anthony Burgess, and it raises important questions about the nature of moral decisions, free will, and the limits of rehabilitation.
Today's Clockwork Orange
This might seem like unbelievable science fiction, but it might be truer — and nearer — than we think. In 2010, Dr. Molly Crockett did a series of experiments on moral decision-making and serotonin levels. Her results showed that people with more serotonin were less aggressive or confrontational and much more easy-going and forgiving. When we're full of serotonin, we let insults pass, are more empathetic, and are less willing to do harm.
As Fydor Dostoyevsky wrote in The Brothers Karamazov, if the "entrance fee" for having free will is the horrendous suffering we see all around us, then "I hasten to return my ticket."
The idea that biology affects moral decisions is obvious. Most of us are more likely to be short-tempered and spiteful if we're tired or hungry, for instance. Conversely, we have the patience of a saint if we just have received some good news, had half a bottle of wine, or had sex.
If our decision-making can be manipulated or determined by our biology, should we not try various interventions to prevent the criminally inclined from harming others?
Drastic interventions
What is the point of prison? This is itself no easy question, and it's one with a rich philosophical debate. Surely one of the biggest reasons is to protect society by preventing criminals from reoffending. This might be achievable by manipulating a felon's serotonin levels, but why not go even further?
Today, we know enough about the brain to have identified a very particular part of the prefrontal cortex responsible for aggressive behavior. We know that certain abnormalities in the amygdala can result in anti-social behavior and rule breaking. If the purpose of the penal system is to rehabilitate, then why not "edit" these parts of the brain in some way? This could be done in a variety of ways.
Credit: Otis Historical Archives National Museum of Health and Medicine via Flickr / Wikipedia
Electroconvulsive therapy (ECT) is a surprisingly common practice in much of the developed world. Its supporters say that it can help relieve major mental health issues such as depression or bipolar disorder as well as alleviate certain types of seizures. Historically, and controversially, it has been used to "treat" homosexuality and was used to threaten those misbehaving in hospitals in the 1950s (as notoriously depicted in One Flew Over the Cuckoo's Nest). Of course, these early and crude efforts at ECT were damaging, immoral, and often left patients barely able to function as humans. Today, neuroscience and ECT are much more sophisticated. If we could easily "treat" those with aggressive or anti-social behavior, then why not?

Ideally, we might use techniques such as ECT or hormonal supplementation, but failing that, why not go even further? Why not perform a lobotomy? If the purpose of the penal system is to change the felon for the better, we should surely use all the tools at our disposal. With one fairly straightforward surgery to the prefrontal cortex, we could turn a violent, murderous criminal into a docile and law-abiding citizen. Should we do it?
Is free will worth it?
As Burgess, who penned A Clockwork Orange, wrote, "Is a man who chooses to be bad perhaps in some way better than a man who has the good imposed upon him?"
Intuitively, many say yes. Moral decisions must, in some way, be our own. Even if we know that our brains determine our actions, it's still me who controls my brain, no one else. Forcing someone to be good, by molding or changing their brain, is not creating a moral citizen. It's creating a law-abiding automaton. And robots are not humans.
And yet, it begs the question: is "free choice" worth all the evil in the world?
If my being brainwashed or "rehabilitated" means children won't die malnourished or the Holocaust would never happen, then so be it. If lobotomizing or neuro-editing a serial killer will prevent them from killing again, is that not a sacrifice worth making? There's no obvious reason why we should value free will above morality or the right to life. A world without murder and evil — even if it meant a world without free choices for some — might not be such a bad place.
As Fyodor Dostoyevsky wrote in The Brothers Karamazov, if the "entrance fee" for having free will is the horrendous suffering we see all around us, then "I hasten to return my ticket." Free will's not worth it.
Do you think the Ludovico technique from A Clockwork Orange is a great idea? Should we turn people into moral citizens and shape their brains to choose only what is good? Or is free choice more important than all the evil in the world?
Jonny Thomson teaches philosophy in Oxford. He runs a popular Instagram account called Mini Philosophy (@philosophyminis). His first book is Mini Philosophy: A Small Book of Big Ideas.
The Brazilian government has been trying to answer this very question in its ever-growing prison population, which has doubled since the year 2000.
The Brazilian prison population has doubled since 2000. (Photo: Mario Tama/Getty Images)
In 1953, long before shots of ayahuasca were paired with cacao elixirs at Burning Man Decompression parties, William Burroughs traveled around South America in search of the mystical beverage called yagé. Though Burroughs is remembered predominantly as a heroin junkie, he documented not only the hallucinogenic qualities of ayahuasca, but also the scientific possibilities of this intriguing blend of vines and leaves. 
Ayahuasca was first "discovered" by Western science in 1851, when the Victorian naturalist Richard Spruce made his way around the Amazon (Burroughs later read his work). It would take the "father of ethnobotany," Richard Evans Schultes, to bring ayahuasca to mainstream awareness. Ironically, perhaps, Burroughs and Schultes, both Harvard graduates, ran into one another in Colombia in 1953 while documenting yagé. 
Burroughs never achieved the scientific results Schultes did. While the Beat writer focused on a book (eventually downgraded to an article) on the science, he was known for dramatic statements like, "NO ONE IN HIS SENSES WOULD EVER TRUST 'THE UNIVERSE.'" A powerful observation in his letters to pal Allen Ginsberg, but not getting him published in Nature anytime soon. 
Interestingly, when traveling through the Putumayo region of Colombia, Burroughs predicted a global ayahuasca boom. Today eco-luxe tourism is rampant in the Amazon, with rock star shamans grappling with sexual abuse accusations. In Los Angeles, yoga teachers who've drank the brew feel justified in labelling themselves "plant medicine shamans" after circumventing the rigorous dieta and apprenticeship process. With so much spiritual capitalism occurring around this drink, what benefits can actually be gleaned? 
The Brazilian government has been trying to answer this very question in its ever-growing prison population, which has doubled since the turn of the century. In 2013, volunteer therapists working with Acuda, a prisoner's rights group based in Port Velho, began integrating yoga, reiki, and ayahuasca ceremonies as part of a wide-scale rehabilitation effort to help the half-million-plus inmates scattered across the nation.
While the brew is less studied than other entheogens, early reports are positive. One small study in Brazil saw a meaningful reduction in depression in volunteers. A larger follow-up saw a 64 percent success rate in treating depression. Another study focused on its potential application in treating addiction and other "diseases of civilization." Some speculate that ayahuasca might have even wider-ranging applications: 
The plant has shown potential to help people recover from trauma, PTSD, addiction and depression, as well as cancers and other afflictions.
The larger question of ayahuasca's scientific and spiritual applications was entertained in the 2010 documentary, DMT: The Spirit Molecule, which has been viewed millions of times on Netflix, Youtube, and other streaming services (and which I served as music supervisor for). Parsing credible science from anecdote is always challenging, yet the transformative effects of ayahuasca are well documented. 
Context matters. Last week I wrote about how mindfulness meditation might be dangerous for prisoners, but thus far ayahuasca seems beneficial for helping prisoners reflect on their crimes and, by extension, reducing recidivism rates.
This treatment is not universally welcome. One Brazilian resident, whose daughter was killed by one such prisoner, wonders how the murderer is allowed to enter the jungle to drink sacred medicine. The bigger question here involves the role prisons play in society: punishment or rehabilitation? 
This question is particularly pertinent in the United States, which holds more prisoners than any other nation. While no one is advocating that prison should be pleasurable, some view it as an opportunity to prepare inmates for reintegration into society. Many facilities accomplish the opposite: 
Prisoners in supermax units experience extremely high levels of anxiety and other negative emotions. When released—often without any "decompression" period in lower-security facilities—they have few of the social or occupational skills necessary to succeed in the outside world.
Others believe prison serves one purpose: justice. One libertarian argument even states that punishing prisoners is more merciful than trying to rehabilitate them: 
Justice requires punishment, punishment must be deserved, and just desert requires a punishment in proportion to the crime committed—neither too much, nor too little. This is far preferable to the senselessly draconian sentences and the perpetual monitoring and post-imprisonment sanctions subject to the whims of a grimly humanitarian state.
The latter argument is more nuanced than that singular quote, though that sentiment does conclude the writer's overall idea, which boils down to this: Are we trying to help criminals or keep them as far away as possible? Do we turn the other cheek or demand an eye, a head, an entire body for an eye? The prison system is broken. Do we want to try to fix it, or let it continue on the corporatized retributive path it's been leading for decades? 
At least in terms of ayahasuca, I can respond thus: on the three occasions I've sat for ceremony I've left recharged, reflective, and grateful. Though the most intense psychoactive experiences I've had—more so than psilocybin, LSD, MDMA, mescaline, and peyote—I never felt anxious. The ceremony provides an opportunity to reflect over your life; if you don't like what's simmering below the surface, chances are the ritual might result in existential duress. 
But coming to terms with what's inside of you is more transformative than ignoring it, which is, from my studies, conversations, and experiences, the true power of ayahuasca. That this brew might help alter the course of a life gone astray is enough incentive to integrate it into the prison population. The medicine is social, spiritual, and therapeutic, but most importantly, it provides a human approach to aiding others. If the science continues leading in this direction, we should follow it. 
--
Derek is the author of Whole Motion: Training Your Brain and Body For Optimal Health. Based in Los Angeles, he is working on a new book about spiritual consumerism. Stay in touch on Facebook and Twitter.
85% of parents undermine their own efforts, nullifying the impact of a time-out. 
A kid totally losing it. Flikr.
When I was growing up in the late 70s to early 80s, hitting and spanking children wasn't so unusual. I was hit on several different occasions on the rump or the hand. We were also sent to our rooms. Later on, I remember time-out's becoming the norm for young children, who I assumed at the time, had it easy.
Some studies have found that spanking makes children more aggressive later on, and increases the likelihood of behavioral and mental health disorders. It's been about 30 years since time-outs have become the norm, which means experts are studying it and its effects more closely.
The strategy is seen as a way to avoid spanking whilst still ensuring the child engages in proper behavior moving forward. Most experts believe it's a good method, if done right. A recent study however, conducted by researchers at Yale and Oregon Health & Science University, found that most parents undermine their own efforts.
Though as a country, parents lean heavily on time-outs, researchers discovered that 85% nullify its effectiveness, in ways such as: giving too many warnings before following through, talking to the child during the time-out period, offering the child toys or books, or failing to provide the exact amount of time it will last for.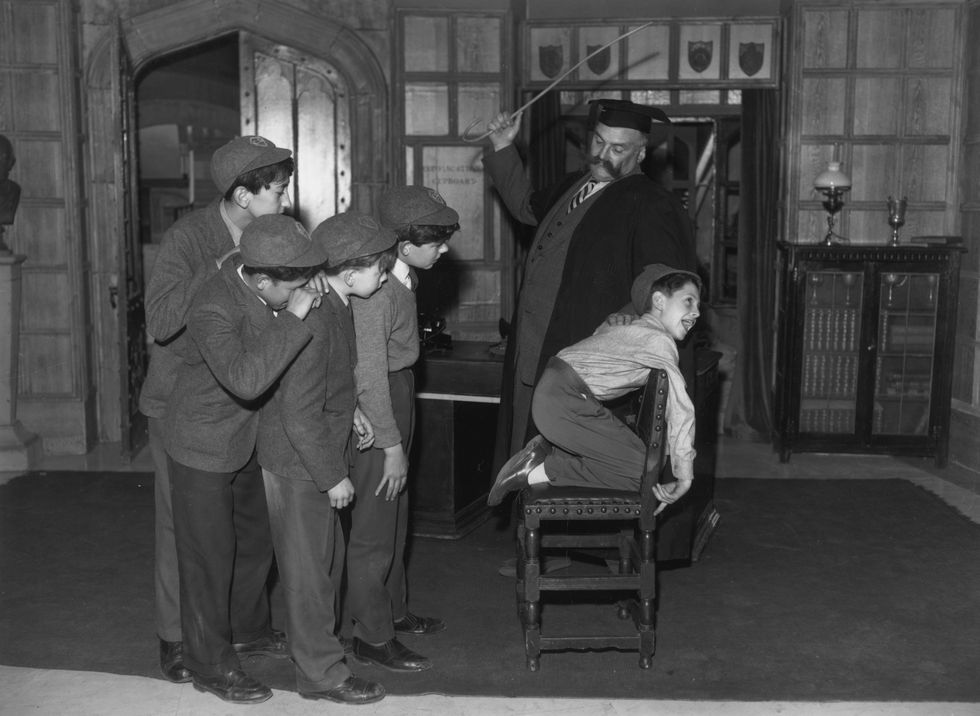 Spanking may increase aggression and behavioral disorders. Getty Images.
Pediatric psychologist Andrew Riley was the lead author of this study, published online in the journal Academic Pediatrics. He said, "The biggest mistake in my clinical experience is that parents do too much talking, and that was true in the study, too." The time-out has to be boring to work.
401 parents and their children—between the ages of 15 months and 10 years old, participated in the study. Parents were observed interacting with and disciplining their children. The parents were also surveyed as to their thoughts on discipline and the proper reaction to good behavior.
74% of parents believed taking away a privilege was the best form of discipline. 64% thought scolding appropriate. Only 7% thought spanking was the best response. Curiously, 25% said they would give in to a resistant child and 5% thought no response at all was appropriate. Regarding good behavior, 83% thought praise and positive attention the right response. 69% said they would outright reward the child.
To employ an effective time-out, make it start just after the offensive language or incident. To not reward the child with attention, be sure to withhold explanations until afterwards. Give a definite time frame it will last for. Don't talk to them. They should remain silent, and disallow any toys or other things that might hold interest. Children need to be able to clearly understand the rules and the consequences of breaking them. In the study, requiring a child to be calm before ending a time out was positively correlated with perceived effectiveness.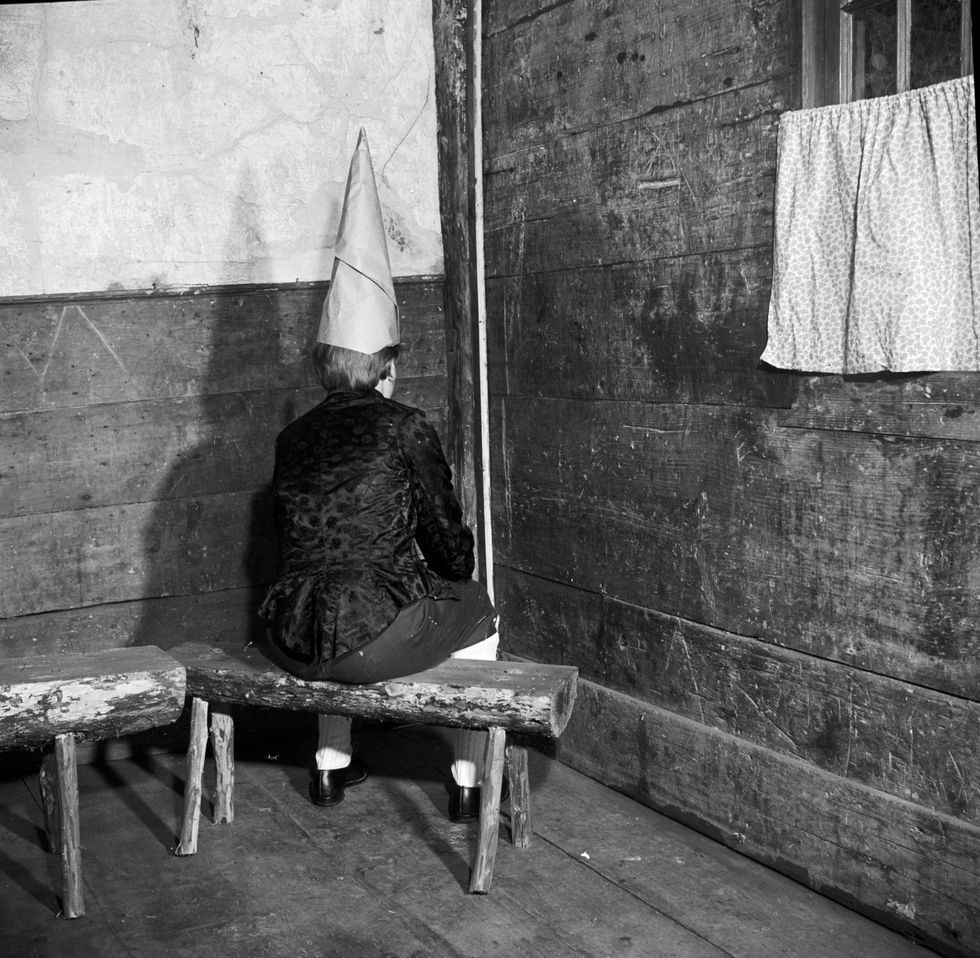 Time-outs should be for reflection on poor behavior, not shaming the child. Getty Images.
Also, they should get one warning. Bargaining or repeatedly warning them won't work. Talking to them at this time can nullify efforts. Many times, children misbehave to seek attention. You don't want to be inadvertently give them what they want, or you may be encouraging bad behavior.
Ignore them when they're in time-out. But also, reinforce good behavior during a time-in. This can include a pat on the back, a hug, high fives, smiles, and praise. If attention's their goal, it should persuade them to abandon misbehavior.
In some cases, parents may just be too nice, undermining their own authority. Always be the parent not their friend, a hard but important line to maintain. Another issue, sometimes parents put the child in time-out when they themselves are angry.
If you yell at the child and they become upset, the focus of the time-out is lost. They're supposed to be reflecting on their own behavior, not why mom or dad is so angry, or mean. Consistency and being in control of your own emotions are crucial in administering proper discipline.
This study had limitations. For instance, it only focused on one particular community in an urban setting. We still have no idea how effective the method is in other places across the country. And few but some vocal experts, take umbrage with time-outs entirely, though most support it. Other pointers, "for preschool-aged children, two minutes is generally sufficient and as little as 30 seconds may be sufficient for toddlers. Generally, significantly longer durations will not improve effectiveness," write the study authors. The common prescription of 1 minute in TO per year of life is also fine.
Don't use a special chair to punish the child, or else you may shame them. And note that by age six or seven, a time-out may no longer be effective. The child may spend their time plotting revenge, rather than focusing on their own behavior. At this point, taking away privileges is perhaps more effective.
To glean more helpful parenting insights, click here: