Fossils depicting animals in action are very rare.
Barden et al., Current Biology, 2020
A fossil of a prehistoric ant hunting has recently been discovered.
Fossilization is rare, so depictions of activities like hunting are hard to come by.
Other fossils show us how dinosaurs hunted, fought, and died.
Any animal with the name "hell ant" is going to be freaky. Now, thanks to a one-in-a-million chance find, we know how exactly how strange the hell ant was.
The infernally named insect has been extinct since the cretaceous period and has long puzzled paleontologists with its curiously shaped mandibles. Now, thanks to the discovery of a hunk of amber containing both a hell ant, or Ceratomyrmex ellenbergeri for the Latin inclined, eating an ancient cockroach.

Unlike nearly all currently existing insects, the hell ant has mandibles that open up and down rather than left and right. While scientists had speculated that this strange bug used its lower mandible to clamp prey to the horn-like upper mandible, it is only with this fossil's discovery that we can know that for sure. According to Science Alert, this is the first time we've found a fossil of this demon ant eating.

Assistant Professor Phillip Barden of the New Jersey Institute of Technology, who authored the study on the fossil, expanded on the significance of the find in Eureka Alert:
"Fossilized behavior is exceedingly rare, predation especially so. As paleontologists, we speculate about the function of ancient adaptations using available evidence, but to see an extinct predator caught in the act of capturing its prey is invaluable. This fossilized predation confirms our hypothesis for how hell ant mouthparts worked ... The only way for prey to be captured in such an arrangement is for the ant mouthparts to move up and downward in a direction unlike that of all living ants and nearly all insects."
The rarity of action shot fossils
Fossilization of any kind is infrequent. While the things that must go right for it to happen vary on the method, a typical dinosaur fossil would have to be buried in minerals conducive to fossilization before too much of it decays or is scattered away.
The odds of this happening are low. The odds of this happening with two animals that were fighting at the time of their death are even lower. However, improbability is not the same as impossibility, and several other fantastic examples of ancient predators engaged in life and death struggles with their prey have been preserved.
The "Fighting Dinosaurs" of Mongolia
By Yuya Tamai from Gifu, Japan - 2014-03-25 13.04.52, CC BY 2.0
One of the more famous fossils of all time is a depiction of a velociraptor fighting a protoceratops. In the above picture, you can see the raptor's slashing claw where the neck of the protoceratops once was and the raptor's forearm caught in the beak of its prey.
Discovered by a Polish-Mongolian team in the seventies, these remains are thought to have been preserved by the rapid collapse of a sand dune onto the battling animals, or by their rapid burial in a sandstorm.
Not only is this fantastic to look at, but it provides us with evidence about how these species of dinosaur behaved that more typical remains cannot offer. For example, while it was commonly supposed that a velociraptor's claw was used to disembowel prey, this scene demonstrates that it was likely used elsewhere. Some have even gone so far as to suggest it wasn't designed to create slashing wounds at all, but instead was used to grab prey.
Montana's Dueling Dinos
The subject of an extended ownership debate that was only recently settled, this fossil has yet to be seen by the public and has already been built into the stuff of legend.
It depicts a Tyrannosaurs-esque predator locked in combat with a potentially unknown member of the ceratopidae family (that's the group that has horns on their faces, like the eternally loved triceratops). The extended court cases around the ownership of the remains haven't been able to eclipse the find's incredible nature.
In addition to depicting predation, the Tyrannosaurus fossil is nearly complete, making it one of about a dozen near-complete T-Rex fossils.
Clayton Phipps, the discoverer of the fossils, further explained how incredible the find was to Smithsonian Magazine: "There's an entire skin envelope around both dinosaurs," Phipps says. "They're basically mummies. There could be soft tissue inside."
Others are less convinced of the importance of this discovery. John Horner, the paleontologist who dug up the famous T-Rex known as "Sue," dismissed the find as "scientifically useless" due to the lack of data collected at the site by the people who dug it up.
Despite his objections, interest in the fossil remains high, likely due to the aforementioned rarity of such a depiction by a fossil.
The study also discovered a downside to having a big brain.
Credit: Getty Images.
Ever wonder about the intelligence of various animals and how they measure up? Researchers at Vanderbilt University decided to find out. Specifically, they chose a subsection of mammals called carnivorans. This group has 250 species, each with sharp teeth and claws, which allow them to hunt other animals.
Scientists picked this group because it contains both carnivores and omnivores. It also has a wide range of domesticated and wild species. Carnivorans outsmart their prey, which was believed to be particularly demanding, cognitively. Because of this, it was assumed that they'd developed more sophisticated brains than herbivores—whose food doesn't run or fight back. Plant eaters also tend to rely on safety in numbers. This study discovered something different, however.
To rightly compare brain power in species, it isn't enough to weigh brain tissue. You must take into account the brain relative to the organism's size. Something called the encephalization quotient has been used in the past to account for it. But this may fall short of evaluating actual intelligence, as it fails to account for the details of brain anatomy.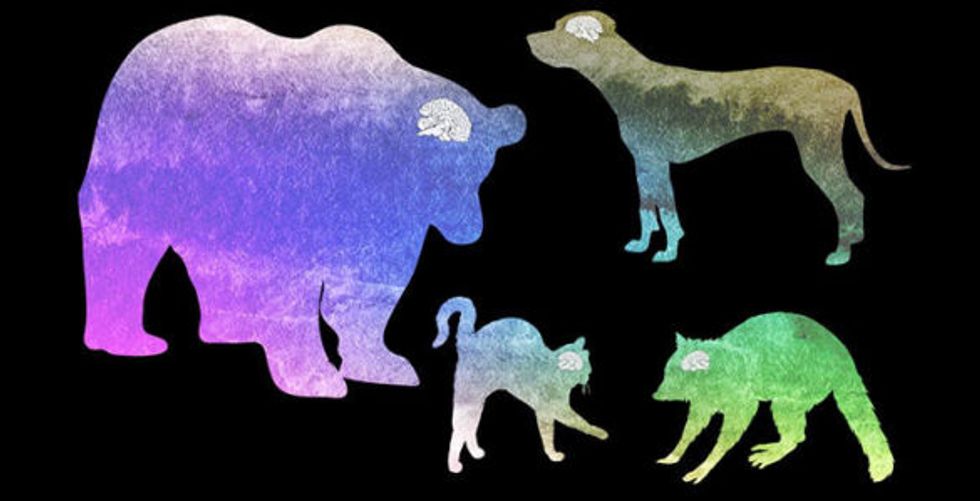 Researchers compared the brains of eight main species. Their findings are changing how we look at brain development. Credit: (Jeremy Teaford / Vanderbilt).
The number of neurons a brain has is associated with greater intelligence. So here, an international team of researchers measured the amount of gray matter in the cerebral cortex in one or two specimens from each of the eight main carnivoran species: dog, cat, ferret, mongoose, raccoon, hyena, lion, and brown bear.
Neuroscientist Suzana Herculano-Houzel from Vanderbilt University was a researcher on this study. She told Science Alert, "I believe the absolute number of neurons an animal has, especially in the cerebral cortex, determines the richness of their internal mental state and their ability to predict what is about to happen in their environment based on past experience." She and colleagues found that carnivorans have about the same number of cortical neurons as herbivores. That means plant eaters need as much brain power to escape from predators as carnivores need to catch them.
Another finding that debunked a commonly held belief, large carnivorans actually had a lower neuron-to-brain-size ratio. A golden retriever had much more cognitive capacity than a hyena, lion, or brown bear. One of the most glaring examples is the bear. Even though its brain is 10 times larger than a cats, a brown bear has about the same number of neurons.
Speaking of felines, how do cats and dogs measure up? Previous findings had cats ahead at 300 million neurons to a dogs roughly 160 million. In this latest study however, dogs were on top, with 530 million cortical neurons to cats 250 million. Just for comparison, humans have around 16 billion such neurons. Even so, dogs were way above other carnivores in the brain power department. "Our findings mean to me that dogs have the biological capability of doing much more complex and flexible things with their lives than cats can," Herculano-Houzel said.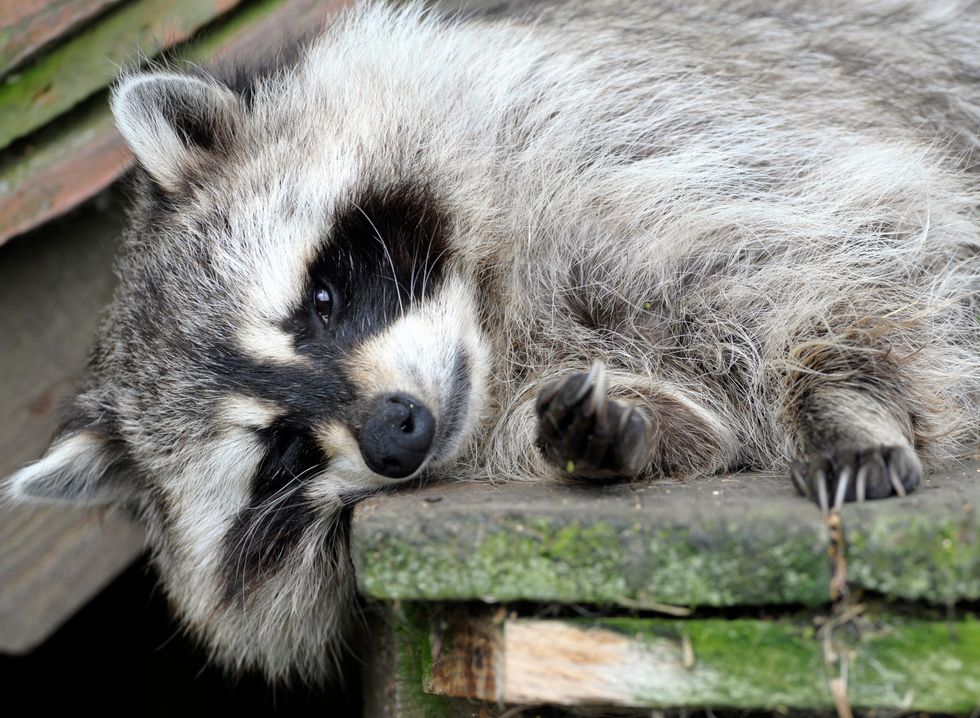 The findings from a raccoon's brain were particularly interesting. Credit: Getty Images.
Having a bigger brain has a downside, researchers find. It requires more energy. And not every quarry in the wild is caught. That makes calorie intake unreliable. "Meat eating is largely considered a problem-solver in terms of energy," Herculano-Houzel said, "but in retrospect, it is clear that carnivory must impose a delicate balance between how much brain and body a species can afford." This may be why you often see large predators like lions and bears dozing. It helps them conserve energy.
The brain is one of the most costly organs in terms of energy requirements. The more neurons an organism has, the more calories its brain consumes. So for large predators, being able to feed only intermittently may have limited their brain development. Another surprise, domesticated animals did not have less brain power than their wild cousins, as has been thought. In fact, they're about the same.
One animal that stood out in particular was the raccoon. Despite its small size, it's pretty sharp. A raccoon's brain is equivalent to a cat's in size. Yet, "they have as many neurons as you would expect to find in a primate," Herculano-Houzel said. "That's a lot of neurons."
We can learn a lot not only about nature and biology, but about ourselves by studying and comparing the neural makeup of other species. "There are multiple ways that nature has found of putting brains together," Herculano-Houzel said. "We're trying to figure out what difference that makes."
To learn more about this study, click here: