U.S. drivers faced a 12% greater risk of dying in a car crash on April 20 over the past 25 years. The likely explanation? High drivers.
Car crash. (Photo: Wikimedia Commons)
Every year on April 20—aka 4/20—millions of people around the world celebrate marijuana's chief holiday by, of course, getting really high. The celebrations are usually peaceful, even if they've been a pain for university officials in states like Colorado and California, where massive crowds used to openly light up on campus property when 4:20pm struck on the holiday.
But new research suggests there's a darker side to the story.
A study published in JAMA Internal Medicine shows that drivers in the U.S. faced a 12 percent greater risk of dying in a car crash on April 20 over the past 25 years. The likely explanation? Impaired drivers crashing cars.
The researchers used a quarter-century's worth of data from the U.S. Department of Transportation's Fatality Analysis Reporting System to compile the total number of fatal car crashes that occurred between 4:20pm and midnight each year on April 20. They then compared those rates to the number of fatal car crashes that occurred on two other days: one week before and one week after the holiday. These days served as a control.
The results showed that marijuana-related crashes were potentially responsible for 142 increased deaths over the 25 years, a timeframe researchers chose because it was one year after High Times published a short story on the origins of 4/20. What's more, drivers under the age of 21 were disproportionately affected on the holiday, experiencing a 38 percent increased risk of dying in a car crash. That's comparable to the fatality rates associated with Super Bowl Sunday, known as a day of heavy drinking.
"The simplest interpretation of our findings is that some drivers are impaired by cannabis use and that these drivers contribute to fatal crashes," said study author John Staples, a clinical professor at the University of British Columbia, to VICE.
Interestingly, states that had legalized marijuana showed a decreased relative risk in fatal car accidents on April 20, as the map created by the researchers shows below.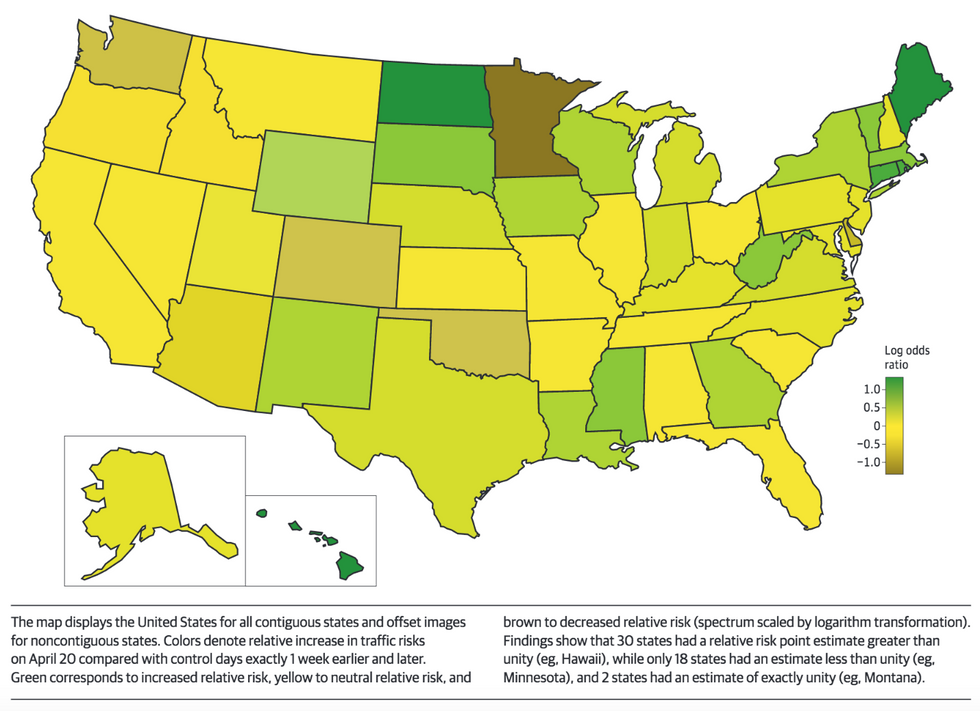 "Our study thus examines fluctuations in marijuana consumption on April 20th rather than base-rates of marijuana consumption," Staples told VICE. "It is possible that some states with high base-rates of cannabis consumption exhibit little increase in consumption on 4/20."
It's hard to know just how much smoking pot affects driving ability. One reason is that we don't have perfect data on drug-related crashes, considering that, unlike alcohol, not all municipalities are required to screen people for drugs after car crashes.
Another reason is that the exact effects of marijuana on driving ability can vary greatly by individual. Smoking pot has been shown to impair motor coordination and reaction time, but the magnitude of these effects depend on one's method of ingestion, quality of the pot, and, especially, their experience with the drug.
It's this "experience" problem that makes it difficult for law enforcement to test drivers for the drug. For instance, the concentration of THC in a smoker's system doesn't necessarily reflect their level of impairment. These level will be higher in regular smokers, who, as a result of tolerance, won't be as high.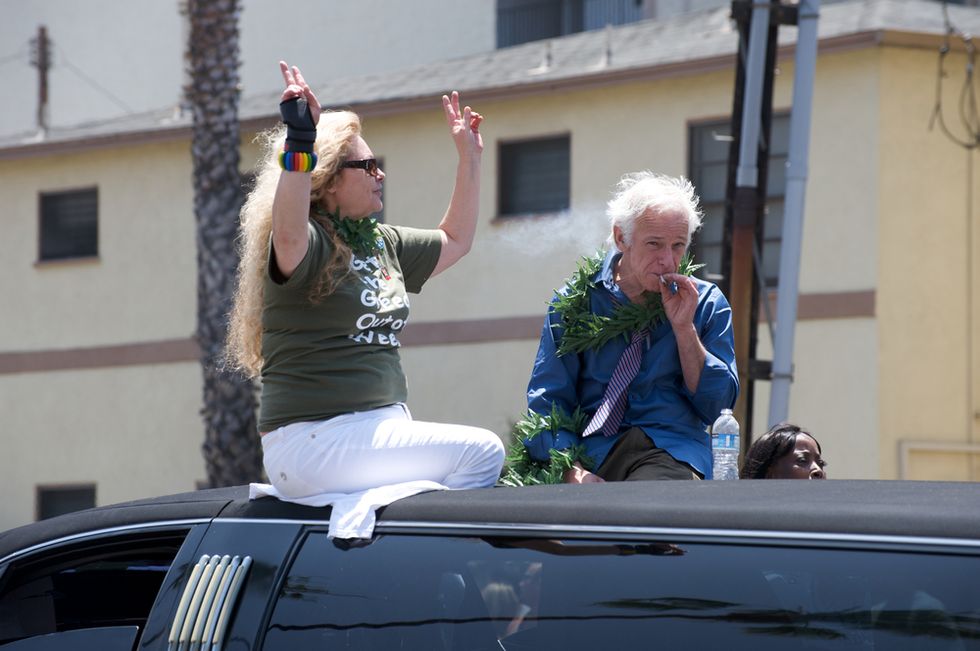 If you're going to smoke and drive, hire a limo driver. (Photo: Shutterstock)
Either way, it's safe to say that driving stoned is generally less dangerous than driving drunk, but alcohol and pot used together can substantially increase the effects of both substances, mainly because alcohol increases the absorption rate of THC while marijuana delays the effects of booze. It's a deadly recipe for drivers. Even though Department of Transportation data shows that drunk driving killed about 10,000 people in 2016, we really don't know for sure how many of those drivers were drunk and stoned.
Staples told TIME that other factors, like alcohol, have probably contributed to the spike in fatalities on April 20 since 1992. But that doesn't change the moral hiding in the numbers.
"My message to the public is: Don't drive high," Staples told VICE. "I think it's important that the regulatory and enforcement strategies around cannabis use and impaired driving prioritize public health. This means there should be a focus on injury prevention, but it also means we should consider how our policy choices affect the health of marginalized groups such as minorities and people with mental health and addiction issues."
A new study investigates if pot smokers outperformed nonsmokers in creativity.
Seth Rogan and James Franco smoking the "apex of joint engineering" in Pineapple Express, Sony Pictures, 2008
Does marijuana boost creativity, or are creative people drawn to marijuana more than others?
A new study published in the journal Consciousness and Cognition suggests the latter: The results showed that pot smokers (sober at the time) outperformed nonsmokers at one of the two tests researchers used to measure creativity, and that the difference in creativity is most likely due to personality traits rather than pot itself. The study worked like this:
Researchers used the Big 5 model of personality to measure the personality traits of 979 undergraduate students. They then asked the group to self-report their own levels of creativity, and also objectively measured creativity among the students using two separate tests.
Two kinds of creative thought processes were measured to assess participants' levels of creativity:
Divergent thinking — a thought process used to generate many possible solutions to a problem, like brainstorming. To measure divergent thinking, participants were asked to complete the Alternate Uses Test, in which they had one minute to generate as many uses for common objects as they could imagine.
Convergent thinking — a thought process that involves judging a finite number of solutions to arrive at one "correct" answer, like a multiple choice test. To measure convergent thinking, participants completed a Remote Associates Test, which "consists of three unrelated stimulus words, which are associated with a solution word." For instance, the solution word for "cottage," "Swiss," and "cake" would be "cheese."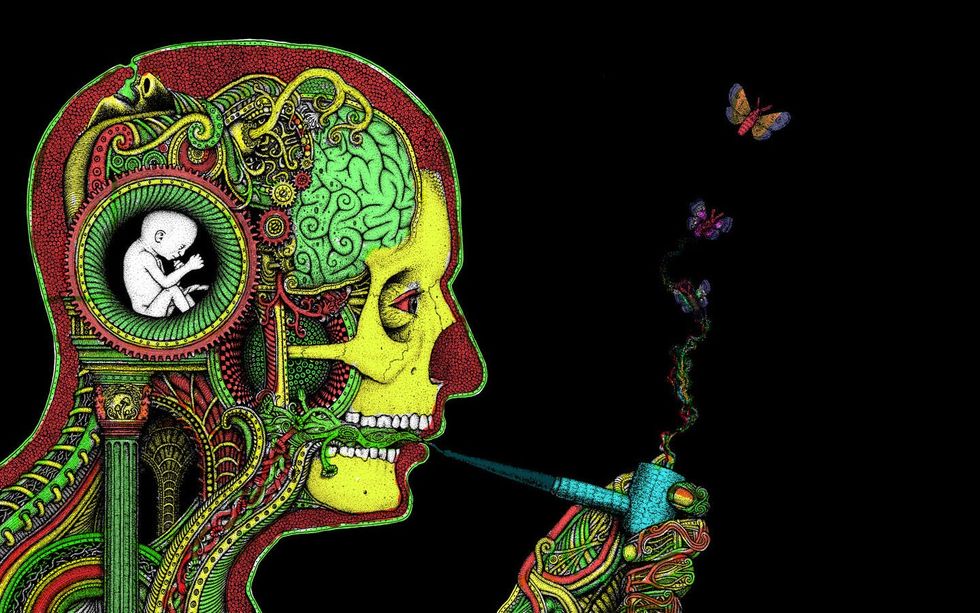 The results showed that, while there was no significant difference between the two groups on the divergent thinking test, cannabis users outperformed non-users on the Remote Associates Test that measured convergent thinking.
What's causing stoners to excel in this dimension of creativity? It's mainly a personality trait called "openness to experience." The researchers suggested:
"While mainstream media has propagated the idea that cannabis expands the mind and enhances creativity, our results show that the link between cannabis and creativity is largely a spurious correlation driven by differences in personality (i.e., openness to experience) that are related to both cannabis use and augmented creativity."
As one of the dimensions in the Big 5 model of personality, openness to experience is characterized by active imagination (fantasy), aesthetic sensitivity, attentiveness to inner feelings, preference for variety, and intellectual curiosity. People high in this trait are also more likely to be liberal, extraverted, and tolerant of diversity.
Ultimately, the results don't necessarily suggest that marijuana use has no effect on creativity.
"The answer isn't black and white," said Dr. Alice Weaver Flaherty, a neurologist at Massachusetts General Hospital and professor at Harvard Medical School who specializes in deep brain stimulation and the brain's relationship with creativity, to Artsy. "Marijuana is a stimulant. And most stimulants, in the short term anyway, boost output of all kinds."
Flaherty argues that the question of whether marijuana use boosts creativity largely depends on the personality of the artist.
"A very anxious creative person may get some benefit from cannabis. In calming them down, it could help their creativity," Flaherty said. "But for someone who's already in the zone, and who's not too anxious to work, it might push them into a place of being too laid back."
Pot in the Creative Process
Looking beyond the scientific literature and into firsthand accounts, many artists claim marijuana plays a key role in their creative process. Alanis Morisette said smoking pot was a great way to get "clarity" and new perspectives when writing songs. Steve Jobs claimed smoking pot made him feel "relaxed and creative." And comedian George Carlin deemed weed a "value-changing" drug that could open up "doors of perception," as Alexxa Gotthardt notes in her article for Artsy.
Gotthardt's article also features an interview with artist Gina Beavers, who proposed something that seems key in this debate about drugs and creativity: Getting high can sometimes be good for the idea-generation part of the creative process, not necessarily the execution of those ideas.
"If I smoke weed and then go to bed, I'll have mild hallucinatory effects as I'm drifting off to sleep and get creative ideas...A few times, I've been mulling over how to solve some issue and weed will give me ideas, but not always ones I go with. I have to wait and look at the solutions in the light of day."
Considering the plethora of mind-altering substances in the world — from Ayahuasca to Budweiser — should we think there's anything special about marijuana when it comes to creativity? Couldn't alcohol help artists be more creative, too?
Possibly. One hypothesis is that, because drugs can lower our inhibitions, they help to silence the self-editor that tends to harshly criticize what we create, allowing us to overcome writer's block or simply the fear of creation.
Jason White, a Nashville-based singer-songwriter who likes to compose songs while drinking a glass of bourbon on his front porch, summed it up like this:
"I'm drinking to stop the noise in my head so I can express what I'm feeling in my heart."
There's an interesting caveat to White's career: Although he was more of a whiskey drinker than a pot smoker, his biggest success in songwriting was influenced by marijuana and not alcohol, as Adam Wernick and Michael May wrote for PRI:
"Years ago, a friend left a marijuana bud on his coffee table. White wasn't a pot smoker, but he popped it into a corncob pipe, lit it up, and in forty minutes wrote a song called Red Ragtop. The song became a huge hit for country singer Tim McGraw."
For some more info, watch this:
A Midwestern university has created a first-of-its-kind program in medicinal plant chemistry that focuses on marijuana.
Sir Billy Connolly received an honorary degree From Strathclyde University. Here's what his honorary degree from NMU might look like. (Photo by Jeff J Mitchell/Getty Images)
Northern Michigan University is offering students the chance to major in a new program called medicinal plant chemistry — marijuana analysis, basically.
The program is the first of its kind at a four-year university in the U.S., according to CBS Detroit. Students will take classes in chemistry, plant biology and business entrepreneurship, and the program will also feature a capstone "research experience" involving "experimental horticulture and instrumental analysis of natural products."
As far as hands-on experience?
"We're not going to be actually growing anything on campus," said Brandon Canfield, associate chemistry professor at Northern Michigan University, to CBS Detroit. "Maybe following the 2018 Michigan election, maybe we'll revisit that depending on the outcome and what ballots are present on that election. But for now, we're not going to be growing any cannabis. We'll be practicing extraction and analysis techniques on other plant systems."
Canfield said the school created the program in response to the growing medical marijuana industry.
"The need for this is so great. You go to some of these cannabis industry conferences and everyone is talking about how they need labs, they need labs," he said. "Or the bigger operations are trying to set up their own labs in house and they need trained analysts. And the skill set required to perform these analysis is perfectly matched with an undergraduate level education."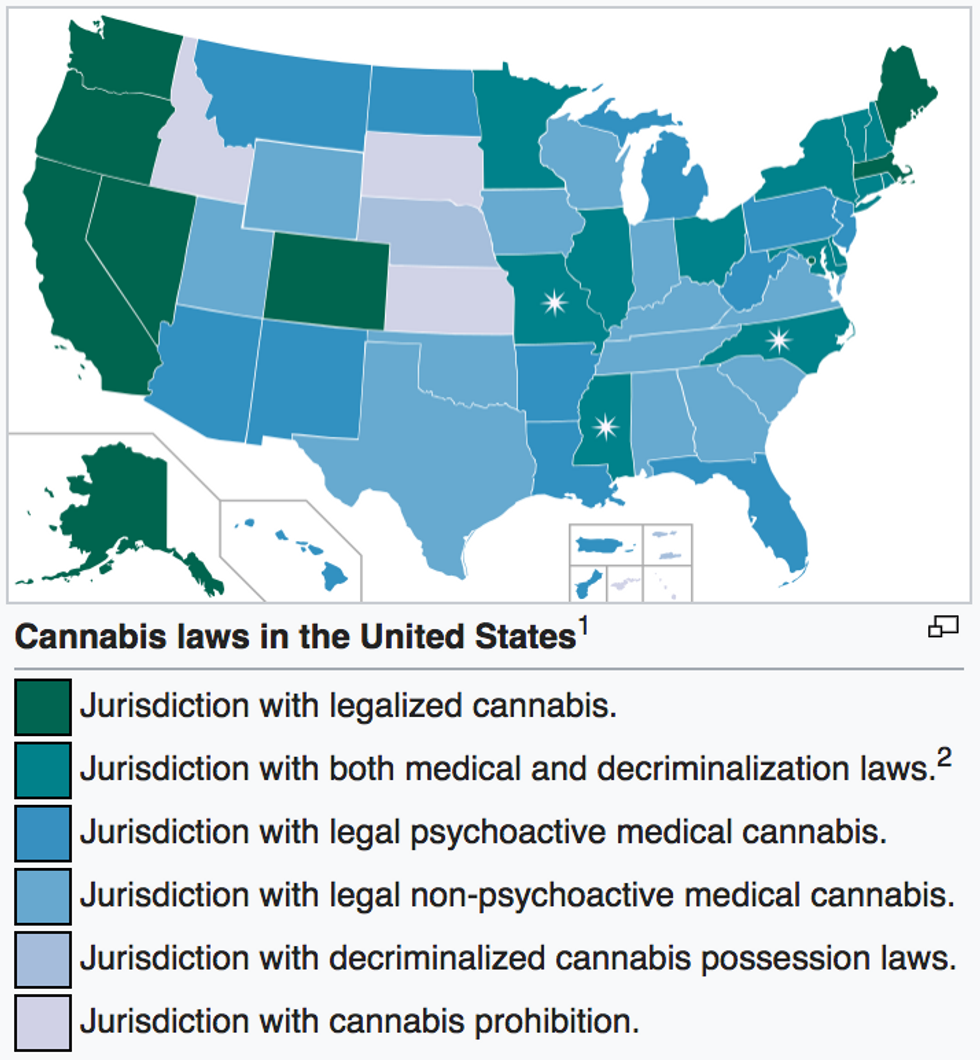 The program will prepare students for careers in either the medical or recreational marijuana industry.
"I predict that the graduates from our program are going to have among the highest immediate job placement of any of our programs," Canfield said. "People are either going to go out and get jobs or they might go out and start their own business in the industry."
The economic data seems to back him up. Marijuana sales boomed by 30 percent in 2016 to $6.7 billion in the U.S. and Canada. It's now fully legal in eight states, which means that 1 in 5 of the total U.S. population lives in a legal adult-use market.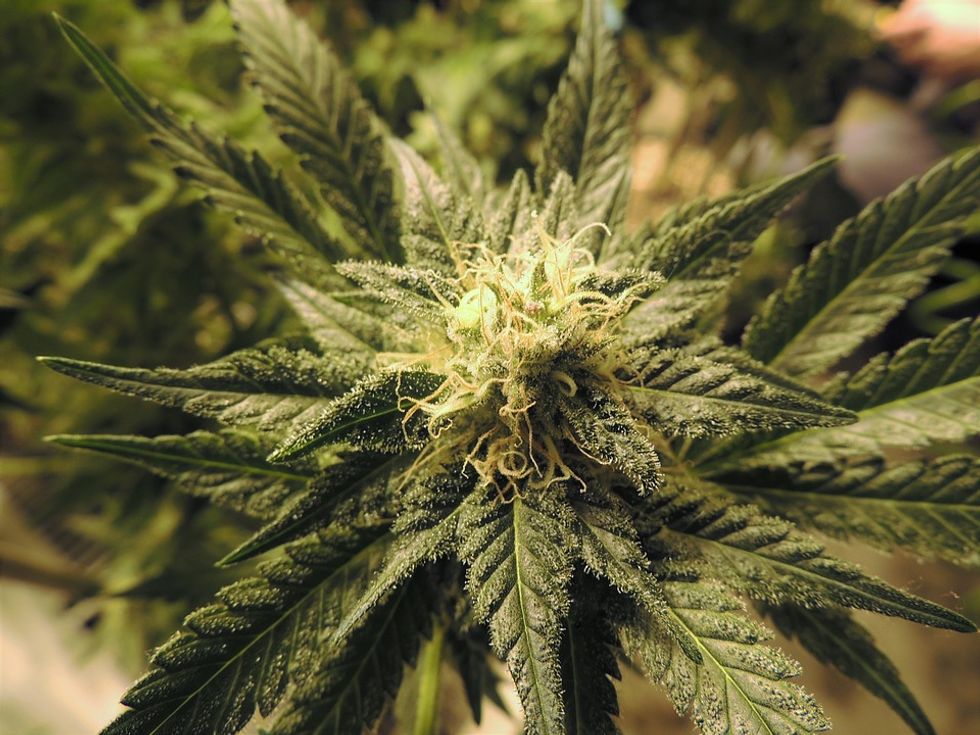 North American marijuana sales are projected to top $20.2 billion by 2021. This kind of industry growth is unprecedented, even compared to the dot-com era, and it's expected to create some 250,000 jobs by 2020, according to a report from New Frontier Data. That's more than the expected jobs in U.S. manufacturing.
But there's another reason it could be especially lucrative to jump into the marijuana business right now, as the Northern Michigan University program website notes:
The historical stigma associated with cannabis is quickly vanishing, and although there is a surge in businesses related to the marijuana economy, there is a major gap in educational opportunities available to prepare people for this field.
In other words, the demand for labor is high while supply is low. It's not too surprising. The industry is still in its infancy and middle America is only just beginning to lower its eyebrows to the idea of marijuana — medicinal and recreational. After all, recreational marijuana is still illegal in most states, including Michigan, which will vote on legalization this November. 
In the meantime, those willing to spend their college tuition preparing for careers in the marijuana industry might profit big on a relatively safe bet.
An expansive new study shows that marijuana use by Americans has increased significantly since 2002.
You probably could've guessed this yourself - many more Americans are smoking pot. Such is the conclusion of an expansive new study published in the medical journal Lancet.
Researchers surveyed almost 600,000 U.S. adults (18+) between 2002 and 2014. Marijuana use was defined as using it in the past year. Such use increased from 10.4% (of the surveyed people) in 2002 to 13.3% in 2014.
There was also an increase in the number of people who started to use pot for the first time in the last year, going up from 0.7% in 2002 to 1.1% in 2014. And the amount of people who use weed on a daily basis has also ticked up, from 1.9% to 3.5%. If you extrapolate that to the general population, you get about 8.4 million Americans who are using marijuana today.
Why has this happened? It's not hard to see the reason. Fewer people perceive marijuana as a harmful substance (dropping from 50.4% to 33.3%).  
Interestingly, while marijuana use has increased, the study did not find a general population increase in marijuana-related disorders like drug abuse or addiction. That number remained constant at about 1.5% of the general population, while the prevalence of such disorders among pot users has declined from 15% to 11%. 
So how may Americans in total are using marijuana? The researchers estimated this number by extrapolating the percentages from the survey to the general population. 31.9 million people used pot in 2014 in the United States. That's an increase of ten million people compared to 2002's 21.9 million users. And of course, these are stats up to 2014. It's conceivable the real number is even higher now.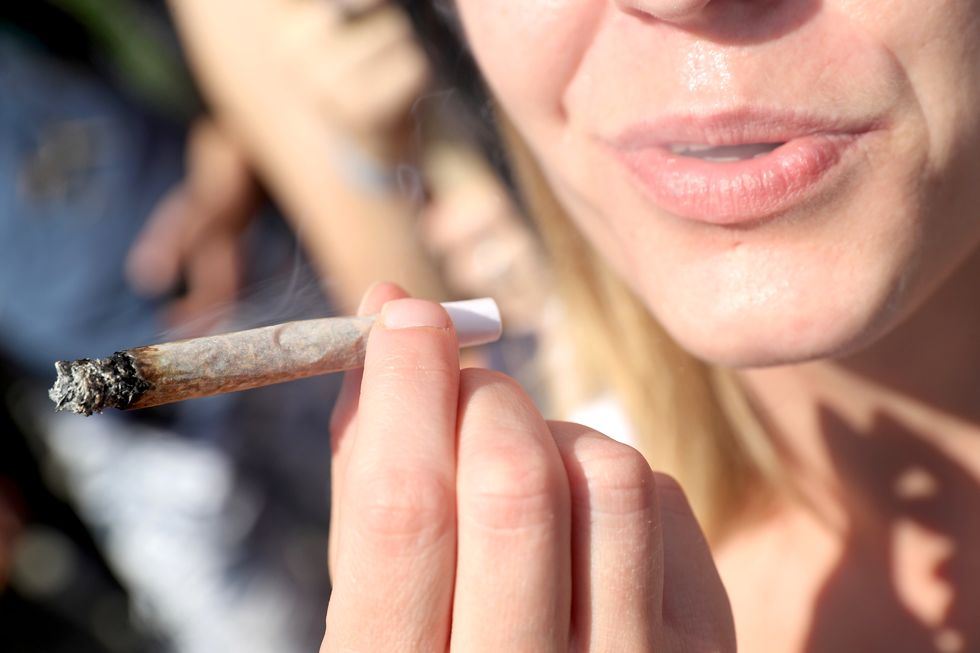 Photo: Getty Images.
The study's author Dr. Wilson M. Compton from the National Institute on Drug Abuse, National Institutes of Health explained the significance of their findings this way:
"Although shifts in perceived risk have historically been important predictors of adolescent marijuana trends, no previous research has examined this relationship in adults. State laws related to marijuana use in the USA have changed considerably over the past 20 years with medical marijuana now legalized in 25 states and the District of Columbia. Additionally, several jurisdictions have legalized non-medical marijuana use."
 "Understanding patterns of marijuana use and dependence, and how these have changed over time is essential for policy makers who continue to consider whether and how to modify laws related to marijuana and for health-care practitioners who care for patients using marijuana. Perceived risk of marijuana use is associated with high frequency of use suggesting the potential value for modifying risk perceptions of marijuana use in adults through effective education and prevention messages."
Groups fighting for marijuana legalization were excited to hear the study's results, noting that the number of disorders stayed unchanged even while use increased.
Mason Tvert, the spokesman for the pro-legalization Marijuana Policy Project, had this to say:
"It really highlights what a lot of people already know to be true. Countless adults consume marijuana responsibly and should not be treated as if they are drug abusers."
Of course, while more studies need to be done, there has been some evidence that cases of marijuana disorders have gone up, and heavy marijuana use has been linked with increased instances of psychosis.
This may yet be simply a correlation and not a causation. Perhaps various psychotic illnesses, including schizophrenia, are not somehow influenced by marijuana, but rather people more prone to such diseases are likelier to smoke it. One reason proposed for the potential increase in marijuana-related disorders is the dramatic rise in the potency of cannabis, with potent strains being more than 15% THC (up from 4% 20 years ago).
The study comes at a crucial time for the marijuana legalization movement, as residents of Arizona, California, Maine, Massachusetts and Nevada will be voting this November whether to allow pot for recreational purposes.