French president Emmanuel Macron recently announced plans to close all of the country's coal-fired power plants two years ahead of schedule.
French President Emmanuel Macron — Photo: Ludovic Martin/Getty
France plans to close all of its coal-fired power plants by 2021, a move that doubles down on the country's relatively aggressive push toward renewable energy.
"We've also decided to make France a model in the fight against climate change," French president Emmanuel Macron said at the World Economic Forum in Davos, Switzerland.
Macron said the pledge would be a "huge advantage in terms of attractiveness and competitiveness," suggesting that the move away from fossil fuels isn't a zero-sum game.
"We should stop opposing on one side productivity, on the other side climate change issues," he said.
France only gets about 1 percent of its power from coal. But in the U.S., coal remains a much larger part of the power supply mix, accounting for about 16 percent of energy production in 2016. It's also a more controversial political issue.  
In June 2017, President Trump announced the U.S. would drop out of the Paris Agreement on climate change. Months later, in October, the Environmental Protection Agency announced the repeal of the Clean Power Plan, a policy drafted under the Obama administration that would have pushed states away from coal production.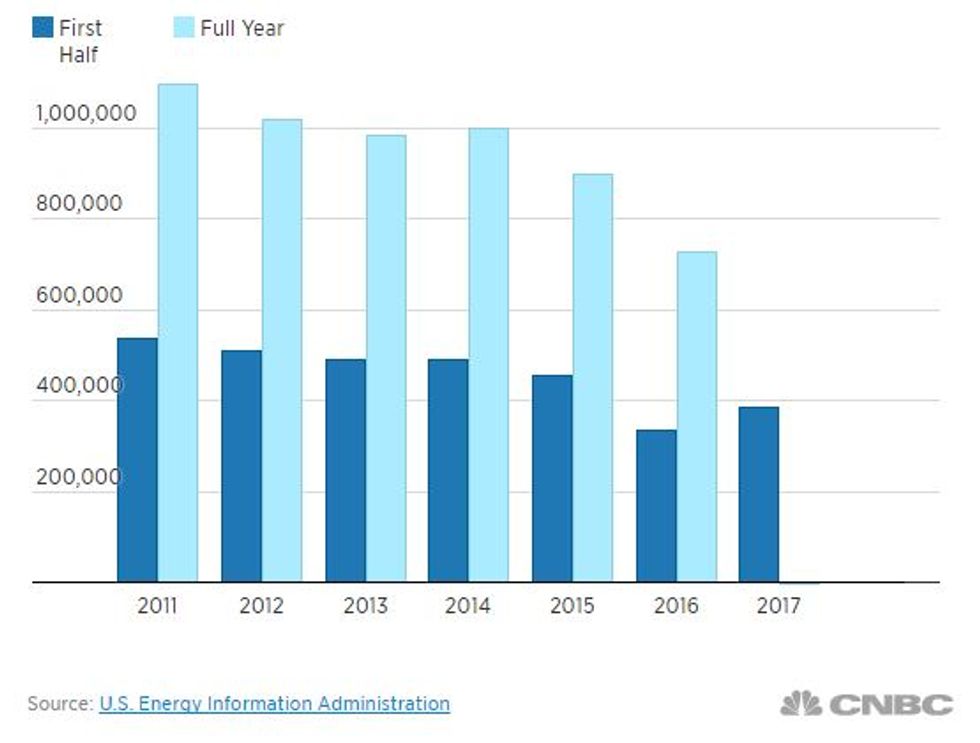 Coal was a cornerstone of Trump's presidential campaign. He won nine out of ten states with the highest coal production in the country after promising to revive the industry and put thousands of unemployed coal miners back to work. But since his election, employment rates in the mining industry have remained mostly stagnant. The relatively cheap cost of natural gas seems to be the cause. And, incidentally, it's this competition that could help the U.S. hit emissions goals set by the Obama administration—even without the Clean Power Plan in place.
Since signing the Paris Agreement in 2015, at least 15 countries have pledged to phase out coal. The U.K. and Italy plan to close all of their coal plants by 2025; the Netherlands by 2030. China has reduced coal consumption three years in a row, and halted the construction of about 100 new coal-fired plants.
Still, coal is hard for some countries to resist. It's cheap, found in politically stable areas, and easy to extract.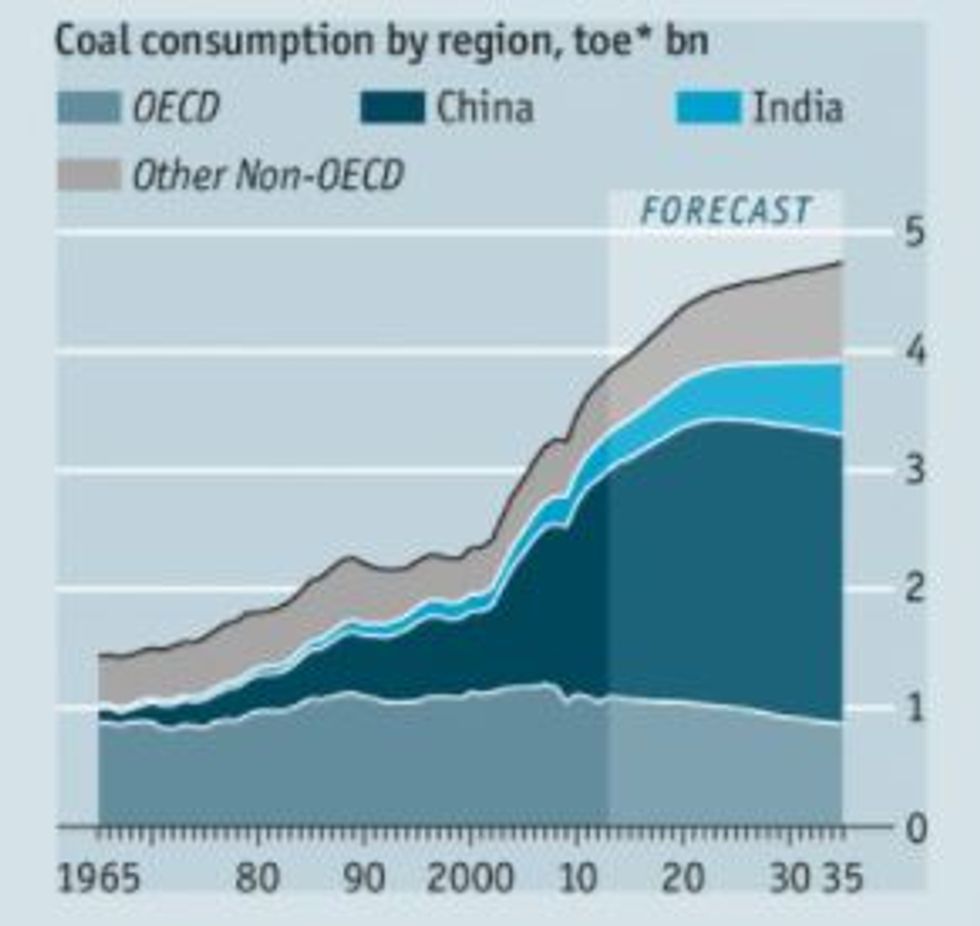 India, for instance, plans to nearly double its coal production by 2020. Even Japan, a country desperate for stable energy sources after closing its nuclear reactors in the wake of the Fukushima disaster, has plans to build new coal-powered facilities.
It seems coal won't be phased out of the global power mix until alternative energy sources become cheaper. And so far, natural gas and renewable energy don't quite cut it.
Thousands of scientists from 184 countries have endorsed an open letter that outlines some of the Earth's most pressing environmental problems.
A red emergency light. (Caspar Benson/Getty)
More than 15,000 scientists from 184 countries have issued a warning: Mankind must take immediate action to reverse the effects of climate change, deforestation and species extinction before it's too late.
The warning, issued by the Alliance of World Scientists and published in the journal Bioscience, comes on the 25th anniversary of a similar warning from the Union of Concerned Scientists that was titled "World Scientists' Warning to Humanity". The new letter, however, has 10 times as many scientists endorsing it.
"On the 25th anniversary of their call, we look back at their warning and evaluate the human response by exploring available time-series data," the paper reads. "Especially troubling is the current trajectory of potentially catastrophic climate change due to rising GHGs from burning fossil fuels (Hansen et al. 2013), deforestation (Keenan et al. 2015), and agricultural production—particularly from farming ruminants for meat consumption (Ripple et al. 2014). Moreover, we have unleashed a mass extinction event, the sixth in roughly 540 million years, wherein many current life forms could be annihilated or at least committed to extinction by the end of this century."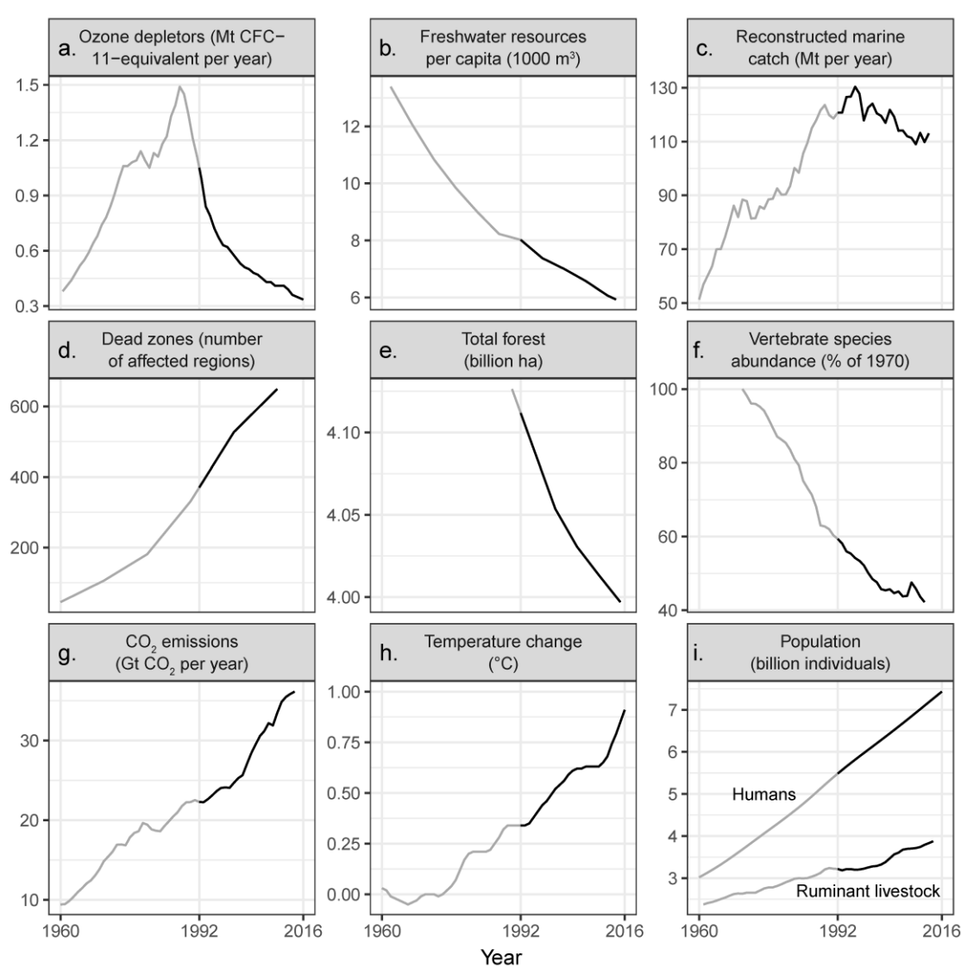 The paper outlines some of the world's most pressing environmental concerns, most of which have only worsened since 1992. They're summarized here:
A decline in freshwater availability – Per capita fresh water availability is less than half of the level of the 1960s. It is likely that climate change will have an overwhelming impact on the freshwater availability through alteration of the hydrologic cycle and water availability.
Unsustainable marine fisheries – In 1992, the total marine catch was at or above the maximum sustainable yield and fisheries were on the verge of collapse. Global catch rates have decreased, though fishing efforts are increasing.
Ocean dead zones – Coastal dead zones which are mainly caused by fertilizer runoff and fossil-fuel use, are killing large swaths of marine life. Dead zones with hypoxic, oxygen-depleted waters, are a significant stressor on marine systems and identified locations have dramatically increased since the 1960s, with more than 600 systems affected by 2010.
Forest losses – The world's forests are crucial for conserving carbon, biodiversity, and freshwater. Between 1990 and 2015, total forest area decreased from 4,128 to 3,999 million ha, a net loss of 129 million ha which is approximately the size of South Africa.
Dwindling biodiversity – The world's biodiversity is vanishing at an alarming rate and populations of vertebrate species are rapidly collapsing (World Wildlife Fund 2016). Collectively, global fish, amphibians, reptiles, birds, and mammals declined by 58% between 1970 and 2012.
Climate change – Global fossil-fuel carbon dioxide emissions have increased sharply since 1960. Relative to the 1951-1980 average, global average annual surface temperature, in parallel to CO2 emissions, has also rapidly risen as shown by 5-year mean temperature anomaly. The 10 warmest years in the 136-year record have occurred since 1998.
Population growth – Since 1992, the human population has increased by approximately 2 billion individuals, a 35% change. The world human population is unlikely to stop growing this century and there is a high likelihood that the world population will grow from 7.2 billon people now to between 9.6 and 12.3 billon by 2100.
It wasn't all awful news, however.
Now for some good news!
The Ozone Hole this year has been the smallest since 1988!https://t.co/8S7dDYW1c7
— Erik Solheim (@ErikSolheim) November 3, 2017
"These facts have been presented time and again, year after year, for decades," DiCaprio says. "Quite simply, we are knowingly doing this to ourselves."
Leonardo DiCaprio.
Leonardo DiCaprio is more than just a leading man in some of Hollywood's biggest blockbusters. Along with being a writer and producer, he's also an outspoken activist ringing the alarm bells of the catastrophe to befall us, should we ignore our role in global warming. DiCaprio himself has been a long-time advocate for the environment, and sits on the board of many prominent organizations including the World Wildlife Fund (WWF), the Natural Resources Defense Council (NRDC), and the International Fund for Animal Welfare.
He's also traveled the world speaking on climate change and is currently a UN messenger of peace. He even brought up climate change in his acceptance speech, when he finally won an Oscar last year for his role in The Revenant. In addition, he's made two speeches to the UN, one in 2014 and another earlier this year.
At a two-day conference that just wrapped up on Tuesday at Yale University, he announced The Leonardo DiCaprio foundation was committing $20 million dollars in grants to 100 nonprofits working to fight climate change. The foundation has six programs. They are: Wildlife and Landscape Conservation, Climate Change, Indigenous Rights, Innovative Solutions, Marine and Ocean Conservation, and Transforming California. Up until now, the foundation has had a direct financial impact of $80 million, which DiCaprio himself raised.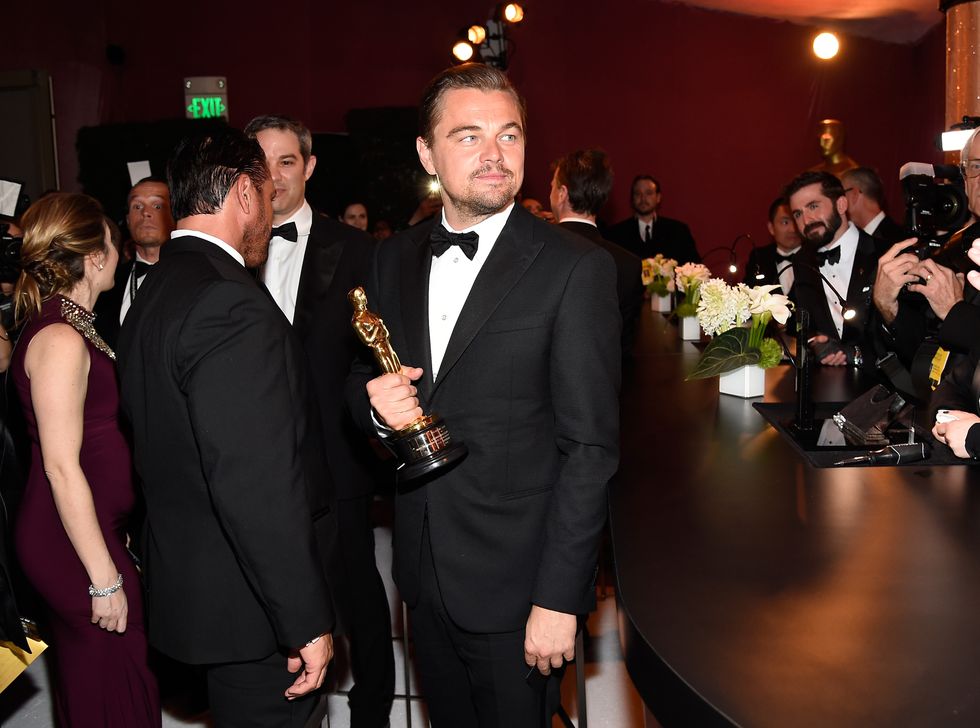 DiCaprio talked about global warming during his Oscar speech. Getty Images.
The event at Yale was hosted by the Kerry Initiative. This is a program created by John Kerry, the former Secretary of State, presidential candidate, Massachusetts senator, and Yale graduate. According to the Hartford Currant, other speakers included, "California Gov. Jerry Brown, Paris Mayor Anne Hidalgo, former Secretary of State James Baker, and General Electric chairman Jeffrey Immelt."
Secretary Kerry and DiCaprio closed the conference entitled, "Closing Plenary: Citizen Engagement & Activism." The two men entered to thunderous cheers and applause. The overwhelming outpouring caused both DiCaprio and Kerry to smirk knowingly. The former secretary stepped over to the podium and introduced DiCaprio by referencing Titanic. "Who better to talk about climate change than a man who has witnessed an iceberg breaking apart in the middle of the ocean?" he said.
You could feel the electricity in the room as the audience, mostly Yale students, anxiously awaited to hear DiCaprio speak. Kerry called on the students to become the agents of change, and said we need a new accountability to contain the climate's growing temperature. "We are way behind as to what has to happen," Kerry said. Instead, we had to start to learn to "save ourselves, from ourselves."
DiCaprio spoke at the podium after a clip of his interview-style climate change documentary, Before the Flood which came out last year. Since then, the actor pointed out that more species have gone extinct and wildfires and ferocious storms have become more commonplace. Scientists have been ringing the alarm bells since the '90s, he said. Yet, surprisingly little has been done. The economic turmoil he said, will come at us in unison with ecological disaster. According to his foundation, the environment offers us $100 trillion in free services, which are now all in peril.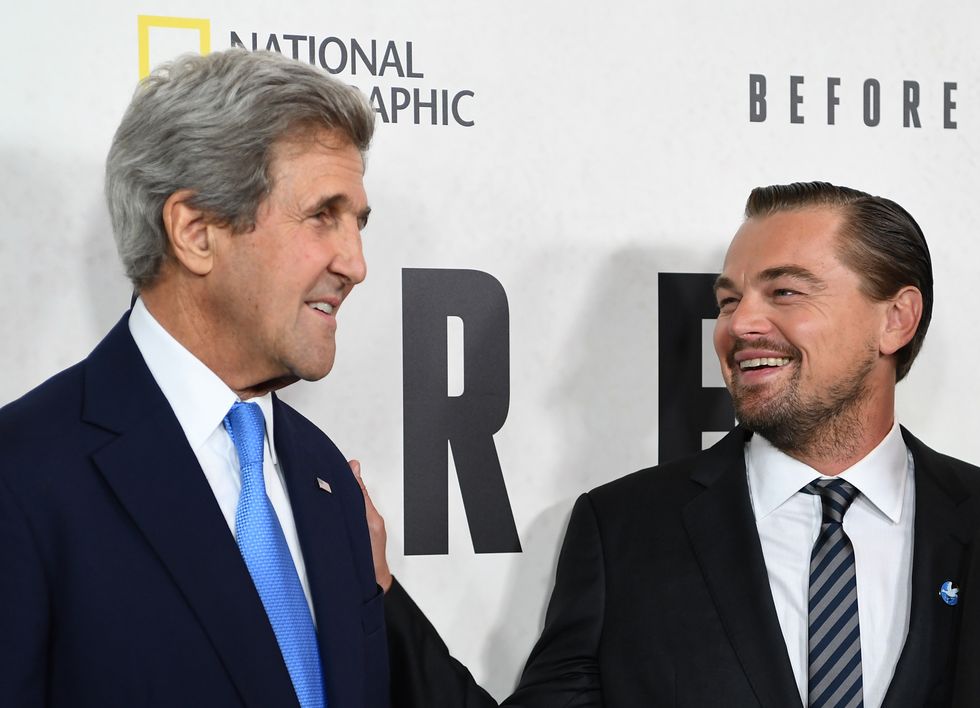 DiCaprio and Kerry attend Before the Flood screening in New York City, October, 2016. Getty Images.
"These facts have been presented time and again, year after year, for decades," DiCaprio said. "Quite simply, we are knowingly doing this to ourselves, to our entire planet, and we're risking our very future." He mentioned that the intense storms hitting the Caribbean and Gulf Coast, along with the horrendous flooding in Southern Asia, make the "results of our inaction even clearer."   
And yet, "There is still an astounding level of willful ignorance and inaction from the people who should be doing the most to protect us and every other living thing on this planet." Apparently, DiCaprio and his foundation head met with then President-elect Trump in December and offered a commonsense plan to address climate change, as well as to boost the economy through supporting green jobs. "We talked about how the United States has the potential to lead the world in clean energy manufacturing and research and development," he said.
DiCaprio called R&D, green jobs, and green engineering "the largest domestic opportunity in all of American history." Meanwhile, the Trump administration has backed away from the Paris Climate Agreement, which Kerry as Secretary of State helped broker in 2015. According to DiCaprio, the only thing we lack is the political will to tackle this ever-increasing problem.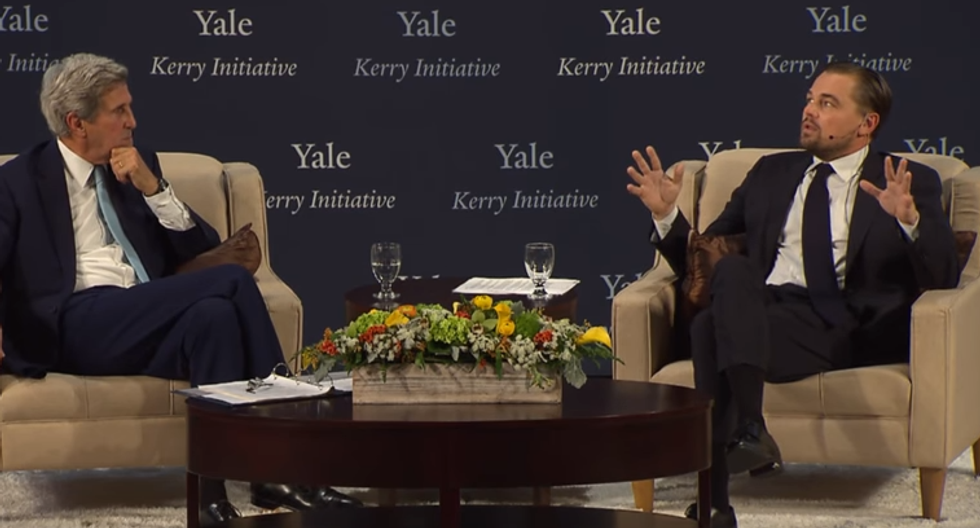 Kerry and DiCaprio at the Yale event. 
"What is missing in some countries is government policies that set bold goals and more leadership from the private sector, to reach out and grab hold of this tremendous opportunity, to be the drivers of innovation, to invest in these clean jobs and understand the economic potential for the future," DiCaprio said.
When announcing the grants, he said, "We are proud to support the work of over 100 organizations at home and abroad. These grantees are active on the ground, protecting our oceans, forests, and endangered species for future generations, and tackling the urgent, existential challenges of climate change." See those organizations and the breakdown here.  
Perhaps DiCaprio's most powerful statement,
"There exist today many proven technologies in renewable energy, clean transportation, and sustainable agriculture that we can begin to build a brighter future for all of us. Our challenge is to find new ways to power our lives, employ millions of people and turn every individual into an advocate for clean air and drinkable water. We must demand that politicians accept climate science and make bold commitments before it is too late."
To see DiCaprio's documentary, click here: 
Elon Musk and many top CEOs condemned President Trump's decision to pull out of the Paris Agreement on climate change.
Elon Musk speaks at the 2015 Automotive News World Congress January 13, 2015 in Detroit, Michigan. (Photo by Bill Pugliano/Getty Images)
President Trump announcement that the U.S. is going to pull out of the Paris Agreement on climate change has prompted a strong backlash from business leaders. Many have urged Trump to stay in the environmental pact, like the other 194 nations that signed it, and are now expressing their disappointment. Elon Musk, the CEO of Tesla Motors, SpaceX and Neuralink, has previously warned that he would have to leave the President's councils if Trump pulled out of the Paris accord. And now that he did, Musk is out.
"Am departing presidential councils. Climate change is real. Leaving Paris is not good for America or the world," said Musk in his tweet.
Musk was part of an economic advisory board Strategic and Policy Forum and the Manufacturing Jobs Initiative. He has taken flak previously for seemingly legitimizing Trump's ideas by serving in such a capacity, a decision Musk defended by saying he used the access to the President in order to influence him not to leave the Paris Agreement and to institute a carbon tax to fight emissions.
Am departing presidential councils. Climate change is real. Leaving Paris is not good for America or the world.
— Elon Musk (@elonmusk) June 1, 2017
More than 630 companies are calling out President-elect Donald Trump in an open letter. It asks him to keep the promises the United States made during the Paris Agreement and move us closer to a low-carbon economy.
Hopefully it's a headline the U.S. doesn't have to re-live. (Photo credit SIMON MAINA/AFP/Getty)
More than 630 companies are calling-out President-elect Donald Trump in an open letter. It asks him to keep the promises the United States made during the Paris Agreement and move us closer to a low-carbon economy. But will the private sector have any more luck moving Trump to believe in climate change?
The 2015 Paris Agreement was a landmark achievement. The world's nations—196 of them—came together in agreement to put promises in place to slow the coming climate change. At its core the Paris Agreement aims to transition the world's economy away from dependency on fossil fuels, signaling to businesses that the future will be driven by clean energy. More than 630 companies want to continue that trend, agreeing climate change poses a real threat to how we do business.
Trump has lined his cabinet with, mostly, climate change deniers. He has even indicated he may try to withdraw the United States from this agreement. In response, other nations could impose a "carbon tariff" on goods from the United States. Not great for business.
"Failure to build a low-carbon economy puts American prosperity at risk," the letter states. "But the right action now will create jobs and boost US competitiveness. We pledge to do our part, in our own operations and beyond, to realize the Paris Agreement's commitment of a global economy that limits global temperature rise to well below 2 degrees Celsius."
Kelloggs was one of the signatories of the letter, and also one of many companies who pulled ads from Breitbart, a right-wing news organization that regularly calls climate change a "hoax" and a "conspiracy." 
As to why Kelloggs pulled their ads from the site, Kris Charles, a spokeswoman for Kelloggs explained: "We regularly work with our media-buying partners to ensure our ads do not appear on sites that aren't aligned with our values as a company. We recently reviewed the list of sites where our ads can be placed and decided to discontinue advertising on Breitbart.com. We are working to remove our ads from that site."
It seems climate change is a part of that company's values. Other companies who signed the letter include Elon Musk's SolarCity, Adidas, eBay, DuPont, Patagonia and HP. However, it's difficult to say if these gestures against climate-change denial or in support of the Paris Agreement will sway the President-elect.