Using urinals, psychological collages, and animated furniture to shock us into reality.
Dada is a provocative and surreal art movement born out of the madness of World War I.
Tzara, a key Dada theorist, says Dada seeks "to confuse and upset, to shake and jolt" people from their comfort zones.
Dada, as all avant-garde art, faces a key problem in how to stay true to its philosophy.
In a world gone mad, what can the few sane people left do? What can someone say when there are no words that seem up to the job? How can anyone hope to express ideas so terrible when doing so will only reduce those ideas?
These are some of the things that inspired the Dada movement, and in its absurd, surreal, and chaotic nonsense, we find the voice of the voiceless.
The origin of Dadaism
Dada was a response to the madness of World War I. Reasonable, intelligent, and sensitive people looked at the blood and mud graveyards of the trenches and wondered how any meaning or goodness could ever be found again. How can someone make sense of a world where millions of young, happy, hopeful men were scythed down in a spray of bullets? How could life go back to normal when returning soldiers, blinded and disfigured from gas, lay homeless in the streets? Out of this awful revulsion, there came one bitter voice, and it said: "Everything is nonsense."
Dada is the art of the nihilist. It smashes accepted wisdom, challenges norms and values, and offends, upsets, and provokes us to re-examine everything.
And so, the Dada movement expressed itself in absurdity. Tzara, the closest you get to a Dadaist philosopher, put it like this: "Like everything in life, Dada is useless. Dada is without pretension, as life should be." Dada rejects all systems, all philosophy, all definite answers, and all truth. It is the living embrace of contradictions and nonsense. It seeks "to confuse and upset people, to shake and jolt". It aims to shout down the "shamefaced sex of comfortable compromise and good manners," when actually "everything happens in a completely idiotic way."
In short, Dada is a response to the world when all the usual methods have broken down. It's the recognition that dinner party conversations, Hollywood blockbusters, and Silicon Valley are not how life actually is. This is a false reality and order, like some kind of veneer.
The Dada response to life is to embrace the personal and passionate madness of it all, where "the intensity of a personality is transposed directly, clearly into the work." It's to recognize the unique position of an artist, who can convey ideas and feelings in a way that goes beyond normal understanding. Art goes straight to the soul, but the intensity of it all can be hard to "enjoy" in the strictest sense.
Where is this Dada?
For instance, Dada is seen in the poems of Hugo Ball who wrote in meaningless foreign-sounding words. It's in Hausmann, who wrote works in disconnected phonemes. It's found in Duchamp's iconoclastic "Fountain" that sought to question what art or an artist really meant. It's in Hans Richter's short film "Ghost before Breakfast," which has an incoherent montage of images, loosely connected by the theme of inanimate objects in revolt. And, it's in Kurt Schwitters' "psychological collages" which present fragments of objects, juxtaposed together.
Kurt Schwitters, Merz-drawing 85, Zig-Zag Red, 1920, collageCredit: Kurt Schwitters / Public Domain via Wikipedia
Dada is intended to shock. It's an artistic jolt asking, or demanding, that the viewers reorient themselves in some way. It is designed to make us feel uncomfortable and does not make for easy appreciation. It's only when we're thrown so drastically outside of our comfort zone in this way that Dada asks us to question how things are. It shakes us out of a conformist stupor to look afresh at things.

The paradox of Dadaism
Of course, like all avant-garde art, Dada needs to address one major problem: how do you stay so provocative, so radical, and so anti-establishment when you also seek success? How can maverick rebels stay so as they get a mortgage and want a good school for their kids? The problem is that young, inventive, and idealistic artists are inevitably sucked into the world of profit and commodity.
As Grayson Perry, a British modern artist, wrote: "What starts as a creative revolt soon becomes co-opted as the latest way to make money," and what was once fresh and challenging "falls away to reveal a predatory capitalist robot." With Dada, how long can someone actually live in a world of nonsense and nihilistic absurdity?
But there will always be new blood to keep movements like Dada going. As the revolutionaries of yesterday become the rich mansion-owners of today, there will be hot, young things to come and take up the mantle. There will always be something to challenge and questions to be asked. So, art movements like Dada will always be in the vanguard.
Dada is the art of the nihilist. It smashes accepted wisdom, challenges norms and values, and offends, upsets, and provokes us to re-examine everything. It's an absurd art form that reflects the reality it perceives — that life is nothing more than a dissonant patchwork of egos floating in an abyss of nothing.
Jonny Thomson teaches philosophy in Oxford. He runs a popular Instagram account called Mini Philosophy (@philosophyminis). His first book is Mini Philosophy: A Small Book of Big Ideas.
Is life worse or better than non-existence? And if it is, who is judging? Welcome to anti-natalism, a small but lively corner of philosophy.
Affebook, Wikicommons
Is being born worth it? If you weighed life's pleasure against the suffering and sorrow, do you end up ahead? Gustave Flaubert claimed that he would have cursed himself if he became a father, as he desired to "transmit to no one the aggravations and the disgrace of existence." Fyodor Dostoyevsky was even more bleak in The Brothers Karamazov, writing, "I'd have let them kill me in the womb, so as not to come out into the world at all."
Arthur Schopenhauer was especially pessimistic on this topic: 
If children were brought into the world by an act of pure reason alone, would the human race continue to exist? Would not a man rather have so much sympathy with the coming generation as to spare it the burden of existence, or at any rate not take it upon himself to impose that burden upon it in cold blood?
We can even find this view in the New International Version of the Bible:
And I declared that the dead, who had already died, are happier than the living, who are still alive. But better than both is the one who has never been born, who has not seen the evil that is done under the sun.
Welcome to anti-natalism, a small but lively corner of philosophy that, in our time of climate change, prospects of nuclear war, and divisive populist politics, has been growing of late. Though David Benatar, one of the chief modern architects of this philosophy, may or may not have coined the term "anti-natalism"—he's done "intellectual archaeology" to figure it out, and his jury of one is still debating—his recent appearance on Sam Harris's Waking Up podcast further solidified his stake in this long debated topic: Is life worth living? Benatar says no, at least for the unborn.
According to Benatar, head of the Department of Philosophy at the University of Cape Town and author of Better Never to Have Been, being born is "not always a harm, but always a very serious harm." Summating his philosophy, he continues:
We ought not to bring new people into existence, but I think the view is broader, that we ought not to bring new sentient beings into existence. It's not just the view that it's harmful to come into existence, but a further view that it's wrong to bring beings into existence. 
Harris finds a correlation with Buddhism. According to a translation of Buddhist texts by Sir Hari Singh Gour, Buddha claimed that men are ignorant of the suffering they unleash; existence is the cause of old age and death. If man would realize this harm he would immediately stop procreating. That might offer insight into why Buddha named his own son Rāhula, which means "fetter" or "impediment." Of course, Buddha had his son before embarking on his legendary quest, so selfishly the name implies Rāhula was getting in the way of his father's search for enlightenment. 
Morals are a critical component of Buddhism, as well as the founding principle of anti-natalism. Benatar believes there exists "an asymmetry of values between the good and bad things in life." When we consider the uninhabited corners of the universe (which would be most of the universe), we don't consider the absence of good that could be out there. But if we were to contemplate that suffering does not exist, for example, on Mars, we would think it positive that the beings that don't exist have escaped suffering. Benatar focuses much energy on this perceived absence of pain. 
Harris mentions that Benatar's observation is directly in opposition to philosophers working in existential risk, the idea that a catastrophic event would drastically curtail or end human existence. Harris cites Oxford philosopher William MacAskill, who says the greatest possible wrong would be to do something (i.e. nuclear war) putting us at risk of self-annihilation, which is wrong because it closes the door to all the untold goods that exist after untold years of creative involvement with the cosmos. Harris believes those hypothetical losses are equally important to any suffering that might be wiped out.
Harris then speculates on what it would take to create a "life worth living," which Benatar calls "an ambiguous sentiment." Benatar distinguishes between a life worth starting and a life worth continuing. Missing that ambiguity makes his fundamental point impossible to understand, as he is not advocating for suicide. As to bringing others into existence, however, the bar for starting a life must be much higher than it currently is. 
If you're thinking about bringing someone into existence, you're not just thinking about when they're young, but also when they're in their eighties. Parents don't think about the cancer that will ravage their future child's body decades after they themselves die. 
Benatar draws an analogy to a play you were looking forward to seeing. You buy tickets and attend the show, which turns out subpar. If you had known in advance that it was not what you thought, you would not have wasted your time. Again, this is in alignment with Buddhism, only from that perspective it's your perception that needs to change; you don't necessarily need to wipe the slate clean. 
Harris continues to search for benefits. There's no telling how beautiful life could have been if you're not willing to give it a shot in the first place. Turning the lights out in a universe with the potential for beauty is not as bad as bringing life into a world that is purely hell, but that's not the situation we find ourselves in at this moment. We don't know how good life can be, at least not in our current experience. 
This, Harris believes, is an especially important question as we design artificial intelligence, as we might build minds that suffer to degrees we cannot even understand without being aware that we've done so. We have the potential to create hells inside of our computers in our ignorance.
Harris, of course, leans heavily on science, though Benatar says that the suffering of now isn't worth it to the many generations that will continue to suffer for a potential benefit a thousand years from now. While Harris states there are many potentially better existences than non-existence, Benatar simply cannot imagine any possible existence that is better than never having existed. 
The two-hour conversation is exhilarating and exhausting, as the same ground is covered through numerous analogies. But, like in Buddhist debating traditions, those details are necessary. Anti-natalism is not a philosophy that can be summated in an elevator pitch, especially given that it goes against our most base biological impulse. Tell almost any parent that their child should not have been born and a reasoned response is not forthcoming. 
Happily the conversation never becomes heated, a feat in a topic this emotional. Harris is always a reasoned debater while Benatar has tread this territory for decades. When Harris mentions those who grow from their suffering—many people come out the other side of pain with unforeseen cognitive and emotional benefits—Benatar concedes that your perception of existence shifts your understanding of reality. If you perceive your life to have grown richer from an experience, it did. 
In the end, though, the suffering still isn't worth it. Benatar invokes rape victims. You can take that experience and help others through counseling and therapy, but would the rape be valuable enough given the suffering it caused? It is an analogy of a bigger question about existence the living will continue to grapple with, but if you ask Benatar, it is the unborn who benefit most. 
--
Derek is the author of Whole Motion: Training Your Brain and Body For Optimal Health. Based in Los Angeles, he is working on a new book about spiritual consumerism. Stay in touch on Facebook and Twitter.
There are many famous schools of thought that you have probably heard of, but did you hear the truth or just get a caricature of the idea?
For your reading pleasure, here are ten schools of philosophy you should know about. Some of them are commonly misunderstood, and we correct that problem here.
The leading philosophy among angsty teens who misunderstand Nietzsche.
The root of the word 'nihilism' is derived from the Latin nihil, meaning "nothing", and it is a more of a series of related positions and problems than a single school of thought. The key idea of it is the lack of belief in meaning or substance in an area of philosophy. For example, moral nihilism argues that moral facts cannot exist; metaphysical nihilism argues that we cannot have metaphysical facts; existential nihilism is the idea that life cannot have meaning and nothing has value—this is the kind that most people think of when they hear the word.
As opposed to popular understanding, Nietzsche was not a nihilist. Rather, he wrote about the dangers posed by nihilism and offered solutions to them. Real nihilists included the Russian nihilist movement.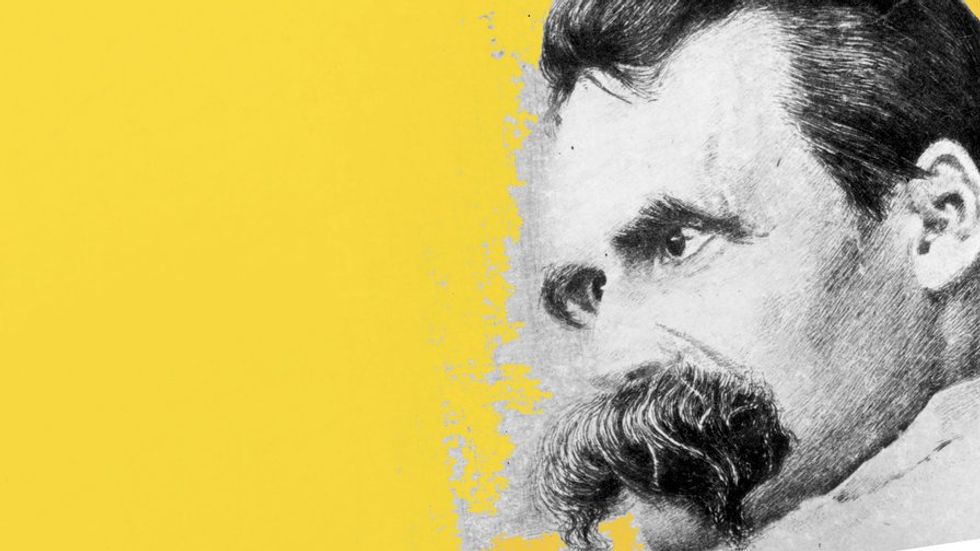 The leading philosophy among angsty undergraduates who understand Nietzsche.
Existentialism is a school of thought originating in the work of Soren Kierkegaard and Nietzsche. Existentialism focuses on the problems posed by existential nihilism. What is the point of living if life has no inherent purpose, where can we find value after the death of God, and how do we face the knowledge of our inevitable demise? Existentialists also ask questions about free will, choice, and the difficulties of being an individual.

The existentialists also included Jean-Paul Sartre, Simone de Beauvoir, and Martin Heidegger. Albert Camus was associated with the movement, but considered himself independent of it.
A philosophy popular in ancient Greece and Rome, and practiced today by many people in high-stress environments.
Stoicism is a school that focuses on how to live in a world where things don't go your way. Is it raining when you just waxed your car? Accept it. Does the lady at the desk next to you sound like a dying cat when she speaks? Accept it, and move on to the next problem. The idea at the heart of it is acceptance of all things that are beyond your control. Pain will pass, you will remain, so the best thing to do is focus on what you can control.

Famed stoics included Zeno of Citium, Seneca, and Marcus Aurelius. Today many athletes rely on stoicism to help them focus on their performance during games, rather than how the other team is doing.
Hedonism is the idea that pleasure or happiness is the one thing with intrinsic value. This idea has been held by many other schools across history, most famously the utilitarians. While happiness is often construed as pleasure and the green light is often given to depravity by this school, Greek thinker Epicurus was also a hedonist and tied it to a virtue ethics system based around moderation. He argued that moderation lead to the most happiness for the individual in the long run.
The word "hedonistic", when used as a slur, relates to this school only in that many hedonistic thinkers also saw pleasure as the key to a good life. Many hedonistic philosophers viewed pleasure as a kind of happiness, but few held it as the "only" happiness. Most hedonistic philosophers would say you should read a book rather than get drunk, as reading is a higher kind of happiness than getting snockered.
Famous hedonists include Jeremy Bentham, Epicurus, and Michel Onfray. Hedonism is also the oldest philosophy recorded, making an appearance in The Epic of Gilgamesh.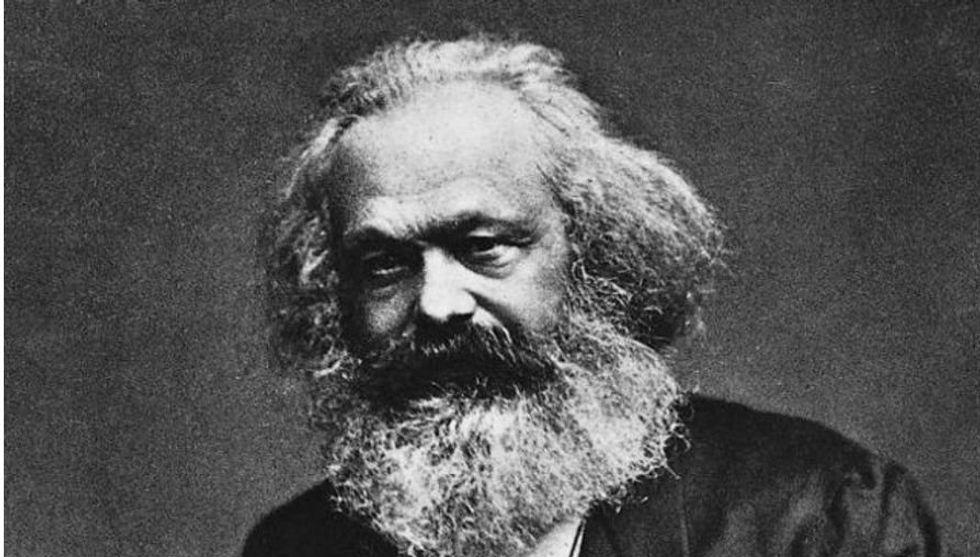 Marxism is a school based on the collected ideas of Karl Marx, the 19th century German philosopher, and the related ideas others have added after his death. His key ideas are all critiques of capitalism, such as the idea that the capitalist mode of production alienates us from the results of our labor, the tendency of capitalism to overproduce and crash as a result, and the labor theory of value. He also proposed a few ideas to help fix the problems he found in capitalism, many of them less radical than you might suppose.

Cultural Marxism is a thing, but not what your crazy uncle says it is. In reality, it is a method of critiquing a consumerist society for reducing everything to a commodity and the phenomena of mass marking reaching into all parts of our lives which was proposed by German philosophers who didn't like the Soviet system either. I am sure the comments section will disagree with this fact passionately.

Famed Marxists include Lenin, Stalin, Mao, and Slavoj Zizek; though all of the listed individuals have been called heretics at one point or another by other Marxists. Ironically, Marx himself claimed to not be one.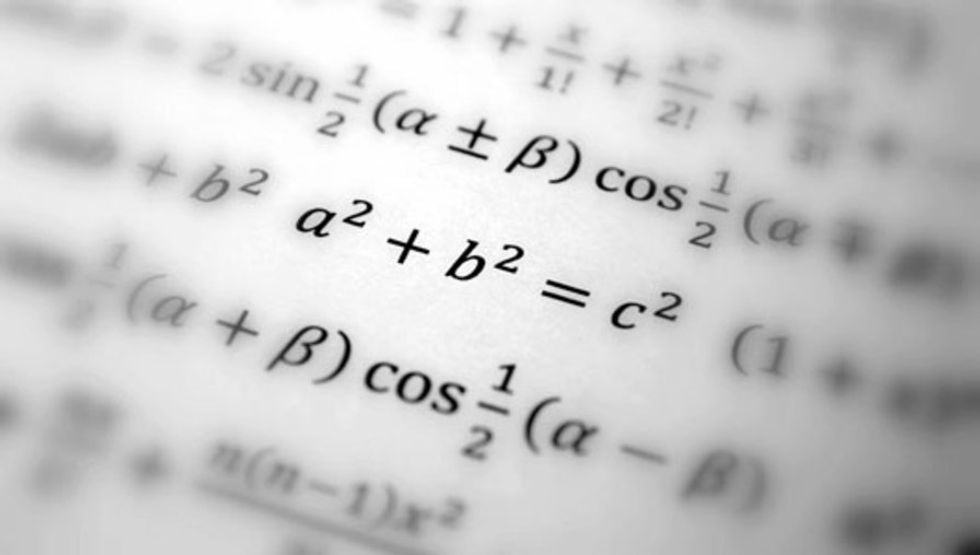 Have you ever wondered if we can base absolutely everything on logic and empirical evidence?
The logical positivists had a good try—until they found it a dead end. This school was popular in the 1920s and '30s, and was focused on the idea of verifications, which sought to base all knowledge on either empirical data or logical tautologies. By this idea, metaphysics, ethics, theology, and aesthetics cannot be studied philosophically as they don't offer ideas with truth values. As it turns out the core tenet of verificationism cannot be shown to be true either, posing an unsolvable problem for the school.
The school was largely unsuccessful in its work, and suffered a major blow when Ludwig Wittgenstein denounced his previous work in favor of the school's ideas then utterly changed course. The school still had a great deal of influence, particularly on the work of Karl Popper and Wittgenstein, who worked so hard to disprove the core tenets.

Famed members of the movement included Bertrand Russell, Ludwig Wittgenstein, and the Vienna Circle. All of them were brilliant, and after the decline of the school most of them went on to other projects. 
Taoism is a school of thought based around the Tao Te Ching, written by the ancient Chinese philosopher Lao-Tzu as he left China to live as a hermit. Taoism is based around ideas of humility, the 'Way', a focus on the individual, simplicity, and naturalness. It is commonly practiced as a folk religion by the Chinese, and Taoists often make offerings to various gods.
Taoist thought would later fuse with Buddhism and birth of Zen. Elements of it would also be incorporated into the concept of Neo-Confucianism. The principles of Taoism would also resonate with physicist Niels Bohr who admired Taoism's ability to view opposites as complementary.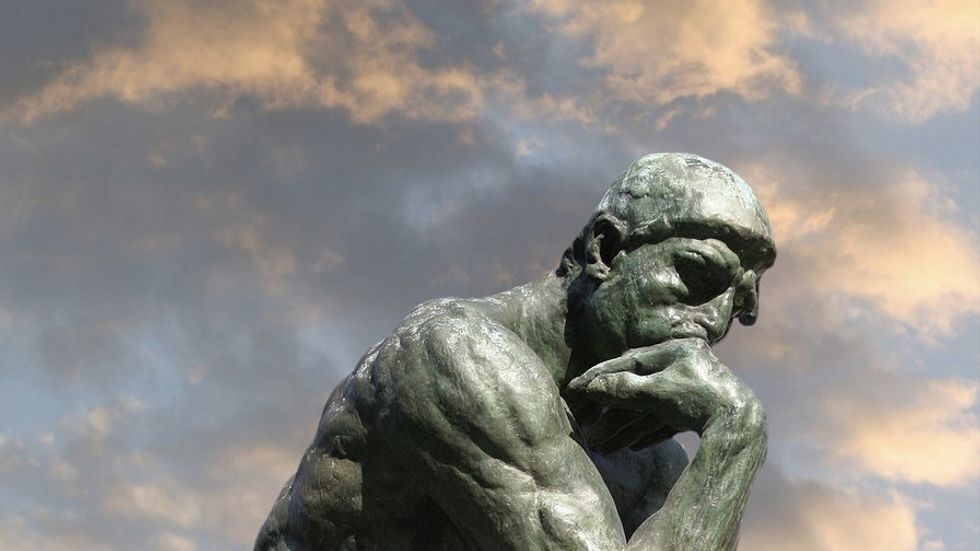 If our senses are often wrong, how can we ever trust them to get reality right? This is the key tenet of rationalism, the idea that knowledge must come primarily from reason and thought, rather than empirical evidence.

The idea has been widespread in history. Thinkers who argued for rationalism included Socrates, Rene Descartes, and Spinoza. Their view, that reason alone could reveal the great truths of the world, has largely fallen out of use in favor of a more diverse group of methods for finding truth. British philosopher Galen Strawson explained the limit of rationalist approaches to knowledge when he explained, "you can see that it is true just lying on your couch. You don't have to get up off your couch and go outside and examine the way things are in the physical world. You don't have to do any science." Convenient, but no longer enough. Today, most thinkers combine rationalist notions with empirical data.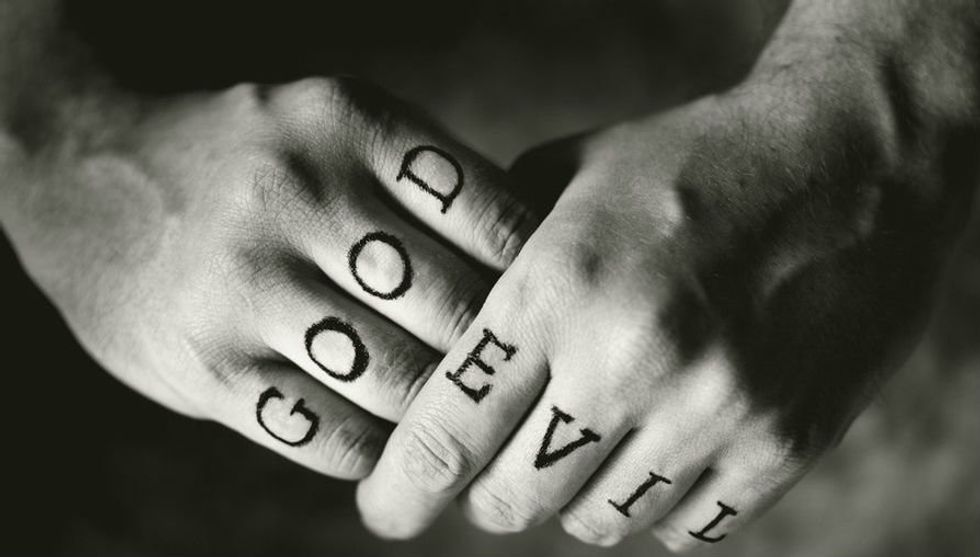 Relativism is the idea that views are relative to perspective or considerations. This idea can even be applied to morality or truth itself, with some arguing then that there are no moral facts or absolute truths. Similarly, situational relativism is an idea in ethics where a rule is to be followed under all conditions except for some, when we would then follow another rule. For example, don't kill unless you would save lives by doing so. This idea, in a revised form, was supported by American philosopher Robert Nozick in his book Anarchy, State, and Utopia.
Most of you are probably familiar with the idea of "cultural relativism" which is the notion that the morality of two differing cultures cannot be compared and a person outside of one culture cannot critique the values and morality of another. This idea is not held by any major philosophers, and is generally seen as self-defeating by those who work in ethics.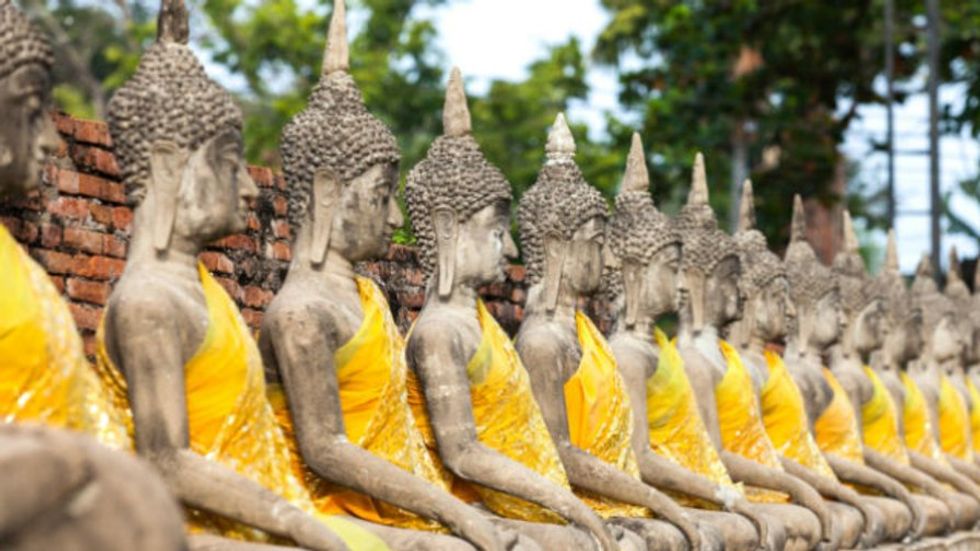 A religion based around the teachings of Gautama Buddha, an Indian prince, Buddhism is dedicated to the idea that suffering has a cause and that we can overcome it by means of mediation, following the noble eightfold path, and contemplation of sutras.
The many schools of Buddhism are rather diverse in their thought, bound together primarily by the Buddha's ideas on suffering. Some are non-theistic while others have a pantheon of gods and demons. Some hold that karma exists and reincarnation is a part of life while others reject any discussion of an afterlife. Most are peaceful while others… not so much. In the west, Buddhist ideas on meditation are often widely shared while other elements of the religion are ignored.