Think walking is void of philosophy? Nietzsche and Gros are here to say you're wrong.
People walk beside the Han river in Seoul. While this isn't quite what Gros has in mind, it is a start. (Photo by Ed JONES / AFP) (Photo credit should read ED JONES/AFP/Getty Images)
French philosopher Frederic Gros tells us that walking is a route to entirely being ourselves and experiencing the sublime.
He has a bias towards the wondering hikes of Nietzsche and Kerouac but has a place for urban strollers too.
His book reminds us that even something as mundane as walking can be a vital part of our lives when done for itself.
Walking is good for you. Regular walks can improve bone health, reduce blood pressure, and even prevent Alzheimer's. You're supposed to get in 10,000 steps a day, but millions of people across the United States don't manage that. The average number of strides an American takes daily is just 4,774. This has dire effects on our health.
But a book by French philosopher reminds us that there is more to walking than exercise.
Hikers in Slovakia pause to rest as they take in the beauty of the mountains. Gros tells us that they are getting more out of the trip than just exercise and a holiday.
(Photo by Omar Marques/SOPA Images/LightRocket via Getty Images)
In his book A Philosophy of Walking, French philosopher Frédéric Gros explores the surprisingly philosophical act of walking. He doesn't mean the light exercise that people try to fit into their busy schedule or our pragmatic walking from point A to point B, but rather the long hikes in nature that give us a chance to escape the day to day.
For Gros, walking is a liberating act that allows us to reconnect with ourselves. Not ourselves as we are introduced at parties or as the face we put on to make it through a long day at the office, but our true selves liberated from worrying about time, social conventions, and our daily cares. A long walk through a forest allows us to connect with the sublime in a way that merely looking at it from a distance does not. Appropriately done, walking allows us to just be in a way that can be hard to come by in our modern, fast-paced lives.
He explains this in a very French manner when he says:
By walking, you escape from the very idea of identity, the temptation to be someone, to have a name and a history. Being someone is all very well for smart parties where everyone is telling their story, it's all very well for psychologists' consulting rooms. But isn't being someone also a social obligation which trails in its wake – for one has to be faithful to the self-portrait – a stupid and burdensome fiction? The freedom in walking lies in not being anyone; for the walking body has no history, it is just an eddy in the stream of immemorial life.
And he speaks for many hikers when he explains how one can find more life in doing nothing than is often found in a hectic, event filled schedule.
Days of slow walking are very long: they make you live longer, because you have allowed every hour, every minute, every second to breathe, to deepen, instead of filling them up by straining the joints.
As he does prefer hiking over going on a walk in the city park, he says that what urban dwellers out for a walk actually do is "stroll," explaining that:
The urban flâneur does experience walking, but in a way far removed from Nietzsche or Thoreau. Walking in town is torture to the lover of long rambles in nature because it imposes, as we shall see, an interrupted, uneven rhythm.
But even this has meaning for him. He invokes Walter Benjamin and declares the urban walker to be "subversive" with respect to the urban phenomena of "solitude, speed, dubious business politics, and consumerism" in that they relish the anonymity of the crowd, are going nowhere fast, and see advertisements and sales like everybody else but manage to stroll past them.
Even if you can't go hiking down a winding country trail regularly, walking can have a philosophical benefit for you by placing you both within and without the modern metropolis.
Plus, walking was a vital part of many philosophers' processes.

Professor Gros mentions several great thinkers who took long walks, explaining their habits and how it related to their work.
He opens with Nietzsche, who was an avid walker. Originally used as a way to avoid the crippling pain of his migraine headaches, Nietzsche later found that his thought was stimulated by the long walks he took past rivers, forests, lakes, and Alpine peaks. He found walking a vital part of his process saying,
We do not belong to those who have ideas only among books, when stimulated by books. It is our habit to think outdoors — walking, leaping, climbing, dancing, preferably on lonely mountains or near the sea where even the trails become thoughtful.
His walks were a source of inspiration, and it is no coincidence that his most productive era was when he lived Sils Maria and was able to hike through the Alps. He only ceased his walks when his physical and mental health deteriorated, and he was forced into a wheelchair.
Immanuel Kant was also a regular walker, with an emphasis on regular. He took his daily walk at precisely five every day, and his neighbors were said to set their clocks to his routine. He only deviated from this rigid schedule twice, once to buy a book and once to join a rush to a newspaper publisher to get news on the outbreak of the French revolution.
Unlike Nietzsche's hiking, however, Kant's walks were not a direct part of his writing process. They were instead part of his extremely fine-tuned routine that he credited for his philosophical output. The walking was for his physical health, which he took pride in, and a chance not to have to think for a few minutes. Given his incredible output, the breaks were well deserved.

Outside of philosophy, many geniuses have understood the benefits of walking. According to local lore, Beethoven regularly took long walks in the Vienna Woods when he lived in Mödling, Austria in search of inspiration, and he often carried pens and paper just in case he found it. Charles Dickens enjoyed a walk when he couldn't sleep and saw walking as a way to keep himself sane.
Perhaps it's time to stop looking at walking as a way to get from A to B or as a light exercise and start viewing it as something more fundamental — a chance to more fully connect with ourselves, nature, and take a break from the hustle and bustle of everyday life. While not all of us can take five-hour treks like Nietzsche, most of us can find the time for a stroll in the park.
We all love the art, but we often forget the difficulty of being an artist. Here are some of the most famous, greatest writers of all time who never could quite make a living doing it.
How long until he has to sell the dog? (Getty Images)
The image of the broke writer is engrained in the popular imagination. The often tortured artist who writes until they remember to eat, and then eats too little as to stretch out their failing budget.
While this image doesn't apply to most writers, there are a few remarkably famous authors who hardly made a dime by writing. This didn't stop them from joining the ranks of the most celebrated poets and novelists of all time. Here we have six such authors for your consideration.
H.P. Lovecraft
Lovecraft was an American writer whose work in "weird fiction" has had a lasting influence. His Cthulhu mythos, a collection of interconnected novellas and short stories, has inspired authors from Stephen King to Alan Moore. The word Lovecraftian has come into use to describe his brand of cosmic horror and Cthulhu himself often appears in popular culture.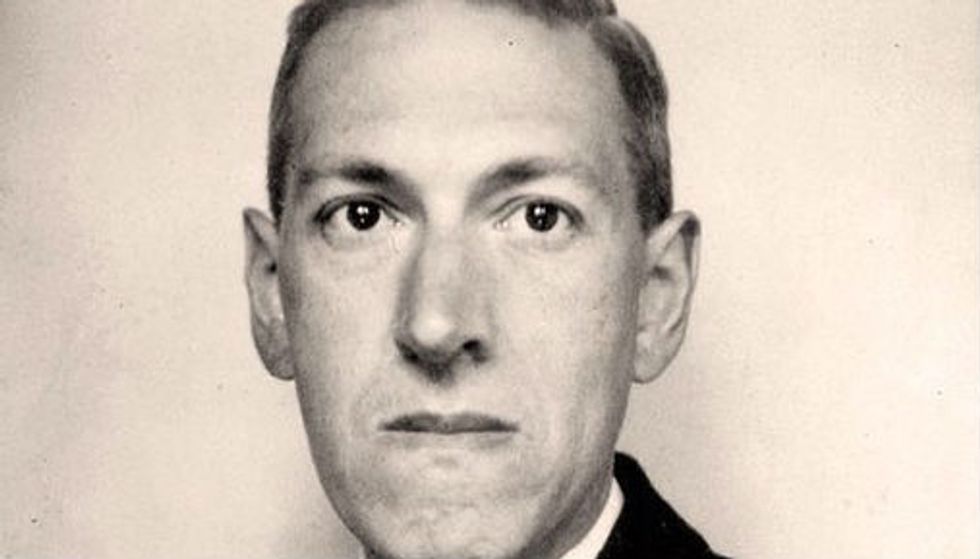 Despite working his entire life as a writer, he was never able to earn enough money doing it to cover even his most basic expenses, at the lowest points of his life he was forced to skip meals to afford postage stamps. A planned project with Harry Houdini which would have earned him a great deal of money had to be abandoned with Houdini's death. A lack of business acumen also cost him; he once failed to reply to a publisher that inquired about any novels he might have ready.
Lovecraft, whose desire to make a living as a writer never faltered, died in 1937 of cancer at the age of 46. The entirety of his work can be read here. 
"Ph'nglui mglw'nafh Cthulhu R'lyeh wgah'nagl fhtagn"  
(Translation: In his house at R'lyeh dead Cthulhu waits dreaming)
- The Call of Cthulhu
Franz Kafka
Kafka was a Czech writer living and working in Prague in the early 20th century. His writing often focused on the alienating powers of bureaucracies, byzantine systems that worked to promote themselves, and the isolating features of modern life. Among his works are The Metamorphosis and The Trail, both of which inspired the existentialist philosophers and have had such an influence on literature that the word "Kafkaesque" was created to describe his style.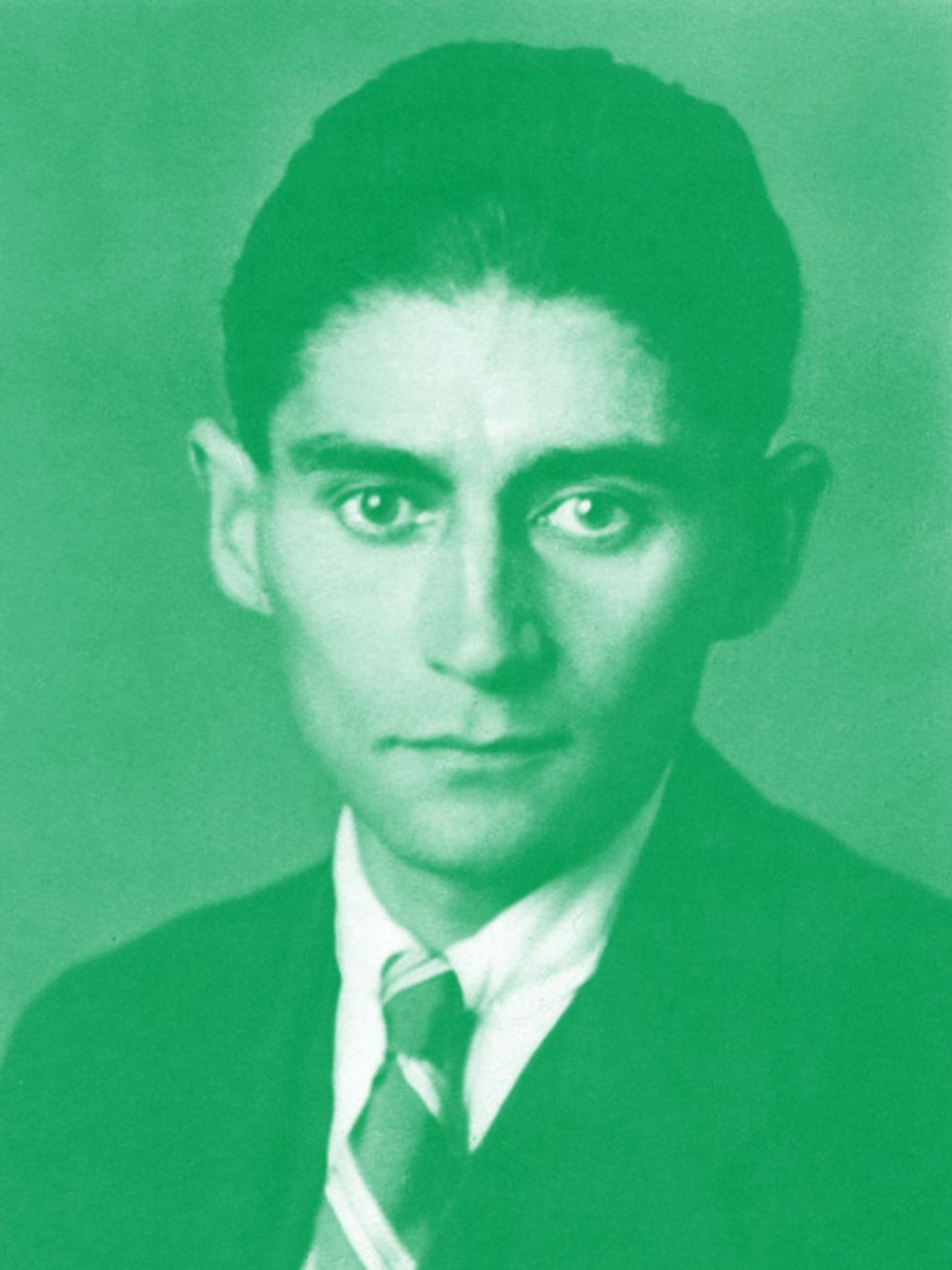 Franz Kafka (Wikimedia Commons)
Like Lovecraft, Kafka did publish some works in his lifetime. Kafka, however, kept most of his work to himself and ordered it burned after his death. His friends went to the publishing house instead. Unable to support himself by writing, Kafka took up several jobs that allowed him to write in the evenings and quit those which took up too much of his time. He had a long, relatively prosperous, stint as an insurance clerk at a work safety agency where he may have invented the hard hat.
Kafka was relatively unknown during his life but became famous almost immediately after his death of Tuberculosis at age 40. Several of his works can be read here.

"As Gregor Samsa awoke one morning from uneasy dreams; he found himself transformed in his bed into an enormous insect."
- The Metamorphosis
Emily Dickinson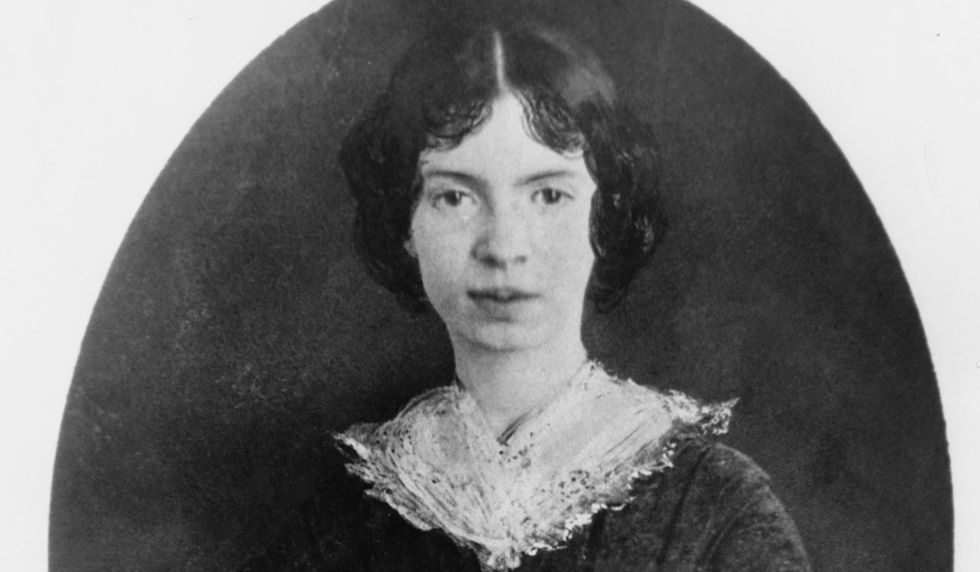 Emily Dickinson was an American poet who wrote nearly 1800 poems, of which less than a dozen were published during her lifetime and were often heavily edited.  Dickinson's poetry has been continuously published since her death in 1890 and has been highly praised.
Dickinson wrote prolifically during the American civil war and carried on correspondence with others to gain feedback on her experimental style. She, like Kafka, asked that her papers be burned after her death in 1886. Luckily for us, that promise was not kept. Her younger sister found the trove of unpublished poems and had them printed four years after the burn by date. A collection of her poems is available online. 
"Because I could not stop for Death – 
He kindly stopped for me – 
The Carriage held but just Ourselves – 
And Immortality."
- Because I Could Not Stop for Death
Marcel Proust
A French writer in the early 20th century, Proust is best known for his monumental work In Search of Lost Time, parts of which were only published after his death. It is often considered one of the greatest novels ever written.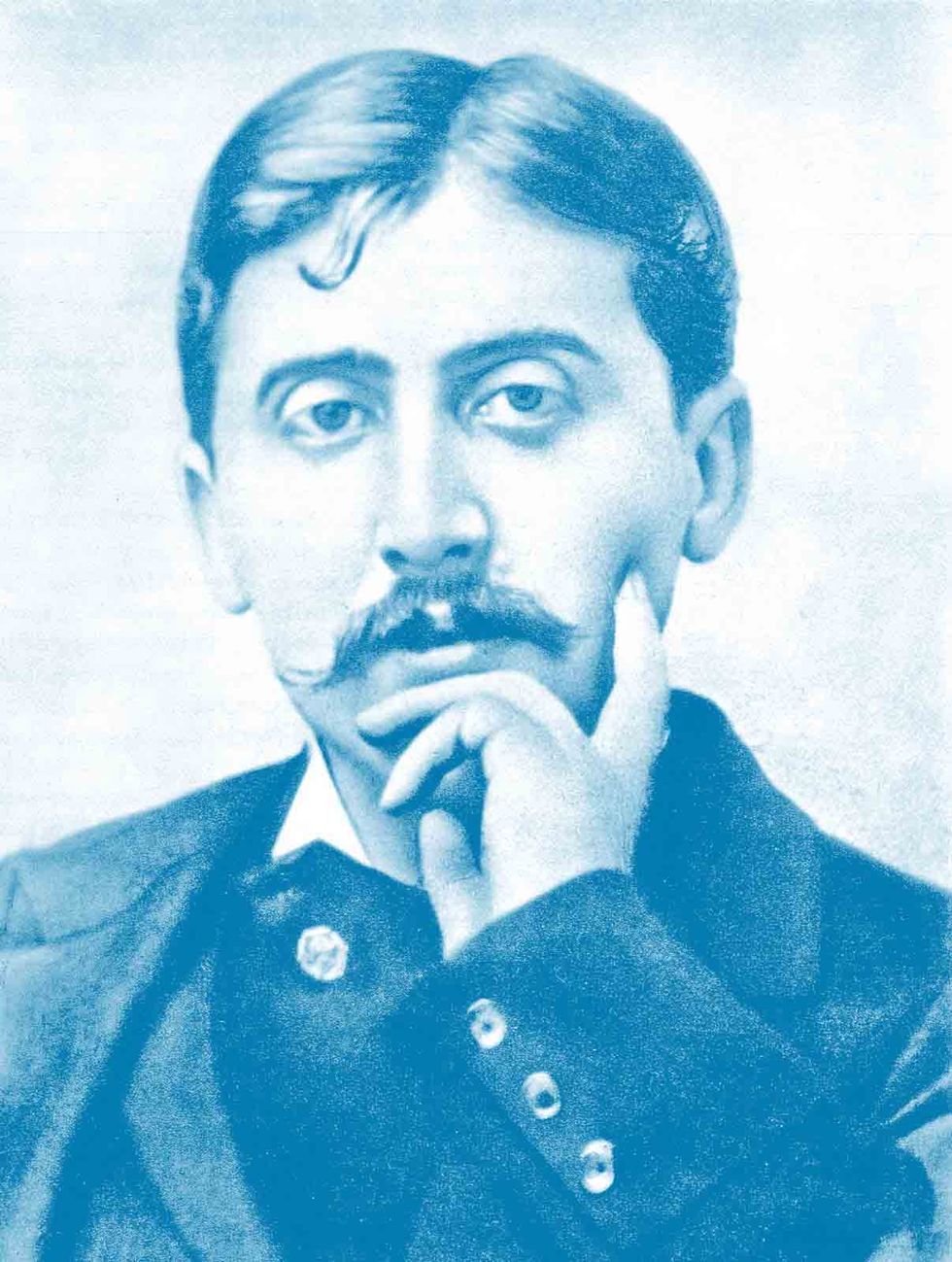 He halfheartedly held other jobs, he once took a post at a library and had such an extended sick leave that he was presumed to have resigned. He lived with his parents and then on an inheritance left to him. While Proust did make some money as a writer, his work was unfished and not fully appreciated until after his death at age 51.
"We are healed of a suffering only by experiencing it to the full." 
 - In Search of Lost Time
Edgar Allen Poe
An American writer who hardly needs any introduction. Poe was a master of Gothic horror and the inventor of the detective fiction genre. His works are required reading in any American literature class and his most famous work, The Raven, has been recorded and parodied countless times.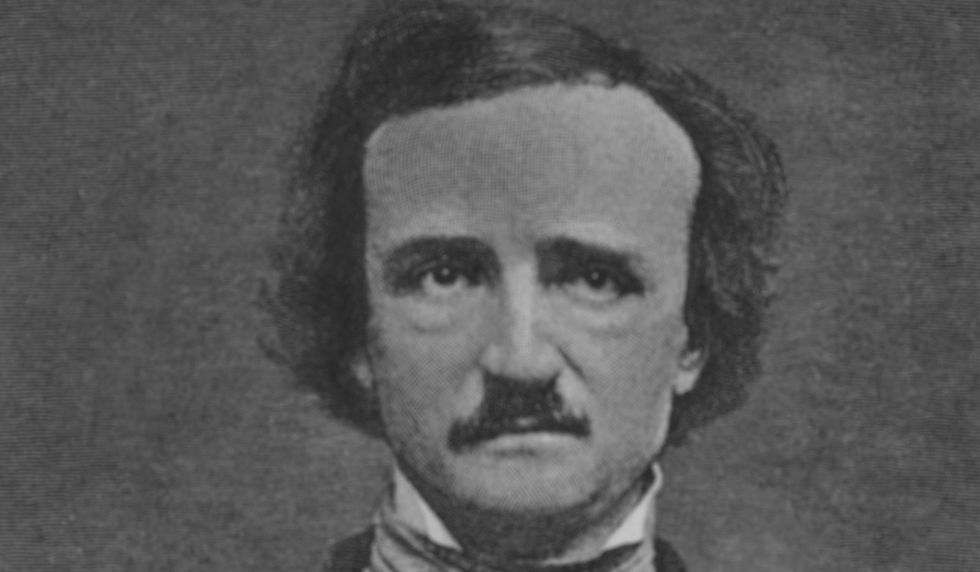 The Raven was extremely popular upon publication and earned Poe precisely nine dollars. He was the first notable American author to attempt to make a living on writing alone. He was often unable to do so and held several other jobs during his lifetime. He was found delirious in a gutter in Baltimore and died of still unknown causes at a nearby hospital. To add insult to his death; a popular biography falsely depicting Poe as a degenerate made a great deal of money and has poisoned our image of him ever since. A collection of his work can be found here. 
"Ghastly grim and ancient raven wandering from the Nightly shore —
Tell me what thy lordly name is on the Night's Plutonian shore!"
Quoth the raven, 'Nevermore.'"
 - The Raven
Fredrich Nietzsche
A Germanic philosopher who co-founded existentialism, Nietzsche has had a tremendous influence on philosophy, politics, psychology, and the popular image of a philosopher. His works are often referenced by people who have no idea what they are talking about, and he remains a philosopher who is well known even to those who have never studied philosophy.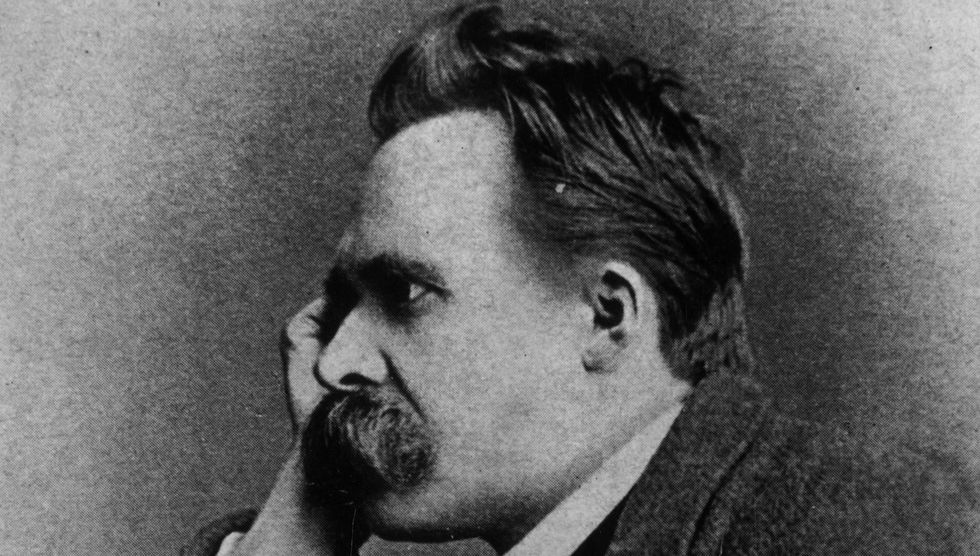 He abandoned a career in academia, where he was made a professor right out of college, to try and make a living as an independent writer and philosopher. He was unable to make much money from selling his books and often begged from friends. This didn't deter him, and at the height of his writing he was cranking out a book a year of high quality. At the time of his death, he had achieved some fame, if not wealth, from his writings. Slightly older versions of his work can be read here. 
 "I am no man, I am dynamite!"
- Ecce Homo 
--
Philosophers aren't known for their love lives, but a few have managed to be tragic romantics anyway.
Philosophers aren't particularly renowned for having successful love lives, but some have become hopeless romantics — and others misanthropes. Here we have 10 philosophers who have written on or been heavily influenced by love in both their work and their personal lives.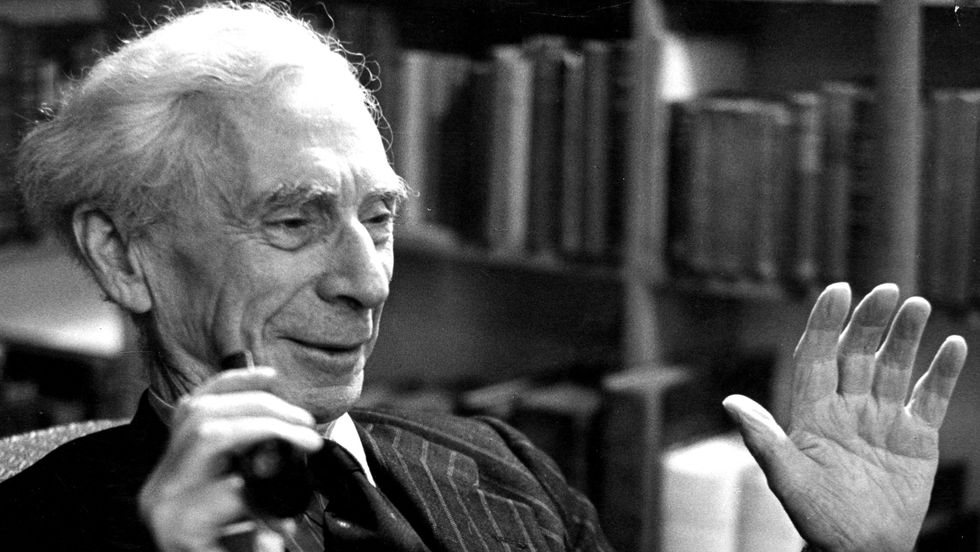 The third Earl Russell was an analytic philosopher whose ideas on modern love, such as his support for gay rights, were so scandalous that when he explained them in his book Marriage and Morals (1929) he found himself unemployable. He was married four times and carried on numerous affairs during his separation from his first wife. He found marriage to be an excellent institution, but one that should not be bound by Victorian norms. He continued to advocate for gay rights, free love, and new ways of thinking until his death.
"To fear love is to fear life, and those who fear life are already three parts dead." — Marriage and Morals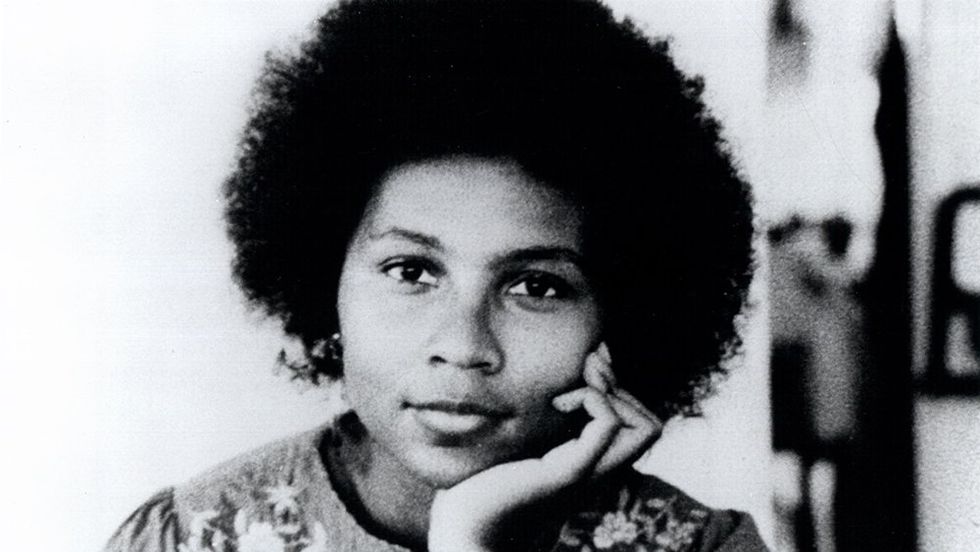 An American author and feminist philosopher, hooks realized after breaking up with a few boyfriends that there was no proper text on love that she could have given them to help save those relationships. Like any good writer, she then set out to write it.

In All About Love: New Visions (2000) , she argues that our modern definition of love is too watered down by overuse of the word. Working from the idea that love is a verb, she then suggests ways to improve our modern concept of love and prevent what hinders it. She notes with a fervor that power discrepancies and the differences in how men and women are expected to approach love are a particular problem.

"The fear of being alone, or of being unloved, had caused women of all races to passively accept sexism and sexist oppression." — Ain't I a Woman? (1981)
Alfred Jules Ayer was a British logical positivist who held the Wykeham Professorship in Logic at Oxford University. He was married four times to three different women. Heartbroken by the death of his third wife he remarried his second wife, Alberta Wells, again a year before his death. He also had several affairs and at least one daughter out of wedlock.
Despite his affairs, he maintained standards for romantic conduct. At age 77, he saw then heavyweight champion Mike Tyson harassing a woman at a party he confronted the much younger boxer and allowed the woman to slip away.
Even logical positivists are capable of love.— as quoted in Profiles by Kenneth Tynan, 1989 edition.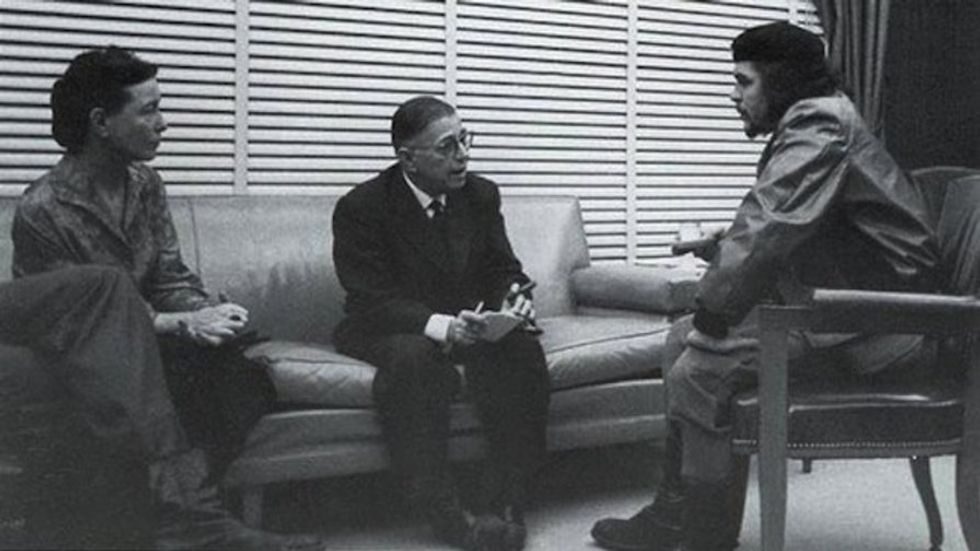 Sartre was a French existentialist and the life partner of Simone de Beauvoir. In line with their modern lives and her second wave feminism, they had an open relationship which waxed and waned over 50 years. He, rather infamously, carried on affairs with proteges who were much younger than him. Despite never marrying, his love for Simone was evident, and he remarked at the end of his life on how wonderful it was to have known her for so long.
"You know, it's quite a job starting to love somebody. You have to have energy, generosity, blindness. There is even a moment, in the very beginning, when you have to jump across a precipice: if you think about it you don't do it." — Nausea (1938)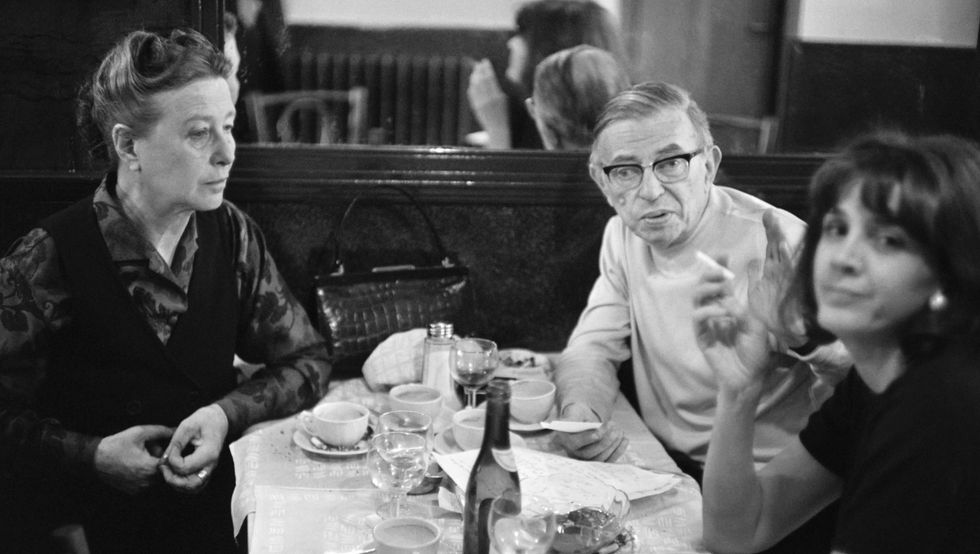 The longtime partner of Jean-Paul Sartre, Simone de Beauvoir was a romantic in her own right. She carried out nearly as many affairs as he did, and offered a feminist critique of the idea that what she was doing was in any way unacceptable. She did lose her teaching license for seducing her students, however. She found many aspects of love, romance, and marriage to be demeaning to women, and carried out her life in such a way as to correct the problem.
She is interned with Jean-Paul Sartre, wearing a ring given to her by her lover Nelson Algren.

"It was said that I refused to grant any value to the maternal instinct and to love. This was not so. I simply asked that women should experience them truthfully and freely, whereas they often use them as excuses and take refuge in them, only to find themselves imprisoned in that refuge when those emotions have dried up in their hearts. I was accused of preaching sexual promiscuity; but at no point did I ever advise anyone to sleep with just anyone at just any time." — Force of Circumstances Vol. III (1963)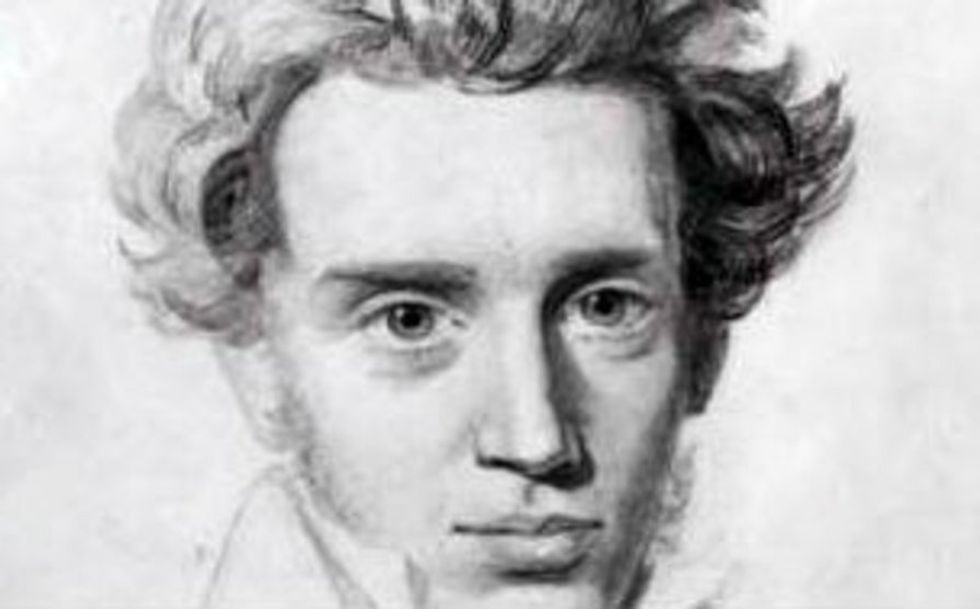 Perhaps the most tragic romantic on this list. Kierkegaard fell madly in love with a young woman named Regine Olsen, who was also madly in love with him. He proposed marriage, but broke it off a month later, returning his engagement ring to her by mail. They were both devastated by his actions; she threatened suicide over it and he cried himself to sleep over his decision.

It is hypothesized that he feared he could not be a husband, writer, and Christian to the extent he wanted to be all at the same time. Knowing this, he chose to be the latter two. This anxiety over the lives we cannot live was a major part of this thinking. The romance would influence his writings for the rest of his life and, as he must have, he regretted it always.
"If you marry, you will regret it; if you do not marry, you will also regret it; if you marry or do not marry, you will regret both..." — Either/Or (1843)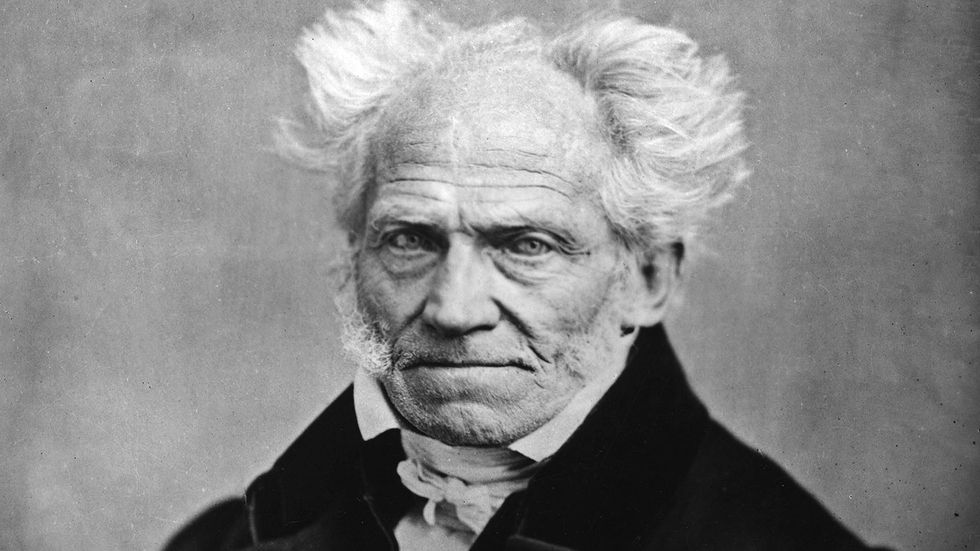 Happy Hallowee--I mean, Valentine's Day.
Despite his praise for the life of asceticism, Schopenhauer tried his hardest to have a decent social and love life. While his connections allowed for some success in the former case, he was rather luckless in the later. He viewed love itself positively, seeing it as one of the key motivations for human activity. His writings on the "will to life" foreshadowed Freudian notions of the id. Despite this attitude towards love, he still found a way to be pessimistic about it. He argued that most people would pick horrible spouses, have too many children, and end up miserable anyway.
"The final aim of all love intrigues, be they comic or tragic, is really of more importance than all other ends in human life." — Schopenhauer
An Indian guru who attracted no small amount of controversy during his life. Contrary to most gurus who favor celibacy, Rajneesh favored a more liberal attitude towards sexuality as part of a path to overcoming sexual desire. He pointed out, as did Bertrand Russell before him, that sexual repression will only create a society obsessed with sex. Once a person is past that desire, they can truly focus on devolving universal love.

"Nobody can teach you love. Love you have to find yourself, within your being, by raising your consciousness to higher levels. And when love comes, there is no question of responsibility. You do things because you enjoy doing them for the person you love." — Sat-chit-anand (1988)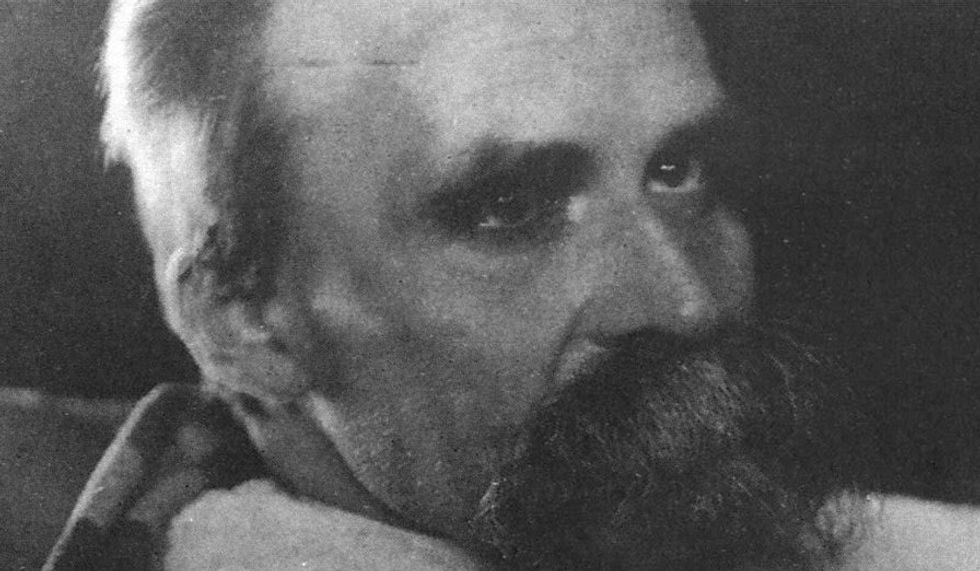 Friedrich Nietzsche is a philosopher we have spoken of many times before. However, his unsuccessful love life has escaped our observation before now. He proposed thrice to the same woman, Lou Salome. Her rejections crushed him, and other than the occasional expression of affection for Wagner's wife he ended his romantic pursuits after Lou Salome refused him. He later pointed out, however, that the only significant philosopher who was married was Socrates; as powerful rebuttal of marriage for the intellectual as he could give.
Nietzsche lived alone for most of his sane life, did think marriage was a decent idea for most people but questioned their way of going about it. In Human, All too Human (1878) he proposed that serial marriage would be beneficial for men. His (alarmingly sexist) stances on women seem to suggest he favored marriage and domestic life for them.
"It is not a lack of love, but a lack of friendship that makes unhappy marriages." —Beyond Good and Evil (1886)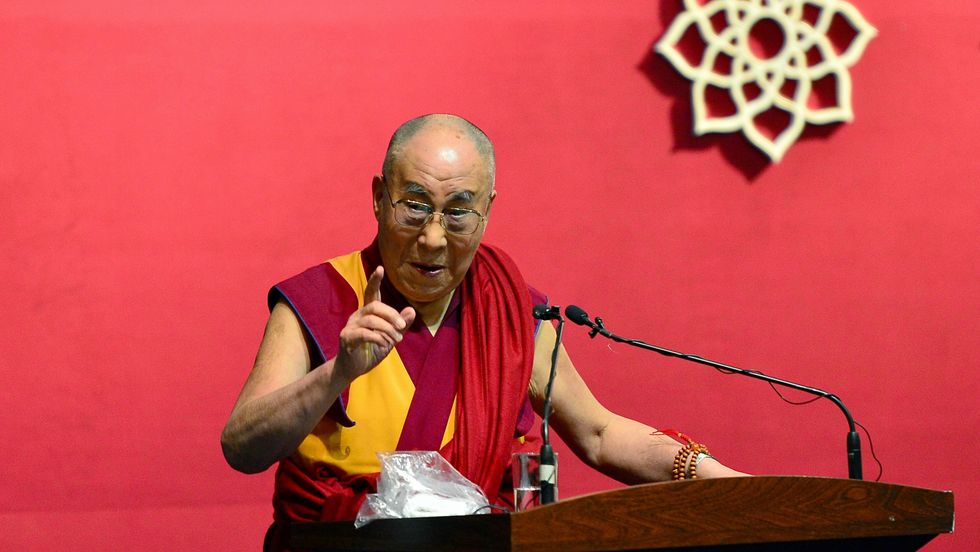 While remaining a celibate monk, the Dalai Lama has lots to say about love. Although he sings the praises of avoiding sex and marriage, he does understand the attraction to the institution and uses the problems it has to help us understand his position. For him, the greatest use of love is to love the world and everyone in it, no matter how many difficulties life tosses at you. Despite the hardships of his life, he still strives to love everyone and encourages us to expand the circle of who we love.

"Love and compassion are necessities, not — Lhamo Dondrub, 14th Dalai Lama
Finding New Year's resolutions isn't always easy. To help you out, we've gotten ideas from some of the greatest thinkers of all time.
Can't think of a resolution?
Finding New Year's resolutions isn't always easy. To help you out, we've gotten ideas from some of the greatest thinkers of all time.
1. Go for a walk every day.
"Above all, do not lose your desire to walk. Everyday, I walk myself into a state of well-being & walk away from every illness. I have walked myself into my best thoughts, and I know of no thought so burdensome that one cannot walk away from it. But by sitting still, & the more one sits still, the closer one comes to feeling ill. Thus if one just keeps on walking, everything will be all right."
― Søren Kierkegaard
Kierkegaard, whose angst would cripple even the most dramatic teenager, often found refuge from the anxiety of existence in walks. Failing that, he tried to explain the difficulty of his life in his writings. He had a lot to say about angst, anxiety, God, death, and coming to terms with freedom.
2. Embrace yourself—and others—as a complete ecosystem.
"I have laboured carefully, not to mock, lament, or execrate human actions, but to understand them; and, to this end, I have looked upon passions, such as love, hatred, anger, envy, ambition, pity, and the other perturbations of the mind, not in the light of vices of human nature, but as properties, just as pertinent to it, as are heat, cold, storm, thunder, and the like to the nature of the atmosphere, which phenomena, though inconvenient, are yet necessary, and have fixed causes, by means of which we endeavor to understand their nature, and the mind has just as much pleasure in viewing them aright, as in knowing such things as flatter the senses."
— Spinoza (edited)
Spinoza, whose philosophy is fascinating, saw the universe as deterministic. Every action, therefore, had an immediate cause that could be discovered. If you can find out what made a person angry, violent, pitiful, or depressed, it becomes easier to understand their actions and simpler to forgive their faults. Coming to terms with the idea that everyone has lots to deal with, things that might make them unpleasant for a while, can make us all a little more understanding.
3. Try to live like water.
The best, like water, benefit all and do not compete.
They dwell in lowly spots that everyone else scorns.
Putting others before themselves, they find themselves in the foremost place and come very near to the Tao.
In their dwelling, they love the earth; in their heart, they love what is deep.
In personal relationships, they love kindness.
In their words, they love truth. In the world, they love peace.
In personal affairs, they love what is right. In action, they love choosing the right time.
It is because they do not compete with others that they are beyond the reproach of the world.
-Laozi
The Tao, also known as the Way, is often compared to water. Generous, soft and flowing, pure, regenerating, and often cyclical; to be like water is to embrace the Way. Water's weaknesses, the fact it is soft and gentle, make it more powerful; it can flow anywhere and even wear down stone. A better example of the harmony of opposites is hard to find.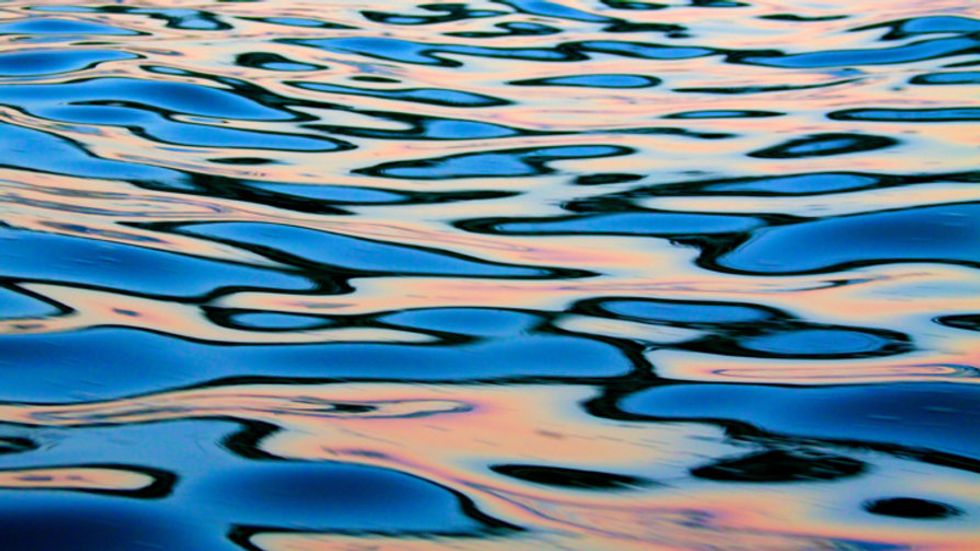 Pictured: Life goals?

4. Examine your life and beliefs regularly.
"The unexamined life is not worth living."
-Socrates
The gadfly of Athens made it his job to examine every belief, no matter how widely held, and determine if it was true or not. Often, he would ask people to define a virtue, such as courage, only to find that the people who valued it most had no idea what it was. It is only by examining our lives that we can hope to improve them.
5. Read a new book each month.
"The Brahmins had no cattle, no gold, no wealth. They had study as their wealth and grain."
-Buddha
The Brahmins were the teachers and holy men of ancient India, and continue as a caste to this day. In theory, they were the highest social class. Rather than focus on money and worldly affairs, they valued learning and knowledge. The Buddha reminds us that these respected men were men of the mind and encouraged us to follow their example.
6. Spend more time with your friends.
The best friend is he that, when he wishes a person's good, wishes it for that person's own sake."
- Aristotle

Aristotle thought friendship was vital to living a good life, but not just any friends would do. He had a three-part system for understanding friendship. The most genuine friendships, the ones that everyone should strive for, are the ones where two people value each other as people and not as a means to an end.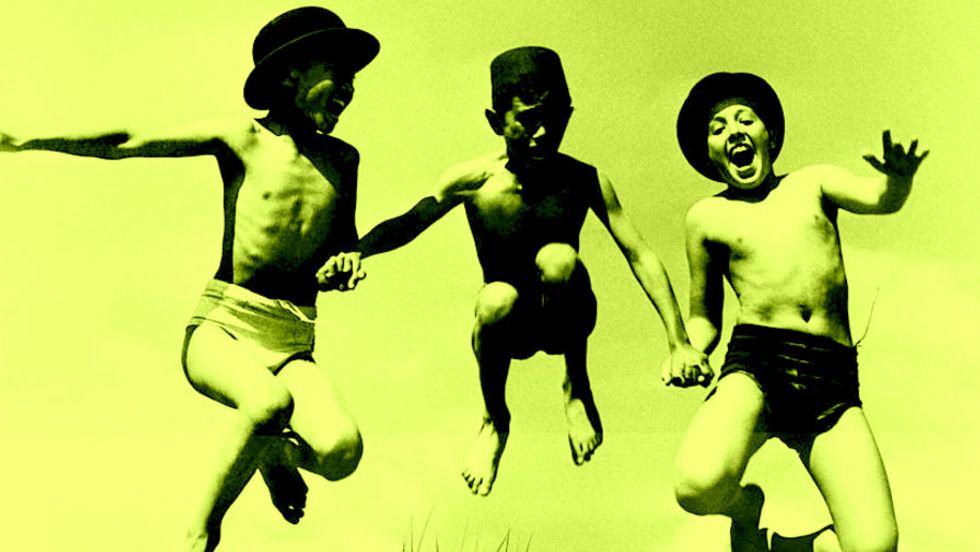 7. Be less of the person you are expected to be, and more of the person you want to be.
"Become who you are!"
-Nietzsche
Nietzsche, who has other excellent one-line ideas, was the king of individuality. There was nothing worse for Nietzsche than for a person to join the herd of people who just followed along. While he was a determinist, he still argued that we should embrace our lives and whatever comes at us.
8. Strive for excellence every day.
"We are what we repeatedly do. Excellence, then, is not an act, but a habit"
-Aristotle
Aristotle viewed virtues as skills, ones that we would strive to perfect over our lifetimes. To be virtuous was to embody an excellence in a particular area such as courage, temperance, or friendship. Doing it once or twice wasn't enough, you had to make a habit of it to truly embody the virtue.
9. Embrace change.
"One cannot step twice in the same river twice,"

-Heraclitus
Heraclitus was a pre-Socratic Greek philosopher who argued that everything was always changing. Not only does this mean that the river changes, but you do as well. Rather than trying to latch onto things that cannot last, we should embrace the notion that everything will soon pass.
10. Take charge of your life.
"Change your life today. Don't gamble on the future, act now, without delay."
-Simone de Beauvoir
Existentialism shows us how we are all responsible for what we are and will become. Waiting for your life to change is an option, but one that denies your ability to shape yourself into what you desire to be. Seize the day!
Existentialism is great and all, but how can you really relate to the ideas if you don't think God is dead? Luckily, we've got just the thing.
Søren Kierkegaard, the man who invented the word "angst".
Existentialism remains one of the more popular philosophies for the layperson to read about, consider, and study. The questions that it asks and the problems it confronts, ones of free will, anxiety, and the search for meaning; are ones we all face in our daily lives. While the solutions it offers may not work for everyone, existentialism can have a particularly large blind spot when it tries to provide answers for the religious.

Think of it, Nietzsche declared that God was dead, Sartre, Camus, and Beauvoir were all atheists, and the related philosophy of Nihilism also denies God's existence. For the religious individual who seeks extra comfort from existential dread and the perspective of the existentialists on the problems of modern life, good answers can be hard to come by.

But there is an Existentialist who made Christianity one of the core principles of his thought. The founder of existentialism, Søren Kierkegaard.

Kierkegaard was a Danish philosopher born to a wealthy family in Copenhagen in the early 19th century. He was a prolific writer who often used pseudonyms to explore alternative perspectives. His work covers all of the areas of existential thought; anxiety, absurdity, authenticity, despair, the search for meaning, and individualism. However, unlike his atheistic successors, he places his faith in the center of the solutions to the problems of human life. Just as the death of God was key for Nietzsche, the need for God was just as important to Kierkegaard. Here are some of his insights:

On finding meaning
Kierkegaard agrees that life can be absurd and that meaning could be hard to come by. As opposed to Nietzsche, who said the death of God caused this, Søren argued that, in the present age, meaning is sucked out of concepts by abstraction and a tendency to view things with too much rationality. He lamented that he lived in an age where humans were increasingly viewed as generalizations, where the passionate man was seen as intemperate, and where most people simply went along.
He cries out for us to live passionately, and worry more about the problem of living life than trying to fit the social order. His philosophy is all about living this way, even to the point where an outside viewer will be unable to understand your motivation. 

Kierkegaard also discovered a point that was hammered in by latter existentialists; reason and science can tell you a lot of things, but they cannot give something value or meaning. You have to do that. Meaning, value, and purpose cannot be reduced to quantifiable elements, it is up to the individual acting on their own to decide what the meaning of their life is going to be. His favored solution for finding meaning is to look to God and make a leap of faith. That alone, he argued, could both offer us meaning and properly balance us as people.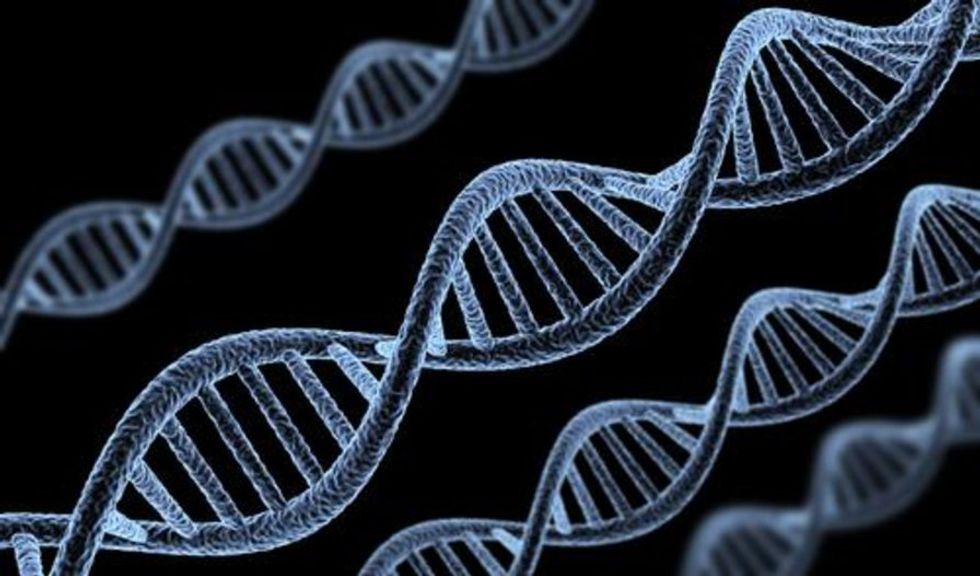 Pictured, the building blocks of life. Not pictured, the building blocks of the meaning of life. 
On living with freedom
We must face the world as individuals, so Søren tells us. However, to fully be ourselves he posits that a person must recognize the "power that constituted it". We are given the moral imperative to discover and live as ourselves, and God is a key part of that imperative. Every day, we are presented with facts of life and possibilities, and we must make choices. To not choose is also an option, but a poor one. To avoid becoming ourselves is to be in despair, which, for Kierkegaard, is to be in sin.
He warns us also of the anxiety that comes with choosing the path of our lives. While we must choose, we can never be sure that we choose correctly, as "Life can only be understood backwards; but it must be lived forwards." In the same way, we have endless possibilities before us, except for those lives we chose not to have. He articulates the anxiety of having to choose to not live out some possibilities magnificently, "If you marry, you will regret it; if you do not marry, you will also regret it; if you marry or do not marry, you will regret both; Laugh at the world's follies, you will regret it, weep over them, you will also regret that; laugh at the world's follies or weep over them, you will regret both…."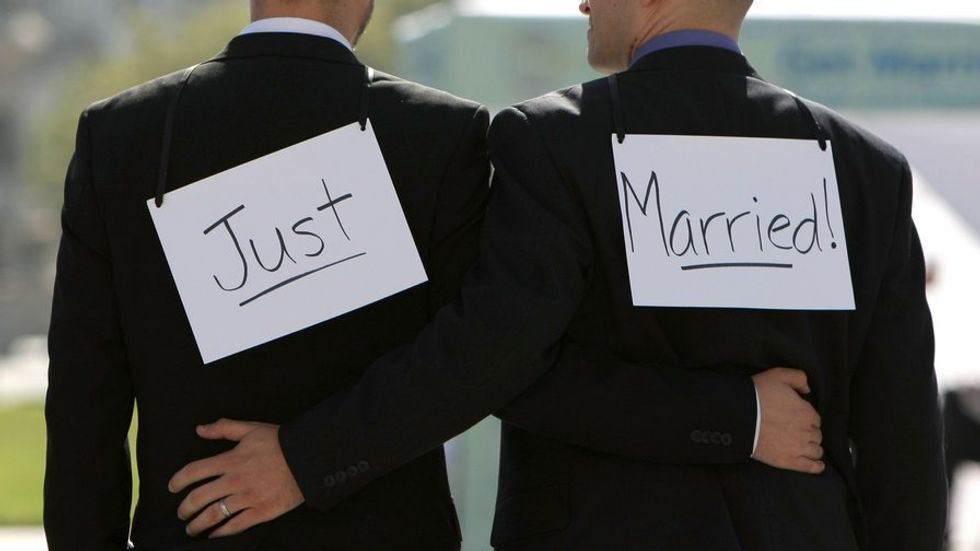 Kierkegaard says they will live to regret it, no matter what happens. 
Like Nietzsche, Kierkegaard also saw the potential use of "isms" to solve the problem of meaning in our lives. Søren focuses on the idea of an "ethical" life as an escape from deciding on meaning for yourself. By choosing a social or ethical system to latch onto we can find meaning in our relation to it; rather than by ourselves. He sees this as a possibility for many people, but not as the ideal solution to our problems. 
One of his solutions to the problem of meaning was a Christian variant of the super-individualist Ubermensch; before Nietzsche had invented it. The Knight of Faith is an individual who has moved beyond relying on external rationality or "isms" for the justification of their lives and fully dedicated themselves to a higher calling. This calling is God in the case of Kierkegaard's examples of Abraham and Mary.
They understand that the demands of God might be unethical, as the demand that Abraham kill his son was. However, they carry on past ethical concerns anyway, as to be a Knight of Faith is to be- to steal a phrase from Nietzsche- beyond good and evil.*
The benefits of Existentialism don't have to be utterly separated from the Christian notion of God. Likewise, Kierkegaard's insights do not require a dedication to Christianity to be used. He argued that the "passionate pagan" who prayed to a false idol was living better than the Christian who was worshiping out of mere habit. Even for those of us who are not Christians, it is possible to understand a little more about ourselves and the problems we all face as humans by considering the worldview of Søren Kierkegaard. A fantastic introduction to his ideas can be seen here.




*-To those of you who see a potential problem here, Kierkegaard notes in the book Fear and Trembling that some method must be used to determine who is a Knight of Faith and who is just a lunatic. Likewise, while the Knights could be divinely inspired to do horrible and bizarre things (like sacrificing children or inventing circumcision) by religious fervor, Søren posits that the typical Knight would be rather reserved and that we might never hear about them. Debate continues on if that answer is sufficient.