How does the largest welfare program imaginable have libertarian supporters?
The idea for a universal basic income, or UBI, is increasingly popular.
While it seems like a left-wing handout, many prominent right wing thinkers have endorsed the idea.
The libertarian version of UBI does have a few key differences from the more standard version.
We've all heard of it: basic income, the freedom dividend, the income guarantee, or any of the other names for the program that would give everybody a payment as a right of citizenship. Such plans have been discussed by American thinkers for at least two hundred years and have gained increasing attention and popularity in the modern age.
On the face of it, it seems like a rather left-wing concept. The idea of sending everybody a check each month for existing seems as Marxist as it gets. It also doesn't help that many of the best-known supporters of the idea are on the left. However, the idea's popularity isn't limited to red book clubs. There are right-wing supporters of the concept as well, among them was famous economist Milton Friedman.
The libertarian case for the basic income
For those who don't know, Milton Friedman was an economist working out of the University of Chicago during the middle part of the 20th century. A leading thinker behind monetarism, he favored tinkering with the economy through controlling the size of the money supply rather than through fiscal policy. Even people on the American center-left acknowledge his brilliance as they criticize his mistakes.
When it came to the problem of poverty, Friedman supported letting the free market and private charity have a chance to solve it first. However, he understood that dealing with it effectively at the large scale likely required at least some state intervention. As he explains in Capitalism and Freedom, its the free-rider problem that causes this:
It can be argued that private charity is insufficient because the benefits from it accrue to people other than those who make the gifts [...] I am distressed by the sight of poverty; I am benefited by its alleviation; but I am benefited equally whether I or someone else pays for its alleviation; the benefits of other people's charity therefore partly accrue to me. To put it differently, we might all of us be willing to contribute to the relief of poverty, provided everyone else did. We might not be willing to contribute the same amount without such assurance. In small communities, public pressure can suffice to realize the proviso even with private charity. In the large impersonal communities that are increasingly coming to dominate our society, it is much more difficult for it to do so.
He argued that this justified having the state take steps to reduce poverty, as it is harder to skip out on paying money to reduce poverty when that is tax fraud rather then miserliness. This didn't mean Friedman supported the welfare state though; he argued instead for a much simpler solution in the form of the negative income tax, or NIT.
In our current welfare system, there are a myriad of programs that each deal with a different aspect of life for the poor. One program provides food aid, another deals with housing, yet another provides low-cost utilities, and another one deals with income security for the elderly. A large number of regulations, such as minimum wage laws, exist to help hold wages high enough to keep other working people off the welfare rolls.
Friedman viewed this multitude of agencies as wasteful and suggested that a single program would do the same job with a smaller government by just giving cash to people who needed it. As a libertarian who placed a high value on the freedom of choice, he also suggested it was a much more dignified way of helping the poor than telling them what they could and could not do with the money we give them as is currently the case with things like food stamps.
How would it work?
The mechanism is relatively simple. Dr. Friedman explains it above in his interview on Firing Line.
For those who didn't watch the clip, it is easily explained. The income tax system is changed a bit to include an exemption based on family size. Only earned income above that point is taxed. If you make less than the exemption amount, you instead receive a subsidy.
The size of the subsidy would change based on how much you make and would also be subject to a subsidy rate. This means that if a person makes $1000 less than the exemption point, they would only get a certain percentage of that difference back as a subsidy. Friedman argued that the subsidy rate shouldn't any higher than 50 percent, as it would discourage work if it were raised past that point.
As an example, suppose we lived in a society where with an NIT where the exemption for me is $10,000, and the subsidy rate is 50 percent. If I were to only make $8000, I would pay no taxes and get back half of the $2000 difference between what I made and the exemption point, or $1000.
If I made exactly $10,000, I would neither pay taxes nor receive a subsidy. If I made more than that, I would start to pay income taxes on the income above that point. If I made absolutely nothing, I would get the largest subsidy possible under this system, $5000, which would be the "guaranteed" income under this arrangement.
Such a program would also have the advantage of not having a "welfare trap," the point where making more money at work causes welfare payments to go down by a larger amount and leaves the recipient worse off. The trap is a well-known problem and is bashed by many economists as a significant flaw that discourages people from trying to improve their situation.
The numbers used above were just for discussion; the exact numbers used in a working system would reflect economic realities. It should be said that Friedman intended to keep the guaranteed rate low enough to encourage people to still work while at the same time being high enough to correct for the failures of private charity.
Has it ever been tried?
Yes, it has, and it worked.
Several experiments in the 1970s in the United States and Canada showed that the negative income tax could work as intended. The guaranteed income was set as equal to the poverty threshold and, as predicted, the labor supply fell because of this.
This fall was not as significant as experts feared, however. The simultaneous rise in high school graduation rates suggests that at least part of this fall in labor supply was caused people having the economic security to stop working and finish their education. Claims that the program resulted in an increased divorce rate were initially reported but are now known to be the result of a statistical error.
What do others think of the NIT?
Criticism of the idea comes from two directions.
On the right, critics often object on a fundamental level to any redistribution or an income tax of any kind. Some who do support the NIT see it merely as the best version of a bad deal.
On the left, criticism tends to focus on either the mechanism of the NIT or on the details of Friedman's plan. Josh Martin, an executive committee member at the US Basic Income Guarantee Network, explained his objections this way:
A negative income tax and a universal basic income seek to achieve the same goal — to ensure an income floor for everyone. But, given the choice between the two, a UBI is preferable as it solidifies this income floor as a universal benefit, while an NIT would only provide the income floor to those who need it. This conditionality makes it easier for politicians and for people who don't receive the NIT to justify cutting the program as they don't receive the benefit personally.
This concern that a purely redistributive program will be subject to political difficulties later is a common one. It is part of the reason why regressive taxes on the poor fund Social Security — you can't attack it in the way Mr. Martin describes. A system of basic income that pays everybody a set amount each month is similarly protected; it's hard to cut a program everybody gets direct benefits from.
Universal basic income is an increasingly popular idea that will likely exist in some form someday. It enjoys support from every part of the political spectrum for various reasons. While the far left and the far right might disagree on why a universal basic income program is needed or what form it should take, the fact that they agree on the need for such a program is surprising enough to almost count as an endorsement in itself.
It really depends on who you ask, as one European poll found out.
Data visual by Dalia Research
We've mentioned the idea of Universal Basic Income, or universal income guarantee, here before at Big Think. You might say that we enjoy mentioning it a lot. The idea goes back to the 1400s and has been taken up by many big thinkers throughout history, from Martin Luther and Martin Luther King to Thomas Moore and Milton Friedman.
But, what do the polls say? Do people actually want this, no matter what the experts argue?

Support for the idea in the US was high enough in the early 1970s to prompt George McGovern to include it on his presidential platform, and for President Nixon to support a similar measure that failed to pass in Congress. Tests of the effects of the program were made in rural Iowa and North Carolina at that time.
More recently, a poll showed 68% of Europeans support the idea of a basic income, and 31% of them want it as soon as possible. However, 48% of those who support the idea want to see a successful trial run first. Although, despite these numbers, a referendum to introduce the basic income to Switzerland was crushed in a 77-23 percent landslide.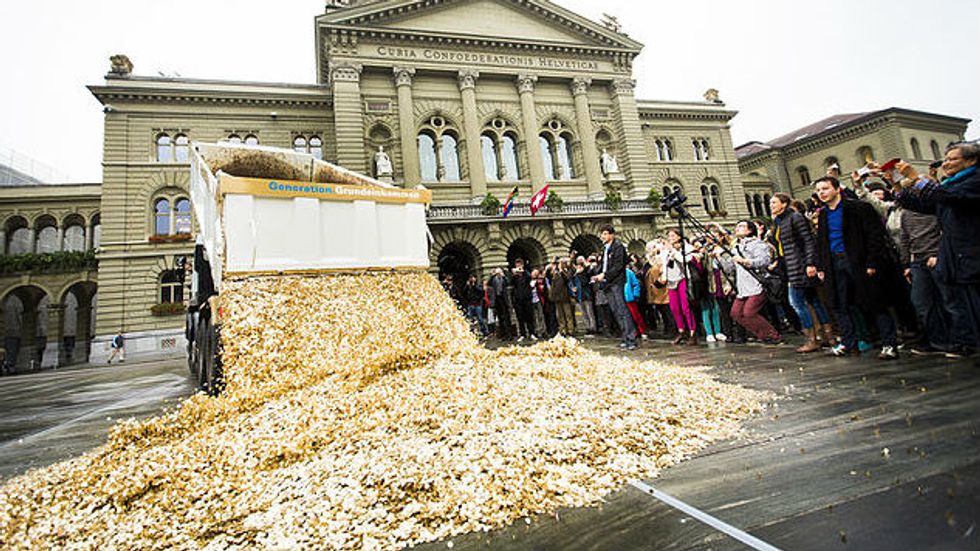 A rally in favor of the defeated Swiss referendum; there are eight million coins here, one for each Swiss citizen. 
Well, that seems a little odd, given all the good you often hear about it. Why might people support, or not support the idea?
The simplest reason for the supporting the idea, and the one that 52% of interviewed people cite, is increased financial security. The freedom from having to work to merely survive is a powerful idea. When Canada tested basic income in the 1970s, this effect was seen quite clearly. The number of hours worked by the population was reduced, but it was shown that this time was often devoted to child care and increased educational opportunities.
On the political right, basic income is supported as the element which makes hypothetical models of ideal markets practical. Milton Friedman argued that the labor market is rendered inefficient by our need to work to survive, and that a variant of basic income would allow the job market to function more effectively. Many conservative supporters of basic income support the idea of the drastic reduction the bureaucracy that a single, all inclusive, welfare check would entail.
On the left, the support is behind the promise of the end of poverty, caused by bad luck, discrimination, economic cycle, or automation alike. This rationale was endorsed by Martin Luther King Jr, a supporter of the basic income, who stated that: "I am now convinced that the simplest approach will prove to be the most effective – the solution to poverty is to abolish it directly by a now widely discussed measure: the guaranteed income."
A final area of support is found in the futurist community. Those who suppose that the development of technology can and will render most of the current economy obsolete. They support the notion of a basic income as the freedom to invest time in culture, science, and the like in an age when work is increasingly automated. This would then lead to the flourishing of the individual, now free to learn, grow, and self-improve.
But there are objections to handing out large sums of cash to everybody. No less a man than FDR was opposed to the idea of a dole over guaranteed employment as a means to fight poverty. Saying, "The lessons of history, confirmed by the evidence immediately before me, show conclusively that continued dependence upon relief induces a spiritual and moral disintegration fundamentally destructive to the national fibre. To dole out relief in this way is to administer a narcotic, a subtle destroyer of the human spirit. It is inimical to the dictates of sound policy. It is in violation of the traditions of America. Work must be found for able-bodied but destitute workers."
We also face the practical issue of implementation. While the benefits of removing nearly all of a national welfare system and replacing it by a single, simple, payout would be massive, estimates for the taxes required to pay for basic income show moderate required increases. They are in the 45 percent range in Ireland and the 40 percent range in the United States, if done as a flat tax. As people tend to not like higher taxes, this does present a practical problem for the implementation. The difficulty of removing an established bureaucracy must also be considered.
Lastly, there is the ironic fear that the basic income wouldn't go far enough. While current models of welfare are structured on need, (old-age pensions, medical care coverage, aid for buying food, etc.) basic income would have no such considerations. The German government considered this a reason to think that basic income would be less effective for the poorest members of society than the current model.

Attempts at implementation continue, with California planning to create a more limited program financed by taxes on carbon emissions. This program would be only a partial income guarantee, similar to the Alaska Permanent Fund. Finland's massive pilot program carries on as well.

Universal basic income is an issue that will define our time. Will we be the ones to abolish poverty directly and forever? Or will we be remembered as the cause of a great moral decay? Will we even enact the programs? All questions which must be answered in good time. Basic income stands as an intriguing idea of what we can do as a society, if the political will exists.