Winston Churchill had a secret army, and bunkers like this would have hidden them during a German invasion.
Image: © FLS/AOC Archaeology
Scottish foresters have recently stumbled on a hidden bunker dating back to WWII.
It is one of hundreds of bunkers designed to hide a secret guerrilla army in the event of a German invasion.
For the sake of protecting the site, its precise location will not be made public.
A secret bunker built as part of a plan to wreak havoc on any Nazi invaders of the United Kingdom was recently rediscovered by a forestry crew in the Scottish border region. A 7-meter long by 3-meter wide (23 feet by 10 feet) tube made of tin, brick, and concrete, the bunker would have housed seven members of "Churchill's Secret Army" for months, or even years.
Forestry and Land Scotland, a government agency, stumbled upon the bunker while felling trees in the Craigielands Forest near Moffat. Hidden behind a large iron door in an overgrown trench, its discovery helps shed light on a dark period of British history.
The bunker was found mostly empty, save for an empty tin can and broken pieces of what may have once been a wooden bed. It would once have held bunks, ammunition, supplies for two weeks, and a portable toilet. It, like several hundred others like it, would have also had two hidden entrances.
How exactly "We will fight in the fields, and in the streets" would have looked
People often forget exactly how bad things looked for the Allies in 1940. France and the low countries had fallen inside of six weeks. Before that, Denmark and Norway lasted a day against the German army. While we tend to remember the soaring rhetoric of Churchill declaring that the English would never surrender, George Orwell tells us that at the time of that speech, a defeatist attitude was prevailing among the people which words did only so much to subdue.
While a German invasion of the UK would have probably gone rather poorly, the consensus remains that the German fleet could not stop the Royal Navy from annihilating an invasion flotilla no matter how the Battle of Britain turned out. The risk of it was significant enough for Churchill to order the creation of an auxiliary army of three and a half thousand men to carry out sabotage in the event of a successful Nazi invasion.
The auxiliary units were a secret force; each member was supposed to sign an oath of secrecy, who were even unknown to the leaders of local home-guard units. In the event of German occupation, the guards were to launch a brutal guerrilla campaign against the Nazis while based out of the hidden bunkers mentioned above.
They would have been autonomous units raiding areas they knew by heart at night, blowing up fuel and supply dumps, tearing up roads, assassinating German officers and British collaborators, and causing as much useful mayhem behind the lines as possible. Some groups had sealed orders with the names of local officials who knew of their existence, if an assassination for the sake of security was needed.
If at risk of capture, they were expected to kill themselves and any of their comrades at similar risk. It is little wonder why these scallywags, as they were also called, had a life expectancy of two weeks in the event of invasion. Those two weeks would have primarily been spent hiding in one of several hundred bunkers similar to the one just rediscovered, waiting for the fascist menace to pass over their hiding space, emerging only to launch vicious raids before fleeing back to the safety of the bunker.
Of course, the invasion never came. The Auxiliaries were kept on in their unique role until 1944 when things looked a bit better for the Allies. They served at D-Day and in the liberation of Western Europe as special forces. Their service remained secret for decades, and it was not until 2013 that the tremendous sacrifice that they were willing to make was officially recognized.
Fittingly, the exact location of the newly found bunker will remain a secret.
Nietzsche's ideas were used by the Nazi's to justify their atrocities, but did Nietzsche actually support Fascism?
Nietzsche, by Munch
If there was one philosopher the fascists of the mid-20th century loved, it was Nietzsche. He was so adored by them that Hitler gifted Mussolini the complete works of Nietzsche for his birthday. The Nietzschean ideals of anti-egalitarianism, the Superman, and the will to power inspired them to act, and millions died because of it. They adored his ideas, and anointed him as the prophet of their ideology.

And most of it was due to misunderstandings and willful changes.
Nietzsche's philosophy is purposefully difficult to read. His criticisms of the "Slave Morality" he credits the Jewish people with inventing can seem like an anti-Semitic rant from time to time. When in reality, he saw the Jews as a powerful people with a fine culture, his attacks are on their ideas: not on the people. His idea of the Superman was not a racial concept but rather a spiritual one.
He claimed that the Germans were great because of the "Polish blood in their veins", and saw German nationalism as a dangerous joke. He ended relationships over his disapproval of anti-Semitism, including ones with his sister and the composer Richard Wagner. After he went mad, he wrote letters urging the great powers of Europe to attack Germany before it was too late.

Then, how did he become the Nazi Philosopher?

How Nietzsche was hijacked is a curious story, and a powerful warning. It begins with his sister, Elizabeth Förster-Nietzsche. She was reportedly an unintelligent woman; when she asked philosopher Rudolf Steiner to help her understand her brother's philosophy he was forced to give up after several excruciating attempts to educate her. He sent so far as to write that she, "lacks any sense for fine, and even for crude, logical distinctions; her thinking is void of even the least logical consistency; and she lacks any sense of objectivity." Her husband was a famed anti-Semite who Friedrich couldn't stand.
She took over her brother's estate after his descent into madness. She was then able to selectively edit new versions of his works, and created the entire book The Will to Power with his unused notes, in a way as to emphasize the bits that fit in with her political ideology. She withheld his work Ecce Homo from publication for years as it had a great deal in it that would derail her attempts to frame him in her image. In conversation, she developed a remarkable ability to remember conversations with her brother that supported her ideology.
To put not too fine of a point on things, she even met Hitler in the early 1930s when he visited the Nietzsche museum she operated. Hitler attended her funeral in 1935.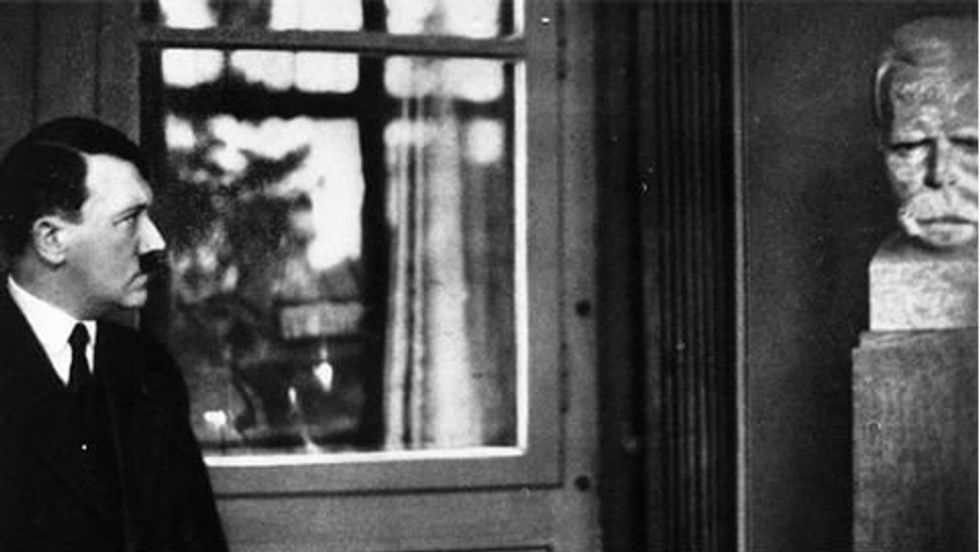 Adolf Hitler at the Nietzsche museum. 
How did Nietzsche get used by the Nazis?

Just as American politicians like to reference the ideas of dead American heroes like Washington and Jefferson, the Nazis sought great Germans to reference when justifying their new regime. Nietzsche, with the tweaks made to his philosophy by his sister, became the primary thinker for those Nazis looking to justify their beliefs with philosophy.
German universities taught Nietzsche as part of courses on the new order, references to soldiers being the Ubermensch were common, and the will to power was adopted by the Nazis as a key psychological insight. The philosopher Alfred Baeumler claimed Nietzsche had prophesied the rise of Hitler and fascism in Germany.
After the war, the warping of his ideas to suit the ideologies of his sister and later of the Nazis was corrected in large part due to the works of Jewish-American philosopher Walter Kaufmann. The notion that Nietzsche was a proto-fascist can be said to be long debunked.
So, Nietzsche was really a kind and nice philosopher who gave out candy to children?

To give the devils their due, Nietzsche did have incredibly reactionary views on women, viewing the ideal women as little more than a broodmare for potential Ubermenschen. This was a point where the fascists could just run with what they had. Similarly, Nietzsche did reject egalitarianism, democracy, and occasionally ventured into rhetoric that verged on "let's eat the poor". He was no saint, but he wasn't a Nazi either. If reading Nietzsche doesn't shock you, something went wrong.
Nietzsche's philosophy is easy to misunderstand and almost as easy to purposefully misinterpret. Even today, the far right is still using bad readings of it to justify their politics. Nietzsche was anti-nationalistic, considered the Jews worthy opponents, despised Christianity, and mass movements of all kinds; it takes a bad reading to consider him a goose-stepping fascist instead of the champion of individual genius that he was.
So, what does this mean for us today?

Almost any philosophy can be hijacked liked this. It's really not that hard. Examples come to mind without having to try. Every Marxist would claim that at least one of the communist regimes of the last century had twisted the philosophy in a way to promote selfish goals. Utilitarianism can be used to argue that every action imaginable is for the greater good. It might go without saying that the Bible has been used to justify pretty much everything; slavery, abolitionism, war, peace, and so on ad infinitum.
The real thing you should take away form this story is how easy it was to do it. Elizabeth Förster-Nietzsche was able to pull it off without understanding the ideas involved; all she had was the proper legal rights and some convenient events working for her. All of it happened despite Nietzsche's friends objecting to it, and people who had lectured on his works before he went mad did nothing. It could happen to any school of thought, and that should terrify you. Always make sure you get the full story before you make any decisions, philosophically speaking. 
Hitler is commonly thought to have been an atheist, a claim that's often used in debates about the perils of atheistic belief on a mass scale. But was he?
Photo credit: Fox Photos / Hulton Archive / Getty Images
Nazism is popularly thought of as an ideology underpinned by atheism, but a closer look at Hitler's speeches and writings show a somewhat ambiguous outlook on religion. Although few historians claim that Hitler was a Christian, there's no unanimous consensus regarding his exact religious beliefs, or lack thereof. However, as historian Samuel Koehne writes in an article for the Australian Broadcasting Corporation, there are three main schools of thought:
Nazis adhered to a form of neopaganism
Nazism itself was a "political religion"
Nazism was informed by and promoted some form of Christianity
Paganism was strangely intertwined with the völkisch populist movement that swept across late 19th- and early 20th-century Germany. The groups that arose out of this movement differed in their emphasis on race and nationalism, but many expressed a desire to revive arcane pagan traditions and customs among the volk — the "people " — as Koehne notes:
"In fact, when the Nazis first celebrated Christmas in Munich (in 1920), they did so as a solstice celebration, and the report of the event in their own newspaper noted that the dire situation in which Germany found itself had been "prophesied in the Edda and in the teachings of the Armanen in ancient times." They were referring here to passages on the apocalyptic Ragnarok or "twilight of the gods" in the poetic Edda."
In a 1920 speech, Hitler, who was raised in the Catholic Church, said that Aryans had built "cults of light" wherever they settled throughout history. While Hitler might have identified with the fervor of the völkisch movement, it's unlikely he believed in the metaphysical validity of its paganistic aspects. He seemed more concerned with the utility of religious belief, as Koehne writes:
"It is well established that Hitler quickly drew away from the esoteric world of the volkisch movement, because he did not want the kind of secret society of initiates that characterised that tradition. He wanted to build a mass movement. As a result, in Mein Kampf he wrote strongly in support of the Catholic Church and its traditions of authority and dogma. This was not out of any love for the content of church doctrine, but because he believed that the Nazis could use such forms to create their own "political confession," moving from "volkisch feeling" to an absolute faith in the rectitude of Nazi racial nationalism."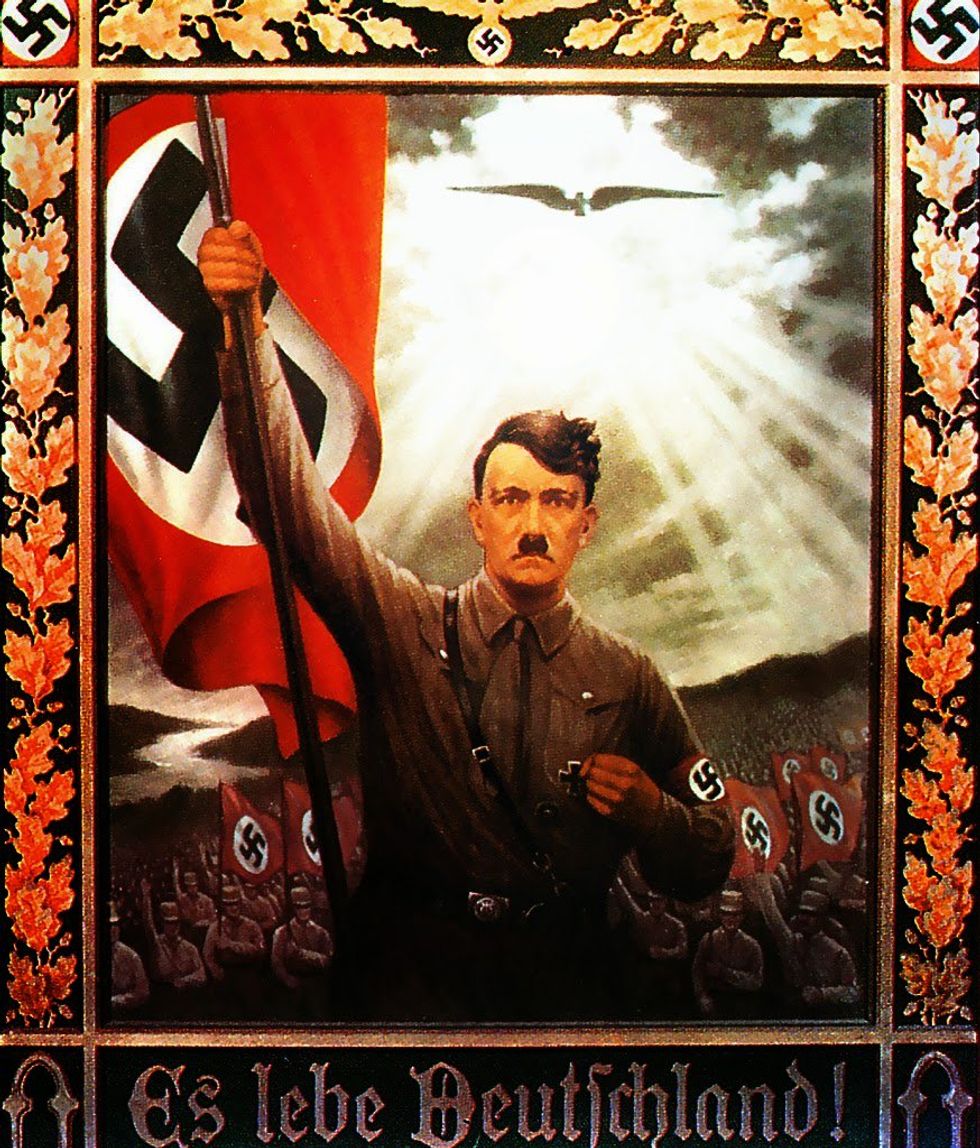 Hitler's views on the utility of religion are clear in remarks he'd often make in private, according to Albert Speer, a close associate of the Führer. In Speer's "Inside the Third Reich" he quotes Hitler as saying:
You see, it's been our misfortune to have the wrong religion. Why didn't we have the religion of the Japanese, who regard sacrifice for the Fatherland as the highest good? The Mohammedan religion, too, would have been more compatible to us than Christianity. Why did it have to be Christianity with its meekness and flabbiness?
...and also in his Mein Kampf:
This human world of ours would be inconceivable without the practical existence of a religious belief. (p. 152)
However, Mein Kampf also shows a bizarrely racialized interpretation of Christianity:
"Hence today I believe that I am acting in accordance with the will of the Almighty Creator: by defending myself against the Jew, I am fighting for the work of the Lord. . . . And the founder of Christianity made no secret indeed of his estimation of the Jewish people. When He found it necessary, He drove those enemies of the human race out of the Temple of God."
Hitler's interpretation of the gospels resulted in something dubbed "positive Christianity," which made its way into Article 24 of the 1920 Nazi Party Platform:
"We demand the freedom of all religious confessions in the state, insofar as they do not jeopardize the state's existence or conflict with the manners and moral sentiments of the Germanic race. The Party as such upholds the point of view of a positive Christianity without tying itself confessionally to any one confession. It combats the Jewish-materialistic spirit at home and abroad and is convinced that a permanent recovery of our people can only be achieved from within on the basis of the common good before individual good."
Hitler frequently mentioned "natural laws" when he spoke of religion, depicting the world as one governed by social Darwinism, as seen in this excerpt from "Hitler's Table Talk":
"By virtue of an inherent law, these riches belong to him who conquers them. The great migrations set out from the East. With us begins the ebb, from West to East. That's in accordance with the laws of nature. By means of struggle, the élites are continually renewed. The law of selection justifies this incessant struggle, by allowing the survival of the fittest."
In the same monologue, Hitler firmly denounces the ethos of Christianity.
Christianity is a rebellion against natural law, a protest against nature. Taken to its logical extreme, Christianity would mean the systematic cultivation of the human failure.
For these reasons, some have concluded that Hitler was a deist, as Koehne writes:
He famously argued in a major speech of 1938 that Nazism was 'a volkisch-political doctrine that grew out of exclusively racist insights' and was based on the 'sharpest scientific knowledge.' Yet in this same speech he stated the Nazi 'cult' was solely one which respected nature, and so that which was 'divinely ordained.'
It's ultimately impossible to know exactly what Hitler's religious beliefs were. But what seems certain is that Hitler had absolute faith in two things: hyper-nationalism and himself.
The newest viral video is from... 1947?
A still from the War Department's "Don't Be a Sucker" educational video.
Imagine a world where Nazis were just in the streets. Where violence shocked society to its core. A place where the specter of racial bigotry and demagoguery was ever present. Where the US military is fighting with an army that discriminates not on merit, but on social policy.
No this wasn't 2017, it was 1947. 
Against this background, the War Department re-released an educational film entitled Don't Be A Sucker, first produced in 1943. It tells of the dangers of racism and fascism, and for reasons that must be all too obvious, the short film has struck a chord with viewers today. 
The film begins with the most 1940s-sounding narrator possible explaining that some people are suckers. They buy into what is clearly a racket because it looks like a good deal. He takes us from these suckers to a typical American man listening to a racist speaker, attacking every minority in the book. The listener is fine with it, until his minority group is mentioned as a menace. Then, and only then, does he reject it.
Seeing this, a Hungarian professor and immigrant to the United States tells him of how the Nazi Party came to power in Germany. Turning the population against minority groups and any other group that could oppose them, burning facts that were inconvenient and declaring the truth according to the Party to be the only real news. This series of events lead to the deaths of millions of suckers who bought the Nazi Party's promises, and tens of millions of their scapegoats.
The film gives a happy ending, but warns us that it can happen here. It needn't though, says the Hungarian professor, we are all minorities in some way if we live in America, and we all need to stand up for our minority rights. Otherwise, we'll be the suckers.  
Why is it so popular now?
The film has been shared on social media hundreds of thousands of times in the last few days.
With the recent march to Unite the Right and the resultant deaths, spiking numbers of anti-Semitic and anti-Islamic acts of vandalism, and an increasing selection of fake news sources, the world of today shows more than a passing resemblance to the world of the 1930s. The number of hate groups in the United States is increasing rapidly, and the far right is better organized than ever.
Uhh, about that happy ending….
While the video shows us the horrible effects of race baiting and fascism, it does also show us why people buy into them, and suggests a solution. The Germans who agreed to the Nazi's platform don't start by hating the Jews, they started by wanting a better life and were suckered into thinking that religious and ethnic minorities stood in their way.
The film suggests that we can all take some action to prevent the horrible events of the 1930s in Germany at the individual level. "It started here," the professor says, referring to a park with a Nazi speaker. He encourages us to end it there. He reminds us that people are taught hatred, that they were unable to see through the lies of the fascists, and how easy it is to be drawn into a soothsaying conman.
But, with even a little dedication, we can prevent the horrors of history.