Religion influences politics more now than it did 50 years ago. Are we going forward or backward?
Religion influences politics more now than it did 50 years ago. To help explain how we moved seemingly backward from global secularism to increased religious involvement in public policy, Professor of International Politics Monica Duffy Toft explains the threefold story of failed modernization, democratization, and globalization, and how they propelled religious figures and ideas into the political arena once again. Monica Duffy Toft's work at the Center for Strategic Studies is made possible through funding from the Charles Koch Foundation. The Charles Koch Foundation aims to further understanding of how US foreign policy affects American people and societal well-being. Through grants, events, and collaborative partnerships, the Foundation is working to stretch the boundaries of foreign policy research and debate by discussing ideas in strategy, trade, and diplomacy that often go unheeded in the US capital. For more information, visit charleskochfoundation.org.
Jesus was a revered figure and prophet in the Quran. But what exactly do Muslims believe about him?
In his book, Western Muslims and the Future of Islam, Tariq Ramadan argues that too much dialogue between scholars and too few conversations between devotees has led to the religious extremism we are witnessing today. "It is precisely because people do not know one another," he writes, "or reject one another, that dialogue is impossible." 
Theological rifts are manifold and chronic, a reality made more painful by the similarities between faiths. Nowhere is this more apparent than in the Muslim treatment of Jesus, who was a revered figure and prophet in the Quran. Muslims might not agree with every facet of Christian tradition in this matter, but there are more similarities than one might imagine, while understanding social dynamics sheds light onto the differences.
The people of the books—the three religions known as the Abrahamic religions, given their shared point of origin with Abraham—started with tribal cults in the Levant. The Tanakh covers the relationship of Israelites with God until the construction of the Second Temple during a time when a plethora of local deities dominated the landscape. Roughly 500 years later a young Jewish preacher kicked off a reformation that changed the face of religion forever. To understand the importance of Jesus Christ, just consider that the world marks time because of him.
Abrahamic religions remained relatively local until a missionary campaign by the Roman Empire in the fourth century AD spread Christianity broadly. Both Christianity and Judaism flourished during this era. Theologically, however, Christians believe their savior is the Messiah while Jews reject this idea. For Christians he was destined by God—a belief shared by Muslims. In Islam Jesus was a bringer of scripture, an esteemed position, even as his divine status is denied.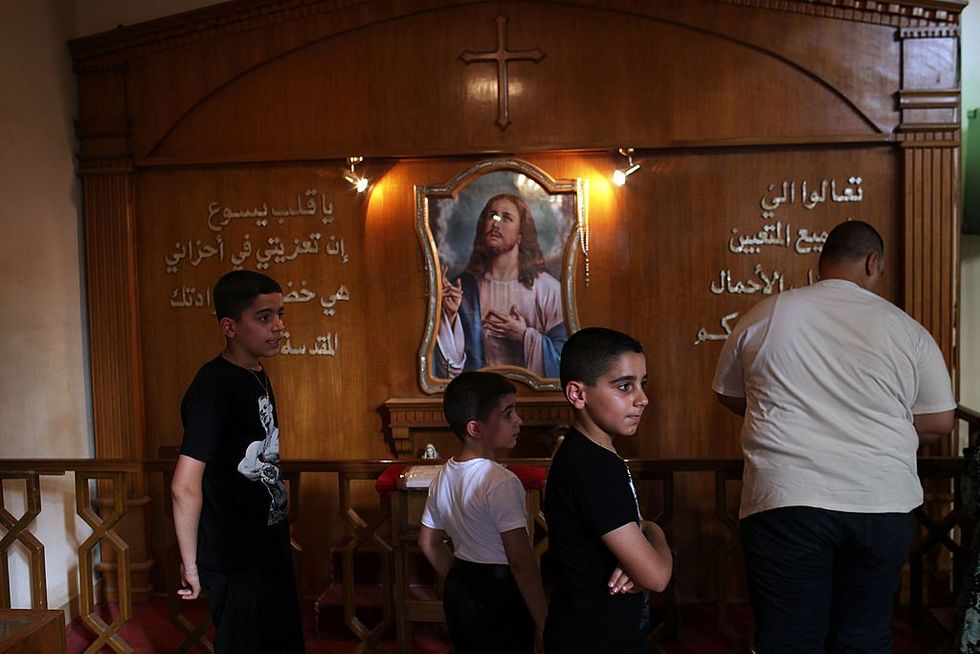 Forming one of the oldest Christian communities of the Middle East, Iraqi Christians have been targeted for attack since 2003, with numerous abductions, murders and threats for them to leave Iraq. In 1980 Iraqi Christians made up over 7% of the population and have now declined to below 3%. Christians across the Middle East have been experiencing similar threats to their communities and businesses as the Arab Spring unleashes pent-up hostilities and economic uncertainty. (Photo by Spencer Platt/Getty Images)
Just as Jesus formulated his beliefs as a response to Jewish bureaucracy masquerading as spirituality, Muhammad was a reformer battling against what he felt to be irreligious practices in and around his native Mecca. Unlike the Bible, the Quran is a direct result of its prophet's philosophy, collected during Muhammad's lifetime and written as a collection, ranging from longest to shortest chapters (or suras), shortly after his death. (Commentary on Muhammad's beliefs began earlier, shortly after his first revelations in 610.) This gives us a clear picture of Muhammad and the foundation of Islam. 
In the eyes of Muslims, Jesus was born of a virgin and spoke complete sentences in his cradle. God had informed Mary that her son was a prophet, though according to the Quran Jesus is neither eternal or almighty.The miracles he performed are offered as fact in Islam, which goes into detail about them in Sura 5:110:
And behold: you make out of clay, as it were, the figure of a bird, by My leave, and you breathe into it, and it becomes a bird by My leave, and you heal those born blind, and the lepers by My leave. And behold! you bring forth the dead by My leave.
Yet the 93 verses of the Quran devoted to Jesus deny the crucifixion and the trinity. The latter is questioned at length in Sura 4:171: 
Do not exceed the limits in your religion, and attribute to God nothing except the truth. The Messiah, Jesus, son of Mary, was only a Messenger of God, and His command that He conveyed unto Mary, and a spirit from Him. So believe in God and in His Messengers, and do not say: 'God is a Trinity.' Give up this assertion; it would be better for you.
This should not surprise anyone who understands the administrative nature of the Quran compared to the mystical theology of the Bible. American scholar Jane Dammen McAuliffe writes of the foundation of Islam, 
The Islamic doctrine of revelation thus functions as a doctrine of divine dictation rather than a doctrine of divine inspiration. 
She goes on to state that Muhammad's role was to "convey, not to compose," offering an important insight into the Muslim treatment of Jesus. If their prophet was not a revolutionary but a translator of sorts, then previous prophets (including but not limited to Jesus) are not divine either. One important directive on this topic is found in Sura 112:1-4: 
Say: "God is Unique! God, the Source [of everything]. He has not fathered anyone nor was He fathered, and there is nothing comparable to Him!"
While the metaphysics is apparent here man is not afforded the same status. More importantly, Muslims deny that Jesus could exist on the same field as God. Messiah and messenger, certainly, but of a different magnitude. Islam's very meaning, "surrender," requires a certain humility of its adherents. Because of this mindset Jesus's mortality is apparent.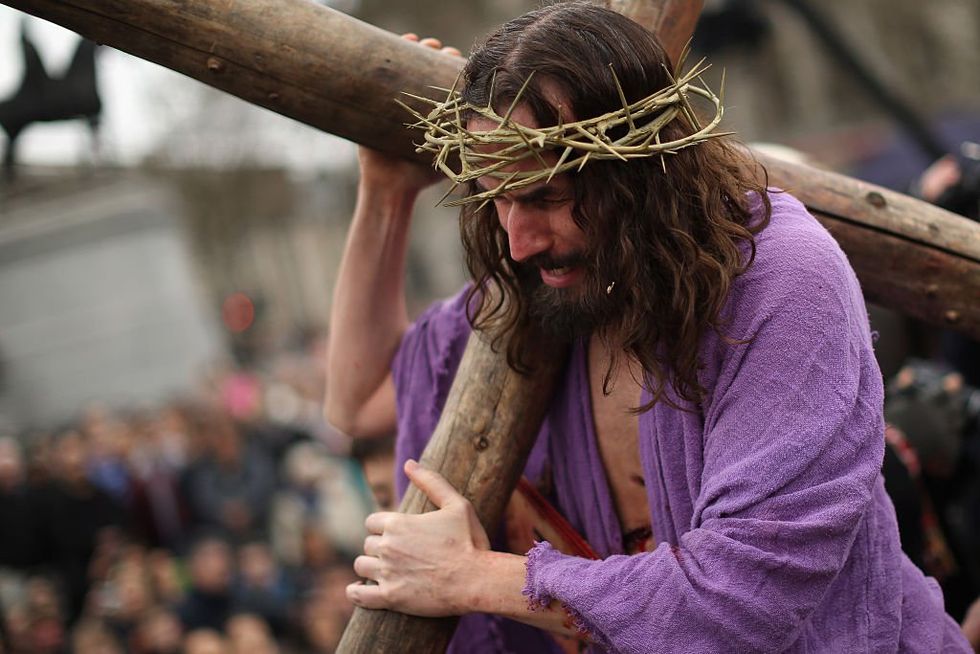 Where does Jesus stand in Islam: Born of a virgin? Yes. Died on the cross as the son of God? No.
The Quran also contradicts some of Jesus's major teachings. Christians point to the Sermon on the Mount as the epitome of their prophet's moralistic offerings. His directive to turn the other cheek remains one of his lasting impressions. The Quran views things differently. In Sura 2:174-5 the adherent is instructed to exact revenge in equal measure to the insult: an eye for an eye, tooth for tooth.
Religious scholar Karen Armstrong points out that this is likely because Jesus was never head of state, whereas Muhammad had to concern himself with politics daily. As a philosophy the proverbial other cheek might well be turned, but when you're dealing with criminals a show of force proved necessary. We don't even know the extent of Jesus's politics—he did claim his kingdom was "not of this world." As a pacifist Jesus was not in control of state affairs, whereas Muhammad's entire legacy rests on his career in politics. 
This is further proof of the disparity between Christian metaphysics and the blood-and-flesh reality of governing an Islamic state. It's also proof as to why Jesus makes for a revered figure in Islam without being the alpha and omega. While an important and beloved figure in the Muslim creation mythology, he's still only a segue in the narrative. As Armstrong concludes,
Revelations did not cancel out the messages of earlier prophets; they confirmed and continued them.
This might remain a sticking point in Abrahamic theologies, but as Tariq Ramadan suggests dialogue is more beneficial than silence. Understanding why beliefs arose is the first step in humanizing the people behind each system. 

And then, of course, there is Penn Jillette's take on it all:
--
Derek's next book, Whole Motion: Training Your Brain and Body For Optimal Health, will be published on 7/4/17 by Carrel/Skyhorse Publishing. He is based in Los Angeles. Stay in touch on Facebook and Twitter.
A report by UK's parliamentary committee tackles the issue of non-integration in the country's Muslim communities.
Immigrants into the UK should swear an oath of allegiance and be made to learn English, concluded the Parliament's new group on social integration, which has representatives from all parties.
Their statement comes on the heels of a review, released in December 2016, which was headed by Dame Louise Casey, a British government official working in social welfare. That report took 18 months to complete and found that many communities in the UK were significantly impacted by the "unprecedented pace and scale of recent immigration."
According to Dame Casey's review, some parts of Birmingham, Blackburn, Burnley and Bradford are now up to 85% Muslim, many of whom hold "very socially conservative views" with regards to women's rights and homosexuality.
As per the report, these Muslim communities do not identify as being British but rather with the global Islamic 'Ummah' (community). This tendency may help foster extremist views within some areas.
"British Muslims are increasingly identifying with a global Muslim 'Ummah'. This rise in religiosity and less integrated, more regressive and socially conservative versions of Islam is being felt in communities but not discussed openly, other than by Islamophobic hate mongers on the Far Right.
"This in turn helps to feed a grievance narrative promoted by extremist groups who want to drive a wedge between British Muslims and the rest of British society. So we need a more honest conversation about all this in the mainstream, in a way that helps bind people back together again, not drive them apart," states the study.
The review also pointed out that this kind of self-imposed segregation starts from a young age, with 511 schools having more than half the students of Pakistani or Bangladeshi background. There has also been a noticeable increase in unregistered schools and homeschooling in Muslim communities. 
Dame Louise Casey's solutions to this involve promoting integration in schools, pointing out that "more weight should be attached to British values" when creating the curriculum. These values should actually be communicated from the moment of arrival when migrants should be made to take an "oath of integration with British values and society".
Most importantly, however, the report recommended that immigrants need to learn English, especially as Muslim and Hindu women tend to know it far less than the men – in fact, they are half as likely.
The lessons would be paid for by the government and would help "tackle cultural barriers born out of segregation".
This sentiment was echoed by the parliamentary committee on social segregation which stated that speaking English is "the key to full participation in our society and economy" and a "prerequisite for meaningful engagement with most British people".
"The APPG believes that all immigrants should be expected to have either learned English before coming to the UK or be enrolled in compulsory ESOL [English for Speakers of Other Languages] classes upon arrival," proposed the committee.
Overall, the net of about 330,000 people immigrate into the UK every year, but the turnover is much larger since about a million arrive or leave altogether.
Some other specific recommendations from the parliamentary committee on social integration were to give more authority to make immigration-related decisions to regional governments and how to better spread migrant flows around the country.
Millions of Muslims marched to Karbala, Iraq even after suicide bombing and continued threats by ISIL. The Arbaeen pilgrimage continues to be a show of religious freedom.
Photo by SABAH ARAR/AFP/Getty Images
While many in America were gathering around the table with family to give thanks this November, many in Iraq were making the pilgrimage to Karbala to mark Arbaeen. Under threat of ISIL attacks, millions of Shia Muslims continue to make the peaceful journey to mark the death of Imam Hussein, the grandson of the Prophet Muhammed, in 680 AD during a battle.
This event is considered to be a defining moment, which formed the schism between Sunni and Shia Muslims. ISIL considers Shia Muslims apostates. They have claimed responsibility for a suicide bombing which killed six people near Karbala at the start of the festival on Monday, November 14. But this act did not deter the masses making their way to Karbala.

The people who marched to mourn the death of Imam Hussein continued to do so peacefully, standing against ISIL in this powerful gesture made by millions of Muslims.

Year over year, the gathering in Karbala during Arbaeen continues to grow. In 2014 estimates range from 20 to 22 million and in 2015 the transit department says the number of people at the event could have been as high as 26 million. This event is not to be confused with the Muslim Hajj, the pilgrimage to Mecca.
"In fact, Arbaeen should be listed in the Guinness Book of World Records in several categories: biggest annual gathering, longest continuous dining table, largest number of people fed for free, largest group of volunteers serving a single event, all under the imminent threat of suicide bombings," Faith leader and lecturer Sayed Mahdi al-Modarresi wrote for The Huffington Post back in 2014.
"I think the reason the mainstream media hasn't covered the [march] is because I don't think it's juicy enough to sell papers," Mohammed Al-Sharifi, a volunteer at last year's event, told the Independent in 2015. "It's simply not interesting enough."
"Unfortunately [some] media outlets have gone for stories that to some extent can be divisive. If a group of Muslims do something good, it's not mentioned or the religion is not mentioned. But if someone does something [negative], it is on the front page and their religion is mentioned."
Given the level of anti-muslim rhetoric during the presidential campaign, we might have expected it to be a larger part of the news cycle. Arbaeen has such a deep and profound political dimensions. Under Saddam Hussein's reign for 30 years, this festival was forbidden in Iraq. After the 2003 invasion, the march held new meaning. It served as a way to mourn the Imam and celebrate the Shias' new religious freedom. Even before the war, many would make the pilgrimage in secret.

This month ISIL tried to stamp out the celebration, threatening this show of religious freedom. But millions of Shia Muslims defied this terrorist organization and walked in peace towards Karbala in a show of defiance and commitment to their faith.