Perhaps you're thinking you don't know any non-monogamous people. But I wouldn't be too sure.
Young people stand next to a fence decorated with so-called 'Liebesschloesser' (love padlocks) at the Hohenzollernbruecke bridge in Cologne, Germany. Photo credit: PATRIK STOLLARZ/AFP/Getty Images
There's no longer anything unusual about wanting an open relationship. Many who consider themselves progressive about sex, gender, love and relationships know this. It's just that almost nobody in an open relationship wants to be open about it. What's surprising is that so many people feel the need for secrecy.
I've been out as polyamorous for years. Because of this, non-monogamous people who aren't out often feel able to talk to me about their own situations. When I go to conferences, I can't help noticing all the philosophers who are in closeted non-monogamous relationships. This discrepancy between reality and socially acknowledged reality can be disorienting; the 'official' number of non-monogamous people in the room is almost always one (me).
So what's going on? No doubt there are several factors at work, but I want to talk about one that's both powerful and insidious: non-monogamy isn't considered 'romantic'.
Romantic love is widely considered to be the best thing life has to offer: 'failing' at romance is often construed as failing at life. Amatonormativity is a name for the attitude that privileges lives based around a focal monogamous romantic relationship. What gets called 'romantic' isn't just about classification; it's about marking out those relationships and lives we value most.
This monogamous ideal is supposed to appeal to women especially. According to the stereotypes, single women are desperate to 'lock down' a man, while men are desperate to avoid commitment. There's nothing new here: monogamy has historically been gendered. Even in situations where marrying more than one woman has been illegal, it has often been normal for men to have mistresses, but different rules have applied to women. This is unsurprising: in a patriarchal society with property inheritance passing along the male line, paternity is key, and enforced female monogamy is an effective way to control it.
Women's sexuality can also be policed by developing a feminine model that includes a 'natural' desire for monogamy, plus social benefits for conforming to that model (and penalties for non-conformity). This model can then be internalised by women as a 'romantic' ideal inculcated via fairytales. In a similar vein, rather than allowing only men to have more than one partner, we can instil a subtler cultural belief that men's infidelity is 'natural' and therefore excusable, while women's infidelity is not.
Our language undermines gender-related optimism about monogamous romantic ideals: there is no word for a male 'mistress'; romantic comedies are 'chick flicks'. 'Romance' novels are marketed to and consumed by women. Brides are 'given away' by men to other men. We never hear about 'crazy old cat gentlemen'. And how many married men do you know who've taken their wife's surname? These attitudes persist not just in word but in deed: wives in hetero marriages still do more housework than their husbands, even if they earn more (which they rarely do).
Recent growing acceptance of same-sex love as 'romantic' has presented challenges to gendered norms. But this has happened alongside another change: monogamy has become an even more powerful 'romantic' ideal by including same-sex relationships. And its impact is intensely gendered.
Women who enter voluntarily into non-monogamous relationships are a direct challenge to the idea that women are 'naturally' monogamous. They are socially penalised to maintain the status quo. A non-monogamous woman will be portrayed as debased and disgusting – a 'slut'. When I have discussed my open relationships online, I have been called a 'cum-dumpster', a 'degenerate herpes-infested whore', and many other colourful names.
My internet trolls focus on sex, partly because presenting non-monogamous relationships as 'just sex' makes it easier to degrade them, and partly because women who violate the monogamy norm – whose sexuality is out of (someone's) control – are a threat to an ancient feeling of entitlement over women's sexuality and reproductive potential. In contrast, a non-monogamous man is, at least sometimes, liable to be regarded as a 'stud'.
Apart from monogamy, the only other relationship structure that controls paternity in a similar way is patriarchal polygamy, which is stigmatised in contemporary North America, for reasons including bona fide feminism as well as racism and cultural imperialism. One effect of this is that monogamy is seen as the only fair and liberal alternative.
Actually, there are many alternatives. But to tolerate them is to tolerate widespread social uncertainty about who is having sex with whom. This would extend to everything sex is entangled with, and everything it represents. Our ideals of 'romantic' love regulate not just our expectations about sex but also our conceptions of family and the nature of parenthood.
Ultimately, what we call 'romantic' is a philosophical issue that touches on the core of who we (think we) are, and what we value. I believe that the 'romantic-ness' of romantic love is largely socially constructed, and as such malleable. We collectively write the 'script' that determines the shape of the privileged ('romantic') relationship style. This script has changed, and will continue to change. But currently that process goes on largely below the radar: we aren't supposed to see it happening, or realise that we can control it. Romantic love maintains a wholly 'natural' image, evading challenge or critical scrutiny by seeming inevitable, incomprehensible and wonderful.
We must get beyond this. We need to question the limits we have placed on what counts as a 'romantic' relationship. Freedom to love – the right to choose one's own relationships without fear, shame or secrecy – is critical, not just for individuals but for us all collectively. Non-conformity is the mechanism that reshapes the social construct to better represent who we are, and who we want to be. Instead of forcing our relationships to conform to what society thinks love is, we could force the image of love to conform to the realities of our relationships.
But it won't be easy. If the love of a polyamorous triad is seen as 'romantic', and hence as valuable as the love of a monogamous couple, then the triad should have the same social and legal privileges as the couple. How could we deny them the right to be co-parents? How could we defend the legal or financial benefits of monogamous marriage, or the lack of legal recourse for anyone fired for being polyamorous? These are the privileges by which we signal to monogamous couples and nuclear family units that theirs are the most socially valuable social configurations.
Nor could we defend the countless ways in which non-monogamous people are stigmatised and rejected. My boyfriend's father no longer speaks to him about anything but the weather because he is in a polyamorous relationship with me. An extended family member literally prayed over me when she learned that I was non-monogamous, feeling an urgent need to ask Jesus to 'save' me from this 'culture'. Stigma against non-monogamy is beyond a joke: researchers have uncovered assumptions that the non-monogamous are just bad people: less likely to walk their dogs, or floss their teeth.
It's far easier to pretend that this is not really happening. Or that it's not really a big deal. Perhaps you feel that way right now: perhaps you're thinking you don't know any non-monogamous people. But I wouldn't be too sure. Until quite recently, an awful lot of people thought that all their friends and relatives were straight.

Carrie Jenkins
--
This article was originally published at Aeon and has been republished under Creative Commons.
A groundbreaking study from a Harvard University team suggests that monogamy may be genetically programmed within some mammals.
Cute couple. Getty Images.
Monogamy became a social institution and one that made sense. Polygamy was the most common practice in the ancient world, but it made women a commodity. Rich men could keep multiple wives for themselves, whole harems, which caused a lot of strife among others, fighting over those who were left. Monogamy however, eliminated this problem and helped seed societal stability.
Even so, multiple societies around the world still practice different forms of pair bonding other than monogamy. Even the most strident monogamist will admit that marriage can prove difficult. There's things like the four year slump and the seven year itch. Some evolutionary biologists have explained these as a cessation of the pair bonding process.
When we were hunter-gatherers, we traveled in tight-knit bands. Children were raised not only by their parents but by the whole village itself. When the child was old enough to be a little more independent, the parents were free to go off and explore other relationships.
According to renowned anthropologist and love expert Dr. Helen Fisher, there are actually four different, unique personality types when it comes to human love. Each is driven by a preponderance of a certain neurochemical or hormone in the person's system. And some are better suited for monogamy than others.
In this case, nature may have made some people naturally polyamorous and others monogamous, to ensure stability for raising children, while at other times, ensuring variety within the gene pool and to that end, aiding our survival.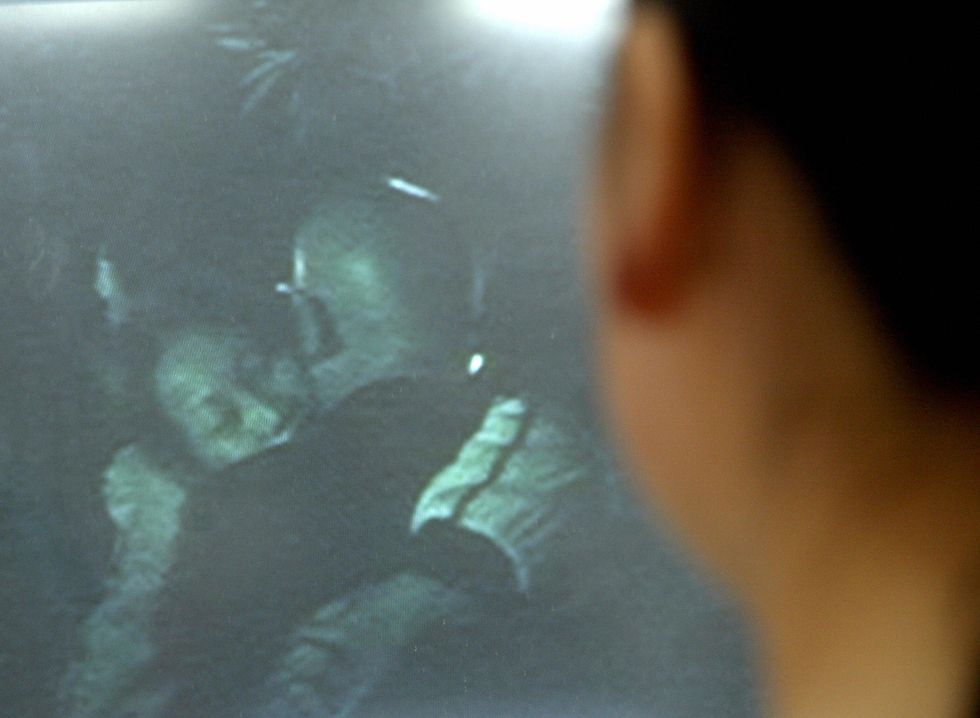 Is there an evolutionary basis for cheating? Getty Images.
Now, a groundbreaking study published in the journal Nature suggests that monogamy may be genetically programmed within us, or at least in mice, to ensure offspring receive proper care. "Parental care is essential for the survival of mammals, yet the mechanisms underlying its evolution remain largely unknown," the authors write. Researchers at Harvard University studied two breeds of mice to arrive at this conclusion.  
The first was the oldfield mouse (Peromyscus polionotus), one of those rare monogamous animals. Only 5% of mammals practice monogamy. Both sexes of this breed are known to be doting parents. They will, together, build an elaborate nest for their young and lick or clean them.
The second breed was the deer mouse (Peromyscus maniculatus), who are promiscuous by nature, and look upon their oldfield cousins as helicopter parents. In most mammalian relationships, males mate with as many females as possible, but do little to help raise the offspring. What researchers discovered, by looking at these two mouse breeds, was distinct genetic variations, which coincided with each type's relationship style.
Hopi E. Hoekstra was the senior author of the study. She's an evolutionary biologist. Though oldfield and deer mice won't mate in the wild, if a male and female are put into the same tank alone together, they will. The resulting offspring are healthy. It was a variety of such hybrids that led them to understand whether or not parenting and relationship styles are genetically influenced.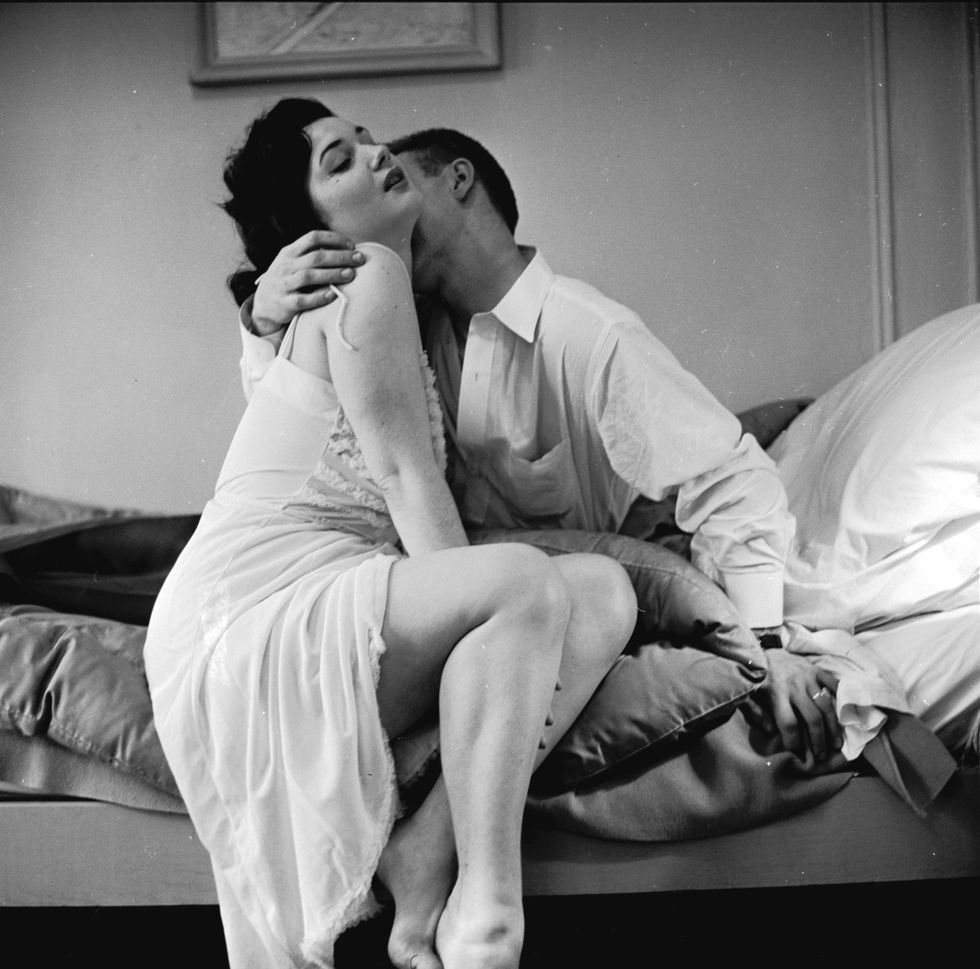 Is monogamy in our nature, polyamory, or a combination? Getty Images. 
In a previous study, Hoekstra and her team took the pups of each type of mouse and placed them in each other's nest. Researchers wanted to know if the mice acted this way because they were raised to tend to pups, or if each breed of mouse had an instinctual parenting style. The latter proved true. Once this was found, researchers went about investigating each type's DNA.
They bred five mice, who created 30 hybrid offspring. These were bred and another 769 hybrid mice were born. Researchers looked at the second and third generations, to see what type of parenting each took up. Some put in minimal effort, others were completely aloof, and others still attentive parents. This wide variety of styles allowed researchers to hone into the mice's DNA and find the differences. They came upon 12 areas or loci which were associated with parental instincts.
Researchers found that one loci controlled just one behavior, nest building, while others controlled more than one. These loci varied in terms of sex. One loci when activated, seemed to make fathers more attentive, but not mothers. Unfortunately, each loci carries many genes, so it's hard to hunt down which is responsible for what behavior.
In their most recent study, these Harvard researchers looked at one biochemical in particular, vasopressin. This is a bonding neurotransmitter in many species, including rats and humans. Deer mice contain three times the amounts as oldfield mice, however. To find out what role it played, researchers injected oldfield mice with it. Instead of elaborate nests, they acted more like deer mice, and made simple ones. Yet, in terms of care, they were still doting parents.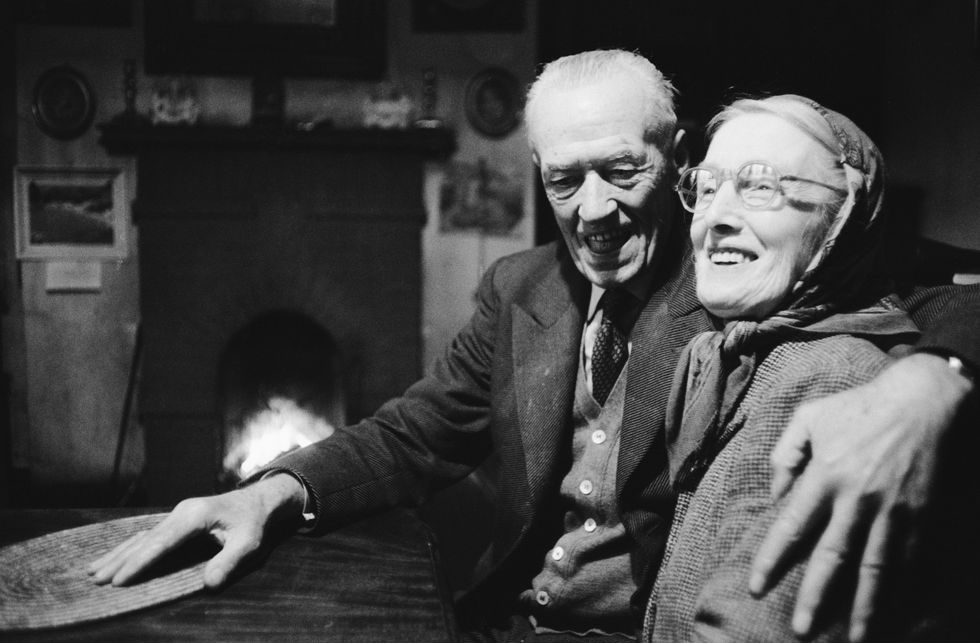 Studies show that some may be better suited for monogamy than others. Getty Images.
According to their genetic research, the vasopressin gene only accounts for 6.7% of nest building instincts in male oldfield mice, and 2.9% in females. This opens the door to whether or not human pair bonding and parenting could be influenced by an instinct imprinted on our DNA. Though we're a far cry from mice, we share many of the same neurotransmitters and hormones, along with other mammals.
Differences in biochemical makeup or neurotransmitters may signal how a species cares for its young, and whether it's monogamous, promiscuous, or a mixture of the two. In exploring other species and working our way up, we may find out more about ourselves, even what relationship pattern or parenting style works best. Perhaps, we'll find the genetic underpinnings of Dr. Fisher's theory.
To learn what similar genetic underpinnings have so far been identified in our species, click here: 
One reason: women perceive men with tattoos as more likely to cheat. 
A tattooed man.
Most of us are aware that women, at least on some level, are attracted to the "bad boy." Evolutionary anthropologists tell us this is because a woman in the Stone Age competed for the attention of a male who could protect her and their young, and provide for them. Today however, society has changed. And in fact, many times it is the sociable and intellectual male who turns out to be the best provider, while those who are aggressive, rebellious, and uncompromising, often have a tougher time. Many women date the rebellious archetype in their teen or young adult years, usually thinking they can change him, only to end up with a broken heart. According to this new study, that experience might be a steep learning curve.
A cohort of men out there with tattoos think women are attracted to them partly because of their ink, as it projects a masculine air. Think about that tattooed guy you know who can't wait to take his shirt off in the summertime when women are around. A tattoo is the calling card of a bad boy, regardless of the fact that today, fathers, mothers, and businessmen have them. Though some men may believe the myth, and think it helps make them more competitive in the dating market, women aren't actually more attracted to men with tattoos. At least, that's the results of a new Polish study, published in the journal Personality and Individual Differences.
Researchers Andrzej Galbarczyk and Anna Ziomkiewicz began by recruiting 2,584 straight Polish men and women. Each participant was made to view images of men shirtless. Sometimes the photos were modified by adding a small tattoo on the arm. Male participants ranked each photo with a tattoo as more attractive to women. Women meanwhile, were more likely to label non-tattooed men as attractive.
One interesting find is that women rated men emblazoned with tattoos as healthier. This is actually a common trend in such research. It is considered a symbol of strength. Generally speaking, our species looks for signs of attractiveness not as an end onto itself, but as a biological trait, as it telegraphs healthfulness and good genes. Mother Nature programmed us to look for partners who would provide healthy offspring. Since tattoos are considered a sign of toughness and masculinity, it is thought that those who have them have higher testosterone levels, and therefore are more fertile.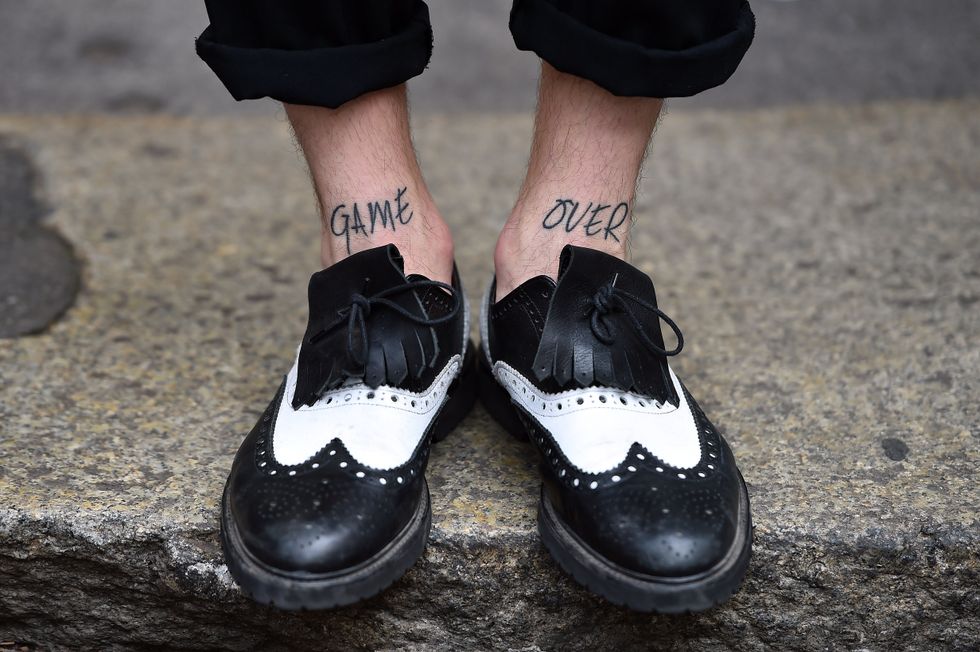 Men whose testosterone levels are too high may carry traits that make them less than desirable mates.
That's one reason why we see so many Hollywood heartthrobs donning a five o'clock shadow. They are telegraphing testosterone. Beards however are considered by many women as unattractive. It may be the same reason why tattoos don't flip their switch.
Too high a testosterone level is considered a turnoff. It equates, at least on a biological-evolutionary level, to a higher likelihood of him having an affair. Ten years ago, a breakthrough study at the University of New Mexico discovered that men with low testosterone levels tended to remain in committed relationships. While other research has found that those who received more testosterone in the womb are more likely to lead promiscuous, polyamorous, or serial monogamous lives.
Men with elevated testosterone could also be more prone to dominance and even domestic violence, although upbringing and other factors are also at play. "The dark side of testosterone-related features perfectly explains why women assessed tattooed men as worse potential partners and parents," researchers wrote. The male hormone is also responsible for motivation, the sex drive, and a positive attitude. It's thought that those with a higher testosterone level are also more confident. And as everyone knows, confidence is sexy. Perhaps this also plays a part in the affair risk factor.
A woman's opinion of a man was more influenced by tattoos than a man's was, researchers found. So this means that tattoos are equated in both sexes with a higher testosterone level. Now, listen up fellas. If you want a tattoo, get it for the right reason; though it may make you the envy of men, it won't garner you any extra dates.
To hear what real women have to say about men with tattoos, click here:
How open are you to your partner having sex with other people? The answer may depend on your age.
Photo: Unsplash / @an_taylor
How open are you to your partner having sex with other people? The answer may depend on your age.
A new poll from YouGov.com indicates that young Americans are more likely to accept non-monogamous relationships than their elders. Nearly a fifth of people under 30 had some kind of sexual activity with someone else while their partner knew about it. This is not to say that the youngsters are rejecting monogamy outright, as 56% of them still think it's the only way to go. That number rises to 74% for people between 45-64 and 78% in folks 65+. 
Perhaps this is not very surprising as people under 30 are less likely to be married and are still looking for a partner. It's even less surprising once you consider the rise of what has been described as "hookup culture", courtesy of the proliferation of apps like Tinder, which streamline the process of finding a temporary sexual partner.
Notably, the median age for marriage in 1970 was 21 for women and 23 for men. By 2010, that's risen to 27 and 29, respectively. Marrying later certainly increases the opportunity for premarital sexual encounters. On the larger scale, a bit over half of Americans are not married at all, so that creates quite a few singles.
The overall number of Americans who are not ok with their partner stepping out on them is at 68%. Still, some certainly do it. About 11% of Americans report having had sexual relations with someone else with their partner's consent, and 19% have done so on the sly (basically, cheated).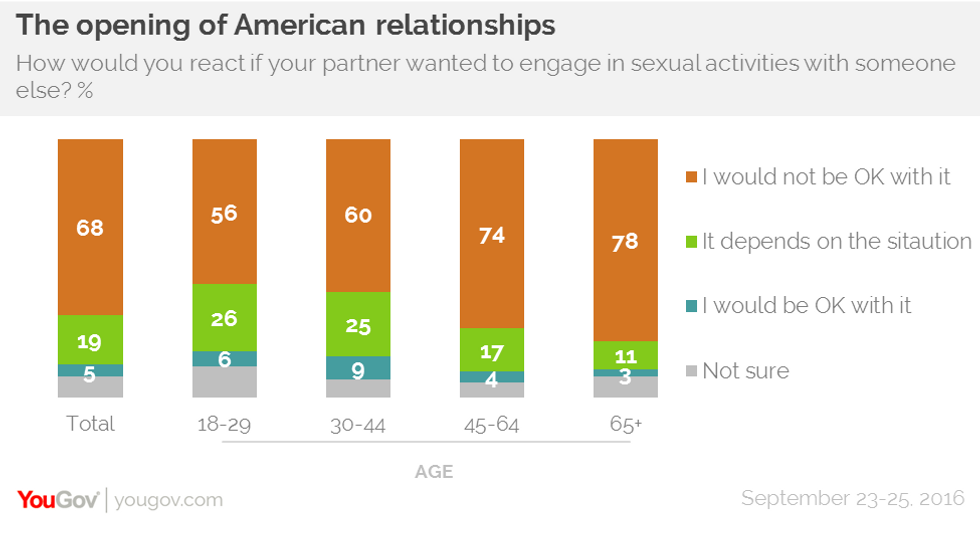 Again, younger Americans are more likely to cheat, with 17% of under-45s reporting such activity, while only 3% of over 65s admitted to having sex with someone without their partner's knowledge. This last statistic can also be explained by generational mores. It's likely the older folks aren't as open about such behavior as the much more open younger generation, which grew up in the era of social media and reality TV.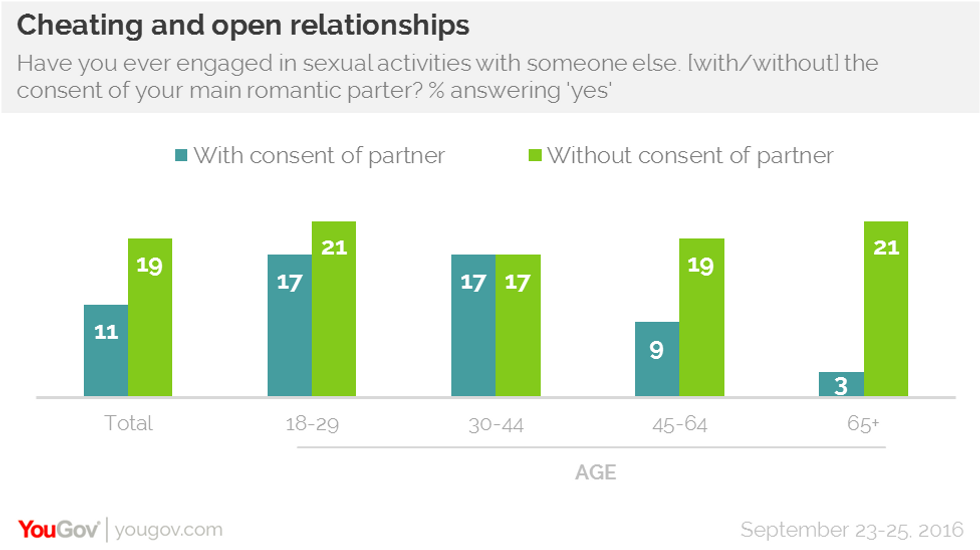 Other studies have found that, puzzlingly, even though millennials may have a more open attitude towards sex than their parents, the average number of sexual partners for Americans has actually decreased. The number of sexual partners for baby boomers (born between 1946 and 1964) was mostly the same, clocking in at 11.68, as the number of partners for those born in 1980s and 1990s. This number for millennials? 8.26.
If you are in a non-monogamous relationship, what rules should you follow to make it work for you? Certainly, each situation is different, but research has shown that key components of what's being called "ethical non-monogamy" should be trust and communication.
Without honesty, such a relationship is just cheating, and openness can go a long way towards defining the boundaries of what is acceptable to you and your partner. Non-monogamous partners are less likely to experience jealousy if the situation is properly discussed. They know that what their partner finds in another relationship (especially if it's merely sexual) may be the kind of fulfillment they are not willing or able to provide.
Your ring-to-index finger ratio can tell a lot about what you're good at and even what mental disorders you are prone to.
Hands pressed together.
The eyes may be the window to the soul, but the hands can tell you a lot about a person too. Whether they are calloused for instance, or cotton soft. The fingers in particular can give you further insights. A collaborative study conducted by Oxford and Northumbria researchers in the UK, found that differences in the lengths of certain fingers indicated whether a person tended to be more promiscuous or monogamous by nature. The secret lies with the ring finger in comparison to the index.
After studying 585 North American and British men and women, they found that those who had longer ring than pointer fingers, in either sex, tended to be more promiscuous. While those who had a longer pointer than ring fingers tended to be more monogamous. It's important to note that the study suggests but doesn't prove a biological basis for relationship pattern preferences.
A longer ring finger was associated with more testosterone exposure in the womb, the hormone responsible for the libido in both genders. Men and women have differing levels of each sex hormone. Levels vary greatly among both genders. Some men have high testosterone for instance, as do some women, some men low testosterone, and so on.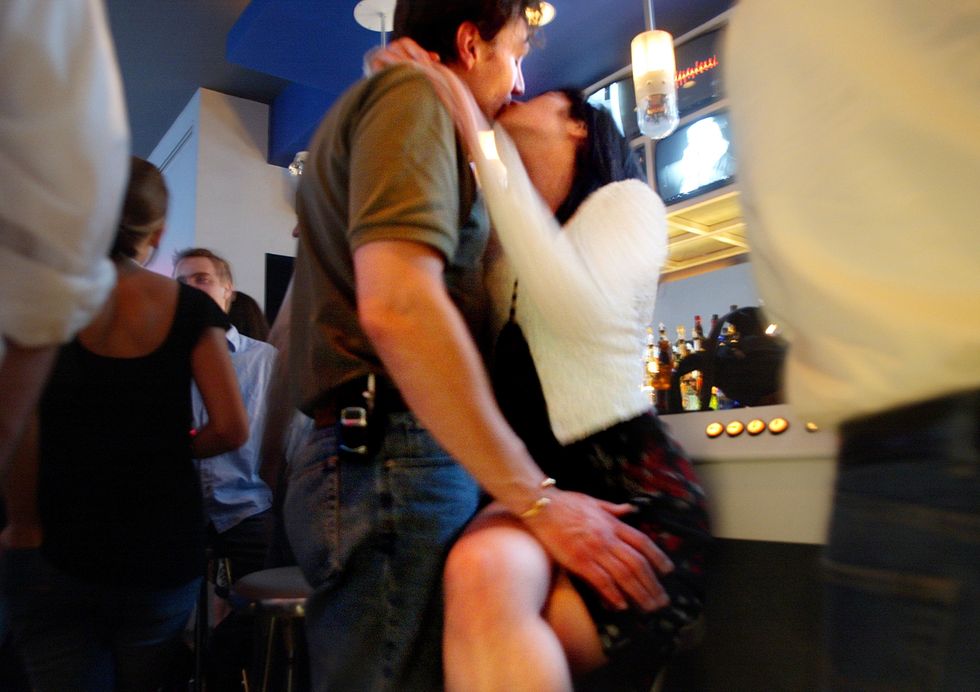 Longer ring fingers were associated with a tendency toward more promiscuous relationships in one study.
A McGill University study, including 155 men, found that those with shorter index fingers in comparison to the ring finger were more agreeable and treated women nicer, than those with longer index fingers and shorter ring fingers. The first case is called a small digit ratio.
This agreeability wasn't reserved for the women they were romantically involved with either, but occurred with female family members, coworkers, and friends, as well. These men, researchers assume, may be more willing to compromise, a trait necessary to healthy relationships. Debbie Moskowitz was the lead author in this study. A professor of psychology at the university, she said that men with a larger ring finger tended to have more solid relationships and were more likely to have children, due to their agreeable nature.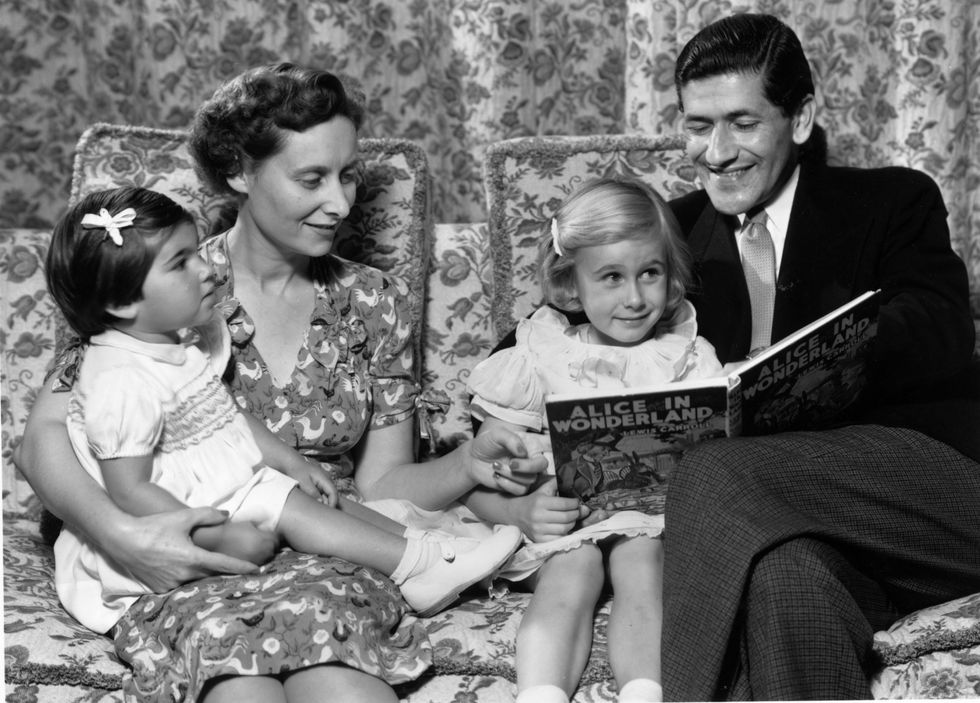 Men with a longer ring than index fingers may be more likely to have children.
In this latest study, neuroscientists at The Norwegian University of Science and Technology (NTNU), found that they could predict whether a person was a good athlete or if they were more of the anxious type, by examining index to ring finger ratios. Both men and women with longer ring fingers are better at spatial tasks, researchers determined. As such, they are better at physical jobs and athletics.
There are drawbacks however to those with a longer ring finger. For instance, they are at higher risk of ADHD, Tourette's syndrome, and autism. These conditions are more prevalent in men. There are also advantages for those with a longer pointer finger. Low testosterone exposure in utero has been linked with better verbal memory. It was also associated with a higher risk of anxiety and depression, issues typically more prevalent in women.
NTNU doctoral student Carl Pintzka completed this latest study for his dissertation. He wanted to associate in utero testosterone exposure with a higher aptitude for physical tasks. He first recruited 42 female participants and measured the length of their index and ring fingers. Next, he gave half the group a drug which would drop their testosterone levels down. The other half received a placebo. Then he gave them various exercises to perform.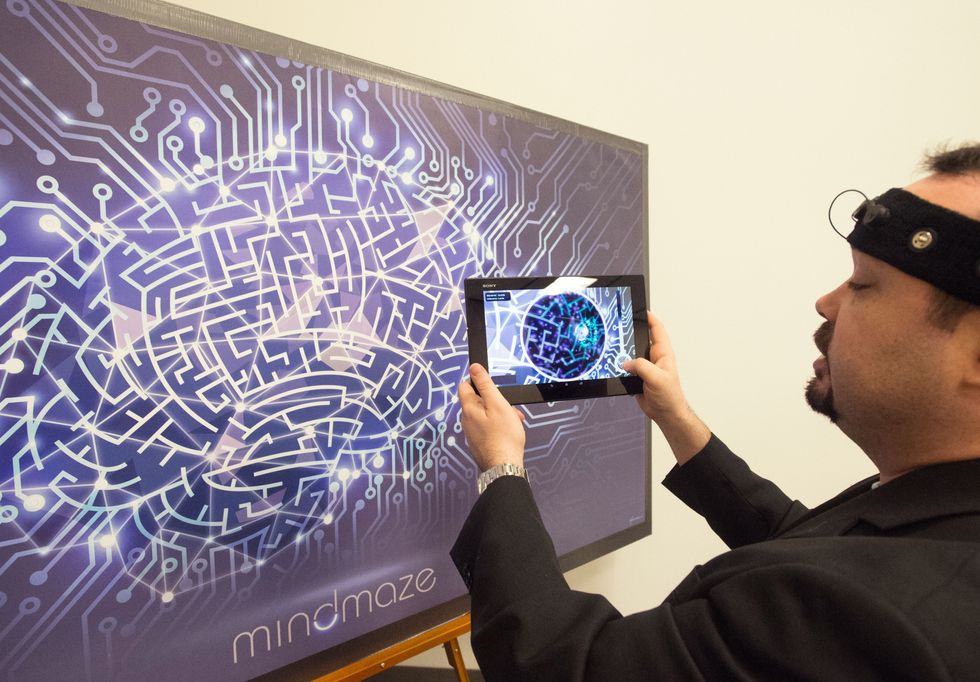 Women in this study were asked to maneuver around a virtual maze, to see if testosterone made them better at it.
By dampening testosterone, Pintzka could evaluate whether or not the hormone affected the women's spacial capabilities. The volunteers had to complete a virtual maze, which included mentally rotating an array of 3D objects. Pintzka said, "The women who scored best on the mental rotation tasks had high levels of testosterone both prenatally and in their adult lives, while those who scored worst had low levels in both."
Further research must be conducted to discover more about this phenomenon and how it may be applied to human health. One thing is for sure: how much testosterone we encounter in the womb and later on in life has a substantial impact on who we are. Pintzka suggests that a larger study would allow for a deeper understanding and a stronger correlation to surface. Until that time, when you take the hand of your loved one, take a look at their ring-to-index finger ratio. It may lend insight into who they really are.
To learn more about what your fingers say about you click here: