The case of a 7-year-old Australian boy who was supposed to lose sight at two weeks old but can still see has stunned scientists.
Credit: Inaki-Carril Mundinano, Juan Chen, Mitchell de Souza, Marc G. Sarossy, Marc F. Joanisse, Melvyn A. Goodale, James A. Bourne.
Researchers in Australia recently presented a study of a 7-year-old boy who is missing most of his visual cortex but surprisingly can still see. It is the first known case of this kind.
When he was only two weeks old, the boy suffered serious damage to his visual cortex, the part of the brain that manages sensory nerve impulses from our eyes, as a result of a rare metabolic disorder called medium-chain acyl-Co-A dehydrogenase deficiency. This condition prevents tissues from converting some types of fats into energy.
The boy, referred to only as "B.I." by the researchers from the Australian Regenerative Medicine Institute at Monash University, ended up without of his visual cortex. This is usually a situation that would result in cortical blindness, an illness where the brain can still get visual input but cannot process what it is seeing, making the person feel like they have sight but not actually allowing them to see. The boy, however, can see almost anything on par with other kids his age, able to play soccer or video games and read emotions on people's faces. 
The scientists studied the unusual case, hoping to understand what makes B.I.'s condition so unique. Through MRI-scanning they found a remarkable instance of the brain's neuroplasticity, with the boy's visual pathway of neural fibers in the back of the brain enlarged. This adaptation means that the pathway allows the boy to see by doing the work of the visual cortex.
"Despite the extensive bilateral occipital cortical damage, B.I. has extensive conscious visual abilities, is not blind, and can use vision to navigate his environment," write the researchers in the study.
You can read their study here.
The man who lives a functional life with most of his brain filled with water challenges what we know about the brain.
A scan of the man missing 90% of his brain. Credit: Feuillet et al/The Lancet.
What we think we know about our brains is nothing compared to what we don't know. This fact is brought into focus by the medical mystery of a 44-year-old French father of two who found out one day that he had most of his brain missing. Instead his skull is mostly full of liquid, with almost no brain tissue left. He has a life-long condition known as hydrocephalus, commonly called "water on the brain" or "water head". It happens when too much cerebrospinal fluid puts pressure on the brain and the brain's cavities abnormally increase.
As Axel Cleeremans, a cognitive psychologist at the Université Libre in Brussels, who has lectured about this case, told CBC:
"He was living a normal life. He has a family. He works. His IQ was tested at the time of his complaint. This came out to be 84, which is slightly below the normal range … So, this person is not bright — but perfectly, socially apt".
The complaint Cleeremans refers to is the original reason the man sought help - he had leg pain. Imagine that - you go to your doctor with a leg cramp and get told that you're living without most of your brain.
The man continues to live a normal life, being a family man with a wife and kids, while working as a civil servant. All this while having 3 of his main brain cavities filled with only fluid and his brainstem and cerebellum stuck into a small space that they share with a cyst.
What can we learn from this rare case? As Cleeremans points out:
"One of the lessons is that plasticity is probably more pervasive than we thought it was… It is truly incredible that the brain can continue to function, more or less, within the normal range — with probably many fewer neurons than in a typical brain. Second lesson perhaps, if you're interested in consciousness — that is the manner in which the biological activity of the brain produces awareness... One idea that I'm defending is the idea that awareness depends on the brain's ability to learn."
The French man's story really challenges the idea that consciousness arises in one part of the brain only. Current theories hold that the part of the brain called the thalamus is responsible for our self-awareness. A man living with most of his brain missing does not fit neatly into such hypotheses.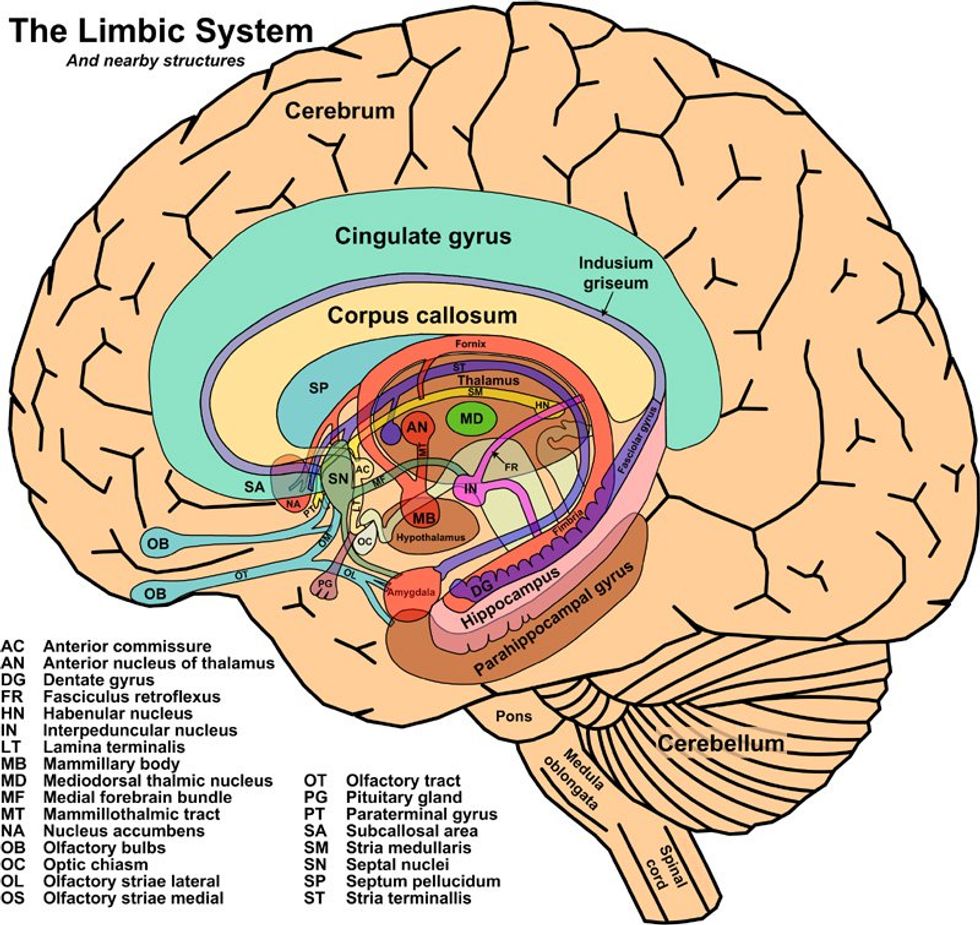 By John Taylor [Public domain], via Wikimedia Commons
Cleereman believes that the brain learns to be conscious. In his Thesis of Radical Plasticity, he claims that the brain constantly adapts and learns how to describe what it does to itself, not only knowing information, but knowing that it knows that information. If that conundrum wasn't enough for you, Cleeremens calls consciousness "the brain's theory about itself."
You can read the original study of this case in "The Lancet" here.