There are four main stages. Each has its own particular set of advancements and challenges. 
Don't you wish you could predict your child's behavior with 100 percent accuracy? Any realistic parent knows it's an impossible daydream, but an appealing one nonetheless. Kids will always surprise you. There are so many factors that go into behavior, not to mention the fact that internal and external forces can sometimes make kids act out of character.
What you can do is come to understand the stages of their neurological development and what it means for their learning and behavior. Turns out, those parents who get a good grip on how we develop neurologically, are better able to guide their children toward positive outcomes. Here's a rundown of the stages of neurological development and what they mean for parenting.
The first is the sensorimotor stage. This takes places between birth and two-years. A child at this stage is getting used to experiencing the environment through their senses. Through trial and error and from experiences with objects and sensations, they begin to master the world around them. Around age one, the child learns object permanence, the concept that an object continues to exist, even when it's left the field of vision.
According to Sarah Lytle, PhD., from the Institute for Learning & Brain Sciences at the University of Washington in Seattle, what many parents don't fully realize is that babies are also developing socially and emotionally. As such, they usually look to their parent for support. If you've ever engaged with a baby you didn't know, you'll notice the child usually turns to their parent to gauge how to respond. This act is called social referencing or social cognition. Be sure to be supportive when the child does this. This allows for more confidence and independence.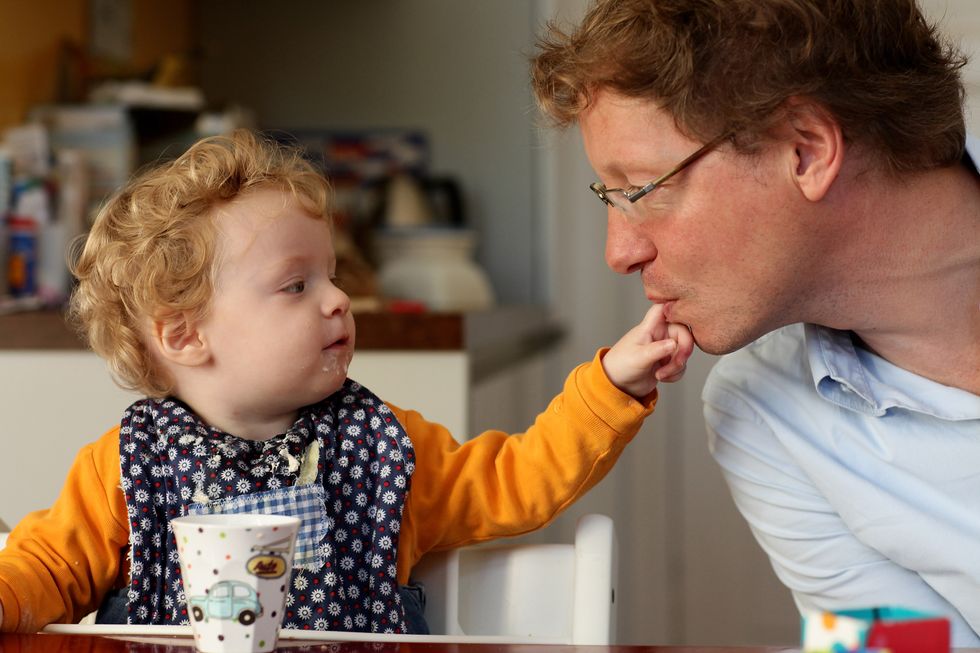 Young children understand the world through interaction with their senses. Getty Images.
A child's first word is uttered around six months of age. To help a baby develop language skills further, remember that they follow your gaze. Emphasize with your eyes by moving them slowly when introducing a new word. According to Dr. Lytle, it's okay to use a baby-talk tone. We're actually genetically programmed to talk that way. But make sure you use words correctly, in full, and in complete, grammatically correct sentences.
From age two to six or seven, a child enters the preoperational stage. Here, language skills ramp up. The child can start to think in terms of symbols, develop a numerical understanding, and begin to grasp the distinction between past and future. Children at this age do well with concrete situations. Abstract concepts, however, are difficult to grasp.
It's at age two that humans become amazed by the idea that others don't see the world quite like they do. As the parents of two-year olds are all too well aware of, this self-centered viewpoint makes it difficult for the child to share and care about others. Although a 2016 poll showed that most parents think two-year olds can control their emotions, psychologists say quite the contrary. Having a toy that they love on hand to distract them when they pull a temper tantrum is probably the best strategy.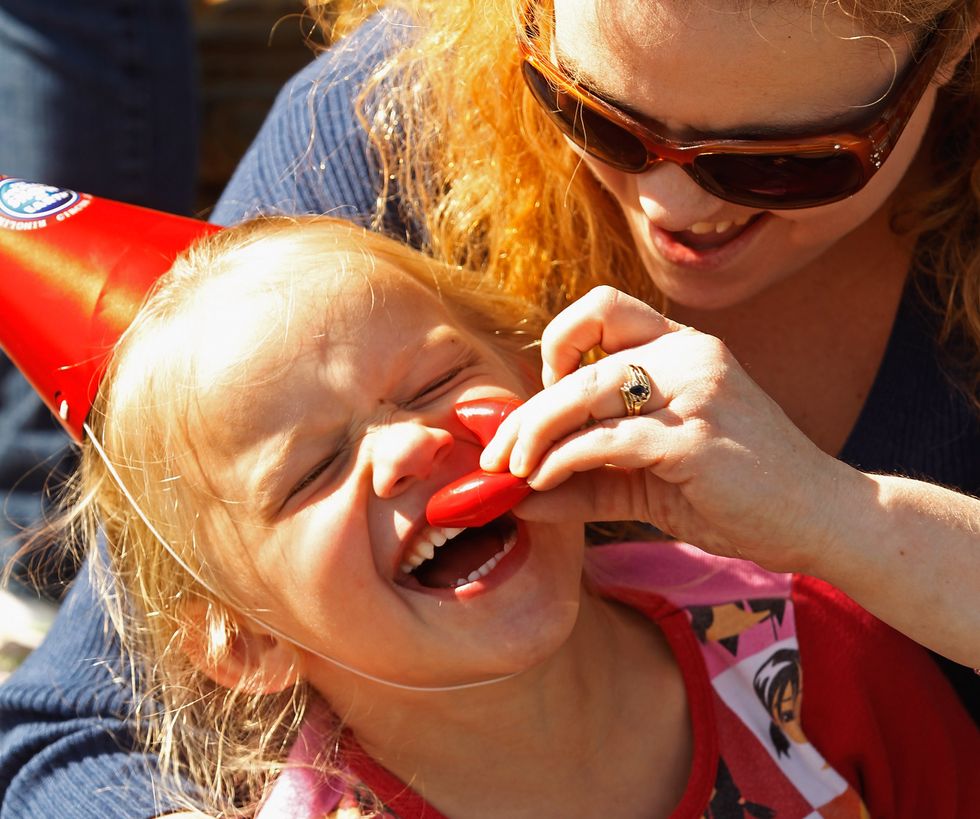 Two year-olds can't control their emotions very well. Luckily, they're distracted easily. Getty Images.
To help build empathy, parents can work at developing a child's theory of mind. This is coming to understand the perspective of others. Note this doesn't develop until the child is three or four. One famous example is the "Sally-Anne test."
Here, a child is told that Sally has a basket and Anne a box. Sally puts an object in her basket, then goes for a walk. Anne takes the object and puts it in her box. The child is asked, "Once Sally returns, where will she look for the object?" If the child understands Sally's point of view, they will say, "In the basket." Another tactic it to read them stories where they have to put themselves in a character's shoes.
From age six or seven to 11 or 12, a child enters the concrete operations stage. Seven is supposed to be the age of reason. Here, he or she can grasp abstract concepts, understand sequences of events, and empathize with others whose experiences are different from their own. Children at this stage can learn abstract mathematical concepts, but they aren't good at breaking down complex problems which require systematic reasoning. Lytle suggests keeping in mind a child's emotional development at this stage. Parents often don't realize how affected their children are by marital spats or a parent suffering something like a bout of depression.
From age 12 throughout the teen years, the child enters the formal operations stage, where he or she develops greater capacities for hypothetical thinking, abstract reasoning, and deductive reasoning. Generally, people have a good grasp of these by age 15. Moral issues like social justice and abstract ideas, such as probabilities, can be understood. Although for parents, few stages can be quite as challenging.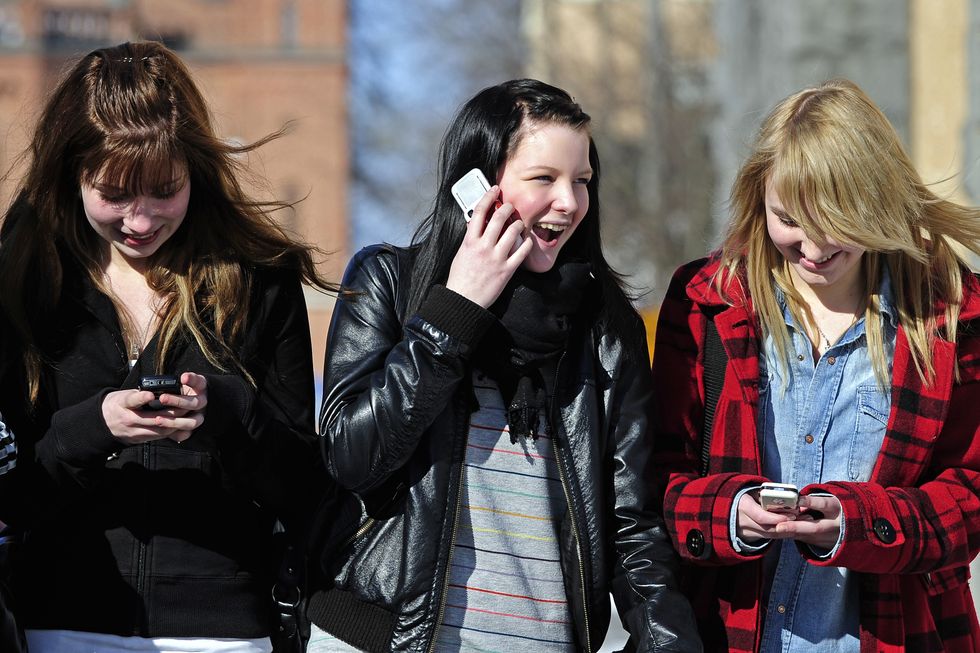 Dealing with teens is challenging because of how their brains work. Getty Images.
Teens are often moody and hypersensitive. This is usually chalked up to hormones, but it's also because their midbrain is highly active in this stage. The brain develops from back to front.
The midbrain is responsible for memory, emotion, and sexuality. It may surprise you to know that the rational part of the brain, the prefrontal cortex, isn't fully developed until around age 25. This is responsible for things like decision-making, planning, impulse control, and risk avoidance.
Teens are more likely to evaluate situations with their amygdala or emotional center. This is why they tend to get overwhelmed by their emotions, but might have a hard time expressing them. It also explains their intermittent bend toward risky behavior. Make sure to talk to them often about drugs and alcohol, the risks of unprotected sex, and so on, and give them vocabulary they can use to avoid social pressures. When a teen does make a mistake, instead of scolding or lecturing, use it as a teachable moment. Walk them through it logically. Find out in their own words what they should have done differently. This can help them develop decision-making skills.
Also, work on giving them frontal lobe tasks or doing it with them. Give them opportunities to practice problem-solving, make judgment calls, or to plan things out. Do it together or debrief once they've completed the task. Sure, raising kids is far from easy, but knowing a little neuroscience can make a real difference.
Do children develop a moral compass earlier than we think? See what one expert thinks here:
In a world afraid of embarrassment, asking dumb questions is a super power, says Tim Ferriss. It takes a secure intellect to risk looking silly, but the rewards are there for the taking.
Chris Sacca is very good at asking dumb questions, says Tim Ferriss – and Ferriss means it as a compliment. Years ago, Sacca got an entry-level job at Google and invited himself along to executive meetings where, once people got used to his strange presence, he started asking dumb questions, chiming in with the obvious things that no one was bringing up. "He's created some incredible breakthroughs in investing as a result of that," says Ferriss. In a world where everyone is afraid of looking stupid, a lot of basic improvements and ideas get missed for fear of embarrassment. Through several anecdotes amassed during the writing of his new book Tools of Titans, Ferriss makes a case for being more intellectually secure in yourself so that you can raise your hand without fear, ask a dumb question, and actually become smarter. And in Sacca's case, wealthier. Tim Ferriss is the author of Tools of Titans: The Tactics, Routines, and Habits of Billionaires, Icons, and World-Class Performers.
Tim Ferriss' most recent book is Tools of Titans: The Tactics, Routines, and Habits of Billionaires, Icons, and World-Class Performers.
Malcolm Gladwell does a post-mortem of the U.S. presidential election, speaking to issues of sexism and moral licensing, and makes a bold prediction.
President-elect Donald Trump following a meeting in the Oval Office November 10, 2016 in Washington, DC. (Photo: Saul Loeb/Getty Images)
This election was one for the record books. Donald Trump became the president of the United States with a solid electoral victory despite a loss in the popular vote. The statistical data is still coming in, but interpretations of it exist already.
Two days before the election, English-Canadian thinker Malcolm Gladwell discussed his interpretation of the election up to that point, and offered his shocking prediction of what will become of President Trump. Mr. Gladwell is a well known author, with works on crime, psychology, and the viewpoints of dogs.

He suggests that this election is going to be recalled as strange in every way. One in which the "elite" candidate was born in the middle class and the populist was born a millionaire. "One guy is the child of privilege who grew up in a multi-million-dollar household, and has every advantage handed to him on a silver platter," Gladwell says. "The other is a woman who came from the most ordinary of circumstances." One in which pending lawsuits were given less airtime on major networks than criminal investigations which never materialized. Where coverage of those lawsuits earned more time than discussion of issues. One in which the winning candidate "caught ten different breaks." An election so odd, he feels the confidence to say "This is not going to happen again."

The boldest statement he made, however, is his prediction that Trump "will be in jail within a year". Citing the various lawsuits for fraud in cases such as the Trump University suit that the President Elect finds himself dealing with, Gladwell supposes there will be "criminal charges" forthcoming as well. Such a situation would be nearly unprecedented; the only comparison would be to Watergate, which did not occur to an incoming president but to one that was re-elected in a landslide two years prior.
[Before the election results were in, Harvard psychologist Susan David came to the Big Think studio and questioned the media's role in normalizing Donald Trump's hate rhetoric. Should journalistic ethics override human ethics?]
He suggests a reason that this election has been going as it has: the idea that our election of a black president has given many of us a blank moral check. This idea is called "Moral Licensing". Having taken a positive action, we grant ourselves the freedom to act in a less moral fashion at a later time.
In this case, Gladwell suggests: "Having taken the extraordinary step of electing a black man as president… Americans feel free to indulge every dark impulse inside their hearts, because they think they have proven to the world how open minded they are... I think there is something to that theory."
He also sees this election as a frank statement on the condition of our views of women in power in the United States. To an outside observer, it demonstrated that Americans would not vote for a woman of a particular description. In this case, one who was honest in her desire for power, who was more aggressive and less modest in her disposition than seems becoming for a woman in politics. "To me, the most disturbing lesson about this election is that the United States is a good deal less open to women in positions of power than it would like to pretend that it is," he says.
Mr Gladwell offers us an interesting view of what the election says about Americans, not all of it is good. He suggests that the only way to explain the number of breaks that Donald Trump has seemed to have in this election is by way of sexism. A sexism that reflects on Americans in general. It shows to him that the American media is more concerned with story than substance, and that the nature of this election will be recalled for years to come.
Watch the full interview here.
--