A new study makes a compelling case for the origin of unexplained masses of underground rock causing changes to the Earth's magnetic field.
Credit:
ordus
/Adobe Stock
Many experts believe that the Moon was formed when a protoplanet named Theia crashed into the Earth 4.5 billion years ago.
One flaw in the theory has been that there's no remaining sign of Theia.
New research suggests that Theia's mantle was subsumed by Earth and that large anomalous blogs of rock deep within the Earth are its remains.
They're called "large low-shear-velocity provinces" (LLSVPs), and they're large anomalous globs of, well, some kind of rock deep inside the Earth. There's one under Africa and the other is beneath the Pacific Ocean. Together, they're apparently producing the South Atlantic Anomaly, a massive region of lower magnetic intensity sufficient to weaken the planet's corresponding magnetic field. This provides less protection from cosmic rays for our orbiting spacecraft, and some wonder whether its presence signals a flipping of the planets magnetic poles. It's believed the anomaly is nothing new, reappearing now and again for at least 11 million years and likely much longer.
A theory from researchers at Arizona State University (ASU) presented this month at the Lunar and Planetary Science Conference may explain what the LLSVPs actually are: They're what's left of the protoplanet Theia that crashed into the young Earth about 4.5 billion years ago, shearing off the debris that eventually became our Moon.
Where's Theia?
Credit: 3000ad/Adobe Stock
According to a widely held hypothesis, Theia was an at-least Mars-sized object that obliquely collided with Earth. It's a good thing it just glanced off us, too, since a direct hit would have obliterated our planet entirely. As it was, it's theorized, two big chunks were ejected from the collision, forming two moons that eventually coalesced into the one we see today.
The authors of the new research, led by ASU's Qian Yuan, explain in a summary of their findings: "Such a model is well-aligned with some key physical aspects of Earth-Moon system, including anomalous high angular momentum of Earth-Moon system, small iron core of the Moon and its high mass ratio compared to the Earth."
But if Theia was real, where did it go? The authors write, "The Giant Impact hypothesis is one of the most examined models for the formation of the Moon, but direct evidence indicating the existence of the impactor Theia remains elusive." It's reasonable that some material from both bodies was destroy. How much of Theia was captured has remained an open question.
The LLSVPs
Scientists have conclusively determined that the LLSVPs exist, though their origin and composition is unresolved. The ASU researchers say that while they could be thermal in origin, seismological examination reveals that they have distinct margins separating them from surrounding rock and are much denser chemically, suggesting that they're not of a piece with the rest of the mantle.
The researchers' modeling of Theia's likely composition supports the idea that its mantle was several percent denser than Earth's, and iron-rich, which would mean that after the bodies collided, the Theia mantle material could "sink to Earth's lowermost mantle and accumulate into thermochemical piles that may cause seismically observed LLSVPs."
The theory proposed in the new research, which is being evaluated for publication in the journal Geophysical Research Letters, has been proposed before. However, the ASU researchers have presented what may be the best supporting evidence for it yet. Yuan says his research supports the LLSVP-Theia connection in four ways:
The LLSVPs' mass may be equivalent to the size of Theia's mantle, answering the question of where it went after impact.
At a minimum of 250 million years old, the LLSVPs predate the Moon.
The hypothesized makeup of Theia's mantle matches what is believed to be the composition of the LLSVPs.
Simulations show how Theia's mantle could end up where the LLSVPs currently are.
An intriguing theory explains animals' magnetic sense.
Some animals can navigate via magnetism, though scientists aren't sure how.
Research shows that some of these animals contain magnetotactic bacteria.
These bacteria align themselves along the magnetic field's grid lines.
It's one of the more fascinating discoveries of the last several decades: the growing list of animals who can navigate the Earth's magnetic grid to get where they need to go. From birds to dogs, from fruit flies to lobsters, a number of species are somehow hooked into the planet's magnetic field — maybe even humans. The big unanswered question is how?
A new paper just published in Philosophical Transactions of the Royal Society B may have the answer: The creatures may have a symbiotic relationship with magnetotactic bacteria that orient them along global magnetic field lines.
While it's possible that the bacteria themselves are just one more magnetically sensitive organism, the paper presents evidence supporting the theory that their presence within other organisms endows their hosts with their magnetic navigational abilities.
Magnetotactic bacteria hosts
A right whale mother and calf
Credit: wildestanimal/Shutterstock
One of the paper's authors, Geneticist Robert Fitak, is affiliated with the biology department of the University of Central Florida in (UCF) Orlando. Prior to joining the department, he spent four years as a postdoctoral researcher at Duke University investigating the genomic mechanisms responsible for magnetic perception in fish and lobsters.
Fitak tells UFC Today, "The search for a mechanism has been proposed as one of the last major frontiers in sensory biology and described as if we are 'searching for a needle in a needle stack.'"
That metaphorical needle stack may well be the scientific community's largest database of microbes, the Metagenomic Rapid Annotations using Subsystems Technology database. It lists the animal samples in which magnetotactic bacteria have been found.
The primary use of the database, says Fitak, has been the measurement of bacterial diversity in entire phyla. An accounting of the appearance of magnetotactic bacteria in individual species is something that has previously be unexplored. "The presence of these magnetotactic bacteria had been largely overlooked, or 'lost in the mud' amongst the massive scale of these datasets," he reports.
Fitak dug into the database and discovered that magnetotactic bacteria have indeed been identified in a number of species known to navigate by magnetism, among them loggerhead sea turtles, Atlantic right whales, bats, and penguins. Candidatus Magnetobacterium bavaricum is regularly found in loggerheads and penguins, while Magnetospirillum and Magnetococcus are common among right whales and bats.
As for other magnetic-field-sensitive animals, he says, "I'm working with the co-authors and local UCF researchers to develop a genetic test for these bacteria, and we plan to subsequently screen various animals and specific tissues, such as in sea turtles, fish, spiny lobsters and birds."
The bacteria-host relationship
While the presence of the bacteria in these particular species is intriguing, further study is needed to be sure they're responsible for other animals' magnetic navigation. Their presence in these species could be just a coincidence.
Fitak also notes that he doesn't know at this point exactly where in the host animal the magnetotactic bacteria would reside, or other details of their symbiotic relationship. He suggests that they might be found in nervous tissue associated with navigation, such as that found in the brain or eye.
If confirmed, Fitak's hypothesis could suggest that our own sensitivity to the Earth's magnetic field might one day be enhanced via magnetotactic bacteria in our own individual microbiomes, should they be benign to us as hosts.
Do you have a magnetic compass in your head?
Scientists have tried to investigate whether humans belong on the list of magnetically sensitive organisms. For decades, there's been a back-and-forth between positive reports and failures to demonstrate the trait in people, with seemingly endless controversy.
The mixed results in people may be due to the fact that virtually all past studies relied on behavioral decisions from the participants. If human beings do possess a magnetic sense, daily experience suggests that it would be very weak or deeply subconscious. Such faint impressions could easily be misinterpreted – or just plain missed – when trying to make decisions.
So our research group – including a geophysical biologist, a cognitive neuroscientist and a neuroengineer – took another approach. What we found arguably provides the first concrete neuroscientific evidence that humans do have a geomagnetic sense.
How does a biological geomagnetic sense work?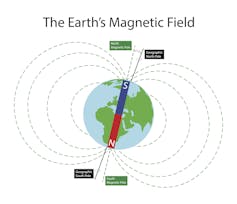 The Earth is surrounded by a magnetic field, generated by the movement of the planet's liquid core. It's why a magnetic compass points north. At Earth's surface, this magnetic field is fairly weak, about 100 times weaker than that of a refrigerator magnet.
Over the past 50 years or so, scientists have shown that hundreds of organisms in nearly all branches of the bacterial, protist and animal kingdoms have the ability to detect and respond to this geomagnetic field. In some animals – such as honey bees – the geomagnetic behavioral responses are as strong as the responses to light, odor or touch. Biologists have identified strong responses in vertebrates ranging from fish, amphibians, reptiles, numerous birds and a diverse variety of mammals including whales, rodents, bats, cows and dogs – the last of which can be trained to find a hidden bar magnet. In all of these cases, the animals are using the geomagnetic field as components of their homing and navigation abilities, along with other cues like sight, smell and hearing.
Skeptics dismissed early reports of these responses, largely because there didn't seem to be a biophysical mechanism that could translate the Earth's weak geomagnetic field into strong neural signals. This view was dramatically changed by the discovery that living cells have the ability to build nanocrystals of the ferromagnetic mineral magnetite – basically, tiny iron magnets. Biogenic crystals of magnetite were first seen in the teeth of one group of mollusks, later in bacteria, and then in a variety of other organisms ranging from protists and animals such as insects, fish and mammals, including within tissues of the human brain.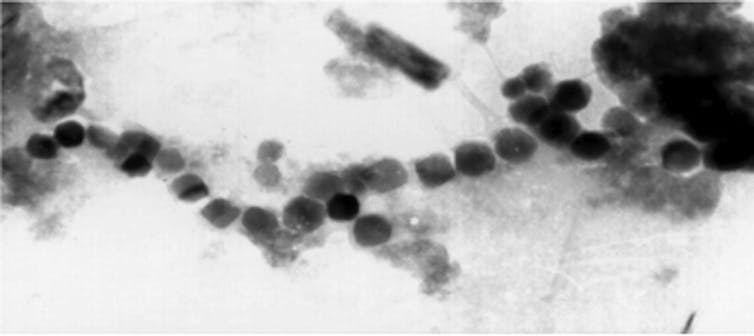 Nevertheless, scientists haven't considered humans to be magnetically sensitive organisms.
Manipulating the magnetic field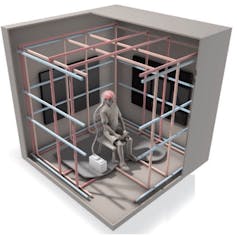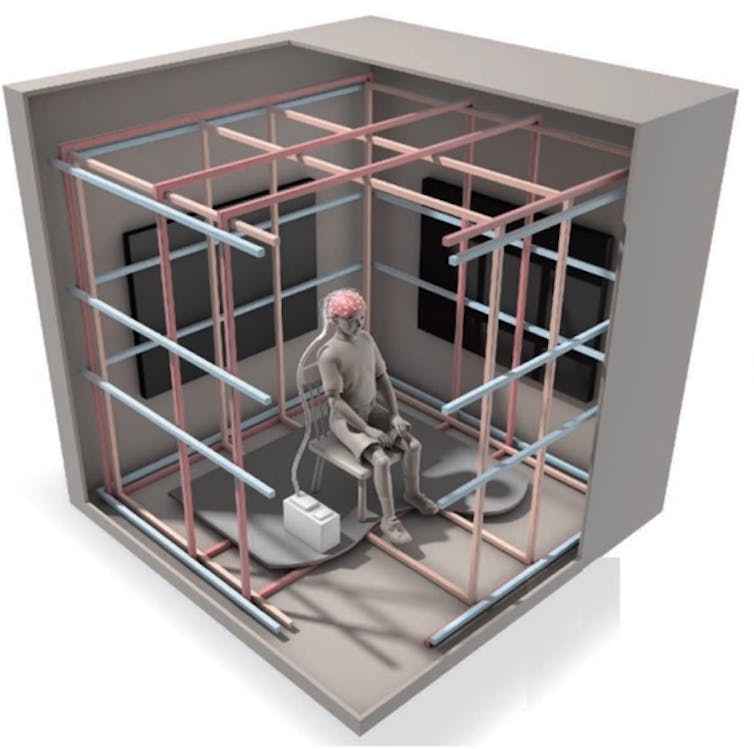 In our new study, we asked 34 participants simply to sit in our testing chamber while we directly recorded electrical activity in their brains with electroencephalography (EEG). Our modified Faraday cage included a set of 3-axis coils that let us create controlled magnetic fields of high uniformity via electric current we ran through its wires. Since we live in mid-latitudes of the Northern Hemisphere, the environmental magnetic field in our lab dips downwards to the north at about 60 degrees from horizontal.
In normal life, when someone rotates their head – say, nodding up and down or turning the head from left to right – the direction of the geomagnetic field (which remains constant in space) will shift relative to their skull. This is no surprise to the subject's brain, as it directed the muscles to move the head in the appropriate fashion in the first place.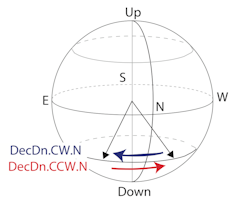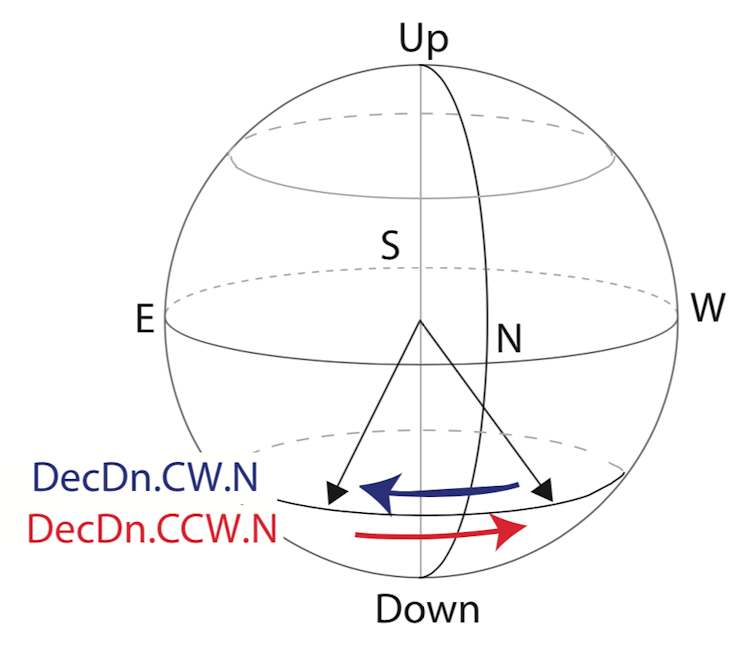 In our experimental chamber, we can move the magnetic field silently relative to the brain, but without the brain having initiated any signal to move the head. This is comparable to situations when your head or trunk is passively rotated by somebody else, or when you're a passenger in a vehicle which rotates. In those cases, though, your body will still register vestibular signals about its position in space, along with the magnetic field changes – in contrast, our experimental stimulation was only a magnetic field shift. When we shifted the magnetic field in the chamber, our participants did not experience any obvious feelings.
The EEG data, on the other hand, revealed that certain magnetic field rotations could trigger strong and reproducible brain responses. One EEG pattern known from existing research, called alpha-ERD (event-related desynchronization), typically shows up when a person suddenly detects and processes a sensory stimulus. The brains were "concerned" with the unexpected change in the magnetic field direction, and this triggered the alpha-wave reduction. That we saw such alpha-ERD patterns in response to simple magnetic rotations is powerful evidence for human magnetoreception.
Our participants' brains only responded when the vertical component of the field was pointing downwards at about 60 degrees (while horizontally rotating), as it does naturally here in Pasadena, California. They did not respond to unnatural directions of the magnetic field – such as when it pointed upwards. We suggest the response is tuned to natural stimuli, reflecting a biological mechanism that has been shaped by natural selection.
Other researchers have shown that animals' brains filter magnetic signals, only responding to those that are environmentally relevant. It makes sense to reject any magnetic signal that is too far away from the natural values because it most likely is from a magnetic anomaly - a lighting strike, or lodestone deposit in the ground, for example. One early report on birds showed that robins stop using the geomagnetic field if the strength is more than about 25 percent different from what they were used to. It's possible this tendency might be why previous researchers had trouble identifying this magnetic sense – if they cranked up the strength of the magnetic field to "help" subjects detect it, they might have instead ensured that subjects' brains ignored it.
Moreover, our series of experiments show that the receptor mechanism – the biological magnetometer in human beings – is not electrical induction, and can tell north from south. This latter feature rules out completely the so-called "quantum compass" or "cryptochrome" mechanism which is popular these days in the animal literature on magnetoreception. Our results are consistent only with functional magnetoreceptor cells based on the biological magnetite hypothesis. Note that a magnetite-based system can also explain all of the behavioral effects in birds that promoted the rise of the quantum compass hypothesis.
Brains register magnetic shifts, subconsciously
Our participants were all unaware of the magnetic field shifts and their brain responses. They felt that nothing had happened during the whole experiment – they'd just sat alone in dark silence for an hour. Underneath, though, their brains revealed a wide range of differences. Some brains showed almost no reaction, while other brains had alpha waves that shrank to half their normal size after a magnetic field shift.
It remains to be seen what these hidden reactions might mean for human behavioral capabilities. Do the weak and strong brain responses reflect some kind of individual differences in navigational ability? Can those with weaker brain responses benefit from some kind of training? Can those with strong brain responses be trained to actually feel the magnetic field?
A human response to Earth-strength magnetic fields might seem surprising. But given the evidence for magnetic sensation in our animal ancestors, it might be more surprising if humans had completely lost every last piece of the system. Thus far, we've found evidence that people have working magnetic sensors sending signals to the brain – a previously unknown sensory ability in the subconscious human mind. The full extent of our magnetic inheritance remains to be discovered.

Shinsuke Shimojo, Gertrude Baltimore Professor of Experimental Psychology, California Institute of Technology; Daw-An Wu, , California Institute of Technology, and Joseph Kirschvink, Nico and Marilyn Van Wingen Professor of Geobiology, California Institute of Technology
This article is republished from The Conversation under a Creative Commons license. Read the original article.
It's a record magnetic field, but... yeah. That didn't last long.
Photo: The University of Tokyo.
Scientists knew that it would probably explode, but they did not expect to reach such a record magnetic field.
Magnetic fields are measured in teslas, after Nikola Tesla.
This one reached a record 1,200 teslas, 400 times stronger than an MRI; watch it explode in the video
"With magnetic fields above 1,000 teslas, you open up some interesting possibilities," lead researcher Takeyama explained. "You can observe the motion of electrons outside the material environments they are normally within. So we can study them in a whole new light and explore new kinds of electronic devices. This research could also be useful to those working on fusion power generation."
The study, published in Review of Scientific Instruments, was released on September 17.
To achieve the record, the team used a technique known as electromagnetic flux-compression (EMFC). The instrument, which generates a low-strength magnetic field of 3.2 teslas, was attached to a row of capacitors that generate 3.2 megajoules, which is a huge amount of energy.
This compresses the magnetic field into a tiny area extremely quickly. But, as the team predicted, it can't be compressed for long, eventually creating a shock wave that rips the instrument apart. They expected this to happen after about 700 teslas, as that's what it was built to withstand. But incredibly, it reached 1,200 before exploding.
1,200 teslas later... a huge white light engulfs the lab. Video below!
Photo: The University of Tokyo.
Another view of the magnetic explosion
This image explains it a bit better, from the IEEE institute. "The University of Tokyo's 1,200-Tesla magnetic field generator is powered by a bank of capacitors [on left, white] capable of storing 5 megajoules. The capacitors' energy flows into the primary coil [bottom left, gray] and induces a counteracting current and magnetic field in the liner [orange]. This implodes the liner in 40 microseconds, compressing the magnetic field [bottom right]."
Graphic illustration of how the scientists hit the record.
Image by University of Tokyo.
Watch it go boom
New research on Uranus' magnetosphere could help scientists learn about distant systems, and refine the ways they search for alien life.
Uranus has a "switch-like" magnetosphere that opens and closes once every rotation of the planet, exposing it to deadly solar winds, according to researchers at the Georgia Institute of Technology in the US.
The findings could help scientists understand the mechanics of distant systems, and refine the ways they search for alien life.
First, what exactly is a magnetosphere?
A magnetosphere is the region of space around an object in which charged particles are controlled by that object's magnetic field. Earth's magnetosphere shields us from the solar wind – the continual stream of charged particles that flows from the upper atmosphere of the sun – by deflecting the radiation. Without a magnetosphere, radiation would destroy Earth's atmosphere and make it impossible for life and liquid water to exist.
Here's an artists' rendering of Earth's magnetosphere: