What can cause a ripple in both space and time? Neutron stars colliding. And what can observe that phenomenon? A two-mile-long laser.
Michell Thaller, the Assistant Director of Science Communication at NASA, wanted to talk to us about a heavy subject matter. Specifically, super-dense neutron stars that are so dense that they're only the size of New York City but carry the weight of the sun. And when they circle each other in orbit for long enough, they collide with enough force to send ripples in both space and time. Those ripples alone are strong enough to alter the course of light. In fact, just a few years ago a rare astronomical event occurred where you'd have seen a star "blink" for a few minutes on and off before disappearing for good. Scientists are able to detect these gravitational ripples thanks to a LIGO, or a Laser Interferometric Gravitational-Wave Observatory, which measures the refraction of light based on gravity waves. Oh, and one more thing: Albert Einstein correctly deduced that this phenomenon years before it was ever recorded. If you'd like to know more, visit NASA.
This discovery finally points to the source of Earth's precious heavy elements, also proves Einstein correct in more ways than one.
Artist's impression of two neutron stars colliding. Credit: Dana Berry, SkyWorks Digital
Last September, scientists at a special observatory announced that they detected a gravitational wave for the first time. The detection took place in September, 2015, but wasn't announced until last year. The observatory is known as the Laser Interferometer Gravitational-Wave Observatory (LIGO). It registered ripples in space-time formed from the collision of two black holes. Apparently, the fabric of the universe ripples just as water does.
We've tired the electromagnetic spectrum when it comes to examining the universe. Now, astronomers are fiddling with a whole new aperture, gravitational waves. A little over 100 years ago, Einstein first predicted gravitational waves as something that would happen throughout space-time as a result of dramatic events. September's announcement proved him right, although he himself thought we'd never be able to detect them, the results being so slight.
Officials at the National Science Foundation, LIGO, MIT, Caltech, and other institutions have now made a second groundbreaking announcement, the detection of gravitational waves from another astronomical event, the merging of two neutron stars. This latest signal was detected on Aug. 17. A neutron star is the remnant of a larger star whose core has collapsed. Usually, this is followed by a supernova, where the outer layer of the star blows off in a colossal explosion.
The neutron stars that merged were each 1.1 to 1.4 times the mass of our sun. An event of this magnitude only occurs once in 80,000 years, LIGO scientists say. The light emitted by this neutron star collision resulted in a "fireball," which is an intense burst of gamma radiation. Such a fireball or kilonova creates the heaviest known elements, such as gold, platinum, and lead, and sends them careening throughout the cosmos.
See an animated clip of a neutron star collision here:
These are small, dense stars. One teaspoon worth would weigh more than 10 million tons, more than the entire population of Earth. As the core continues to collapse, the gravity inside gets so strong it fuses protons and electrons together, forming neutrons, hence the name. When two neutron stars merge, one of two things happen. Either an even bigger neutron star is born or a black hole is made. This event, now known as GW170817, created an ultra-dense neutron star.
Though it occurred approximately 130 million years ago, the resulting gravitational waves reached Earth last August, with the ripples arriving one second before the light did. This is the very first time scientists recorded an astronomical event through both light and gravitational waves.
Over 1,200 scientists from 100 institutions around the world work at the LIGO Scientific Collaboration. LIGO is comprised of two observatories, one in Hanford, Washington, and the other in Livingston, Louisiana. Each contains an instrument so sensitive it can detect a single ripple in space-time lasting just a fraction of a second. In addition to the LIGO detectors, the newly launched Virgo observatory in Italy helped to zero-in on the location of the explosion. Other such observatories are in the works for Japan and India, which will further help pinpoint an event's location.
Each observatory consists of an L-shaped tunnel. Laser light is sent by mirror down each of them. When there are no gravitational fluctuations, the laser bounces back normally. But when there are ripples in space-time, it squeezes and pulls the beam which gives scientists a reading.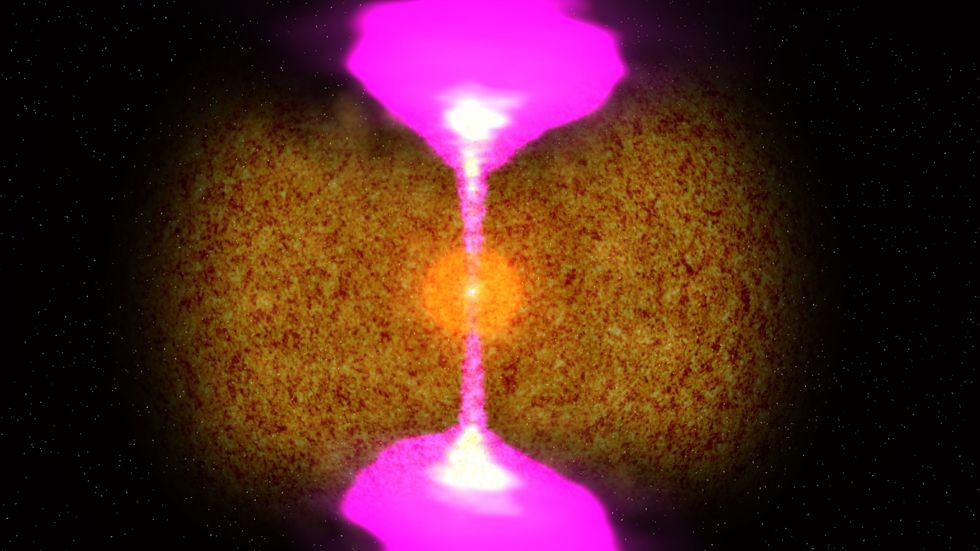 Artist concept of neutron star falling into its neighbor. Credit: NASA
Caltech's David H. Reitze is the executive director of the LIGO Laboratory. In a press release, he explained the importance of the groundbreaking even. "This detection opens the window of a long-awaited 'multi-messenger' astronomy. It's the first time that we've observed a cataclysmic astrophysical event in both gravitational waves and electromagnetic waves — our cosmic messengers," Dr. Reitze said, "Gravitational-wave astronomy offers new opportunities to understand the properties of neutron stars in ways that just can't be achieved with electromagnetic astronomy alone."
The event also solidified another of Einstein's predictions. Not only does it further confirm the existence of gravitational waves but that they travel at the speed of light. Its little wonder that the scientists who put together LIGO won this year's Nobel Prize in Physics.
See the announcement of this historic event in astronomy here:
These scientists scooped up the Nobel by detecting a ripple in space-time.
Albert Einstein. Credit: Getty Images.
Officials in Sweden have just announced the 2017 Nobel Prize in Physics. Three American scientists won for detecting, for the very first time, gravitational waves or ripples in space-time, which were first predicted by Einstein back in 1916. Rainer Weiss of MIT, and Barry Barish and Kip Thorne of Caltech were this year's recipients.
Weiss will receive half of the 9 million Swedish kronor ($1.1 million), and Barish and Thorne will split the rest. Their employment of advanced theory and the fabrication of the unique LIGO instrument won them the prestigious award, according to officials at The Swedish Royal Academy of Sciences.
LIGO stands for Laser Interferometer Gravity-Wave Observatory. There are two such sites in the US currently, one in Louisiana and the other in Washington State. The reason they're 1,000 miles (1,609 km) apart is to better detect gravitational waves emanating from space. A third observatory called Virgo just came online in Italy, to join the collaborative project. LIGO alone has thousands of researchers from 20 different countries. Weiss said to reporters at the event, "I view this more as a thing that recognizes the work of a thousand people, a really dedicated effort that's been going on for — I hate to tell you — as long as 40 years."
A LIGO observatory is comprised of two, 2.5 mile (4 km) long tunnels set perpendicularly, like a big L. When a gravitational wave passes over Earth, the space in the tunnel gets compacted in one direction and stretched in another. This tiny fluctuation can be detected by laser. The instrument is so sensitive, it picks up fluctuations in space-time thousands of times smaller than the nucleus of an atom.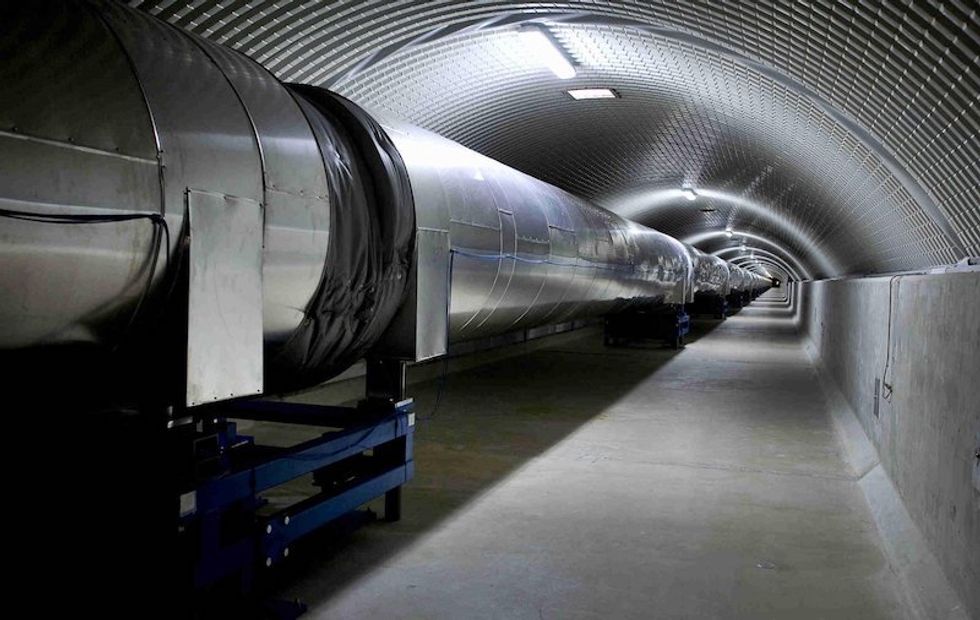 One of the tunnels at Virgo. Credit: Virgo Collaboration.
Gravitational observatories were first conceived 50 years ago. In the mid-70s, the laureates came together to try to construct what is now LIGO. Weiss had already designed a laser-based interferometer by then. What was particularly advantageous in his model is it filtered out certain unwanted background noise.  
Rather than a straight line, Einstein theorized that space is curved and that tension between large bodies, such as Earth and the sun, effectively bend space-time. With extremely massive events, like a supernova or a black hole collision, gravitational waves are sent rippling throughout the universe at the speed of light. Where Einstein went wrong is that he thought since these waves are so minuscule, we'd never be able to detect them.
While we've explored the universe through instruments that detect cosmic rays, neutrinos, and electromagnetic radiation, gravitational waves offer an entirely new aperture in which to view the cosmos. According to the announcement's press release, "This is something completely new and different, opening up unseen worlds. A wealth of discoveries awaits those who succeed in capturing the waves and interpreting their message."
The LIGO observatory was first set up in 1999. In 2014, it received an upgrade, making it much more powerful. It first captured a ripple in space-time in 2015. This was the aftereffect of two black holes colliding, each 30 times the mass of our sun. The result was an even bigger black hole. The event occurred 1.3 billion light-years away. One light-year is about 5.9 trillion miles (9.5 trillion km). Ariel Goobar of the Royal Swedish Academy of Sciences compared LIGO to "when Galileo discovered the telescope."
Thorne, speaking to the Associated Press by phone, called the wave detection "a win for the human race as a whole." He added, "These gravitational waves will be powerful ways for the human race to explore the universe." Meanwhile, Barish called it "a win for Einstein, and a very big one."
Virgo is an important piece, since it allows researchers to better determine the location of the origin of ripples in space-time. More gravitational observatories are now being built. Scientists believe such facilities may allow us to find crucial particles never before discovered, such as those which may only exist in the vicinity of black holes.
To learn more details about how a laser-based interferometer works, click here:
LIGO and Virgo reveal a gravitational wave was detected on two different continents. Here's what that means and why it matters.
A black hole devouring a neutron star. By Dana Berry/NASA.
The twin Laser Interferometer Gravitational-Wave Observatory (LIGO) is a collaborative effort. It's basically a group of scientists who use specialized equipment to study gravitational waves. There are currently two such observatories in the US, one in Hanford, Washington and the other in Livingston, Louisiana. They use an interferometer, or a laser-based instrument, to detect even the minutest ripples in space-time as it relates to gravitational waves. The instrument is so delicate, it can pick up distortions one proton in width.  
LIGO observatories are owned by the National Science Foundation (NSF) and are run by scientists at NASA, MIT, and Caltech. The Europeans now have their own gravitational observatory, known as Virgo, based in Italy. The two collaboratives recently started working together, and they've just made an announcement unveiling new results, a noteworthy milestone in gravitational astronomy.
Researchers announced what they called a "new window on the universe," at the G7 Ministerial Meeting on Science, taking place Sept. 27-28. Back on August 14, Virgo for the first time detected a gravitational wave, made by a binary black hole system. The two LIGO locations picked it up just after. The wave was created when two black holes collided and merged. All three locations registered the resulting gravitational wave.
This was the first time in history such a wave was detected on two different continents. This is more than just a scientific second opinion, it gets us closer to a 3D picture of what Einstein's gravitational waves actually look like. The twin LIGO detectors in the United States mean scientists can detect gravitational waves, but only on one plane. The Virgo detection literally adds a new dimension to the breakthrough discovery of gravitational waves in 2015 (which is a hot favorite to win the Physics Nobel Prize this year). Professor Andreas Freise, a LIGO project scientist at the University of Birmingham, puts it like this: "It's like if I give you just one slice of apple, you can't guess what the fruit looks like." The third detector also means scientists can triangulate the source of the wave to identify exactly where in the universe the signal originated.
National Science Foundation director France Córdova spoke at the press conference. She said, "This is an exciting milestone in the growing international scientific effort to unlock the extraordinary mysteries of our universe." 
See a video depicting the recorded black hole merger here:
Gravitational waves were first predicted by Einstein's general theory of relativity. LIGO's recording of a black hole collision several months ago confirmed this famous physicists suppositions, first hypothesized in 1916. You can hear a recording of that collision. The most recently detected gravitational waves came from a location 1.8 billion light years away. These were two enormous black holes, the first 31 and the second 25 times the mass of our sun. The resulting black hole was 53 times our sun's mass.
With three detection locations, scientists can better gauge the distance of the origin of these ripples in space-time. University of Texas astrophysicist J. Craig Wheeler perked the ears of some space heads back in August when he tweeted, "New LIGO. Source with optical counterpart. Blow your sox off!" The optical counterpart he mentioned wasn't elaborated on until now. Scientists believe they may be able to detect other particles emanating from black hole collisions. But some space geeks took it to mean that LIGO and Virgo had detected the merger of a neutron star.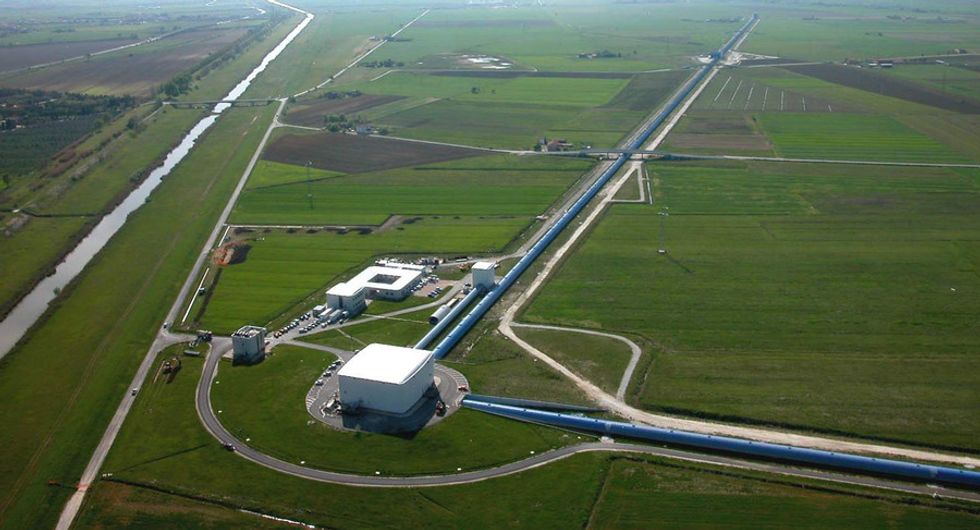 Aerial view of the Virgo detector. The Virgo collaboration/CCO 1.0
Still, what was announced is no less groundbreaking, according to Georgia Tech professor Laura Cadonati. She's the deputy spokesperson for LIGO. "This increased precision will allow the entire astrophysical community to eventually make even more exciting discoveries," she said, "including multi-messenger observations." With these detectors, astronomers may also be able to find and study light, x-rays, neutrinos, and other subatomic particles emanating from cosmic events.
LIGO spokesman David Shoemaker, who is also of MIT, said, "This is just the beginning of observations with the network enabled by Virgo and LIGO working together." He added, "With the next observing run planned for fall 2018, we can expect such detections weekly or even more often."
More gravitational observatories are in the works in other locations, including one for New Delhi. With an international network, researchers believe they can gain better information, further test Einstein's theory, and get more accurate location information for black hole and neutron star mergers, among other significant cosmic phenomenon.
Caltech's David H. Reitze is the executive director of the LIGO Laboratory. He said, "We have taken one step further into the gravitational-wave cosmos. Virgo brings a powerful new capability to detect and better locate gravitational-wave sources, one that will undoubtedly lead to exciting and unanticipated results in the future."
See the press conference for yourself here: 
Get ready for a decade of scientific revelations. Thanks to gravity waves, we have a completely new way to explore the universe.
Alex Filippenko is a Hertz Foundation Fellow and recipient of the prestigious Hertz Foundation Grant for graduate study in the applications of the physical, biological and engineering sciences. When the discovery of gravitational waves was announced in February 2016, Filippenko was awed. The researchers at LIGO (Laser Interferometer Gravitational-Wave Observatory) managed to prove a key prediction of Einstein's general theory of relativity: his theory of gravity. Here, Filippenko explains the mind-boggling way they did it, and the scope of discoveries that this hyper-precise technology will reveal to us over the next decade. With the support of the Fannie and John Hertz Foundation, Filippenko pursued a PhD in astronomy at the California Institute of Technology.
The Hertz Foundation mission is to provide unique financial and fellowship support to the nation's most remarkable PhD students in the hard sciences. Hertz Fellowships are among the most prestigious in the world, and the foundation has invested over $200 million in Hertz Fellows since 1963 (present value) and supported over 1,100 brilliant and creative young scientists, who have gone on to become Nobel laureates, high-ranking military personnel, astronauts, inventors, Silicon Valley leaders, and tenured university professors. For more information, visit hertzfoundation.org.