Boaty McBoatface could have been a billion-dollar brand that re-invigorated science education, but now its epic failure is a lesson for the rest of us.
In March 2016, the British Natural Environment Research Council (NERC) decided to crowdsource the name of its new $300 million arctic explorer vessel. It hoped the public would suggest something like 'Shackleton' or 'Endeavor', but the moment someone suggested the name 'Boaty McBoatface', it went viral and shot to the top of the poll. The NERC had the right idea in harnessing the power of crowds, explains Henry Timms, executive director of the 92nd Street Y in New York, but it lacked the skills needed to pull it off. Instead of turning Boaty McBoatface into an opportunity to revive science education and merchandise Boaty, it shut the idea down, canceled the competition and named the ship 'Sir David Attenborough'. "There's a set of very clear skills in how you go about harnessing the crowd. And you look around the world right now, any corporation, any nonprofit, any leader who wants to come out on top needs to think a lot more carefully about how they negotiate with the crowd," says Timms. Here, he shares the four key components of successful crowdsourcing and brand building, and explains how Lego used those methods to pull itself out of near-bankruptcy and up to new heights. Henry Timms is the co-author of New Power: How Power Works in Our Hyperconnected World-and How to Make It Work for You
As an added bonus, these tiny building blocks could even be used to split water, creating a clean-burning and near infinite source of energy.
Vikas Nanda, Rutgers Robert Wood Johnson Medical School
Picture a tub full of Lego bricks. Now imagine that tub full of Lego is the basis of life on this planet. According to researchers and scientists at Rutgers University, it turns out that analogy isn't too far off. They've been "smashing" proteins and seeing what shapes these smashed proteins fall into, and they've discovered that many fall into four distinct shapes not dissimilar to Lego building blocks.In short, most of the life on this planet owes a debt to these so-called "Legos of life" - four types of simple proteins that latch onto each other to form increasingly more complex protein structures. Just like real-life Lego blocks.
These are the original building blocks of life, and have evolved over billions of years to form the (way, way, wayyyy) more complex proteins that we have today. As you can see from the illustration above, they really do resemble crude Lego building blocks.
Per the original study from the National Academy of Sciences: 
There are no physical fossils of the original proteins at the beginning of life on Earth and phylogenetic approaches that infer the nature of the ancestral proteins from sequences and/or structures of extant molecules are of limited use over long time scales (e.g., billions of years). We analyzed the structures of proteins containing transition-metal cofactors, and identified four structural modules that comprise the diverse family of oxidoreductases, molecular nanomachines that are critical for electron transfer reactions that form the energetic basis of life. These structural modules are, in effect, relict "building blocks" of life that have descended through time with only minor modifications.
But this finding isn't just cool, it's super useful. As per the LA Times, scientists are already working on a way to use these tiny blocks to split the hydrogen and oxygen molecules found in water to create a clean-burning fuel based off of hydrogen. That could, effectively, solve the world energy crisis. 
One piece of good news: these "Legos of life" are tiny, so unlike normal Lego blocks they probably wouldn't hurt if you stepped on one. 
How did Lego survive a near-total financial ruin? Why is Lyft way more popular that Uber amongst drivers? And how did Marvel gain a second wind some 60 years after it was founded?
What makes certain companies succeed and others fail? Bain & Company partner Chris Zook has the answer. The answer lays mostly in the companies ability - or inability - to figure out what it's really all about. Simplicity of core values is key. For instance, Lego was facing a crisis when it over-extended itself by getting into theme parks and clothing brand territory, but managed to save itself by scaling back to just the toys. Flexibility is also important: 20 years ago Marvel wasn't selling comic books but understood that the characters were the real draw and that they could translate easily to movies and video games. Chris Zook goes on to explain what else makes a business successful, and espouses some great lessons for companies looking to stick around longer than a VC runway. Chris's latest look is The Founder's Mentality: How to Overcome the Predictable Crises of Growth.
You know what would make LEGO even better? A base tape that lets you build against gravity.
Photo: Nimuno Loops
The creators of the Nimuno Loops tape have done some genius inventing bringing us a product that makes you wonder why no one else has come up with it before.
They have created the world's first toy block compatible tape — simple, versatile, cheap, and promising unlimited creative possibilities.
The tape has an adhesive back, and a front featuring the familiar toy block bumps that make it compatible with LEGO bricks, Mega Bloks, Kreo, and most major toy-building block systems. This means you can stick the tape to almost any surface then build your heart out on top of it. 
The creators of the tape, Anine Kirsten and Max Basler, are professional industrial designers based in South Africa who have focused most of their work on toys that engage children with the physical world and encourage creativity.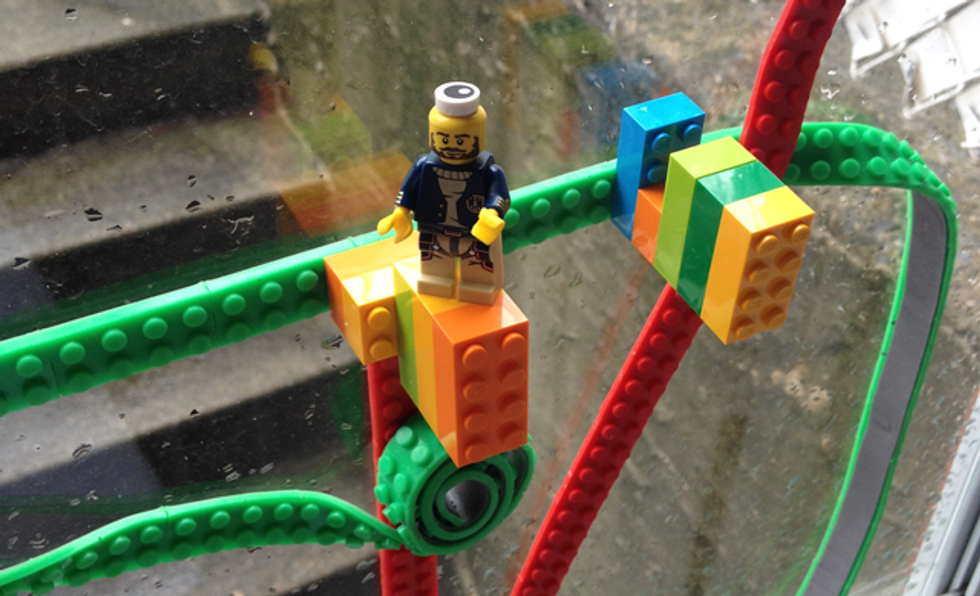 Just a few days after launching their crowdfunding campaign they surpassed the original goal of $8,000 and now stand at almost $1.5 million. Following this unexpected success, they have released more colors and sizes.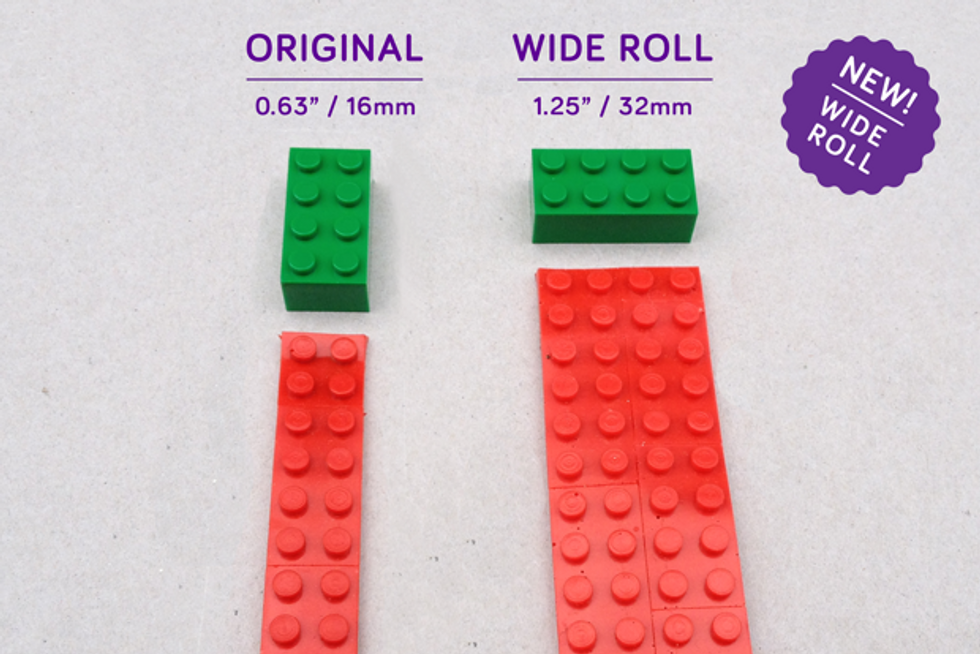 For $13, a backer can get a 6.5 ft roll of the tape. We're looking forward to seeing all the original Nimuno Loops applications.
Researchers study the rise of violence in the toys sets by LEGO, the world's largest toy manufacturer.
LEGO, the world's largest toy maker, has been making increasingly more violent toys, according to new research from New Zealand scientists at the University of Canterbury.
The toys feature a growing number of weapons and sets with violent, war-like themes.
"The LEGO company's products are not as innocent as they used to be," said the study's lead researcher Christoph Bartneck. "The violence in Lego products seems to have gone beyond just enriching game play."
Researchers proposed that even if children have other influences on their lives, like TV, computer games and online play, physical toys such as LEGO bricks are still an important presence. By analyzing Lego bricks from product catalogues over the period of 1978-2014, they concluded that the violence of products increased significantly. In fact, weapons are now part of about 30% of Lego kits and about 40% of all catalogue pages contain some form of violence.
Interestingly, while the Denmark-based LEGO has been around since 1949, the first weapons in a Lego set were included as part of a 1978 Castle theme. The study does see an influence from Lego's release of sets based on popular film properties like "Star Wars" and "Lord of the Rings". Researchers see a clear relationship between the general rise of violence in children's entertainment and what LEGO is offering.
Researchers conclude that the makers of games and movies "push the limits of what violent media is allowed to be released to prevent their audience from getting bored". Thus they make increasingly violent products. Similarly, toy manufacturers are engaged in the same type of arms race for attention-getting new products, competing not only against each other, but with TV, film and video games. The cycle continues and shows no signs of abating.
For it's part, LEGO sees their products to reflect "conflict play", which they consider a natural part of child development. Their policy actually states that "LEGO products aim to discourage pretend violence as a primary play incentive. The designs are meant to enrich play with engaging conflict scenarios where aggression might be used for the purpose of overcoming imaginary evil."
But as researchers point out, their products go way beyond such a goal and this policy sounds more like corporate speak that is meant to elude responsibility.