U.S. drivers faced a 12% greater risk of dying in a car crash on April 20 over the past 25 years. The likely explanation? High drivers.
Car crash. (Photo: Wikimedia Commons)
Every year on April 20—aka 4/20—millions of people around the world celebrate marijuana's chief holiday by, of course, getting really high. The celebrations are usually peaceful, even if they've been a pain for university officials in states like Colorado and California, where massive crowds used to openly light up on campus property when 4:20pm struck on the holiday.
But new research suggests there's a darker side to the story.
A study published in JAMA Internal Medicine shows that drivers in the U.S. faced a 12 percent greater risk of dying in a car crash on April 20 over the past 25 years. The likely explanation? Impaired drivers crashing cars.
The researchers used a quarter-century's worth of data from the U.S. Department of Transportation's Fatality Analysis Reporting System to compile the total number of fatal car crashes that occurred between 4:20pm and midnight each year on April 20. They then compared those rates to the number of fatal car crashes that occurred on two other days: one week before and one week after the holiday. These days served as a control.
The results showed that marijuana-related crashes were potentially responsible for 142 increased deaths over the 25 years, a timeframe researchers chose because it was one year after High Times published a short story on the origins of 4/20. What's more, drivers under the age of 21 were disproportionately affected on the holiday, experiencing a 38 percent increased risk of dying in a car crash. That's comparable to the fatality rates associated with Super Bowl Sunday, known as a day of heavy drinking.
"The simplest interpretation of our findings is that some drivers are impaired by cannabis use and that these drivers contribute to fatal crashes," said study author John Staples, a clinical professor at the University of British Columbia, to VICE.
Interestingly, states that had legalized marijuana showed a decreased relative risk in fatal car accidents on April 20, as the map created by the researchers shows below.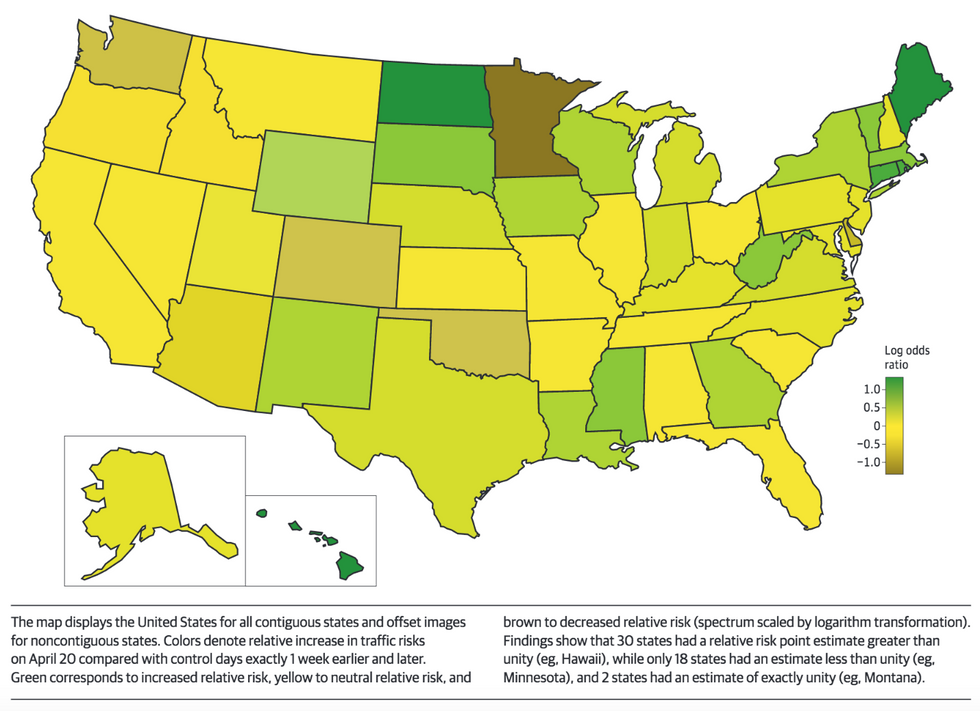 "Our study thus examines fluctuations in marijuana consumption on April 20th rather than base-rates of marijuana consumption," Staples told VICE. "It is possible that some states with high base-rates of cannabis consumption exhibit little increase in consumption on 4/20."
It's hard to know just how much smoking pot affects driving ability. One reason is that we don't have perfect data on drug-related crashes, considering that, unlike alcohol, not all municipalities are required to screen people for drugs after car crashes.
Another reason is that the exact effects of marijuana on driving ability can vary greatly by individual. Smoking pot has been shown to impair motor coordination and reaction time, but the magnitude of these effects depend on one's method of ingestion, quality of the pot, and, especially, their experience with the drug.
It's this "experience" problem that makes it difficult for law enforcement to test drivers for the drug. For instance, the concentration of THC in a smoker's system doesn't necessarily reflect their level of impairment. These level will be higher in regular smokers, who, as a result of tolerance, won't be as high.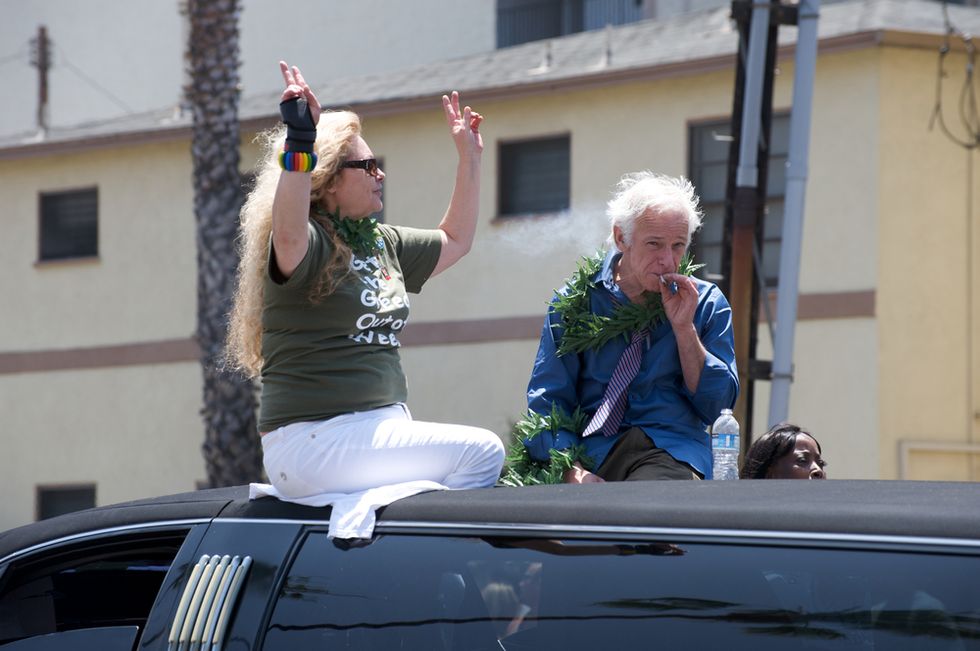 If you're going to smoke and drive, hire a limo driver. (Photo: Shutterstock)
Either way, it's safe to say that driving stoned is generally less dangerous than driving drunk, but alcohol and pot used together can substantially increase the effects of both substances, mainly because alcohol increases the absorption rate of THC while marijuana delays the effects of booze. It's a deadly recipe for drivers. Even though Department of Transportation data shows that drunk driving killed about 10,000 people in 2016, we really don't know for sure how many of those drivers were drunk and stoned.
Staples told TIME that other factors, like alcohol, have probably contributed to the spike in fatalities on April 20 since 1992. But that doesn't change the moral hiding in the numbers.
"My message to the public is: Don't drive high," Staples told VICE. "I think it's important that the regulatory and enforcement strategies around cannabis use and impaired driving prioritize public health. This means there should be a focus on injury prevention, but it also means we should consider how our policy choices affect the health of marginalized groups such as minorities and people with mental health and addiction issues."
A new study investigates if pot smokers outperformed nonsmokers in creativity.
Seth Rogan and James Franco smoking the "apex of joint engineering" in Pineapple Express, Sony Pictures, 2008
Does marijuana boost creativity, or are creative people drawn to marijuana more than others?
A new study published in the journal Consciousness and Cognition suggests the latter: The results showed that pot smokers (sober at the time) outperformed nonsmokers at one of the two tests researchers used to measure creativity, and that the difference in creativity is most likely due to personality traits rather than pot itself. The study worked like this:
Researchers used the Big 5 model of personality to measure the personality traits of 979 undergraduate students. They then asked the group to self-report their own levels of creativity, and also objectively measured creativity among the students using two separate tests.
Two kinds of creative thought processes were measured to assess participants' levels of creativity:
Divergent thinking — a thought process used to generate many possible solutions to a problem, like brainstorming. To measure divergent thinking, participants were asked to complete the Alternate Uses Test, in which they had one minute to generate as many uses for common objects as they could imagine.
Convergent thinking — a thought process that involves judging a finite number of solutions to arrive at one "correct" answer, like a multiple choice test. To measure convergent thinking, participants completed a Remote Associates Test, which "consists of three unrelated stimulus words, which are associated with a solution word." For instance, the solution word for "cottage," "Swiss," and "cake" would be "cheese."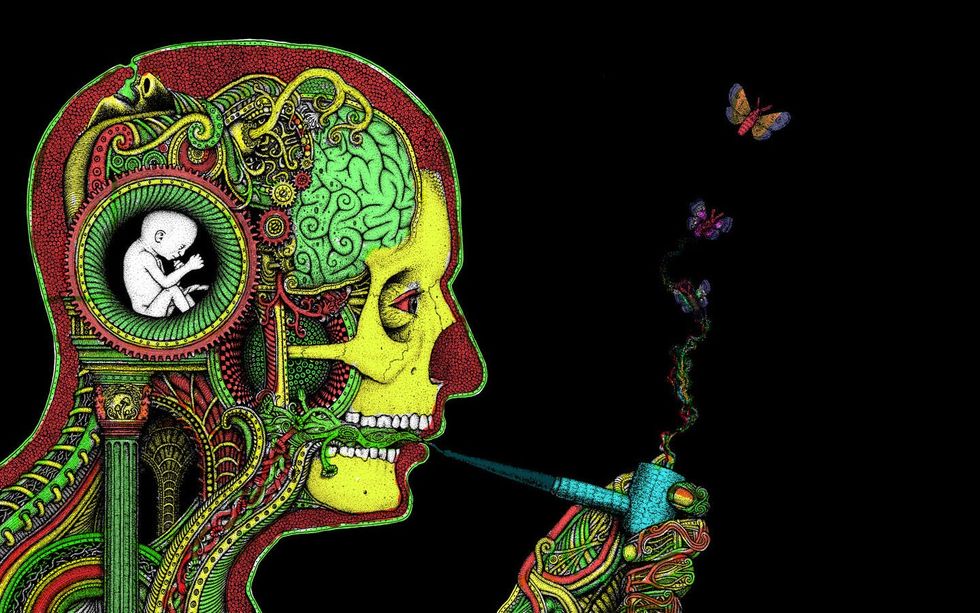 The results showed that, while there was no significant difference between the two groups on the divergent thinking test, cannabis users outperformed non-users on the Remote Associates Test that measured convergent thinking.
What's causing stoners to excel in this dimension of creativity? It's mainly a personality trait called "openness to experience." The researchers suggested:
"While mainstream media has propagated the idea that cannabis expands the mind and enhances creativity, our results show that the link between cannabis and creativity is largely a spurious correlation driven by differences in personality (i.e., openness to experience) that are related to both cannabis use and augmented creativity."
As one of the dimensions in the Big 5 model of personality, openness to experience is characterized by active imagination (fantasy), aesthetic sensitivity, attentiveness to inner feelings, preference for variety, and intellectual curiosity. People high in this trait are also more likely to be liberal, extraverted, and tolerant of diversity.
Ultimately, the results don't necessarily suggest that marijuana use has no effect on creativity.
"The answer isn't black and white," said Dr. Alice Weaver Flaherty, a neurologist at Massachusetts General Hospital and professor at Harvard Medical School who specializes in deep brain stimulation and the brain's relationship with creativity, to Artsy. "Marijuana is a stimulant. And most stimulants, in the short term anyway, boost output of all kinds."
Flaherty argues that the question of whether marijuana use boosts creativity largely depends on the personality of the artist.
"A very anxious creative person may get some benefit from cannabis. In calming them down, it could help their creativity," Flaherty said. "But for someone who's already in the zone, and who's not too anxious to work, it might push them into a place of being too laid back."
Pot in the Creative Process
Looking beyond the scientific literature and into firsthand accounts, many artists claim marijuana plays a key role in their creative process. Alanis Morisette said smoking pot was a great way to get "clarity" and new perspectives when writing songs. Steve Jobs claimed smoking pot made him feel "relaxed and creative." And comedian George Carlin deemed weed a "value-changing" drug that could open up "doors of perception," as Alexxa Gotthardt notes in her article for Artsy.
Gotthardt's article also features an interview with artist Gina Beavers, who proposed something that seems key in this debate about drugs and creativity: Getting high can sometimes be good for the idea-generation part of the creative process, not necessarily the execution of those ideas.
"If I smoke weed and then go to bed, I'll have mild hallucinatory effects as I'm drifting off to sleep and get creative ideas...A few times, I've been mulling over how to solve some issue and weed will give me ideas, but not always ones I go with. I have to wait and look at the solutions in the light of day."
Considering the plethora of mind-altering substances in the world — from Ayahuasca to Budweiser — should we think there's anything special about marijuana when it comes to creativity? Couldn't alcohol help artists be more creative, too?
Possibly. One hypothesis is that, because drugs can lower our inhibitions, they help to silence the self-editor that tends to harshly criticize what we create, allowing us to overcome writer's block or simply the fear of creation.
Jason White, a Nashville-based singer-songwriter who likes to compose songs while drinking a glass of bourbon on his front porch, summed it up like this:
"I'm drinking to stop the noise in my head so I can express what I'm feeling in my heart."
There's an interesting caveat to White's career: Although he was more of a whiskey drinker than a pot smoker, his biggest success in songwriting was influenced by marijuana and not alcohol, as Adam Wernick and Michael May wrote for PRI:
"Years ago, a friend left a marijuana bud on his coffee table. White wasn't a pot smoker, but he popped it into a corncob pipe, lit it up, and in forty minutes wrote a song called Red Ragtop. The song became a huge hit for country singer Tim McGraw."
For some more info, watch this:
Soldiers with the U.S. Army march in the annual Veteran's Day Parade along Fifth Avenue on November 11, 2014 in New York City. (Photo by Spencer Platt/Getty Images)
About 7–8 percent of the nation's population will have PTSD at some point in their lifetime.
Military veterans nationwide want those diagnosed with PTSD to be able to get a VA doctor's recommendation for medical marijuana.
Experts say that more studies are needed to prop up the claims that marijuana effectively treats PTSD
PTSD develops after a person experiences, or is a witness to, a life-threatening or traumatic event — a natural disaster, for example — or is exposed to combat, or sexual or physical abuse. Symptoms can include and range from anxiety, insomnia and hypervigilance, to struggling with disturbing memories, or managing emotions and behaviors.
In a YouTube video, titled, U.S. Vets with PTSD Smoke Weed, military veterans, seated next to one another detail the pain of living with PTSD. The clip has already attracted nearly two million views. Off camera, a man asks the group about PTSD.
With his eyes downcast, one man, wearing an Army t-shirt, weighs in first, "The anxiety is there, and I've come to peace after this many years of dealing with therapy, that it's never going to completely go away," he said. Dan, seated in the middle, offers, "I just kinda check out sometimes," his hands folded, resting on the table. "Posttraumatic stress disorder, is, a fucking thorn in my side," veteran number three finally sums up his experience.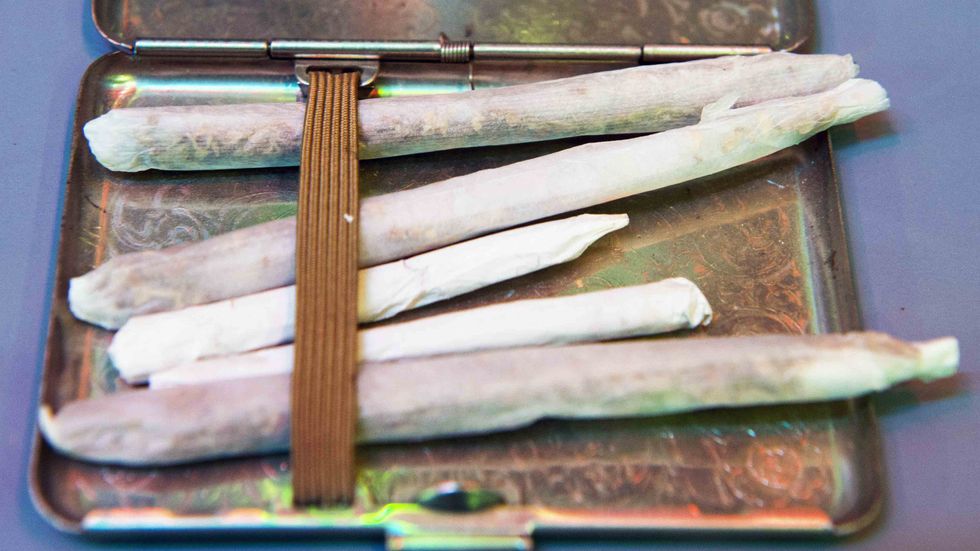 Marijuana cigarettes are on display at the Drug Enforcement Agency Museum (DEA) in Arlington, Virginia. (PAUL J. RICHARDS/AFP/Getty Images)
One sunny afternoon, a year after Air Force veteran Colleen Bushnell told military authorities that she had been sexually assaulted, allegedly by a fellow service member, Bushnell was in southern California to visit a friend. Clouds plucked from a marshmallow bag hung low from the cerulean sky, while the ocean's waves crashed along the shore. The fresh air, cool breeze and the bed of Bushnell's friend beckoned her weary body and mind; it was time to relax.
In 2004, Bushnell, was diagnosed with Posttraumatic Stress Disorder stemming from the attack. A dizzying array of treatments are available for people, diagnosed with PTSD, from cognitive and behavioral therapies to prescription drug treatments, and holistic or alternative remedies, including medical marijuana.
When Bushnell arrived at her friend's California home, she hadn't slept in more than two days. Her friend, who was also a military veteran, had been severely injured in Afghanistan, and suggested Bushnell use edible cannabis. "I had never used marijuana. I'm very much against using illegal substances," recalled Bushnell. "I'm a mother and want to set a good example, but for the first time in years, I could sleep and for a moment, there was no [emotional] pain."
There is now a clear majority of states that have comprehensive medical marijuana laws on the books - 28 states, plus the District of Columbia, according to Tom Angell, the founder of Marijuana Majority, a 501c3 public education non-profit, medical marijuana advocacy organization. He says, in many of those states, PTSD is a qualifier to legally obtain medical marijuana, but military veterans diagnosed with PTSD, and whose medical care is provided by the Department of Veterans Affairs (VA), face unique challenges.
"The VA's policies on medical marijuana are still quite outdated," said Angell. "Doctors at the VA are not able to make recommendations to use medical marijuana. They're not allowed to fill out recommendation forms that would allow veterans to use medical marijuana legally under state law," added Angell.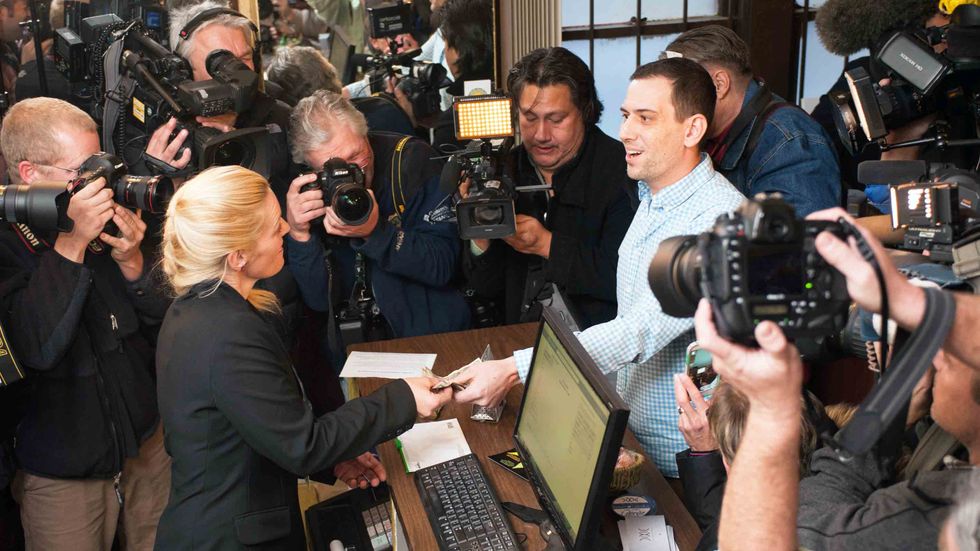 Sean Azzariti, a veteran of the Iraq war, makes the first legal recreational marijuana purchase in Colorado from advocate Betty Aldworth at the 3-D Denver Discrete Dispensary on January 1, 2014 in Denver, Colorado. (Photo by Theo Stroomer/Getty Images)
The last thing TJ Thompson remembered before waking in a hospital emergency room was approaching the ship he did not want to board. One afternoon, in 2001, following an appointment with his psychiatrist, the Navy sailor was set to return to duty, but as he drove closer to the naval station, his thoughts betrayed him. "I tried to swallow all my pills that I had on the ship and slit my wrists a bunch of times." Thompson said from his home, near Virginia Beach, Virginia. At the time of his suicide attempt, he was taking daily doses of Zoloft and Gabapentin, for depression and anxiety.
By 2011, Thompson's medical providers at the VA medical center where he sought mental health treatment had prescribed a half-dozen other medications: Trazadone, Aripriprazole (Abilify), Loreazapam (Ativan), Citalopram (Celexa), Risperidone (Risperdal) and Divalproex (Depakote). Almost ten years after his first suicide attempt, Thompson tried to take his life again.
While recovering from his second attempt at suicide, clinicians recommended yet another cocktail of prescription drugs, but Thompson found relief elsewhere. "I had some friends, in the restaurant industry, say, look, you need to get off these pills, and this is how you're going to do it," said Thompson. He now uses marijuana multiple times a day.
"My preferred method, [the] way I use it the most, is just smoking it out of a bong," Thompson said. "For me, on an average day with not a lot of stressors involved, probably every two-and-a-half to three hours," he continued. "I might just take a couple of hits off of a bong --- It's probably maybe between a quarter and a half a gram of marijuana."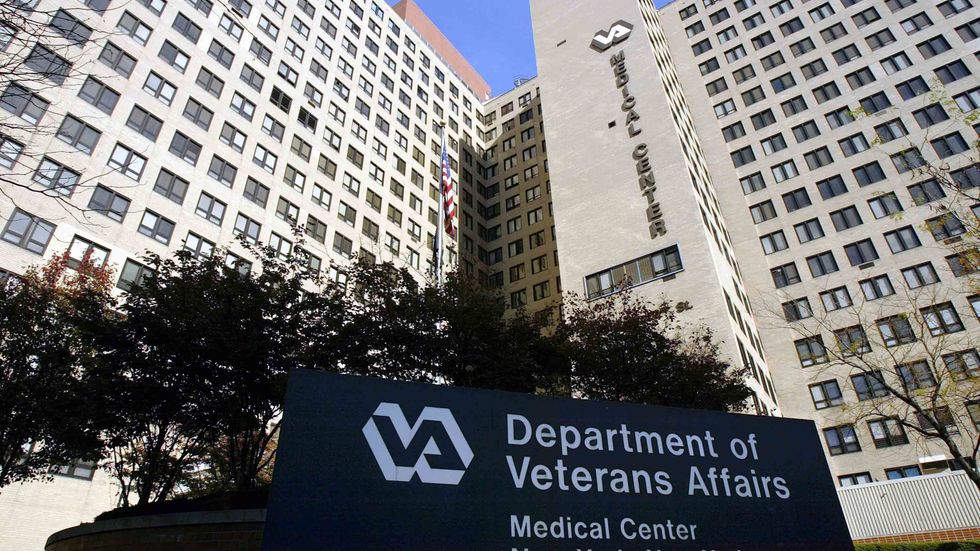 The exterior of the Veterans Affairs Hospital is seen in New York City. (Photo by Spencer Platt/Getty Images)
Dr. Paula Schnurr, the Executive Director of the VA National Center for Posttraumatic Stress Disorder estimates of the nearly twenty-million veterans nationwide, "close to six million" receive their healthcare at VA run medical centers, and approximately 10% of that population are being treated for PTSD. Researchers at the organization have not examined the "overall Veteran population," but among those using VA medical centers, and diagnosed with PTSD, each year cannabis use is steadily rising.
Despite the growing popularity and marketing of medical marijuana, Dr. Schnurr says the science hasn't caught up with the claims of its supporters. "I'm extremely surprised that people think that the research is there," said Dr. Schnurr. "It has been very challenging to do this kind of research on marijuana for any condition, and not just PTSD."
She suggests more studies are needed to prop up the claims that marijuana effectively treats PTSD. "What we need in order to say a drug works or a type of psychotherapy works is multiple well-done studies in which people are randomized to treatment, and there's an appropriate control," she said. "In drug studies, you need placebo control, and the idea is that in the drug studies that the patients and the clinicians don't know whether a person is getting drug or placebo. So already for marijuana, it's challenging to do that work, because of the euphoric effects of most preparations," added Schnurr.
This summer, Colleen Bushnell, the military sexual assault survivor, who still seeks treatment to address the emotional wounds from the sexual assault, and her fiancée moved from Texas, to Buckeye, Arizona. They wanted to settle in a state where local medical marijuana laws were in their favor. The nation's Drug Enforcement Administration (DEA) considers marijuana a Schedule I drug; it is illegal, even for medical use. "It bothers me, that [I'm] still violating federal law," said Bushnell.
TJ Thompson is advocating for changing the law. "My kids were able to see that progress. They saw me go from being locked in the bedroom all the time, not being able to talk to them without yelling at them," said Thompson, who is now a culinary chef, "to being successful in my education path, being able to work with people, being able to go and stand in front of the Senate press gallery."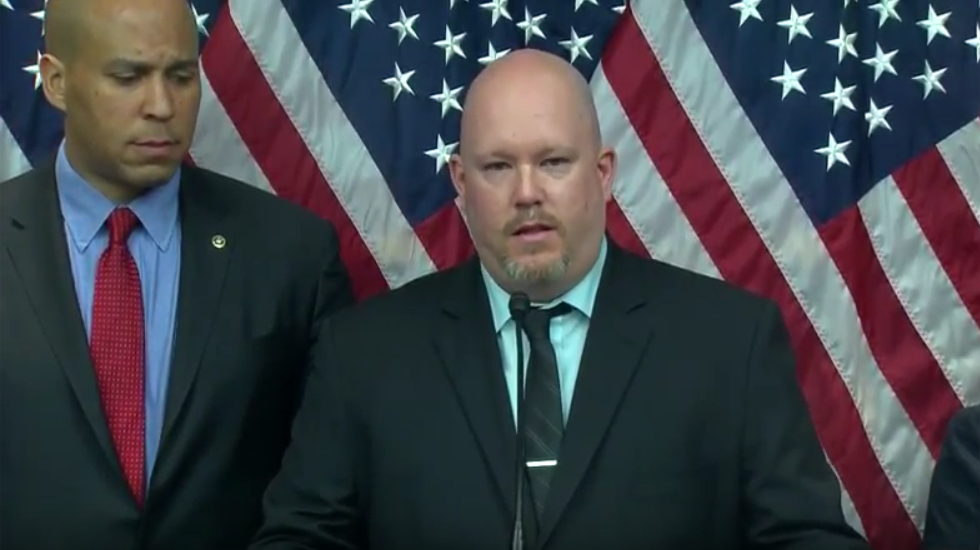 T.J. Thompson, military veteran and advocate for medical cannabis speaks during a press conference with Senator Cory Booker, D-NJ, to support a new medical marijuana bill at the US Capitol on March 10, 2014 in Washington, DC. The Compassionate Access, Research Expansion and Respect States (CARERS) Act would reclassify marijuana from a Schedule I to Schedule II drug and would amend federal law to allow states to set their own medical marijuana policies.
Despite more than a decade of honorable service in the military, every time he seeks escape from the symptoms surrounding his PTSD and utilizes marijuana, Thompson is considered a criminal. For his children's sake, it's a label that carries a heavy burden. "They've seen my healing path, so they understand, and they understand that [for me] it is a medicine."
The DEA announced plans to begin allowing researchers to use marijuana grown outside its facility in Mississippi. Medical marijuana advocates saw it as a step forward, but the federal agency still fell short of supporting a proposal that would remove cannabis from a list of its most dangerous category of narcotics.
"If it treats anxiety and it gives me a moment of peace, I'm all for it," says the veteran, in the U.S. Vets with PTSD Smoke Weed video. Moments later, after a bong is presented to the three men sitting at the table, one of the veterans grabs a lighter, lights the green glass bong, and then inhales. A cough follows, as the bong is passed to another man in the group. A graphic appears, "5 minutes later," and the veteran who initially described his life with PTSD as a "thorn in my side," folds his arms and succinctly details his current state of mind, "I'm happy."
--
Christina Brown Fisher is an independent multimedia journalist, based in New York City. She is an U.S. Air Force Veteran. Christina is also a Traumatic Brain Injury (TBI) survivor, and has been diagnosed with Posttraumatic Stress Disorder.
Trump's impending presidency has left marijuana advocates with fingers crossed on one hand, with the other ready to flush the toilet at a moment's notice.
The 28 states (and Washington DC) who have legalized medicinal marijuana, as of November 2016. Seven states now allow recreational marijuana use.
In the wake of the election results numerous ballot measures went mostly unnoticed as an onslaught of dismay and joy erupted across the nation. Here in California we decided to not abolish the death penalty (but to reform the system), hike taxes on tobacco products, ban single-use plastic and paper bags, and quadruple the number of Americans that have access to marijuana.
That last statistic is not owed to California alone, as Massachusetts, Maine, and Nevada joined in for recreational usage, while citizens in Arkansas, Florida, Montana, and North Dakota legalized medical marijuana. Only Arizona failed to pass legislation this time around. As predicted, states in this longstanding fight for reform are falling like dominoes. Will a Trump-led federal government intervene?
Since California first legalized medical marijuana in 1996 the feds have essentially turned a blind eye to what states are doing. While there have been federal raids on grow houses, farms, and businesses, for the most part public will is winning. Will that change when anti-marijuana crusaders like Chris Christie and Rudy Giuliani are awarded cabinet positions? Or by a vice president who only three years ago refused to lower penalties for possession in Indiana?
Despite overwhelming evidence to the contrary, marijuana is still listed as a Schedule I substance, meaning it has no medical value. As long as this status remains marijuana reform advocates will have a hard time pegging down the federal government's position—and businesses will always be vulnerable to sudden prosecution. This conundrum is further muddied by the fact that states are collecting tremendous tax revenues from the industry while federal restrictions do not allow marijuana companies to use banks.
One of the perceived dangers of marijuana legalization is crime, which actually increases when companies have to operate as cash-only businesses. At the moment the only industry wholly profiting is security. John Hudak writes:
A cash-only system creates a seriously risky business environment and offers bad actors opportunities for money laundering. Those risks are held in place by a government that refuses to implement a policy fix.
Not only is it illegal for banks to do business with marijuana companies, Section 280E of the Internal Revenue Code states that anyone earning income from Schedule 1 or II substances is not entitled to tax deductions even as they are required to file annual returns. Hudak states that some young businesses are experiencing tax burdens that exceed 100 percent of revenue, which is obviously unsustainable.
Just as marijuana reform has taken place under the radar of federal law, another emerging trend is offering a potential solution: bitcoin. Trees, a San Francisco bitcoin startup, projects that the marijuana industry will be worth $30 billion in just three years. It's obscene to speculate that mainstream banks would not want a part of that, but given the bipolar relationship the federal government has created with states more innovative measures are proving necessary.
Bitcoin is generally regarded as a risky investment, though as more users worldwide trade in it the value stabilizes. The currency has seen less fluctuation each year thanks to businesses and individuals willing to take a chance. Bitcoin companies see potential in the rapidly growing marijuana industry. Oakland "cannabis industry accelerator" Gateway offers startups four-month mentoring sessions and upfront investment for six percent equity, while bitcoin debit cards and ATMs are gaining in popularity despite high fees. At this uncertain time alternative currencies are strangely providing the most stability.
In 2015 Trump said at a Nevada rally that states should have the final say in marijuana reform. He later told Bill O'Reilly that he "100 percent" supports medical marijuana while hedging on the question of recreational use due to "problems." Christie has adamantly expressed his disdain for marijuana yet did not turn back New Jersey's medical laws; in fact, he recently signed an assembly bill expanding PTSD patients' rights.
Take nothing for granted with this administration. The 65 million Americans who have state-sanctioned access to marijuana face a difficult battle with politicians known to hold personal grudges: Trump and journalists; Christie and Bridgegate. Last week's celebration is tenuous, as has been the entire process of marijuana reform in America. For now we'll keep fingers crossed on one hand with the other ready to flush the toilet at a moment's notice.
--
Derek Beres is working on his new book, Whole Motion: Training Your Brain and Body For Optimal Health (Carrel/Skyhorse, Spring 2017). He is based in Los Angeles. Stay in touch on Facebook and Twitter.