Blame our ancestors for why it's easier to be a couch potato.
Pixabay.com
A new study shows that the brain prefers to expend as little energy as possible.
Putting forth less effort had advantages for our ancestors.
Being inactive is not beneficial in modern life and needs addressing.
Why is it often so hard to get off the couch and go to the gym? While you can certainly point to your lack of will power for the inaction, you can also blame evolution for this predicament. Your brain prefers to minimize effort because that's how it's been trained to do it for millennia.
Scientists from the University of Geneva (UNIGE) and the University Hospitals of Geneva (HUG) in Switzerland came to this conclusion after studying the neuron activity of people who had the choice of either engaging in physical activity or doing nothing. The researchers found that it takes much more effort for the brain to escape its general tendency to put forth less effort.
This battle in the mind comes courtesy of our ancestors who aimed to do less to increase the likelihood they would survive. Expending unnecessary energy would have made them more vulnerable to predators or environmental factors. Conserving energy was helpful when competing against rivals, fighting, hunting for prey, and searching for food. Living in modern societies does not require this approach, and yet the predilection of our brains to work less persists.
To gain a better understanding, the scientists based their hypothesis on "the physical activity paradox." You've experienced it if you've ever done something like buying a membership to a gym that you attend with less frequency each passing week. This happens when the conflict between your reason-based knowledge (going to the gym is good for my health) runs into the automatic system based on affect, which is, in this case, all the hurt and tiredness you expect to get out of the physical activity. The result is often paralysis—you remain sedentary.
To delve deeper into what is taking place at the neuronal level, the researchers studied the brain activity of 29 people who desired to be more active in their everyday lives but had a hard time doing so. The subjects were made to choose between physical activity or inactivity as the researchers observed their brains using an electroencephalograph (EEG) with 64 electrodes.
The research team was headed by Boris Cheval from the Faculty of Medicine at UNIGE and HUG and Matthieu Boisgontier from Leuven University, Belgium, and the University of British Columbia, Canada.
Cheval explained how the experiment, where subjects controlled an online avatar, was carried out:
We made participants play the "manikin task," which involved steering a dummy towards images representing a physical activity and subsequently moving it away from images portraying sedentary behaviour [...] They were then asked to perform the reverse action.
The scientists looked at how long it took the participants to get near the sedentary image versus avoiding it and found that it took the subjects 32 milliseconds less to move away from the less active image. Cheval called this result "considerable for a task like this." While such an outcome didn't correspond to their theory of the physical activity paradox at first glance, it actually ended up confirming it.
This animation shows the experiment the participants were asked to perform, moving the avatar closer or farther from the image shown.
Credit: UBC Media Relations
It turned out that the reason for why the participants moved their avatar away from images of physical inactivity and towards active pictures more quickly is because avoiding lazy images forced their brains to work harder. That's due to the fact that the participants wanted to engage in physical activity even if they weren't doing so. Choosing more active images was actually easier to do. As such, the EEG scans suggested that their brains were essentially hardwired towards laziness.
Matthieu Boisgontier explained why evolution preferred the easy way out:
Conserving energy has been essential for humans' survival, as it allowed us to be more efficient in searching for food and shelter, competing for sexual partners, and avoiding predators. [...] The failure of public policies to counteract the pandemic of physical inactivity may be due to brain processes that have been developed and reinforced across evolution.
He thinks one big takeaway from the study is that the brain has to work hard to avoid physical activity. The team's research will next focus on whether the brain can be re-trained.
Check out the new study, published in the journal Neuropsychologia, here.
A Duke University study that found over 40 percent of our actions aren't actually decisions, but habits. Here's how to build good ones.
Chocolate—the key to working out, says NY Times journalist Charles Duhigg. While I'm apt to reply, yes, chocolate is the key to most everything, Duhigg is specifically addressing a way to "trick your brain" into getting fitter. For those lacking the motivation to hit the trail or get into the gym, chocolate just might be the answer. 
Kale chips, he goes on, are not the way to develop an exercise habit. He says people get it wrong—you shouldn't punish yourself by following up a workout with something you don't enjoy but think is good for you. (Let's pause to remember all kale chips are not created equal. Some are truly terrible, though.) 
You need an intrinsic reward, a treat that is meaningful and pleasurable. As Duhigg states,
Studies say that the best way to start an exercise habit is to give yourself a reward that you genuinely enjoy.
In his book, The Power of Habit, Duhigg writes that habits are a three-step process: a cue, routine, and reward. He cites a 2006 study at Duke University that found over 40 percent of our actions aren't actually decisions, but habits. We think we're putting a novel idea into action when really we're on autopilot. 
Unless you deliberately fight a habit, the habit will automatically unfold. You reach for a cigarette, you pull the phone from your pocket while in line, you don't go to the gym in the morning. You need to introduce a new cue in order to change the routine. But if the reward isn't there, or isn't actually pleasurable, you'll fall back on old patterns. 
Having worked at Equinox since 2004 (and having been going to gyms since the late eighties, when my father ran his company's exercise facilities on the side), I've heard innumerable excuses about why don't people work out. 
Not enough time is first uttered. Strangely, though, many of my students are extremely busy at their jobs. It's not a matter of having time, but of budgeting it properly to ensure they're functioning optimally in body and brain. Carving that time into your day has beneficial effects on the other parts when you are swamped with duties. 
The second is not enough money to join a gym. While some are not cheap, plenty of gyms run between $10 and $40 a month. But forget the gym for a moment. All you really need is about ten feet of space. Given the number of free workouts on Youtube and Instagram, there is no dearth in available content. 
Time and money aren't the real problem. Habits are. As Duhigg says, the brain of the uninspired has not developed the proper neurological connections between routine and reward. It could be a missing cue: leaving your sneakers next to your bed so you see them first thing in the morning is well-circulated advice, in the same way that removing the office candy dish from the table curbs compulsive snacking. Cues are necessary catalysts for routines. 
Whatever cues you choose—post-it notes, sneakers at the door, earlier settings on the alarm clock—the following three pieces of advice are the most effective catalysts I've witnessed:
Schedule your workouts. Putting your sessions into your calendar makes fitness part of your day. Treating your workout like everything else in life, from your job to taking care of your children, instills a mindset that this is not a hobby. We recognize that we live in a sedentary culture, yet there has never been so many opportunities to explore such a wide range of exercise options. Devoting that hour a day a few days a week will make a big impact in the rest of your hours. Scheduling it in makes it real in your mind. 
Commit to daily exercise. This past weekend two different men stopped me after class to tell me they needed to commit to practicing more yoga. Both get in a class a week. But a little every day is better than one weekly session. Even ten minutes on busy days can be enough. Diversifying your workouts, between cardio, weight and bodyweight training, yoga, and meditation is a solid approach, but to begin, just get moving, daily. That said, don't overload during your first month. Too many people hit it hard only to get injured and lose focus. This is a long game strategy we're discussing, not a quick hit of dopamine. 
Find movements you enjoy. One of the biggest reasons people stop working out is because they don't enjoy it. Such a routine will never stick. Just as the reward needs to provide pleasure, so does the routine. If you're not deriving pleasure during exercise—if you think it's because you should be doing it instead of want to be doing it—there's no chance it will last. Fortunately there are thousands of ways to move your body. Taking a running class when you have weak knees or lifting heavy weights when you have a shoulder injury makes no sense. What about ping-pong? Swimming? Hiking? Most every form movement is beneficial, provided you're being safe and focusing on form. 
In The Power of Habit, Duhigg writes, 
Only when your brain starts expecting a reward—craving the endorphins or sense of accomplishment—will it become automatic to lace up your jogging shoes each morning. The cue, in addition to triggering a routine, must also trigger a craving for the reward to come.
Hence, chocolate. Yet Duhigg is not repeated that tired trope exercising allows you to be gluttonous. The need for the chocolate wears off in a week and a half (or so) as your brain links the reward to the routine itself. Your brain—you, forgive the metaphysical verbiage—trick yourself into action by giving it a little boost. Then, he says, 
After a week and a half your brain will learn that it enjoys the intrinsic reward of exercise. 
Not to say a little chocolate is a bad thing. Let's be real. Life without exercise or chocolate is not an optimal life. Fortunately we can have it both ways. 
--
Derek is the author of Whole Motion: Training Your Brain and Body For Optimal Health. Based in Los Angeles he is working on a new book about spiritual consumerism. Stay in touch on Facebook and Twitter.
Do you get antsy when there's nothing to do?
Lazy persons of the world, rejoice! You might be brighter than average! A recent study that compared the "need for cognition" and physical activity levels in an individual showed that persons who enjoyed thinking more were less active than those who found thinking to be a burden or dull.
The need for cognition, or NFC, is measured by a simple test that has been in use for decades. Subjects are tested by agreeing or disagreeing with questions such as "I only think as hard as I have to" or "I really enjoy a task that involves coming up with new solutions to problems". People with a high need for cognition will respond in ways affirming that they enjoy thinking. Those with a low score, not so much.
The study took 30 people who had a high or low NFC and measured their daily levels of physical activity. The results showed that those with a higher NFC were significantly less active than those with low NFC, though this difference was less pronounced on weekends when all subjects were more active.
The authors of the study, including Todd McElory of Florida Gulf Coast University, point out that persons with a lower need for cognition also have demonstrated a lower tolerance for boredom in previous studies. This suggests that those persons may look to physical activity as a means for stimulation. Persons with higher need for cognition would not require this distraction as they demonstrated an enjoyment of thinking.
The study only concerned 60 persons who were all college students over the course of a single week, and the results might be more applicable to young adults than to adults in general. The authors of the study noted this when discussing the spike in activity by all subjects on the weekends. So more research is certainly needed before all couch potatoes can claim to be philosophers.
Interestingly, this study found that persons with above-average intelligence tend to be thinner than average, however the findings were purely correlative rather than causal. Like everyone, intelligent people come in all shapes and sizes, no matter their laziness, an important thing to remember considering the health risks of a sedentary lifestyle are considerable and difficult to counter.
So there you have it; the findings are murky but the takeaway is not without value: if you have a high need for cognition you might need to spend a little more time moving. Or at least think about it.
New psychology study finds people of higher intelligence to be much less physical than non-thinkers. You can take the utilized Need for Cognition Test yourself here to see if you're a thinker.
A visualization of thoughts inside the brain
The more intelligent don't get bored easily as they can engage themselves in their inner worlds. The less intelligent, on the other hand, use physical activity as a way to beat the boredom.
The way researchers came to such realizations involved the Need for Cognition Test. Created in 1984, the psychology test measures "the tendency for an individual to engage in and enjoy thinking".
The scientists recruited 60 students, who were given the test. After pouring over the results, researchers broke the students into two groups of "thinkers" (high scorers) and "non-thinkers" (low scorers). All the participants were given a fitness tracker to wear on their wrists for a week to see how physically active they would be in their daily lives.
The thinkers were much less active during the business days of Monday through Friday than the non-thinkers. On the weekend, however, there was curiously no difference between the groups.
"It is important to note that part of the 'weekend effect' in our study may be due to our sample population, which consisted of college students," explained the researchers, led by Psychology Professor Todd McElroy.
Certainly, there are health risks associated with a sedentary lifestyle so be sure to exercise no matter how brainy you might be.
While the results of this research by the Florida scientists are undoubtedly interesting, there is clearly a need for further study with a larger sample group.
"Ultimately, an important factor that may help more thoughtful individuals combat their lower average activity levels is awareness," the researchers pointed out. "Awareness of their tendency to be less active, coupled with an awareness of the cost associated with inactivity, more thoughtful people may then choose to become more active throughout the day."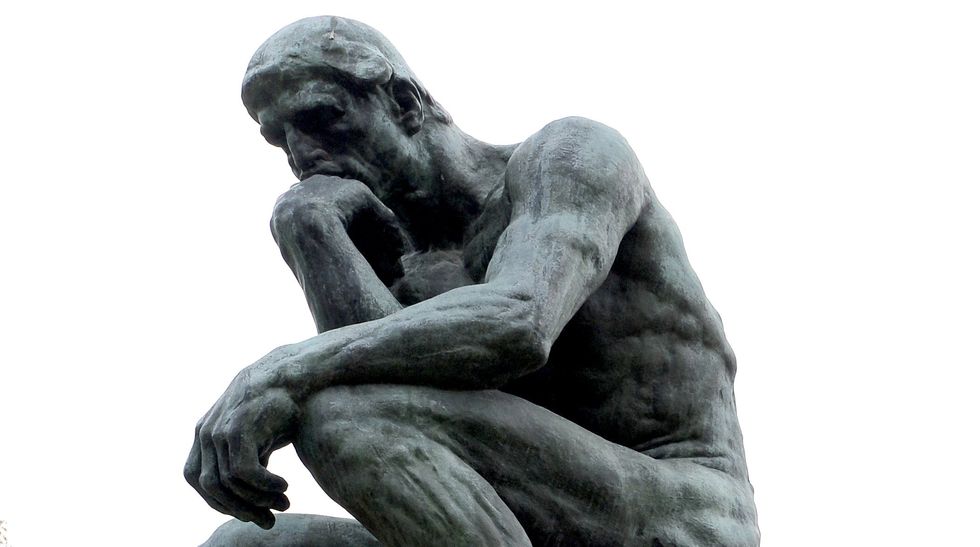 If you're curious about how the Need for Cognition Test works, here's more.
The 18-statement test can produce either high or low scores. As per notes from the researchers, here's how they interpret the results:
High scorers indicate that they readily engage in thinking about topics as they are presented, enjoy the thinking process, and are motivated to apply their thinking skills with little prompting. Such people are likely to be able to process and systematize information, sorting out the irrelevant from the important (Cacioppo & Petty, 1982, 1984). In an educational context, these personality traits and learned skills—particularly the ability to process information efficiently—can be linked with greater academic achievement (summarized in Sadowski & Gulgoz, 1996). Furthermore, as Sadowski and Cogburn have shown (1997), individuals who have high scores on the Need for Cognition Scale tend to be more conscientious and more open to experiences than are individuals who have a low need for cognition.
If you'd like to find out whether you're a thinker or non-thinker, here's your chance. Take the "Need for Cognition Test" now.
Here's how it works:
Describe the extent to which you agree with each of the following statements using this 9-point scale -
+4 = very strong agreement
+3 = strong agreement
+2 = moderate agreement
+1 = slight agreement
0 = neither agreement nor disagreement
-1 = slight disagreement
-2 = moderate disagreement
-3 = strong disagreement
-4 = very strong disagreement
1. I would prefer complex to simple problems.
2. I like to have the responsibility of handling a situation that requires a lot of thinking.
3. Thinking is not my idea of fun.
4. I would rather do something that requires little thought than something that is sure to challenge my thinking abilities.
5. I try to anticipate and avoid situations where there is likely a chance I will have to think in depth about something.
6. I find satisfaction in deliberating hard and for long hours.
7. I only think as hard as I have to.
8. I prefer to think about small, daily projects to long-term ones.
9. I like tasks that require little thought once I've learned them.
10. The idea of relying on thought to make my way to the top appeals to me.
11. I really enjoy a task that involves coming up with new solutions to problems.
12. Learning new ways to think doesn't excite me very much.
13. I prefer my life to be filled with puzzles that I must solve.
14. The notion of thinking abstractly is appealing to me.
15. I would prefer a task that is intellectual, difficult, and important to one that is somewhat important but does not require much thought.
16. I feel relief rather than satisfaction after completing a task that required a lot of mental effort.
17. It's enough for me that something gets the job done; I don't care how or why it works.
18. I usually end up deliberating about issues even when they do not affect me personally.
Out of the 18 statements on the Need for Cognition Scale, 9 are reverse scored (3, 4, 5, 7, 8, 9, 12, 16, and 17). The final score for each individual is a tally of the individual's points from each of the 18 questions. For example, if an individual very strongly agrees with "I like to have the responsibility of handling a situation that requires a lot of thinking," the individual is given 4 points since this item is scored positively. If the same individual very strongly disagrees with "Thinking is not my idea of fun," he or she is given an additional 4 points since this item is scored negatively (i.e., reverse scored). Using the 9-point scale, the highest possible score on the Need for Cognition Scale is 72 (18 items multiplied by 4 points each) and the lowest possible score is -72.
Credit: Wabash College