How to deal with "epistemic exhaustion."
Photo by Filip Mishevski on Unsplash
An endless flow of information is coming at us constantly: It might be an article a friend shared on Facebook with a sensational headline or wrong information about the spread of the coronavirus.
It could even be a call from a relative wanting to talk about a political issue.
All this information may leave many of us feeling as though we have no energy to engage.
As a philosopher who studies knowledge-sharing practices, I call this experience "epistemic exhaustion." The term "epistemic" comes from the Greek word episteme, often translated as "knowledge." So epistemic exhaustion is more of a knowledge-related exhaustion.
It is not knowledge itself that tires out many of us. Rather, it is the process of trying to gain or share knowledge under challenging circumstances.
Currently, there are at least three common sources that, from my perspective, are leading to such exhaustion. But there are also ways to deal with them.
The truth is a messy business, but an information revolution is coming. Danny Hillis and Peter Hopkins discuss knowledge, fake news and disruption at NeueHouse in Manhattan.
In 2005, Danny Hillis co-founded Freebase, an open-source knowledge database that was acquired by Google in 2010. Freebase formed the foundation of Google's famous Knowledge Graph, which enhances its search engine results and powers Google Assistant and Google Home.
Hillis is now building The Underlay, a new knowledge database and future search engine app that is meant to serve the common good rather than private enterprise. He calls it his "penance for having sold the other one to Google."
Powerful collections of machine-readable knowledge are becoming exceedingly important, but most are privatized and serve commercial goals.
Decentralizing knowledge and making information provenance transparent will be a revolution in the so-called "post-truth age". The Underlay is being developed at MIT by Danny Hillis, SJ Klein, Travis Rich.
Recent books that are sure to add to your intelligence.
A women reads a book under the sun in the Luxembourg gardens in Paris. (Photo credit: MIGUEL MEDINA/AFP/Getty Images)
Summer is a season for relaxation and folly but can also be a time to sharpen your brain against some stimulating literature. These books may not be everyone's idea of beach reading but they are sure to spark up your intelligence. While the list of the smartest books ever would likely be a Sisyphean and ultimately fruitless undertaking, here are some recently released choices.
1. "The Order of Time" by the Italian theoretical physicist Carl Rovelli is an exploration of time that has been called "dizzying" by the Guardian. This compact read from Rovelli, one of the founders of loop quantum gravity theory, "uses literary, poetical and historical devices to unravel the properties of time, what it means to exist without time and, at the end, how time began," writes Scientific American.
2. Director David Lynch's "Room to Dream" is biography and memoir at once by one the most wonderfully weird of all filmmakers. The book includes Lynch's reflections that the New York Times called "impressionistic and free-associative" as well as "impressively industrious and comprehensive" biographical portions written by the collaborator Kristine McKenna. Also in the book are over a hundred new interviews with ex-wives, family members and colleagues across various fields. If you're a Lynch fan, this is book is a must-read.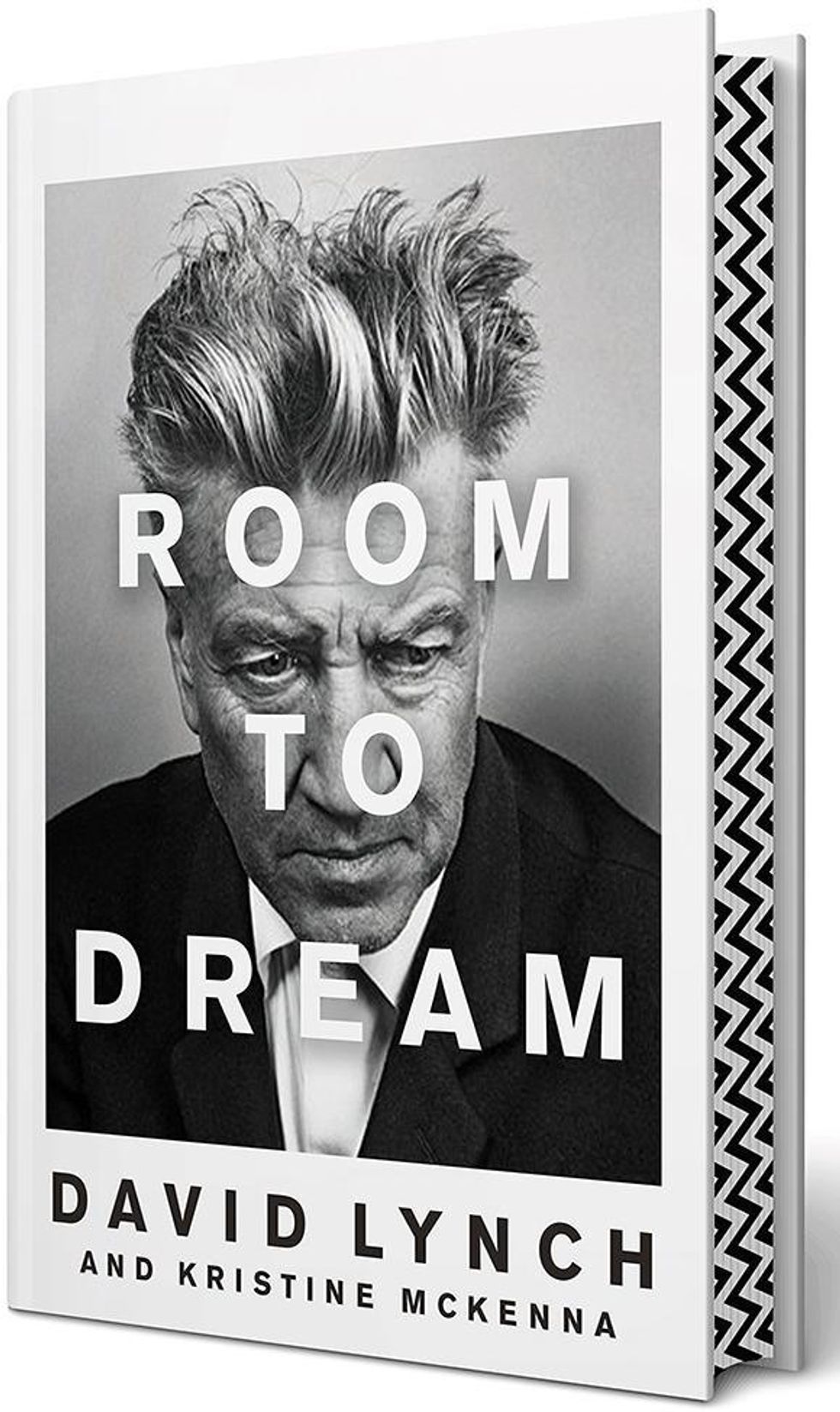 3. "The Rise and Fall of the Dinosaurs: A New History of a Lost World" by Steve Brusatte is a new take on 200 million years of dinosaur history, from their origins to dominance in the Jurassic age and the subsequent demise. The book, called "first-rate science writing for the general public" by Publisher's Weekly, features over 70 original illustrations and photos and comes from one of foremost modern paleontologists, Steve Brusatte.
4. "Leonardo Da Vinci" by Walter Isaacson is recommended by none other than Bill Gates who called the Renaissance artist and inventor "one of the most fascinating people ever." Gates found the book's meticulous research into Da Vinci's life remarkable, writing that "Isaacson does the best job I've seen of pulling together the different strands of Leonardo's life and explaining what made him so exceptional."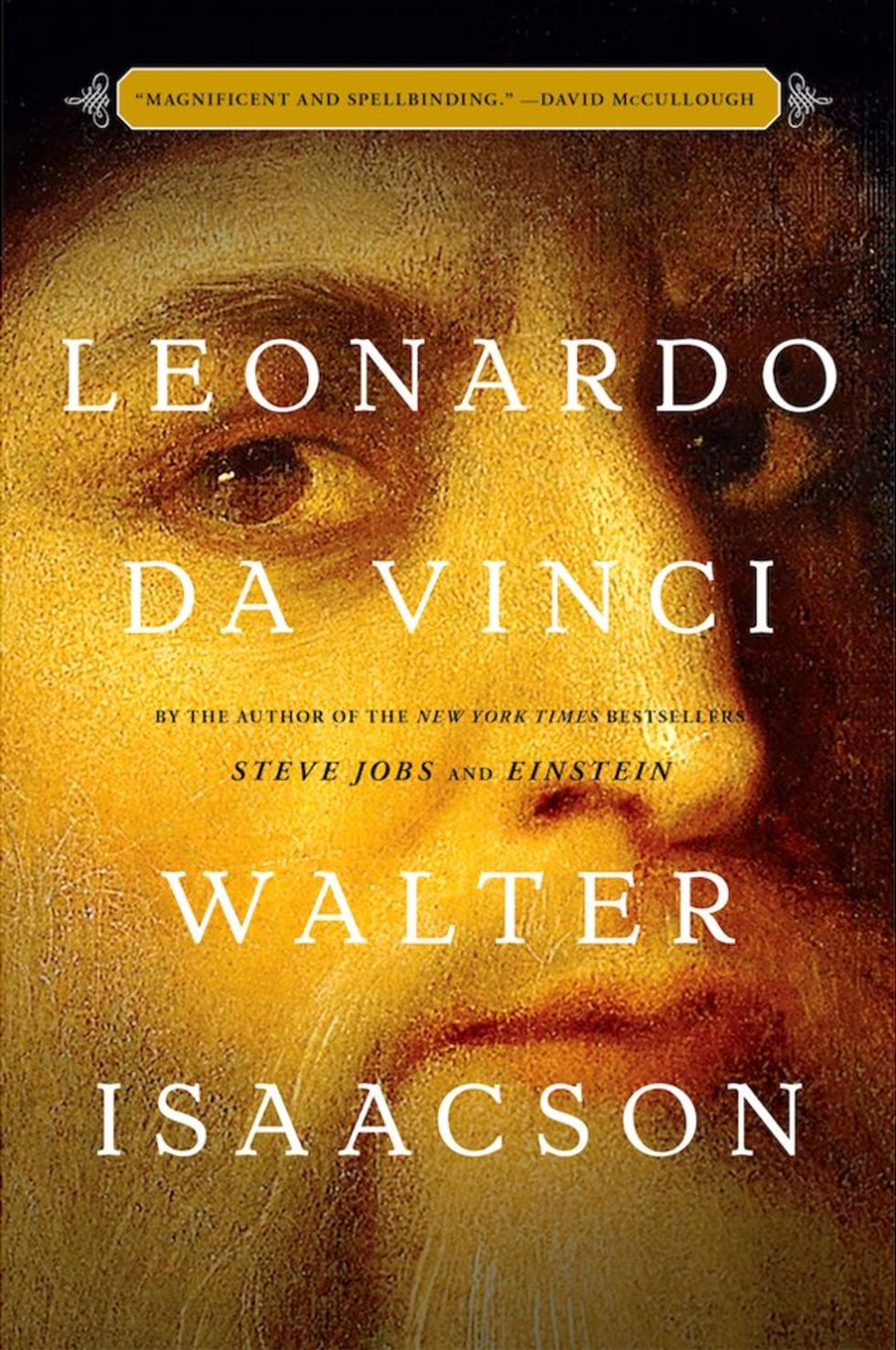 5. Stephen Pinker's "Enlightenment Now" is another book Bill Gates is keen on, calling it "my new favorite book of all time." The book has also been dubbed one of "Books to buy in 2018" by the Guardian. In this new effort, Pinker, the best-selling author, world-famous linguist and cognitive psychologist who teaches at Harvard, lays out a positive vision of Enlightenment and who it has shaped the modern world. He argues that the Enlightenment has brought reason, humanism and science to our lives which has led to unmistakable progress in loving longer and happier lives.
6. The author of the brilliant mind-opener "Einstein's Dreams," Alan Lightman returns with "Searching for Stars on an Island in Maine". This lyrical exploration of the spaces where science and the belief intersect and how one can balance spirituality and "materiality", with Lightman making the distinction that he's not talking about organized religion but "but the personal religious experience, or what one might call the transcendent experience." The book is an extended meditation like Hendry David Thoreau's "Walden" and draws on philosophers, theologians and writers, from Aristotle to St. Augustine to Emily Dickinson.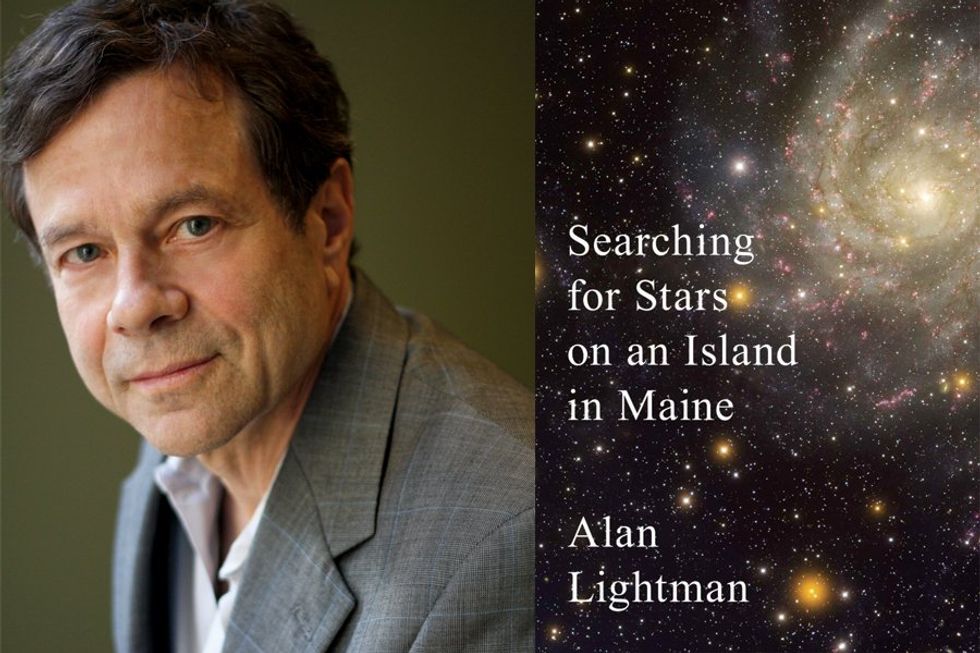 7. Deepak Chopra and Rudolph E. Tanzi's "The Healing Self: A Revolutionary New Plan to Supercharge Your Immunity and Stay Well for Life" shows that many chronic diseases begin years before showing major symptoms. The book from the world renowned integrate medicine pioneer Deepak Chopra and Harvard University's Professor of Neurology Dr. Rudolf E. Tanzi focuses on how to care for our bodies, improve immunity and prevent dangerous inflammations while aging gracefully.
8. "Origin Story: A Big History of Everything" by historian David Christian is a new history of the universe, looking at defining events over the entire 13.8 billion years, with an attempt to redefine our place in the cosmos. The Wall Street Journal called his effort to question the origins of our world and the hidden threads that define it "excellent".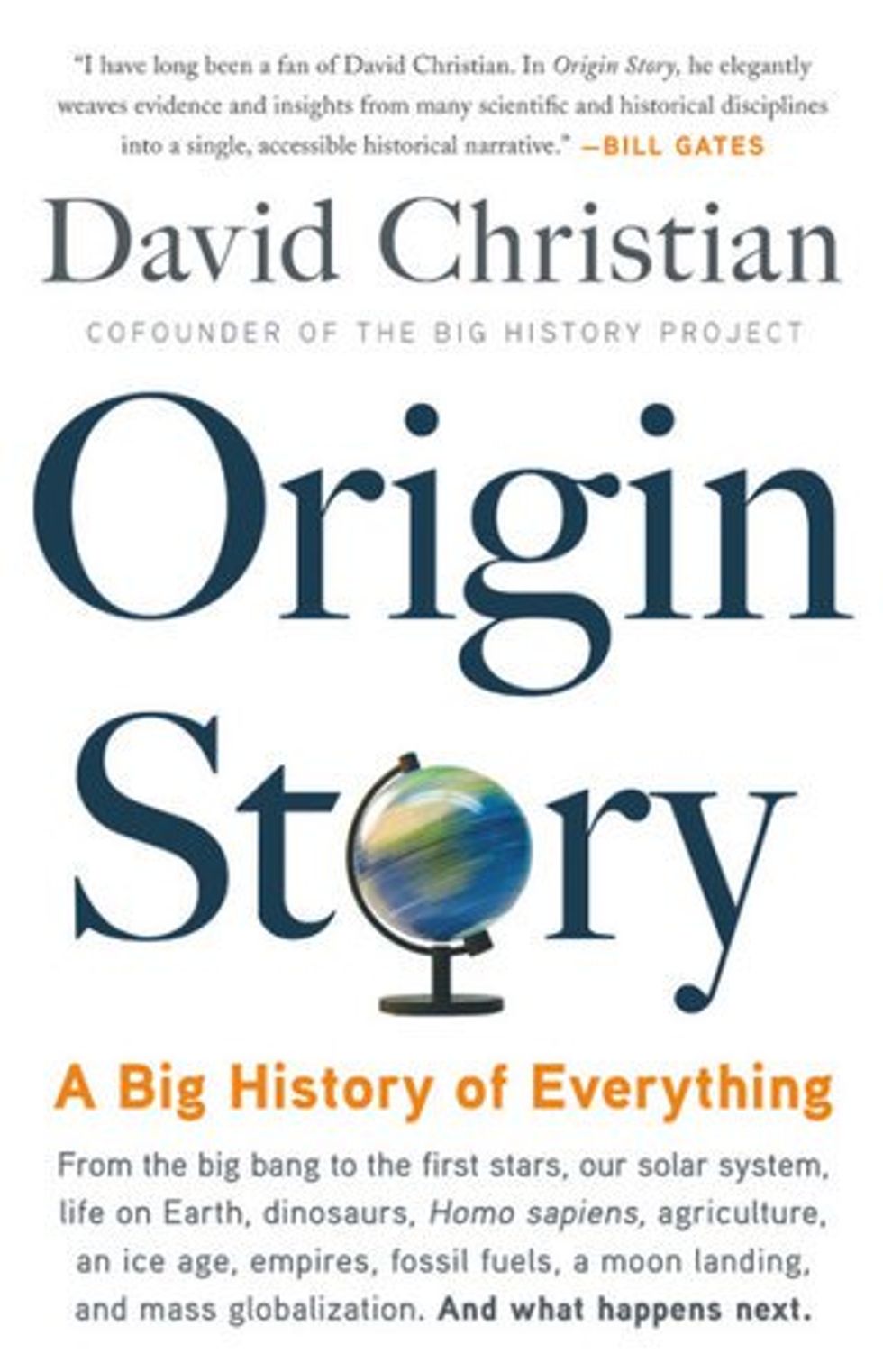 9. The Future of Humanity: Terraforming Mars, Interstellar Travel, Immortality, and Our Destiny Beyond Earth" by the theoretical physicist Michio Kaku looks at the next steps for humans towards a number of scientific frontiers. He considers new ideas in astrophysics, AI and other tech and proposes how exactly human can finally move away from Earth and develop a sustainable civilization among the stars.
10. "Factfulness" by Hans Rosling. Bill Gates called this book by the late profession of international health and TED talk superstar Rosling, ""One of the most important books I've ever read―an indispensable guide to thinking clearly about the world." The book looks at how and why we make cognitive mistakes that skew our perception of the world, an indispensable wake-up call in the age poisoned by claims of "Fake News" and rampant misinformation.
The controversial author predicted the rise of Trump by placing "a ruthlessly ambitious, narcissistic, media-savvy villain sporting makeup and coloured hair" in his new book, written before the election. But can he explain the hate of knowledge that persists in the world today?
Well! Salman Rushdie pretty much predicted the future in his new book, The Golden House, wherein the antagonist is "a ruthlessly ambitious, narcissistic, media-savvy villain sporting makeup and coloured hair." Read into that what you will, but Rushdie here posits that he's baffled by the sudden worldwide rejection of knowledge and the elites. He says that it's not just an invention of the American right wing — that it's a worldwide problem that's helped in large part by the likes of Fox News et al — and he wonders both what gave rise to that and how it will stop. Perhaps he'll have to write a sequel.
Considering that the United States remains the world's only superpower, that begs the question: How informed are Americans when it comes to their country's vast global power?
A map showing how North American media cover global events. (Qatar Computing Research Institute)
When the term "armchair" is applied to a job title, it's almost always derogatory. An armchair general, for example, refers to someone who considers himself an expert on military matters even though he's never seen combat, or perhaps even served in the military. It implies a critical lack of real-world experience.
Considering that the United States remains the world's only superpower, that begs the question: How informed are Americans when it comes to their country's vast global power?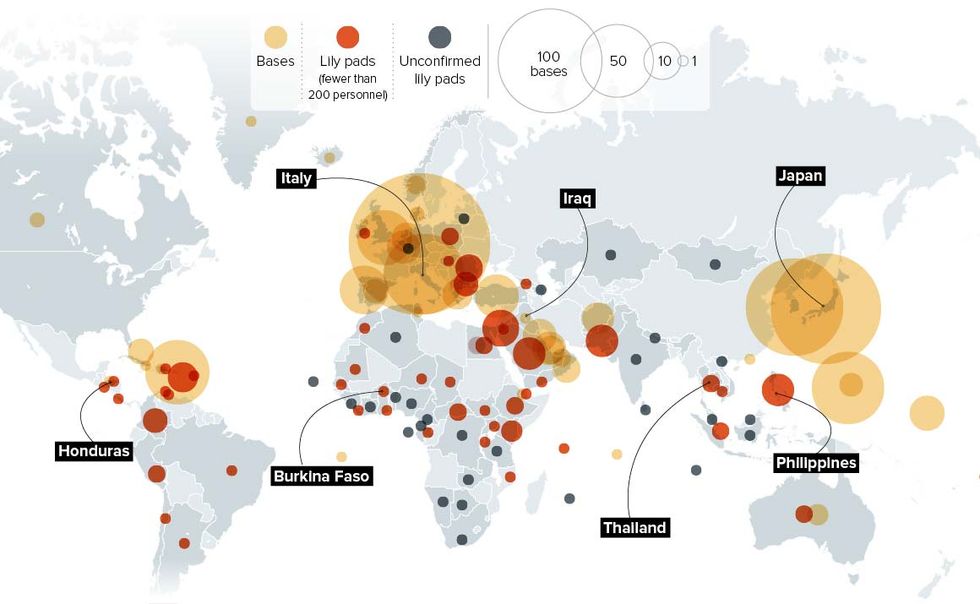 Map of U.S. military bases around the world, from Politico.
You might think that reading daily newspapers or staying glued to Twitter would produce an accurate view of our world, run by 195 different countries over 57 million square miles of land. But a study of news coverage across the globe reveals how erroneous that assumption is.
In 2014, Haewoon Kwak and Jisun An at the Qatar Computing Research Institute in Qatar analyzed thousands of real-world events and news articles, and then created a map of the world that shows each country distorted in size by how much coverage it receives in a given region. The bigger the country appears on the map, the more news coverage it receives.
News geography seen from North America.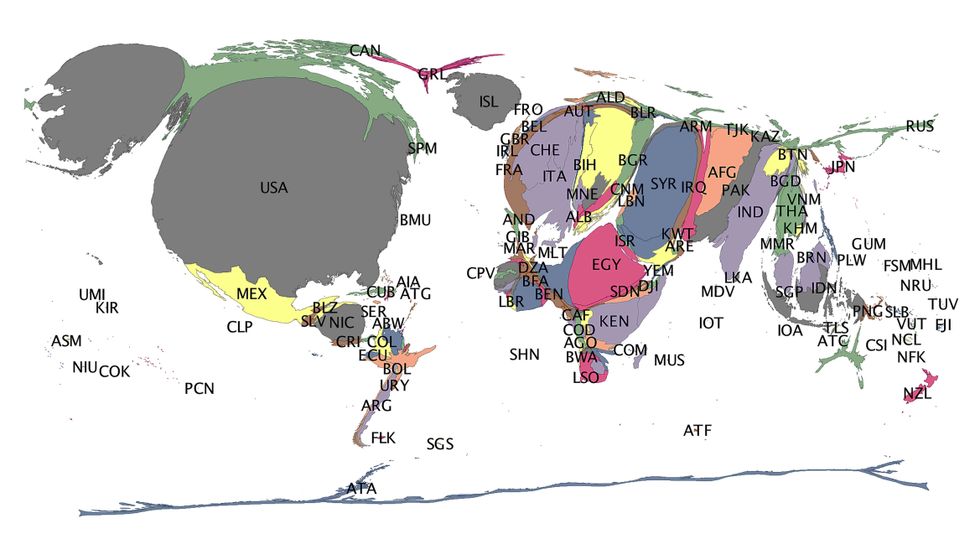 Compare that with global news coverage from Europe and Central Asia.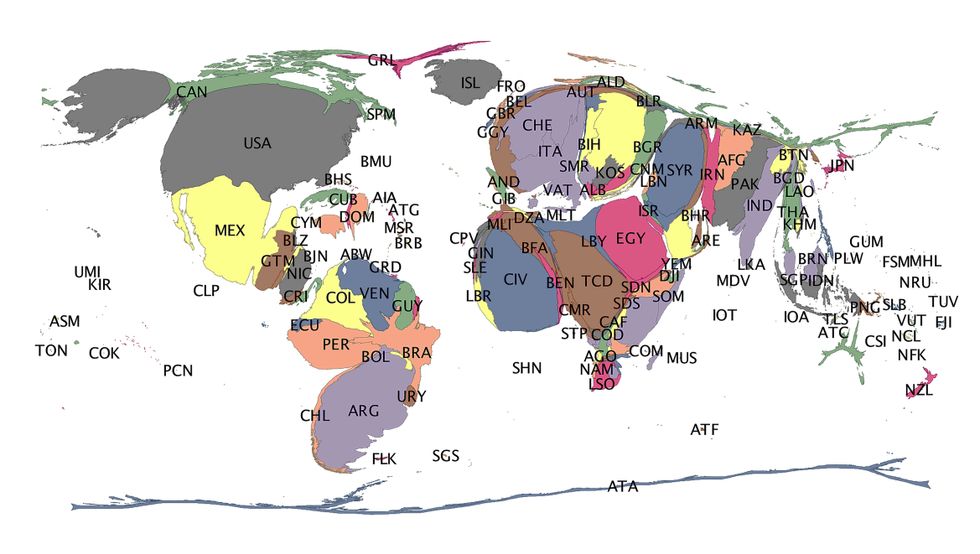 Finally, compare that to news coverage in East Asia and the Pacific.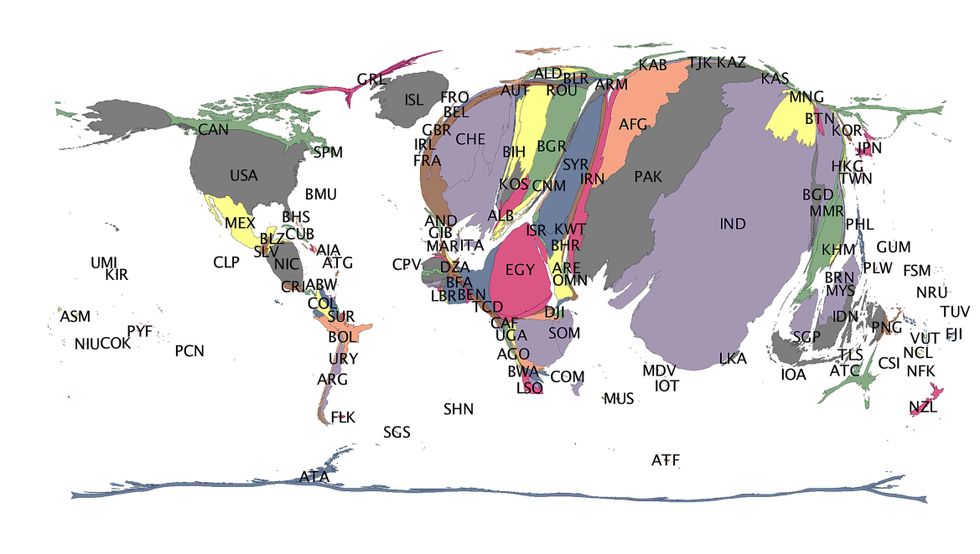 While a region's news media provide a sample of world events, it's important to remember that they can't capture the whole story. Many world events—even whole societies—fall outside mainstream news coverage.
If you had read a newspaper article about the Battle of Dunkirk during WWII, for instance, your understanding of the event would depend on the country in which you lived. Britain successfully evacuate some 330,000 fighters surrounded by Germans troops—nearly 10 times the number Churchill expected to save. In terms of casualties, however, the Germans beat the British Army by a factor of two.
On June 1, 1940, the New York Times reported:
"So long as the English tongue survives, the word Dunkirk will be spoken with reverence. In that harbour, such a hell on earth as never blazed before, at the end of a lost battle, the rags and blemishes that had hidden the soul of democracy fell away. There, beaten but unconquered, in shining splendour, she faced the enemy, this shining thing in the souls of free men, which Hitler cannot command. It is in the great tradition of democracy. It is a future. It is victory."
But Berlin's Der Adler, a Nazi biweekly, had this to say:
"For us Germans the word 'Dunkirchen' will stand for all time for victory in the greatest battle of annihilation in history. But, for the British and French who were there, it will remind them for the rest of their lives of a defeat that was heavier than any army had ever suffered before."
Asking who won the battle is a simple question. But the answer is more nuanced. And having nuanced answers to global questions has never been more needed. To better understand how international travel producers a fuller worldview, Big Think asked three experts in the field of foreign policy about experiences that shaped their outlook.
Stephen Walt, professor of international affairs at Harvard University:
"When I lived in Berlin in the mid-1970s, I watched the May Day parade in East Germany and visited a number of museums there. I was struck by how the history young East Germans were learning and the history I had learned in the West were quite different, and over the years I came to understand what I thought I knew was not in fact 100 percent correct. Of course, neither was the Communist version. It taught me that different peoples often see the world differently because they have been exposed to competing historical narratives, and that insight has remained with me ever since."
Amaryllis Fox, former clandestine service officer for the Central Intelligence Agency:
amaryllis-fox-russia-and-ai-why-global-election-tampering-will-only-get-worse
"I've hosted discussions all over the world between former fighters, from national armed forces to insurgents and terror groups. But no matter how often I witness it, the magic never fails to move me. It's quite literally like watching a curse be lifted in a folktale. Two groups of people who have always viewed the other as a two-dimensional caricature, hearing one another express the same fears and insecurities and hopes and dreams that they themselves feel and share. Each person hits a different point where they get this look on their face, blink a couple of times, as though some sleeping spell has just been lifted and they can see clearly again after a very long hypnosis."
Will Ruger of the Charles Koch Institute, a philanthropic organization encouraging discussion on topics like free speech, foreign policy, and criminal justice reform:
"Foreign travel provides a lot of benefits, including getting to better understand other cultures. But it also allows one to better appreciate that despite all of the ways that the world is "smaller" and more interconnected today, the world is still a big place, the U.S. is still very far away from most hotspots and the major industrial areas of the world, and that not everything that happens in the world directly impinges on American interests or depends upon the U.S."
My experience abroad in the U.S. military (both on active duty in the Middle East and as a reservist in places like Europe and South Korea) has really driven home just how massive is the size and scope of our defense establishment. It is one thing seeing maps marking the many U.S. bases around the globe to seeing up close and personally how big our footprint has been in places like Kuwait and Afghanistan. It has also impressed upon me how well the U.S. military does logistics relative to other militaries today and throughout history."
The world is a big place, and understanding it is made harder by the fact that there really isn't one single overarching narrative of world history — at least not one that everyone agrees upon entirely.
Perhaps most importantly, traveling the world can provide a firm understanding of what it means for the U.S. to use military force abroad. If you actually set foot in another country and talk with the people, you'll have a better sense of how future U.S. intervention might affect that country would than you would, say, if you had only watched network news.
How might Americans think differently about U.S. foreign policy if more people traveled — if more people experienced new cultures, food, people, cities, and histories, finding not just strange differences, but fundamental similarities?
There's only one way to find out.
--