North Korea's Great Leader would rather not fly for his second summit with Trump – but the trip is also a political message to China.
Image: Dhaka Tribune
Kim Jong-un is already traveling for his summit with Trump on Wednesday.
Rather than flying, he's taking a 60-hour train trip through China.
The trip is a closely guarded secret, but this map shows the most likely itinerary.
This Wednesday and Thursday, Kim Jong-un and Donald Trump will have their second summit, this time in Vietnam.
But while the U.S. president is still in DC, North Korea's Great Leader is already en route. That's because Kim is covering the distance between Pyongyang and Hanoi by slow train rather than fast plane.
The train trip is not just a vote of no confidence in the airworthiness of North Korea's winged fleet (1), it's also a political signal to China – the biggest (and only) ally the Hermit Kingdom has left in the world. And an example of the delightful weirdness the world will have to do without once the world's only remaining Stalinist dictatorship inevitably crumbles.
On Saturday, Kim boarded his special train in the North Korean capital Pyongyang. It's a 21-carriage, bullet-proof, army-green train that because of its armor plating reportedly can travel no faster than 35 mph (56 km/h).
For China, the trip is a way of showing Kim what a communist regime that engages with capitalism can achieve: Bustling cities, a productive countryside, and a populace (largely) content to concentrate on the business of becoming rich (or at least less poor).
For North Korea, it's a clear admission of the indispensable role China plays in the survival of its hard-line regime. The hope may very well be that this show of allegiance will mollify Beijing enough to plead at the UN for some relief of the sanctions against Pyongyang – and to provide some food aid to prop up Kim's regime.
Kim's luxury train comes equipped with satellite telephone, conference rooms, dining cars and sleeping quarters. As shown on North Korean state media, some carriages have pink leather chairs and wide-screen TVs. Not shown: The carriage that, according to South Korean media, holds Kim's personal Mercedes-Benz.
North Korea's leaders love trains. The two previous members of the Kim dynasty had their own love affair with state trains. The first one, Kim Il Sung, regularly traveled abroad on his personal train – as far as Eastern Europe, back in 1984. His son (and the current Kim's father) Kim Jong-il, who ruled from the older Kim's death in 1994 to his own in 2011, even died on his own train. The carriage in which Kim Jong-il expired is on display at the Kumsusan Palace of the Sun, where he lies in state.
The exact itinerary and timetable of (this) Kim's slow train through China is a closely-guarded secret – but bits of his passage through the country have been recorded and posted on social media (here, as the train drives through Zhengzhou, Henan province; and here, in Yongzhou, Hunan province). Some show streets crossing the train's path completely empty, apparently closed off for traffic.
Eugene Gholz, the associate professor of political science at the University of Notre Dame, posits that President Trump's decision to suspend U.S. military operations on the Korean peninsula negates decades of foreign policy.
Eugene Gholz, an associate professor of political science at the University of Notre Dame, argues that President Trump's decision to suspend the U.S. military's training exercises on the Korean peninsula is a lot more nuanced—and a lot more strategic to foreign policy—than perhaps many people realize. Will South Korea be left in the lurch if the US suspends military exercises? Hardly. Eugene is brought to you today by The Charles Koch Foundation. The Charles Koch Foundation aims to further understanding of how US foreign policy affects American people and societal well-being. Through grants, events, and collaborative partnerships, the Foundation is working to stretch the boundaries of foreign policy research and debate by discussing ideas in strategy, trade, and diplomacy that often go unheeded in the US capital. For more information, visit charleskochfoundation.org.
There's a deep psychological reason that America treats nuclear weapons like a spoiled child hogging all the neighborhood candy. Are we too paranoid to see it?
Nuclear weapons are an odd conundrum for the world (and indeed the human species) as of late. Remnants of WW2 and indeed the Cold War, they're mostly used now as a kind of insurance policy for the safety of a country. It's like keeping a loaded gun. And like guns, America (no surprises here) has a whole lot of them and (just like a gun) they don't want anyone they don't like to have them. America is even willing to have preventative wars so that other countries don't develop nuclear weapons; which in turn breeds resentment and even more countries that resent us... who then in turn develop more nukes. It's a vicious cycle. And it may not end well. The Charles Koch Foundation aims to further understanding of how US foreign policy affects American people and societal well-being. Through grants, events, and collaborative partnerships, the Foundation is working to stretch the boundaries of foreign policy research and debate by discussing ideas in strategy, trade, and diplomacy that often go unheeded in the US capital. For more information, visit charleskochfoundation.org.
North Korea has a long history of making bellicose threats that defy global norms. So does that mean the country's leaders are irrational, and will act irrationally?
People watch a news report on North Korea's first hydrogen bomb test at a railroad station in Seoul on January 6, 2016. (JUNG YEON-JE/AFP/Getty Images)
North Korea has a long history of making bellicose threats that defy global norms. So does that mean the country's leaders are irrational, and will act irrationally?
In 1994, the North Korea threatened to turn neighboring Seoul into a "sea of fire." When President George W. Bush deemed the Hermit Kingdom part of the "axis of evil" in 2002, Pyongyang claimed it would "mercilessly wipe out the aggressors." And after the UN sanctioned North Korea for conducting a nuclear missile test in 2013, the country responded with a lengthy statement that included the line: "Time has come to stage a do-or-die final battle."
North Korea often puts the U.S. in its crosshairs when it threatens the outside world – at least rhetorically. Deciding if North Korea is a truly unpredictable menace requires asking the question: How much of a threat is the Hermit Kingdom to the U.S., really?
The Nuclear Threat
The consensus among security experts is that the primary focus of North Korea's nuclear program is deterrence—the same strategy used by American and Soviet forces to prevent a nuclear holocaust during the Cold War.
North Korea's government in Pyongyang wants to prevent an invasion at all costs, and it lashes out each time it feels threatened by the US. It is a perpetually insecure country—devoting a full 25 percent of its gross domestic product to defense, and much of that to missiles, while its citizens starve.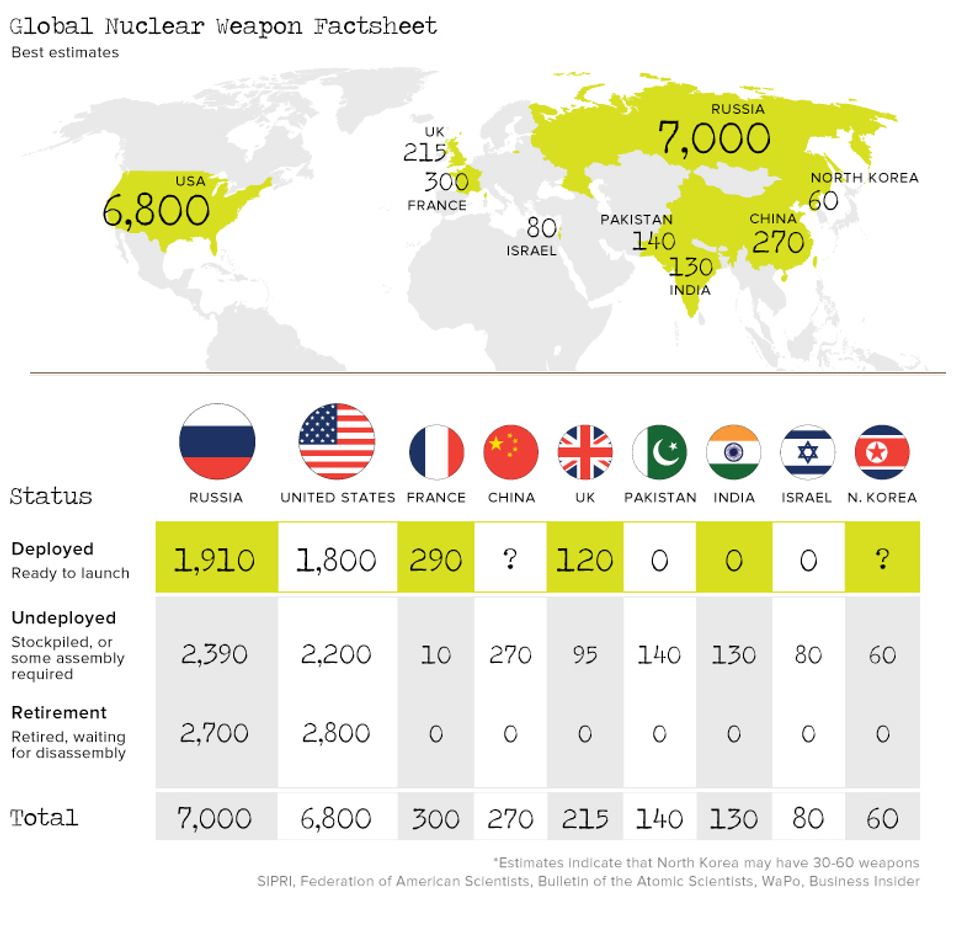 As of 2017, North Korea could have anywhere from 20 to 60 nuclear weapons that might be deliverable on short-range ballistic missiles. In contrast, the U.S. has nearly 7,000 nuclear weapons that can strike any location on Earth in less than an hour. Pyongyang is fully aware that a first strike on its part would be suicide.
North Korea seems to have learned a lesson from modern military history, though, which is that a small nuclear arsenal could be the only thing keeping it safe from the outside world, as Michael Desch, a professor of political science and founding director of the Notre Dame International Security Center, told Big Think:
michael-desch-north-korea-threat-isnt-kim-jong-uns-nuclear-weapons
"Now most people would concede that the balance is very much in our favor but say, 'Look, this is a crazy regime. I mean, couldn't this be a case in which a madman has his finger on the nuclear trigger?'
And I don't want to defend Kim Jong-un's rationality or his sartorial choices, but I would say he's learned the lesson that many other dictators have learned from Saddam Hussein and from Muammar Gaddafi, which is: if you don't want to be invaded by the United States, build whatever rudimentary nuclear arsenal you can."
An Inevitable Collapse
Short of a military attack, the main threat to the North Korean people is starvation. The U.N. estimates that some 18 million North Koreans – including 1.3 million children – aren't getting enough food, a problem that's plagued the country since widespread flooding in 1995.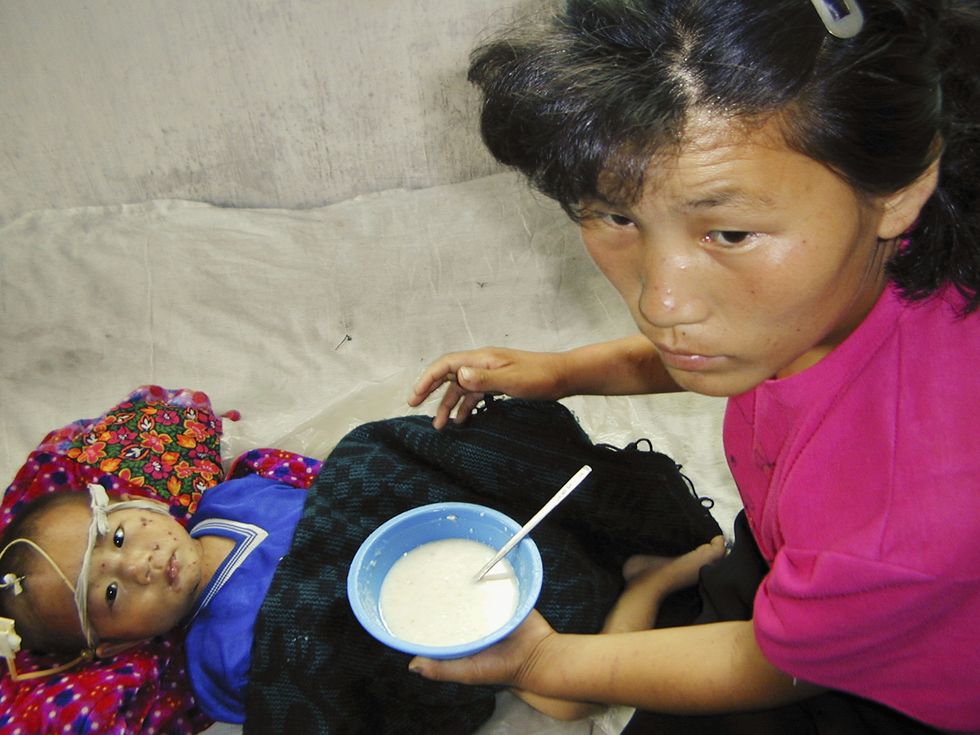 In this handout from the World Food Programme, a malnourished North Korean boy, 3 year-old Jong Song Chol, is fed a vitamin and mineral-enriched porridge supplied by the United Nations World Food Programme at a hospital in Sinyang county, on August 4, 2004 in South Pyongyang province, North Korea. The United Nations World Food Programme says that millions of North Koreans are chronically malnourished. (Gerald Bourke/WFP via Getty Images)
This resource crisis, along with North Korean citizens' increasing exposure to information from the outside world, could ultimately be the force that brings down the North Korean regime well before any outside intervention.
"...a residual nuclear arsenal I think is no guarantee that the North Korean regime won't collapse of its own internal rottenness," Desch said. "In fact I anticipate that that's what will happen. And that will present its own set of challenges."
The key question the U.S. should ask itself isn't whether to invade North Korea, but rather what's it going to do when the regime inevitably collapses on its own? And that challenge has two main components, as Desch explains:
"First of all the United States and the South Koreans will be tempted, if a civil war starts in the north or even if there's just a large scale social unrest, to intervene. The South to reunify their country, the United States to try to clean up the nuclear capability. But the problem is that there's another great power with a big equity in North Korea, and that's China."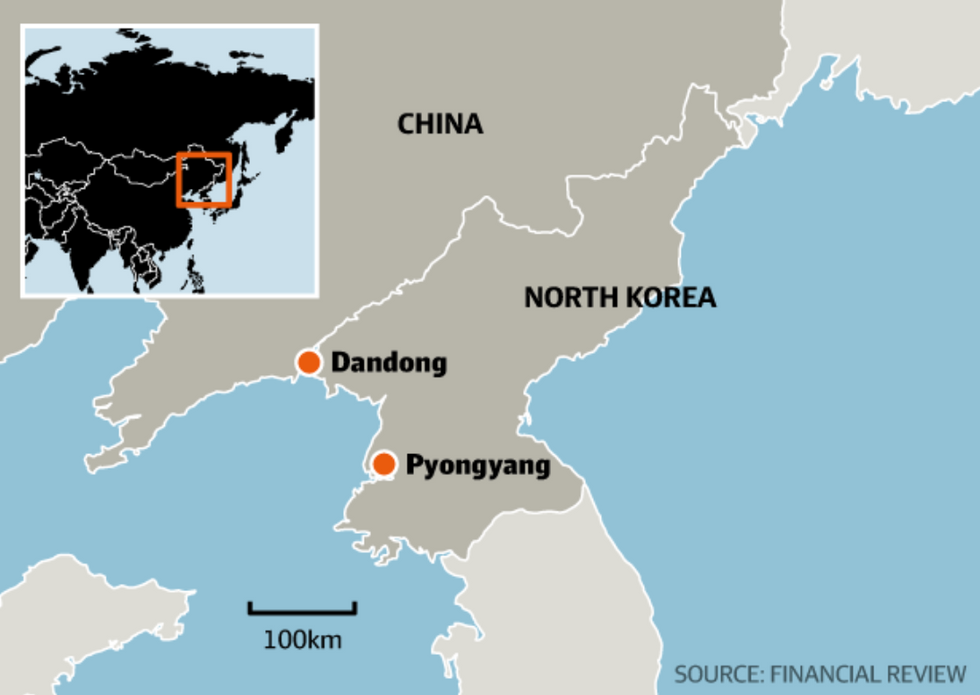 Asia Without North Korea
The collapse of North Korea could bring chaos to China. For one, a conflict could result in refugees, armed North Korean soldiers, or even nuclear fallout could spilling over the Yalu and Tumen rivers into China. But there's also the fact that Beijing sees North Korea as a buffer protecting the Chinese from the U.S. If the North Korean regime collapses, Korea could reunify and the U.S. could install a military presence – including nuclear weapons – directly on China's eastern border.
China has already begun preparing for the inevitable instability in North Korea by reinforcing its borders, installing 24-7 surveillance systems, and conducting publicized drills among its border brigades. So, how should the U.S. plan for the North Korean collapse?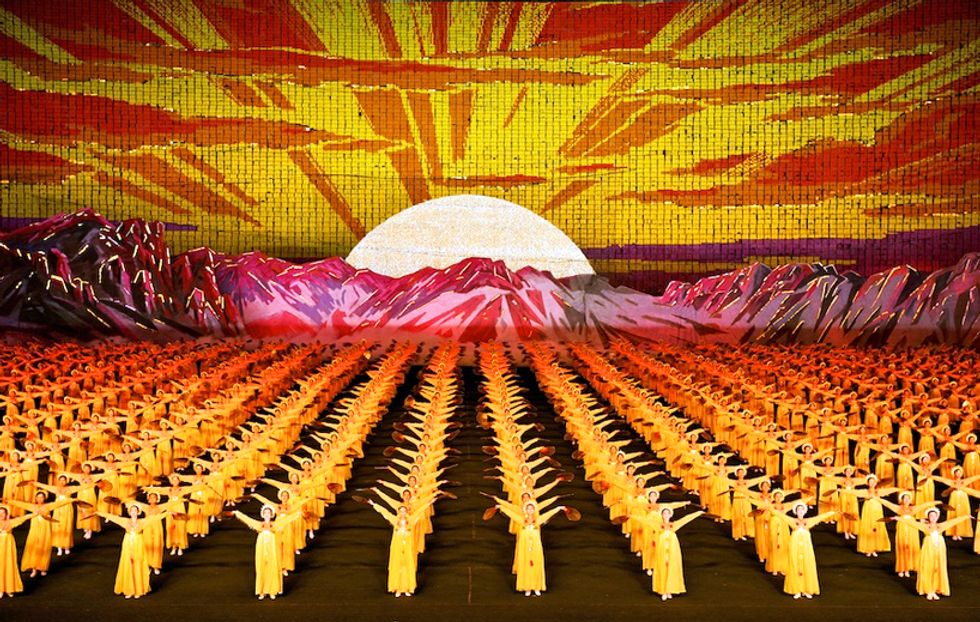 Rather than threatening the insecure nation with military action or sanctions that would only kill even more of its starving citizens, the safest and most strategic solution for the U.S. seems to be to establish agreements with China that outline how the two superpowers will configure themselves after the collapse of the regime, ensuring that the inevitable power vacuum in East doesn't lead to unnecessary conflict.
"I think we'd be well advised to start now dialoguing with the Chinese about the future," Desch said. "And I think a unified Korea, but also one without nuclear weapons and nonaligned, without a major U.S. military presence could be the deal that would work for everybody."
--
If Donald Trump's political strategies look familiar, says Tim Wu, it's because we've seen them before. Where? In the totalitarian regimes of China, North Korea, and Germany.
On November 2nd, Columbia law professor Tim Wu tweeted: "What is the political press going to do for ratings after this blockbuster election winds down?" It's a funny question, but a serious reflection on the disturbing amount of coverage the Republican candidate has enjoyed. The U.S. has a private media, but the coverage has been skewed one way, and even in his most controversial moments Trump has mostly profited from the millions of dollars of free advertising he has received. Every time you turn on the TV or head to a website's home page you see one person. Wu draws an interesting parallel between this phenomenon and totalitarian regimes, like North Korea where everywhere you look you see the Great Leader, or China in the '60s, where Mao's face was omnipresent. Trump is inescapable.
It's just one of the strategies the candidate shares with fascist regimes – and before we go any further, Wu is clear that he is not comparing Trump's views to those of fascist leaders; he is highlighting the similarity of their methods.
Wu's latest book The Attention Merchants is an ethnography of advertising culture, examining the way external forces and agendas creep into our minds and influence us – a practice politics is also deeply tied into. Trump is, as Wu says, a "master attention merchant", and upon breaking down his strategy it turns out he understands something many fascist leaders in the past have also understood: the best way to attract attention and inspire intensity in your audience is to make them afraid. Trump has tapped into the unconscious fears and hatreds of his supporters by overstating the danger the United States is in, and creating enemies much greater than reality supports. "If you study carefully the rise of the Third Reich, it is fascinating how well the speakers of the Third Reich targeted unconscious, unspoken but truly present fears, hatreds, powerful emotions, you know, far beyond the thinking mind," says Wu. "And I think that those techniques whether or not you're a Nazi or Hitler, whatever you are, are effective for anyone who wants to captivate their audience and inspire an angry rally."
Tim Wu's most recent book is The Attention Merchants The Epic Scramble to Get Inside Our Heads.