Our love-hate relationship with browser tabs drives all of us crazy. There is a solution.
A new study suggests that tabs can cause people to be flustered as they try to keep track of every website.
The reason is that tabs are unable to properly organize information.
The researchers are plugging a browser extension that aims to fix the problem.
A lot of ideas that people had about the internet in the 1990s have fallen by the wayside as technology and our usage patterns evolved. Long gone are things like GeoCities, BowieNet, and the belief that letting anybody post whatever they are thinking whenever they want is a fundamentally good idea with no societal repercussions.
While these ideas have been abandoned and the tools that made them possible often replaced by new and improved ones, not every outdated part of our internet experience is gone. A new study by a team at Carnegie Mellon makes the case that the use of tabs in a web browser is one of these outdated concepts that we would do well to get rid of.
How many tabs do you have open right now?
We didn't always have tabs. Introduced in the early 2000s, tabs are now included on all major web browsers, and most users have had access to them for a little over a decade. They've been pretty much the same since they came out, despite the ever changing nature of the internet. So, in this new study, researchers interviewed and surveyed 113 people on their use of — and feelings toward — the ubiquitous tabs.
Most people use tabs for the short-term storage of information, particularly if it's information that is needed again soon. Some keep tabs that they know they'll never get around to reading. Others used them as a sort of external memory bank. One participant described this action to the researchers:
"It's like a manifestation of everything that's on my mind right now. Or the things that should be on my mind right now... So right now, in this browser window, I have a web project that I'm working on. I don't have time to work on it right now, but I know I need to work on it. So it's sitting there reminding me that I need to work on it."
You suffer from tab overload

Unfortunately, trying to use tabs this way can cause a number of problems. A quarter of the interview subjects reported having caused a computer or browser to crash because they had too many tabs open. Others reported feeling flustered by having so many tabs open — a situation called "tab overload" — or feeling ashamed that they appeared disorganized by having so many tabs up at once. More than half of participants reported having problems like this at least two or three times a week.
However, people can become emotionally invested in the tabs. One participant explained, "[E]ven when I'm not using those tabs, I don't want to close them. Maybe it's because it took efforts [sic] to open those tabs and organize them in that way."
So, we have a tool that inefficiently saves web pages that we might visit again while simultaneously reducing our productivity, increasing our anxiety, and crashing our machines. And yet we feel oddly attached to them.
Either the system is crazy or we are.
Skeema: The anti-tab revolution

The researchers concluded that at least part of the problem is caused by tabs not being an ideal way of organizing the work we now do online. They propose a new model that better compartmentalizes tabs by task and subtask, reflects users' mental models, and helps manage the users' attention on what is important right now rather than what might be important later.
To that end, the team also created Skeema, an extension for Google Chrome, that treats tabs as tasks and offers a variety of ways to organize them. Users of an early version reported having fewer tabs and windows open at one time and were better able to manage the information they contained.
Tabs were an improvement over having multiple windows open at the same time, but they may have outlived their usefulness. While it might take a paradigm shift to fully replace the concept, the study suggests that taking a different approach to tabs might be worth trying.
And now, excuse me, while I close some of the 87 tabs I currently have open.
Older people are in grave danger of being left behind.
Credit: Beth Macdonald on Unsplash
Many young people have embraced the convenience of digital technologies such as online shopping, car hailing, digital payments, and telemedicine. But many elderly without a grasp of the latest knowledge are at risk of being left behind.
Several news reports in China during the outbreak of COVID-19 put this issue in the spotlight: an elderly woman who wanted to pay for her medical insurance with cash was refused due to concerns that her cash might be carrying the virus.
The woman, who had not set up mobile payment, was left alone in the service centre at a loss.
In another case, an elderly man without a phone was asked to get off the bus after failing to show the driver his health-status code via the app used at all public places in China.
These incidents are stark reminders of the widening digital gap for the elderly.
China: an ageing population puts a spotlight on the digital divide
The challenge is not unique to China, but it is particularly pressing for the country given the rapid transformation of its massive population of 1.4 billion into an aging society.
Around 2022, China is projected to become an "aged society" with 14% of the population above 65 years old – some 200 million people. It would typically take nearly a hundred years for many countries to reach this stage, while it will only have taken 21 years in China.
What's even more staggering is that by 2050, the number of Chinese elderly is estimated to reach 380 million, amounting to nearly 30% of the country's overall population.
With just a small population of the elderly online, more needs to be done to provide access and guidance before the problem exacerbates with the rapidly rising aging population.

Pandemic pushes the elderly out of offline comfort zone
According to statistics from China's Ministry of Industry and Information Technology (MIIT), out of the 274 million mobile phone accounts of elderly users (those 60 years old and above) in China today, about 134 million are using smart phones to browse the internet. This means approximately 140 million still lack access to it.
The pandemic, however, has pushed a great number of elderly people online, in China and globally. The Chinese government issued plans in November last year to help elderly people overcome barriers to using smart technology.
Meanwhile tech companies, such as e-commerce company JD.com, are stepping up their efforts to ease the transition. Here are three major trends in this arena:
1. Taking online in-store
Brick-and-mortar stores have started to arrange assistants in dedicated zones to help elderly customers make sense of everything from digital payments to robot services. These are all services that many young people, who grew up with the internet from an early age, take for granted – but they can also be learned.
At JD's omnichannel supermarket SEVEN FRESH, elderly customers are guided by staff to place grocery orders online, that are then delivered to their doorsteps at a specific time. Similarly, in JD's offline pharmacy, customers can sit on a sofa inside the store and wait to collect their medicine, pay for it with the help of in-store assistants, and walk away with professional healthcare advice.
"We are keen to use and benefit from these new technologies, but getting to grips with them is no easy task for us," said Ms Zhang, 78, an empty nester who tried to use a self-help health screening robot in a JD pharmacy store.
Her words speak to the difficulties many elderly people face. "By using this machine, I have not only experienced advanced technology, but also gained confidence," said Ms Zhang, after having mastered the robot.
In terms of online services, many elderly customers shy away from voice systems or chatbots. In light of this, China's top three telecom operators recently announced a speed-dial system to transfer users above 65 directly to human service personnel.
Furthermore, upon the request of MIIT, adaptive versions of more than 150 apps and websites in China are being built, featuring simpler interfaces, fewer pop-up adds and more anti-fraud support.
2. From louder smartphones to voice-activated home appliances
Tailormade smartphones play an important role in easing elderly people's transition into the digital space. Phones with big buttons, larger font size and high-volume speakers have popped up recently.
Last year, JD launched China's first 5G smartphone for the elderly in partnership with ZTE. The phone is equipped with services such as remote assistance, synchronised family photo sharing album and fast medical consultation services – handy for both the elderly and their children.
Importantly, it enables adult children to manage their elderly parents' phones from afar – something that is becoming more necessary as families are increasingly separated by the demands of work in a location far from home. (JD data found that 70% of elderly consumers believe children are indispensable in their care process and 68% want to spend more time with their children, but this is not always possible.)
Besides customised smartphones, JD and other companies are exploring a variety of ways to adopt advanced technologies to improve elderly people's lives.
These include: voice-activated IoT home appliances for users with limited mobility; an AI-powered speech recognition system that can communicate in a variety of dialects; and a big-data based health management system that can provide more accurate health advice.
3. Enabling the elderly a good investment for brands
Training goes a long way to abating the fear surrounding new technology. Last year, JD organised classes for the elderly on how to use digital devices, starting with basics like downloading apps, and increasing in complexity to cover how to line up for a hospital appointment virtually, scan QR codes and use mobile payments.
This has economic benefits too. With more and more elderly finding their footing in the digital world, they are adding fuel to the already booming silver economy.
During 2020, JD saw more elderly consumers start shopping online due to COVID-19; and they've kept up the habit since, appreciating the added convenience and plethora of choices. This has led the company to use big data to work on more products designed specifically for elderly consumers.
But it's about much more than just learning how to use the technology. With a better grasp of e-commerce, elderly parents are now turning around and making purchases for their children. Some are even joining flash sales campaigns, participating in the highly popular new phenomenon of group buying, and even grabbing digital red envelopes.
And, in diverting themselves from loneliness, especially during the pandemic, they are turning to livestreaming, short videos and singing apps for entertainment.
Behind these skills are newfound confidence, freedom and connection; the idea that they are "too old" or that "technology is just for young people" is simply a thing of the past.
Reprinted with permission of the World Economic Forum. Read the original article.
New prototype Petri dishes let ordinary scientists in on the advanced technology.
Acoustic tweezers allow bioparticles and cells to be precisely manipulated without touching them.
Sound waves grab and move very tiny objects as desired.
Previously available only in expensive and complex devices, acoustic tweezers have now been built into Petri dishes.
Though many of us get to know Petri dishes in school as containers of bacterial cultures, in a research context, they may contain any number of bioparticles, some of which are quite tiny and difficult to manipulate manually. Now researchers at Duke University have published a paper in Science Advances that introduces new contactless, high-precision prototype tools that utilize sound waves to allow scientists to manipulate objects held by fluids in Petri dishes.
The concept behind what scientists call "acoustic tweezers" is not completely new, having seen use in particle trapping and cell work. "However," senior author Tony Jun Huang tells Phys.org, "at the end of the day, the success of this field depends on whether end users such as biologists, chemists or clinicians are willing to adopt this technology or not. This paper demonstrates a step toward a much friendlier workflow to make it easier for end users to adopt this technology."
When a tweezer is not a tweezer
To understand how the "tweezers" work, it's important to know that they're tweezers only in that they grab objects so that they can be manipulated. That's the extent of their similarity to household tweezers: Acoustic tweezers are not small hand-held devices to pinch with. They're much more high-tech than that. Acoustic tweezers use pairs of sound waves directed at the object to be manipulated. (NASA has an excellent pair of short videos explaining how sound waves work.)
In an acoustic tweezer, sound waves directed toward each other push an object into the location at which the waves meet, called a "trapping node." Once the object is trapped there, the node's position can be repositioned as desired by adjusting the strength, or amplitude, of the sound waves. As the node moves, so does the object trapped within it.
Acoustic tweezers provide a touch-free, gentle and non-destructive means of holding on to and manipulating even very tiny objects — a single cell or particle, for example. Using multiple sound waves emitted from opposite each other, and above and below, objects can be moved in three dimensions. This allows scientists to mix objects together with tremendous precision and to construct two-dimensional and three-dimensional structures from trapped objects.
Graphic explaining how sound waves move objects
Credit: Big Think
How the prototypes work
The researchers present three different prototypes in their paper. They all employ small piezoelectric sound transducers affixed to the edges and/or below Petri dishes. These transducers convert electrical energy into sound waves and can move objects in Petri dishes in pretty much any direction.
The first prototype has four transducers arrayed around the four quadrants of a Petri dish, allowing the tweezers to move targeted objects laterally.
The second model uses a tilted sound transducer beneath the Petri dish that creates a whirlpool in its center capable of capturing, concentrating, and mixing the contents of a dish.
The third design fits two transducers beneath the dish together like a zipper, forming a holographic IDT (interdigital transducer.) This highly configurable arrangement generates high-frequency beam-like waves from below the dish. They can be programmed as 3D focused or vortex beams, for example, allowing them to perform a range of object manipulations.
Credit: Tian, et al./Scientific Advances
Moving forward
The primary purpose of this study was to work out how to implement already available acoustic tweezers in more compact, practical form for researchers, according to Huang.
As the paper notes: "Although previous acoustic tweezers have been demonstrated for the manipulation of cells, most of them require customized microfluidic channels/chambers, which usually require time-consuming and costly steps for fabrication and sterilization and hence are not frequently used in biological and biomedical laboratories." The authors' aim, says the paper, was to develop "acoustic tweezer devices that can directly manipulate bioparticles in the most common laboratory cell culture plate, the Petri dish."
The authors' next goal is to further catalogue the capabilities of their prototypes, in particular their configurable third design. Down the road, they hope, will be development of a device that combines all three types of functionality provided by the prototypes in a single device.
Was the hamburger menu always so ubiquitous?
David McNew/Getty Images
These posts usually point out some common design elements, from large images with superimposed text, to hamburger menus, which are those three horizontal lines that, when clicked, reveal a list of page options to choose from.
My colleagues Bardia Doosti, David Crandall, Norman Su and I were studying the history of the web when we started to notice these posts cropping up. None of the authors had done any sort of empirical study, though. It was more of a hunch they had.
We decided to investigate the claim to see if there were any truth to the notion that websites are starting to look the same and, if so, explore why this has been happening. So we ran a series of data mining studies that scrutinized nearly 200,000 images across 10,000 websites.
How do you even measure similarity?
It's virtually impossible to study the entire internet; there are over a billion websites, with many times as many webpages. Since there's no list of them all to choose from, performing a random sample of the internet is off the table. Even if it were possible, most people only see a tiny fraction of those websites regularly, so a random sample may not even capture the internet that most people experience.
We ended up using the websites of the Russell 1000, the top U.S. businesses by market capitalization, which we hoped would be representative of trends in mainstream, corporate web design. We also studied two other sets of sites, one with Alexa's 500 most trafficked sites, and another with sites nominated for Webby Awards.
Because we were interested in the visual elements of these websites, as data, we used images of their web pages from the Internet Archive, which regularly preserves websites. And since we wanted to gather quantitative data comparing millions of website pairs, we needed to automate the analysis process.
To do that, we had to settle on a definition of "similarity" that we could measure automatically. We investigated both specific attributes like color and layout, as well as attributes learned automatically from data using artificial intelligence.
For the color and layout attributes, we measured how many pixel-by-pixel edits we would have to make to transform the color scheme or page structure of one website into another. For the AI-generated attributes, we trained a machine learning model to classify images based on which website they came from and measure the attributes the model learned. Our previous work indicates that this does a reasonably good job at measuring stylistic similarity, but it's very difficult for humans to understand what attributes the model focused on.
How has the internet changed?
We found that across all three metrics – color, layout and AI-generated attributes – the average differences between websites peaked between 2008 and 2010 and then decreased between 2010 and 2016. Layout differences decreased the most, declining over 30% in that time frame.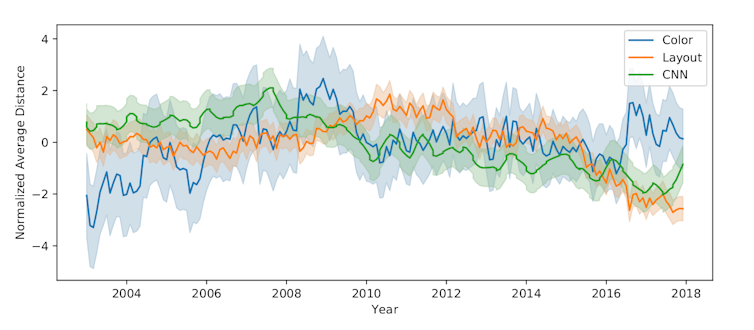 The graph shows website similarity of companies in the Russell 1000. Lower values mean that the sites studied were more similar, on average. (Sam Goree, Author provided)
These findings confirm the suspicions of web design bloggers that websites are becoming more similar. After showing this trend, we wanted to study our data to see what kinds of specific changes were causing it.
You might think that these sites are simply copying each other's code, but code similarity has actually significantly decreased over time. However, the use of software libraries has increased a lot.

The graph on the left shows a decline in code similarity among Russell 1000 websites, while the graph on the right indicates an increase in library overlap. (Sam Goree, Author provided)
Libraries feature collections of generic code for common tasks, like resizing a page for mobile devices or making a hamburger menu slide in and out. We looked at which sites had lots of libraries in common and how similar they looked. Sites built with certain libraries – Bootstrap, FontAwesome and JQuery UI – tended to look much more similar to each other. This could be because these libraries control page layout and have commonly used default options. Sites that used other libraries, like SWFObject and JQuery Tools, tended look much different, and that might be due to that fact that those libraries allow for more complex, customized pages.
The changes of websites from 2005 to 2016 illustrate what's happening.
Sites with average similarity scores in 2005 tended to look less similar than those with average similarity scores in 2016.
For example, in 2005, Webshots.com and Yum.com were considered relatively similar, but had somewhat different color schemes and very different layouts. While they both mostly use white, blue and black, the site on the right has a blue background.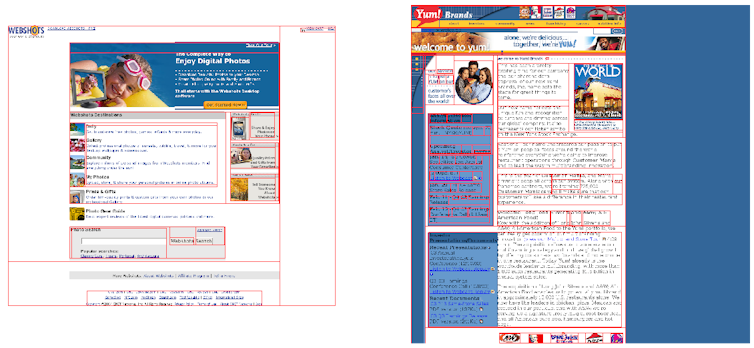 Screenshots from 2006 of Webshots.com and Yum.com. (Sam Goree, Author provided
Two 2016 sites, Xfinity.com and Gilt.com, on the other hand, are even more similar: They both have a menu bar on the top and are primarily white and black with images. These pages have much less text and make better use of the higher resolution monitors that exist now.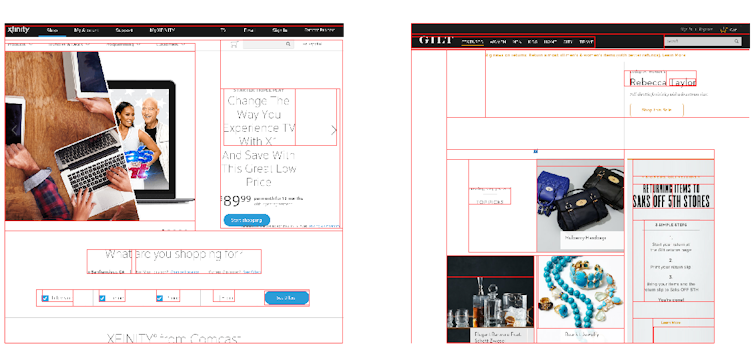 Screenshots from 2016 of Xfinity.com and Gilt.com. (Sam Goree)
Is conformity healthy?
What should be made of this creeping conformity?
On the one hand, adhering to trends is totally normal in other realms of design, like fashion or architecture. And if designs are becoming more similar because they're using the same libraries, that means they're likely becoming more accessible to the visually impaired, since popular libraries are generally better at conforming to accessibility standards than individual developers. They're also more user-friendly, since new visitors won't have to spend as much time learning how to navigate the site's pages.
On the other hand, the internet is a shared cultural artifact, and its distributed, decentralized nature is what makes it unique. As home pages and fully customizable platforms like NeoPets and MySpace fade into memory, web design may lose much of its power as a form of creative expression. The Mozilla Foundation has argued that consolidation is bad for the "health" of the internet, and the aesthetics of the web could be seen as one element of its well-being.
And if sites are looking more similar because many people are using the same libraries, the large tech companies who maintain those libraries may be gaining a disproportionate power over the visual aesthetics of the internet. While publishing libraries that anyone can use is likely a net benefit for the web over keeping code secret, big tech companies' design principles are not necessarily right for every site.
This outsize power is part a larger story of consolidation in the tech industry – one that certainly could be a cause for concern. We believe aesthetic consolidation should be critically examined as well.
Bardia Doosti, David Crandall and Norman Su contributed to this article.
Sam Goree, PhD Student in Informatics, Indiana University
This article is republished from The Conversation under a Creative Commons license. Read the original article.
He's also credited by some as having coined the phrase "user-friendly."
Photo by Lorenzo Herrera on Unsplash
Larry Tesler invented cut and paste, and coined the phrase "user-friendly".
His career in the technology sector spanned 50 years and was witness to many innovations that are now part of our daily lives.
In 1961, Larry Tesler went to study at Stanford University, which itself has been pivotal to the growth of Silicon Valley. It's where Bill Hewlett and Dave Packard met before founding the company that bears their name; Larry Page and Sergey Brin, the founders of Google, studied there too, as did Elon Musk.
Tesler worked at some of the biggest names in Silicon Valley: Apple, Xerox, and Yahoo. He also worked briefly at Amazon.
The pioneering computer scientist believed passionately that computers needed to be easy to use, and is credited by some as having coined the phrase "user-friendly".
In the 1970s, he developed the cut/copy and paste function that is now so widely used that it's hard to imagine not being able to Ctrl-X/Ctrl-C and Ctrl-V.
Here are some of the biggest innovations in computing the world has seen since Tesler first started at Stanford...
1. Mouse tales
One of the other big computing breakthroughs of the 1970s took place at the Xerox Palo Alto Research Center (PARC), where Tesler worked. It was the mouse. Although the initial concept for the mouse dates back to the work of Douglas Engelbart in the 1960s, the device was refined at Xerox, where the first ball-mouse was developed.
The mouse revolutionized the way people interact with computers, getting away from the purely text-driven approach and ushering in the era of the graphical user interface that we are all familiar with today.
2. You've got mail
Email was invented in the mid-1960s, too, and has become one of the most ubiquitous features of modern life. Some would say a little too ubiquitous.
Every minute of every day, 188 million emails are sent and more than half of them are spam. In the early 1970s, when the @ symbol was first integrated into email addressing protocols, the only people with access to an email mailbox were users of The Advanced Research Projects Agency Network (ARPANET). That was the first wide-area network and connected dozens of universities across the United States.
3. On the move
The chances are you're reading this on something other than a desktop. Everyone takes for granted the ability to take their computer with them, whether it's a laptop, a tablet or even their smartphone.
The very first vision for a mobile computer dates back to the 1970s, when Alan Kay, a researcher at Xerox PARC, had an idea for something he called the Dynabook. Apart from a cardboard mock-up, nothing came of it. But in 1981, the world was introduced to the Osborne 1 – the first portable computer. It had a 13cm screen that could only display 52 characters on each line of text. If you wanted one, it would have set you back $1,795.
It was basic by any modern standards, but the Osborne 1 sounded the starting pistol for the race to produce better mobile computers. By the end of the 1980s, several brands were producing their own, including Kyocera, Epson and Apple.
This was a period of innovation that saw the very first touchpad – it appeared on the Gavilan SC, launched in 1983 and the first computer to be referred to as a laptop.
The 1990s was the boom-decade for laptops. The chip-maker Intel designed the first processor specifically for mobile devices and many big-name computer makers started to produce laptops based on mass-produced components, such as screens, processors and circuit boards.
And then, a little over 10 years ago, the world was introduced to the ultimate in mobile computing devices – the smartphone as we know it now. There are currently more than 3 billion smartphones around the world, their user-friendliness being one of the key factors in their tremendous success.
4. A super-connected future
The next big wave in technology is already lapping at our ankles: fifth-generation (5G) mobile technology, which is predicted togenerate around $3.6 trillion of economic output and create 22.3 million jobs by 2035.
It will play an important role in the growth of smart cities and the Fourth Industrial Revolution. It could even assist progress toward some of the United Nation's Sustainable Development Goals. And over the next five years, investments in 5G networks are likely to reach $1 trillion.
The UN's Sustainable Development Goal 12 calls for responsible consumption and production, to reduce waste and preserve resources. 5G is already helping cut waste in smart factories. Its role in managing smart cities, where sensors collect data on the daily hustle and bustle of city life will help reduce congestion and emissions by keeping traffic moving, too.
It also has the potential to revolutionize the provision of multiple vital services such as education and healthcare by connecting people to one another, and to devices that can gather important information. Clinicians will be able to assess a person's vital signs – heart rate, blood pressure, breathing and more – in real-time, no matter how far from the patient they happen to be.
Reprinted with permission of the World Economic Forum. Read the original article.