Science (and life) keep hammering nails "into the coffin of the rational individual." But rationalism and individualism still haunt and systematically mislead—even about where your mind is.
Illustration by Julia Suits, The New Yorker cartoonist & author of The Extraordinary Catalog of Peculiar Inventions
1. It may surprise many, but all "individual knowledge is remarkably shallow." So says a view-of-mind-altering book The Knowledge Illusion: Why We Never Think Alone, by Steven Sloman and Philip Fernbach.
2. Science (and life) keep hammering nails "into the coffin of the rational individual" (Yuval Harari's review), but rationalism and individualism still haunt and systematically mislead.
3. "Our intelligence resides not in individual brains but in the collective mind." This "division of cognitive labor is fundamental to the way cognition evolved and the way it works today."
4. You know how to use GPS because masses of others know things you don't (—>key human trick is to not be limited by our own brains, or our own tool-making, tech is the materialized knowhow of others).
5. Thought "extends beyond the skull"; your mind uses its brains + body + tools (physical and cognitive) + other minds + environment.
6. Hence the "mind is not in the brain. Rather, the brain is in the mind" (the "extended mind").
7. We're unaware of most information we process. "Deliberation is only a tiny part" of cognition. Per Kahneman, most cognition is fast, intuitive, subconscious System 1, not slow, deliberative System 2.
8. Many experts are exorcising "rationalist errors" (—>"theory-induced blindness") to relearn the everywhere-evident fact that people often aren't rational. But there's less progress on individualism's errors.
9. To plumb cognitive dependence's depths, consider cultures where counting, counterintuitively, isn't intuitive. Caleb Everett's Numbers and the Making of Us covers cultures that label only one, two, three, and many.
10. Language is innate but numbers need painstaking training. That such basic-seeming cognitive tools are learned suggests useful extensions to Systems 1 and 2.
11. Measurable "cognitive biases" might not be in "the machinery of cognition" (e.g., need learned numeric skills). System 0 could label invariant traits vs System 1 culture-dependent ones (—>arrow illusion). Roughly, System 0 is hardware and System 1 is low-level software (see individualism and human nature's software). 
12. And since thought depends on extra-cranial resources, there's a System 3 that encompasses our collective physical and cognitive tools (—>"social cartesian" capabilities embedded in language).
13. "You can't do much thinking with your bare brain." We evolved to acquire our culture's thinking tools with whatever biases they harbor (our first nature needs second natures, "Words Are Thinking Tools").  
14. You can't do much thinking without others. As Siri Hustvedt says "Everyone's head is filled with other people" (from before birth). And "all ideas are… received ideas" (or they build on innumerable other-built thoughts).
15. No important part of human nature exists that isn't social (we're inalienably self-deficient).
16. Harari warns that faith in rational individuals ("mythical creatures") weakens democracy and capitalism (—>"errors of the Enlightenment").
17. Harari's review is revealingly headlined: "People Have Limited Knowledge. What's the Remedy? Nobody Knows." There can be no remedy. Your knowledge can't be unlimited (—> unbounded economics folly). And you can't not need others (to think or live).
18. Only forms of (paradoxical-seeming) collective individualism can work (see "relational rationality"). Rationally, you're only as fit as the collective(s) you need.
Illustration by Julia Suits, The New Yorker cartoonist & author of The Extraordinary Catalog of Peculiar Inventions
Wake up and smell the independence. Thomas Jefferson urged 18th century Americans to think of themselves not as colonial Englishmen, but as a new culture. To that end, he used architecture to serve as a visual reminder of America's proud new direction.
1979. U.S. Capitol dome, Washington, D.C.
The United States was a brand-new country in the 18th century. A country that had just fought for independence and won it. Across the ocean in Europe, that same century was the Age of Enlightenment, the Age of Reason. Liberty, progress, tolerance, fraternity, and constitution reigned with a thick French accent.
Benjamin Franklin arrived in Paris as America's first ambassador in December 1776. In Europe, everything from art and religion to science and mathematics was questioned. The architecture was no exception. When Franklin arrived, Paris was not the "city of light" of later years but a city of poverty, with narrow, crooked streets, and open sewers running down the middle. At the palace of Versailles, King Louis XVI and his queen, Marie Antoinette, presided over a world of luxury. When Franklin went home in 1785, America's new ambassador to France arrived. His name was Thomas Jefferson, and he would later be the one translating Enlightenment ideas into new American architecture.
Jefferson knew very well that in language, religion, and in temperament, American colonists were not much different to the English. However, the founding fathers envisioned a country with a unique path, a new culture that would be entirely its own. Jefferson aimed to make people think of themselves as Americans, not as colonial Englishmen. He advocated for a new measuring system, a new currency, a new State and a different shape of things to come. Significantly, he made the new American architecture his artistic declaration of independence.
Rococo buildings dominated Europe at his time, but since childhood, Jefferson was inspired by symmetry, clean lines, and the mathematical precision of Greek and Roman buildings. Jefferson was under the influence of Andrea Palladio, Julien David Le Roy, Roland Fréart, and Antoine Desgodetz. Because of Jefferson's aesthetic taste, classical structures of antiquity became a basis for new kind of American architecture that we now call "Jeffersonian architecture". It is embodied in the design of Jefferson's homes, Monticello and Poplar Forest; the University of Virginia, which he founded; and designs he created for the homes of his friends and political allies.
Over a dozen private homes bearing his personal stamp still stand today. Even after Jefferson's style went out of vogue it continued to have an influence on building designs on the East Coast until the mid-20th century.
The photographic collection 'Age of Reason of American Architecture' was created by Picryl, the largest public domain media search engine. See more images of Jeffersonian architecture at Picryl.  
1991. The Jefferson Memorial and members of the the 1ST Helicopter Squadron.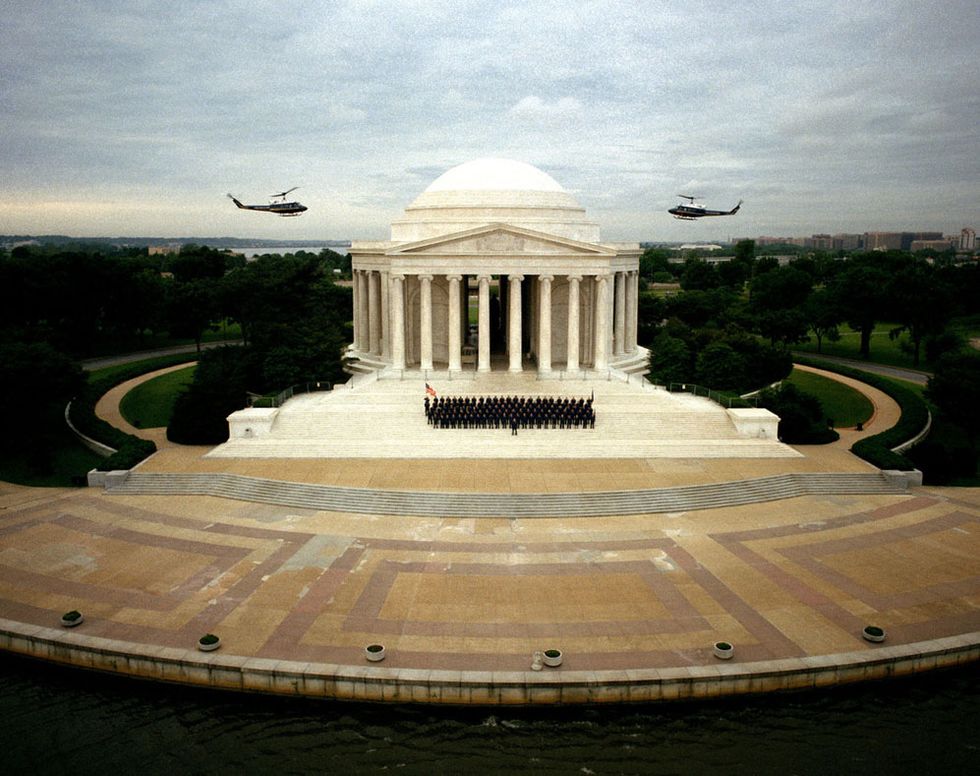 1979. Aerial view from above the U.S. Capitol, looking west along the National Mall, Washington, D.C.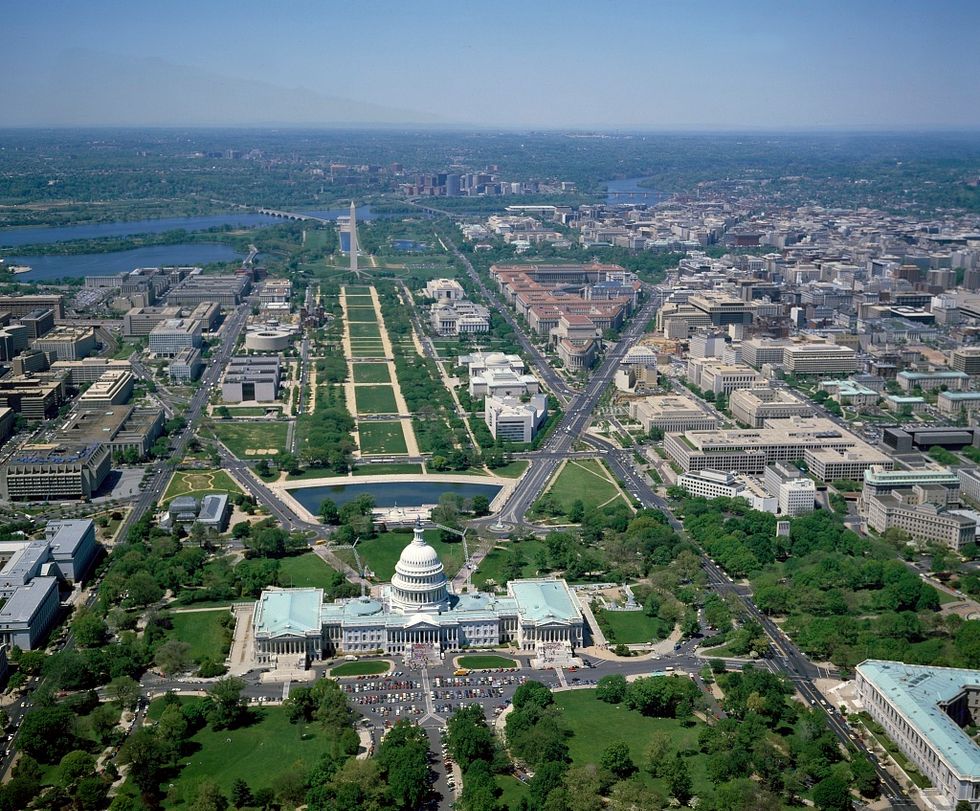 1916. Saint Louis Gateway Arch (originally Jefferson National Expansion Memorial), Saint Louis, Missouri.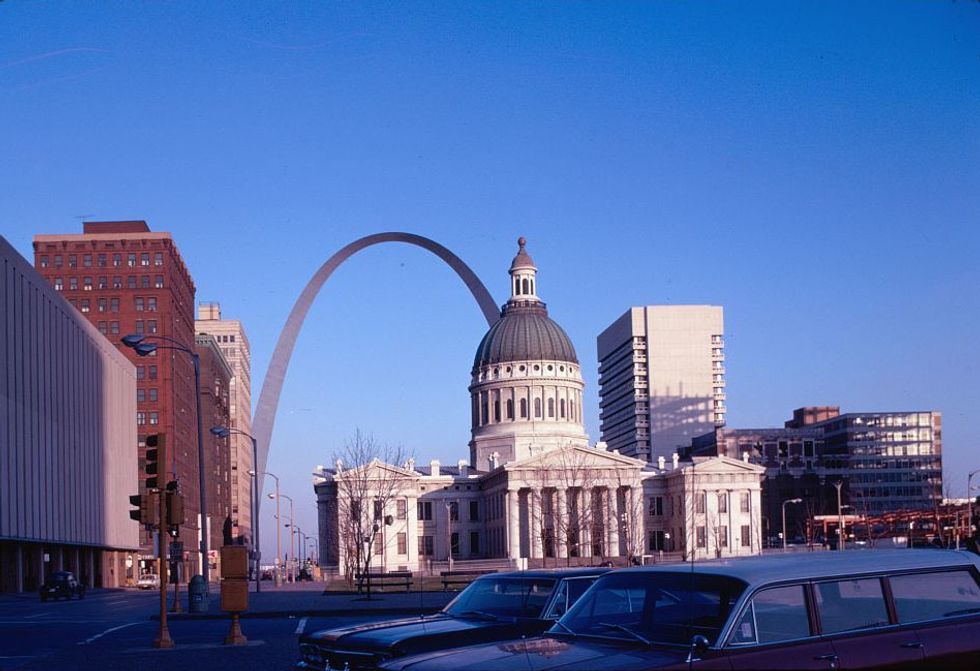 2006. View of approaches from the west façade of the Jefferson Building. Library of Congress Thomas Jefferson Building, Washington, D.C.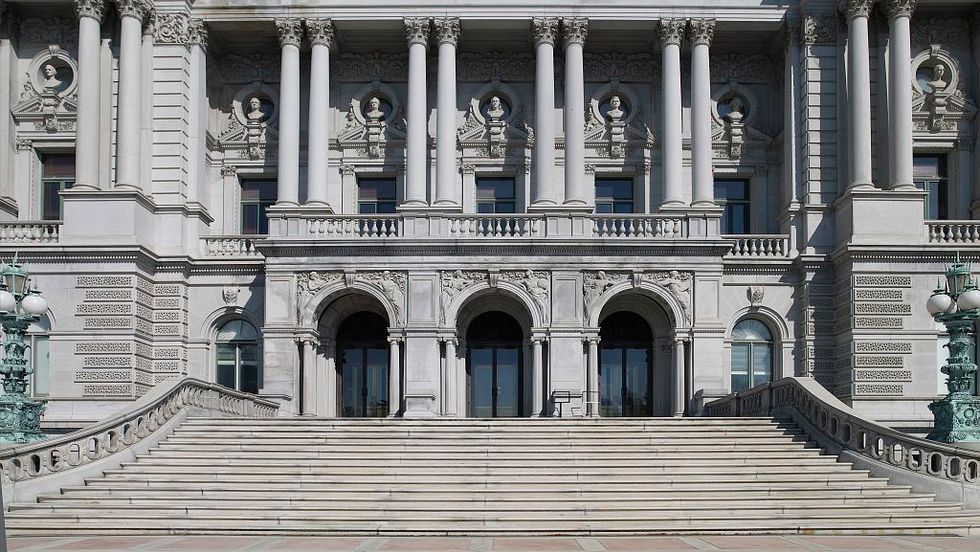 Northwest Corridor, First Floor. Mural depicting the muse Melpomene (Tragedy), by Edward Simmons. Library of Congress Thomas Jefferson Building, Washington, D.C.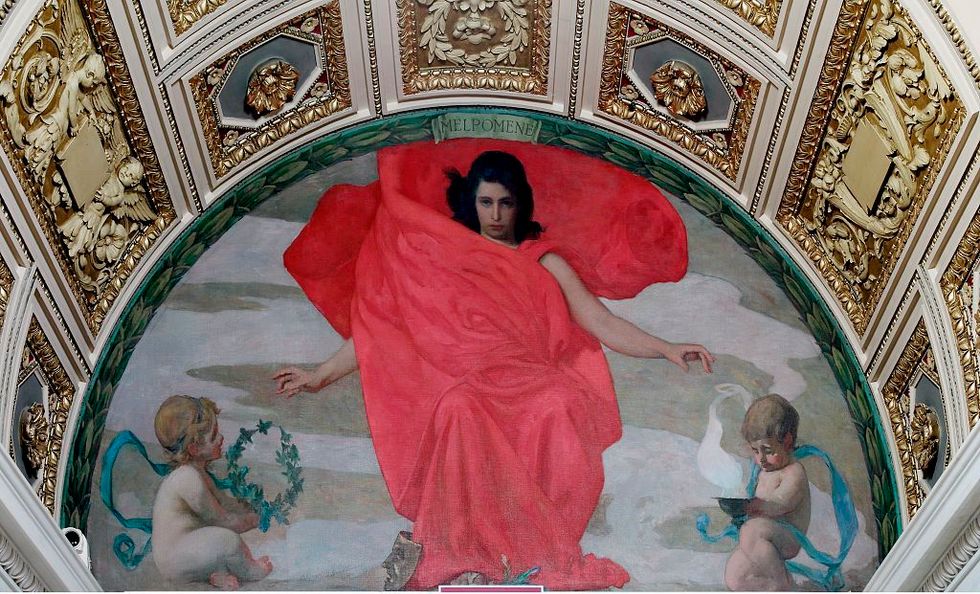 2006. Great Hall in Thomas Jefferson building, Washington, D.C. Detail of cherubs representing the literary genres on the Grand staircase by Philip Martiny.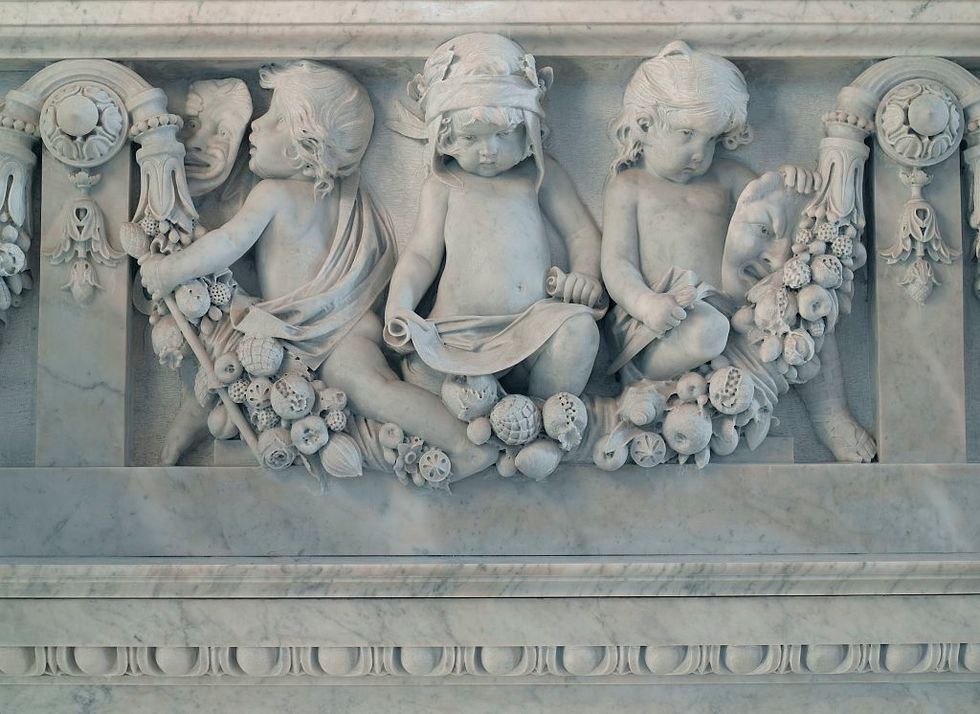 1979. Hallway, U.S. Capitol, Washington, D.C.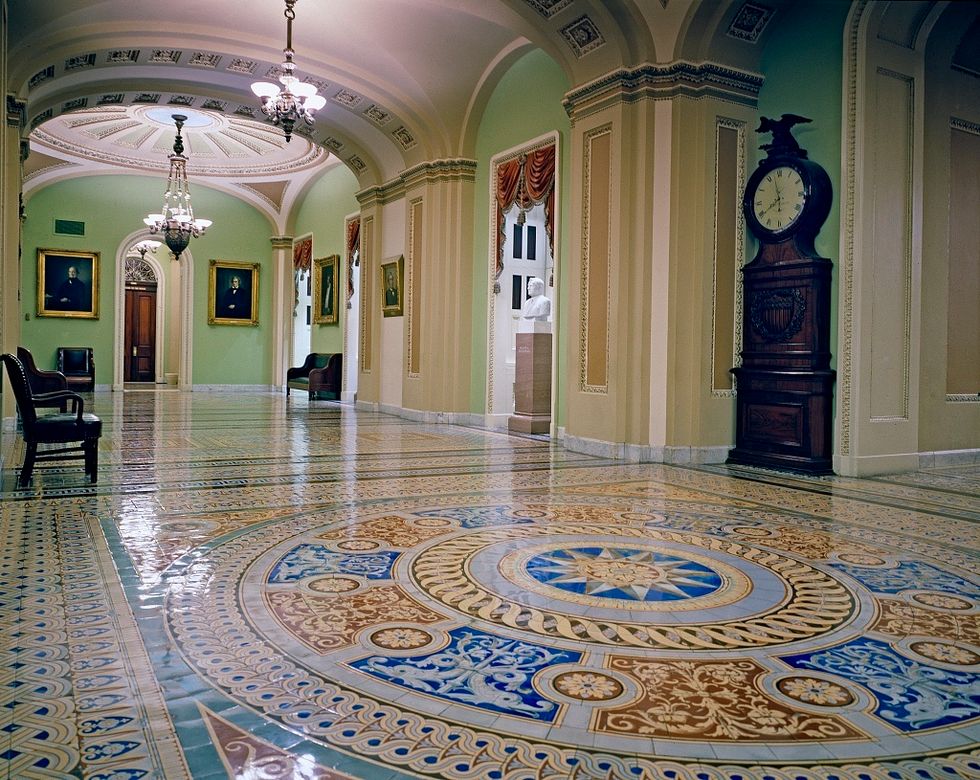 1979. Cove inside the Library of Congress Thomas Jefferson Building, Washington, D.C.