Here's why you should always be looking for new income streams—even if you already have a full-time job.
Some of the most innovative ideas and products in the world come from interdisciplinary collaborations. So what if you could become a one-stop interdisciplinary shop for bright, outside-the-box ideas? According to marketing expert Dorie Clark, that's what happens naturally when you start to build a side project or immerse yourself in a new hobby—even if it's just a few hours per week. Devoting yourself to learning how to build an app, run an e-commerce site, sell to clients, or create an artisan product expands your skills portfolio and makes you more valuable to your employer—plus the additional revenue streams will afford you some income cushioning should something happen to your full-time job (touch wood). Not only does your gusto show initiative, but it could allow you to solve problems from a perspective that is unique among your colleagues. Beefing up your skills is an entrepreneurial tactic that can transform your career and income potential. Case in point, Clark shares the story of how one nurse rose up the ranks like lightning to become the communications director at a major New York City hospital. Make your hobbies pay off and become professionally independent. Dorie Clark's new book is Entrepreneurial You: Monetize Your Expertise, Create Multiple Income Streams, and Thrive.
Just by looking at satellite images, AI can predict your income bracket, and tell us what wealth and poverty look like from space.
Image: NASA
What does wealth look like… from space? This is the question researchers from Carnegie Mellon University wanted to answer when they built Penny. Penny is an AI built on machine learning using neural networks. Through an interactive website Penny lets you browse satellite images of New York City and St. Louis and see how different kinds of features make an area look wealthy or poor to the AI.  
To build Penny, the researchers used household income data from the U.S. Census Bureau, mapped it, and overlaid it with satellite imagery. They color-coded areas to represent different income brackets. In the picture below, green represents areas with the highest quartile of annual income (averaging $71,876 and above), red represents areas with the lowest annual income (averaging $34,176 and below) and orange and yellow represent the middle levels of income (averaging between $34,176 and $49,904, and $49,904 and $71,876, respectively).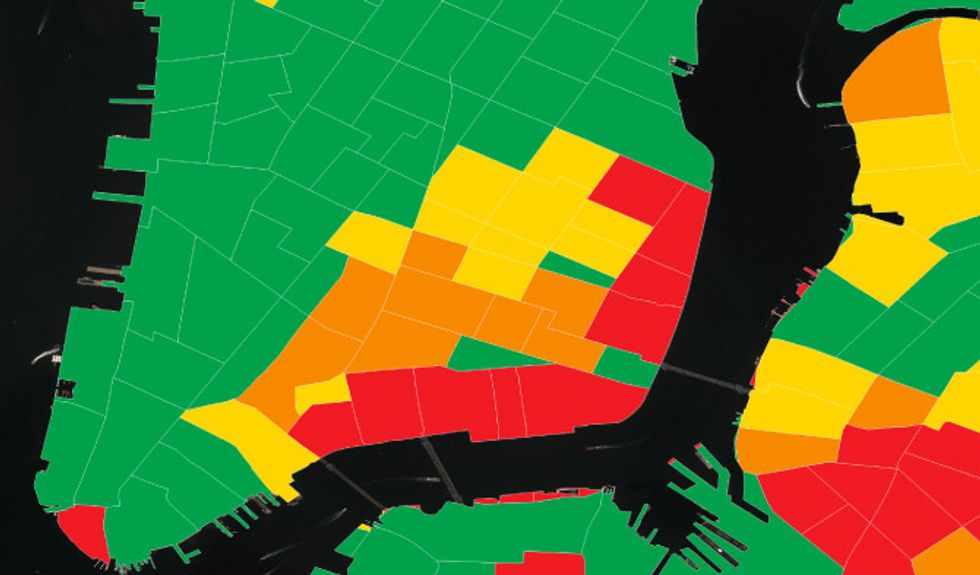 Census data mapped and color coded / penny.digitalglobe.com
The two layers of data — the color-coded map and the satellite images — were then given to a neural network which was trained to predict the average household incomes in any area in the city. The AI looks for patterns in the imagery that correlate with census data. Over time, the neural network learns what patterns best predict high and low income levels. The model can then be used to predict income levels for a place, just by looking at a satellite image. 
So, what do wealth and poverty look like from space? Some of the correlations that Penny found were that lower income areas, for example, tend to have baseball diamonds, parking lots, and large similarly shaped buildings (such as housing projects). In middle income areas there were more single-family homes and apartment buildings. Higher income areas tend to have greener spaces, tall shiny buildings, and single-family homes with lush backyards.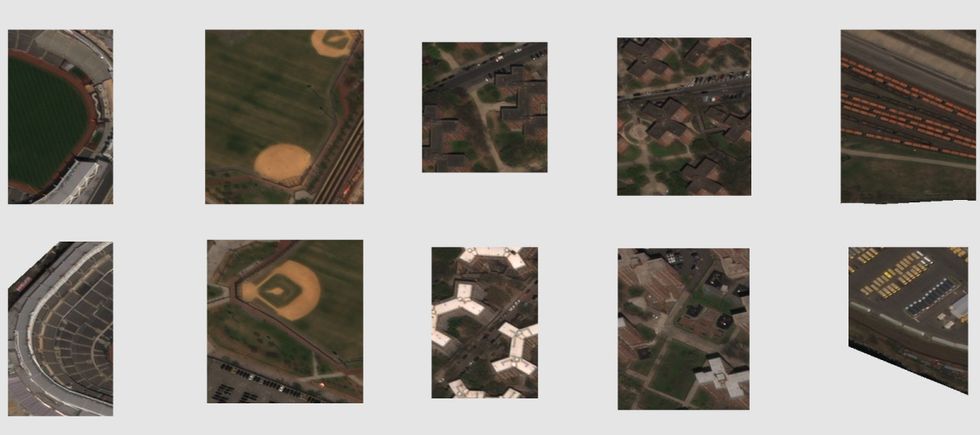 Patterns of low-income areas / penny.digitalglobe.com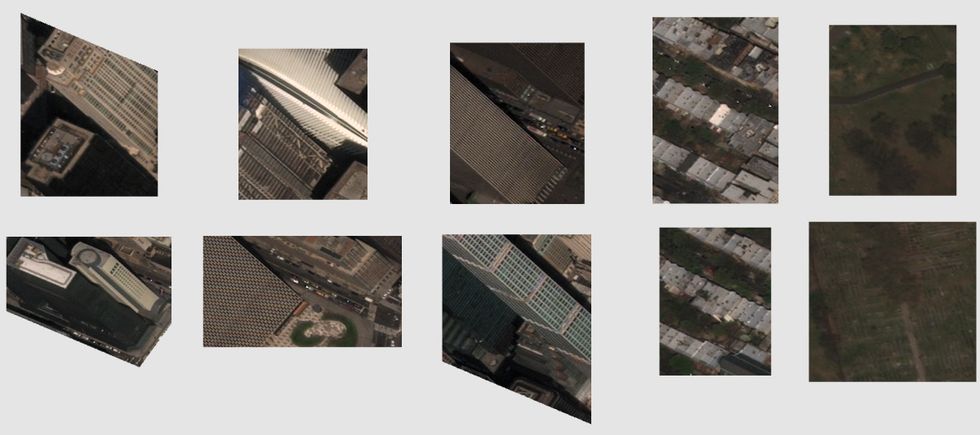 Patterns of high-income areas / penny.digitalglobe.com
There has also been other research concerned with estimating wealth from satellite data. Scientists from the University of Konstanz found that it is possible to make inferences about the wealth of a region, as well as individual settlements, by measuring the amount of nighttime illumination.
An interesting feature of Penny is that the tool lets you play around with the landscape of the city, by adding and removing urban features like buildings, parks, and freeways. After making the changes, Penny makes a new estimate on the income  bracket of the block.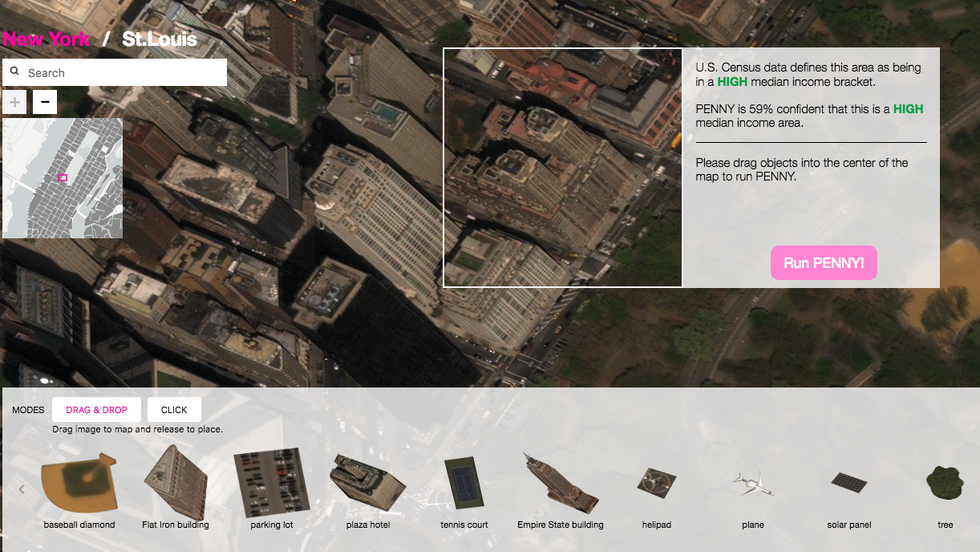 Penny's interface allows the users to drag and drop urban features on the map. / penny.digitalglobe.com
The researchers are hoping to spark a conversation about artificial intelligence, machine learning, cities, infrastructure, satellite imagery, and big data. The way machines understand these things has increasingly important implications for how we understand patterns of urbanization, wealth, and the human condition.
Here's something to think about the next time you see a filthy Abe Lincoln on the sidewalk.
If there is a penny on the ground, is it worth your time to pick it up?
What if the very act of picking up a penny is more financially valuable than the one cent gained? In other words, is the value of a penny so minimal while the direct value of our time so great that it makes more sense to leave the penny alone?
For many of today's freelancers and members of the gig economy, the answer is YES--spending a few seconds to pick up a penny would be a financially unwise decision. More potential pennies would fall out of one's proverbial pocket than be placed in one's actual pocket. The penny is so nominal in value that just a few seconds of time commitment spent picking one up would be financially unsound.
Let's break it down: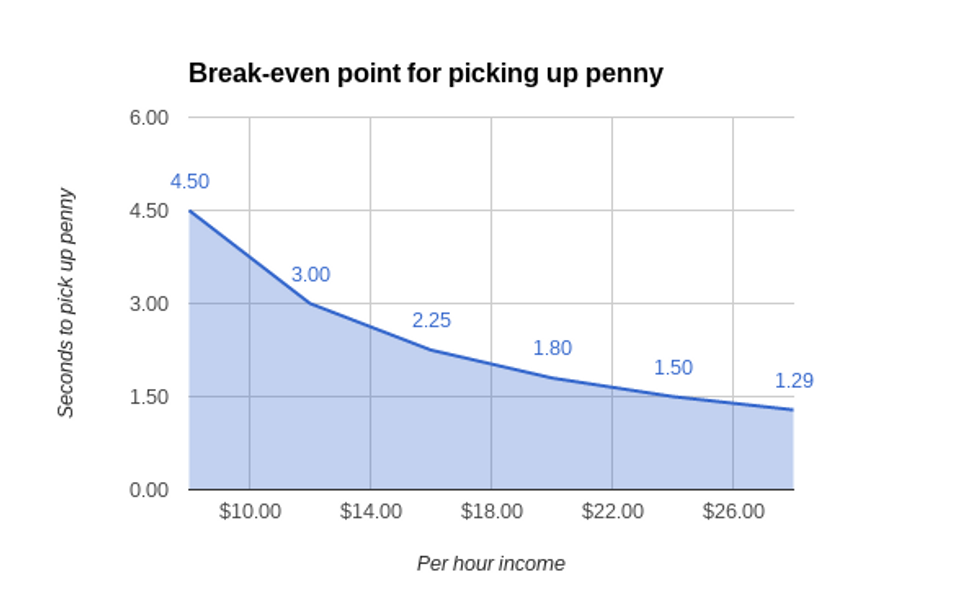 How many seconds is too much of a time commitment to make picking up a penny worthwhile? Use your per hour income as a freelancer to see what your break-even point is. For example, a freelancer receiving $18/hour has a break-even point of 2 seconds.
Picking up a penny every second for an entire hour would give you a grand total of $36.
So for a freelancer or anyone else able to command over $12/hour with their "free time," three seconds used to bend down and pick up a penny is a losing proposition. A freelancer making the current minimum wage ($7.25) would find their time better spent leaving the change on the ground if the act would take five or more seconds.
This isn't just an idle thought.
According to a recent study the McKinsey Global Institute, almost a third of American workers now participate in the gig economy. Whether it is done on a full-time basis or more an act of supplementing income, the rise of the gig economy makes the value of "spare time" highly relevant. For many participants in the gig economy, retrieving a penny would be negligible at best and negative at worst.
We have a problem, of course.  The dilemma is created by a rise in the direct value of our time within the gig economy, combined with the continuing devaluation of the penny. Applying any free time to generate money is becoming more achievable through on-demand platforms and freelancing sites, while the relative value of the penny decreases with inflation. The average Uber driver, for example, was making $19/hour in the top 20 US markets according to a 2015 study. For that average Uber driver, two seconds picking up a penny outside of their car would be less valuable than two more seconds driving.  
Why pick up a penny when you can pick up your phone? The ease of generating income in the gig economy may be making orphan pennies a mere nuisance.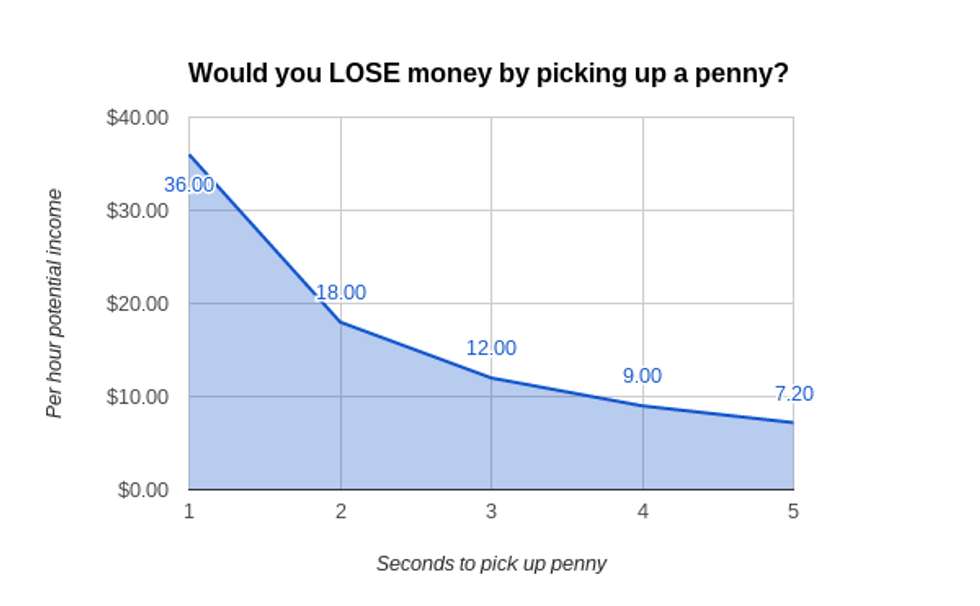 Are you losing money by picking up money? Use your average per hour income as a freelancer, along with the time used to pick up a penny, to find out! Being in the blue is a gain, while being in the white is a negative. 
Perhaps the penny is destined to stay on the ground and in circulation. The one-cent has been a part of our currency through private mints since the late 18th century, and made legal tender with the Coinage Act of 1864. The US half-penny was eliminated in 1857. Despite some passionate advocacy for the United States to eliminate the one-cent piece, the penny shows little sign of death. But whether the lowest denomination of currency has been reduced to wasting our time is another story.
There are some who find picking up a penny good luck. Others insist that the one-cent pieces add up, and can send you over some great stories like the Louisiana man who collected pennies for 40 years and cashed them in last year for $5,000. But for those in the gig economy making a decent wage, that may be penny wise and pound foolish.
Persistent as the penny is, there's no doubt its days are numbered – like all our bills and coins. To find out about where money is headed, we talked to Kabir Sehgal.