Being mortal makes life so much sweeter.
Since the beginning of time, humans have fantasized over and quested for "eternal life."
Lobsters and a kind of jellyfish offer us clues about what immortality might look like in the natural world.
Evolution does not lend itself easily to longevity, and philosophy might suggest that life is more precious without immortality.
One of the oldest pieces of epic literature we have is known as the Epic of Gilgamesh. It's easy to get lost in all the ancient mythology — talking animals and heroic battles — but at its heart lies one of the most fundamental and universal quests of all time: the search for immortality. It's all about Gilgamesh wanting to live forever.
From Mesopotamian poetry to Indiana Jones and the Last Crusade, from golden apples to the philosopher's stone, humans, everywhere, have wanted and sought after eternal life.
And yet, perhaps the secret to immortality is not as elusive as we might think. Rather than holy objects or science fiction, we need only look to the animal world to see how nature, that most magical of places, might be able to answer one of the oldest questions there is.
Eternal crustaceans
If you ever find yourself at Red Lobster or about to munch into a lobster roll, take a moment to consider that you might just be eating a clue to perpetual youth. To see why, we have to know a tiny bit about aging.
As you get older, it's impossible not to notice how everything creaks a little more, how easy jobs now require great effort, and how hangovers are no longer a laughing matter. Our bodies are designed to degrade and wear away. This deterioration, known as "senescence" in biology, occurs at the cellular level. It's when the cells in our body stop dividing, yet remain in our body, active and alive. We need our cells to divide so that we can grow and repair. For instance, when we cut ourselves or lift weights in the gym, it is cell division that replaces and rebuilds the damage done. But, over time, our cells just stop dividing. They stay around to do the best they can, but like the macroscopic humans they make up, cells get slower and more error-prone — and so, we age.
The Fountain of Youth (1546)Credit: Lucas Cranach the Elder via Wikipedia / Public domain
But not lobsters. In normal cases of cell division, the shields at the end of our chromosomes — called telomeres — are remade a bit smaller, and so a bit less effective after each subsequent cell division at protecting our DNA. When this reaches a certain point, the cell enters senescence and will stop dividing. It won't self-destruct but will just carry on and wallow as it is. Lobsters, though, have a special enzyme (unsurprisingly, called telomerase) which makes sure that their cells' telomeres remain as long and brilliant as they've always been. Their cells will never enter senescence, and so a lobster just won't age.

However, what evolution giveth with one hand, it taketh with another. As crustaceans, their skeleton is on the outside, and having a constantly growing body means they are always outgrowing their exoskeletal homes. They need to abandon their old shells and regrow a new one all the time. This, of course, requires huge reserves of energy, and as the lobster reaches a certain size, it simply cannot consume enough calories to build the shell equivalent of a mansion. Lobsters do not die from old age but exhaustion (as well as disease and New England fisherman).
The jellyfish that reverses its life cycle
Although lobsters might not have perfected immortality, perhaps there's something to learn.

But there's another animal that does even better than the lobster, and it's the only creature recognized to be properly immortal. That's the jellyfish known as Turritopsis dohrnii. These jellyfish are tiny — about the size of a fly at their biggest — but they've mastered one ridiculous trick: they can reverse their life cycle.
An embryonic jellyfish starts as a fertilized egg before hooking onto some kind of surface to then grow up. In this stage, they will stretch out to look like any other jellyfish. Eventually, they will break away from this surface to become a mature, fully developed jellyfish, which is in turn ready to reproduce. So far, so normal.
Yet Turritopsis dohrnii does something remarkable. When things get tough — like the environment becomes hostile or there's a conspicuous absence of food — they can change back to one of the earlier stages in their lifecycle. It's like a frog becoming a tadpole or a fly becoming a maggot. It's the human equivalent of a mature adult saying, "Right, I've had enough of this job, that mortgage, this stress, and that anxiety, so I'm going to turn back into a toddler.". Or, it's like an old man deciding to become a fetus again, for one more round.
Obviously, a fingernail sized jellyfish is not immortal as we'd probably want the word to mean. They're as squishable and digestible as any animal. But, their ability to change back to earlier forms of life, ones which are better adapted to certain environments or where there are fewer food sources, means that they could, in theory, go on forever.
Why do we want to live forever?
Although the quest for immortality is as old as humanity itself, it's surprisingly hard to find across the diverse natural world. Truth be told, evolution doesn't care about how long we live, so long as we live long enough to pass on our genes and to make sure our children are vaguely looked after. Anything more than that is redundant, and evolution doesn't have much time for needless longevity.
The more philosophical question, though, is why do we want to live forever? We're all prone to existential anguish, and we all, at least some of the time, fear death. We don't want to leave our loved ones behind, we want to finish our projects, and we much prefer the known life to an unknown afterlife. Yet, death serves a purpose. As the German philosopher Martin Heidegger argued, death is what gives meaning to life.
Having the end makes the journey worthwhile. It's fair to say that playing a game is only fun because it doesn't go on forever, a play will always need its curtain call, and a word only makes sense at its last letter. As philosophy and religion has repeated throughout the ages: memento mori, or "remember you'll die."
Being mortal in this world makes life so much sweeter, which is surely why lobsters and tiny jellyfish have such ennui.
Jonny Thomson teaches philosophy in Oxford. He runs a popular Instagram account called Mini Philosophy (@
philosophyminis
). His first book is
Mini Philosophy: A Small Book of Big Ideas
George Bernard Shaw quipped that a rich man 'does not really care whether his money does good or not, provided he finds his conscience eased and his social status improved by giving it away'. Was he right?
Bill and Melinda Gates watch their daughter Jennifer perform during The Hollywood Reporter Trophy class at Longines Los Angeles Masters. (Photo by Kevork Djansezian/Getty Images for Masters Grand Slam Indoor)
In Socialism for Millionaires (1896), the Irish playwright George Bernard Shaw quipped that a rich man 'does not really care whether his money does good or not, provided he finds his conscience eased and his social status improved by giving it away'. Was he right to be so cynical?
The reality today is that private wealth finances only a tiny fraction of social needs. According to Arton Capital and Wealth-X's philanthropy report (2015), ultra-high net-worth individuals in the United States (those who have $30 million and above in net assets) gave $49.2 billion to charities in 2015 – or 19 per cent of all individual philanthropic donations in the US. But if we bring in data from the Urban Institute, which puts the total revenue for US charities at $1.73 trillion in 2015, the super-rich contribute less than 3 per cent of the total.
At least we can console ourselves that non-profits will probably trundle on without donations from the very wealthy. But can the wealthy 'survive' without giving? What needs are fulfilled by philanthropy? Do we give to make the world a better place, to give back to the community? Or is charity motivated by reasons that are far less noble – peer pressure, social status, a version of conspicuous consumption? 
Studies show that, in general, people who feel good, do good – and likewise, people who do good, feel better. The rich are no exception. Giving to charity activates parts of the brain related to reward and pleasure. Yes, the rich do have some distinctive reasons for giving to charity, such as the desire not to 'morally corrupt' their heirs. But like others, they also give to strengthen their identity – and probably, to relieve their guilt. As Shaw said, with typical epigrammatic acuity: 'One buys moral credit by signing a cheque, which is easier than turning a prayer wheel.'
The first person to attribute the act of charity to improving one's public image was the 18th-century Scottish economist Adam Smith, who claimed that people make moral and ethical decisions based on how an impartial observer would judge them. This idea harks back to a dialogue about justice in Plato's Republic, in which Glaucon tells Socrates that people behave ethically only when they think others are watching. 
Fast-forward to 2009, when Dan Ariely, a behavioural economist at Duke University in North Carolina, co-conducted a study evaluating the motive of outward appearances in giving to charity. The research found that appearances are so important that they even trump financial incentives. In the experiment, participants were divided into two groups, where each group was asked to type a combination of letters on a keyboard. They were told that if they typed the combination correctly, some money would be donated in their name to the Red Cross, although never more than a few dollars.
In the 'private' group, members were exposed only to their own 'giving' scores, whereas in the 'public' group, each member was asked to publicly announce his or her donation to the others. In the end, members of the public group got the letter combination right twice as often as members of the private group. At a later stage of the experiment, researchers decided to test whether people would forgo a financial reward to look altruistic in the eyes of others. In the public group, adding a personal financial incentive had only a small effect on its success rate, whereas it increased the private group's success rate by 35 per cent.
There's no doubt that outward appearances help to explain the rise of modern philanthropy. In the early 20th-century US, giving was a way of gaining status for those who had recently acquired a fortune. 'New' and 'old' money competed for large-scale public projects, such as the American Museum of Natural History in New York and the New York City Opera. One can find the names of individual donors splashed across the programmes of philharmonic orchestras, in university brochures and on hospital walls. If donors were not concerned with their personal brand, these displays would be meaningless. In several documented cases at US universities, only around 1 per cent of donors requested to remain anonymous – a statistic often cited by those who argue that cachet and publicity are the main reasons that the rich give to such institutions. And when donations are publicly listed by category, most people donate equal to or slightly above the minimum amount required to secure their spot.
Some researchers explain donors' behaviour with an economic rationale: donors reap benefits from their contributions. When a person donates to a university, perhaps they expect their child to study there. When they donate to a hospital, they're thinking about the day they need its services. However, in 1990 the economist James Andreoni at the University of California, San Diego showed that this model, like that of pure altruism, doesn't capture all the reasons why people give. Perhaps donors enjoy a 'warm glow' from giving, he suggested. Art benefactors, for example, want to perceive themselves as art lovers, as much as they want to contribute to art.
Sometimes people donate when they'd rather not – simply because it's hard to refuse. Researchers at the University of California, Berkeley conducted an experiment in which they asked for donations door-to-door. Some of the houses got a flyer that announced an arrival time for collections, and the others got flyers without a fixed time. In the end, the sum collected from those notified was 17 per cent lower than from the others. The experiment was repeated, except this time the advance-notice flyer was accompanied by an optional 'do not disturb' tick box. The money raised from the group who ticked the box was 35 per cent less than that raised from the group who received no notice.
True, the majority of donations made by the very wealthy are not handed to anonymous fundraisers who knock on doors. Rather, many are made to colleagues and friends who are hard to refuse, especially when they ask for donations to the charities that they champion.
Let's remember, too, that the problems philanthropists want to solve are frequently the result of government decisions, resource allocation and the status of human and property rights. If philanthropists were to commit to deeper and more meaningful action – if they joined governments or other institutions – they could affect public welfare in a more enduring way. Instead philanthropists are often slow to get involved in public policy, and prefer to make donations that counteract the government's shortcomings. This reveals where their priorities really lie.
It's probably impossible to find one explanation for all these patterns. They operate in an intricate web of motives and interests, both altruistic and egoistic. The extent of egoistic motives varies across donors (due to individual diversity), but is linked to donation amount (size matters). Paul Schervish, a professor of sociology at Boston College, claims that an amalgamation of circumstances and on-the-go decisions compel the rich to give, rather than a defined set of psychological reasons. He came up with the term 'moral biography' to describe an individual's personal capacity and moral compass.
Perhaps the most original answer to the question of 'why they give' was offered by the psychologist Ernest Becker. In his Pulitzer-Prize-winning book The Denial of Death (1973), Becker explains that humans use culture to fight against our awareness of our own mortality. We try to give our life a meaning that will outlast us after death. That, or else we distract ourselves from the existential 'terror' by engaging in mind-numbing entertainments – which today might include reality television or social media.
Religious faith is one way we typically tackle the threat of mortality, but it's certainly not the only thing in humanity's toolbox. Hoarding (including money and assets), artistic creativity and even establishing a big family are all things that we hope will outlast us. So whether we leave a plaque with our name on a building, or tell ourselves that we promoted social change and helped the disadvantaged, are we all just trying to fulfil the human quest for meaning, a quest that might be nothing more than the defiance of death?

Jacob Burak
--
This article was originally published at Aeon and has been republished under Creative Commons.
Find the right genes and we'll have a way to prolong life and good health, perhaps indefinitely.
Credit: Getty Images.
Better food, healthcare, working conditions, and safety protocols have allowed humans to live longer and healthier than ever before. In most developed countries today, the average lifespan is 80 years, while in 1906, a little more than 100 years ago, it was 48. Projections moving forward look so good that there's a debate in the medical community on whether or not we can increase human longevity indefinitely.
There are far more centenarians than ever, or those who've lived to 100, and more supercentenarians or those 110 or above. A study published last year in the journal Nature proposes that 122 may be the human lifespan's ceiling. Most of those in the upper reaches of our lifespan assign their longevity to lifestyle choices or healthy habits, which of course play an enormous role. But many scientists believe important secrets to longevity lie within our genes as well.
Moreover, quite a number of studies suggest a strong genetic link. For instance, a 1996 study published in the journal Human Genetics, looked at thousands of Danish twins. It concluded that 20-26% of longevity is up to one's genetic code. Meanwhile, a Boston University study found that a centenarians' siblings have about a 3½ times higher chance of reaching 100, over non-centenarians' siblings.
What's more, supercentenarians don't often experience any of the serious diseases people succumb to in old age, such as heart disease or cancer. Turns out, the longest living among us carry fewer of the genetic variations involved with such diseases.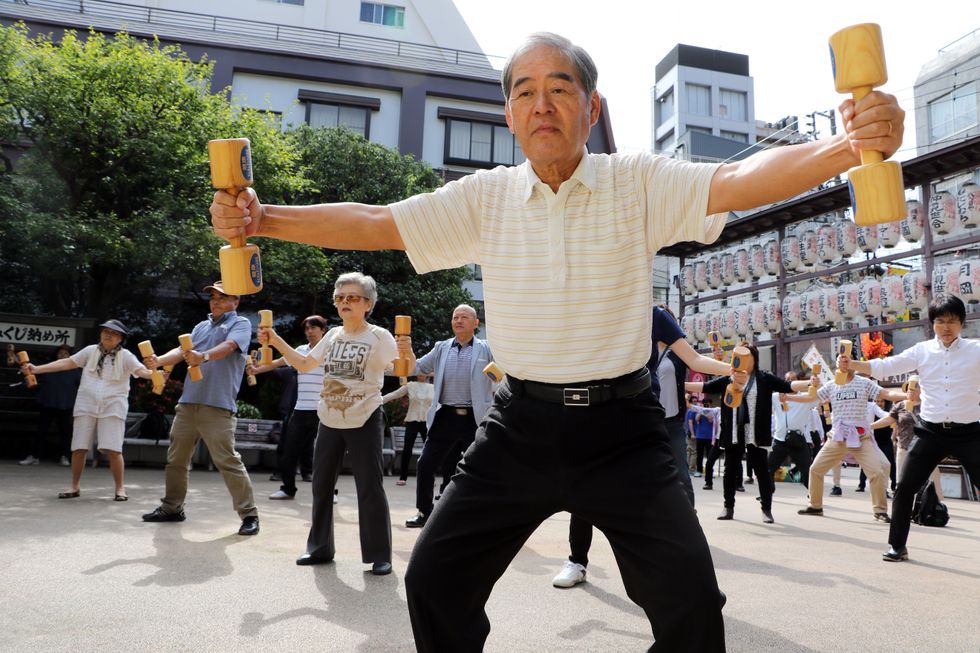 While lifestyle plays an enormous role, certain genes or gene combinations add significantly to longevity and good health later in life. Credit: Getty Images.
To find out what all those who've reached 110 have in common, a nonprofit known as Betterhumans is studying the DNA of those who have shown impressive longevity. It bills itself as "the world's most comprehensive genomic study of supercentenarians and their families." DNA samples collected will not only be sequenced, the data produced will be made available to the public. In fact, a series of genomes are to be released this week.
The idea is to find out what genes gives people an exceptional lifespan, synthesize those genes, and from there develop a way to prolong life and health in others. So far, the project has collected over 30 samples from people in North America, Europe, and the Caribbean. Those who qualify can donate their saliva, a blood sample, or if their long-lived relative is deceased, a tissue sample, to the project. Then the samples are analyzed by Betterhumans and their research partners.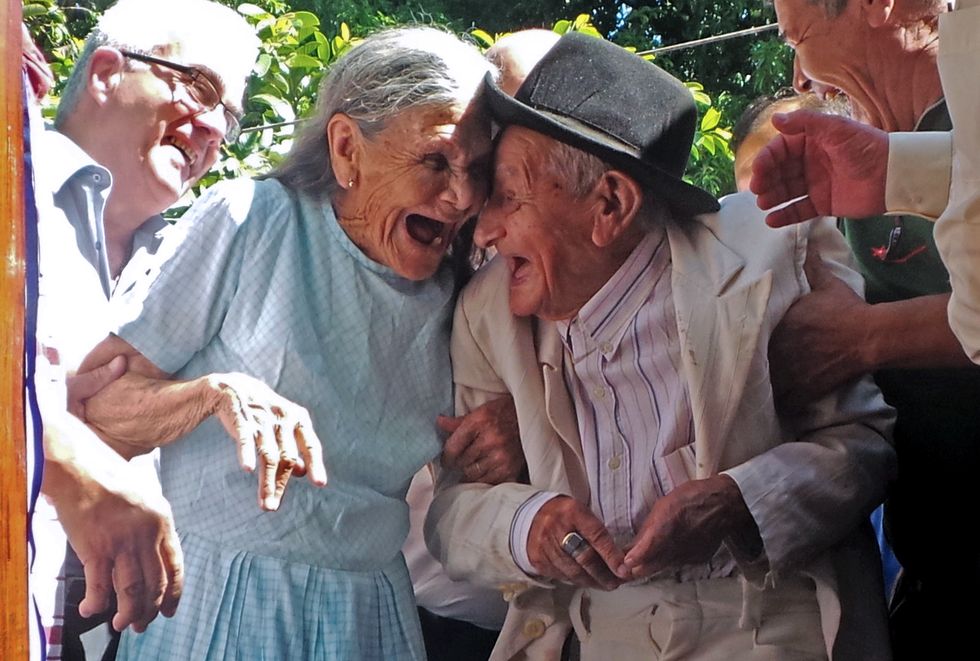 It may be more than being devoid of disease causing mutations that keep those over 110 in good health. Credit: Getty Images.
Supercentenarians live more healthy, disease-free lives in their autumn years than even centenarians. Their genomes are not just devoid of disease causing mutations, they must also contain actively protective genes. Previous work has been stunted however by a lack of supercentenarian DNA to work with. Betterhumans is hoping to overcome this problem.
The nonprofit says it uses a specific identification system, assigning a proprietary number to each sample, so that the subject can remain anonymous. Once a large number of samples have been processed, they're sent to a lab for sequencing. Both proprietary and public-domain software is used. Besides sequencing, Betterhumans is comparing and contrasting supercentenarian DNA with non-supercentenarian DNA. It takes three months total from the time they take the sample to the time it's turned into data.
2,500 differences in supercentenarian DNA have been tagged thus far, but it's hard to discern which are significant. Extremely rare mutations might be difficult to detect using standard methods. Scanning procedures are set to look at places that are already known to harbor mutations.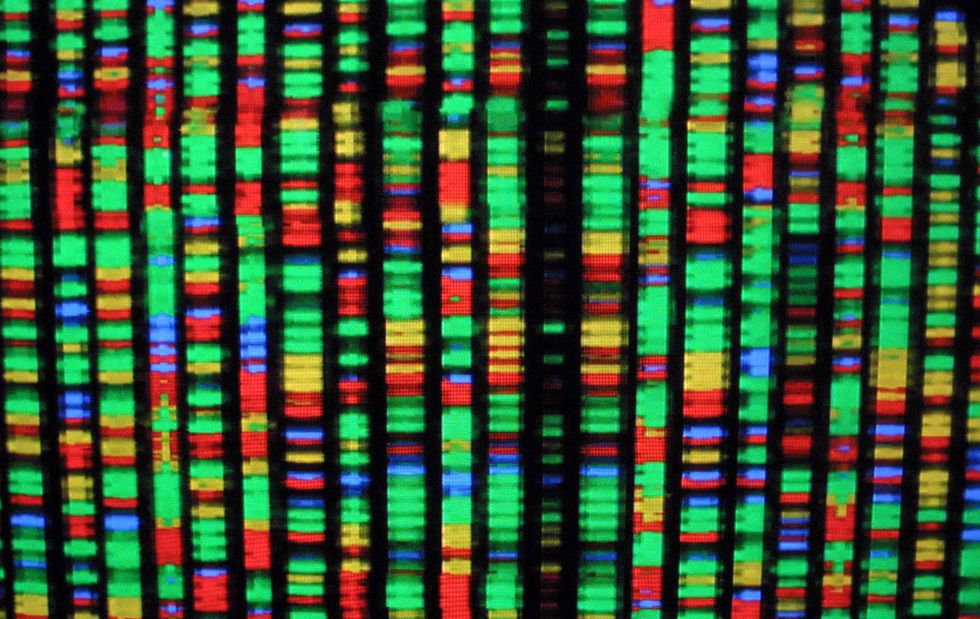 A significant number of variants for supercentenarians have been found so far. Deciphering them is another matter. Credit: Getty Images.
So will we all be living to 110 in a decade or two? There's still a contentious debate on whether or not there's a limit to the human lifespan or if science can eventually make it limitless. But let's say for the sake of argument that we can, should we?
The project has natural limitations. To understand all the phenotypes or combination of genes involved, tens of thousands of genomes would need to be sequenced. Yet, there are only about 150 supercentenarians worldwide. Just one in five million Americans is one. Also, some of them are hard to find. They may be living in rural areas in developing countries and did not receive a birth certificate when they were born.
Those who have a supercentenarian in their life or are one and want to contribute, contact Betterhumans and donate a sample. Contact them by phone at: (509) 987-5282, email: supercentenarian@betterhumans.org, or by filling out an enrollment form here.
To learn about another significant breakthrough in the quest for longevity, click here:
French researchers recently roused a patient out of a vegetative state.
Getty images.
We used to think of death as a moment. We reel when a beloved person meets a tragic end, be it in real life or our favorite show. The reality is, death is often a long, drawn out process that has to do with treatment, hospitals, and in the end, hospice care. Of course, it can strike suddenly too and without warning. But medical science has progressed to the point where we aren't thinking of death so much as a moment anymore, but a process.
So does that mean we can slow it down or even pause it? According to Dr. Sam Parnia, in his book Erasing Death, new techniques are being used which can reinvigorate the body and the brain. He also believes that death could someday be reversible.
Dr. Parnia has done studies on sustained resuscitation. He says some patients can be brought back merely with CPR, hours after their heart stopped beating, without any permanent damage to the brain. He's also studied near-death and out-of-body experiences to see if these hold any medical secrets, which could be used to tell us something about the condition. Could a near death experience signify resuscitation of the brain, Dr. Parnia wonders? 
"We've never had an objective method to go beyond the threshold of death and study what happens both biologically and from a mental and cognitive perspective," he told NPR's Terry Gross on Fresh Air. "Therefore everything that we deal with is basically hearsay and people's own beliefs."
In his experiments, he found that cooling the body a few degrees Celsius can actually slow the rate of cell death, particularly of neurons in the brain. He isn't alone. In fact, a number of different medical professionals are leaning toward longevity medicine.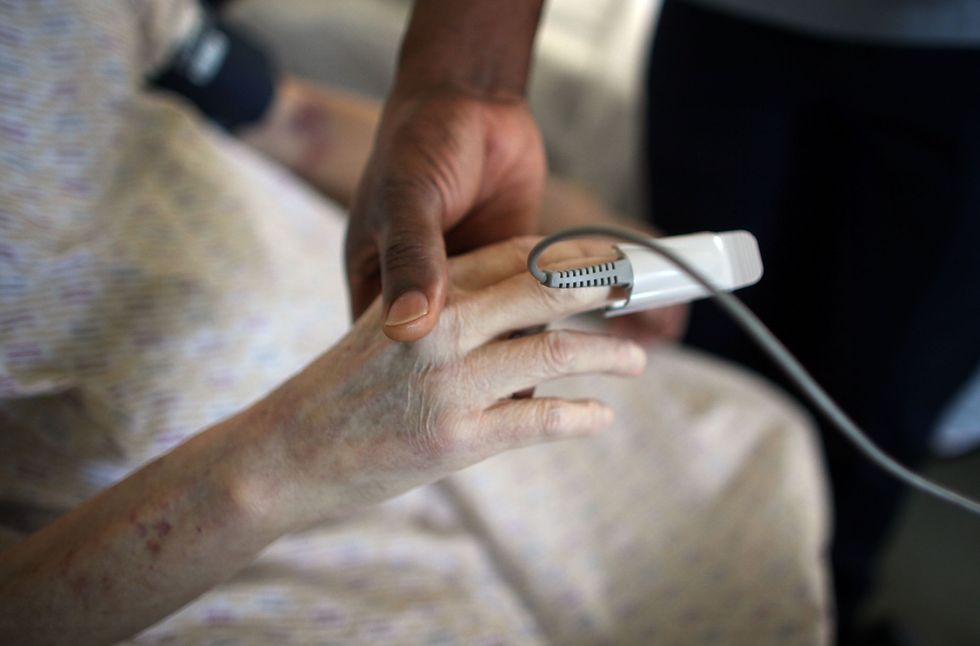 Dr. Parnia believes that a near death experience might signify resuscitation of the brain. Getty Images.
Biologist Mark Roth, at Seattle's Fred Hutchinson Cancer Research Center, is working with animal subjects, putting them into suspended animation. The idea is that a patient who is in medical crisis could be put into a suspended state like hibernation, until he or she could be stabilized and in this way, get past it.
Though we tend to expire when the oxygen level is low, many animals go into a suspended state in extremely low oxygen environments. In the lab, one must enter into such an environment quickly. Roth is currently working with nematodes—a kind of roundworm—and expects to eventually work up to humans.  
A vegetative state is another aspect of what we consider the gray zone between life and death. Medically, this is when sufficient damage to the brain has occurred, where the person isn't aware of and can't respond to their surroundings. They may breathe, have a heartbeat, move their eyes, even show reflexes, but they can't respond to stimuli or interact with the world. Their brain stem is operating normally, but other parts of the brain may be damaged or inoperable. Most patients who enter such a state never leave it.
Now a curious case is shaking up how we consider this condition. A 35-year-old man "woke up" after being in a vegetative state for 15 years. In this study, recently published in the journal Current Biology, French researchers found a way to restore some consciousness to a patient, a feat considered impossible previously. It was thought that patients in this state for a year or longer couldn't be revived.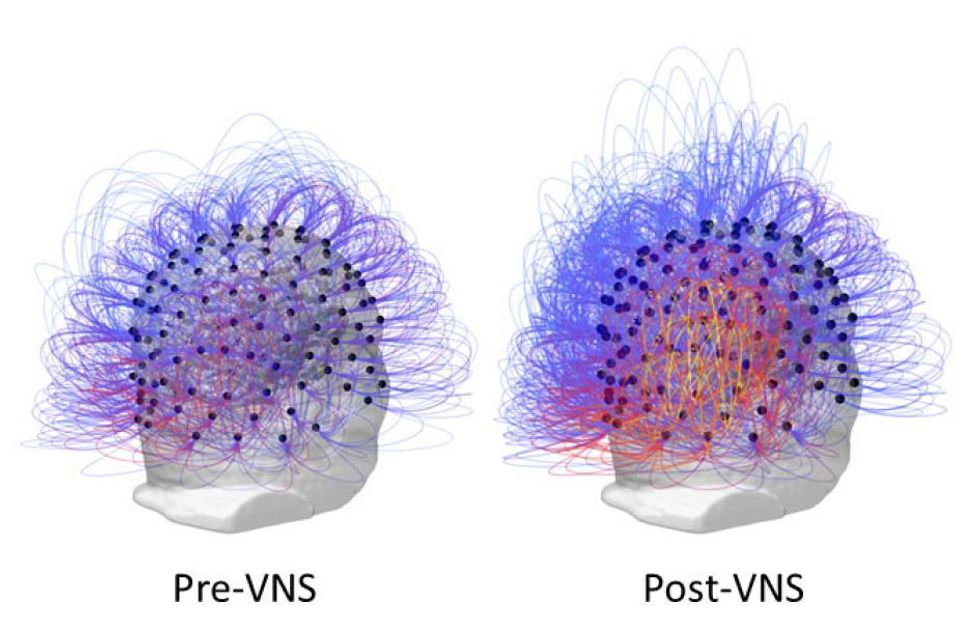 Brain scans of a patient roused from a vegetative state through vargal nerve stimulation. Current Biology.
Angela Sirigu was the lead researcher. She and colleagues, at the of the Institut des Sciences Cognitives Marc Jeannerod, in Lyon, accomplished this by stimulating the vagus nerve, one of the longest running in the body. It goes from the brain stem all the way to the gut and connects to most of the major organs along the way.  
Unlike in the movies, where a patient miraculously shoots out of bed after years of being bedridden and unresponsive, Sirigu and colleagues say this was a gradual process. Researchers ran different tests to gauge his awareness.
The man's eyes widened when someone approached him suddenly, seeing the person as a threat. He was able to stay awake for longer periods when someone read him a book. He could also follow objects with his eyes or turn his head when asked to. This and brain imaging evidence suggests their technique is reaping results.
Vagal nerve stimulation is already being used to treat depression, epilepsy, and other disorders. It activates the noradrenergic pathway, which initiates alertness and can even trigger the fight-or-flight response. Researchers admit little is known about how or why this has helped rouse the patient out of a vegetative state.
Yet, this study may change how medical professionals care for those who have entered such states. Sirigu said, "The sooner we can stimulate it (the vagus nerve), the sooner we can interfere with the body functions and restore some kind of physiological equilibrium."
This is more of a proof-of-concept study. A larger sample is sorely needed. Sirigu says she and colleagues are putting together a larger, follow-up presently. This is just the beginning.
What's more, press sensationalism aside, the patient was brought from a vegetative to a minimally conscious state, which isn't exactly a full recovery. Even if these results can be repeated with other such cases, more studies will be needed to uncover exactly how the technique reaps results.
We're still a long way away from the day when medical science is able to take the next step and fully restore a patient. But that day is likely to come.
To learn more about the gray areas between life and death, click here: