Scientists find an exoplanet whose strange behavior may lead to the Solar's System hidden ninth planet.
Credit: ESA/Hubble, M. Kornmesser
NASA's Hubble Telescope provides 14 years of data on the exoplanet HD106906 b.
It exhibits strange behavior along its orbit 336 light-year away from Earth.
Scientists think data from the exoplanet may explain what happened to the possibly hidden Planet Nine in our Solar System.
How many planets are in our Solar System? You may think there's an obvious answer you learned in kindergarten, but the number has fluctuated between 8 and 9, depending on whether you accept Pluto as being large enough for a planet. But there's another mysterious planet that may be lurking at the edge of the Solar System – the so-called "Planet Nine". All we know about it is through inference, arrived at by judging the effects this potential planet may be having on its surroundings. Now, for the first time, scientists measured the motion of a massive exoplanet, in a different solar system, that may be exhibiting behavior similar to that of the hypothesized Planet Nine.
The exoplanet HD106906 b is 336 light-year away from Earth. With the mass of as much as 11 Jupiters, it orbits a double star system. Scientists first discovered it in 2013 but have now been able to get much better information about its orbit thanks to NASA's Hubble Space Telescope. In fact, Hubble has collected 14 years worth of precise data about the exoplanet, allowing for a wealth of new insight.
The exoplanet is located very far from its host stars, 730 times as far as it is from the Earth to the Sun. While its slow 15,000-year-long orbit would ordinarily not allow for very conclusive observation in just 14 years, the Hubble team found that its orbit is extreme, both very inclined and elongated, staying on the outside of a debris disc surrounding the twin stars.
Meiji Nguyen of the University of California, Berkeley, who led the study, commented on how unusual the exoplanet's orbit is:
"To highlight why this is weird, we can just look at our own Solar System and see that all of the planets lie roughly in the same plane," shared Nguyen. "It would be bizarre if, say, Jupiter just happened to be inclined 30 degrees relative to the plane that every other planet orbits in. This raises all sorts of questions about how HD 106906 b ended up so far out on such an inclined orbit."
The Strange Exoplanet That Resembles the Long-Sought "Planet Nine"
How did this planet develop such an orbit? The scientists think it likely formed much closer to the host stars, but the drag from the system's gas disc might have affected its orbit. This could have pushed it closer to the twin stars, whose gravitational force then threw it out into an eccentric orbit, nearly all the way into interstellar space. As the Hubble team's press release explains, a passing star then possibly corrected the exoplanet's orbit and stopped it from leaving the home system altogether.
This explanation is similar to what scientists predict could have pushed the potential Planet Nine to the edges of our Solar System, past the Kuiper belt. Jupiter might have affected its orbit, kicking it out from the inner Solar System. Planet Nine could have kept going past Pluto but a passing star possibly stopped it by altering its orbit.
Paul Kalas of the University of California, Berkeley, a member of the Hubble team, commented that analyzing what happened to exoplanet HD106906 b is like investigating our own past.
"It's as if we have a time machine for our own Solar System going back 4.6 billion years to see what may have happened when our young Solar System was dynamically active and everything was being jostled around and rearranged," elaborated Kalas.
This image, taken by the Hubble Space Telescope, shows one possible orbit (via the dashed ellipse) of the exoplanet HD 106906 b.
Credits: NASA, ESA, M. Nguyen (University of California, Berkeley), R. De Rosa (European Southern Observatory), and P. Kalas (University of California, Berkeley and SETI Institute)
Of course, none of this means we actually found Planet Nine, if it even exists. Evidence for its corporeality includes the strange behavior of small space bodies past Neptune, whose inexplicable orbits might be the result of being affected by the gravitational pull of an unseen planet.

Further investigations into the formation and debris system of the exoplanet HD106906 b will be carried out by the James Webb Space Telescope, slated to launch in October 2021. It promises to shed more like on the exoplanet's unusual system and, by extension, on our own mystery Planet Nine.
Check out the team's paper, published in The Astronomical Journal.
Artist's impression of the possibly hidden "Planet Nine"
Credit: ESA/Hubble, M. Kornmesser
Astronomers make the first direct observation of a phenomenon predicted by Albert Einstein's theory of general relativity.
White Dwarfs. Image credit: NASA and H. Richer (University of British Columbia)
Albert Einstein's theory of general relativity predicted that the gravity of stars could brighten and bend the light coming from other stars like a magnifying lens. Yet this is something Einstein did not think we could ever see due to the great distance between stars, writing in a 1936 article that "there is no hope of observing this phenomenon directly."
Yet, as science persists, this phenomenon, called "gravitational microlensing", has now been observed by an international team of researchers, led by Kailash C. Sahu, an astronomer at the Space Telescope Science Institute in Baltimore, Maryland. 
Writing in an accompanying paper, Terry D. Oswalt from the Embry-Riddle Aeronautical University, says that Einstein would be proud of this accomplishment because "one of his key predictions has passed a very rigorous observational test."
Gravitational microlensing was initially observed in 1919 by measuring starlight that curbed around the total eclipse of the Sun. This is the first time, however, that the effect was seen involving stars other than our sun. 
When a star passes between us and a background star, a circular ring of light forms called the "Einstein ring". What Sahu's team observed by using data from the Hubble Space Telescope was an asymmetrical version of an Einstein ring, with the distant star appearing to be off-center from its actual position due to the bending of the light - a process called 'astrometric lensing'.
 The researchers found this by measuring the shifts in the position of a distant star as its light was being deflected by a nearby white dwarf star.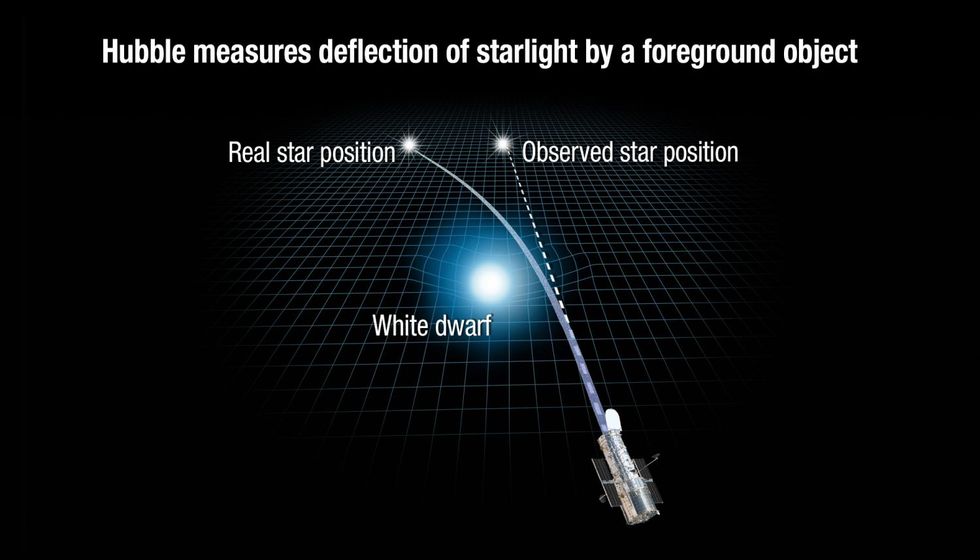 The gravity of a white dwarf star warps space and bends the light of a distant star seen behind it. Credit: NASA, ESA, and A. Feild (STScI)
Another achievement from Sahu's research is giving scientists a tool in estimating the mass of stars.
"The research by Sahu and colleagues provides a new tool for determining the masses of objects we can't easily measure by other means. The team determined the mass of a collapsed stellar remnant called a white dwarf star. Such objects have completed their hydrogen-burning life cycle, and thus are the fossils of all prior generations of stars in our Galaxy, the Milky Way," explains Oswalt, an expert in white dwarfs.
Here's how you would use light to weigh stars, thanks to Science magazine: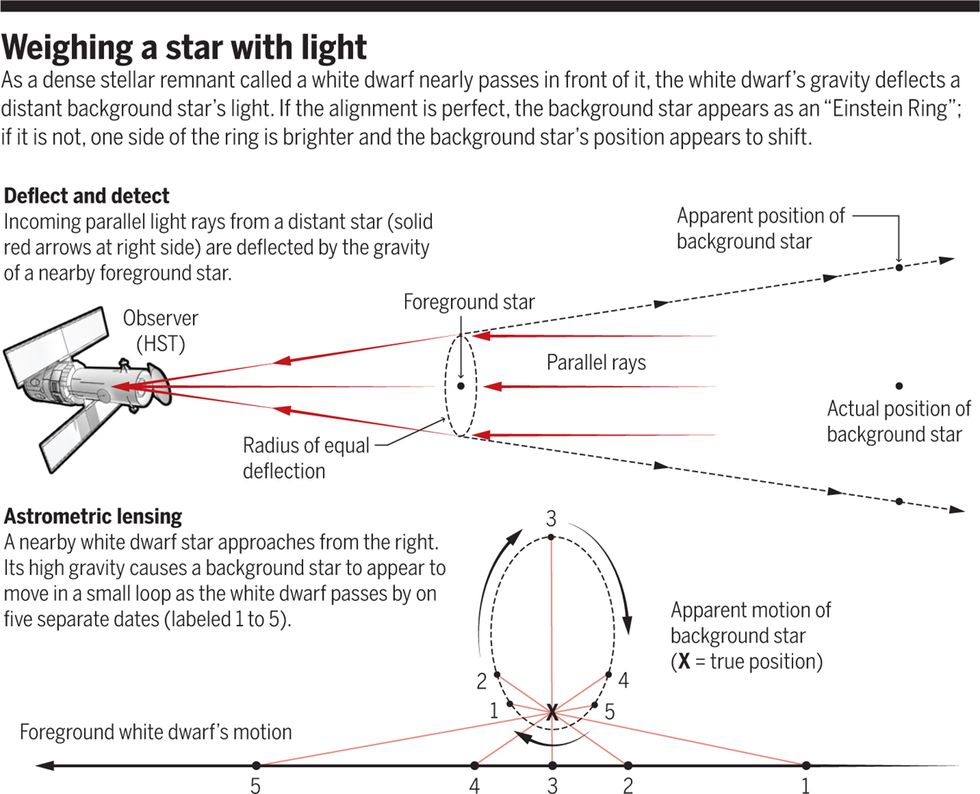 And here's Professor Terry Oswalt explaining the significance of Sahu's work, showing a hands-on demonstration that you can try at home:
TRAPPIST-1 is 40 light years from Earth. It would take us millions of years to get there.
The recently announced TRAPPIST-1 solar system. (Image: NASA)
Back in September 2016, NASA announced that nearby exoplanet Proxima b might have what it takes to sustain life. In December however, it announced that it gets bombarded with "super flares" from time to time by its star, Proxima Centauri, and so perhaps isn't the best candidate. It was a letdown for those of us who marvel at the thought of intelligent life elsewhere in the galaxy, but this latest announcement might just make up for it. The odds are better at least.
Astronomers have found seven exoplanets inhabiting a nearby star. Now known as the TRAPPIST-1 planetary system, it resides about 40 light years away from Earth. Sounds close, but it would take us millions of years with conventional rocketry to reach it. NASA bigwigs recently made an announcement and held a press conference surrounding this discovery, from its headquarters in Washington, D.C.
The exoplanets revolve around an ultra-cool dwarf star, 10 times smaller than our sun. This newly discovered solar system is located in the constellation Aquarius. These seven planets are all potentially habitable, according to findings published in the journal Nature. They're each about the size of Earth, which could mean a liquid surface and an atmosphere. More encouraging still, they're all also within the habitable "Goldilocks" zone: not to cool, and not too hot.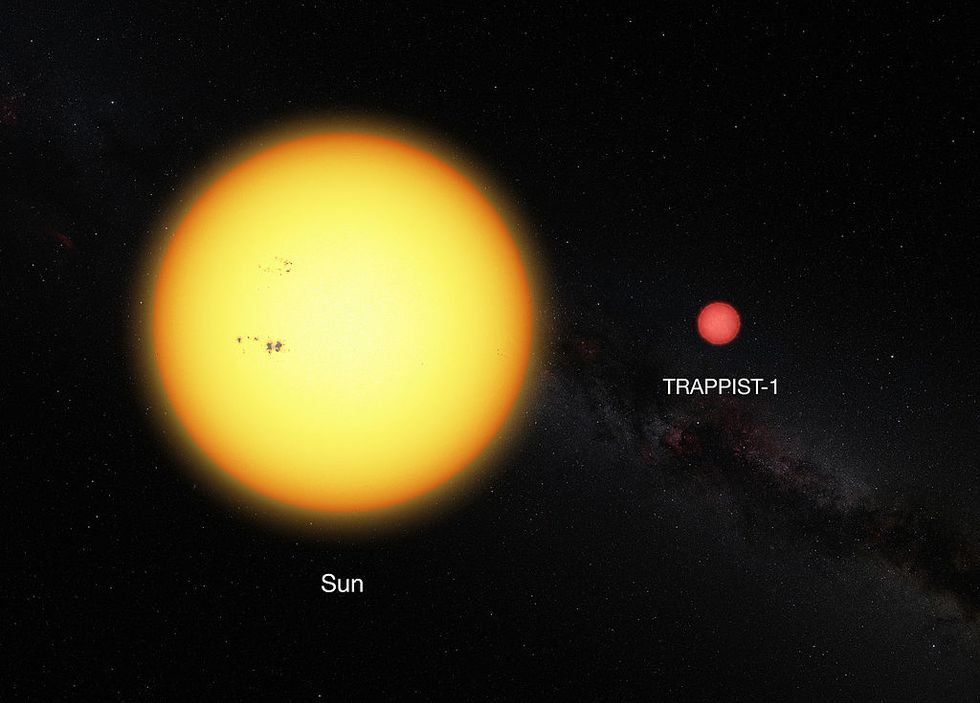 By: ESO [CC BY 4.0] via Wikimedia Commons
Our solar system is spread out by comparison. This cramped little system finds each planet's orbit closer to their star, TRAPPIST-1, than Mercury is to ours. Of all the planets discovered, TRAPPIST-1f is the most likely to sustain life, NASA scientists say. Those closer planets may be too hot to contain liquid water, while those beyond may be too cold.
Michaël Gillon is an astronomer at the University of Liège in Belgium. He told NPR, "If you were on the surface of one of these planets, you would see the other ones as we see the moon, or a bit smaller." On the surface of TRAPPIST-1f for instance, its sun would appear three times larger than ours. Yet, you'd receive 200 times less light from it, and you'd bask in red rather than white light. Krypton perhaps?
Last May, NASA scientists found three planets around TRAPPIST-1. After closer examination, they discovered four more, using the Hubble Space Telescope. Astronomers spotted these due to a dimming that occurs when a planet crosses in front of a star. In 2018, the James Webb Space Telescope will be placed in a specific location a million miles from Earth, giving astronomers' unparalleled views, and exceptional capabilities never before obtainable. Astronomers will not only be able to detect large exoplanets, they'll be able to prove whether or not a particular one has an atmosphere, by observing whether or not starlight filters through in a certain way.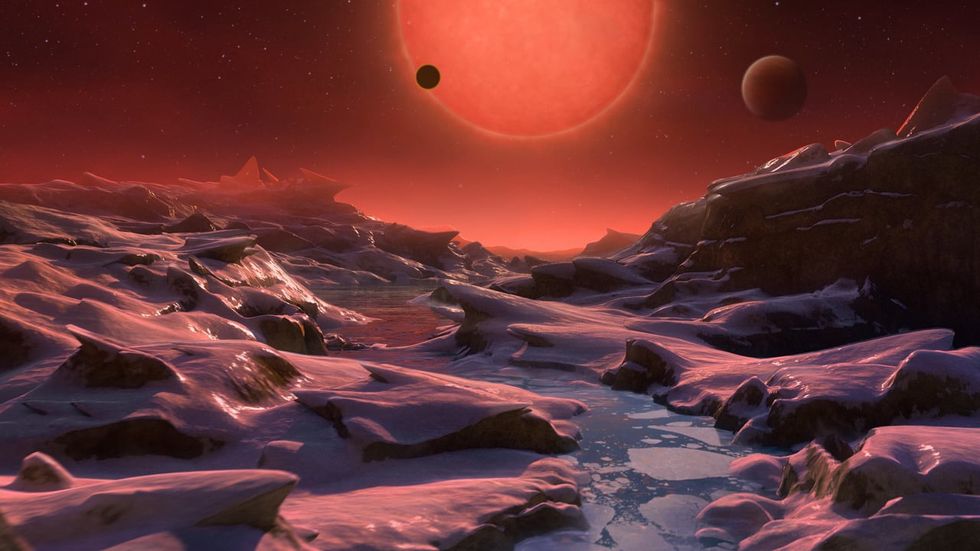 Artist's rendition on what it might be like on such a planet.
Amaury Triaud is an astronomer at Cambridge University and an author on this study. "I think we've made a crucial step towards finding if there is life out there," he said. "I don't think any time before we had the right planets to discover and find out if there was (life). Here, if life managed to thrive and releases gases similar to what we have on Earth, we will know." More study might yield other information such as whether or not TRAPPIST-1f's surface contains liquid methane, which might sustain some forms of life, or even water.
One fact however may stymie the search for E.T., in this solar system. Many of these planets, being so close to their star, are likely to be bombarded with ultraviolet radiation. Yet, this discovery, even if it doesn't lead to alien life, which it still might, nevertheless hearten our search for it. It shows how common such exoplanets in the "Goldilocks" zone may be in our galaxy, even beyond. Another interesting consideration, this star, since it burns so slowly, will likely outlive ours by a trillion years. So if the Earth is vanquished and the situation is right, we may find a new Eden on TRAPPIST-1f.
To see NASA's presentation for yourself, click here: