Since hope appears to come from a physical place in the brain, scientists are hoping to figure out how it shields the rest of the brain from negativity. Really. 
Public domain
In a recent study, Chinese psychologists found out that hope protects the brain against anxiety and expanded our understanding of how that may be happening. Because hope is considered a stable personality trait, they reasoned, they might be able to figure out where in the brain they can find hope functioning. They were able not only to pinpoint where hope might potentially reside within the brain, but realized how hope may be shielding the brain from the effects of anxiety.
The scientists defined hope as an important topic in positive psychology, referring to an individual's "goal-oriented expectations" that include both agency (desire to achieve goals) and pathways (finding ways to achieve them).
The researchers used fMRI imaging on 231 high school students from Chengdu, China who were tested according to questionnaires using the DHS hope scale and the Stait-Trait Anxiety test.
The scientists analyzed the data using the fractional amplitude of low-frequency fluctuation (fALFF) approach. They found that the presence of the hope trait was related to lower fALFF values in the bilateral medial orbitofrontal cortex (mOFC) area of the brain. That is the region involved in reward-related procession, the production of motivation, solving problems and goal-oriented behavior, according to the scientists.
The orbitofrontal cortex is located just above the orbits of the eyes and goes back several centimeters into the frontal base of the brain. The scientists discovered that the hope trait worked as a "mediator" between mOFC activity and anxiety.
"Overall, this study provides the first evidence for functional brain substrates underlying trait hope and reveals a potential mechanism that trait hope mediates the protective role of spontaneous brain activity against anxiety," write the researchers.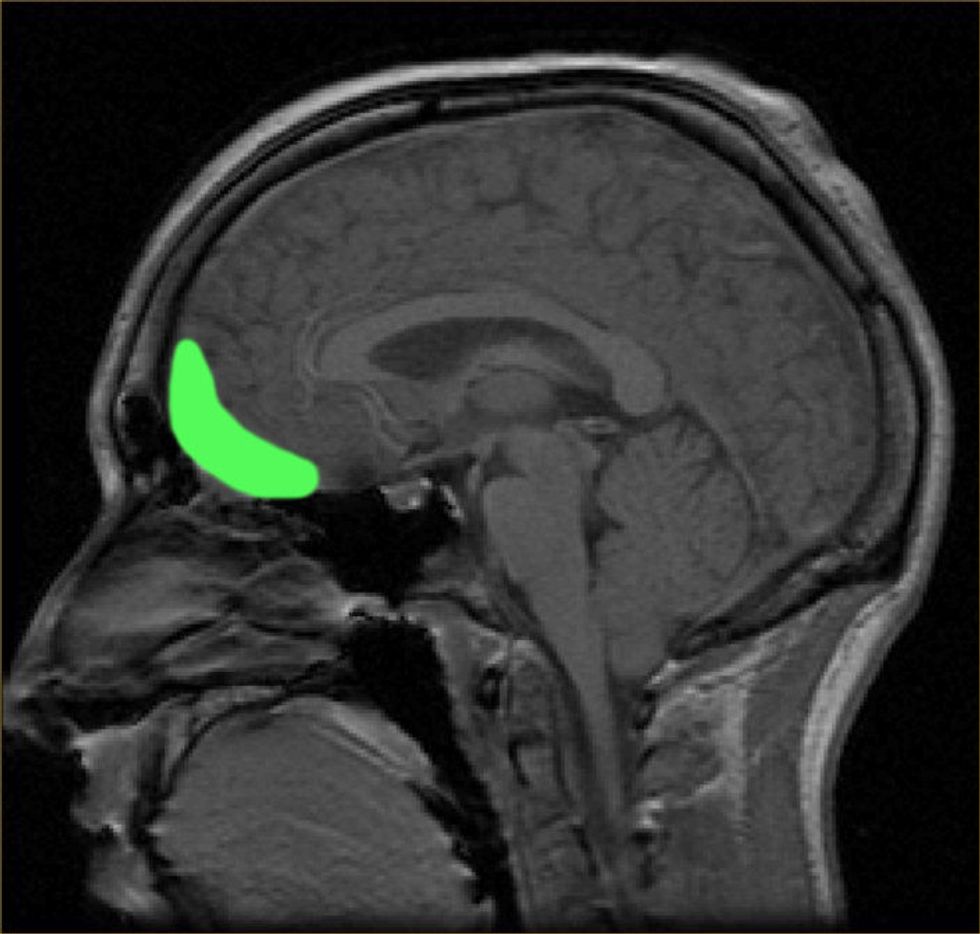 Orbitofrontal Cortex. Credit: Paul Wicks, Wikipedia
This is the first evidence that hope may have a physical presence in the brain, but the relationship between hope and anxiety has been established in a number of previous studies. A 2002 University of Kansas study, led by C.R. Snyder, looked at the role hope plays for students. The researchers found that students low in hope had greater anxiety, primarily from establishing goals that were too overwhelming and hard to achieve.
A 2011 study from Malaysian and Hong Kong scientists showed the link between having greater hope and reduced anxiety and depression in cancer patients. It was not clear, however, whether hope caused less anxiety or people with less anxiety were more hopeful.
Here you can check out the 2017 study that involved researchers from Sichuan University, Southwest University for Nationalities and Chengdu Mental Health Center in Chengdu, China.
Capitalism has hijacked our emotions and rewired us for instant gratification—but we can reclaim our lives by practicing deep hope.
There are two kinds of hope, and between them is a world of difference, says Andre C. Willis. The one we use and speak about most often is what he calls trivial hope, which has superficial aims like, "I hope that my Domino's pizza will arrive on time," or, "I hope that my career is successful." What makes these superficial is that they relate to probable futures, and are underpinned by the heavy hand of market capitalism, which increasingly tells us what we desire and what our ambitions are. How can we overcome that emotional hijacking? Willis contends that the second kind of hope, 'deep hope', is the antidote to the shallow living Western culture is up against. Deep hope is not based on measurable rewards or future desires, but is a way to face the true facts of life. What are those? Willis explains above, and fills us in on why we need a special toolkit to relate to the present without delusions. This video was filmed at the Los Angeles Hope Festival, a collaboration between Big Think and Hope & Optimism.
Here's what Israel Guillen learned about life by studying 8 hours a day during his 22-year prison sentence.
Being "tough on crime" doesn't work. Former inmate Israel Guillen is proof that what does work is nurturing people's sense of humanity through philosophy, theatre, and teamwork. Ten years ago, actor Sabra Williams had an experimental idea: she wanted to bring The Actors' Gang Theatre Company into prisons to work with non-actors, and offer them training to understand and manager their emotions. With an incredibly low recidivism rate of just 10% among her students, Williams' experimental idea has proven its worth and now operates in ten prisons across California, which is where Sabra Williams met former inmate and Actors' Gang student Israel Guillen. Israel recently shared his personal story of what he learned throughout his 22-year prison sentence at the Los Angeles Hope Festival, a collaboration between Big Think and Hope & Optimism. The Actors' Gang conducts weekly and seven-day intensive programs inside the California prison system, a weekly re-entry program in the community, as well as a program in juvenile facilities, and soon to be a program designed for correctional officers. Head here for more information on The Actors' Gang Prison Project.
Have you heard the one about the U.S. Open and Yom Kippur? You're about to.
Darren Levine is the founding rabbi of Tamid, The Downtown Synagogue in New York City, which is guided by Positive Judaism. In an open letter earlier this year, Levine defined Positive Judaism as a spiritual life that "expands the mind, deepens personal character, strengthens community, improves the world, and adds joy and optimism to everyday living." Because of pop-culture stereotypes and the Jewish history persecution, people may not instantly think that Judaism and positivity are in sync, but Levine contents that joy and hope have been at the heart of the Jewish mindset for 3,000 years. You can choose to look at history with pessimism and negativity, says Levine, or you can instead find beauty in brokenness and turn it into jokes, positive emotion, and wisdom. "In the 21st century, it is the People that will or will not choose to be Jewish... Historical memory, Israel, the threat of anti-semitism and are not strong enough motivators for Jewish engagement. We need something new and serious and Positive Judaism is one new construct." Here, Levine shares a timely joke for Yom Kippur, and shares a teaching about hope and perspective.
Some anxieties are essential, and for millennia they kept our ancestors alive. But there's another type of anxiety that we can actually do away with—and it's defeated via hope.
In this refreshing take on the utility of hope, Princeton research scholar Victoria McGeer explains that there's a difference between blind hope and practical hope. The latter means taking a clear-eyed view of potential disappointment, knowing that there may be failure, and then putting your anxieties offline by trusting in the elements that are beyond your control. Trust is a critical feature of human social life, and we're often obligated to trust in uncertain circumstances: trust your kids, trust that stranger, trust your neighbor. Hope, when done properly, can fortify trust, reduce anxiety, and actually give you the tools to cope with disappointment. This video was filmed as part of the Los Angeles Hope Festival, a collaboration between Big Think and Hope & Optimism.