The money will go to her foundation, but is the tour really in the 'Back to Black' chanteuse's best interest?
Chris Christoforou/Redferns
Winehouse died of alcohol poisoning in 2011 at the age of 27.
Los Angeles company BASE Hologram is set to put the show together, with a reported tour next year...
... but many of her fans aren't happy with the news.
Singer Amy Winehouse is to go back on tour in 2019, eight years after she passed away at the age of 27, thanks to technology that was in its nascent stages at the time of her death.
If you or someone you know is addicted to alcohol or narcotics or going through a particularly hard time, call the SAMHSA hotline at 1-800-662-HELP or the United Way hotline at 2-1-1.
Get ready for images projected in mid-air to start appearing in the next few years. 
Still from Blade Runner: 2049
Until now. Brigham Young University is developing a technology called an Optical Trap Display that will allow projected object to exist in real space. To do so, the base releases a tiny opaque particle into the air and moves the particle in a predetermined path, illuminating it with a laser. If the particle moves faster than a certain speed, it gives the illusion of a solid object. If you speed the particle up even further, it creates the illusion of movement. >Still confused? Me too, and I'm the guy writing this. One easy way to visualize this process is to think about how a 3D printer scans an object and "draws" the outline. Try to imagine a single opaque particle doing all the work, and you have the basic idea behind the technology.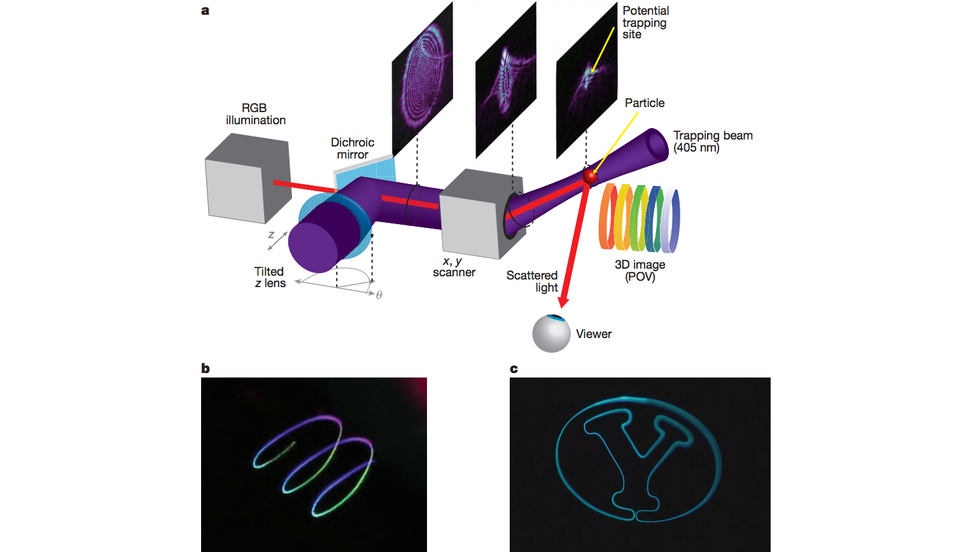 Image c/o Nature Journal
The good news? The tech is a lot more affordable than the elaborate set-up that bankrupted the Tupac hologram technology. The bad news? Right now, Brigham Young's holograms are about as big as your fingernail, according to Gizmodo.
This is still incredible news for futurists. Once this OTD technology progresses, perhaps we'll be able to see Blade Runner: 2049-style projections right on time in 2049.