It's just the current cycle that involves opiates, but methamphetamine, cocaine, and others have caused the trajectory of overdoses to head the same direction
From the study: http://science.sciencemag.org/content/361/6408/eaau1184
It appears that overdoses are increasing exponentially, no matter the drug itself.
If the study bears out, it means that even reducing opiates will not slow the trajectory.
The causes of these trends remain obscure, but near the end of the write-up about the study, a hint might be apparent.
Fentanyl bust
BOSTON, MA - AUGUST 23: Bags of drugs are displayed on a table during a press conference held by the United States Attorney's Office at the John Joseph Moakley United States Courthouse in Boston on Aug. 23, 2018 announcing federal or state drug, guns, and counterfeiting charges against 29 individuals following separate investigations targeting allegedly major drug dealers and repeat criminal offenders. (Photo by David L. Ryan/The Boston Globe via Getty Images)
A new study has just been published in Science.Org magazine detailing the progression of addiction in the United States from 1979 to 2016.
Named "Changing dynamics of the drug overdose epidemic in the United States from 1979 through 2016," it records the deaths from 600,000 overdoses during that 38-year period.
The results are more disturbing because one fact emerges: no matter the drug of choice for those who overdosed, or even the demographic backgrounds of those who overdosed, the mortality rate has increased every year since 1979.
Even more alarming: Even if, for example, the current opioid crises begins to be dealt with, the trajectory is such that deaths from that same drug would not lessen.

Indeed, more than 70,000 died from overdoses in 2017, and nearly 70% of those are were from heroin, opioids, and fentanyl, according to the Centers for Disease Control and Prevention.
BOSTON, MA - MAY 24: A pill of Buprenorphine, better known as Suboxone. The opioid is used to treat substance use disorders. Extensive research has shown opioid-addicted people who properly prescribed buprenorphine or methadone are much less likely to relapse and overdose than people who try to recovered without medication. However, it is still an opioid that creates physical dependence. (Photo by Craig F. Walker/The Boston Globe via Getty Images)
From the abstract:
"Better understanding of the dynamics of the current U.S. overdose epidemic may aid in the development of more effective prevention and control strategies. We analyzed records of 599,255 deaths from 1979 through 2016 from the National Vital Statistics System in which accidental drug poisoning was identified as the main cause of death. By examining all available data on accidental poisoning deaths back to 1979 and showing that the overall 38-year curve is exponential, we provide evidence that the current wave of opioid overdose deaths (due to prescription opioids, heroin, and fentanyl) may just be the latest manifestation of a more fundamental longer-term process. The 38+ year smooth exponential curve of total U.S. annual accidental drug poisoning deaths is a composite of multiple distinctive subepidemics of different drugs (primarily prescription opioids, heroin, methadone, synthetic opioids, cocaine, and methamphetamine), each with its own specific demographic and geographic characteristics."
Despair and loss?
Near the end of the study, one of the key items that stands out is that "Sociological and psychological 'pull' forces may be operative to accelerate demand, such as despair, loss of purpose, and dissolution of communities."
In other words, the loss of good jobs with benefits, as well as neighborhoods where people felt like they lived among an actual community, are impacting overdoses and addiction.
A new report suggests Colorado's legalization of recreational marijuana might be reducing opioid deaths in the state.
David McNew - A budtender pours marijuana from a jar
One way for states to curb the opioid crisis might be to completely legalize another drug: marijuana.
According to a report set to run in November's edition of the American Journal of Public Health, the amount of opioid-related deaths dropped by 6.5 percent in Colorado during the two years following the legalization of recreational marijuana in 2014. 
"This reduction represents a reversal of the upward trend in opioid-related deaths in Colorado," the researchers wrote in the report. "Legalization of cannabis in Colorado was associated with short-term reductions in opioid-related deaths."
The researchers — from the University of North Texas, University of Florida and Emory University — analyzed opioid-related deaths in Colorado from the start of 2000 to the end of 2015. To determine whether it was recreational or medicinal marijuana that was potentially impacting opioid death rates, researchers compared data from Colorado with data from Nevada and Utah — states where only medicinal marijuana was legal during the time periods considered for the study.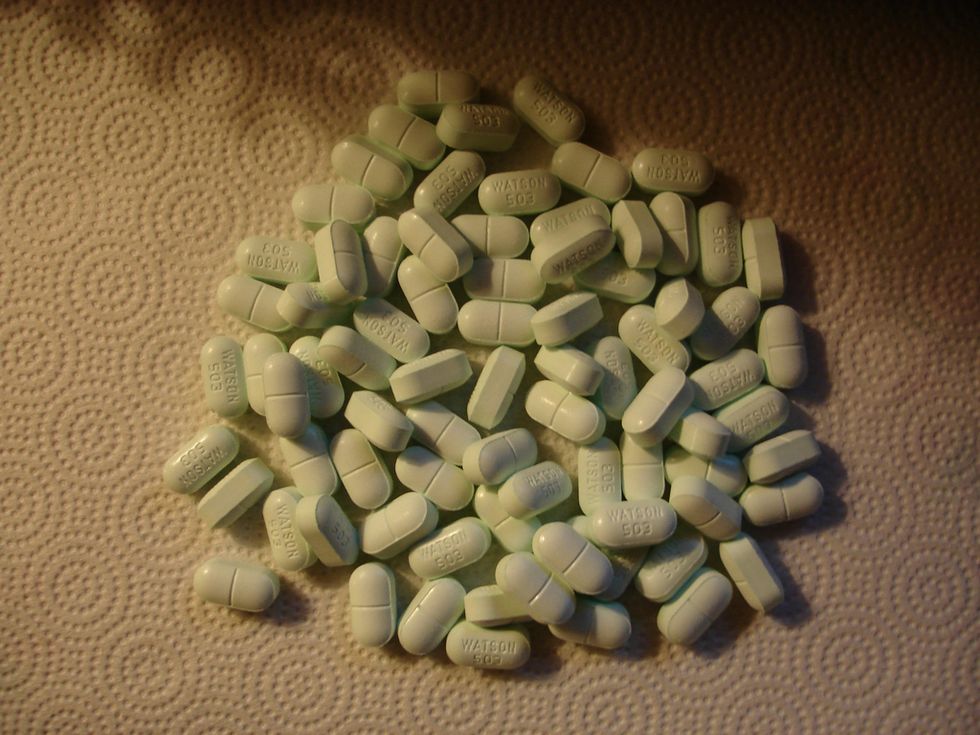 They also tried to account for changes in Colorado's prescription-drug-monitoring program, which in 2014 began requiring those prescribed opioids to sign up for, but necessarily use, the program.
While results showed a 6.5 percent reduction in opioid-related deaths — about one less death per month than in previous years — the researchers cautioned that further research is needed before drawing any strong conclusions.
"Although we found an apparent public health benefit in a reduction in opioid-related deaths following recreational cannabis legalization in Colorado, we note that expanded legalized cannabis use is also associated with significant potential harms," the authors wrote. "For policymakers to balance the potential beneficial and deleterious effects of these laws, researchers must continue to examine the full range of health effects in both clinic- and population-level research."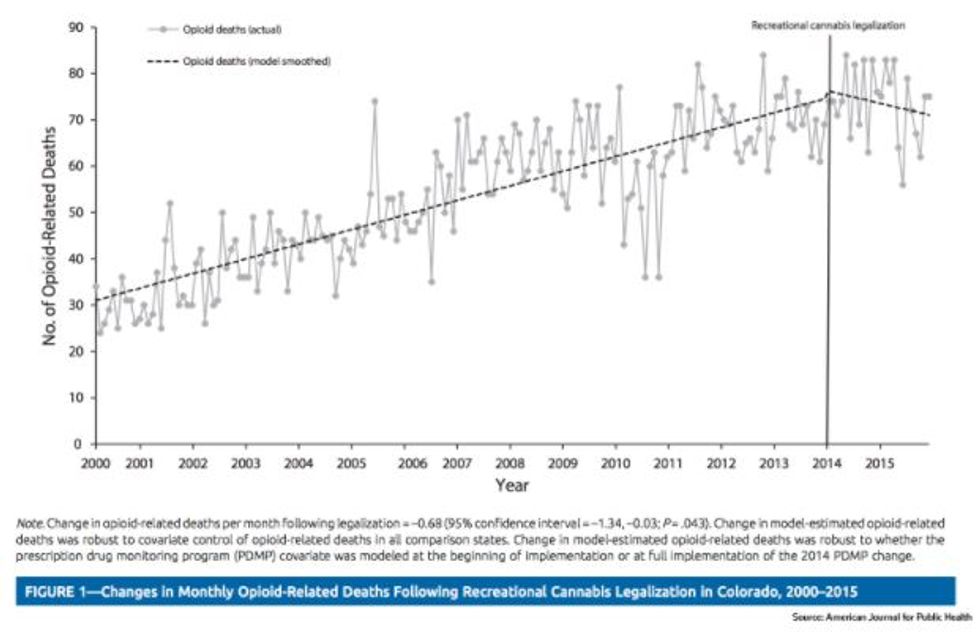 It's not the first study to look at the interaction between marijuana and opioids at the state level. A 2014 report showed that states that legalized medicinal marijuana had lower opioid-related deaths, and other research has shown that medicinal marijuana is effective at mitigating chronic pain. But the new report offers the first glimpse of how the accessibility of recreational marijuana might affect opioid abuse rates.
Still, some experts are wary of the conclusions people may draw.
"The whole thing is so convoluted, with so many different things going on in the marketplace," said Robert Valuck, professor at the University of Colorado-Denver's School of Pharmacy and Pharmaceutical Sciences and director at the Colorado Consortium for Prescription Drug Abuse Prevention, to the Denver Post. "It's virtually impossible to assign cause and effect or credit and blame to any one thing."
Valuck noted other factors in 2014 that could have contributed to the reduction: increased public education about the dangers of opioids, and "wider distribution of the overdose-reversing drug naloxone."
Another explanation for the downturn in opioid deaths is that people could be simply switching from one substance to another, namely heroin: deaths by heroin overdose doubled from 2011 to 2015, and the amount of heroin seized by police jumped by 1,562 percent during the same period.
The opioid crisis nationwide
The data on opioid-related deaths is startling. According to death rates released by National Center for Health Statistics, 59,520 people have died from opioids from September 2015 to September 2016. That's enough people to fill Chicago's Soldier Field, as the Washington Post notes. Opioid abuse kills about 100 people every day in the U.S., accounting for about six out of every 10 drug overdose deaths.
The future doesn't look any better. Most projections say opioid abuse will claim about 500,000 lives over the next decade, and that death rates won't begin to curb until at least 2020.
"It took us about 30 years to get into this mess," Valuck said to health news website STAT. "I don't think we're going to get out of it in two or three."
After consulting public health experts at 10 universities nationwide, STAT compiled a worst-case projection for opioid deaths over next decade that assumes doctors will continue freely prescribing the drugs.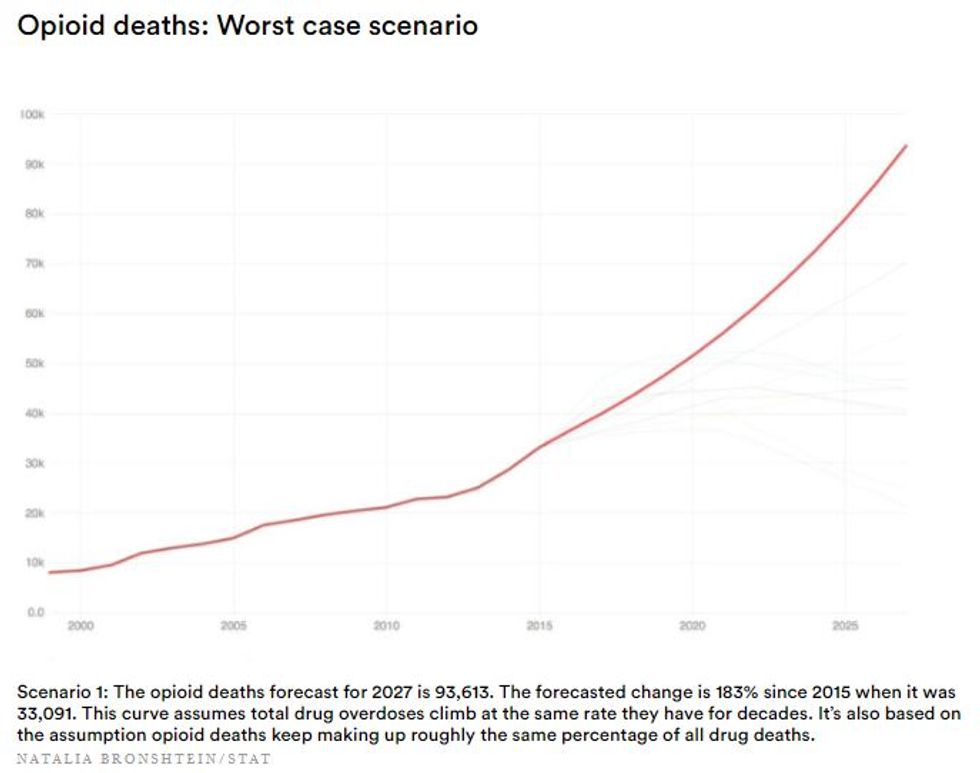 The publication also offered a best-case scenario, but cautioned that reaching those numbers "would require a major public investment in evidence-based treatment options and a concerted push among medical providers to control pain with non-narcotic therapies before trying prescription opioids."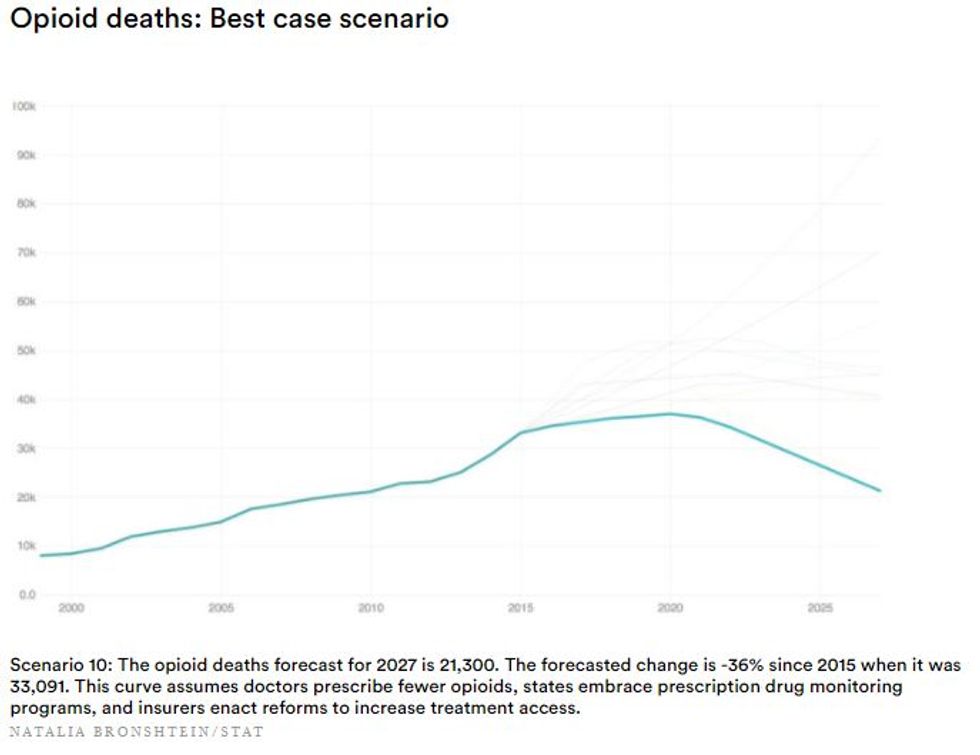 The recent report on Colorado may have stirred excitement, but most seem to agree that more evidence is needed before other states decide to legalize recreational marijuana for the purpose of reducing opioid abuse.
"Everybody wants the answer now because we want to know if this is a good idea or not," Valuck said to the Denver Post. "But the truth is we don't have the answer, and it's going to be a while until the jury comes back in."
Melvin Livingston, a co-author of the Colorado report, echoed that sentiment:
"Policy change shouldn't be based on the results from a single study of a single outcome."
19% of American soldiers returned from Vietnam addicted to heroin. 95% of them recovered without relapse. How?
Of all war films that offer a sense of actual combat, the documentary Restrepo is arguably closest to representing the tedium and boredom that sets in on a day to day basis—and this in one of the most contentious regions on the planet. For soldiers in the Vietnam War, weeks were filled with not much at all, making it easy for heroin to infiltrate the barracks. 
Laboratories in the Golden Triangle—Myanmar, Laos, and Thailand—were pumping out low-grade no. 3 heroin for years. Then in 1971 a chemist in Hong Kong went Walter White and started producing 99 percent pure heroin, otherwise known as no. 4. Kilo prices jumped, yet so did soldiers picking up bags from street merchants and highway stalls, even from maids who cleaned their quarters. 
By the time the war ended 35 percent of American soldiers had tasted heroin while 19 percent returned as addicts. With Nixon waging his crusade on illicit substances to control minority and radical populations, he knew this epidemic was going to be severe. A hundred thousand returning addicts who had just fought for the country could not be handled lightly. 
As Adam Alter writes in Irresistible, the marketing professor's latest book on addictive technology, something incredible occurred. After their initial detox only 5 percent of soldiers relapsed. In the addiction community that number is unbelievable; normally only 5 percent of heroin addicts don't relapse. 
What changed? The environment they were in. Alter writes: 
They arrived home to a completely different life. There was no trace of the jungle; the steamy summers in Saigon; the rattle of gunfire, or the chop of helicopter blades. Instead, they went grocery shopping, they returned to work, they endured the monotony of suburbia, and enjoyed the pleasure of home-cooked meals. 
Of course, PTSD and other symptoms are another story. What is incredible about this case is that it wasn't genetics or potency that mattered—it was the shift in environmental conditions. Today, Weill Cornell Medical College clinical psychiatry professor Richard A Friedman believes that changing your environment can also shift the current opioid and obesity epidemics. 
Friedman cites a 2010 study at Columbia University that found proxies for stress in the form of low social status and social support resulted in fewer D2s, dopamine receptors involved in your brain's reward network. Turns out the higher your D2 level the less likely you are to seek out pleasure in drugs such as carbs and sugars and pills. 
These receptors don't only predict drug usage, Friedman writes, their count is also lowered by continued ingestion of substances like heroin, cocaine, and alcohol. He extends the argument for painkillers such as opioids and comfort foods. 
These people are far less sensitive to rewards, are less motivated and may find the world dull, once again making them prone to seek a chemical means to enhance their everyday life.
As our understanding of our brains evolves researchers are realizing that while addictive substances are varied, how you become addicted to a substance is similar. This is true with, as Friedman implies, cookies and meth, as well as smartphones and tablets, as Alter discusses. 
It returns to the pleasure derived in our reward network. Each drug has the same insidious effect: what provides immense pleasure at first requires stronger doses as we become accustomed to new levels of stimulation, requiring more of the substance—more food, more pain relief, more time staring at a screen. This is as true of Candy Crush as real candy. 
And so food addicts find "normal food consumption insufficiently rewarding" while olfactory stimuli creates more intense cravings in the obese than in the slim. It is measurable chemistry, but Friedman argues that environment overrules genetics and habits. Since we can't change our genes, changing our environment appears to be the most beneficial road ahead.
Our environment has changed. Food deserts aren't void of product; they are filled with processed sugar- and carb-heavy foodstuffs cheap to produce and cheap in the body. They provide little nutrition but much pleasure. Once you're hooked on the taste it's nearly impossible to alter your reward circuits. By remaining in that environment you're likely to succumb.
Yet this isn't only happening in poor neighborhoods. As Natalia Petrzela writes in the Washington Post, our president's poor eating habits and lack of exercise influences the nation. She argues that he's operating under century-old assumptions: 
His love of rich foods and leisure paradoxically trades on century-old tropes that also cast him as a kind of Everyman's Billionaire. Until about 1920, the wealthy conspicuously consumed caloric foods and avoided exertion because few felt they could afford to do so.
Caloric foods are overwhelmingly available today in every pocket of the nation. And this is an evolutionary first. As Friedman puts it: 
There was no flourless chocolate cake on the savanna.
This "double whammy" of cheap foodstuffs and pervasive pills is a precedent our bodies are not prepared for. 
Friedman also notes something important that's known in the addiction community: everyone has the potential to be an addict. It was long thought that certain genetic traits created the addict, but technology, obesity, and opioids prove there's an addict lurking inside of us all. It just takes the right mixture of timing and place. Change the setting and you can recover—as Friedman observes, that might be the only factor we truly have control over. 
--
Derek's next book, Whole Motion: Training Your Brain and Body For Optimal Health, will be published on 7/17 by Carrel/Skyhorse Publishing. He is based in Los Angeles. Stay in touch on Facebook and Twitter.