Scientists may have seen a way to cure a maddening symptom of hearing loss.
Image source:
Alex Iby
/Unsplash/Big Think
A treatment for tinnitus – a constant ringing in the ears – has been frustratingly elusive.
Out-of-control inflammation, the brain's response to damage, may be the cause of long-term ringing in the ears.
A study that examined mice with noise-induced hearing loss seems to have found the neural trigger for tinnitus.
Common, or subjective, tinnitus is no fun. If you have it, you know what we mean. And a lot of people do — some 500 million worldwide. It's a byproduct of hearing loss that produces a constant veil of high-frequency pitches that never abates. For sufferers, there is no silence, ever. Unfortunately, identifying its cause, much less a treatment, has proven elusive. Now, however, a new study published in PLOS Biology may have uncovered the physiological mechanism behind it: neuroinflammation in the auditory cortex. And it could be treatable.
Note the "may" in the paragraph above. It's there because this study draws its conclusions based on the physiology of rodent test subjects, not humans, and things don't always translate between species. Hence, its claims deserve a grain or two of salt. Ethics issues aside, this is often the case with exciting-sounding medical-breakthrough news. It's so common, in fact, that there's a Twitter hashtag for it: @justsaysinmice.
How to acquire tinnitus
Image source: Vagengeim/Yes - Royalty Free/Shutterstock/Big Think
Not that you'd want to. However, the recipe is simple: Expose your ears to overloud noise. Tinnitus is actually not an underlying condition — it's a symptom of hearing loss. Noise-induced hearing loss (NIHL) can result from, for example, working in a loud environment without protecting your ears, or attending too many loud concerts, standing too close to speakers at a show, or from listening to loud music on headphones.
The way that we hear sound is not as direct as many think. Sound is really a matter of compression waves generated by a source that compresses and releases air on its way to your ears. Tiny hairs, the stereocilia, in your ears receive these air-pressure changes and fire off signals to your brain that we interpret as sound. Each hair has the job of producing a certain range of audio frequencies, and with tinnitus, some of these hairs get stuck in what amounts to their "on" position, continually firing off these signals to your brain even without the presence of an actual external sound source. Exactly what triggers this misbehavior is what the new study attempts to explain.
Inflammation
Image source: Alila Medical Media/Shutterstock
The study states, "Neuroinflammation is the central nervous system's response to external and internal insults, such as infection, injury, diseases, and abnormal neural activity," and so its authors looked at mice with NIHL to assess its possible role in tinnitus. They conclude "Our results indicate that neuroinflammation plays an essential role in a noise-induced excitatory-to-inhibitory synaptic imbalance and tinnitus in a rodent model."
To protect the brain, an inflammatory response typically involves the activation of microglia, the central nervous system's primary immune cells. When they remain active in response to chronic damage — as with hearing damage — though, they tend to release proinflammatory cytokines, which can make the problem worse. In the mice studies, the authors found one such proinflammatory cytokine, TNF-α. ("TNF" stands for "tumor necrosis factor.") It seems to be the neural trigger for tinnitus.
When the researchers shut off the gene that results in the production of TNF-α in one set of mice, and likewise when they repressed it with medication in another, tinnitus disappeared. Testing the connection from the other direction, they also found that when they introduced TNF-α into the auditory cortex of normal mice and also mice who had no natural TNF-α, tinnitus appeared.
How do we know if a mouse has tinnitus?
Image source: photolinc/Shutterstock
This question, which may have occurred to you to wonder, highlights a potential problem with this study. Since tinnitus is an ever-present phenomenon, some in the research community — including the authors of this study — have embraced "gap detection" as a means of testing for the presence of the condition in animals. The idea of gap testing is that, since tinnitus is constant, an animal wouldn't be able to hear gaps between a series of audio tones being played. Gap detection is tested by monitoring an animal's acoustic startle reflex to each new tone as it sounds — in theory, an animal with tinnitus won't notice or react to each new tone. However, it's worth noting that the value of gap detection testing for tinnitus is controversial.
And so...
All that having been said, there are a number of anti-inflammatory medications, and as used in the research, genetic means of controlling the presence of TNF-α. If the authors' findings are eventually confirmed to be valid in human subjects, there may be hope for tinnitus sufferers at last.
In a landmark study for the tissue engineering community, scientists have successfully grown and reconstructed new ears for children born with a birth defect.
Photo from study, patient's face blurred to protect identity
Scientists in China have successfully grown and reconstructed new ears for five children born with microtia, a condition that affects the function and appearance of the ear. The recent study marks a new milestone in the field of tissue engineering.
A paper published in the journal EBioMedicine outlines how the team performed the procedure.
The researchers used cartilage cells collected from patients' affected ears to grow new cartilage in vitro. They 3D-printed mirrored copies of each patient's healthy ear to use as scaffolding into which the new cartilage could grow, ensuring that the new ears would be the right shape for each individual. Finally, the scientists attached and reconstructed the new ears onto the patients.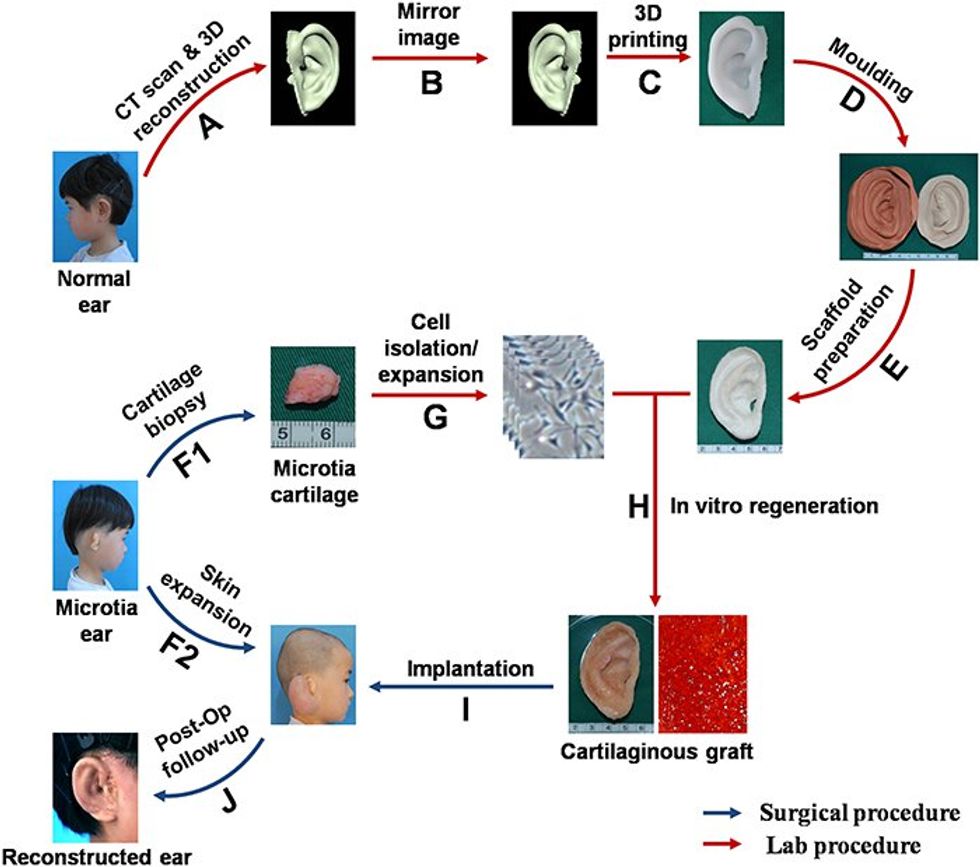 "We were able to successfully design, fabricate, and regenerate patient-specific external ears," wrote the researchers.
Reconstructing the ears of microtia patients has been a goal of the tissue engineering community for decades. The condition affects as many as 17.4 out every 10,000 children in some countries, in degrees ranging from a slightly smaller ear (on one side or both) to a completely missing ear, a condition known as anotia. It cripples hearing ability; one doctor wrote that hearing with microtia is similar to placing a finger in your ear, and can also damage self-confidence.
The study signals new hope for children afflicted with microtia, but the procedure may prove difficult to implement on a large scale.
Lawrence Bonassar, a biomedical engineering professor at Cornell University who wasn't involved in the study, told CNN:
"The method for making these constructs is quite complicated, involving three distinct biomaterials that are combined into a scaffold, seeded with cells, then cultured for three months before implantation to ensure proper cell distribution throughout the construct."
Scaling up the procedure for thousands of microtia patients would be a difficult task, he said.
"Secondly, the materials that are used for these scaffolds remain in the body for a long time: up to four years... Such implants would likely need to be monitored for four or five years before the ultimate fate of these materials in the body is known."
Still, the results of the recent study are positive.
"Tissue engineered auricle is a promising alternative to current ear reconstructive options, but its clinical translation is yet to be accomplished," the researchers wrote. "In the current study, cartilage frameworks with patient-specific ear shapes and proper mechanical strength were successfully engineered in vitro. Using these engineered ear frameworks, we performed external ear reconstruction on 5 patients and achieved satisfactory therapeutic outcome as revealed during 2.5 years' follow-up so far."
Without sounding like internet hyperbole, this super-simple listening trick can help you better understand people's intentions. And provide a fascinating insight into the minds of others.
People like to talk. And when they talk, they often muddy the water about what they really mean because people tend to speak through an autobiographical lens, i.e., "this is my truth because it is from my perspective". Todd Davis, the Chief People Officer at Franklin Covey, has spent much of his career looking for the meaning in what people are saying, and has developed a way to better understand what people are really talking about. That technique is a small adaption to a basic skill that many people forget to do when they talk: listening, and then asking questions based on finding the truth in their perspective. Just doing that (Todd explains the practice in the video much better than I do here - Ed.) can make a world of difference in interpersonal interaction. Todd's latest book is Get Better: 15 Proven Practices to Build Effective Relationships at Work.
It's somewhat of a given that over the course of your life, you'll lose your hearing to some degree. But that doesn't necessarily have to be the case.
It's somewhat of a given that over the course of your life, you'll lose your hearing to some degree. But that doesn't necessarily have to be the case. Your intestine can re-create itself every five days or so, and there's a science there that can (hopefully) be applied to other parts of the body. Chris Loose is a Hertz Foundation Fellow, working amongst a group of fellows and researchers who are looking at regenerative tissue and making it a reality not just for your hearing but perhaps for other parts of the body as well. We could be in for a regenerative future—and perhaps one where we can live to be well over 100 and still look like we're 22. The Hertz Foundation mission is to provide unique financial and fellowship support to the nation's most remarkable PhD students in the hard sciences. Hertz Fellowships are among the most prestigious in the world, and the foundation has invested over $200 million in Hertz Fellows since 1963 (present value) and supported over 1,100 brilliant and creative young scientists, who have gone on to become Nobel laureates, high-ranking military personnel, astronauts, inventors, Silicon Valley leaders, and tenured university professors. For more information, visit hertzfoundation.org.
Musical savants have "enhanced pitch discrimination" and "increased auditory perceptual capacity." But why?
Do those with autism experience music as a richer experience? Getty Images.
We often see in the media autistic savants who can write and play music like grand masters with incredible talent and flourish. In fact, of autistic savants and savants in general, having extraordinary musical talent is one of the most common advantages. A new study published in the journal Cognition, suggests a reason for it. Those with autism spectrum disorder (ASD) have superior hearing. 
Some of the advantages include "enhanced pitch discrimination" and "increased auditory perceptual capacity." Even so, ASD people often find normal, neutral sounds grating. This may be because their auditory system takes in more sound than neurotypical people. Said differently, they have a higher capacity.
Investigators conducted two behavioral experiments to discover these differences in auditory perception and how it led to certain advantages and challenges for those with ASD. Anna Remington and Jake Fairnie were the two researchers who conducted the study. They hail from the Centre for Research in Autism and Education, at the UCL Institute of Education, in the UK.
The study participants were 20 young adults with ASD and 20 neurotypical young adults, all between the ages of 17 and 34. They each participated in two computer-based tests. In the first, an audio file with a bunch of animal sounds was played and the listener had to determine if they heard a dog barking or a lion roaring within the jumble. Those with better auditory perception would have an advantage in this task. Participants with autism ended up scoring much higher than those in the control group, Remington and Fairnie found.
In the second task, participants listened to a recording of people at a party. They overheard a conversation and had to answer questions about it at the end. To rankle autistic participants, a portion of the recording had a man come in and say repeatedly "I'm a gorilla, I'm a gorilla..." 47% of those with ASD were thrown off by this, compared to only 12% of the typical group. So it seems that increased perception has advantages and disadvantages.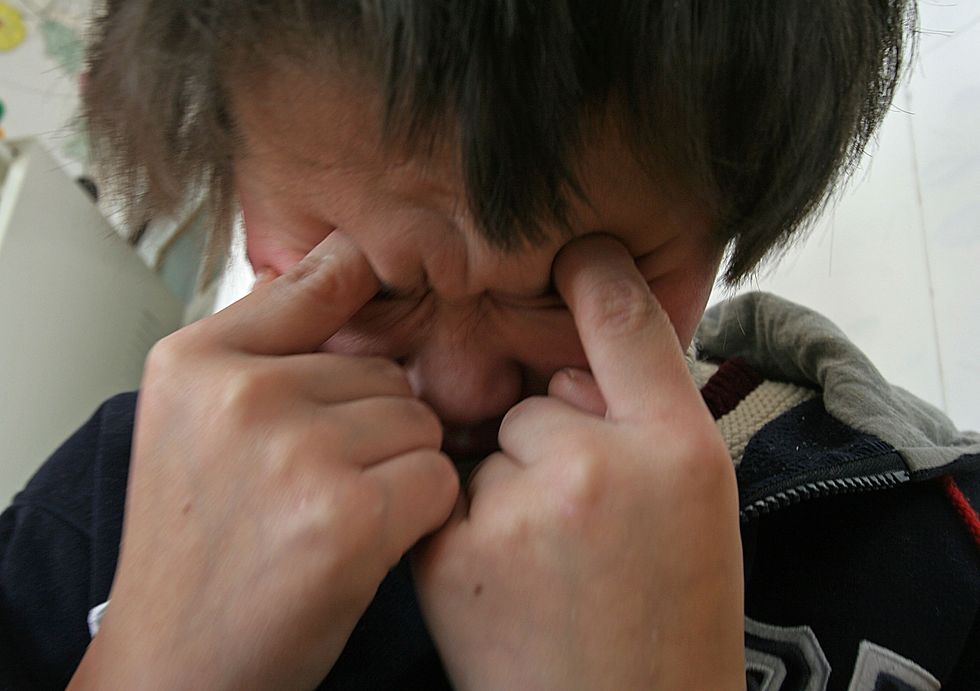 The disadvantage is seemingly innocuous sounds can be very irritating to those with ASD. Getty Images.
Originally, we thought that those with autism didn't like innocuous sounds, merely because they had difficulty filtering them out. Now we know: it's because they process auditory information differently and such sounds overload their circuits, so to speak.
This information might help us develop better strategies to cater to their needs. It can also help children with ASD learn and cope with difficulties better in and out of the classroom. In addition, this discovery could also help experts tailor interventions for those with ASD who find themselves struggling in certain environments or situations. 
In recent years, we've noticed that sensory information is processed differently in those who are autistic. But this isn't in actuality a disadvantage. In fact, many people with ASD can perform visual or auditory tasks far better than neurotypical people can.
To hear a leading emerging theory on what might cause autism, click here: