Researchers from Harvard receive permission for a test that may help cool Earth and fight global warming.
Credit: SCoPEx
Swedish space agency allows Harvard researchers to test a stratospheric balloon next year.
The balloon may eventually be used to release particles into the atmosphere to reflect sunlight.
The goal would be to cool Earth and fight back against global warming but the approach has critics.
Harvard University researchers were given permission by the Swedish Space Corporation to carry out a test next year that may lead to releasing artificial particles into the air to partially block out the sun. This approach could potentially reduce global warming and cool our planet, but has raised geoengineering concerns among environmentalists.
The Harvard test would involve a balloon being flown about 20km (12 miles) above the Arctic town of Kiruna in Sweden next June. The balloon's gondola would be packed with 600 kg of scientific equipment and the purpose of that flight would be to try all of it out, especially the communications gear. If the test is successful, it may lead to another test in the fall of 2021 or in spring of 2022. At that point, a small amount (up to 2kg) of the non-toxic calcium carbonate would be released into the atmosphere, reported Alister Doyle of the Thomson Reuters Foundation. The goal of dispersing what is essentially chalk would be to see if these particles could reflect the sunlight and thus reduce the Sun's harmful effects.
Supporters of solar engineering think technological solutions may be found to counter rising temperatures but their ideas have also faced pushback, admitted David Keith, who takes part in the project and has professorships in both applied physics and public policy at Harvard.
"There are very many real concerns" about the risks of climate change and solar geoengineering, said Keith," adding "Understanding them requires a range of activities including experiments."
Finding the right "dose" for solar geoengineering
The opponents of the idea see pitfalls in climate engineering and artifical sunshade projects. There are too many risks and unpredictable domino effects. Attempting to mitigate the effects of global warming through geoengineering obscures the necessity of moving away from fossil fuels and carbon-based economies, argue the critics.
Environmental policy expert Lili Fuhr of the Heinrich Böll Foundation in Germany described the Harvard test as "crossing an important political red line" and thinks the small experiment will lead to larger and more dangerous ones. She believes the plan may be in violation of a UN moratorium on geoengineering, which is non-binding.
SCoPEx: Stratospheric Controlled Perturbation Experiment
Credit: SCoPEx
The leaders of the Harvard project, dubbed the Stratospheric Controlled Perturbation Experiment (SCoPEx), downplayed any concerns and explained that they are complying with all regulations . The conspiracy-minded will be happy to find out that while not only 300 or so stratospheric balloons were launched around the globe in 2019, among the backers of SCoPEx is none other than the Microsoft founder Bill Gates.
While the approaches to dealing with it remain varied and debated, global warming has been linked to a variety of increasingly more severe weather effects, from heat waves to stronger hurricanes and catastrophic flooding, as well as the worsening spread of illnesses, greater pollution, economic inequality, and the accelerating extinction of wildlife. And in a sign that things aren't magically going to get better, the Intergovernmental Panel on Climate Change (IPCC), comprised of over 1,300 scientists from the United States and other countries, predicts the temperatures around the world will rise by 2.5 to 10 degrees Fahrenheit over the next century, bringing all matter of new calamity. Despite this being a global problem, countries that prepare and adapt accordingly will fare the best in the coming years.
Professor George Church creates a gene "wishlist" that can lead to superhuman abilities.
Harvard geneticist George Church makes a list of genes that could be modified to enhance human abilities.
The list tracks both positive and negative effects.
Redesigning humans can lead to posthumans or transhumans.
Would you improve humanity if you could? Many of us have opinions about how we can boost up society and government. But what about just re-engineering the people themselves, to make them more advanced physically and intellectually? Would better bodies lead to better people? One person who can turn such musings into reality is George Church, the Harvard genetics professor famous for trying to resurrect woolly mammoths, among many other accomplishments. Church also made a list of genes that could be targeted through genetic manipulation for the purpose of designing a new version of humans.
In an interview with Futurism, the professor explained that one purpose of assembling such a list is in giving correct information to the people. It has been his long-term mission to drive down the costs of genetics resources. To that end, the list includes both protective and negative consequences of hacking a particular gene.
"I felt that both ends of the phenotype spectrum should be useful," Church elaborated. "And the protective end might yield more powerful medicines useful for more people and hence less expensive."
Here are some selections from the so-called Transhumanist Wishlist, drawing upon the philosophical movement of transhumanism that calls for using technology to enhance human physiology and intellect, leading to a transformation of what it means to be human:
George Church, a professor of Genetics at Harvard University, with the MAGE Device Multiplex automated Genome Engineering on November 30, 2012.
Photo by Rick Friedman/rickfriedman.com/Corbis via Getty Images
"I've made the argument that we're already transhumanist, that is to say, if it's defined as being almost unrecognizable to our ancestors," said Church in a radio interview. "I think if you brought some of our ancestors or even people from un-industrialized tribes they would not understand what we're doing."
You can check out the full transhumanist "wish list" here, along with additional resources that include studies of specific genes and their effects. While some of these hacks are already being attempted, more discussion and development is necessary. Church sees that future doctors would be able to receive transplants with hacked genetic modifications.
How long till that future? Scientists around the world are racing to make genetic advancements, generally before their governments catch up. Gene-edited human babies are already being born. Chinese scientists were able to edit the gene CCR5 to make two baby girls more resistant to HIV. On the flip side, they made the girls more susceptible to the West Nile Virus. Finding the right balance will be crucial if we're to become superhuman.
To hear Church discuss the future of human biology, check out this video:
Harvard engineers make a breakthrough polarization camera.
Harvard researchers create a tiny camera that can see polarization.
Seeing the invisible light can help in numerous applications, from self-driving cars to satellites.
The scientists used nanotechnology to achieve this feat.
Scientists from Harvard University created a device that offers us a view into a normally unseen world. Their new compact polarization camera promises to achieve in one shot an imaging of the direction of vibrating light, invisible to our eyes. While some polarization cameras currently exist, they are very bulky, with expensive moving parts and limited uses.
The thumb-size Harvard camera's creators see it as a breakthrough, with wide usefulness, from self-driving vehicles to satellites, planes, facial recognition, security and chemistry applications.
The research was carried out by a team from the Harvard John A. Paulson School of Engineering and Applied Sciences (SEAS).
Federico Capasso, professor of applied physics and senior researcher in electrical engineering at SEAS as well as senior author of the paper, called their study "game-changing for imaging."
"Most cameras can typically only detect the intensity and color of light but can't see polarization," he said. "This camera is a new eye on reality, allowing us to reveal how light is reflected and transmitted by the world around us."
Paul Chevalier, a postdoctoral fellow at SEAS and co-author of the study, explained that because polarization is a trait of light that changes when reflected from a surface, it can be helpful to reconstructing objects in 3D, allowing for better estimates of depth, texture and shape.
The team's accomplishment was in employing metasurfaces, nanoscale structures that have interaction with light at the scale of wavelengths, shared Harvard's press release.
Building upon new knowledge of how polarized light works, the team was able to create a metasurface that directed light and formed four images. Combined, these gave a full, pixel-deep snapshot of polarization.
Another advantage of the device – it's just 2 centimeters in length and can be worked into existing imaging systems like cell phone cameras.
Check out how the camera works here:
You can read the new study "Matrix Fourier optics enables a compact full-Stokes polarization camera" in Science.
A new study by planetary scientists proposes a giant new space object which could have formed the Earth and the moon.
A molten Planet. Credit: NASA/JPL-Caltech.
Earth as we know it today was a much different place a few billion years ago. In fact, chances are, it was a giant donut-shaped mess of spinning hot vaporized rock. The researchers from Harvard University and University of California, Davis think that Earth was in the shape of an entirely new planetary object they've dubbed "synestia". 
The study, published in the Journal of Geophysical Research: Planets, was carried out by the planetary scientist Sarah Stewart, a professor at Harvard, and Simon Lock, a graduate student from UC Davis, with support from NASA and the U.S. Department of Energy.  
The focus of the work by Stewart and Lock was on planet formation from a sort of interplanetary pinball, when giant rotating objects smashed into each other in the young Universe. These violent cataclysms produced new partially-melted and vaporized space bodies, which would eventually cool down and become the mostly spherical planets we have today. 
"We looked at the statistics of giant impacts, and we found that they can form a completely new structure," said Stewart.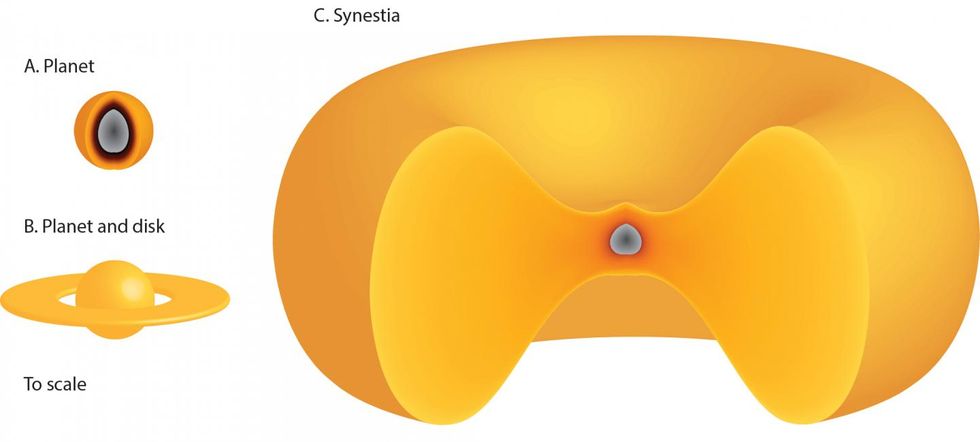 This figure shows to scale a rocky planet, a molten disk/ring structure, and a synestia all with the same mass (about one Earth mass). Credit: Harvard University.
How exactly would synestias form? The researchers found through modeling that when spinning planetary bodies barrel towards each other at high temperatures and with high angular momenta, their crash would actually create a totally new object of mostly vaporized rock, with the same angular momentum. The outer layers of the vaporized planets would be in orbit around the rest of the new body. 
The scientists described it as an indented disk that looks like a red blood cell or a donut with the center filled in. The reason they called the planetary body they proposed "synestia" comes from "syn" which means "together" in Greek and "Hestia" - the Greek goddess of the home, hearth and architecture. 
Once formed, the synestia, like a molten cocoon, would start cooling off, condensing into a solid object in a few hundred years - a pretty short time in cosmic terms. Unless they are formed by the collision of gas giants like Jupiter - such synestias would survive in their forms much longer.
The idea of synestias could also explain the formation of moons. While they have not been observed directly, synestias could be present in other solar systems and could be detected in the future. 
Cognitive abilities peak at varying ages, say researchers from MIT and Harvard.
Walter Wisby, aged eight, playing a game of chess with T Whiltard, aged 91, in Cheltenham. (Photo by Hulton Archive/Getty Images)
Many of us do not look, feel or act our age. Sooner or later, of course, time tends to catch up. Some abilities that we've had in our younger versions are no longer the same. Yet there are other ways in which we are sharper and smarter than we used to be. What researchers found out is that different mental skills peak at different times of a person's life. 
A 2015 study by MIT's Joshua Hartshorne and Laura Germine from Harvard determined when exactly various kinds of cognitive performances were the strongest. Their research involved several experiments, with much data coming from two websites they set up that featured cognitive tests. These sites generated data from almost 3 million people in a few years.
One test the scientists ran involved 2,450 Americans from diverse backgrounds and locations, performing 15 tasks that ranged from math to vocabulary quizzes to picture completion.
What the results showed is that while the majority of mental power skills like memory, retelling stories and pattern recognition peaked from late teens into the 20s, a few notable ones got better with time and reached full potency by the 50s. These included vocabulary, math, general knowledge and comprehension (which was a test of how well participants could explain certain concepts). Such skills come from accumulated knowledge which benefits from a lifetime of experience. 
Vocabulary, in fact, peaked even later, in the late 60s to early 70s. So now you know why grandpa is so good at crosswords.
Here's a chart from the study showing how cognitive functions change over time: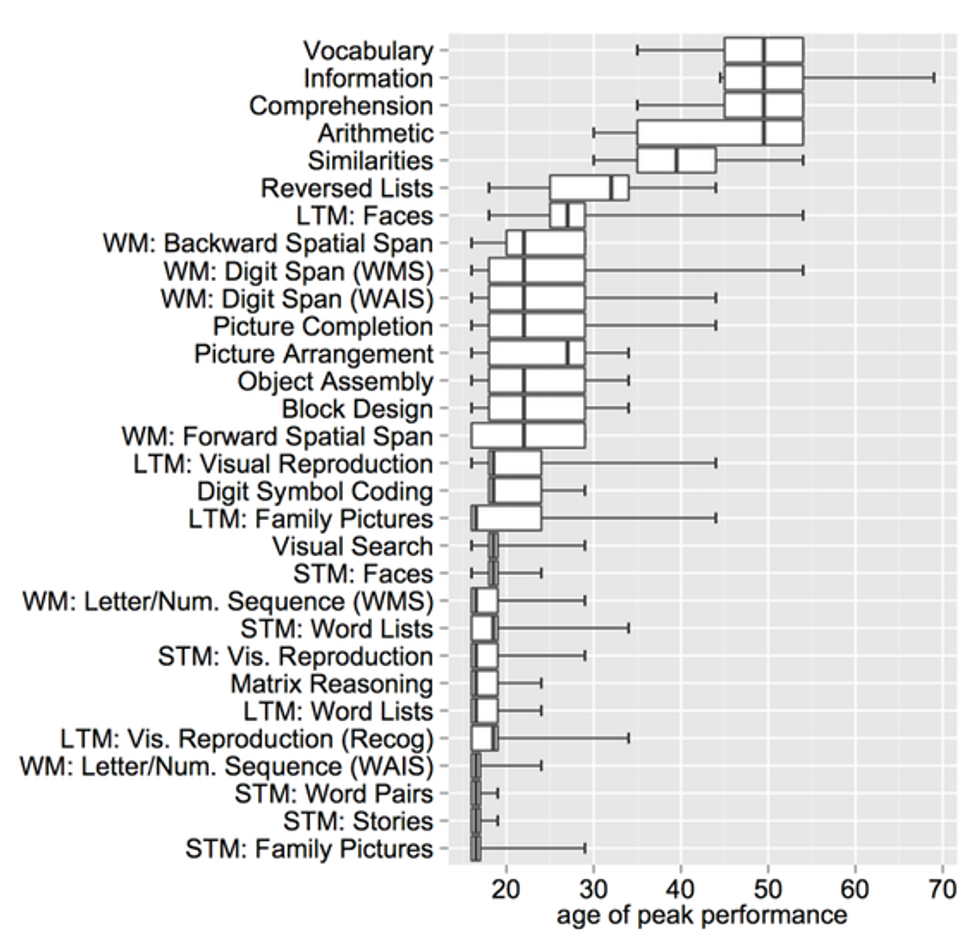 Credit: Joshua K. Hartshorne and Laura T. Germine, Psychological Science.
For another way of looking at how abilities and time are related, look at the green "family pictures" line in the chart below. The underlying experiment involved participants being shown family pictures, which they had to recall in detail: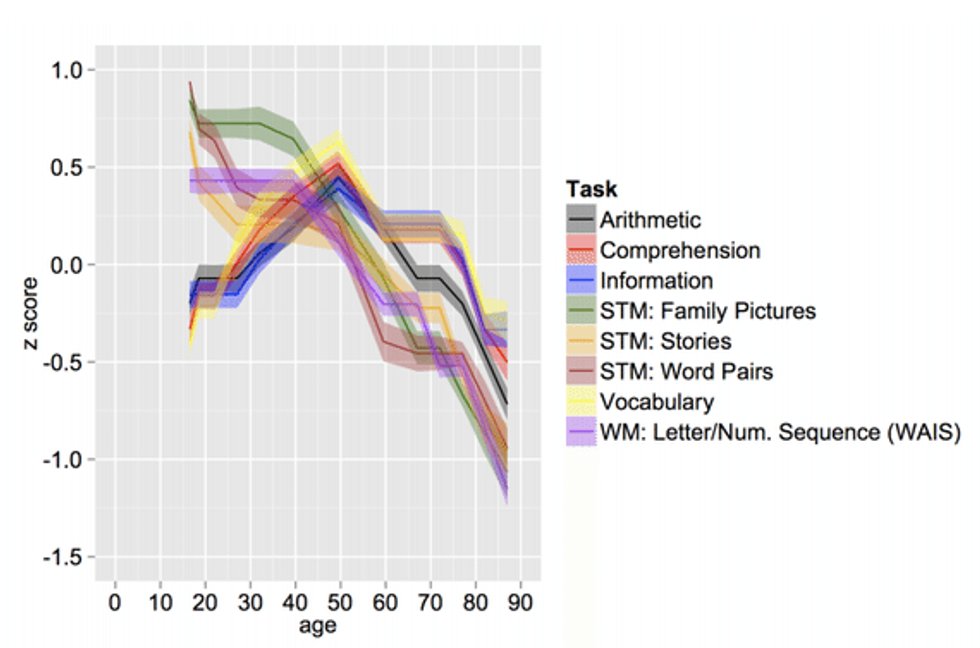 Credit: Joshua K. Hartshorne and Laura T. Germine, Psychological Science.
And here's a win for the 40+ folks - the below representation of a test of 10,000 visitors to TestMyBrain.org shows that older subjects did better than the young on the vocabulary test. The under-30 group did much better on memory-related tasks, however.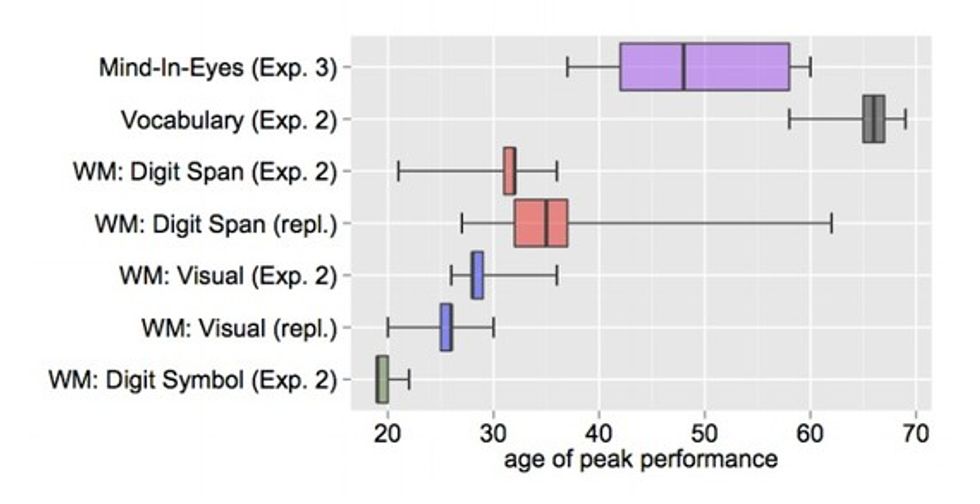 Credit: Joshua K. Hartshorne and Laura T. Germine, Psychological Science.
Is there one age when all of your mental powers are at their maximum? The researchers don't think so.  
"At any given age, you're getting better at some things, you're getting worse at some other things, and you're at a plateau at some other things. There's probably not one age at which you're peak on most things, much less all of them," said Joshua Hartshorne.
A 2014 study by Canadian researchers from Simon Fraser University provided another look at the question. They analyzed data from 3,305 players of the game "Starcraft II" between the ages of 16 to 44. 
What they found is that younger players had significant advantages in certain tasks. For example, a 24-year-old would be 150 millisecond faster than a player of the same caliber who is 39. In general, the researchers found 24 to be a key age, after which player abilities slowly declined, losing about 15% of the speed every 15 years. 
Older players did perform better in some aspects, making up for the slower brain processing by using simpler strategies and being more efficient. They were, in other words, wiser.