The winner of the Royal Statistical Society's first "International Statistic of the Year" award provides a shocking insight into the real threats Americans face.
Which of the following best completes this sentence: Over the past 10 years, _____ killed the most Americans.
Islamic jihadist terrorists
Far right-wing terrorists
Lawnmowers
If you chose either kind of terrorist, you were wrong – by a long-shot. It turns out that lightning, lawnmowers, armed toddlers, buses, and simply falling out of bed were all independently more frequent annual causes of death than all kinds of terrorism combined on average over the past decade.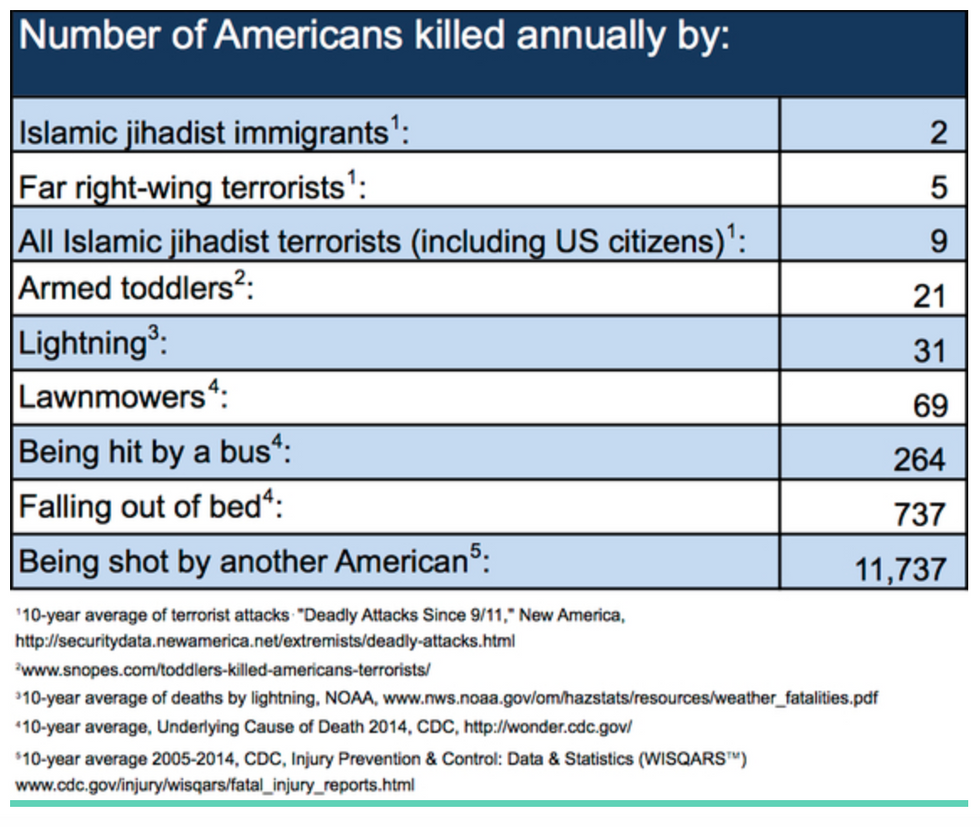 The chart comes from a Huffington Post article by Todd R. Miller, and it was chosen as "International Statistic of the Year" by the Royal Statistical Society, an organization based in the U.K. that began the competition in 2017 to highlight the importance of statistics in society. It was also featured in a tweet by Kim Kardashian that was retweeted more than 194,000 times. 
The Royal Statistical Society wrote that the chart:
"...successfully highlighted the huge disparity between (i) the number of Americans killed each year (on average) by 'immigrant Islamic Jihadist terrorists' and (ii) the far higher average annual death tolls among those 'struck by lightning', killed by 'lawnmowers', and in particular 'shot by other Americans'."
Liberty Vittert, a member on the panel who selected the stat as the winner for 2017, said:
"Everyone on the panel was particularly taken by this statistic and its insight into risk - a key concept in both statistics and everyday life. When you consider that this figure was put into the public domain by Kim Kardashian, it becomes even more powerful because it shows anyone, statistician or not, can use statistics to illustrate an important point and illuminate the bigger picture."
The Royal Statistical Society listed several honorable mentions for stat of the year on its website:
7.7 billion – "In June 2017, the number of active phone connections (7.7 billion) exceeded the world's population for the first time ever."
403.3 – "New figures, released in October 2017, showed that the concentration of carbon dioxide (CO2) in the atmosphere has now exceeded the symbolic threshold of 400 parts per million, reaching 403.3ppm - its highest level for around 800,000 years."
21.0 – "According to figures publicized this year, the under-18 conception rate in the UK in 2015 was 21.0 conceptions per thousand women aged 15 to 17. This is the lowest such rate recorded since comparable statistics were first produced in 1969."
A new nonprofit organization aims to elect more scientists to the U.S government.
Concerned that scientific views are not being properly represented in Washington, a new nonprofit group wants to get more scientists elected. 314 Action, named after the first three digits of pi, wants scientists to embrace the political process, running for all levels of government. The group's aim is to get as many scientists elected as possible in the 2018 elections.
314 Action sees particular urgency for its work due to the rise of anti-science rhetoric on the Hill, especially from the right. The current Republican standard bearer President Trump has questioned the idea that climate change is caused by humans and seemingly encouraged debunked anti-vaccination opinions. With the appointments Trump made so far, it's hard to believe his administration will advance scientific causes. 
The 314 Action group describes its members as people who come from the STEM community whose goals are to increase communication between STEM community and elected officials, to actually elect STEM-trained candidates to public office, to increase presence of STEM ideas through the media, and to prevent the U.S. from falling further and further behind the rest of the world in math and science education.
Another big issue for the nonprofit is to reorient public debate on gun violence by treating it as a public health crisis.
The organization hopes to achieve this by identifying interested scientists and connecting them with money and political campaign machinery. They have a current network of 75,000 donors. 
"We have school boards that are determining the curriculum for our children and having people with a pro-science agenda at the table is very important," she said. "We're looking at the federal level, which is very important, but we're also looking a few steps prior to that so we can build a pipeline to have more scientists at all levels of government," told Shaughnessy Naughton, the board president of 314 Action, to Jason Koebler of Motherboard. 
The group is not looking to "politicize science" but rather to get scientists into politics. 
"When the man who's going to lead this country claims climate change is a hoax, we need people willing to stand up for the facts," added Shaughnessy.
Was is the profession most represented in our government now? Traditionally it has been lawyers, with more than half of all American Presidents and members of Congress having a law background. The proportion of lawyers in Congress decreased recently, to its lowest percentage of 36.5% in 2015-2016, still a sizable amount. What has increased is the number of professional politicians, people who rise up through the ranks from being aides or various political organizers. 
The number of business people in government has held relatively steady at about 25% of the group.
Here's a useful breakdown from a survey by Nick Robinson, a lecturer on law at Yale: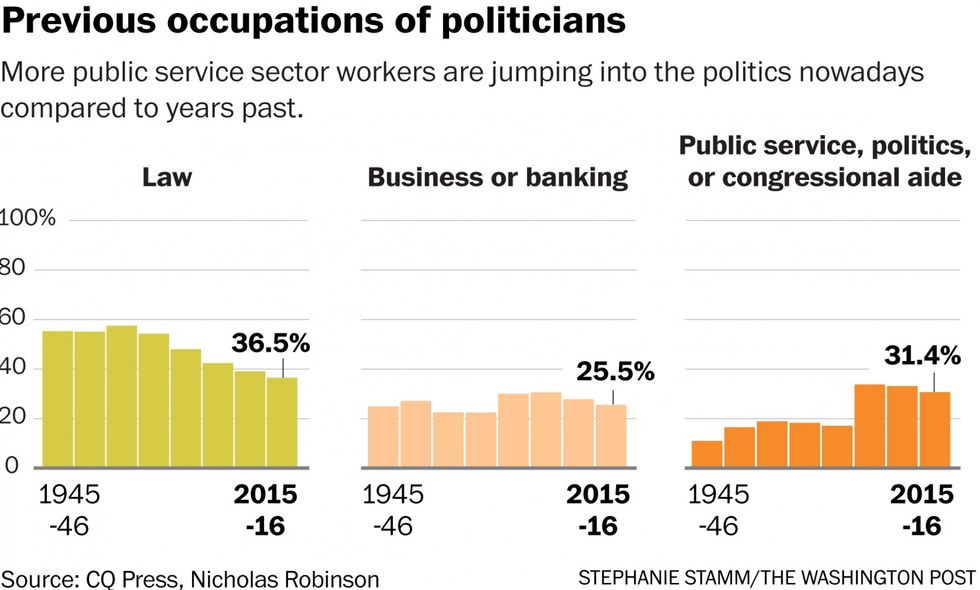 Why aren't there many scientists involved in politics right now? The explanation offered by the New York Times in 2012 was that Americans just don't trust scientists, dismissing them as "elitist", a label that's unlikely to go away with the dismal state of American science and math education. The fewer people understand what you do, the less likely they are to support you.
Another issue has been the nature of the political process itself. Unlike people in other professions, scientists usually have much less ability to take time off from their research to focus on public office work. In contrast to business people, lawyers and doctors (another well-represented group in Congress), scientists can't easily come back to their field after years away. 
As a result, there are just a few people with a science background working in the American government at this point. We are talking about people like representatives Bill Foster, Ph.D., an accomplished physicist, Jerry McNerney, holding a Ph.D. in mathematics, and microbiologist Louise Slaughter. There're also a few people in Congress with a computer science degree. And that's about it.
Isn't it time science was properly represented in government?
Cover photo: Members of Congress observe a moment of silence during a September 11th remembrance ceremony on the steps of the U.S. Capitol September 11, 2013 in Washington, DC.(Photo by Win McNamee/Getty Images) 
A new Yale-Harvard study categorizes gun violence as a social contagion and a public health epidemic. If nothing changes, over 33,000 people will die at the end of a gun this year in the United States.
Close contact to guns through family or acquaintances puts you naturally closer to gun violence. (Photo: Getty Images)
A study published in JAMA claims gun violence spreads like an infectious disease. The research team – Yale Sociology professor Andrew Papachristos and Harvard students Ben Green and Thibault – looked at over 11,000 shootings in Chicago from 2006 – 2014. The researchers concluded that gun use spreads like a virus due to social affiliation with others, with Papachristos telling Gizmodo: "You don't catch a bullet like you catch a cold, [but] the power of this analogy is really thinking about the precision with which it moves through a population."
The total network studied includes over 138,000 individuals. The likelihood a gun is fired is partly dependent on the network you're involved with. For this reason, Papachristos concludes gun violence should be treated "as a public health epidemic and not just a policing problem."
Criticism over 'stop and frisk' policies in the New York City Police Department is well documented. Across the nation police officers have been captured on camera perpetuating unjust violence, which has resulted in numerous marches, online movements, protests, and counter-violence. Yet rates of gun violence are not going down. It's more than a policing problem.
If trends continue—nothing hints they won't—over 33,000 people will die and 200,000 will get injured this year in the United States, far exceeding any other nation. That the 33,000 number bundles together homicides and suicides doesn't make it any less relevant or problematic. Still, diseases with less impact receive more funding, including HIV, Parkinson's disease, malnutrition, and intestinal infections. In fact, the other two major causes of death receiving less funding are drowning and falling—pretty self-explanatory, even if conditions vary.
Gun violence is not so easily explained. Second Amendment pundits argue that it's people, not bullets, causing problems; some conclude it should be treated as a mental health issue on a case-by-case basis. But that's not how humans operate. No one lives in a vacuum. We're constantly influenced by our environment and, more specifically, those we navigate our environment alongside.
Yet funding as to why this is and what can be done to stop it pale in comparison to other diseases. Based on deaths alone, gun violence should receive $1.4 billion for research over a decade. The amount it received during the nine years this study ran? Twenty-two million dollars.
David Stark, a medical director at Mount Sinai, parallels gun violence to motor vehicle accidents:
Those kill about the same number of people, but that has been decreasing substantially. … All of that really starts from essential public research that determines the proximate causes of accidents — and it's only with research that you can start to develop plans and policies and initiatives.
With the incoming administration such policies seem impossible. Of all the lobbying groups, the NRA's 'rating guide' of elected officials is one of the most insidious framing of arguments (that turn into policy). The rallying cry of 'personal rights' is easily confused by the true message, 'sell more guns.' In this capitalistic thrust forward a nation continues to be held captive by a preventable and treatable disease, if only the people in charge of seeking a cure would live up to the responsibility of doing so.
This is not to imply that a silver bullet would become immediately apparent with a few studies. But it would be a step in the right direction. Often people needing a doctor most visit least, choosing denial of their condition over their health. A small but powerful segment of the American population remains in denial about gun violence even though the doctor is right around the corner.
--
Derek's next book, Whole Motion: Training Your Brain and Body For Optimal Health, will be published on 7/4/17 by Carrel/Skyhorse Publishing. He is based in Los Angeles. Stay in touch on Facebook and Twitter.