Having trouble finding the meaning of life? Nietzsche had the same problem. His philosophy offers us a few suggestions for finding the solution.
Friedrich Nietzsche
The question of what meaning our lives might have was a major one for Nietzsche. While he is often mistaken for a nihilist, he was in fact quite the opposite. Indeed, much of his work is concerned with the problem of overcoming nihilism despite the slew of problems that drive people towards it.
Interpretations of how Nietzsche proposed to overcome nihilism can vary. From taking up the life of a guru to more brutish images of becoming an all-powerful Superman (Übermensch), the (in)famous philosopher's ideas offer insight into how to find more meaning in our lives. Here's how Nietzsche approached the problem of the meaning of life and how you can use the same approach.
God is dead and we have killed him
For Nietzsche, the problem begins with the death of God. We've discussed this concept before, but in brief, it is Nietzsche's realization that an increasingly secular and scientific society can no longer turn to Christianity to find meaning. In ages past the meaning of everything was assured by God. Without the ability to turn to God, where could modern man find meaning?
Nietzsche found this concerning, as the typical person would be driven to nihilism without help. While mass movements would be able to provide another structure to find meaning in, Nietzsche, ever the individualist, rejected this notion as being a real solution. Instead, he offers us three solutions that we, as individuals, can try to use to find meaning in our post-God lives.
A cultural revolution
Nietzsche, who was an atheist, understood that religion was useful for providing meaning, community, and helping to deal with the problems of life. His first suggestion was to replace religion with philosophy, art, music, literature, theatre, and other parts of the humanities to provide similar benefits.
The void created by the death of God is a major one and one which we must strive to fill. The humanities offer us the ability to contextualize our sufferings, our efforts, and a chance to see our lives as not so different from those around us. They can offer insights into how we might tackle problems we all must face.
However, it is important to not just study them as bone-dry academic subjects. They must be seen as tools for living. Don't read history for facts; see it as a way to edify yourself. Tragic plays are not just for entertainment, they are to teach you how to see the beauty in sad events.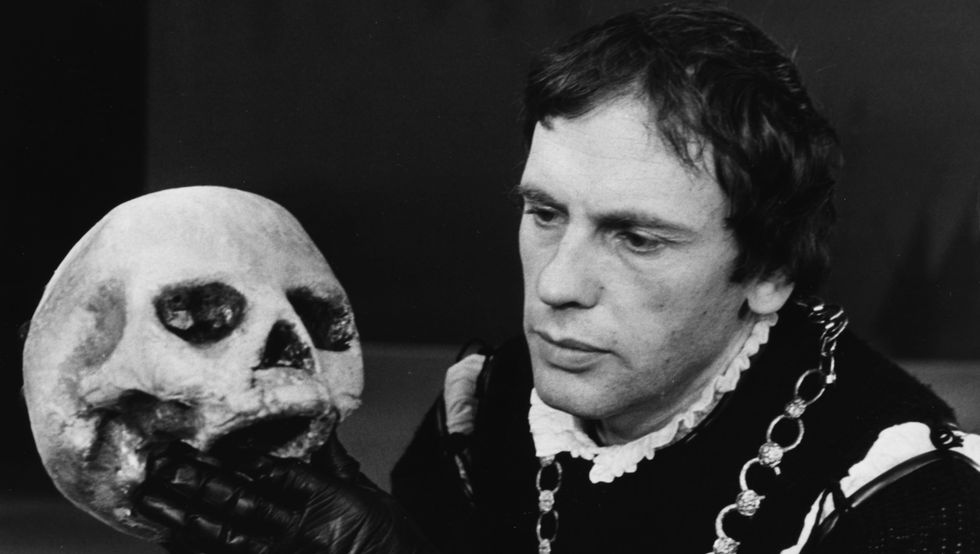 French actor Jean-Louis Trintignant holding the skull of Yorick during a scene from the Shakespeare play 'Hamlet', plays like Hamlet can help us deal with issues that religion used to tackle but can no longer handle. (Getty Images)
What if we don't like the humanities? Or they don't seem to help?
That's fine. He has other ideas. No discussion of Nietzsche is complete without reference to the Übermensch. The Superman that creates their own meaning and values without reference to outside influences. Such an individual can overcome the problem of the meaning of life by simply inventing their own meaning and taking full responsibility for it. Nietzsche offered us a few examples of men who came close to being an Ubermensch; Jesus, Julius Caesar, Napoleon, Buddha, and Goethe among them, but felt that none of them quite hit the mark.
The person who is able to actually able fully carry out this advice, it seems, it still yet to come. For those of us who remain typical humans, we can hope to find some meaning in looking towards the Superman and the evolution of humanity. "Man is something to be surpassed. What have ye done to surpass man?" Zarathustra asks the crowd of onlookers. He sees the psychological evolution of humanity as an ever-advancing story, one which we would do well to take part in.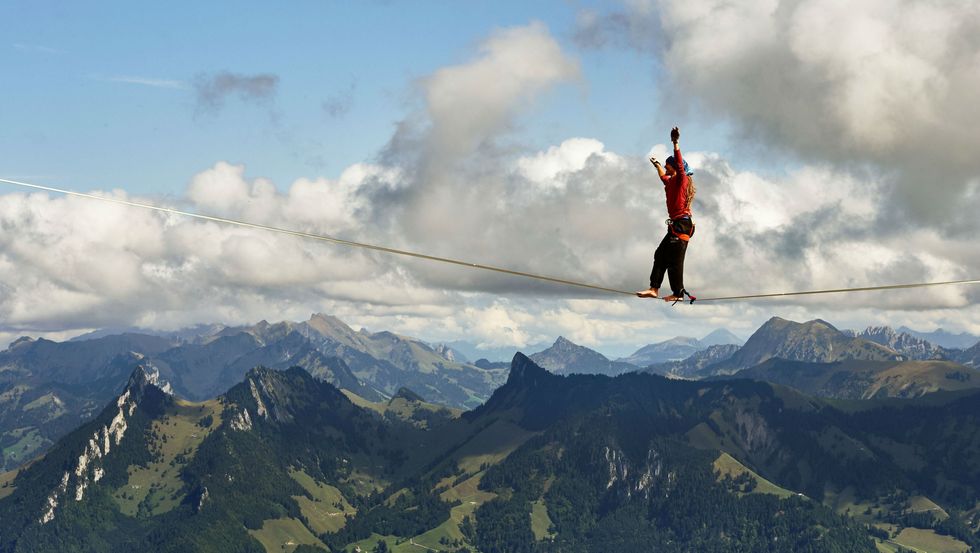 In the first part of Thus Spoke Zarathustra, Nietzsche makes reference to a tightrope walker to demonstrate the perilous journey of humanity from ape to Superman. (Getty Images)
The Übermensch seems like a little too much. What else is there?
If the Ubermensch isn't something you value, there is another way to find solace more immediately. Loving your life, no matter what it has in it, is another method to find meaning.  Amor Fati, the love of fate, is one of Nietzsche's most interesting ideas and one which can offer us a great deal of solace when we most need it. 
To love your fate is to know that everything that has happened in your life; the good, the bad, and the ugly, has contributed to who you are and what you are doing at this very moment. To embrace any part of life, says Nietzsche, thus necessitates that you embrace all of it. Trying to create yourself will lead to some failures, but embracing those failures alongside your successes can help re-spark a love of life and can help you see the meaning in even the worst moments.

In a The Gay Science he reveals to us the goal of loving fate more directly. "I want to learn more and more to see as beautiful what is necessary in things; then I shall be one of those who makes things beautiful. Amor fati: let that be my love henceforth! ..... And all in all and on the whole: someday I wish to be only a Yes-sayer." To say yes to life is one of the fundamentals of Nietzschian philosophy. 
But, what can I do today?
At the most basic level, you can set goals for yourself. Perhaps you should try reading the classic novels or go to more Shakespeare in the park to better see how some of the greatest characters ever written handle the problems of life, death, meaning, madness, and love.
Perhaps you should evaluate what things you really value and what things you only say you like because society tells you to. Or, perhaps you should reconsider the parts of your life you don't like and try to come and love them for the necessities they are. As, without them, you wouldn't be you.
There is one thing we must warn you about, however.
Nietzsche was not a happy person. He hated his family, was eternally lonely, women rejected him, his books didn't sell, he lost his mind, his sister hijacked his publishing rights, and then his ideas were taken up by a bunch of far-right ultra-nationalists who utterly missed the meaning of his individualistic philosophy. His ideas are not designed to make you "happy", they are designed to help you find meaning in your life. For Nietzsche, these things are going to be at odds, since anything worth doing is going to involve some level of suffering. In The Gay Science, he even explains, "Only great pain is the ultimate liberator of the spirit….I doubt that such pain makes us 'better'; but I know that it makes us more profound."
If your goal is happiness in the utilitarian sense, he does have an alternative for you. "The Last Man" is Nietzsche's caricature of the utilitarian ideal, a dull sort of person who lives an utterly boring life of maximized pleasure and minimized pain. However, since pain is required to do anything worth doing, the life of the Last Man is presented as a pathetic existence that leads to an utterly contented individual. This is a solution to nihilism, but not one that Nietzsche suggests you take.
The problem of how to live a life with meaning has puzzled philosophers since the days of ancient Greece, China, and India. For Nietzsche, the problem took on new meaning in the aftermath of the Enlightenment and the death of God. Even if you don't agree with his ideas, his contemporary co-founder of existentialism didn't, his offered solutions to the problem are still illumining for those of us who stay up at night looking for meaning in life.
--
Existentialism is great and all, but how can you really relate to the ideas if you don't think God is dead? Luckily, we've got just the thing.
Søren Kierkegaard, the man who invented the word "angst".
Existentialism remains one of the more popular philosophies for the layperson to read about, consider, and study. The questions that it asks and the problems it confronts, ones of free will, anxiety, and the search for meaning; are ones we all face in our daily lives. While the solutions it offers may not work for everyone, existentialism can have a particularly large blind spot when it tries to provide answers for the religious.

Think of it, Nietzsche declared that God was dead, Sartre, Camus, and Beauvoir were all atheists, and the related philosophy of Nihilism also denies God's existence. For the religious individual who seeks extra comfort from existential dread and the perspective of the existentialists on the problems of modern life, good answers can be hard to come by.

But there is an Existentialist who made Christianity one of the core principles of his thought. The founder of existentialism, Søren Kierkegaard.

Kierkegaard was a Danish philosopher born to a wealthy family in Copenhagen in the early 19th century. He was a prolific writer who often used pseudonyms to explore alternative perspectives. His work covers all of the areas of existential thought; anxiety, absurdity, authenticity, despair, the search for meaning, and individualism. However, unlike his atheistic successors, he places his faith in the center of the solutions to the problems of human life. Just as the death of God was key for Nietzsche, the need for God was just as important to Kierkegaard. Here are some of his insights:

On finding meaning
Kierkegaard agrees that life can be absurd and that meaning could be hard to come by. As opposed to Nietzsche, who said the death of God caused this, Søren argued that, in the present age, meaning is sucked out of concepts by abstraction and a tendency to view things with too much rationality. He lamented that he lived in an age where humans were increasingly viewed as generalizations, where the passionate man was seen as intemperate, and where most people simply went along.
He cries out for us to live passionately, and worry more about the problem of living life than trying to fit the social order. His philosophy is all about living this way, even to the point where an outside viewer will be unable to understand your motivation. 

Kierkegaard also discovered a point that was hammered in by latter existentialists; reason and science can tell you a lot of things, but they cannot give something value or meaning. You have to do that. Meaning, value, and purpose cannot be reduced to quantifiable elements, it is up to the individual acting on their own to decide what the meaning of their life is going to be. His favored solution for finding meaning is to look to God and make a leap of faith. That alone, he argued, could both offer us meaning and properly balance us as people.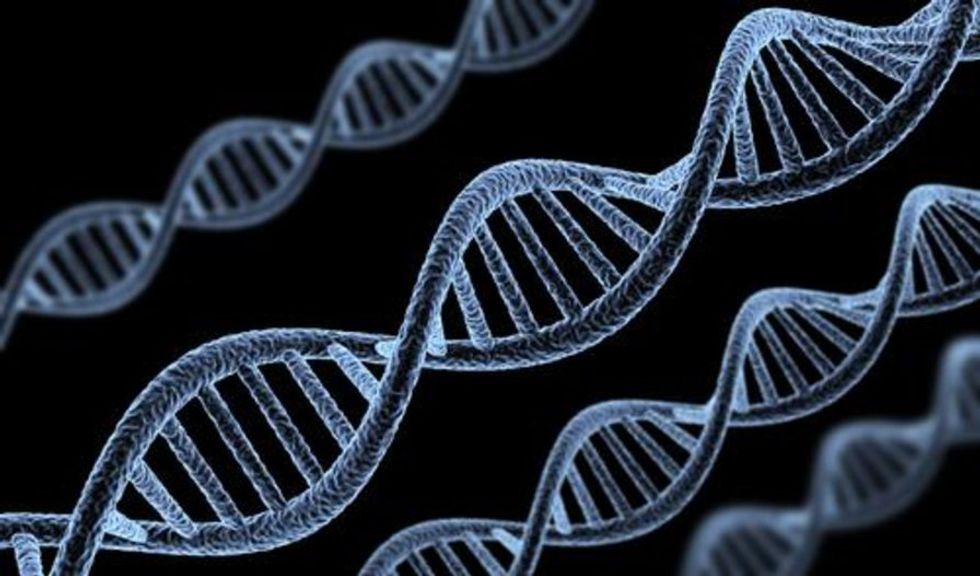 Pictured, the building blocks of life. Not pictured, the building blocks of the meaning of life. 
On living with freedom
We must face the world as individuals, so Søren tells us. However, to fully be ourselves he posits that a person must recognize the "power that constituted it". We are given the moral imperative to discover and live as ourselves, and God is a key part of that imperative. Every day, we are presented with facts of life and possibilities, and we must make choices. To not choose is also an option, but a poor one. To avoid becoming ourselves is to be in despair, which, for Kierkegaard, is to be in sin.
He warns us also of the anxiety that comes with choosing the path of our lives. While we must choose, we can never be sure that we choose correctly, as "Life can only be understood backwards; but it must be lived forwards." In the same way, we have endless possibilities before us, except for those lives we chose not to have. He articulates the anxiety of having to choose to not live out some possibilities magnificently, "If you marry, you will regret it; if you do not marry, you will also regret it; if you marry or do not marry, you will regret both; Laugh at the world's follies, you will regret it, weep over them, you will also regret that; laugh at the world's follies or weep over them, you will regret both…."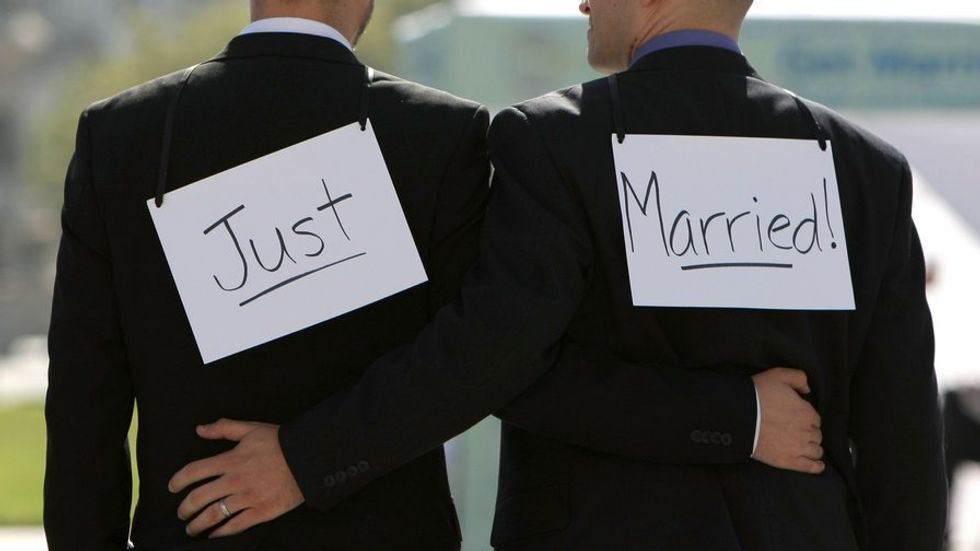 Kierkegaard says they will live to regret it, no matter what happens. 
Like Nietzsche, Kierkegaard also saw the potential use of "isms" to solve the problem of meaning in our lives. Søren focuses on the idea of an "ethical" life as an escape from deciding on meaning for yourself. By choosing a social or ethical system to latch onto we can find meaning in our relation to it; rather than by ourselves. He sees this as a possibility for many people, but not as the ideal solution to our problems. 
One of his solutions to the problem of meaning was a Christian variant of the super-individualist Ubermensch; before Nietzsche had invented it. The Knight of Faith is an individual who has moved beyond relying on external rationality or "isms" for the justification of their lives and fully dedicated themselves to a higher calling. This calling is God in the case of Kierkegaard's examples of Abraham and Mary.
They understand that the demands of God might be unethical, as the demand that Abraham kill his son was. However, they carry on past ethical concerns anyway, as to be a Knight of Faith is to be- to steal a phrase from Nietzsche- beyond good and evil.*
The benefits of Existentialism don't have to be utterly separated from the Christian notion of God. Likewise, Kierkegaard's insights do not require a dedication to Christianity to be used. He argued that the "passionate pagan" who prayed to a false idol was living better than the Christian who was worshiping out of mere habit. Even for those of us who are not Christians, it is possible to understand a little more about ourselves and the problems we all face as humans by considering the worldview of Søren Kierkegaard. A fantastic introduction to his ideas can be seen here.




*-To those of you who see a potential problem here, Kierkegaard notes in the book Fear and Trembling that some method must be used to determine who is a Knight of Faith and who is just a lunatic. Likewise, while the Knights could be divinely inspired to do horrible and bizarre things (like sacrificing children or inventing circumcision) by religious fervor, Søren posits that the typical Knight would be rather reserved and that we might never hear about them. Debate continues on if that answer is sufficient. 
Nietzsche's ideas were used by the Nazi's to justify their atrocities, but did Nietzsche actually support Fascism?
Nietzsche, by Munch
If there was one philosopher the fascists of the mid-20th century loved, it was Nietzsche. He was so adored by them that Hitler gifted Mussolini the complete works of Nietzsche for his birthday. The Nietzschean ideals of anti-egalitarianism, the Superman, and the will to power inspired them to act, and millions died because of it. They adored his ideas, and anointed him as the prophet of their ideology.

And most of it was due to misunderstandings and willful changes.
Nietzsche's philosophy is purposefully difficult to read. His criticisms of the "Slave Morality" he credits the Jewish people with inventing can seem like an anti-Semitic rant from time to time. When in reality, he saw the Jews as a powerful people with a fine culture, his attacks are on their ideas: not on the people. His idea of the Superman was not a racial concept but rather a spiritual one.
He claimed that the Germans were great because of the "Polish blood in their veins", and saw German nationalism as a dangerous joke. He ended relationships over his disapproval of anti-Semitism, including ones with his sister and the composer Richard Wagner. After he went mad, he wrote letters urging the great powers of Europe to attack Germany before it was too late.

Then, how did he become the Nazi Philosopher?

How Nietzsche was hijacked is a curious story, and a powerful warning. It begins with his sister, Elizabeth Förster-Nietzsche. She was reportedly an unintelligent woman; when she asked philosopher Rudolf Steiner to help her understand her brother's philosophy he was forced to give up after several excruciating attempts to educate her. He sent so far as to write that she, "lacks any sense for fine, and even for crude, logical distinctions; her thinking is void of even the least logical consistency; and she lacks any sense of objectivity." Her husband was a famed anti-Semite who Friedrich couldn't stand.
She took over her brother's estate after his descent into madness. She was then able to selectively edit new versions of his works, and created the entire book The Will to Power with his unused notes, in a way as to emphasize the bits that fit in with her political ideology. She withheld his work Ecce Homo from publication for years as it had a great deal in it that would derail her attempts to frame him in her image. In conversation, she developed a remarkable ability to remember conversations with her brother that supported her ideology.
To put not too fine of a point on things, she even met Hitler in the early 1930s when he visited the Nietzsche museum she operated. Hitler attended her funeral in 1935.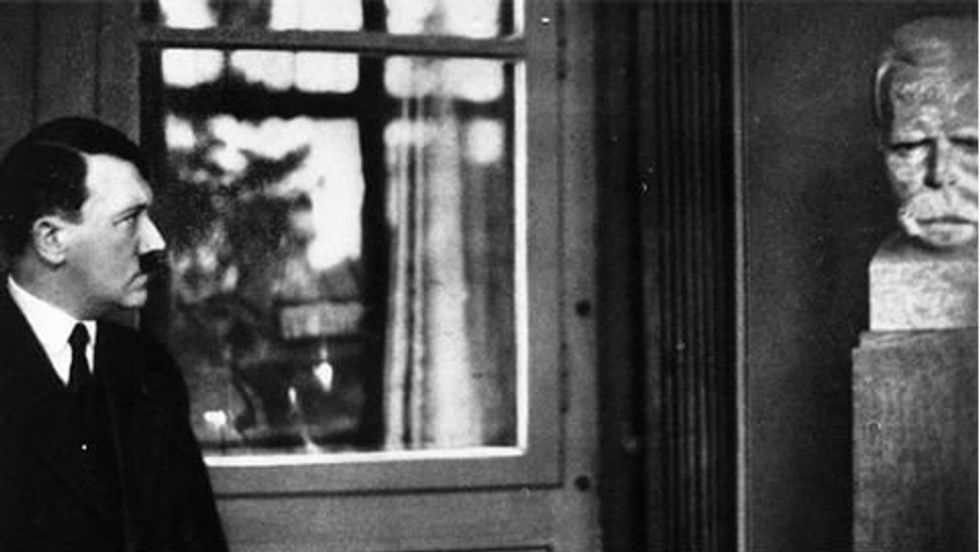 Adolf Hitler at the Nietzsche museum. 
How did Nietzsche get used by the Nazis?

Just as American politicians like to reference the ideas of dead American heroes like Washington and Jefferson, the Nazis sought great Germans to reference when justifying their new regime. Nietzsche, with the tweaks made to his philosophy by his sister, became the primary thinker for those Nazis looking to justify their beliefs with philosophy.
German universities taught Nietzsche as part of courses on the new order, references to soldiers being the Ubermensch were common, and the will to power was adopted by the Nazis as a key psychological insight. The philosopher Alfred Baeumler claimed Nietzsche had prophesied the rise of Hitler and fascism in Germany.
After the war, the warping of his ideas to suit the ideologies of his sister and later of the Nazis was corrected in large part due to the works of Jewish-American philosopher Walter Kaufmann. The notion that Nietzsche was a proto-fascist can be said to be long debunked.
So, Nietzsche was really a kind and nice philosopher who gave out candy to children?

To give the devils their due, Nietzsche did have incredibly reactionary views on women, viewing the ideal women as little more than a broodmare for potential Ubermenschen. This was a point where the fascists could just run with what they had. Similarly, Nietzsche did reject egalitarianism, democracy, and occasionally ventured into rhetoric that verged on "let's eat the poor". He was no saint, but he wasn't a Nazi either. If reading Nietzsche doesn't shock you, something went wrong.
Nietzsche's philosophy is easy to misunderstand and almost as easy to purposefully misinterpret. Even today, the far right is still using bad readings of it to justify their politics. Nietzsche was anti-nationalistic, considered the Jews worthy opponents, despised Christianity, and mass movements of all kinds; it takes a bad reading to consider him a goose-stepping fascist instead of the champion of individual genius that he was.
So, what does this mean for us today?

Almost any philosophy can be hijacked liked this. It's really not that hard. Examples come to mind without having to try. Every Marxist would claim that at least one of the communist regimes of the last century had twisted the philosophy in a way to promote selfish goals. Utilitarianism can be used to argue that every action imaginable is for the greater good. It might go without saying that the Bible has been used to justify pretty much everything; slavery, abolitionism, war, peace, and so on ad infinitum.
The real thing you should take away form this story is how easy it was to do it. Elizabeth Förster-Nietzsche was able to pull it off without understanding the ideas involved; all she had was the proper legal rights and some convenient events working for her. All of it happened despite Nietzsche's friends objecting to it, and people who had lectured on his works before he went mad did nothing. It could happen to any school of thought, and that should terrify you. Always make sure you get the full story before you make any decisions, philosophically speaking. 
The death of God didn't strike Nietzsche as an entirely good thing. Without a God, the basic belief system of Western Europe was in jeopardy.
It's been 134 years since Friedrich Nietzsche declared: "God is Dead" (or Gott ist tot, in German), giving philosophy students a collective headache that's lasted from the 19th century until today. It is, perhaps, one of the best known statements in all of philosophy, well known even to those who have never picked up a copy of The Gay Science, the book from which it originates. But do we know exactly what he meant? Or perhaps more importantly, what it means for us?
Nietzsche was an atheist for his adult life and didn't mean that there was a God who had actually died, rather that our idea of one had. After the Enlightenment, the idea of a universe that was governed by physical laws and not by divine providence was now reality. Philosophy had shown that governments no longer needed to be organized around the idea of divine right to be legitimate, but rather by the consent or rationality of the governed — that large and consistent moral theories could exist without reference to God. This was a tremendous event. Europe no longer needed God as the source for all morality, value, or order in the universe; philosophy and science were capable of doing that for us. This increasing secularization of thought in the West led the philosopher to realize that not only was God dead but that human beings had killed him with their scientific revolution, their desire to better understand the world.
The death of God didn't strike Nietzsche as an entirely good thing. Without a God, the basic belief system of Western Europe was in jeopardy, as he put it in Twilight of the Idols: "When one gives up the Christian faith, one pulls the right to Christian morality out from under one's feet. This morality is by no means self-evident… Christianity is a system, a whole view of things thought out together. By breaking one main concept out of it, the faith in God, one breaks the whole."
simon-critchley-examines-friedrich-nietzsche
Nietzsche thought this could be a good thing for some people, saying: "... at hearing the news that 'the old god is dead', we philosophers and 'free spirits' feel illuminated by a new dawn." A bright morning had arrived. With the old system of meaning gone a new one could be created, but it came with risks—ones that could bring out the worst in human nature. Nietzsche believed that the removal of this system put most people at the risk of despair or meaninglessness. What could the point of life be without a God? Even if there was one, the Western world now knew that he hadn't placed us at the centre of the universe, and it was learning of the lowly origin from which man had evolved. We finally saw the true world. The universe wasn't made solely for human existence anymore. Nietzsche feared that this understanding of the world would lead to pessimism, "a will to nothingness" that was antithetical to the life-affirming philosophy Nietzsche prompted.
His fear of nihilism and our reaction to it was shown in The Will to Power, when he wrote that: "What I relate is the history of the next two centuries. I describe what is coming, what can no longer come differently: the advent of nihilism... For some time now our whole European culture has been moving as toward a catastrophe." He would not have been surprised by the events that plagued Europe in the 20th century. Communism, Nazism, Nationalism, and the other ideologies that made their way across the continent in the wake of World War I sought to provide man with meaning and value, as a worker, as an Aryan, or some other greater deed; in a similar way as to how Christianity could provide meaning as a child of God, and give life on Earth value by relation to heaven. While he may have rejected those ideologies, he no doubt would have acknowledged the need for the meaning they provided.
Of course, as Nietzsche saw this coming, he offered us a way out. The creation of our own values as individuals. The creation of a meaning of life by those who live it. The archetype of the individual who can do this has a name that has also reached our popular consciousness: the Übermensch. Nietzsche however, saw this as a distant goal for man and one that most would not be able to reach. The Übermensch, which he felt had yet to exist on Earth, would create meaning in life by their will alone, and understand that they are, in the end, responsible for their selection. As he put it in Thus Spoke Zarathustra: "For the game of creation, my brothers, a sacred yes is needed: the spirit now wills his own will." Such a bold individual will not be able to point to dogma or popular opinion as to why they value what they do.
Having suggested the rarity and difficulty in creating the Übermensch, Nietzsche suggested an alternative response to Nihilism, and one that he saw as the more likely to be selected; The Last Man. A "most contemptible thing" who lives a quiet life of comfort, without thought for individuality or personal growth as: "'We have discovered happiness,' -- say the Last Men, and they blink." Much to the disappointment of Zarathustra, Nietzsche's mouthpiece, the people whom he preaches to beg him for the lifestyle of The Last Man, suggesting his pessimism on our ability to handle God's death. 
But you might ask, if God has been dead for so long and we are supposed to be suffering for knowing it, where are all the atheists? Nietzsche himself provided an answer: "God is dead; but given the way of men, there may still be caves for thousands of years in which his shadow will be shown." Perhaps we are only now seeing the effects of Nietzsche's declaration.
Indeed, atheism is on the march, with near majorities in many European countries and newfound growth across the United States heralding a cultural shift. But, unlike when atheism was enforced by the communist nations, there isn't necessarily a worldview backing this new lack of God, it is only the lack. Indeed, British philosopher Bertrand Russell saw Bolshevism as nearly a religion unto itself; it was fully capable and willing to provide meaning and value to a population by itself. That source of meaning without belief is gone.
As many atheists know, to not have a god without an additional philosophical structure providing meaning can be a cause of existential dread. Are we at risk of becoming a society struggling with our own meaninglessness? Are we as a society at risk for nihilism? Are we more vulnerable now to ideologies and conmen who promise to do what God used to do for us and society? While Americans are increasingly pessimistic about the future, the non-religious are less so than the religious. It seems Nietzsche may have been wrong in the long run about our ability to deal with the idea that God is dead.
As Alain de Botton suggests about our values, it seems that we have managed to deal with the death of God better than Nietzsche had thought we would; we are not all the Last Men, nor have we descended into a situation where all morality is seen as utterly relative and meaningless. It seems that we have managed to create a world where the need for God is reduced for some people without falling into collective despair or chaos.
Are we as individuals up to the task of creating our own values? Creating meaning in life by ourselves without aid from God, dogma, or popular choice? Perhaps some of us are, and if we understand the implications of the death of God we stand a better chance of doing so. The despair of the death of God may give way to new meaning in our lives; for as Jean-Paul Sartre suggested "life begins on the other side of despair."
--
Sources:
Abrams, Daniel, Haley Yaple, and Richard Wiener. "ArXiv.org Physics ArXiv:1012.1375v2." [1012.1375v2] A Mathematical Model of Social Group Competition with Application to the Growth of Religious Non-affiliation. N.p., n.d. Web. 04 Aug. 2016.
"Americans Overwhelmingly Pessimistic about Country's Path, Poll Finds." Mcclatchydc. N.p., n.d. Web. 04 Aug. 2016.
"America's Growing Pessimism." The Atlantic. Atlantic Media Company, 10 Oct. 2015. Web. 04 Aug. 2016.
"CNN/ORC Poll: 57% Pessimistic about U.S. Future, Highest in 2 Years." CNN. Cable News Network, n.d. Web. 04 Aug. 2016.
Nietzsche, Friedrich Wilhelm, and Walter Arnold Kaufmann. "The Meaning of Our Cheerfulness." The Gay Science: With a Prelude in Rhymes and an Appendix of Songs. New York: Vintage, 1974. N. pag. Print.
Press, Connie Cass Associated. "Gloom and Doom? Americans More Pessimistic about Future." Las Vegas Review-Journal. N.p., 03 Jan. 2014. Web. 04 Aug. 2016.
Russell, Bertrand. Bolshevism: Practice and Theory. New York: Arno, 1972. Print.