Your mind doesn't run parallel tasks, it has to trade off one focus for another. The good news is that mindfulness meditation can hone your attention span, and reduce stress and anxiety.
By now, everyone knows that mindfulness meditation is good for you—but what's still surprising scientists is just how quickly it works. Ten minutes of meditation won't make you a better mutlitasker—there's no such thing, as psychologist and science journalist Daniel Goleman explains—but it will make you more adept at switching tasks and returning to a deep level of concentration more quickly after a distraction. Every time you practice meditation, you're strengthening the neural circuitry for focus and training your brain away from mind-wandering. Beyond the need to concentrate for work, pleasure, or to overcome negative emotion, mindfulness meditation can also help to manage disorders like PTSD, anxiety, and Attention Deficit Disorder (ADD). This last one particularly has shown incredible results, and Goleman cites one exercise a teacher in a rough neighborhood of New York City practices routinely with their class of seven-year-old kids, over half of which have special needs like ADD and autism. That daily ritual keeps the class environment calm and constructive, and is empowering the children with self-control strategies early on. The scientific research evidence on the benefits of meditation is already compelling, and there are major studies underway, which Goleman expects will reveal many more insights that can be used to instruct creative, educational, and mental health practices. Daniel Goleman and Richard J. Davidson are the authors of Altered Traits: Science Reveals How Meditation Changes Your Mind, Brain, and Body.
Here's why you should try to fit less—not more—into each day.
The other day a friend mentioned that he's looking forward to autonomous cars, as it will help lower the accident and fatality rates caused by distracted driving. True, was my initial reply, with a caveat: what we gain on the roads we lose in general attention. Having yet another place to be distracted does not add to our mental and social health. 
Little good comes from being distracted yet we seem incapable of focusing our attention. Among many qualities that suffer, recent research shows creativity takes a hit when you're constantly busy. Being able to switch between focus and daydreaming is an important skill that's reduced by insufferable busyness. As Stanford's Emma Seppälä writes: 
The idea is to balance linear thinking—which requires intense focus—with creative thinking, which is borne out of idleness. Switching between the two modes seems to be the optimal way to do good, inventive work.
She is not the first to point this out. Neuroscientist Daniel Levitin made a similar plea in his 2014 book, The Organized Mind. Information overload keeps us mired in noise. In 2011, he writes, Americans consumed five times as much information as 25 years prior; outside of work we process roughly 100,000 words every day. 
This saps us of not only willpower (of which we have a limited store) but creativity as well. He uses slightly different language than Seppälä—linear thinking is part of the central executive network, our brain's ability to focus, while creative thinking is part of our brain's default mode network. Levitin, himself a former music professional who engineered records by the Grateful Dead and Santana, writes: 
Artists recontextualize reality and offer visions that were previously invisible. Creativity engages the brain's daydreaming mode directly and stimulates the free flow and association of ideas, forging links between concepts and neural modes that might not otherwise be made.
Engaging creatively requires hitting the reset button, which means carving space in your day for lying around, meditating, or staring off into nothing. This is impossible when every free moment—at work, in line, at a red light—you're reaching for your phone. Your brain's attentional system becomes accustomed to constant stimulation; you grow antsy and irritable when you don't have that input. You're addicted to busyness. 
And that's dangerous for quality of life. As Seppälä points out many of the world's greatest minds made important discoveries while not doing much at all. Nikola Tesla had an insight about rotating magnetic fields on a leisurely walk in Budapest; Albert Einstein liked to chill out and listen to Mozart on breaks from intense thinking sessions. 
Paying homage to boredom—a valuable tool in the age of overload—journalist Michael Harris writes in The End of Absence that we start to value unimportant and fleeting sensations instead of what matters most. He prescribes less in the course of a normal day.
Perhaps we now need to engineer scarcity in our communications, in our interactions, and in the things we consume. Otherwise our lives become like a Morse code transmission that's lacking breaks—a swarm of noise blanketing the valuable data beneath. 
How to disconnect in a time when connection is demanded by bosses, peers, and friends? Seppälä makes four suggestions:
1. Make a long walk—without your phone—a part of your daily routine
2. Get out of your comfort zone
3. Make more time for fun and games
4. Alternate between doing focused work and activities that are less intellectually demanding
That last one is also recommended by Cal Newport, author of Deep Work. Newport is not on any social media and only checks email once a day, perhaps, and even that time is strictly regimented. What seems to be lost in being "connected" is really irreplaceable time gained to focus on projects. Without that time, he says, you're in danger of rewiring your neural patterns for distraction.
Spend enough time in a state of frenetic shallowness and you permanently reduce your capacity to perform deep work. 
That's not a good sign for those who wish to perform creatively, which in reality is all of us. Research shows that the fear of missing out (FOMO) increases anxiety and takes a toll on your health in the long run. Of all the things to suffer, creative thinking is one of our greatest losses. Regardless of your vocation a flexible mindset open to new ideas and approaches is invaluable. Losing it just to check on the latest tweet or post an irrelevant selfie is an avoidable but sadly sanctioned tragedy.
--
--
Derek is the author of Whole Motion: Training Your Brain and Body For Optimal Health. Based in Los Angeles, he is working on a new book about spiritual consumerism. Stay in touch on Facebook and Twitter.
These glycerin "smart glasses" may be the only specs you'll need – although they do need a design intervention at some point.
Sometimes, wearing eyeglasses can be a pain. You need to change them with every new prescription and in addition they don't always serve you well enough. Reading glasses, for example, help you focus up close but become useless if you need to go back to doing other activities. According to the American Academy of Ophthalmology more than 150 million Americans use some type of corrective eyewear, spending $15 billion each year. We may all need glasses at some point, because as a natural side-effect of aging, the lens inside our eyes that adjusts the focal depth depending on what we look at, loses its ability to change focus.
A team of engineers and electricians from University of Utah wants to solve part of this problem by reducing the need of wearers to have several types of glasses or to take glasses on and off depending on the situation. Engineering professor Carlos Mastrangelo and doctoral student Nazmul Hasan have created "smart glasses" that can automatically adjust the focus of what a person is seeing making the scene always clear, no matter if it is near or far.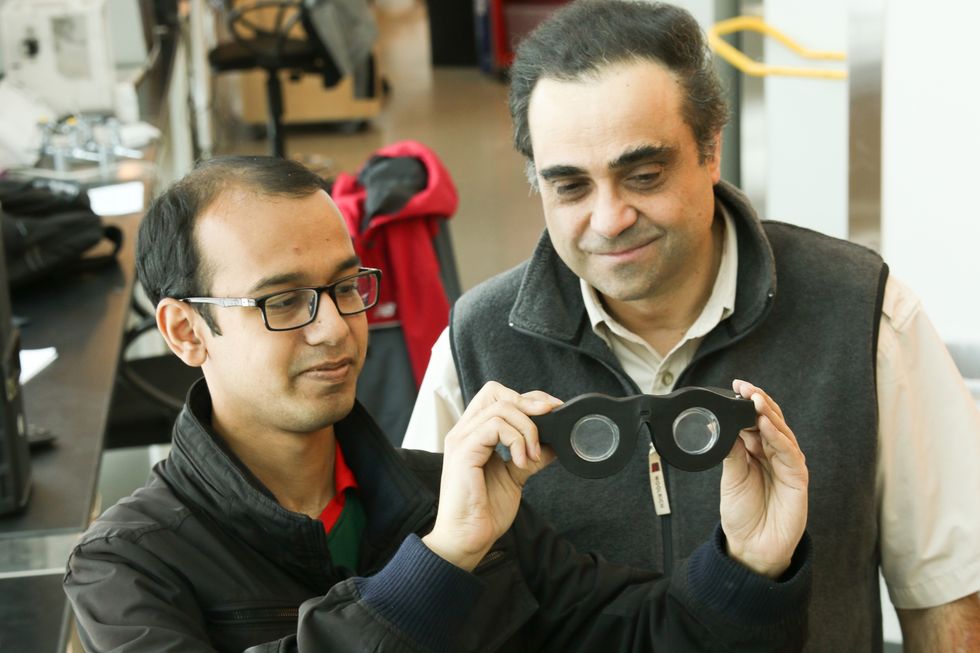 University of Utah electrical and computer engineering professor Carlos Mastrangelo, right, and doctoral student Nazmul Hasan with their "smart glasses". 
The smart glasses lenses are made of glycerin – a colorless liquid, which is enclosed by flexible membranes in the front and back. A mechanism in the rear membrane of the lenses allows them to change their curvature, which in turn changes the optical power of the lens. How do the glasses know how to adjust? An infrared light meter in the bridge of the glasses measures the distance between them and the objects the wearer looks at. The frames (which will need a design intervention at some point) house additional electronics and a battery that can last more than 24 hours per charge.  
But what is a new invention without an app to go with it? The glasses do come with an app, in which the wearer inputs his or her prescription, so that the glasses know how to adjust initially. This is all it takes – no need for custom lenses, and even if the prescription changes in the future, the glasses don't have to.
The team has already created a startup company with the goal to commercialize their invention, hoping to hit the market in about three years. 
Photos: University of Utah
Cross 'multi-tasking ninja' off your resume, it's out, say Stanford researchers and other cognitive experts. Here are three tips for transitioning back to single-tasking.
Multitasking. Photo credit: Matthias Weinberger / Flickr
We know multi-tasking is bad for us: we just can't stop doing it. No matter how many times we hear that multitasking causes heightened mental stress, ruins memory and concentration more than smoking pot, and is literally impossible for our brains to do, we still do it.
"As much as people would like to believe otherwise, humans have finite neural resources that are depleted every time we switch between tasks," The New York Times reports. "That's why you feel tired at the end of the day. You've used them all up."
Multitasking is so pernicious because it doesn't feel like a myth. As Psychology Today explains, "When you multitask 'successfully,' you activate the reward mechanism in your brain which releases dopamine, the happy hormone. This dopamine rush makes you feel so good that you believe you're being effective and further encourages your multitasking habit." At first, multitasking appears to give us an enormous hit of that rush, and "that's why it's so hard to stop multitasking," Psychology Today says, "because you've conditioned your mind and body to feel that thrill."
In reality, multitasking splits our focus and gives us a false sense of accomplishment, making us "suckers for irrelevancy," as Stanford professor Clifford Nass put it in his 2009 study: "Everything distracts." ABC News correspondent Dan Harris concurs, as he told us:
In addition to all those deterrents, Psychology Today reports that multitasking can also "make you overly optimistic which means your [sic] less careful about the work you do and more likely to make mistakes." It also makes "the little information we do take in when we're multitasking more difficult to remember at a later stage." The Stanford research backs that up, with study co-author Eyal Ophir saying multitaskers "couldn't help thinking about the task they weren't doing. [They] are always drawing from all the information in front of them. They can't keep things separate in their minds," in a press release.
Those effects seem compounded in college students, since multitasking gave them lower GPAs according to this 2015 Iowa State University study. Neuroscientist and McGill University professor Daniel Levitin explains those myths to us here:
Given all this evidence, it's high time all of us heed the research and embrace monotasking. Monotasking — also known as unitasking or "single tasking," according to The Times — is not the same as mindfulness. Mindfulness cultivates awareness, a focus on the here and now. Monotasking is simply paying attention to, and completing, one task at a time.
If that sounds daunting to you, it can be. But don't worry: you can take baby steps to retrain your brain and reclaim your focus. Buffer co-founder Leo Widrich did just that with these 3 simple steps:
Opening one single browser tab at a time
Brainstorming his daily tasks with a colleague the night before
Changing where he worked at least once a day
All those changes allowed him to maximize his neural energy and processes in a way that not only got his work done, but got it done faster and better than it did when he was multitasking.
If those steps are difficult for you to do at work, focus on the two biggest attention-busters: email and text messages. Inc recommends, "establishing an e-mail checking schedule" to avoid the temptation to check it every time you get an alert.
"Commit yourself to checking emails only three times a day, (maybe when you get into work in the morning, at lunchtime, and before leaving work at the end of the day)." They also suggest you "turn off texting notifications and choose specific times to check your phone as well" in order to minimize distractions during work.
If social media is your biggest distraction, there are ways to fix that, too. "You can get apps which block your social media (and even your email) except for certain times of the day," Psychology Today says. Here's a list from Mashable to get you started.
Whatever you decide, "make sure that you also take breaks in your unitasking because that's when your brain is at its most effective," Psychology Today says. One of the best things you can do during that break to recharge is meditate. Again, mindfulness is not the same thing as unitasking, but because mindfulness helps you focus on the present, it increases your focusing abilities. Here's Stanford neurosurgeon James Doty breaking down the process step by step:
According to Pulitzer winner Charles Duhigg, the art of focus is training your mind to know what it can safely ignore.
We all get the same amount of hours in a day. Some people definitely seem to have more. Writers like Steven King and James Patterson, performers like Beyoncé, filmmakers who release a new blockbuster or shoe-gazing comedy every year, and world leaders who are across all of humanity's problems. Even some humble ordinary folks seem to get more done than appears possible, but 24 hours is the contract our planet signed with the sun so there it is, cut and dried.
In these distracted and competitive times, there is an overwhelming thirst for knowledge on productivity and life hacks to beat procrastination. Pulitzer Prize-winning journalist Charles Duhigg finds it incredibly problematic that even though we have more tools and digital assistance than ever in achieving our goals, that same luxury interrupts us more often and makes it so much harder to focus.
In researching his latest book Smarter Faster Better Duhigg spent an inordinate amount of time (well-structured time, we assume) talking to over 400 people about productivity, collecting several hundred tips and hacks, many of which contradicted one another. So what reliably and consistently sets ultra-productive people and organizations apart?
One of the key commonalities he found was the ability of some people to selectively focus. It turns out the most efficient among us are constantly prioritizing and asking themselves: what are the goals that I should be chasing after right now? According Duhigg, this process starts with mental imagery, what he calls building a 'mental model' in your head at the start of each day, something Duhigg now dedicates his morning commute time to. He advises that we spend that time picturing what our day will look like – what do you need to get done? What are the events you can expect? How will you go about doing them? We are surrounded by the needs of others all day long, whether it's a boss, colleagues, family or friends, email requests or social notifications, and it's our natural impulse to react immediately when called upon. A notification 'ding!' is tragically pavlovian. Many of us will get a text while we're busy and send a quick reply that we later regret, or blurt out an unsatisfactory answer to a boss who puts us on the spot. People with a mental model in their minds, on the other hand, already know what to focus on, and have the ability to say or 'Can we discuss that at a later time?' or simply leave a text or email to sit for a while. "The more that I have thought through what's about to occur, the more that I have a strong vision in my mind of what I should expect and anticipate, the more my subconscious is going to be able to decide this is what you should focus on." Instead of reacting immediately, your time is actually much better spent taking a couple of minutes to make a better decision about where your focus should go.
Charles Duhigg's most recent book is Smarter Faster Better: The Secrets of Being Productive in Life and Business.