Trees rising from the canvas to the sky.
Wikimedia Commons
Michigan state parks have partnered with the Bob Ross artist's estate for its reforestation efforts.
The trees were grown by prisoners in the correctional facilities' educational program.
Hundreds of volunteers have planted them in state parks denoted with signs of Ross' likeness and famous tag lines.
An eclectic combination between a cultural icon and prisoner reforestation efforts has led to a commendable new initiative in Michigan. Since May of 2019, hundreds of volunteers have planted 1,000 "happy little tree" saplings across Michigan State Parks. Honoring the late painter Bob Ross, the original program was first known as "Prison Grow."
Ross came to prominence as the host of The Joy of Painting, an art program that aired on PBS from the early '80s to mid-'90s. He died a year after the program ended. He was known as the soft-spoken and calm painting guru, often comically anthropomorphizing his paintings as he went along.

His videos populate Youtube today and he's since become a cultural icon as people discover his soothing and generous demeanor. Ross' likeness and signature hairdo has been plastered over countless shirts, mugs, and his imprints are instantly recognizable.
Happy little trees
From the great beyond, Ross still teaches people how to paint "happy little trees— now, he'll also be the face of a project aimed at planting real ones. The new initiative stems from a partnership between Bob Ross Inc. and Michigan's Department of Natural Resources (DNR). Ross' organization has agreed to let the state use his likeness and taglines to promote the state's Prison Grow program in his honor.
Each year, inmates from three different Michigan correctional facilities assist in growing around 1,000 trees. The Michigan Department of Natural Resources' Parks and Recreation Division gathers volunteers to go out and plant these new trees.
The new trees are used to replace those in state parks that have become diseased or intentionally damaged. In 2019, 22 out of Michigan's 103 parks will receive new trees grown in correctional facilities. The program takes native seeds from the local region so that the replacement trees will be able to survive and grow healthy.
Prisoners part of the program consist of people who were successful in the prison's career and technical education program. Here they learn horticulture skills and how to care for and nurture growing trees.
This meshes well with the philosophy of Ross. The painter understood the healing force of nature imbued within his work. A large part of Ross' popularity stems from the contact joy people get from watching him teach and create.
Michelle Coss, coordinator for the DNR's Parks and Recreation division, explains to the magazine Roadtrippers how the whole partnership got started.
"I was thinking about trees leaving prisons and going to a campground and that they're happy and it came to me: 'happy little trees…' Well, wouldn't it be cool if we reached out to Bob Ross Inc. and asked if we could use that moniker for the program? So we did, and they loved it."
DNR's Michelle Coss standing beside new sign indicating the reforestation effort.
Image source: Michelle Coss / DNR
As part of the initiative, which originally launched on Arbor Day, Ross' likeness appears on the signage at the parks and on volunteer t-shirts. Coss says that over 500 people signed up to help them plant the trees.
The stewardship of the park is a noble endeavor. Volunteers gather seeds from native plants, remove invasive plant species, clean up overgrown areas and, of course, plant the new trees. These are essential functions of maintaining and managing the areas within state parks.
This happy forest can serve as an example to all of us. As an homage to Bob Ross, this reforestation effort will elicit real healing change. With collective effort, environmental mistakes can be remedied.
From the brushstrokes of his happy little canvas and the image of life he left behind, new arboreal life will flourish.
Thousands of scientists from 184 countries have endorsed an open letter that outlines some of the Earth's most pressing environmental problems.
A red emergency light. (Caspar Benson/Getty)
More than 15,000 scientists from 184 countries have issued a warning: Mankind must take immediate action to reverse the effects of climate change, deforestation and species extinction before it's too late.
The warning, issued by the Alliance of World Scientists and published in the journal Bioscience, comes on the 25th anniversary of a similar warning from the Union of Concerned Scientists that was titled "World Scientists' Warning to Humanity". The new letter, however, has 10 times as many scientists endorsing it.
"On the 25th anniversary of their call, we look back at their warning and evaluate the human response by exploring available time-series data," the paper reads. "Especially troubling is the current trajectory of potentially catastrophic climate change due to rising GHGs from burning fossil fuels (Hansen et al. 2013), deforestation (Keenan et al. 2015), and agricultural production—particularly from farming ruminants for meat consumption (Ripple et al. 2014). Moreover, we have unleashed a mass extinction event, the sixth in roughly 540 million years, wherein many current life forms could be annihilated or at least committed to extinction by the end of this century."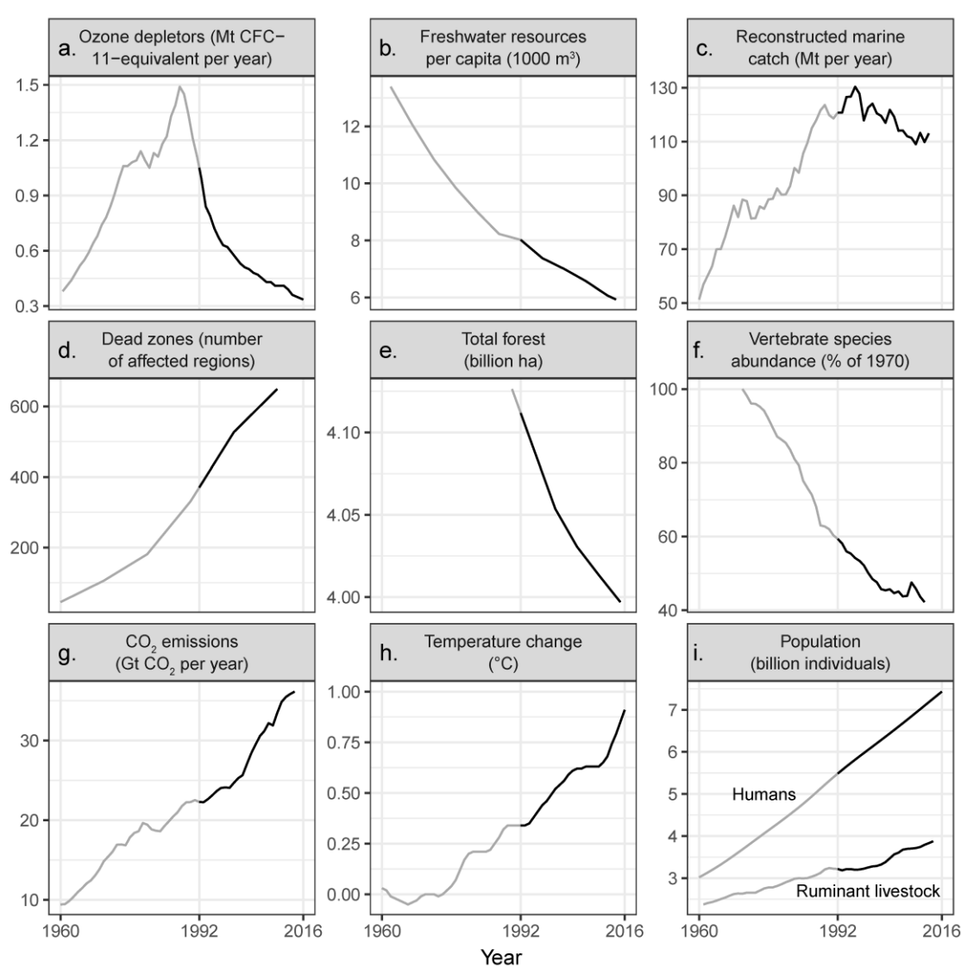 The paper outlines some of the world's most pressing environmental concerns, most of which have only worsened since 1992. They're summarized here:
A decline in freshwater availability – Per capita fresh water availability is less than half of the level of the 1960s. It is likely that climate change will have an overwhelming impact on the freshwater availability through alteration of the hydrologic cycle and water availability.
Unsustainable marine fisheries – In 1992, the total marine catch was at or above the maximum sustainable yield and fisheries were on the verge of collapse. Global catch rates have decreased, though fishing efforts are increasing.
Ocean dead zones – Coastal dead zones which are mainly caused by fertilizer runoff and fossil-fuel use, are killing large swaths of marine life. Dead zones with hypoxic, oxygen-depleted waters, are a significant stressor on marine systems and identified locations have dramatically increased since the 1960s, with more than 600 systems affected by 2010.
Forest losses – The world's forests are crucial for conserving carbon, biodiversity, and freshwater. Between 1990 and 2015, total forest area decreased from 4,128 to 3,999 million ha, a net loss of 129 million ha which is approximately the size of South Africa.
Dwindling biodiversity – The world's biodiversity is vanishing at an alarming rate and populations of vertebrate species are rapidly collapsing (World Wildlife Fund 2016). Collectively, global fish, amphibians, reptiles, birds, and mammals declined by 58% between 1970 and 2012.
Climate change – Global fossil-fuel carbon dioxide emissions have increased sharply since 1960. Relative to the 1951-1980 average, global average annual surface temperature, in parallel to CO2 emissions, has also rapidly risen as shown by 5-year mean temperature anomaly. The 10 warmest years in the 136-year record have occurred since 1998.
Population growth – Since 1992, the human population has increased by approximately 2 billion individuals, a 35% change. The world human population is unlikely to stop growing this century and there is a high likelihood that the world population will grow from 7.2 billon people now to between 9.6 and 12.3 billon by 2100.
It wasn't all awful news, however.
Now for some good news!
The Ozone Hole this year has been the smallest since 1988!https://t.co/8S7dDYW1c7
— Erik Solheim (@ErikSolheim) November 3, 2017
Universal Basic Income (UBI) and the movement towards a shorter work week is not just a solution to inequality, but one also aimed at stabilizing the environment.
Mona Lisa underwater. Mural by Martin Ron. Photo Veronica Maggi/La Voz Interior
Universal Basic Income (UBI) and the movement towards a shorter work week is not just a solution to inequality, but one also aimed at stabilizing the environment, writes Professor Greg Marston, from the School of Social Science at The University of Queensland.
In his essay for the Green Institute, 'The Environmental Impacts of a UBI and a Shorter Working Week', Marston outlines how the process and debate surrounding UBI allows us to confront difficult questions within our society about how we live and work now, and how we should be living and working. After all, how do we give everyone access to a better life?
Many countries around the world have begun experimenting with the idea, including the Netherlands, Finland, and Canada. The results of these studies are still pending. However, a review of the data from a study done in the 1970s in Manitoba, Canada revealed just how much some extra cash can do to correct inequalities early on.
The data revealed there was a 9 percent reduction in working hours among new mothers and teen boys. The new mothers used the extra cash to extend their maternity leaves and spend more time with their babies, and teenage boys no longer had to drop out of school to support their families, resulting in more boys graduating with high school degrees. These families could afford to keep their sons in school because of basic income.
A UBI has the power to change much of what we might consider our consumer culture, tipping our values in a different direction, says Marston, one less reliant on materials. "We might see less reliance on the daily commute from the urban fringe to the city center to work during the week, and on the weekends people may also rely less on traveling to shopping malls to spend their disposable income on a mix of necessities and luxuries alike."
A shorter work week would help further these carbon reductions, argue economists David Rosnick and Mark Weisbrot. For example, they say, if the United States were to adopt standard European working hours, the U.S. could reduce emissions by 7 percent, according to their report.
There's even further evidence for how a three-day weekend can affect energy consumption. Back in 2007, Utah shortened the work week to four days for its state employees. It extended its Monday to Thursday hours and eliminated the Friday workday.
"In its first ten months, the move saved the state at least $1.8 million in energy costs. Fewer working days meant less office lighting, less air conditioning, and less time spent running computers and other equipment—all without even reducing the total number of hours worked."
However, normal hours resumed for state employees back in 2011 after complaints of being unable to access services on Fridays. People weren't used to being barred access to certain services on a Friday, but if this policy were adopted evenly across the state, perhaps it would have been better received.
Like all radical new policies and ideas, our society will need to engage with them by asking for evidence. Is this policy sustainable and does it provide us with a better lifestyle?
"Whatever specific social policy reforms are debated and adopted in the future," Marston writes, "the justification for 'welfare' will need to be reframed in terms of human security and genuine sustainability, rather than facilitating labor market participation at whatever personal and environmental cost."