For decades, researchers have proposed that climate change and human-caused environmental destruction led to demographic collapse on Easter Island. That's probably false, according to new research.
Easter Island, whose native name is Rapa Nui, is a remote island in the Pacific Ocean about 2,300 miles west of Chile.
Researchers have proposed that deforestation and climatic changes led to societal collapse on the island, prior to European contact.
The results of a new study suggest that, despite these factors, the Rapa Nui people managed to adapt and sustain a stable society.
In the popular imagination, the story of Easter Island has long centered on stone. About 900 monolithic statues, or "moai", have been identified on Easter Island, a remote 63-square-mile triangle in the Pacific Ocean whose native name is Rapa Nui. The statues — haunting, hollow-eyed faces — were crafted from massive blocks of volcanic rock by the Rapa Nui people, who settled on the island around 1200 CE.
But for archaeologists and anthropologists, the story of Rapa Nui has often centered on trees, rats, and climate. These are the key factors, some researchers have proposed, that led to ecological catastrophe on the island and, consequently, population collapse.
One popular narrative holds that the growing Rapa Nui population cut down so many of the island's tall palm trees that they depleted their food and logistical resources and inadvertently killed off plant and animal species. Meanwhile, Polynesian rats, which were carried to the island via boat and had multiplied exponentially over generations, contributed to deforestation by eating seeds and plants. Compounding the island's problems were changes in the El Niño Southern Oscillation, which led to drier conditions.
Facing dire circumstances, the natives probably resorted to eating rats. They might have also turned to eating each other, suggested the author Jared Diamond in his book Collapse, in which he states that Rapa Nui is the "clearest example of a society that destroyed itself by overexploiting its own resources."
Busting the Easter Island collapse myth
But the popular narrative about Easter Island could be mostly false. New research suggests that these narratives connecting environmental devastation to population decline aren't accurate. The study, published in Nature Communications, found that while the Rapa Nui people did suffer environmental and climatic changes, they didn't suddenly dwindle in number but rather maintained "stable and sustainable communities on the island" up until the point they encountered Europeans.
To estimate changes in population over time, the researchers tested four demographic models, three of which accounted for variables like climate change or deforestation or both. Their models also incorporated about 200 radiocarbon-dated archaeological samples, which serve as a good "proxy for estimating relative population sizes."
Moai statueskovgabor79 via Adobe Stock
Radiocarbon dating and statistical modeling always come with uncertainties. To minimize analytical uncertainty, the researchers used a form of statistical modeling called Approximate Bayesian Computation. The researchers wrote:

"[Approximate Bayesian Computation] is a flexible and powerful modeling approach originally developed in population genetics, but recently applied in archeology, including paleodemographic research. We demonstrate how ABC can be used to directly integrate independent paleoenvironmental variables into demographic models and perform multi-model comparisons."
The results produced by all four models showed that the Rapa Nui population enjoyed steady growth until the first contact with Europeans in 1722, after which the population seemed to either plateau or decline over subsequent decades. These models suggest that, contrary to previous hypotheses about how the overexploitation of resources led to demographic collapse, deforestation and climatic changes on the island were prolonged processes that didn't have catastrophic effects on the population.
For example, evidence suggests that the Rapa Nui people built productive gardens on deforested land and mulched them with nutrient-rich stone. As for climate change, the researchers pointed to recent studies suggesting that the natives adapted to drier conditions by turning to coastal groundwater sources.
Upending a long-standing narrative
Although the study offers evidence of a robust population prior to European contact, the researchers could not determine which of the four demographic models was most correct, nor did they account for other factors that likely affected the island's population, like warfare. The researchers also did not explore what effect, if any, European contact had on the population.
But overall, the study casts serious doubts on the popular narrative that environmental changes drove down the native population. To be sure, there are dark chapters in the history of Rapa Nui, including civil war, slave raids, and statue destruction; reports suggest that between 1722 and 1774 many of the island's statues were toppled or neglected, likely due to internal conflicts among the natives.
Still, the study suggests that the story of early Rapa Nui is less about environmental destruction than it is about resilience.
The researchers conclude that "despite extreme isolation, marginal ecological conditions, and a series of environmental changes, Rapa Nui people found solutions that enabled them to successfully thrive on the island for at least 500 years prior to the arrival of Europeans."
Trees store carbon dioxide, have a cooling effect in cities, and reduce flood risks.
"Plant more trees" is often the first idea that comes to mind when we think about how to prevent further climate change or at least adapt to its impacts. There are good reasons for this.
Multiple studies have shown that as well as trees being a fantastic way to store carbon dioxide, they offer other benefits, such as a cooling effect in cities, the ability to reduce flood risk and boost biodiversity, among other things.
Our new study in Nature Geoscience shows that trees could also affect rainfall patterns.
We used measurements of rainfall across Europe to investigate what effect forests have on rainfall totals. We know that forests mostly increase local and downwind rainfall in the summer and winter, but the magnitude of this effect varies across regions and seasons.
To identify a realistic reforestation strategy we used the global reforestation potential map. In the area we looked at in our research (most of Europe), 14.4% of the land surface was considered suitable for reforestation, an area larger than France.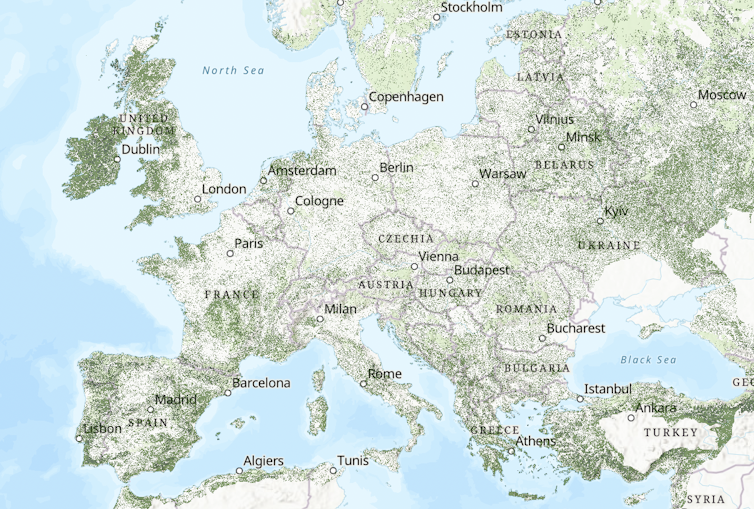 Much of Europe could be reforested (green = areas with realistic reforestation potential) ('Global Reforestation Potential Map' Griscom et al (2017), CC BY-SA)
We then compared the effect of turning all that land into forest to the precipitation changes in a future scenario in which the world faces intermediate levels of climate change, based on current predictions. While the climate scenario projects wetter winters and drier summers, the inclusion of reforestation could enhance European summertime rainfall by an average of 7.6%, potentially offsetting some of the drying that climate change is projected to cause. However, we also found reforestation may exacerbate the increase in winter rainfall.
In the UK and Ireland for example, where around 37% of the land area has the potential for reforestation, we estimate that reforestation on this scale would increase precipitation by an average of 0.74 mm/day (24%) in winter and 0.48 mm/day (19%) during summer.
Several factors potentially contribute to this. Forests typically have a higher surface "roughness" than agricultural land. This creates more turbulence over the trees and slows the movement of heavy clouds causing them to rain over and downwind of the forests. The same is true of urban areas too – increased surface roughness from buildings can amplify the precipitation over cities and downwind of cities. And forests typically evaporate more water than agricultural land, particularly during the summer season, which likely means more rain.
These findings demonstrate the relevance of land management in the assessment of climate change pathways. Many countries are considering how changes to land cover could contribute to their climate mitigation and adaptation efforts.
For instance the recently published climate change risk assessment from the UK government's Climate Change Committee advisory body highlights that the gap has widened between the level of risk we face and the level of adaptation underway. Intervention measures are therefore urgently needed but require careful consideration. The new report points out that we must avoid poor planning being "locked-in".
Reforestation in particular needs careful planning, as trees need decades to grow, and as they interact in such a complex way with multiple aspects of the environment. For example, while we may see increased rainfall from forestation, we may also see decreased runoff and water availability, since trees typically evaporate more water than crops or grass.
The species of tree we plant also needs to be carefully considered – will it be able to cope with higher temperatures? Will the type of tree be resilient to the invasive species and pathogens projected to increase with climate change? If not, then we have wasted our time and money.
Policy makers therefore need to thoroughly and carefully assess any kind of nature-based solution before embarking on a scheme that may provide no long term benefit. It is all about making sure that we are putting the right intervention in the right place, at the right time.

Elizabeth Lewis, Lecturer in Computational Hydrology, Newcastle University; Edouard Davin, Senior Scientist, Institute for Atmospheric and Climate Science, Swiss Federal Institute of Technology Zurich, and Ronny Meier, PostDoc, Institute for Atmospheric and Climate Science, Swiss Federal Institute of Technology Zurich
This article is republished from The Conversation under a Creative Commons license. Read the original article.
Buildings don't have to be permanent — modular construction can make them modifiable and relocatable.
Freethink
Modular construction involves building the components of a habitable structure in a factory, and then assembling those components on-site.
The history of modular construction stretches back centuries, and it became briefly popular in the U.S. after World War II, but it's never quite caught on.
Construction firms like iMod Structures, which constructs buildings that can be modified and relocated, may soon change that.
Modular construction is on the rise. Once a marginal sector focused on building affordable homes, modular construction is now building an increasing share of structures used for commerce, healthcare, and education. By 2028, the modular construction market is projected to be worth $114 billion.
What is modular construction? It's like building with Legos but on an industrial scale: standardized block-shaped modules are constructed in a factory, transported to a building site, and assembled together to form a habitable structure.
What's most striking about modular buildings isn't appearance but the speed of construction. In 2015, for example, a Chinese construction company built a 57-story glass-and-concrete skyscraper made of 2,736 rectangular modules in a record-breaking 19 days. That's three stories per day.
In addition to speed, modular construction promises to be more modifiable, more transportable, and less wasteful than traditional construction methods. The method could transform construction, which, despite being one of the world's biggest sectors, is one of the slowest growing in terms of labor productivity and digitization.
One modular construction firm aiming to bring the sector into the 21st century is iMod Structures, which builds shipping container-sized modules that can be assembled into buildings. The modules can then be disassembled to modify the existing structure or transported to a different site to build a new one.
Freethink recently visited iMod Structures to get an up-close look at its unique spin on modular construction.
Do buildings have to be permanent? | Hard Reset by Freethink www.youtube.com
Techniques like this could help bring construction into the 21st century. But despite its futuristic and transformative appeal, modular construction is far from a new idea. In fact, the history of prefabrication — the broader category of construction to which modular belongs — goes back centuries.

Prefabrication: From 17th-century cottages to diners to skyscrapers
One of the earliest examples of prefabrication came in 1624, when a colonial American fisherman commissioned an English construction company to fabricate components of a building and ship them overseas to the fishing village of Cap Anne.
In the 17th and 18th centuries, English firms also shipped prefabricated structures — storehouses, cottages, and hospitals — to Australia, South Africa, and New Zealand. In the U.S., prefabricated homes became popular during the Gold Rush when California towns had too many people but too few houses.
In the early 20th century, mass-production made modular construction more practical and, sometimes, more popular. From 1908 to 1940, Sears sold about 70,000 kit homes across the country; some of the cheapest models started around $160. (Kit homes were like IKEA products: the manufacturer builds and precuts the parts, and the buyer assembles them.)
Still, prefabricated homes weren't particularly popular in the first half of the 20th century; homebuyers generally viewed the structures — especially the metal and experimental ones — as strange and undesirable.
Pre fabricated house shipped via boxcarThe Aladdin Company via Wikipedia
But appearance wasn't a major concern during World War II. Facing huge demand for cheap and simple housing for soldiers in the early 1940s, the U.S. produced hundreds of thousands of Quonset huts — prefabricated, semi-cylindrical structures made of corrugated galvanized steel — which about six unskilled laborers could construct in a day.
A Quonset hut being put in place at the 598th Engineer Base Depot in Japan, post-World War IIUS Army Corps of Engineers via Wikipedia
After the war, millions of U.S. soldiers returned home, and the nation faced a housing shortage crisis. Hundreds of companies entered the prefabricated housing market, with several receiving support from the federal government. One of the most iconic models was the enameled-steel Lustron house, which cost $7,000 to $10,000, took two weeks to assemble, and promised to "defy weather, wear, and time."
Lustron HouseAdirondack Architectural Heritage
By 1958, roughly 10 percent of all homes in the U.S. were prefabricated. In addition to homes, the prefabrication industry also built thousands of diners throughout the 20th century, especially after World War II when owning a prefabricated diner was a decent small-business opportunity. Popular in New Jersey, the narrow diners could easily be shipped to buyers by rail.
Interior of a 1938 Sterling manufactured diner, with curved ceiling, in Wellsboro, PennsylvaniaI, Ruhrfisch via Wikipedia
Despite the post-war boom, modular construction never really caught on in most parts of the world, though many architects and builders have long been attracted to the method. Some of the reasons include consumer perception that modular homes are unattractive, technological constraints, and the high costs of researching and developing new building techniques.

These challenges can be prohibitive, especially for large-scale projects.
"Building anything over 10 stories in modular is something no one has wanted to do because you have to invest in research and development," Susi Yu, executive vice president of residential development for the Forest City Ratner Corporation, told Fast Company. "There's science behind it that you need to figure out."
But attitudes on modular buildings may be shifting.
"Today, modular construction is experiencing a new wave of attention and investment, and several factors suggest it may have renewed staying power," noted a 2019 report from the consulting firm McKinsey & Company. "The maturing of digital tools has radically changed the modular-construction proposition — for instance, by facilitating the design of modules and optimizing delivery logistics. Consumer perceptions of prefab housing are beginning to change, particularly as new, more varied material choices improve the visual appeal of prefab buildings."
The report goes on: "Perhaps most important, we see a change in mind-set among construction-sector CEOs, as many leaders see technology-based disruptors entering the scene — and realizing it may be time to reposition themselves."
In recent decades, construction firms around the world have built all kinds of modular buildings, including modular skyscrapers in the U.K., U.S., and China; containerized homes in Mexico; and classrooms in rural South Africa.
"In many countries, modular construction is still very much an outlier," McKinsey noted. "But there are strong signs of what could be a genuine broad-scale disruption in the making. It is already drawing in new competitors — and it will most likely create new winners and losers across the entire construction ecosystem."
The benefits of modular construction
Modular construction has the potential to deliver $22 billion in annual savings to U.S. and European markets, mainly because of the inherent benefits of building components in a controlled factory setting. The Modular Building Institute lists a few examples:
Shorter construction schedule. Because construction of modular buildings can occur simultaneously with the site and foundation work, projects can be completed 30 percent to 50 percent sooner than traditional construction.
Elimination of weather delays. 60 to 90 percent of the construction is completed inside a factory, which mitigates the risk of weather delays. Buildings are occupied sooner, creating a faster return on investment.
Improved air quality. Because the modular structure is substantially completed in a factory controlled setting using dry materials, there's virtually no potential for high levels of moisture (which can cause mold growth) to get trapped in the new construction.
Less material waste. When building in a factory, waste is eliminated by recycling materials, controlling inventory, and protecting building materials.
Safer construction. The indoor construction environment reduces the risks of accidents and related liabilities for workers.
But perhaps the biggest benefit of modular construction is relocatability and modifiability.
Future-proofing buildings and cities
Buildings are hard to modify and practically impossible to move. That's a problem for many organizations, including the Los Angeles Unified School District. The district currently maintains thousands of decades-old trailers it built to accommodate a fast-growing student population.
Seeking to replace those trailers with structures, the district partnered with iMod Structures to build "future proof" modular classrooms that can be reconfigured and relocated, depending on fluctuating enrollment levels.
"If you have one of our classrooms in a particular location and 5, 10, or 20 years later, you need them across town at another campus within the school district, you simply disassemble, relocate, and reassemble them where they are needed," Craig Severance, Principal with iMod Structures, said in a statement. "And it can be done within a few days, minimizing school [downtime] and disruption of our children's education."
iMod Structures classroomiMod Structures
Founded in 2009 by former real estate investors John Diserens and Craig Severance, iMod Structures takes a hyper-efficient approach to modular construction. Instead of making many types of prefabricated components, the firm makes only one standardized block-shaped frame, each roughly the size of a shipping container. The firm builds the frames in factories and then outfits them with walls, windows, and other custom features the client wants.

Because the frames have the dimensions of a standard shipping container, they can be easily transported to the building site by truck or rail. On site, the frames are connected together or stacked on top of each other. Once the structure is intact, workers finish the job by adding plumbing, electricity, and other final touches.
The process saves a lot of time.
"Typically, it would take nine to 15 months to manufacture a classroom out in the field," said Mike McKibbin, the head of operations for iMod. "We're doing that in twelve days."
Movable neighborhoods
Today, iMod Structures is focusing on future-proofing classrooms in California. But it's not hard to imagine how this kind of modular construction could transform not only the ways we build buildings but also organize cities. For example, if a company wants to set up offices in a new part of town, it could build an office park out of iMod Structures frames.
But what if the company needs to expand? It could attach more modules to its existing structure. If it needs to shut down? Instead of demolishing the office park, the structure could be modified and converted into, say, a hospital or apartment building. Alternatively, the modules could be removed from the site, and reused elsewhere, so the city could construct a park.
Under this kind of framework, cities could become far more flexible and dynamic, able to quickly adapt to changing needs. And with no need to demolish buildings, modular construction could prove far more sustainable than any method the industry uses today.
"We don't want our buildings to ever end up in a landfill. Ever," said Reed Walker, head of production and design at iMod Structures. "We want to take that system and use it again and again and again."
Too few babies — not overpopulation — is likely to be a major problem this century.
A new study used demographic data to explore current and projected population changes around the world. Europe and Asia are shrinking, while Africa is still growing.
For the first time in history, people aged 65+ outnumber children younger than five.
Underpopulation will cause serious challenges for sustainability.
The 20th century saw the greatest population surge in human history, rising globally from 1.6 billion in 1900 to 6 billion in 2000. That trend is over. The majority of demographic data suggest that, despite previous concerns about overpopulation crises, the bigger problem for most parts of the planet will be too few babies.
Data clearly reflects this phenomenon. In Japan, people buy more diapers for the elderly than babies. China, which long enforced a one-child policy, recently raised its child limit to three; the nation expects its population to peak and then decline in 2030. And the population growth rate in the U.S. is at historic lows, reminiscent of the Great Depression era.
A new study published in npj Urban Sustainability explores the future of underpopulation and how it's likely to affect sustainability goals. Using demographic data from United Nations reports, the study argues that the underpopulation problem is dynamic and twofold: Populations are simultaneously shrinking and ageing.
"Globally, people above 65 years old are the fastest-growing segments of the population and in 2019, for the first time in human history, they outnumbered children younger than 5 years old," the researchers wrote. "In 2020, 9% of the global population was above 65 years old, accounting for 728 million people. This population is projected to increase more than twofold, reaching 1.55 billion in 2050 and accounting to 16% of global population, at medium fertility rates."
These changes won't spread evenly across the globe. By 2050, the regions set to see the biggest increases in elderly populations include Europe, Asia, and North America, while most nations in Africa will continue to have a relatively young population.
The enormous impact of urbanization
A key metric for understanding population shifts is replacement level fertility, which is the average number of children women need to have to keep the population constant. This rate is roughly 2.1 — two children to replace the mother and father, with 0.1 added on because not all children survive to adulthood.
In dozens of nations, the replacement rate has fallen below 1.5, especially in Europe and East Asia. One reason for the drop is rapid urbanization. In 1950, about one-third of humans lived in urban areas, but that ratio is projected to double by 2050 with about 7 billion people living in cities, many of whom will do so for employment opportunities in our increasingly industrial- and technology-focused global economy.
Proportion of aged population (in 2020 and 2050) and urban population (in 2018).Jarzebski et al., npj Urban Sustainability, 2021.
Urbanization affects the population in two key ways. One is that city-dwellers tend to have fewer babies for reasons such as higher cost of living, easier access to contraception, and career-focused urban women choosing to forgo or delay having children, the study noted. Urban life also offers different incentives: Families may benefit from having more children in rural areas, but the same is not true in cities. This explains, in part, why China chose to relax its one-child policy for rural families in the 1980s.

Urbanization also tends to lower mortality rates due to increased wealth and access to healthcare. So, adults have fewer babies while also living longer. The researchers noted that "there may be strong interactions in that increases in the proportion of elderly in a country can put more economic and social pressure on working age population, further decreasing birth rates and/or postponing child births, thus driving fertility rates even lower."
Evolution of the relative levels of mortality and fertility rates over time.Jarzebski et al., npj Urban Sustainability, 2021.
Baby stimulus

Facing ageing and shrinking populations, some nations are already passing or exploring policies to boost fertility rates, including "baby bonuses," subsidized child care, and paid paternity and maternity leave.
If successful, these interventions could usher in a new demographic phase which the study calls the "vulnerable hourglass," characterized by low mortality but recently high fertility. This could result in a population with many young and elderly people, but relatively few working-age adults, who could become overburdened.
Stylised population pyramid transition.Jarzebski et al., npj Urban Sustainability, 2021.
The researchers noted that demographic shifts are complex, and much remains uncertain about how factors like urbanization will affect not only population levels but also the environment and socioeconomic conditions worldwide.

"Considering the quick pace of these changes, especially as the rate of ageing and population shrinking might be underestimated in official statistics, there is a need for urgent action," the study concluded.
As droughts threaten water supplies across the planet, some municipalities aim to utilize an untapped resource: sewage water.
Water recycling, or water reclamation, involves cleaning water with filters and chemicals to make it environmentally safe.
In Texas, El Paso's water utility is taking this a step further by building a closed-loop system that will directly convert sewage water into drinkable water.
Unsurprisingly, surveys show that most people don't like the idea of drinking recycled water, but public outreach programs seem able to change minds.
Of all the projects aiming to make the world more sustainable, none is less appealing than toilet to tap, a water recycling process where wastewater is converted into potable water.
But despite the gross-out factor, a handful of governments have already invested in the technology, including those in Singapore, South Africa, Belgium, California, and Texas. Soon, others may have few other options. El Paso is leading the way.
The case for drinking treated wastewater. (Yes, from the toilet.) | Just Might Work by Freethink www.youtube.com
Depletion of resources and climate change are threatening to dry up parts of the global water supply. By the late 21st century, the number of people impacted by extreme droughts is projected to double, a shortage that would not only affect the health of millions of people but also potentially create catastrophic socioeconomic problems and geopolitical conflicts.

The U.S. is already feeling the heat. In May, California declared a drought emergency in 39 counties. It wasn't really a shock to the state, which has endured severe droughts over the 20th century, including a historical five-year drought from 2012 to 2016. The U.S. Forest Service has warned that droughts like these could render half of the nation's freshwater basins unable to consistently meet monthly water demand by 2071.
The causes are twofold. One is a growing population that will demand more water. The other is that global warming is evaporating more water from soil, lakes, reservoirs, and rivers, while climate change alters patterns of precipitation and snowmelt, which feed the rivers and lakes from which we get much of our drinking water.
Facing a dry future, some municipalities have accepted the crappy-sounding reality: Converting sewage water into drinking water through water recycling may be the best way to prevent a crisis.
Water recycling
The average adult flushes about 320 pounds of poop down the toilet every year. Where does it all go?
When you flush your toilet, the water swirls through a U-shaped pipe, called a trap, that prevents sewage gases from entering your home. That toilet water — along with other wastewater from your sinks, washer, and shower — flows into a sewer line, which is connected to the buildings and homes in the immediate area. These sewer lines can be big. In New York City, for example, combined sewer lines can span more than 12 feet wide, enough space for a subway car.
These pipes carry wastewater to municipal water treatment plants for cleaning. In the U.S., the water treating process typically involves steps like:
Odor control: Chemicals help mute foul odors.
Screening: Wastewater is moved through screens to separate larger solids and trash.
Primary treatment: Water sits in large tanks, allowing solid material to settle at the surface. Material is scraped off and disposed of.
Aeration: Water is stirred to release gases, and air is pumped through the water to allow bacteria to act on organic matter, which helps it decay.
Remove sludge: Solid material settles to the bottom and is removed.
More filtration: Water is filtered through sand to reduce bacteria, odors, iron, and other solids.
"Digest" the solid material: Solid material is heated to break it down to nutrient-rich biosolids and methane gas.
Disinfection: Water is treated with chlorine to kill bacteria.
After wastewater is treated and deemed clean enough for the environment, it's used for crop irrigation, or it's discharged back into streams, rivers, and lakes. But some municipalities take water reclamation several steps further, purifying wastewater to the point where it's safe to drink.
Wastewater treatment facilitySongkhla Studio via Adobe Stock
Today, drinking water in places like Northern Virginia, Phoenix, and Southern California is, at least in part, reclaimed wastewater. But in some parts of the U.S., climate change poses such a severe threat to the water supply that more drastic measures are required.

A closed-loop water recycling system
El Paso, Texas, is an exceptionally dry city. Located in the Chihuahuan Desert where only nine inches of rain falls per year, it's drier than some parts of sub-Saharan Africa. The city has historically received half of its water supply from the Rio Grande, but the river has been steadily drying up, forcing officials to turn to other solutions, like building the nation's largest inland desalination plant and establishing incentives that encourage residents to use less water.
In recent years, El Paso has been working on what officials call the next logical step: Creating a closed-loop water recycling system that purifies wastewater and sends it right back into the drinking water supply.
El Paso and other U.S. cities already clean wastewater and pump it back into the aquifer, an underground layer of rock. But while this water reclamation process is environmentally safe, it can take years for the recycled water to make its way back into the drinking supply. A closed-loop system would speed things up.
The process will begin at El Paso's conventional water treatment facility, which cleans water according to long-established standards. But then the water will be piped nearby to the city's Advanced Water Purification Facility to undergo several additional cleaning steps:
Water is filtered through thin sheets of material that remove salts, viruses, and contaminants, in a process known as reverse osmosis.
Water is treated with hydrogen peroxide and UV light, both of which deactivate or destroy pathogens.
Finally, the water is passed through granular-activated carbon that's been superheated to help trap any remaining particles.
As El Paso's reclaimed water goes through these additional purification stages, technicians at El Paso Water will monitor the water in real-time to ensure it meets safety standards.
"The water we're going to produce out of the Advanced Water Purification plant is the safest water that could be produced through treatment processes these days," Gilbert Trejo, EPWater's chief technician officer, told Freethink.
Freethink recently visited El Paso Water to get an up-close look at what is set to be the first closed-loop water recycling system in a major U.S. city. (See video above.)
In addition to cleaner water, water recycling facilities like El Paso's would also be cheaper and more practical than solutions like desalination. After all, not every city lives close to the ocean, and even those that do have to pay to transport saltwater to the treatment plants. But practical benefits aside, toilet to tap is tough to sell to the public.
Clean but spiritually contaminated?
The prospect of drinking recycled water unsurprisingly elicits a disgust response in many people, some more so than others. A 2015 survey of more than 2,000 U.S. residents across the nation found that: "Approximately 13% of our adult American sample definitely refuses to try recycled water, while 49% are willing to try it, with 38% uncertain," the researchers wrote. "Both disgust and contamination sensitivity predict resistance to consumption of recycled water."
For a minority of people, it seems no amount of purification through technical means will render the water potable. That's because of "spiritual contagion," which the researchers said is "conceived of in terms of the entrance into the target of some spiritual essence which does not resemble standard physical entities. It does not respond to washing, boiling or filtering, but remains as a permanent essence."
But even though water reclamation is generally unpopular, and some people may always resist it, research suggests that people become more accepting of water recycling as they learn more about the process.
That's why El Paso has aimed to be transparent and proactive in explaining the process to residents through public outreach programs. In 2016, nearly 90 percent of El Pasoans supported the idea of producing more drinking water through the city's Advanced Water Purification Facility.
Trejo said it's about establishing trust with residents:
"I think it's very exciting for El Pasoans to know that what we're doing here in El Paso is going to change the water industry. The engineering community and the water community knows and understands that these treatment processes treat the water and produce a very high-quality water. It's a matter of which community is going to be the first one to have absolute trust in their water utility, and in the water, and that's what we're about to do here in El Paso.