Imagine poisoning your rival and yourself and giving only yourself the antidote.
Credit: ThorstenSchmitt/Adobe Stock
The t-haplotype alleles play dirty when it comes to reaching the egg first.
In order for their nefarious scene to work, just the right amount of a certain protein has to be present.
Experiments with mouse sperm reveal the whole complicated story.
In the life-or-death scramble to fertilize an egg, not all sperm are alike. A new study of mice by researchers from the Max Planck Institute for Molecular Genetics (MPIMG) in Berlin identifies a genetic factor called "t-haplotype," whose tag-team act with the protein RAC1 helps a spermatozoan speed straight to the prize.
The study is published in PLOS Genetics.
The weird power of the t-haplotype
Credit: ibreakstock/Adobe Stock
The researchers conducted experiments with mouse sperm to learn more about the properties of the t-haplotype, a group of genetic alleles that are known to appear on Chromosome 17 of mice.
Comparing the movement of mouse sperm with the t-haplotype against sperm without it, the researchers, led by first author Alexandra Amaral of MPIMG, definitively demonstrated the difference t-haplotype makes. Sperm with the gene factor progressed quickly forward, while "normal" sperm didn't exhibit the same degree of progress.
While most genes operate cooperatively with others, some don't. Among these "selfish" genes are the t-haplotype.
"Genes that violate this rule by unfairly increasing their chance of transmission can gain large fitness advantages at the detriment of those that act fairly. This leads to selection for selfish adaptations and, as a result, counter-adaptations to this selfishness, initiating an arms race between these selfish genetic elements and the rest of the genome." — Jan-Niklas Runge, Anna K. Lindholm, 2018
"Sperm with the t-haplotype manage to disable sperm without it," says corresponding study author Bernhard Herrmann, also of MPIMG.
"The trick is that the t-haplotype 'poisons' all sperm," he explains, "but at the same time produces an antidote, which acts only in t-sperm and protects them. Imagine a marathon in which all participants get poisoned drinking water, but some runners also take an antidote."
The t-haplotype distributes a factor that distorts, or "poisons," the integrity of genetic regulatory signals. This goes out to all mouse sperm that carry the t-haplotype in the early stage of spermatogenesis. Chromosomes split as they mature, and half the sperm that retain the t-haplotype produce another factor that reverse the distortion, neutralizing the "poison." These t-sperm hold onto this antidote for themselves.
Even the t-haplotype needs a friend
RAC1
Credit: Emw/Wikimedia
RAC1 acts as a molecular switch outside the sperm cell. It is known to be a protein that guides cells to different places in the body. For example, it directs white blood cells and cancer cells towards other cells that are putting out specific chemical signatures. The study suggests that RAC1 may point sperm toward an egg, helping it "sniff" out its target.
In addition, the presence of RAC1 seems to help the t-sperm carry out their sabotage. The researchers demonstrated this by introducing an RAC1 inhibitor to a mixed population of sperm. Prior to its introduction, the t-sperm in the group were "poisoning" their normal neighbors, causing them to move poorly. When the inhibitor neutralized the populations' RAC1, the t-sperms' dirty trick no longer worked, and the normal sperm began moving progressively.
However important RAC1 may be to t-sperm, too much or too little is problematic. Says Amaral, "The competitiveness of individual sperm seems to depend on an optimal level of active RAC1; both reduced or excessive RAC1 activity interferes with effective forward movement."
When females have two t-haplotypes on Chromosome 17, they are fertile. When sperm have one t-haplotype, their motility may be negatively affected, but when they have two, they are sterile. The researchers discovered the reason: They have much higher levels of RAC1.
At the same time, the study finds that normal sperm who aren't being held back by t-sperm stop moving progressively when RAC1 is inhibited, meaning that too little RAC1 also results in low motility.
It's a jungle in there
Herrmann sums up the insights the study offers:
"Our data highlight the fact that sperm cells are ruthless competitors. Genetic differences can give individual sperm an advantage in the race for life, thus promoting the transmission of particular gene variants to the next generation."
Here's the first evidence to challenge the "fastest sperm" narrative.
If you've attended high school, you can probably remember filling in a Punnett square during a biology class. It was the simple diagram that could not only make you feel like a knowledgeable budding geneticist, but could also help you figure out the probability of your kids having blue eyes in the case the cute classmate you had a crush on agreed to live with you happily ever after.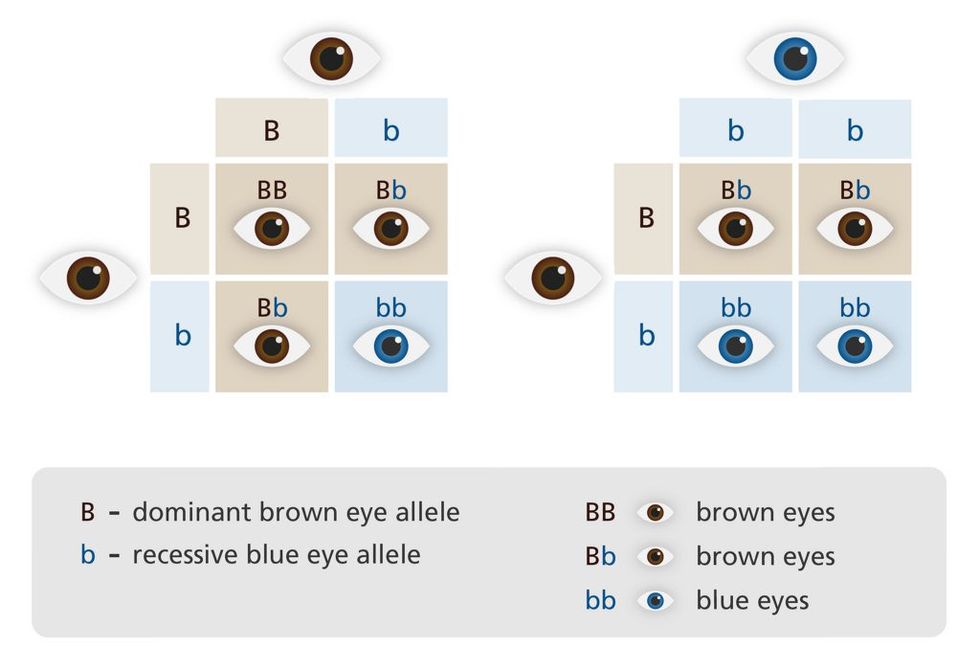 Credit: Flickr / yourgenome
The Punnett Square is a visual representation of Gregor Mendel's laws of inheritance. They are three and they posit that 1) alternative forms of a gene (allele pairs) separate randomly during the production of an egg or sperm (gametes), so that each gamete only carries one form of the gene; 2) each pair of alleles segregates independently of other pairs during the formation of an egg or sperm; 3) the genotype of an individual is made of many alleles (after a random pairing of an egg and a sperm, each of which carries a random form of the gene), and the phenotype of an individual (the visible expression of the genotype) is determined by the dominant alleles and the environment.
What underlies all of Mendel's laws is the idea of randomness. Scientists believe that it is up to chance which sperm will fertilize an egg and which combinations of alleles the offspring would have. That is, of course, after the sperm has proven itself to be the strongest and most enduring swimmer of them all. But the point is, the egg has no say in this. It sits passively waiting to be fertilized.
This whole narrative, including Mendel's laws, may be about to change. Dr. Joseph H. Nadeau, principal scientist at the Pacific Northwest Research Institute, has found evidence that suggests eggs and sperm don't always combine randomly, but in fact the egg may choose which sperm to fertilize it. The findings have been published in Genetics.
the-mystery-of-our-sexual-evolution
Nadeau was tipped off by two experiments from his own lab which were supposed to produce specific predictable ratios of gene combinations in offspring (based on Mendel's laws), but they didn't. It actually turned out that certain pairings of genes are much more likely than others in the cases when the mother carries a particular gene.
Nadeau was exploring how the interactions between two genes (Apobec1 and Dnd1) affected the risks for testicular cancer in mice. He noticed a profound difference between the offspring of the mice in the cases when the mother carried a normal and mutated version of Dnd1 vs. when the father carried a normal and mutated version of the gene, and then the mice were bred with a partner who had a normal and mutated version of Apobec1. (Now is the time to bust out those Punnett chart skills.)
When the mother carried the two versions of Dnd1, the distribution of the genes in the offspring followed Mendel's laws but when the father did, the math went entirely off. Instead of finding the expected 75 percent of offspring to carry at least one of the mutant genes, they found that only 27 percent of the offspring did.
After eliminating other possible explanations for the unlikely ratios, like embryonic death, Nadeau concluded that fertilization must not have been random and there must be a mechanism that allows the egg to choose the sperm with the normal instead of the mutated gene. He calls it genetically biased fertilization.
"It's the gamete equivalent of choosing a partner," Nadeau says for Quanta Magazine. "We've been blinded by our preconceptions. It's a different way to think about fertilization with very different implications about the process of fertilization."
The mechanism of how the egg may decide which sperm to let fertilize it is still unclear. There probably are secreted and cell-surface factors in female reproductive organs that could control access of sperm to eggs based on their genetic content. Nevertheless these findings shed a new light on the female and her reproductive system, which as it turns out, has a much more active role in choosing a partner or a sperm cell and influencing the genetic composition of her offspring.
For more on the topic check out Quanta Magazine.
Scientists conceptualize a potential avenue of creating an embryo with only male cells.
Two men with each holding a baby.
Remember that Arnold Schwarzenegger movie Junior where he was pregnant? Though it seemed hilarious and over-the-top at the time, scientists are actually close to making such a thing possible, sort of. Researchers at the University of Bath in the UK have opened up the possibility of an embryo using only male cells. Working with mice, they made a pseudo-embryo called a "parthenogenote." This was an embryo created without sperm. The feat is performed by fooling an egg cell into thinking it's been fertilized. Usually, a parthenogenote dies off after a few days. But here, scientists were able to fertilize them with a sperm cell, and inject each embryo into a female mouse.
30 healthy pups were born this way. An egg cell was used in each case. Through these experiments, researchers hypothesized that since the parthenogenote operated much like a skin cell, perhaps such a cell could be used, bypassing the egg altogether. If perfected, such a method could revolutionize fertility science, producing healthy humans without resorting to cloning, in a way that would be relatively easy and safe.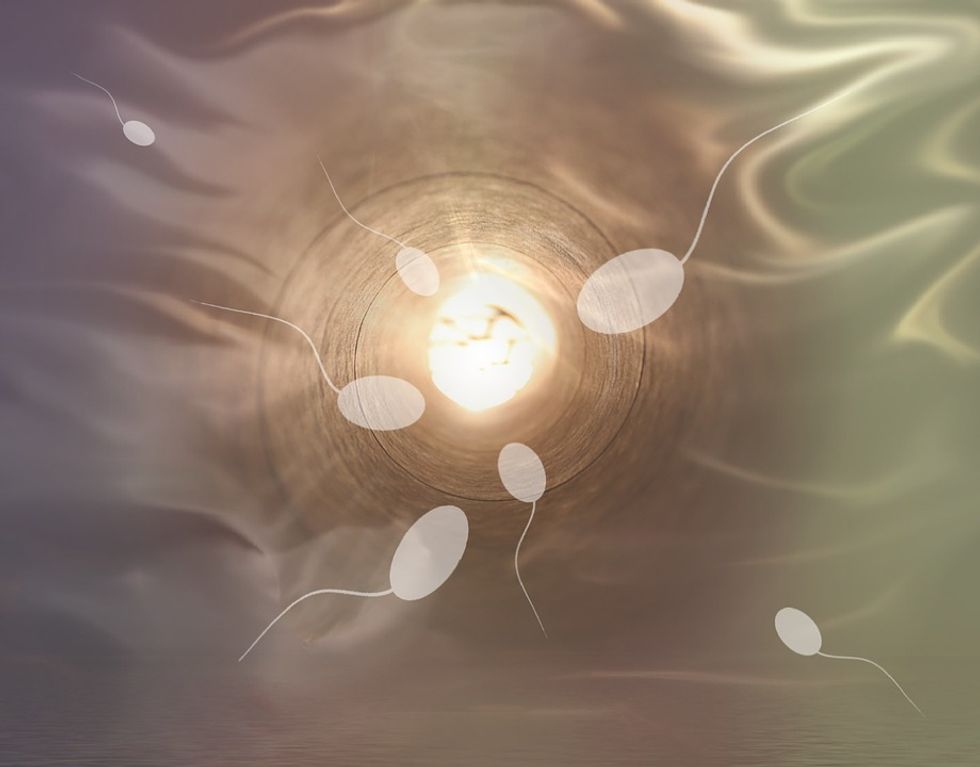 Scientists believe they have a way of creating an embryo with a skin cell serving as an egg.
Though colleagues have called the idea "speculative and fanciful," they haven't ruled the idea out. This would be a huge windfall for the gay community, as gay men could have children with their own genes, cutting out adoption or a surrogate. Another place where it could help is with couples where a woman's fertility has been damaged beyond repair, say from a serious trauma, an operation where the ovaries were removed, or through cancer therapy such as chemo. Today, banking one's eggs is an option. But outside of that there are few.
On another front, it could also help in zoology and preservation. Need to bring back a species, and only have a few males around? Collect some sperm and a few skin cells, and that creature is back in business. Lead scientist Tony Perry said that this breakthrough challenges the notion, held since the 19th century, that only an egg cell fertilized by sperm could produce mammalian offspring.
Still, this study only offers a proof-of-concept. Far more research would have to be done before we would see if this technique could actually yield healthy, human offspring. The method was said to have a 24% success rate, as it stands now. With cloning, it's only one to two percent. So not only does it bypass the fears associated with human cloning, it might get a lot better results. The technique should also work with other kinds of cells. But more experiments will be needed to know for sure.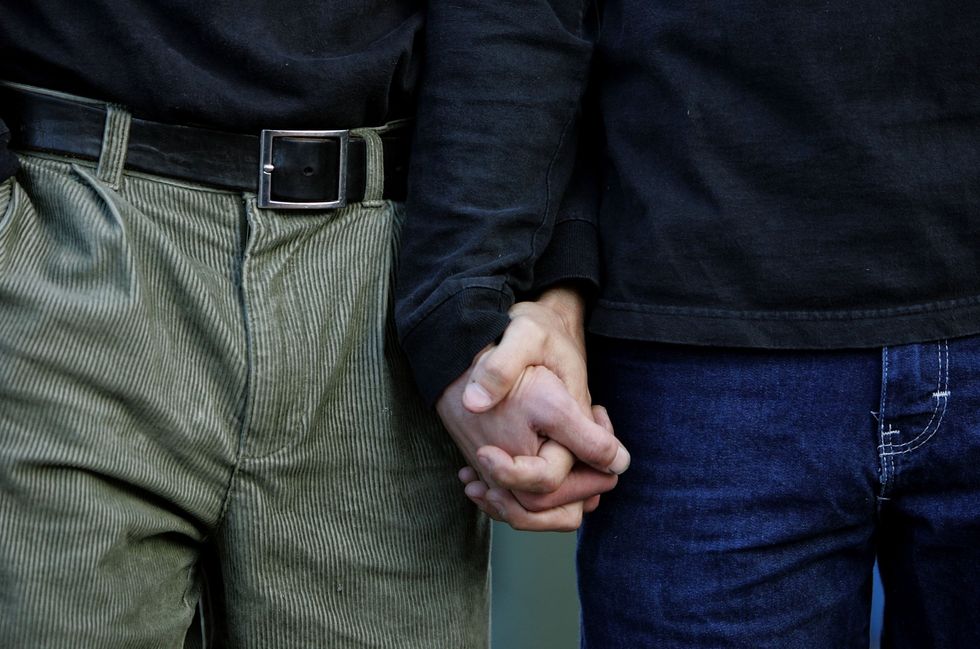 This could be a huge breakthrough for the gay male community. Couples could have children with only their genes.
Not all the talk surrounding this breakthrough was positive. Fertility pioneer and specialist Neeta Gerund had some misgivings. In the British newspaper The Telegraph she wrote that, although impressed with the science, she was upset about how the breakthrough was framed. The media portrayed it as a new development in the "battle of the sexes." Instead of war, she called for unity. After all, isn't fertility medicine about building families? She also cleverly asked who would gestate the developing embryo, if not a woman?
Though it could reignite the hope for some couples to have children, results from this breakthrough remains far off in the future, according to both Gerund and Perry. Gerund says that how such an embryo is impacted by environmental factors, such as diet and smoking, will take years to discern, alone. For a while at least, children will continue to be made the old fashion way, with a little boost from fertility science for those who need it.
To learn more about this study click here: