The video fragment only shows increase in COVID-19 cases, reversing the video's original message to induce panic.
A terrifying graph shows how the spread of coronavirus overtakes previous epidemics like Ebola, SARS and MERS.
However, the clip is only part of a longer video – and conveniently cuts off before swine flu surpasses COVID-19.
The wider context: the coronavirus outbreak remains relatively small and is comparatively non-lethal.
How to lie with statistics
How is the #coronavirus compare to #H1N1, #MERS, #Ebola and #SARS ? #COVID19

WATCH THIS VIDEO GRAPH:

pic.twitter.com/KsXMW0NoYF

— COVID19 (@COVID_19_News) February 21, 2020
This video, posted on Twitter on 22 February, shows how the coronavirus (COVID-19) epidemic compares to that of other recent outbreaks. Terrifyingly, the line for the coronavirus skyrockets, leaving those for SARS, MERS, ebola and swine flu far behind.

Alarming? Yes. But not the whole story. As Mark Twain once said: There are three kinds of untruths: "Lies, damned lies and statistics." If he were around today, he might add a fourth: video edits. The 30-second clip is part of a 10-minute video with exactly the opposite message: Do not panic!
When the video was posted, the coronavirus was less than two months old, and had already travelled from its ground zero—a so-called 'wet market' in the Chinese city of Wuhan—across several continents, infecting more than 40,000 people. It had just killed its 1,000th victim.
The no-panicking message still holds, even half a month and more than double the number of cases later. As of 1 March, we've passed 86,900 people infected, with just under 3,000 deaths reported. Why? Because context is everything.

Virus speed comparison
Mexican police officer wearing a face mask during the swine flu outbreak of 2009.
Image: Eneas De Troya, CC BY 2.0
First, the standalone clip, which has been seen more than two million times. It compares the speed of the coronavirus outbreak to that of a few other recent ones:
SARS (started in Hong Kong in March 2003),
swine flu (started in Mexico in March 2009),
ebola (started in Western Africa in March 2014), and
MERS (started in South Korea in May 2015).
For the sake of comparison, the graphs for each epidemic are aligned so they all start together on
Day One
of each outbreak.
At first, Ebola is the scary one. Not only had it infected the most people after just one day, it had killed two thirds of those.
By comparison, SARS killed its first victim only after three days (out of 38 people infected).
By Day 10, SARS had overtaken Ebola as the most infectious of the outbreaks (264 vs. 145 patients), but the latter was ten times more lethal (91 dead from Ebola vs. 9 from SARS). At this time, the coronavirus had infected 39 people, killed none, and was still playing in the same minor league as the swine flu and MERS.
Exponential rise
Day 262: swine flu dwarfs the other epidemics.
Image: Abacaba
Day 20, and SARS cases are skyrocketing: 1,550 people are ill, 55 have died. That's a death rate of 3.5%. Ebola has affected only 203 people by now, but killed 61.6% of them, a total of 125. Meanwhile, the coronavirus has taken Ebola's second place, but is still far behind SARS (284 infected). At this time, the coronavirus has claimed the lives of just five people.
But now the coronavirus cases are exploding; by Day 30, the new virus has infected 7,816 people, killing 204. That's far more infected than any other virus (SARS comes a distant second with 2,710 patients), and significantly more killed (Ebola, though still just 242 people ill, has killed 147, due to its high fatality rate). Meanwhile, MERS is stuck in triple digits, and the swine flu in double digits.
Day 40: coronavirus cases (40,553) dwarf those of SARS (3,550). The swine flu (369) has overtaken ebola (243), at about the same level as MERS. Also in terms of fatalities, coronavirus now far supersedes SARS (182), ebola (164) and the swine flu (5).
About here, the clip cuts out. The editing aims to focus the attention on the exponential rise in coronavirus cases. But as the longer version goes on, the story changes.
The FULL video of that viral Twitter snippet
By Day 60, it's the swine flu cases that have exploded, to more than 60,000 people ill and 296 people killed—surpassing Ebola (183), if not SARS (513).
The swine flu numbers keep growing exponentially: by Day 80, they've passed 362,000 cases (and 1,770 deaths), far surpassing any of the other diseases.
Day 100: swine flu cases are approaching 1 million, deaths have surpassed 5,000. That's far more than all the other diseases combined—they have merged into a single line at the bottom of the graph.
By Day 150, swine flu hit 5.2 million patients, with 25,400 people killed. By the time it was declared over, a year later, the outbreak would eventually have infected more than 60 million people and claimed the lives of almost 300,000.
Swine flu was caused by the H1N1 virus, which also caused the Spanish flu. That outbreak, in 1918/19, infected about 500 million people, or 1 in 3 people alive at that time. It killed at least 50 million people. It was the combination of extreme infectiousness and high fatality that made the Spanish flu such a global, lethal pandemic.

None of the other infectious diseases comes close to that combination. The swine flu, although more infectious than other diseases, was less infectious than the Spanish flu, and also less deadly (0.5%). Unlike COVID-19 or its fellow coronaviruses SARS and MERS, Ebola is not spread via airborne particles, but via contact with infected blood. That makes it hard to spread. Ironically, it may also be too lethal (39.6%) to spread very far. And COVID-19 itself, while relatively lethal (2.4%), is well below the deadliness of the Spanish flu, and does not seem to spread with the same ease.
Best strategy
WHO dashboard on the spread of COVID-19.
Image: World Health Organization.
Providing further context to the relatively small danger that the coronavirus poses to your personal health, the video ends by comparing the virus's most deadly day so far (108 people killed on 10 February) to the average causes of death worldwide for that day.
On average 151,600 people die every day. On 10 February, the coronavirus killed a lot less than people were killed by
Influenza (650, in the US alone)
Drowning (877),
Homicide (1,095),
Suicide (app. 3,000)
Car crashes (3,287)
Stroke (13,689)
Heart disease (24,641)
Cancer (26,283).
In short: yes, the coronavirus is spreading faster than other epidemics did in their first two months, but it does not seem to be spreading with the speed of the swine flu, let alone the Spanish flu; and it is much less lethal than the latter (if more so than the former). The video concludes that the best strategy for your health is to:
focus your attention on beating more likely causes of death by eating well, exercising enough and driving safely.
beat the coronavirus by staying informed and cautious rather than obsessed and panicked.
Video produced by Abacaba and found here on YouTube. See also Snopes.com for more on the veracity of the shorter clip.
Strange Maps #1013
Got a strange map? Let me know at strangemaps@gmail.com.
A recent clinical trial shows that two new drugs are far more effective than current treatments.
The Democratic Republic of Congo has been suffering a major Ebola outbreak since August 2018.
In November 2018, a clinical trial began comparing the efficacy of four Ebola treatments.
Two of those treatments — based on monoclonal antibodies — are nearly twice as effective as the standard treatment.
In August 2018, an Ebola outbreak struck a conflict zone in the Democratic Republic of Congo's North Kivu province. It soon spread elsewhere throughout the nation of 81.3 million people, many of whom are embroiled in battles over DRC's valuable minerals. By April, the outbreak had become the second worst ever recorded, and by June it had killed at least 1,357 Congolese.
But a recent clinical trial that compared the efficacy of four Ebola treatments brings good news.
"From now on, we will no longer say that Ebola is incurable," said Dr. Jean-Jacques Muyembe, the director general of the Institut National pour la Recherche Biomédicale in DRC, which has overseen the trial. "These advances will help save thousands of lives."
In November 2018, doctors in DRC began randomly assigning Ebola patients one of four treatments: an antiviral drug named remdesivir, or one of three drugs made of monoclonal antibodies, which are a set of immune cells cloned from a parent cell. ZMapp — one of the three drugs that use monoclonal antibodies — has long been considered the most effective treatment for Ebola. In the clinical trial, it helped lower mortality rates among Ebola patients to about 49 percent. (Patients who don't receive any treatment have a mortality rate of roughly 75 percent.)
But two other drugs of the same class — a cocktail of monoclonal antibodies made by a company named Regeneron, and an antibody called mAb114 made by the National Institute of Allergy and Infectious Diseases' Vaccine Research Center — were much more effective, yielding an overall mortality rate of 29 and 34 percent, respectively. These drugs were developed by giving mice Ebola and then extracting the antibodies that the mice produced. Scientists then tweaked those mice antibodies so the human body would accept them. The two drugs will now be administered in every treatment center in DRC.
An illustration depicting how to safely bury people who died from Ebola. Image source: CDC's Center for Global Health
The monoclonal antibodies-based drugs were especially successful at curing Ebola when patients took them soon after becoming sick, with Regeneron's drug lowering mortality rates to just 6 percent. But one problem is that most Ebola patients in DRC wait an average of four days before coming to the hospital, which decreases the odds of survival and increases the odds of transmitting the disease — through bodily fluids — to people near them.
But health experts are optimistic about the new drugs.
"The more we learn about these two treatments, and how they can complement the public health response, including contact tracing and vaccination, the closer we can get to turning Ebola from a terrifying disease to one that is preventable and treatable," Dr. Jeremy Farrar, the co-chair of the World Health Organization's Ebola therapeutics group, told
The Guardian
. "We won't ever get rid of Ebola but we should be able to stop these outbreaks from turning into major national and regional epidemics."
Quarantines are worth the trouble to keep the next pandemic at bay but they need to be applied intelligently.
A trainee, wearing personal protective Equipment (PPE), takes part in a training session held by the military trained Civil Security (Securite civile), on checking and treating suspected victims of the Ebola virus. (JEAN-FRANCOIS MONIER/AFP/Getty Images)
A new essay argues that quarantines are often needed, but require strict guidelines on when they can be used.
Pandemics are inevitable, and actions that can save lives must be planned now.
The arguments in this essay will undoubtedly be of use during the next outbreak.
The use of isolation and quarantine has a history of success going back to the black plague. The practice of isolating sick people form healthy ones intuitively strikes many of us as useful, and many of us do it on our own accord when we fall ill. It seems like a simple step up from that to the idea of quarantining people who are sick or have been exposed to deadly diseases to stop them from spreading.
However, the impositions on individuals that quarantine requires, such as isolation from friends, family, and activity is a rather steep price to pay. Besides, the use of force to limit people's freedoms for the greater good is always a moral minefield. Deciding exactly when, where, and how to implement a quarantine is a tricky business.
A paper by Alberto Giubilini, Hannah Maslen, Tom Douglas, and Julian Savulescu of the Oxford Uehiro Centre for Practical Ethics might have a solution. By taking a moral approach to the problem, one that seeks the most robust possible foundation for intervention, the authors hope to provide sound guidelines to people considering the question of when to intervene and when to take no action.
​What is a quarantine exactly?
Health workers are seen with a young patient under quarantine at the Nongo Ebola treatment unit in Conakry, Guinea on August 21, 2015. The World Health Organization WHO has lost track of 45 people under surveillance, who had been in contact with a patient who contracted Ebola, in Guinea. (CELLOU BINANI/AFP/Getty Images)
For the purposes of this paper, isolation and quarantine had two different meanings. As the authors define them: "Isolation separates sick people with a contagious disease from people who are not sick. Quarantine separates and restricts the movement of people who were exposed to a contagious disease to see if they become sick."
​Why would quarantine be a good idea? After all, they aren't sick yet!
"Typhoid" Mary Mallon, far left, in quarantine. Her refusal to wash her hands while carrying typhoid fever bacteria may have killed fifty people. She was forced into quarantine for the safety of the public.
(Public Domain)
The first argument that the authors make is the obvious one, society benefits a great deal from quarantining a person who might be carrying a deadly disease at a relatively low cost to that society and a moderate cost to the person quarantined. A person who is exposed to Ebola might contract the disease and start spreading it before they are aware of their illness. Quarantines try to prevent this by hiding away anybody who might have been exposed to a disease, even if they are asymptomatic.

This consequentialist stance is the one typically invoked by governments and state agencies when quarantines are introduced, but the authors don't think it is the best ethical foundation. After all, it might be for everybody's benefit to lock away anybody exposed to the common cold for a week to keep infection rates down. This seems excessive, suggesting that the final answer lies elsewhere.
​Personal responsibility
The authors then argue that, in many cases, the individual exposed to a potentially deadly disease will have a moral duty to quarantine themselves; making what the authorities do merely the enforcement of what a person ought to do anyway.

They use the example of Peter Singer's drowning child. Singer famously asked if we had a moral obligation to save a drowning child if the act of saving them was at a low cost to us. He concluded that we do, and many people agree with him. The authors call this the duty of "easy rescue" and argue that it applies in many quarantine cases since the cost of a person hiding in their room until they know they won't make others sick is typically low while the payoff could include saving lives.
The authors then suggest that, "when the cost to us of engaging in some activity is small, and the harm to others which is prevented is great, the state may permissibly compel us to engage in that activity." They place this inside of certain parameters, however.
Most of us would agree that we must keep other people from getting sick when we are ill. However, the suggestion here is that in severe cases, like when the illness in question is deadly, that the state has legitimate power to make sure we stay home. This is more limited than just comparing costs and benefits and doing whatever gives the best payoff, but still allows for interventions during the worst outbreaks.
​But what about the freedom of the individual?
The authors don't suggest that the authorities should always start with quarantines and use them whenever the mood strikes. They make it clear at the beginning of their paper that, "we will argue that authorities ought to implement quarantine and coercion in such a manner that they have the strongest justification possible for those measures."

They also point out that any rational use of quarantines would be limited to severe cases. As they note, while it might be a social net-positive to quarantine people with the stomach flu, the lack of threat it poses makes the action unthinkable. Ebola, on the other hand, is enough of a threat to people that quarantines would be justified.
At some point though, the freedom of a person to do what they like would be infringed on for the sake of the public health. Many people are put off by this. The question is determining when an individual poses enough of a threat to the people around them that forcing them into quarantine is justified. The authors are of the mind that this is permissible when a person might have a very deadly disease.
In some cases, quarantine laws are overused and not based on a cost-benefit analysis, such as when New Jersey introduced a quarantine of people who had been in certain African countries during the 2014 Ebola outbreak. The poorly thought out law was changed after a lawsuit was brought against the state. This case should be a warning against over-application of quarantines, but not against their use when they are correctly implemented.
The idea of using force to lock people in their rooms to assure that others don't get sick is a tricky one. It makes perfect sense when we're healthy, but seems like a potential use of excessive force when we might be on the sick bed. Nevertheless, the ethics surrounding this issue are far from settled though. Given that we're already preparing for the next pandemic, we may be ruminating more moral questions sooner than we think.
Researchers found what all viruses have in common and created a therapy that should work on any kind, and will outsmart viral mutation.
Photomicrographs of the drug AZT, which is thought to help prevent the replication of HIV. If IBM's new method proves effective, it will do so much more than just prevent viral replication; it could clear it from the body. (Image: Larry Ostby / National C
If you lined up everything alive on the planet today and counted them one-by-one, you'd find that viruses are the most common creatures by far. Pervasive, pathogenic varieties are notoriously hard to treat, as the recent Ebola outbreak and the Zika pandemic attest. Why is that? Well first off, they are incredibly small, a hundred times smaller than your average human cell. Though they cannot take the immune system head on, they can infiltrate your body, hijack cells and use them to replicate.
Once inside, a virus splices its own DNA into that of the host cell. It takes over and uses the cell's own machinery to replicate itself. Those viruses move on to other hosts, and in this way a virus infects the body. Today, we have antiretroviral drug therapy (ART) such as is given to HIV patients, which inhibits viral replication. A person can live normally, without the virus taking over. But ART doesn't clear it from the body. To do that, medications would have to target host cells while leaving healthy ones alone, a feat medical science has yet to accomplish.
Another issue is that viruses mutate, meaning what may work with one variety may not with another. To understand viruses better, researchers at IBM's Institute of Bioengineering and Nanotechnology (IBN) in Singapore, sought to find what all viruses have in common. Now, they believe they've fashioned a molecule that could not only treat any virus successfully, but also create a viable vaccine.
Instead of targeting them on the genetic level, which differs from one strain to the next, investigators looked at certain proteins common to any virus, known as glycoproteins. These are located on the outside of the body and allow a virus access into cells in order to hijack them. Understanding this, researchers moved to formulate a macromolecule, which is basically a large molecule made up of many smaller ones.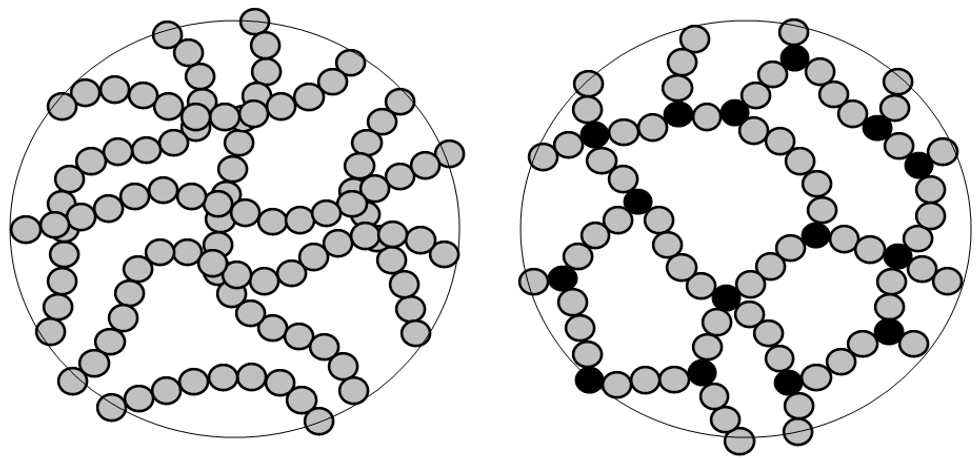 Macromolecules. Image by Cjp24 (Own work) CC BY-SA 3.0, via Wikimedia Commons
Using an electrostatic charge, the macromolecule is able to draw a virus in and bond to it, making it unable to enter a host cell. After that, it alters the pathogen's pH level, turning it acidic, and so far less likely to replicate. What's more, the macromolecule also has a way of protecting the immune system. It disperses a sugar called mannose which bonds to immune cells, inhibiting the virus's ability to enter them.
So far Ebola and dengue have been tested, and the results, published in the journal Macromolecules, are encouraging. What's more, a computer model finds the technique effective against Ebola, the flu, chikungunya, dengue fever, and herpes simplex 1, among other viruses.
This research has reached a mere proof-of-concept level. Far more studies will be required to confirm its efficacy and safety in humans. If successful, it might become a medication, a disinfectant wipe, or spray cleaner, even a hand sanitizer that can ward off viral infection. Adding it to a room containing Ebola could quickly clear it of the deadly virus. Even though there is a long road ahead, scientists are encouraged by these findings. So much so that the Watson supercomputer will be employed to help develop this exciting breakthrough.
To learn about another possible method, click here: 
Danger is at hand, and you may have voted for it. Science educator Bill Nye weaves a passionate argument for the importance of science literacy in a country's elected leaders.
It's not unusual to hear someone openly say that they can't do math at all; that they can't figure out the percentage to tip on a bill. If someone said that chemistry hurts their brain and they can't even look at an equation, or that they have no idea how a certain part of the human body does what it does, that wouldn't be too surprising. These are usually light-hearted statements that go down well – many of us would sympathize, nod and say: yeah, me too.
But turn the tables and imagine someone announcing jovially they can't read words that are over 3 syllables, or that a certain sentence is too beyond them to even try. That wouldn't be considered funny. En masse, we'd raise our brows and say: Excuse me?
The ignorance involved in both scenarios is comparable, but the shirking of effort when it comes to science and math is so normalized we don't always catch ourselves.
This is the bee in Bill Nye's bonnet today. An engineer by origin, he wants science literacy to be a national priority so that people can understand that the daily magic around them every day – all the technology, medicine, and innovation that makes our lives easier, isn't some kind of wizardry – it's cold, hard science. Understanding the way things work, from the basics to a minute level, is so profoundly important to a country's progress and its citizen's health and daily lives. As an example, Nye looks at the spread of a disease like Ebola in North America compared to Africa; the education levels about how germs are transmitted corresponds directly to the amount of deaths from this terrible illness. Understanding basic concepts like bacteria and hygiene saves lives.
Nye goes on to make an interesting point about some of the U.S.'s elected officials and their fluctuating stance on science. Those who panicked about Ebola – rightly so – and implemented preventative measures take a very different approach when it comes to a crisis such as climate change. Here, the U.S. has failed to make meaningful change and start measures to look out for the future. Nye also points to officials who cut funding to the Center for Disease Control, which demonstrates a serious lack of literacy about the nature of infectious disease. The Spanish Flu of the early 20th century killed an estimated 20-50 million people – even at its most conservative estimate, that's more than all the deaths in WWI. In Nye's words, cutting disease research is "not where you save your money, Congress!"
There is also a general mistrust of science among civilians and leaders, and unfortunately shady science practices, such as the sugar industry buying off Harvard scientists to write negative studies focusing on fats while omitting research that would hurt the sugar industry, does a lot of damage to the public perception of scientific method. Those stories make it a little easier to believe scientists can be bought, and therefore that science as a whole can be doubted.
But science largely stands strong, and research by Dan Kahan at Yale University shows that those with the strongest views tend to have the greatest scientific literacy. Kahan asked 1,540 Americans to rate the severity of climate change as a global threat on a scale of zero to ten. Interestingly those that rated it closest to zero or closest to ten had the highest levels of science comprehension.
That middle ground proves to be a dangerous place because the greatest sin in science is to not ask questions, and not challenge conventional wisdom. That's the whole point of scientific enquiry, but dismissing it or failing to understand it really is a crime, especially when you trace it to the tangible cost of human life from increasing natural disasters and preventable contagions. This idea is perhaps expressed best by Canadian-American physician and Nobel Laureate Charles Huggins, who said: "Nature can refuse to speak but she cannot give a wrong answer." Science, when not corrupt, works as nature's translator. We have to trust it, not be blindly skeptical.
Bill Nye has spent his life promoting science education and while here he is visibly frustrated by this high-level mistrust of science in the U.S., another famous champion of science, astrophysicist Neil deGrasse Tyson, brings reinforcement in the form of optimism. Tyson recently said to the Wall Street Journal: "Science is being born into public consciousness in a very big way, for the first time. And we're doing it on the shoulders of those who struggled to get it going in that regard. I look forward to the impact it could have on the 21st century, where we have a next generation of people who only know science literacy as a fundamental part of an educated citizenry."
Bill Nye's most recent book is Unstoppable: Harnessing Science to Change the World.