Explore how alcohol affects your brain, from the first sip at the bar to life-long drinking habits.
(Photo by Angie Garrett/Wikimedia Commons)
Alcohol is the world's most popular drug and has been a part of human culture for at least 9,000 years.
Alcohol's effects on the brain range from temporarily limiting mental activity to sustained brain damage, depending on levels consumed and frequency of use.
Understanding how alcohol affects your brain can help you determine what drinking habits are best for you.
Alcohol has enjoyed a near universal presence across human societies. Our ancestors began experimenting with alcohol fermentation at least 9,000 years ago and incorporated such heady drinks into their ceremonies, celebrations, social gatherings, and even medical practices. Today, alcohol is the most popular drug in the world. We use it to destress, to cheer us up, and to lubricate social interactions.
But why have people across cultures and through the ages enjoyed alcohol so much? It's all in how alcohol interacts with the human brain.
To see how alcohol affects the brain, let's perform a little thought experiment. Imagine you're at your favorite haunt, and you order a drink. It doesn't matter if it is wine, beer, or a cocktail. As far as our brains are concerned, alcohol is alcohol is alcohol. (Our waistlines, however, have another opinion on the matter.)
You ease into the booth, have a few sips, and enjoy some chitchat. You polish off your drink as a sense of relaxation disperses across your consciousness. Here's what's going on inside that head of yours.
This new pill could make it easier for people to stick to the treatment.
Indian social activists and children release ribbons and balloons during an event to mark World AIDS Day in Kolkata on December 1, 2014. (Photo credit: DIBYANGSHU SARKAR/AFP/Getty Images)
Replacing daily pills with a weekly regimen could help patients stick to their dosing schedule.
Anne Trafton | MIT News Office
Researchers at MIT and Brigham and Women's Hospital have developed a capsule that can deliver a week's worth of HIV drugs in a single dose. This advance could make it much easier for patients to adhere to the strict schedule of dosing required for the drug cocktails used to fight the virus, the researchers say.
The new capsule is designed so that patients can take it just once a week, and the drug will release gradually throughout the week. This type of delivery system could not only improve patients' adherence to their treatment schedule but also be used by people at risk of HIV exposure to help prevent them from becoming infected, the researchers say.
"One of the main barriers to treating and preventing HIV is adherence," says Giovanni Traverso, a research affiliate at MIT's Koch Institute for Integrative Cancer Research and a gastroenterologist and biomedical engineer at Brigham and Women's Hospital. "The ability to make doses less frequent stands to improve adherence and make a significant impact at the patient level."
Traverso and Robert Langer, the David H. Koch Institute Professor at MIT, are the senior authors of the study, which appears in the Jan. 9 issue of Nature Communications. MIT postdoc Ameya Kirtane and visiting scholar Omar Abouzid are the lead authors of the paper.
Scientists from Lyndra, a company that was launched to develop this technology, also contributed to the study. Lyndra is now working toward performing a clinical trial using this delivery system.
"We are all very excited about how this new drug-delivery system can potentially help patients with HIV/AIDS, as well as many other diseases," Langer says.
"A pillbox in a capsule"
Although the overall mortality rate of HIV has dropped significantly since the introduction of antiretroviral therapies in the 1990s, there were 2.1 million new HIV infections and 1.2 million HIV-related deaths in 2015.
Several large clinical trials have evaluated whether antiretroviral drugs can prevent HIV infection in healthy populations. These trials have had mixed success, and one major obstacle to preventative treatment is the difficulty in getting people to take the necessary pills every day.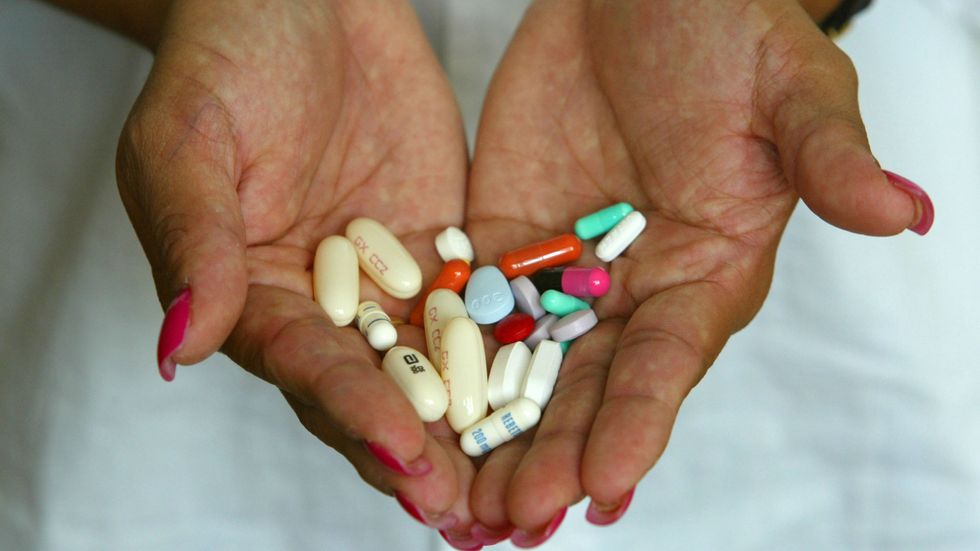 Alba Cerrato displays her cocktail of 14 different AIDS medications that she takes three times a day July 11, 2002 in Miami, Florida. Cerrato contracted the disease in 1994 from her boyfriend who passed away in 1999.
The MIT/BWH team believed that a drug delivery capsule they developed in 2016 might help to address this problem. Their capsule consists of a star-shaped structure with six arms that can be loaded with drugs, folded inward, and encased in a smooth coating. After the capsule is swallowed, the arms unfold and gradually release their cargo.
In a previous study, the researchers found that these capsules could remain in the stomach for up to two weeks, gradually releasing the malaria drug ivermectin. The researchers then set out to adapt the capsule to deliver HIV drugs.
In their original version, the entire star shape was made from one polymer that both provides structural support and carries the drug payload. This made it more difficult to design new capsules that would release drugs at varying rates, because any changes to the polymer composition might disrupt the capsule's structural integrity.
To overcome that, the researchers designed a new version in which the backbone of the star structure is still a strong polymer, but each of the six arms can be filled with a different drug-loaded polymer. This makes it easier to design a capsule that releases drugs at different rates.
"In a way, it's like putting a pillbox in a capsule. Now you have chambers for every day of the week on a single capsule," Traverso says.
Tests in pigs showed that the capsules were able to successfully lodge in the stomach and release three different HIV drugs over one week. The capsules are designed so that after all of the drug is released, the capsules disintegrate into smaller components that can pass through the digestive tract.
Daniel Kuritzkes, a professor of medicine at Harvard Medical School and the chief of infectious diseases at Brigham and Women's Hospital, says that with further safety studies and tests of different drug combinations, this approach could provide another tool to help doctors treat HIV infections and prevent new ones.
"It's a very interesting approach and certainly something that's worth further development, and potentially human trials to see how workable this is," says Kuritzkes, who was not involved in the research.
Preventing infection
Working with the Institute for Disease Modeling in Bellevue, Washington, the researchers tried to predict how much impact a weekly drug could have on preventing HIV infections. They calculated that going from a daily dose to a weekly dose could improve the efficacy of HIV preventative treatment by approximately 20 percent. When this figure was incorporated into a computer model of HIV transmission in South Africa, the model showed that 200,000 to 800,000 new infections could be prevented over the next 20 years.
"A longer-acting, less invasive oral formulation could be one important part of our future arsenal to stop the HIV/AIDS pandemic," says Anthony Fauci, director of the National Institute of Allergy and Infectious Disease, which partly funded the research.
"Substantial progress has been made to advance antiretroviral therapies, enabling a person living with HIV to achieve a nearly normal lifespan and reducing the risk of acquiring HIV. However, lack of adherence to once-daily therapeutics for infected individuals and pre-exposure prophylaxis (PrEP) for uninfected at-risk people remain a key challenge. New and improved tools for HIV treatment and prevention, along with wider implementation of novel and existing approaches, are needed to end the HIV pandemic as we know it. Studies such as this help us move closer to achieving this goal," Fauci says.
The MIT/BWH team is now working on adapting this technology to other diseases that could benefit from weekly drug dosing. Because of the way that the researchers designed the polymer arms of the capsule, it is fairly easy to swap different drugs in and out, they say.
"To put other drugs onto the system is significantly easier because the core system remains the same," Kirtane says. "All we need to do is change how slowly or how quickly it will be released."
The researchers are also working on capsules that could stay in the body for much longer periods of time.
The research was also funded by the Bill and Melinda Gates Foundation, Bill and Melinda Gates through the Global Good Fund, the National Institutes of Health, and the Division of Gastroenterology at Brigham and Women's Hospital.
--
Reprinted with permission of MIT News
The Brazilian government has been trying to answer this very question in its ever-growing prison population, which has doubled since the year 2000.
The Brazilian prison population has doubled since 2000. (Photo: Mario Tama/Getty Images)
In 1953, long before shots of ayahuasca were paired with cacao elixirs at Burning Man Decompression parties, William Burroughs traveled around South America in search of the mystical beverage called yagé. Though Burroughs is remembered predominantly as a heroin junkie, he documented not only the hallucinogenic qualities of ayahuasca, but also the scientific possibilities of this intriguing blend of vines and leaves. 
Ayahuasca was first "discovered" by Western science in 1851, when the Victorian naturalist Richard Spruce made his way around the Amazon (Burroughs later read his work). It would take the "father of ethnobotany," Richard Evans Schultes, to bring ayahuasca to mainstream awareness. Ironically, perhaps, Burroughs and Schultes, both Harvard graduates, ran into one another in Colombia in 1953 while documenting yagé. 
Burroughs never achieved the scientific results Schultes did. While the Beat writer focused on a book (eventually downgraded to an article) on the science, he was known for dramatic statements like, "NO ONE IN HIS SENSES WOULD EVER TRUST 'THE UNIVERSE.'" A powerful observation in his letters to pal Allen Ginsberg, but not getting him published in Nature anytime soon. 
Interestingly, when traveling through the Putumayo region of Colombia, Burroughs predicted a global ayahuasca boom. Today eco-luxe tourism is rampant in the Amazon, with rock star shamans grappling with sexual abuse accusations. In Los Angeles, yoga teachers who've drank the brew feel justified in labelling themselves "plant medicine shamans" after circumventing the rigorous dieta and apprenticeship process. With so much spiritual capitalism occurring around this drink, what benefits can actually be gleaned? 
The Brazilian government has been trying to answer this very question in its ever-growing prison population, which has doubled since the turn of the century. In 2013, volunteer therapists working with Acuda, a prisoner's rights group based in Port Velho, began integrating yoga, reiki, and ayahuasca ceremonies as part of a wide-scale rehabilitation effort to help the half-million-plus inmates scattered across the nation.
While the brew is less studied than other entheogens, early reports are positive. One small study in Brazil saw a meaningful reduction in depression in volunteers. A larger follow-up saw a 64 percent success rate in treating depression. Another study focused on its potential application in treating addiction and other "diseases of civilization." Some speculate that ayahuasca might have even wider-ranging applications: 
The plant has shown potential to help people recover from trauma, PTSD, addiction and depression, as well as cancers and other afflictions.
The larger question of ayahuasca's scientific and spiritual applications was entertained in the 2010 documentary, DMT: The Spirit Molecule, which has been viewed millions of times on Netflix, Youtube, and other streaming services (and which I served as music supervisor for). Parsing credible science from anecdote is always challenging, yet the transformative effects of ayahuasca are well documented. 
Context matters. Last week I wrote about how mindfulness meditation might be dangerous for prisoners, but thus far ayahuasca seems beneficial for helping prisoners reflect on their crimes and, by extension, reducing recidivism rates.
This treatment is not universally welcome. One Brazilian resident, whose daughter was killed by one such prisoner, wonders how the murderer is allowed to enter the jungle to drink sacred medicine. The bigger question here involves the role prisons play in society: punishment or rehabilitation? 
This question is particularly pertinent in the United States, which holds more prisoners than any other nation. While no one is advocating that prison should be pleasurable, some view it as an opportunity to prepare inmates for reintegration into society. Many facilities accomplish the opposite: 
Prisoners in supermax units experience extremely high levels of anxiety and other negative emotions. When released—often without any "decompression" period in lower-security facilities—they have few of the social or occupational skills necessary to succeed in the outside world.
Others believe prison serves one purpose: justice. One libertarian argument even states that punishing prisoners is more merciful than trying to rehabilitate them: 
Justice requires punishment, punishment must be deserved, and just desert requires a punishment in proportion to the crime committed—neither too much, nor too little. This is far preferable to the senselessly draconian sentences and the perpetual monitoring and post-imprisonment sanctions subject to the whims of a grimly humanitarian state.
The latter argument is more nuanced than that singular quote, though that sentiment does conclude the writer's overall idea, which boils down to this: Are we trying to help criminals or keep them as far away as possible? Do we turn the other cheek or demand an eye, a head, an entire body for an eye? The prison system is broken. Do we want to try to fix it, or let it continue on the corporatized retributive path it's been leading for decades? 
At least in terms of ayahasuca, I can respond thus: on the three occasions I've sat for ceremony I've left recharged, reflective, and grateful. Though the most intense psychoactive experiences I've had—more so than psilocybin, LSD, MDMA, mescaline, and peyote—I never felt anxious. The ceremony provides an opportunity to reflect over your life; if you don't like what's simmering below the surface, chances are the ritual might result in existential duress. 
But coming to terms with what's inside of you is more transformative than ignoring it, which is, from my studies, conversations, and experiences, the true power of ayahuasca. That this brew might help alter the course of a life gone astray is enough incentive to integrate it into the prison population. The medicine is social, spiritual, and therapeutic, but most importantly, it provides a human approach to aiding others. If the science continues leading in this direction, we should follow it. 
--
Derek is the author of Whole Motion: Training Your Brain and Body For Optimal Health. Based in Los Angeles, he is working on a new book about spiritual consumerism. Stay in touch on Facebook and Twitter.
19% of American soldiers returned from Vietnam addicted to heroin. 95% of them recovered without relapse. How?
Of all war films that offer a sense of actual combat, the documentary Restrepo is arguably closest to representing the tedium and boredom that sets in on a day to day basis—and this in one of the most contentious regions on the planet. For soldiers in the Vietnam War, weeks were filled with not much at all, making it easy for heroin to infiltrate the barracks. 
Laboratories in the Golden Triangle—Myanmar, Laos, and Thailand—were pumping out low-grade no. 3 heroin for years. Then in 1971 a chemist in Hong Kong went Walter White and started producing 99 percent pure heroin, otherwise known as no. 4. Kilo prices jumped, yet so did soldiers picking up bags from street merchants and highway stalls, even from maids who cleaned their quarters. 
By the time the war ended 35 percent of American soldiers had tasted heroin while 19 percent returned as addicts. With Nixon waging his crusade on illicit substances to control minority and radical populations, he knew this epidemic was going to be severe. A hundred thousand returning addicts who had just fought for the country could not be handled lightly. 
As Adam Alter writes in Irresistible, the marketing professor's latest book on addictive technology, something incredible occurred. After their initial detox only 5 percent of soldiers relapsed. In the addiction community that number is unbelievable; normally only 5 percent of heroin addicts don't relapse. 
What changed? The environment they were in. Alter writes: 
They arrived home to a completely different life. There was no trace of the jungle; the steamy summers in Saigon; the rattle of gunfire, or the chop of helicopter blades. Instead, they went grocery shopping, they returned to work, they endured the monotony of suburbia, and enjoyed the pleasure of home-cooked meals. 
Of course, PTSD and other symptoms are another story. What is incredible about this case is that it wasn't genetics or potency that mattered—it was the shift in environmental conditions. Today, Weill Cornell Medical College clinical psychiatry professor Richard A Friedman believes that changing your environment can also shift the current opioid and obesity epidemics. 
Friedman cites a 2010 study at Columbia University that found proxies for stress in the form of low social status and social support resulted in fewer D2s, dopamine receptors involved in your brain's reward network. Turns out the higher your D2 level the less likely you are to seek out pleasure in drugs such as carbs and sugars and pills. 
These receptors don't only predict drug usage, Friedman writes, their count is also lowered by continued ingestion of substances like heroin, cocaine, and alcohol. He extends the argument for painkillers such as opioids and comfort foods. 
These people are far less sensitive to rewards, are less motivated and may find the world dull, once again making them prone to seek a chemical means to enhance their everyday life.
As our understanding of our brains evolves researchers are realizing that while addictive substances are varied, how you become addicted to a substance is similar. This is true with, as Friedman implies, cookies and meth, as well as smartphones and tablets, as Alter discusses. 
It returns to the pleasure derived in our reward network. Each drug has the same insidious effect: what provides immense pleasure at first requires stronger doses as we become accustomed to new levels of stimulation, requiring more of the substance—more food, more pain relief, more time staring at a screen. This is as true of Candy Crush as real candy. 
And so food addicts find "normal food consumption insufficiently rewarding" while olfactory stimuli creates more intense cravings in the obese than in the slim. It is measurable chemistry, but Friedman argues that environment overrules genetics and habits. Since we can't change our genes, changing our environment appears to be the most beneficial road ahead.
Our environment has changed. Food deserts aren't void of product; they are filled with processed sugar- and carb-heavy foodstuffs cheap to produce and cheap in the body. They provide little nutrition but much pleasure. Once you're hooked on the taste it's nearly impossible to alter your reward circuits. By remaining in that environment you're likely to succumb.
Yet this isn't only happening in poor neighborhoods. As Natalia Petrzela writes in the Washington Post, our president's poor eating habits and lack of exercise influences the nation. She argues that he's operating under century-old assumptions: 
His love of rich foods and leisure paradoxically trades on century-old tropes that also cast him as a kind of Everyman's Billionaire. Until about 1920, the wealthy conspicuously consumed caloric foods and avoided exertion because few felt they could afford to do so.
Caloric foods are overwhelmingly available today in every pocket of the nation. And this is an evolutionary first. As Friedman puts it: 
There was no flourless chocolate cake on the savanna.
This "double whammy" of cheap foodstuffs and pervasive pills is a precedent our bodies are not prepared for. 
Friedman also notes something important that's known in the addiction community: everyone has the potential to be an addict. It was long thought that certain genetic traits created the addict, but technology, obesity, and opioids prove there's an addict lurking inside of us all. It just takes the right mixture of timing and place. Change the setting and you can recover—as Friedman observes, that might be the only factor we truly have control over. 
--
Derek's next book, Whole Motion: Training Your Brain and Body For Optimal Health, will be published on 7/17 by Carrel/Skyhorse Publishing. He is based in Los Angeles. Stay in touch on Facebook and Twitter.
Personifying certain drugs as evil while calling opioid users "victims" points a glaring spotlight on drug policies that aren't really about public health.
Every 25 seconds in the US, someone is arrested for drug possession. In Manhattan, black people—just 15% of the population—are 11 times more likely to be arrested on drug possession that white people.
For centuries Europeans drank—and for some today, drink—a lot of ale. Numerous accounts of polluted water in the 13th to 18th centuries abound, which apparently forced the citizens of London and Germany to drink plenty of alcohol—one entry from St. Paul's Cathedral allowed for one bola (gallon) per person every day. Others claim that such an amount was unsustainable on the environment, if not the liver. 
Whether or not the English and Germans drank a gallon a day, it is certain that beer was an integral part of daily life, especially in monasteries. While it was common knowledge that a little alcohol elevates the spirits, it certainly was not considered a drug. At least a portion of the water sources really were contaminated. Even if widespread pollution is a myth, who wouldn't want to believe it true if the solution meant breakfast with ale? 
Our beliefs about the substances we ingest have always dictated public attitude toward them. "Drug" is a relative term. Ayahuasca has long been medicine for the soul—advocates call it "grandmother medicine," with the grandfather being peyote. Marijuana's history as a Schedule One substance is much shorter than its common usage in numerous cultures. Substances that alter consciousness are usually deemed sacraments, not sacrilegious. That changed roughly 50 years ago from a policy perspective. 
That attitude changed for the same reason that the idea of building a wall on our Mexican border persists: racism. Carl Hart, who chairs the Department of Psychology at Columbia University, recently stated that the war on drugs is simply a war on race. This is not mere speculation. Last year an interview was published with a former aide to Richard Nixon in which he stated the war on drugs was specifically waged to put down any chance of minority revolt. 
"Drugs" are simply chemical substances with a physiological effect. Sugar is a drug, as is tobacco and caffeine, all of which have detrimental effects when used in excess. A beer a day might not be a bad thing, but a six-pack (or gallon) daily slowly kills you. Since these are socially acceptable and legal, we tend to gloss over their categorization as drugs. We certainly don't have moral directives against these substances, save for certain religious groups, such as Mormons opposing alcohol, tobacco, and caffeine—at least in the form of coffee and tea since no sanctions against soda and chocolate exist. As stated, it's always relative.
The relativity of drugs within groups is one thing. When it affects policy, however, a moral argument is waged against citizens who might not share those morals, and that is a problem. While we are currently undoing five decades of marijuana prohibition Jeff Sessions has recently stated that marijuana is "only slightly less dangerous" than heroin—a provably false claim. Society is waking up from a daze; our attorney general is attempting to keep us in it. 
Sessions, who also champions Nancy Reagan's failed war on drugs—the same racially motivated drug search Nixon, in a lineage kicked off by Harry Anslinger, initiated—is partaking in the same form of verbal gymnastics his forebears used. In his imagination, marijuana is a gateway drug. Reagan went a step further when she personified drugs:
Drugs steal away so much. They take and take. Drugs take away the dream from every child's heart and replace it with a nightmare.
Trade one boogeyman for another, in this case the "other" races in our nation. Hart argues that such language confuses the public. It's not only the drug that is vilified, but the ethnicities most associated with using that drug—an approach that recently hit a roadblock with the opioid epidemic.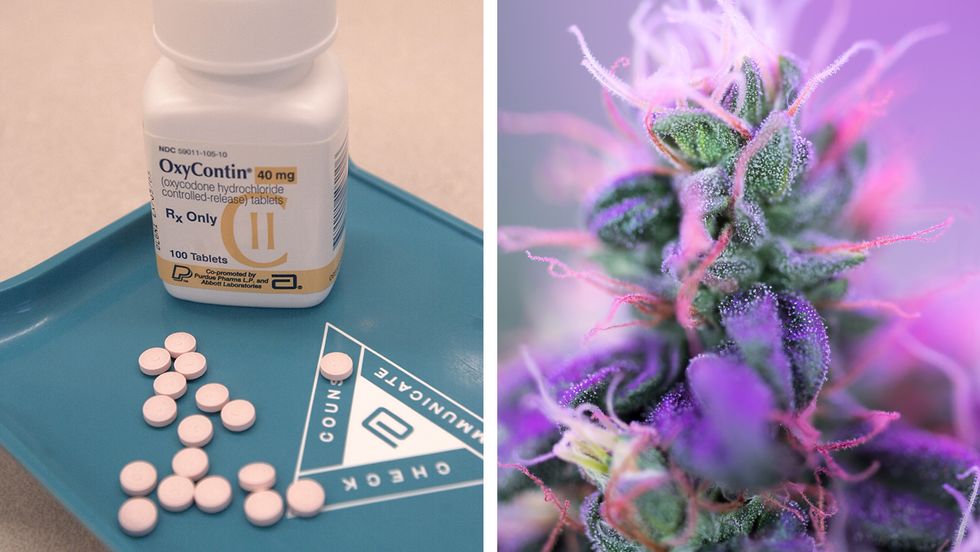 Oxycontin, a commonly prescribed opioid, and a flowering cannabis plant. 
Strangely, we've never had a marijuana epidemic. Yet no substance has been used to incarcerate more Americans. Marijuana is not being and has never been treated as an issue of rehabilitation, as is occurring in communities plagued by opioids. Hart believes this strikes at the heart of the race issue. Discussing other nations with more sensible drug policies, he says:
They do this all around the world, because their first concern is keeping people safe, and not morality. 
Why are morals not being used to combat opioids, especially considering numerous people use marijuana for the very same reason—pain relief? In 2015, 52,000 people died from overdoses; two-thirds of those were associated with opiates such as fentanyl and OxyContin. This has prompted Senator Claire McCaskill to ask pharmaceutical companies to release literature they use to influence doctors to prescribe their drugs. 
As long as drugs like marijuana remain Schedule One and no national legislation addresses legality (as is happening in the states), such a question remains impossible to ask. But it does show the different approach politicians are taking to this particular drug problem. Sessions has never discussed opioids as a gateway drug; he has even called data showing legalized marijuana helps combat opioid addiction "stupid."
As Saralyn Lyons reports in Johns Hopkins University's HUB:
To keep drug policy in America from being hijacked by morality and exaggeration, Hart encouraged a reframing of the conversation: Drug users should "come out of the closet" to change the narrative that users are inherently abusers. "Drug users are me," he said.
Personifying certain drugs as evil while calling opioid users "victims" strikes at the root of this linguistic (and psychological) posturing. Hart suggests a more compassionate approach, not one sponsored only by a "white face," to deal with our actual drug problems—this includes crack cocaine in minority communities, another drug treated as a crime and not a tragedy. This means removing morality from the picture to investigate the real effects of each drug and how we're addressing them. And that means being honest with data.
--
Derek's next book, Whole Motion: Training Your Brain and Body For Optimal Health, will be published on 7/4/17 by Carrel/Skyhorse Publishing. He is based in Los Angeles. Stay in touch on Facebook and Twitter.