New machine-learning algorithms from Columbia University detect cognitive impairment in older drivers.
Driving a car is a complex activity that involves perceptual and motor skills.
Newly developed algorithms can identify cognitive problems in older drivers based on their driving habits with 88% accuracy.
The machine learning algorithms incorporate both driving behaviors and demographic information.
An older person's cognitive health is not always obvious. Cognitive impairment and dementia manifest gradually over time, and a person may be unaware of their advance. During this subtle transition, such a person may continue living as they always have, going about their business at home and behind the wheel. But this could lead to a dangerous car accident.
So, researchers from Columbia University have announced the development of AI algorithms that can detect mild cognitive impairment and dementia in older people based on the way they drive. The authors report in the journal Geriatrics that their algorithm is 88 percent accurate.
"Driving is a complex task involving dynamic cognitive processes and requiring essential cognitive functions and perceptual motor skills," says senior author Guohua Li, professor of epidemiology. "Our study indicates that naturalistic driving behaviors can be used as comprehensive and reliable markers for mild cognitive impairment and dementia."
Random forest model
The algorithms the researchers developed were based on a common AI statistical method involving "decision trees" that form a "random forest model." The most successful algorithm, according to lead author Sharon Di, associate professor of civil engineering, was based on "variables derived from the naturalistic driving data and basic demographic characteristics, such as age, sex, race/ethnicity and education level."
Decision trees are often used in memes in which answering "yes" or "no" regarding some attribute leads you down a path to another question, which in turn ultimately leads to a final conclusion.
Credit:Big Think
Data used in the study
The algorithm was developed using data sourced by the Longitudinal Research on Aging Drivers (LongROAD) study sponsored by the AAA Foundation for Traffic Safety. It came from in-vehicle recording devices that captured the driving behaviors of 2,977 participants from August 2015 through March 2019. At the time the project began, the motorists' ages ranged from 65 to 79 years. From the raw data, the authors of the new study derived 29 behavioral variables, which they used to develop cognitive profiles of the drivers.
Credit: Zoran Zeremski/Adobe Stock
The researchers then developed a series of machine-learning models to predict cognitive issues, with differing success rates. While models based on driving variables alone were just 66 percent accurate, and demographic models less so at 29 percent, using both models together produced an accuracy rate of 88 percent.

The researchers also explored the validity of individual factors as predictors of cognitive issues. In order of most reliable to least reliable, they were: (1) age; (2) percentage of trips traveled within 15 miles of home; (3) race/ethnicity; (4) minutes per round trip; and (5) number of hard braking events.
Li is hopeful that his team's work can help keep roadways and older drivers safe. "If validated," he says, "the algorithms developed in this study could provide a novel, unobtrusive screening tool for early detection and management of mild cognitive impairment and dementia in older drivers."
Nissan is developing technology that controls the car by reading the driver's brain waves.
Test drive of Nissan's brain-to-vehicle technology (B2V) in Atsugi, Japan.Photographer: Camille Lim/Nissan Motor Co.
It's easy to see that the days of autonomous cars are nearly upon us, with a number of manufacturers making great strides in taking that wheel-turning and pedal-pushing away from error-prone and bored humans. But what if you could drive the car just by thinking about it? This is the promise of cutting-edge technology being developed by Nissan, which is unveiling the world's first brain-to-vehicle tech at the Consumer Electronics Show in Las Vegas. 
Nissan's system "decodes" what the driver is thinking, anticipating turns and reactions to road conditions to improve the driving experience. The "B2V" system has the driver wear a skullcap that's reading activity in the brain while transmitting instructions to steering, acceleration and braking systems.
Lucian Gheorghe, the researcher who leads the project for Nissan, explained that while the driver is still in control of the car, turning the wheel and hitting gas, the car uses readings combined with artificial intelligence to predict such movements, starting action 0.2 to 0.5 seconds earlier.
"We imagine a future where manual driving is still a value of society," said Gheorghe. "Driving pleasure is something as humans we should not lose."
Georghe, who has a doctorate in applied neural technology, sees this system as an enhancement of the driving experience. It will be relevant in a future where even with autonomous vehicles taking over, there will be situations when people will want to drive themselves.  
"You are feeling either that you are a better driver or the car is more sporty and more responsive," expounded Georghe. "Even in autonomous driving, we are not building boxes in which you are sleeping. We are building a positive-experience delivering vehicle."
The tech should take another 5 to 10 years to become fully developed.

Want to learn more about Nissan's brain-to-vehicle technology? Check out this video:
Robots and AI are going to become an everyday part of life, but will that take away other everyday parts of life?
Children jump from a driverless car during a photocall at the Science Museum, in London. (CARL DE SOUZA/AFP/Getty Images)
As you have read here before, robots and intelligent machines are entering our lives in ways that were science fiction even a decade ago. Self driving cars are on the road, and Ford plans to have a mass produced version coming off the line in five years.  Robotics has always been a dream for Americans, from robots that would clean our homes to intelligent computers making our lives simpler. The dawning of this new technology is a dream come true for many.
But, what is the scope of this? How will everyday life change in the United States?

Georgia Tech engineer Henrik Christensen predicts the changes will be vast, including the end of that most American of hobbies and rites of passage:
"My own prediction is that kids born today will never get to drive a car."
His rationale is simple, driverless cars are going to be better at what they do then any human could be. With programming able to improve safety and efficiency to incredible levels. He predicts that: "With autonomous, driverless cars, we can put twice as many vehicles on the road as we have today, and do it without improving the infrastructure."
Think about that statement for a moment. Kids born today will never get to drive a car. Given the history of car culture in America, the number of great american books based around road trips, and the pure cultural weight given to the act of driving and the owning of a car. This statement is huge. Truly, intelligent machines will change all of our lives.
He goes so far as to suggest that in a few decades "you're not even going to own a car. A car becomes a service". Removing a prominent status symbol from the garage of many Americans.
And he goes on to tell us about our very livelihoods changing.
When asked about the effect the use of robotics will have on our economy. He gives us this mildly disconcerting answer.

"We see two trends. We will use robots and automation to bring manufacturing jobs back from overseas, primarily from Southeast Asia. At the same time, we will see some jobs get displaced by automation. There will be fully automated, driverless transportation in this country by 2020, and that will eliminate some jobs now held by workers like truck drivers and taxi drivers."

He is unable to guess if that will lead to a net increase or decrease in jobs, however. Saying the data doesn't currently exist to make that determination. How this will affect the economy at large he does not say, he notes the debate around the basic income exists, but sees the current political system in America as unable to accomplish that goal.
So, the future is now. Our economy, our lives, and our culture will soon change in the face of robotics, AI, and automation. What will be on the horizon in ten years? Will it have promises as far reaching as these before us now? One thing is for certain, we will finally be living in the world dreamed of by Ray Bradbury, and the sci-fi fans of days gone by.
Watch here as Tesla's autopilot predicts a crash and avoids a collision.
--
Driverless cars are nothing short of a revolution – not a technological revolution, but a social one, that will determine how fast we can accept, adapt and trust these new systems to change our lives.
Driverless cars may be borne out of science fiction, but they are fast becoming realities on tomorrow's roadways. The transition from driver to robot is nothing short of a revolution. Not a technological revolution, but a social one, that will determine how fast we can accept, adapt and trust these new systems to change how and where we live, work, play and interact with each other.
Japan's auto giant Nissan unveils the new robotic vehicle 'Pivo 2', equippeec with in-wheel electric motors to drive all wheels independently and to pivot its cabin at the company's headquarters in Tokyo. (Photo: YOSHIKAZU TSUNO/AFP/Getty Images)
If you've sat in a new vehicle over the last decade, odds are that you've come into contact with a computer that assists in the act of driving. That assistance might have been as simple as a beep from the console that tells you when you're about to back up into a light pole -- a mundane, accessory, maybe slightly annoying tool, not what anybody would put under the banner of science fiction. But that little beep is a harbinger for a coming revolution that will change the design of our cities and neighborhoods, our fundamental relationship with technology, and the way we work and live.
When I mention autonomous vehicles to people outside of the tech and transportation worlds, I'm usually either met with near-complete incomprehension or bordering-on-overwhelming excitement. One either hasn't heard or even dreamed that self-driving cars might be imminent, and is given to imagine them as futurist babble; or else one has been exposed to news of the rapid progress by tech and automotive companies in developing autonomous vehicles, has heard tell of a timeline to have such vehicles all over the road by 2021, and so has the vague conviction that the world is going to look quite a bit more like The Jetsons in the next five years or so. 
Neither of these types has quite the right idea, although the latter, excitable viewpoint is the one closest to the truth: Self-driving cars are coming, make no mistake, but we shouldn't expect them to suddenly, explosively appear en masse on America's roads, doing away with the act of driving in one fell swoop. Instead, we might look to that modest cautionary computer beep as a way to understand how self-driving cars will make their way into our lives: the technology will not come to us in a single wave, but in small cumulative increments, increasing in frequency, adding up, finally, into a revolutionary impact.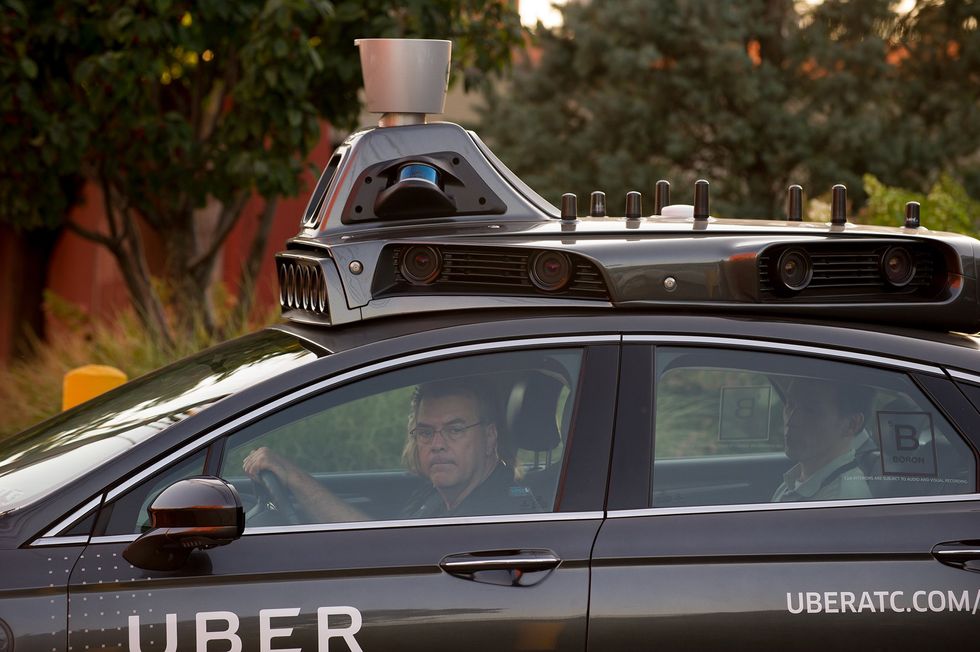 An Uber driverless Ford Fusion drives down Smallman Street on September, 22, 2016 in Pittsburgh, Pennsylvania. Uber has built its Uber Technical Center in Pittsburgh and is developing an autonomous vehicle that it hopes will be able to transport its millions of clients without the need for a driver. (Photo by Jeff Swensen/Getty Images)
Everybody is familiar with the first-ever form of driver-assistance technology. That honor goes to the automatic transmission, introduced to consumers in 1939, the same year as General Motors' "Futurama" presentation at the New York World's Fair, which brought the ideas of mass vehicle ownership, the interstate highway system, and self-driving cars into the popular consciousness, all at once. But it has taken 70 years for tech companies to view fully autonomous vehicles as a realizable goal, and with that clarion call has come a veritable slew of computerized driver-assistance tools that evolved over nearly a century, that have a dual purpose: first, the utilization of rapidly evolving information technologies to make driving safer and easier; second, and far more implicit, to help consumers grow comfortable with the idea of giving over their driving -- and their safety -- to a machine that is effectively a robot.
Here's a vague, speculative roadmap for how self-driving cars will make their way onto our roads. First, we will see (and are already seeing) the deployment of advanced driver assistance in luxury and commercial vehicles. Consequently, and perhaps counterintuitively, older drivers -- those most likely to buy high-end cars or to drive for a living -- will wind up being the first users of autonomous vehicle technologies. Next, we might expect freight and public transit networks to adopt the technology. The first fully autonomous vehicle on our streets will probably be a city bus or delivery truck.
At the same time, private companies like Uber and Lyft will be racing to develop their own autonomous fleets -- indeed, Uber is already testing the waters in Pittsburgh. It gets harder to make predictions beyond that point. Complete transition from the science fiction of driverless cars to science fact where nobody drives will be a series of transitions over time (See SAE Automation Levels) will, in fact, be a revolution that will change fundamentally how our society looks. How exactly those movements will be carried out is anyone's guess.
The thing of it is that near-fully autonomous vehicles already exist, and have already racked up hundreds of millions of miles on our roads. The technology is already here. But for it to be used to its fullest potential, and for the radical future that self-driving cars portend to become reality, we must wait for government, business, infrastructure, and all of us to become receptive to it. This slow, messy process of adaptation is where the revolution will be found, in the social rather than the technological sphere. Autonomous vehicles will bring disruptions in the labor force, in the design of our urban and suburban spaces, the idea of 'driver licensing,' our notion of trust and where we put it, in our concept of "ownership" and how we define ourselves by it, and, ultimately, the amount of mobility we enjoy.
MIT AgeLab's Adam Felts contributed to this article.
Here's an interesting crash course on computational ethics with Jerry Kaplan: