"Currently, inflammation is considered a major factor in the development of depression, dementia, and other brain disorders," says Dr Drew Ramsey. 
Every year you can expect a slew of new "guaranteed diet" books for weight loss, brain health, aging, spiritual well-being, and general lifestyle. There's the vegan one, the raw meat one, the low-fat one, the high-fat one, the juice-from-fruits-picked-during-a-full-moon one, the blood type one, and the one based on your latest tarot card reading. It becomes quite confusing. Authors confuse a little information with knowledge, then try to translate that into sales.
There are too many factors to factor in to a proper diet. Serious nutritionists recognize that good health requires a nuanced understanding of individual genetics, environment, and gut microbiome. Then there's the speed you consume your food, the types of sugar you eat—in juice or whole fruit, in which the fiber plays a critical role—then the types of fat you digest, and stress levels.
Let's pause on that last one for a moment, as stress is rampant. An overtaxed body is an inflamed body. A recent study investigating the role of inflammation in regards to brain health and dementia is worth considering. It's not the only factor in a good diet, but it is a crucial one. 
A team at Columbia University Medical Center, led by neuropsychologist and epidemiologist Yian Gu, studied the cognitive performance of 330 elderly adults to see if the Mediterranean diet—one of the longer-lasting and most-studied diets in the world—could lower their risk of diseases of dementia, including Alzheimer's. All adults involved did not suffer from dementia during the course of the study. 
Gu points out numerous studies have shown that this diet, which is fish- and poultry-heavy with an emphasis on whole grains, fruits, olive oil, vegetables, and moderate alcohol intake, offers protection against the development of Alzheimer's. Gu wanted to know if this is due to a decrease in inflammatory biomarkers in the subject's brain. 
The result was yes, decreased inflammatory markers were prevalent in those who ate this diet. They also had better visuospatial cognition, thanks to nutrients such as vitamins B1, B2, B5, B6, D, and E, as well as higher intake of omega 3-fatty acids, calcium, and folate. Gu notes: 
This study suggests that certain nutrients may contribute to the previously observed health benefits of some foods, and anti-inflammation might be one of the mechanisms. We hope to confirm these results in larger studies and with a wider range of inflammatory markers.
To understand why lower inflammation helps overall health and aging I emailed Drew Ramsey, also at Columbia University. The psychiatrist, Big Think expert, and author of numerous books, including Eat Complete, told me: 
Inflammation is how our body deals with stress and injury. Today, most people eat a diet and have a lifestyle that promotes incredible stress via excess sugars, eating the wrong fats, and losing the sense of joy that food should give us. Currently, inflammation is considered a major factor in the development of depression, dementia, and other brain disorders. People should worry about inflammation because it is contributing to the degradation of their health.
This is especially important as we age. As Gu and team write in the study, Alzheimer's is the leading cause of dementia worldwide, and is the most common neurodegenerative disorder. While medical interventions help us live longer that does not always translate to healthier. We can overcome cancer and heart surgery and survive longer with AIDS and type 2 diabetes, but quality of life is greatly compromised when suffering from dementia. The strain on family and friends can be overwhelming. 
Which is why it's important to start interventions earlier in life. Most of what is sold in packages is not food, but a combination of food-like substances preserved by unpronounceable chemistry. Sugars and unhealthy fats hide, disguised by numerous names, slowing transforming our microbiome in ways that degrade health. And it's not only visceral fat, body mass index, and heart disease we need to worry about. Without healthy cognition the very concept of "I" disintegrates. The so-called golden years are effectively meaningless if you can't remember them.
While studies like Gu's remind us of the bigger picture, Ramsey suggests taking it meal by meal. When I ask him how people can implement changes in their diets now, he expresses skepticism about considering the long game. Change starts at the dinner table tonight, he says. 
People don't get motivated by "long term benefits" or "risk reduction." We have the most success in our clinic when we encourage patients to make better food choices at their next meal. We find that there are very rapid effects when people switch from modern Western food to nutrient dense whole foods (which are also brain food). Sure, eating more avocados can decrease dementia risk, but encouraging patients to eat more avocado toast and guacamole is more compelling when it comes to behavioral change.
Gu knows that one study does not change a discourse. But the combination of better understanding the microbiome and the effects of decreasing inflammation is too prevalent to deny. The Mediterranean diet offers a simple lesson applicable globally, to eat seasonal fresh foods and enjoy moderate amounts of alcohol. Such an approach worked for our species for millions of years until the advent of refrigeration and industrial processing. And we know it works now. We just have to implement it, be it through the recognition of cognitively strong aging or, as Ramsey suggests, hitting the produce aisle for dinner tonight. 
--
Derek is the author of Whole Motion: Training Your Brain and Body For Optimal Health. Based in Los Angeles he is working on a new book about spiritual consumerism. Stay in touch on Facebook and Twitter.
We know there's a gut-brain connection, but just how deep does it go? Could we treat depression just by adopting a particular diet?
Scientists have recently become aware there's a connection between our gut and our brain. But just how deep does this connection go? Could we, say, treat depression just by adopting a Mediterranean diet? A new study suggests, yes.
Doctors have been prescribing diets to their patients as a preventative measure against heart disease, cancer, diabetes, and now depression joins that list. "We now have real evidence to back up what's good common sense: that eating well doesn't just benefit your body, but it also benefits your brain," says Columbia professor Drew Ramsey, who wrote, Eat Complete.
Ramsey represents a growing group of mental health experts who practice nutritional psychiatry. The idea of a gut-brain connection is one that has been gaining ground in scientific studies and some have started putting these ideas into practice. There's evidence to suggest certain foods influence the bacteria in our gut, which in turn influence mental health.
It's also important to note about 95 percent of your body's serotonin is made in your gastrointestinal tract. Scientists are just beginning to discover this secret life of microbes and how much they influence other aspects of our overall health and wellbeing. But we can influence our microbiome with what we eat. 
The brain is also directly affected by diet. "Tryptophan is the amino acid that we use to make serotonin and dopamine," Ramsey told us when he came to Big Think. "These are very, very important mood-regulating and learning-regulating neurotransmitters, or chemicals in the brain. And so the idea is to give people a core set of foods. You know, again, with every bite you're getting all the nutrients that your brain needs."
Researchers from Australia's Deakin University led a controlled clinical trial which gives promising results towards suggesting "dietary improvement guided by a clinical dietician may provide an efficacious treatment strategy for the management of this highly prevalent mental disorder." The researchers recruited several hundred patients with moderate to severe depression, 67 of whom participated in a 12-week parallel group trial. All participants had poor dietary quality when they entered the trail, meaning they ate empty carbs and nutrient-sparse foods, like pizza, pasta and baked goods – what Ramsey terms the "beige diet" or the "12-year-old boy diet".
Ramsey explains the trial result that is exciting for the future of mental health treatment:
"The augmentation effect was quite robust for an adjunctive treatment. In the treatment group, about 32% of patients achieved remission, compared with 8% in the control group. In terms of risk-benefit profiles, a dietary intervention is emerging as a very safe and effective way for us to engage our patients."
The promising meal plan has been coined the Modi-Medi Diet – or modified mediterranean diet –and consists of legumes, leafy greens, colorful vegetables, a variety of quality seafood, quality lean red meat, fruits, olive oil, and nuts. Ramsey emphasizes that the quality of food, in particular of meat and seafood, is important – which is often an area of concern for people trying to make a positive diet change: organic food is expensive. During the trial, the Australian researchers actually found that eating the right foods for optimal brain health is cheaper. "The average Australian spends $138 a week on food. Those who were taking part in the study spent just $112," says Ramsey. What is it about these foods that boost brain function and mental health? They contain nutrients the brain needs, specifically omega-3 fats, zinc, magnesium, iron, and vitamin B12, which are "highly correlated with a lower risk for depression and dementia."
It's important to note, the field of nutritional psychiatry is still new, so you should not use this diet as a substitute for consulting a therapist if you feel depressed.
We're in an epidemic of mental illness and in an epidemic of misinformation about mental illness. The myth that America is "overmedicated" regarding antidepressants only furthers the stigma that stops people from seeking help.
Big Pharma has got itself a bad, bad name. Many people become nervous at the mention of pharmaceutical intervention for mental illness, but there's another solution that may bring ease to some: it's called little farmer, quips psychiatrist Drew Ramsey. For how food can control conditions like anxiety and depression, look through Ramsey's previous videos on Big Think. But here, Ramsey wants to address the popular notion that America is overprescribed. "I always like to point out that the ten percent of Americans who take antidepressants in the morning, they do that voluntarily because it's something that helps them." In his 16 years of psychiatric practice, Ramsey has more often seen mis-prescription rather than overprescription. But at least mis-prescribed people are on the path to finding the right treatment – much worse is the people who aren't getting any help at all whether it be diet, or therapy, or pharmaceuticals. Psychiatric medication isn't right for everyone, but in many cases it truly saves lives, says Ramsey. If we continue to propagate the over-prescription myth for this kind of medication (opiates are another issue), it may alienate those who need help from seeking it at all. Stigma doesn't help in the effort to reduce severe life disruption and suicide, which for the latter totaled 42,773 Americans in 2014, a steep rise from 29,199 people in 1999. Drew Ramsey's book is Eat Complete: The 21 Nutrients That Fuel Brainpower, Boost Weight Loss, and Transform Your Health.
Drew Ramsey's book is Eat Complete.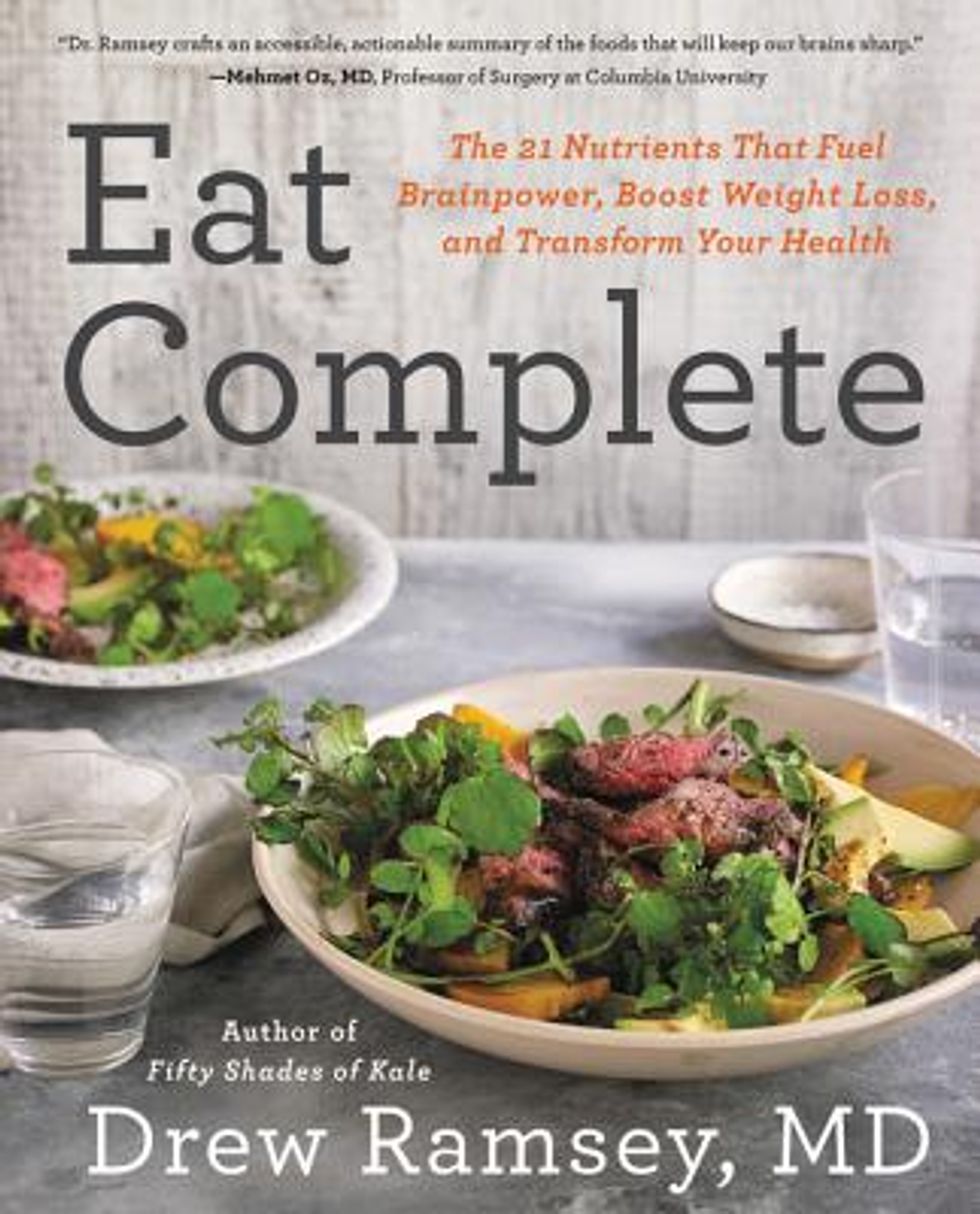 Just like alcohol, nicotine and other narcotics, sugar tickles our dopamine receptors in just the right way, inspiring our brain's reward system. How will this end for us?
The bueberry flavor Jelly Belly bean was created for Ronald Reagan's presidential inauguration in 1981. Over three tons of Jelly Belly beans were consumed during the festivities. In hindsight, it might be something the 'war on drugs' overlooked. (Getty Im
My favorite candy growing up was watermelon Jolly Ranchers. I loathed the variety pack, as that meant I'd have to weed through options—grape, acceptable; green apple, goodbye—to savor my chosen treat. When offered real watermelon in the summer, I declined. The flavor just didn't compete.
Is sugar a drug? The question has long been debated. Sugar tickles our dopamine receptors in just the right way, inspiring our brain's reward system in the same manner as alcohol, nicotine, and other narcotics. And we know excess sugar is the culprit behind a range of life-threatening ailments. Even with that knowledge our consumption ticks up: 152 pounds a year if you're American. Historically speaking that figure is mind-boggling.
No responsible parent would allow their children to eat candy for breakfast, but that doesn't mean they're not receiving an equivalently sweet dose in many breakfast cereals, juices, and even seemingly healthy options like oatmeal—cranberries and maple syrup anyone? The UK's National Diet and Nutrition Survey discovered half of children's daily sugar intake is ingested in the morning. Confusion over 'healthy' and 'natural' sugars doesn't help. Your liver doesn't care if sugar is organic.
Yet we need it. Our brains, little energy suckers they are, lap up sugar like hummingbirds—to a degree. In spite of much consternation and deception from the sugar lobby, the World Health Organization adopted 25 grams per day as the upper limit in 2014. Pretty much any bottle of juice or coconut water—organic, freshly squeezed, cold-pressed, and quintuple-processed included—is above that number.
Which is why children are developing similar diseases as alcoholics, and why some experts are calling for sugar to be treated as a drug. How humans decide which substances are illegal and dangerous and others acceptable and benign has more to do with politics, marketing, and social mores than science.
To combat this trend some rely on the poorly understood mechanism of 'cleansing.' This too has its dangers. One healthy woman on a 'detox' using 'natural products' was recently hospitalized after suffering a seizure. The culprit? Green tea, milk thistle, and valerian root.
Sugar is as natural as any of the products she was cleansing with. Whatever we ingest is potentially toxic, depending on dosage, prior health conditions, and combination with other substances. A pop tart and beer are worlds apart in structure and delivery, but your liver and spleen don't notice much of a difference. Factor in the added sugars in condiments, nut butters, sauces, and dressings, and maintaining an acceptable level is daunting.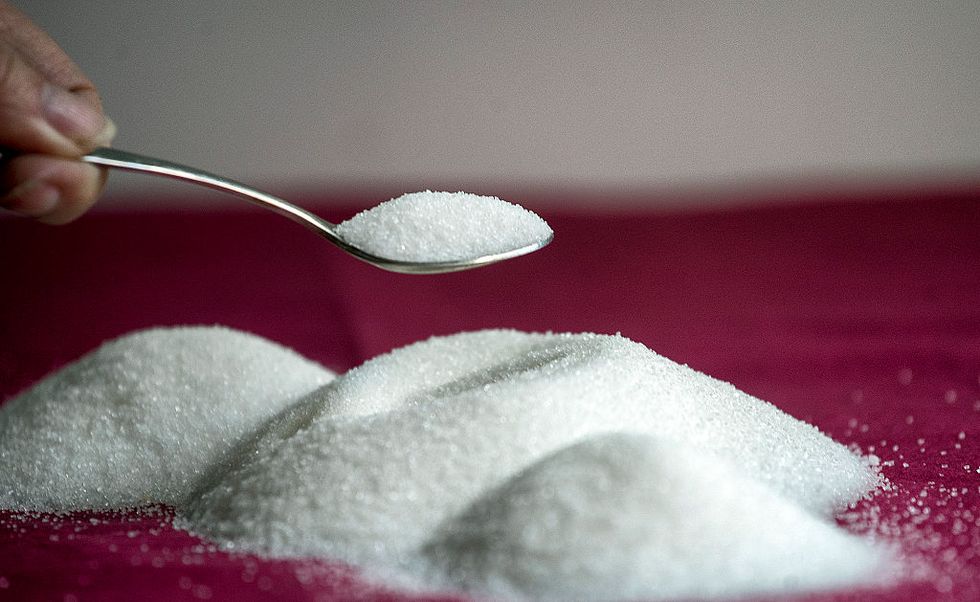 The World Health Organisation's first global report on diabetes found that 422 million adults live with diabetes, mainly in developing countries. (Getty Images)
Interestingly sugar began as a medicine, not a food source. It spread thanks to Arab kingdoms in southern Europe, though still treated (and priced) as a rare spice. Ubiquitous today, sugar was once a lauded substance linked to slavery and colonization. Economies were fueled by it. As production ramped up thanks to British invasion of the tropics, sugar began being used daily to lighten the tannin load of tea, as well as in jams and candies such as sugarloaf—a cylindrical brick of sugar requiring a special tool called a sugar nip to break it into pieces. People were hooked.
Availability breeds addiction. Just consider what's happened with cell phones, once a rare luxury. Like technological addiction exploiting boredom and novelty, sugar exploits an aversion to bitter flavors—or, more likely, allows us to forget a wide and varied palette is healthy. Sugar's seduction took millennia, but when it took hold in the 19th and especially 20th century, our brains sought sweetness wherever our tongues reached.
Which is why Gary Taubes considers it a drug. Part of the problem, he writes, is that we don't truly know how much is too much:
Once we have observed the symptoms of consuming too much sugar, the assumption is that we can dial it back a little and be fine – drink one or two sugary beverages a day instead of three; or, if we're parenting, allow our children ice cream on weekends only, say, rather than as a daily treat. But if it takes years or decades, or even generations, for us to get to the point where we display symptoms of metabolic syndrome, it's quite possible that even these apparently moderate amounts of sugar will turn out to be too much for us to be able to reverse the situation and return us to health. And if the symptom that manifests first is something other than getting fatter – cancer, for instance – we're truly out of luck.
Taubes relates this addiction to cigarettes. Sure, a few a day is better than a pack, but is it really? The challenge is that sugar is prevalent in innumerable foods. Carbohydrates turn into sugar in our bodies. Alcohol is basically Naked juice. Moderation is necessary yet indefinable. This leaves room for companies, specialists, and nature-based charlatans to further confuse the issue.
Besides, is there anything wrong a little sweetness? The question is a matter of degree. But the bar keeps getting moved year after year, pound by pound, disease by disease. Taubes is a former cigarette smoker that didn't realize life without them until he quit, just as over time I grew to love summer watermelon and abhor hardened gelatinous molds attempting to pass as a foodstuff.
Just as alcoholics often will not admit their disease, sugar addicts are blind to the ravages it wreaks. And just as some alcoholics recognize a problem but do nothing about it, turning down dessert or a midday candy seems implausible and insane. Life is too short to deny yourself pleasure, the sentiment goes, even if that life is made worse due to that quick bliss. 
We may never know how much is too much. But we do know the bar needs to be lowered. Blue Hill chef Dan Barber, reviewing Taubes's latest book on the subject, concludes eloquently:
Our job here — and not only here, but with everything from tobacco to global warming — is to override the imperfect, long haul to scientific certainty and instead follow the precautionary principle, which means recognizing what's staring us in the face and acting on it as if our health hangs in the balance. Because it does.
Nutritional psychiatrist Drew Ramsey came to the Big Think studios recently to shed some light on a better kind of eating:
--
Derek's next book, Whole Motion: Training Your Brain and Body For Optimal Health, will be published on 7/4/17 by Carrel/Skyhorse Publishing. He is based in Los Angeles. Stay in touch on Facebook and Twitter.
Most of the foods we consume are created for the supermarket shelf, not for our health, says psychiatrist Drew Ramsey. But you can boost your brain function and overall well-being with this one very low-tech, analogue tool: your grocery list.
If you have an appointment with psychiatrist Drew Ramsey, there's no guarantee that you're going to walk out of there with a bottle full of pills. Sometimes you'll emerge with a recipe for a blueberry-avocado-kefir-nut smoothie. Or a shopping list for how to make kale pesto. Ramsey is leading the charge in a relatively new branch known as nutritional psychiatry. Physically, we can see the difference between someone with a good diet versus a poor diet, the external symptoms of nutritional deficiency are obvious, and so you don't have to stretch the imagination too far to imagine the difference it might make internally, particularly to your cognitive abilities and your mental health.
Vitamin supplements are necessary for those of us with specific deficiencies, but according to Dr. Ramsey for comprehensive health in all spheres, a thoughtful and nutrient dense diet is much more effective than a multi-vitamin, for many reasons, not least of which is that supplements don't deliver all forms of nutrients – as he points out, in the supplement bottle there is one form of vitamin E, whereas in the natural world there are eight varieties. These nutrient molecules are vital because they signal instructions to our system. "They literally travel from the end of our fork into our DNA and change how our genes get expressed and they turn on genes that keep us healthy."
Ramsey brings to attention the versatility of food, and breaks down the myth that providing good food for yourself or your family has to cost the world. In a move that salutes the character of Bubba from Forrest Gump, and his multi-scene soliloquy on the various ways one can cook shrimp, Ramsey does the same in this video for kale, and all the ways you can turn it into nutrient-dense brain food for just a few dollars – everything from kale soup to a kalejito.
From tips on how to improve your smoothie game, and waving farewell to outdated schools of thought that demonize fat, to ideas about food as a communal ritual, and accessing quality produce on a small budget, in this video Ramsey explains the molecular power within foods that can keep our brains and bodies running optimally. Research shows that eating a diet with plenty of plant-based whole foods, good fats, and some seafood (and reducing processed foods), can decrease your risk of an illness like depression by as much as 50 per cent.
Drew Ramsey's book is Eat Complete.