A new theory suggests that dreams' illogical logic has an important purpose.
If consolidating memories as we sleep is like machine learning, maybe dreams keep our "algorithms" on track.
Machine learning is optimized by the injection of a certain amount of nonsense data.
Maybe dreams are just weird enough to do the same for us as we sleep.
For a while now, the leading theory about what we're doing when we dream is that we're sorting through our experiences of the last day or so, consolidating some stuff into memories for long-term storage, and discarding the rest. That doesn't explain, though, why our dreams are so often so exquisitely weird.
A new theory proposes our brains toss in all that crazy as a way of helping us process our daily experiences, much in the way that programmers add unrelated, random-ish nonsense, or "noise," into machine learning data sets to help computers discern useful, predictive patterns in the data they're fed.
Overfitting
The goal of machine learning is to supply an algorithm with a data set, a "training set," in which patterns can be recognized and from which predictions that apply to other unseen data sets can be derived.
If machine learning learns its training set too well, it merely spits out a prediction that precisely — and uselessly — matches that data instead of underlying patterns within it that could serve as predictions likely to be true of other thus-far unseen data. In such a case, the algorithm describes what the data set is rather than what it means. This is called "overfitting."
Big Think
The value of noise
To keep machine learning from becoming too fixated on the specific data points in the set being analyzed, programmers may introduce extra, unrelated data as noise or corrupted inputs that are less self-similar than the real data being analyzed.
This noise typically has nothing to do with the project at hand. It's there, metaphorically speaking, to "distract" and even confuse the algorithm, forcing it to step back a bit to a vantage point at which patterns in the data may be more readily perceived and not drawn from the specific details within the data set.
Unfortunately, overfitting also occurs a lot in the real world as people race to draw conclusions from insufficient data points — xkcd has a fun example of how this can happen with election "facts."
(In machine learning, there's also "underfitting," where an algorithm is too simple to track enough aspects of the data set to glean its patterns.)
Credit: agsandrew/Adobe Stock
Nightly noise
There remains a lot we don't know about how much storage space our noggins contain. However, it's obvious that if the brain remembered absolutely everything we experienced in every detail, that would be an awful lot to remember. So it seems the brain consolidates experiences as we dream. To do this, it must make sense of them. It must have a system for figuring out what's important enough to remember and what's unimportant enough to forget rather than just dumping the whole thing into our long-term memory.
Performing such a wholesale dump would be an awful lot like overfitting: simply documenting what we've experienced without sorting through it to ascertain its meaning.
This is where the new theory, the Overfitting Brain Hypothesis (OBH) proposed by Erik Hoel of Tufts University, comes in. Suggesting that perhaps the brain's sleeping analysis of experiences is akin to machine learning, he proposes that the illogical narratives in dreams are the biological equivalent of the noise programmers inject into algorithms to keep them from overfitting their data. He says that this may supply just enough off-pattern nonsense to force our brains to see the forest and not the trees in our daily data, our experiences.
Our experiences, of course, are delivered to us as sensory input, so Hoel suggests that dreams are sensory-input noise, biologically-realistic noise injection with a narrative twist:
"Specifically, there is good evidence that dreams are based on the stochastic percolation of signals through the hierarchical structure of the cortex, activating the default-mode network. Note that there is growing evidence that most of these signals originate in a top-down manner, meaning that the 'corrupted inputs' will bear statistical similarities to the models and representations of the brain. In other words, they are derived from a stochastic exploration of the hierarchical structure of the brain. This leads to the kind structured hallucinations that are common during dreams."
Put plainly, our dreams are just realistic enough to engross us and carry us along, but are just different enough from our experiences —our "training set" — to effectively serve as noise.
It's an interesting theory.
Obviously, we don't know the extent to which our biological mental process actually resemble the comparatively simpler, man-made machine learning. Still, the OBH is worth thinking about, maybe at least more worth thinking about than whatever that was last night.
It's all about smooth pursuit.
Man inside an ice caver under the Vatnajokull glacier, Vatnajokull National Park, East Iceland, Iceland. Photo by Marco Bottigelli / Getty Images
While lucid dreaming, we use the same eye movement patterns as when we observe physical actions.
However, we use different eye patterns when we imagine movement.
Researchers believe this might help add to our understanding of consciousness.
In 2016, Dr. Tadas Stumbrys discovered that lucid dreaming helps improve physical performance. Dividing volunteers into four groups, lucid dreamers outperformed the physical practice and mental rehearsal groups by statistically significant margins. As he said at the time, "A recent brain imaging study showed that brain activity in the sensorimotor cortex that is responsible for controlling our physical movements is similar during imagined and lucidly dreamed movement, thereby allowing motor learning to occur."
We've long known that imagining movements are their own sort of "practice," but an interesting new study, published in Nature Communications, confirms that we use the same eye movement patterns when we lucid dream as when we observe physically actions, but not when we imagine movement.
Three researchers — Stanford University's Philip Zimbardo and Stephen LaBerge; the University of Wisconsin-Madison's Benjamin Baird — tackled the longtime question of whether dreaming mimics perception or imagination, finally proving the former. They accomplished this by tracking the "smooth pursuit" eye movements of seven volunteers, each of whom spent between one and eight nights in their laboratory.
Getty Images
To understand smooth pursuit you can try this experiment: Track your index finger, held out at arm's length, from left to right several times. Your eyes follow the pattern in a reliably smooth pattern. On the contrary, when you try to imagine the same exact movement, your eyes will not flow smoothly left to right, but jump ahead to particular points. This is due to your saccadic system, a name derived from the French word for "jolt." In both lucid dreaming and awakened perception, your smooth pursuit system is engaged.
The researchers write that vividness relies on intensity of neural activation. Imagining images compete with our normal sensory process, but when asleep our sensory input system — absorbing the world around us — is suppressed. External objects that could bombard our perception processes are eliminated. They continue,
Our findings suggest that, in this respect, the visual imagery that occurs during REM sleep is more similar to perception than imagination. . . . Under conditions of low levels of competing sensory input and high levels of activation in extrastriate visual cortices (conditions associated with REM sleep), the intensity of neural activation underlying the imagery of visual motion (and therefore its vividness) is able to reach levels typically only associated with waking perception.
Beyond solving a longtime debate tracing back to Aristotle, the researchers believe this research is another piece in helping solve the consciousness puzzle. Seasoned lucid dreamers — it's a skill you can actually practice — have the ability to control their actions while unconscious. This link between consciousness and neurophysiological processes adds another intriguing layer to the link between our waking and sleeping lives. The more we study that link, the more we find out that the two states are not as separate as imagined.
--
Just imagining movement fires the same neurons as if we were actually moving. A new study shows we can wake our sleeping mind to practice motor skills in our dreams.
Lucid dreaming. (Image: Shutterstock)
Mental training is arguably as important as physical fitness. That argument is gaining strength as a growing body of literature unravels the once-mysterious connections between consciousness and movement. We know that the murky domain of subconscious and autonomic actions greatly influences our waking lives. Now we're learning how to train our unconscious selves for the benefit of our daily actions.
Neuroscientist Rodolfo Llinás attributes this skill to the art of prediction. Before consciousness arose in multicellular creatures, primitive life developed a nervous system to navigate through its environment—a biological property he terms 'motricity.' By predicting where it has to move the organism ensures its survival.
Interestingly, Llinás noticed that thinking fires motor neurons, the pathway we use to move our bodies. He believes thinking is an internalized form of movement; what we call consciousness is a mental representation of this phenomenon. Our mental maps allow us to predict how to navigate our environment. Combined with memory, our inner GPS creates and constantly updates this road map of prediction: move here, don't go there, act this way but not like that.
Athletes have understood this for some time: visually picture yourself performing your sport and you strengthen the motor connections between brain and body. Indeed, just picturing movement fires the same neurons as if you were doing it. Motricity meets metacognition.
This we've known for some time. But what about training while asleep? We know proper rest leads to better performance. Plenty of evidence proves the all-night cram to be a myth. A better time to retain information is after cardiovascular exercise. This makes sense. We're designed for movement. Hunched over books all night without sleep is not an optimal training program. Eight hours of shuteye followed by a quick 5k is.
What's happening during those eight hours, though? More to the point, can we use that time for training as well?
Turns out we can. Dr. Tadas Stumbrys decided to investigate whether sleep training had any positive correlation with physical performance. The vehicle he used was lucid dreaming, a unique mental state in which consciousness and the unconscious seemingly merge. While some people naturally acquire this skill, there are training methods to help you learn to take control of your dreams, affording you a Matrix-style cinema screen inside your head every night.
Stumbyrs and team had four groups—"frequent lucid dreamers (25%), a mental practice group (23%), a physical practice group (24%) and a control (no practice) group (24%)"—engage in a sequential finger tapping exercise. Alarms rung in the night to signify the commencement of their assigned practice. They were measured the following day for improvements.
In the end all three practice groups improved their physical skill. Interestingly, the lucid dreaming group improved more than the physical practice group by 3 percent and the mental rehearsal group by 8 percent.
The neural mechanisms responsible for physical movement are similar between the three states of consciousness studied: waking, lucid dreaming, and daydreaming:
A recent brain imaging study showed that brain activity in the sensorimotor cortex that is responsible for controlling our physical movements is similar during imagined and lucidly dreamed movement, thereby allowing motor learning to occur.
In his book, Waking, Dreaming, Being, philosophy professor Evan Thompson investigates consciousness through the lens of lucid dreaming, a topic he's studied for decades. Dreaming isn't random, he writes, but a "spontaneous mental simulation" that helps us imagine ourselves in the world. While awake we envision a reality we'd like to create and then pursue its manifestation—metacognition and motricity. This is also possible when you know you're dreaming.
Borrowing from Buddhist philosophy, Thompson writes that the key is to understand "witnessing awareness," which is essentially what we do while conscious and unconscious. This is the process of the little me inside my head picturing the physical me in the 'real' world. Just don't confuse this for dualism. This is all one me.
One way to strengthen this inner dialogue of thought and action, of perception, prediction, and movement, is meditation. This discipline of self-awareness helps cultivate an ability to step back from daily patterns and envision yourself as part of the larger world, which changes your relationship to your actions. The same holds true while lucid dreaming.
Once you're able to sustain the lucid dream state, he writes, you can transform it:
Use your imagination to manipulate the dream. Be playful. Change things and transform them…Explore the plasticity of the dream. In this way, the mind's supple nature will manifest, and you'll gain a deeper understanding of the dreamscape as a mental construct, a product of imagination.
As the study shows, the imagination is the thoroughfare for the manifestation of ideas into reality while asleep and awake. Envisioning the goal is the first step in physically acting on it. All life is movement, from the neuronal firings of an idea to our bodies moving through space to accomplish it. Lucid dreaming turns out to be yet another field in which to sharpen our skills, another step in this complex and fascinating journey of self-understanding and self-mastery.
--
Derek Beres is working on his new book, Whole Motion: Training Your Brain and Body For Optimal Health (Carrel/Skyhorse, Spring 2017). He is based in Los Angeles. Stay in touch on Facebook and Twitter.
They may look odd, but it's all part of Google's plan to solve a huge issue in machine learning: recognizing objects in images.
Google's artificial neural networks produce some trippy images thanks to its Deep Dream program (photo credit: Michael Tyka/Google)
When Google asked its neural network to dream, the machine begin to generating some pretty wild images. They may look odd, but it's all part of Google's plan to solve a huge issue in machine learning: recognizing objects in images.

To be clear, Google's software engineers didn't ask a computer to dream, but they did ask its neural network to alter the images based on an original photo they fed into it, by applying layers. This was all part of their Deep Dream program.
 
The purpose was to make it better at finding patterns, which computers are none too good at. So, engineers started by "teaching" the neural network to recognize certain objects by giving it 1.2 million images, complete with object classifications the computer could understand.

These classifications allowed Google's AI to learn to detect the different qualities of certain objects in an image, like a dog and a fork. But Google's engineers wanted to go one step further, which is where Deep Dream comes in, which allowed the neural network to add those hallucinogenic qualities to images.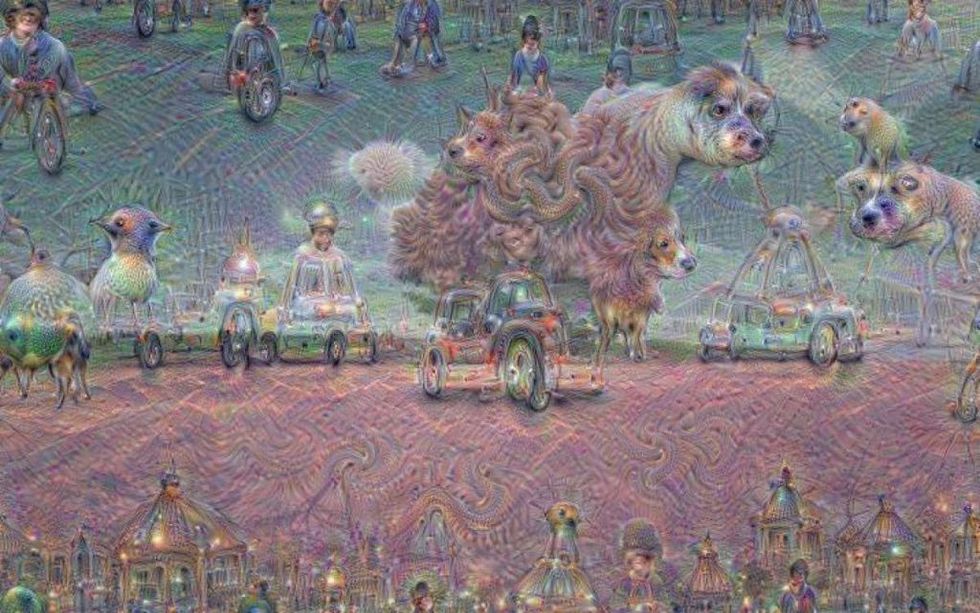 Google wanted to make its neural network better at detection to the point where it could pick out other objects in an image that may not contain that object (think of it as seeing the outline of a dog in the clouds). Deep Dream gave the computer the ability to change the rules and parameters of the images, which in turn allowed Google's AI to recognize objects the images didn't necessarily contain. So, an image might contain an image of a foot, but when it examined a few pixels of that image, it may have seen the outline of what looked like a dog's nose.

So, when researchers began to ask its neural network to tell them what other objects they might be able to see in an image of a mountain, tree, or plant, it came up with these interpretations: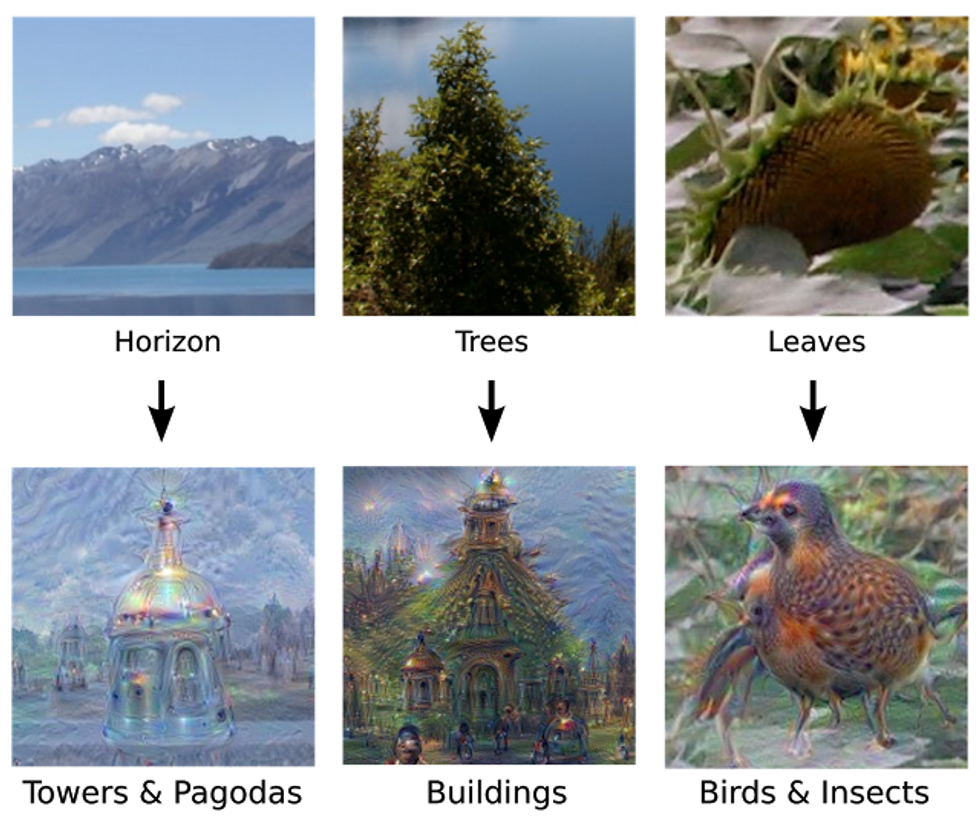 (Photo Credit: Michael Tyka/Google)
"The techniques presented here help us understand and visualize how neural networks are able to carry out difficult classification tasks, improve network architecture, and check what the network has learned during training," software engineers Alexander Mordvintsev and Christopher Olah, and intern Mike Tyka wrote in a post about Deep Dream. "It also makes us wonder whether neural networks could become a tool for artists—a new way to remix visual concepts—or perhaps even shed a little light on the roots of the creative process in general."
Just for fun, Google has opened up the tool to the public and you can generate your own Deep Dream art here: deepdreamgenerator.com
the-future-of-machine-learning
Dreams might be a whole lot sexier than we thought – but not because of their narrative content. Neurologist Patrick McNamara's theory links the biological changes in our brains during sleep to human's inherent desire to procreate.
A scene from Eternal Sunshine of the Spotless Mind (Image: Focus Features)
Carl Jung battled his one-time friend and mentor, Sigmund Freud, on a number of topics, though perhaps none as perniciously as dreaming. An entire cottage industry of depth psychology and journaling workshops grew out of Jung's theories of individuation—integrating the conscious and unconscious. To Jung, dreams—the primal material of the unconscious—unlocked humanity's archetypal code, revealing more than they concealed, in direct contradiction to Freud's ideas.
Freud was rather simplistic in comparison: dreams are about sex.
Not that sex is simplistic, nor is tunneling the depths of one's undiscovered psyche. Jung's intensive survey of mandalas and writings on mythological landscapes fueled generations of thinkers enamored with the idea of a subconscious primordial glue binding together humanity with the cosmos through this secret language of dreams.
By contrast Freud, though hugely influential therapeutically, has always been in and out of vogue, usually simultaneously. Ernest Becker posthumously won a Pulitzer for his 1973 book, The Denial of Death, which was essentially his shadowboxing with Freudian theory. He could not come to terms with the simplicity of Freud's death wishes:
It was becoming difficult to maintain the casuistry of the dream theory that all dreams, even anxiety dreams, are fulfillments of wishes.
While later Becker ceded to Freud some of his discontent, wish fulfillment and anxiety are unapologetically bound up with the propagation of our species. Of course, the mechanism by which this occurs is sex, an act conflated and celebrated by our ingenious imagination. Could such a simple and complex act really inform our nightly picture show? Patrick McNamara says yes.
The associate professor of neurology and psychiatry at Boston University School of Medicine has spent decades decoding the hidden language of dreams, first influenced by his brother's psychedelic poster of Freudian ideology in the sixties. By the time McNamara was working in the medical field a decade later Freud was so out of fashion as to be laughable, but the researcher in him never surrendered.
Fast forward to fMRI, the noninvasive breakthrough in wrapping our heads around what is inside our heads. McNamara spent hours studying dream reports by a wide range of men and women, noting peculiar patterns: in both genders strategies for partnership and procreation kept emerging. More tellingly, during the morning hours when REM sleep dominates, a cocktail of sex-related hormones—prolactin, oxytocin, testosterone—is served up in our midbrains, where circuits for pleasure and sex reside.
McNamara took it a level deeper. He split groups into those in relationships and those without—half the participants didn't have to hunt for sex, the others did:
The anxious, preoccupied group was far more likely to recall dreams than the securely attached; they took less time to enter REM sleep and had many more dreams featuring aggression against competitors. But both the anxious and the securely attached recalled more dreams than avoidant participants. That is precisely the pattern one would predict if dream sleep were directly related to long-term sexual strategies.
A follow-up study with electroencephalogram (EEG) technology on college students confirmed these results, adding yet another nuanced layer: when in non-REM sleep (NREM), the dreamer was aggressive in only 29 percent of dreams, compared to 58 percent during REM sleep, the time believed to unite sexuality and inner cinema. Friendly interactions—sans sexual aggression—flipped that script, with 71 percent of NREM dreamers and 42 percent of REM sleepers reporting peace and love—agape, not eros.
All this research left McNamara to ponder one more peculiarity. REM sleep is marked by both a paralysis or inhibition of muscles and a suspension of the body's thermoregulatory reflexes—the heat of passion is a bit cold at this time. The autonomic nervous system, responsible for our fight-flight-freeze reactions, is also unstable which, as he explains, is the reason more heart attacks occur during these hours.
Discovering reasons for evolutionary behavior requires reverse engineering, what philosopher Daniel Dennett describes as moving from how come to what for. Dennett encounters confusion between the two when debating religionists with a vested interest in theological narratives; the distance between them is critical in understanding evolutionary behavior. While Jungians get caught up in the mythology of dreaming, McNamara's Freudian updates satisfy an even more incredible tale. As Dennett writes in his forthcoming book: 
A mystery solved is even more ravishing than the ignorant fantasies it replaces.
Like Dennett, McNamara turns to Darwin for insight. Why, for example, would nature endow peacocks with colorful plumage that adds no physical advantage in battle, or in the case of reindeer's unwieldy antlers, are biologically expensive? McNamara speculates:
Darwin pointed out that many features of sexually reproducing species can boost reproduction rather than survival in the environment per se. The peacock's tail advertised its fitness to peahens, and so they tended to mate with the male who had the most extravagant tail in the group … Similarly, the reindeer's antlers were used as weapons in the fight against other males of the same species for access to females. The more elaborate the antlers, the more forbidding the buck.
Like weightlifters puffing their chests, showmanship trumps defense. Or rather, showmanship is the first line of defense. Applying this to dreams, McNamara suggests that a drop in body heat promotes sleeping in close quarters with others, increasing opportunities for procreation. It also makes sense that during a period in which aggressive behavior is being played out in the theater of dreams you would not want to attack the person you're cuddling with; hence, physical paralysis during mental stimulation.
As Dennett suggests of evolutionary adaptations, these are profound responses to complex behaviors, which does nothing to detract from the wondrous mythology of dreaming. Jung might not have been wrong in suggesting that archetypal keys are uncovered during night flights, but at the foundation biology wins out. In this case, Freud just might emerge victorious.

Here's Michio Kaku explaining why Freud still has credibilty in this field: 
--
Derek Beres is working on his new book, Whole Motion: Training Your Brain and Body For Optimal Health (Carrel/Skyhorse, Spring 2017). He is based in Los Angeles. Stay in touch on Facebook and Twitter.