Who actually practices what they preach? Various studies suggest that blue states do a better job at staying married and avoiding teen pregnancy—but like all data, it's not so simple.
It stands to reason that the two camps would have different views on issues such as sex, marriage, divorce, and morality. Since red states in the U.S. are the more conservative, and base their worldviews on traditional Christian values, one might suppose that they are exemplifying their worldview at the macroscale.  
However, the data on who is better able to exemplify conservative values might surprise you.
The National Campaign to Prevent Teen Pregnancy data shows that teenagers in Mississippi, the reddest of red states, are more sexually active than the teens of any other state. While the teenagers of liberal New York are the least active. Similar data can be found for teen pregnancy, with nine of the ten worst states for teen pregnancy rates being "red" states.
The same can be found for the divorce rate. Of the states with the ten highest divorce rates, eight of them are solid red, while the state with the lowest divorce rate is bright blue Massachusetts. This study shows the five states with the highest rates of divorce for women all being red, with four of the five lowest rates found in the bluest states.
Perhaps most amusingly, while blue states watch more pornography per capita than red states, the state that watches the most by far, is blood red Kansas. (This statistic, while fun, is an outlier. As you can predict which way a state will vote based how much pornography it watches: the more they watch the bluer they vote. But it does give new meaning to the question "What's the matter with Kansas?")

But, why is this?
The reasons for this are still unknown, but many ideas have been suggested. Cahn Naomi and June Carbone, authors of Red Families vs. Blue Families, propose that:
"Blue family values bristle at restrictions on sexuality, insistence on marriage or the stigmatization of single parents. Their secret, however, is that they encourage their children to simultaneously combine public tolerance with private discipline, and their children then overwhelmingly choose to raise their own children within two-parent families".
Their book posits two models of family life in the modern United States. The "Blue" model which has families start later and is less opposed to premarital sex. While the "Red" model encourages families that are started much earlier. June Carbone argues that the older age of marriage in blue states is a determining factor in the lower divorce rate to be found there. 

Along the same line of thought, a study by Jennifer Glass and Philip Levchak found that individual religious conservatism correlates positively to individual divorce risk, by means of "earlier transitions to adulthood and lower incomes of conservative Protestants," even after accounting for other factors. As the reddest states are often both the most religiously conservative and the poorest, the data suggests they have a poor starting position for marital stability.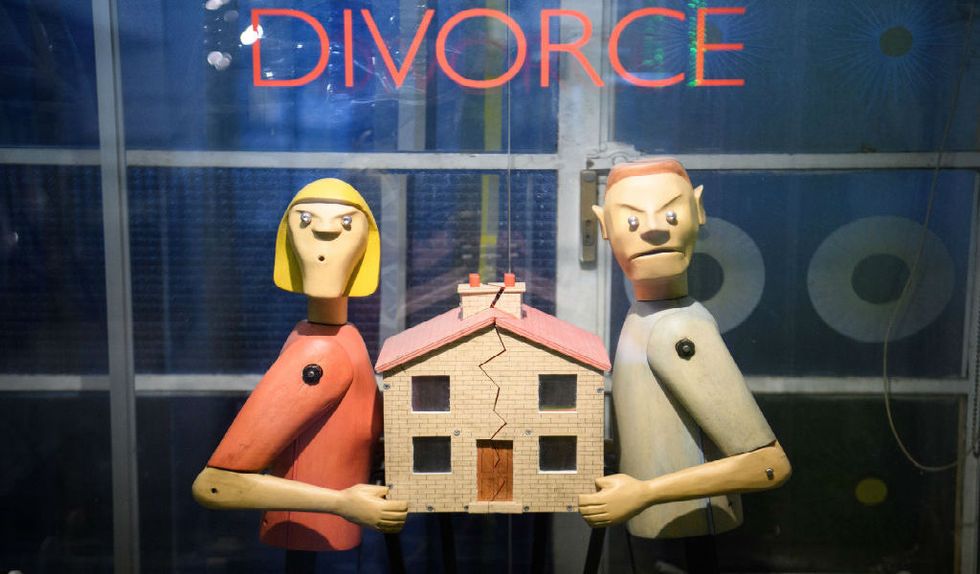 Was their home state to blame?
Is it that cut and dried?

Of course not! Nothing like this ever is! W. Bradford Wilcox, the Director of the National Marriage Project at the University of Virginia, argues that while the data is true for states, when you zoom in to the county level the data reverses, with red counties across the country having more stable marriages and fewer divorces. The worst statistics, given this analysis, are to be found from blue voters in red states.
And, to make it even more confusing for you, Dr. Wilcox also shows that the states with the greatest family stability overall are the most extreme ones, both the bluest of the blue and the reddest of the red. With the "Blue model" and the "Red model" of family stability having stories of both success and failure.

For example, the state of Utah stands out as a bright red exception to the state by state trends mentioned above. It has the highest rate of teens who are living with their married biological parents, and has a teen birth rate on par with the bluest of states. Bucking the state by state trend, but falling in line with the success of the extremes.

And, of course, the teenagers who are most likely to have a stable family in the United States are the children of well off, intact, families, while poor, non-white teenagers are the least likely to be in a home with married parents. There is more to the story than mere ideology.

What can we learn from all this?

Firstly, that no statistic should be taken at face value. Secondly, it should remind us that most Americans really do want many of the same things, like a lower teen birth rate and the benefits of a stable family. However, we can see that while the one model of the proper family life works well in many places, it doesn't work well in all places. When a common goal is shared, ideas that work should be considered from all sources—even if they originate on the other side of the culture war. 
The study had some interesting findings for the adult children of separated parents who were civil.
A young girl who is scared. Flikr.
More and more, we're learning about the mind-body connection and how it affects health. We're also realizing that epigenetic changes from our parents and the emotional climate in which they lived, can plant negative seeds in us. In our own lives, medical researchers in the last several decades have figured out that chronically feeling negative emotions can weaken our immune system, while long-term positive ones boost it.
These emotions include depression, chronic stress, and loneliness. Steve Cole, Ph.D., from the Cousins Center for Psychoneuroimmunology at UCLA found out how it works. He proved a few years ago that negative emotions affect the expression of genes associated with the immune system. They suppress them. While positive emotions boost expression.
But how far back does the effect go? A new study published in the Proceedings of the National Academy of Sciences has a surprising answer. Here, researchers found that adults who endured a contentious childhood had suppressed immune systems even decades later, making them more susceptible to the common cold and other illnesses.
Psychologists from a number of universities contributed to the study. They wanted to know how a parent's separation and how they handled it affected a child's health long-term. Those parents who had a contentious separation, who wouldn't speak to one another or yelled at each other often, had children who, when they reached adulthood, were three times more likely to get sick with things like the common cold, compared with those whose parents interacted civilly.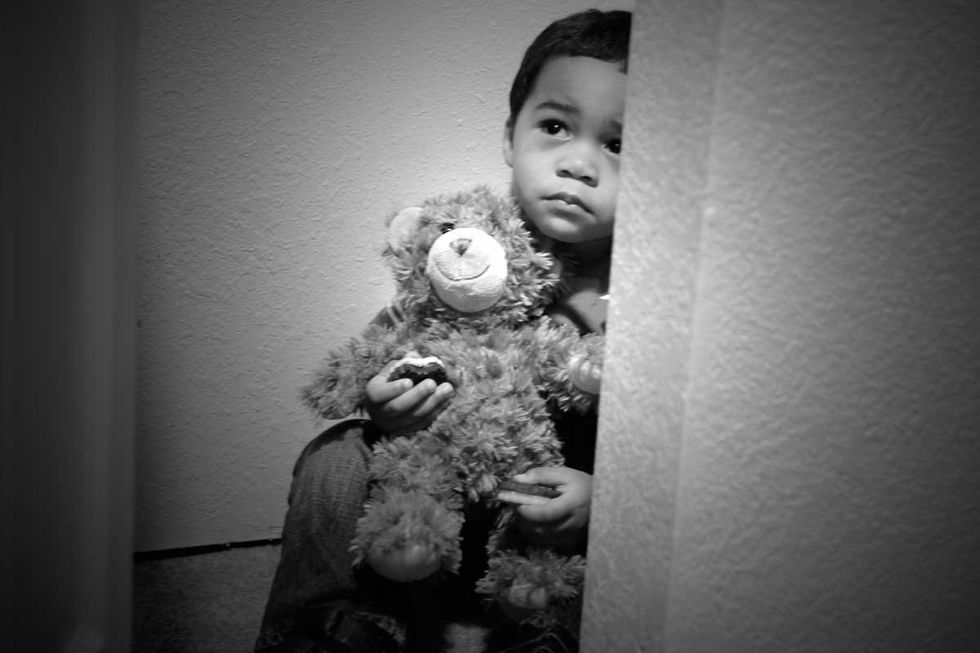 Children who had constantly bickering parents were more likely to have suppressed immune systems later on. Flickr.
To conduct the study, researchers recruited 201 normal adults. First, they were quarantined. Then, each was exposed to the virus that causes the common cold. Researchers monitored them for five days, to see if they'd get sick. Those who had suffered a childhood trauma, say from a family where a hostile separation or divorce occurred, were significantly more likely to develop the common cold. The good news is, those parents who separated but kept it civil were just as likely to have adult children with normal immune systems as those who stayed together.
Michael Murphy was one of the researchers on this study. He is a psychology postdoctoral research associate at Carnegie Melon University. He said, "Early-life stressful experiences do something to our physiology and inflammatory processes that increase risk for poorer health and chronic illness." They aren't sure exactly what mechanisms are behind it, yet. According to the study, those who endure very stressful childhoods were impacted even two to four decades later.
Professor of Psychology Sheldon Cohen from Robert E. Doherty University, was another collaborator. He said, "Our results target the immune system as an important carrier of the long-term negative impact of early family conflict." He added, "They also suggest that all divorces are not equal, with continued communication between parents buffering deleterious effects of separation on the health trajectories of the children." One substantial limitation was that the study had a very small sample size. Even so, it provides food for thought and will spur more investigations which will, in time, deepen our understanding of the mind-body connection and how it affects our health.
To learn more about how negative emotional experience can affect one's health, click here: 
Break-ups can be bad for your health. But new research shows that writing about your separation can improve cardiac health—as long as you write in a certain way. 
Writing in our diary may be good for our heart, quite literally.
Going through a separation, a divorce, or even just a bad break-up can feel earth shattering and soul destroying. As if this wasn't enough, separating from your loved one can also wreak havoc on your health.
Studies have shown that a divorce, for example, can cause not only a range of psychological problems—loneliness, unhappiness, overall poor life satisfaction—but also an unfortunate assortment of physiological and health issues. A separation can make us more likely to fall ill, develop heart disease, or even increase the risk of death.
But is there a way out of the darkness? Apart from seeing a therapist, exercising, and getting plenty of good food and rest, what else can you do to mend a broken heart?
Apparently, you can write about it. A new study says that writing about your relationship and break up can do wonders for the health of your heart—but there is a catch: only one kind of writing can help.
Expressive writing and health
The new study, carried out by researchers from the Department of Psychology at the University of Arizona, looked at how so-called "narrative expressive writing" affects the heart rate, heart rate variability, and blood pressure in recently separated adults.
"Expressive writing" is a therapeutic practice where people are asked to record their "deepest thoughts and feelings" about a traumatic life event. The idea behind this cognitive behavioral intervention is that by relieving emotions, people can better adapt cognitively to what happened and make meaning or "sense" of things.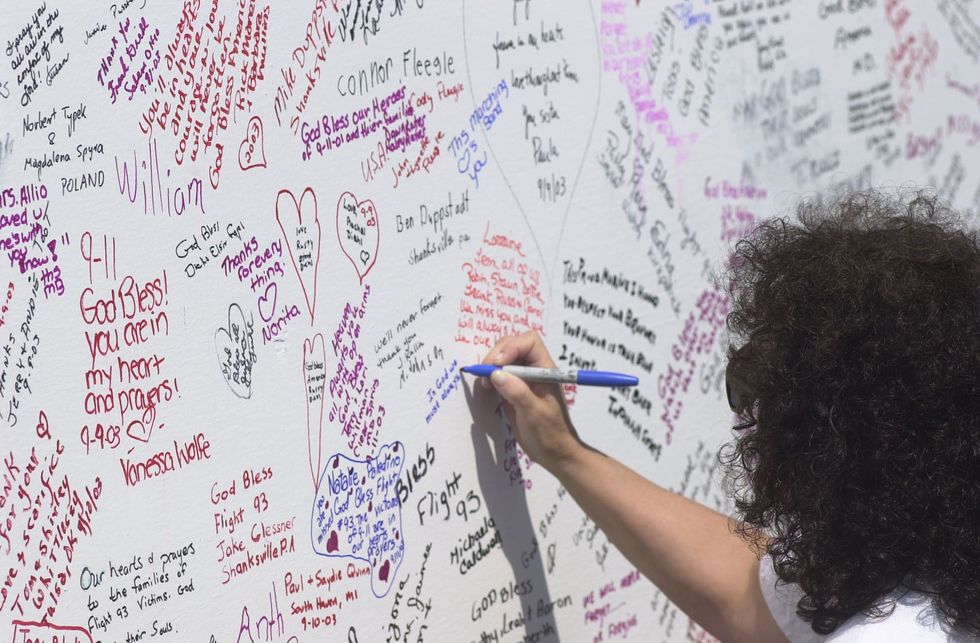 A visitor to the temporary memorial at the 9/11 crash site of Flight 93 writes a message of remembrance to the passengers and crew that lost their lives. Image credit: Archie Carpenter/Getty Images
Expressive writing has been shown to improve physical health: it makes our immune system stronger, and it lowers our blood pressure and heart rate.
But when it comes to break-ups, does this kind of writing help? Some studies answered with a clear "no." Not only does this kind of writing not help, but it may also make things worse, as excessive rumination over what went wrong can make you feel even more distressed.
The new study, however, by University of Arizona's Kyle Bourassa and his team, added a key element: narratives. Just recording your thoughts and feelings about a traumatic event such as a divorce or separation may not help much, but writing about it in the form of a narrative is, well, a whole other story.
How do different kinds of writing affect your heart?
Kyle Bourassa and his colleagues rounded up 109 newly separated adults and divided them into three separate groups: one group engaged in "traditional expressive writing," another in narrative expressive writing, and finally, a control group wrote in a rather neutral way.
The participants had to write as instructed for 20 minutes each day, for three successive days.
Those in the expressive writing group had to write for 20 minutes about their strongest and deepest feelings around the separation.
Those in the narrative expressive writing group were still asked to express their strongest emotions, but they were also prompted to come up with a story arc for their separation. On Day 1 they had to tell the story of the end of their relationship, on Day 2 they had to write about the separation experience, and finally, on Day 3 they had to come up with an end to the "divorce story."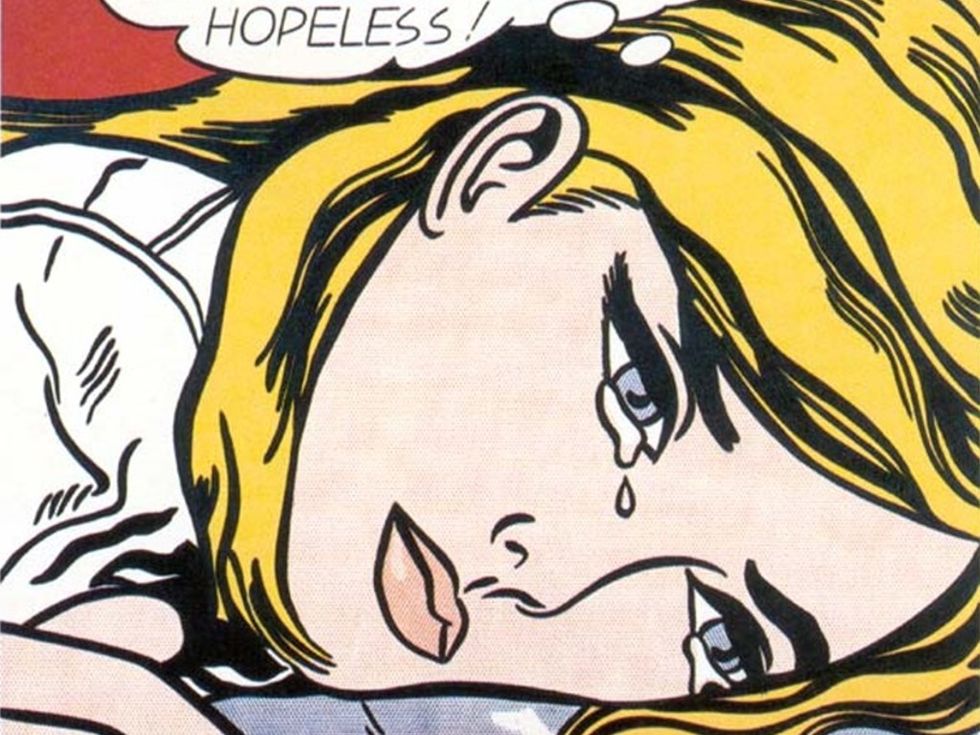 The heartbreak caused by a separation can feel overwhelming and have a negative effect on our health. But writing up a story about it might change that. Image credit: Lichtenstein Hopeless by Jennifer Mei
Some of the prompts they received read: "Please think about how you and your partner met," and "When did you first realize you and your partner were headed toward divorce? What was that time like?" The writing tasks the participants had to complete had a clear, specific goal: make the story of your separation a coherent narrative.
Finally, those in the control writing group were simply asked to write "continuously and without emotion" for 20 minutes about how they usually spend their time.
Over a period of seven and a half months, the participants were evaluated physiologically three times. The researchers measured their heart rate, the variability of their heart rate, and their blood pressure.
If it hurts, put it in a story
It turns out that narrative expressive writing does wonders for your health. The study revealed that those who engaged in the activity had a much lower heart rate than the control group.
Additionally, participants in the narrative expressive writing group had a higher heart rate variability (the time interval between heartbeats). Heart rate variability is a good measure of the body's ability to adapt to the environment and its stressors—and a high variability is an indicator of good health—as is a low heart rate.
By contrast, those who did traditional expressive writing had pretty much the same heart rate, blood pressure, and heart rate variability as those in the control group.
Why is narrative journalling so soothing for the heart? The lead author of the study offers an explanation:
"To be able to create a story in a structured way—not just re-experience your emotions but make meaning out of them—allows you to process those feelings in a more physiologically adaptive way," says Bourassa.
"The explicit instructions to create a narrative may provide a scaffolding for people who are going through this tough time," he adds on a hopeful note. "This structure can help people gain an understanding of their experience that allows them to move forward, rather than simply spinning and re-experiencing the same negative emotions over and over."