Machine learning is a powerful and imperfect tool that should not go unmonitored.
When you harness the power and potential of machine learning, there are also some drastic downsides that you've got to manage.
Deploying machine learning, you face the risk that it be discriminatory, biased, inequitable, exploitative, or opaque.
In this article, I cover six ways that machine learning threatens social justice and reach an incisive conclusion: The remedy is to take on machine learning standardization as a form of social activism.
When you harness the power and potential of machine learning, there are also some drastic downsides that you've got to manage. Deploying machine learning, you face the risk that it be discriminatory, biased, inequitable, exploitative, or opaque. In this article, I cover six ways that machine learning threatens social justice and reach an incisive conclusion: The remedy is to take on machine learning standardization as a form of social activism.
When you use machine learning, you aren't just optimizing models and streamlining business. You're governing. In essence, the models embody policies that control access to opportunities and resources for many people. They drive consequential decisions as to whom to investigate, incarcerate, set up on a date, or medicate – or to whom to grant a loan, insurance coverage, housing, or a job.

For the same reason that machine learning is valuable—that it drives operational decisions more effectively—it also wields power in the impact it has on millions of individuals' lives. Threats to social justice arise when that impact is detrimental, when models systematically limit the opportunities of underprivileged or protected groups.
In spite of a government mandate, females are often treated as afterthoughts in scientific research.
A new study finds that though more females are included in experiments, sex-specific data often goes un-analyzed.
Only about a third of studies analyzed published participant breakdown by sex.
Some researchers say considering females more fully as research subjects is logistically too challenging.
Do you know the implicit biases you have? Here are some ways to find them out.
A study finds that even becoming aware of your own implicit bias can help you overcome it.
We all have biases. Some of them are helpful — others not so much.
When we talk about a bias, what we're talking about, as Harvard University social psychologist Mahzarin Banaji puts it, is a shortcut our brain has created so that we don't have spend time and energy thinking about how we feel each time we encounter something — we have an opinion already formed and ready to use.

Many of these shortcuts are useful: A bias against hangovers, for example, has one refusing alcohol without having to think about it. The problem is the brain does a lot of this shortcutting, silently. What's more, it creates shortcuts for people different than ourselves, sometimes based on actual personal experience, but often based on incorrect information we've unknowingly absorbed: other peoples' opinions, media depictions, cultural attitudes, for instance.
Worst of all, this kind of bias may be created and deployed without our even being aware of it — it's implicit in our actions in spite of ourselves and our conscious intentions.
Our brains don't always get things right. We make errors in judgement all of the time. An accurate bias is a great time-saver. An inaccurate bias is a serious problem, especially if it causes us to unknowingly discriminate against others. For instance, the systemic assumptions about women that keep them from advancing in scientific fields.
How we can curb the effects of implicit biases
Image source: Radachynskyi Serhii / Shutterstock / Big Think
New research, published in Nature Human Behavior on August 26, suggests the gender bias, which continues to prevent women from advancing in science, has a lot to do with its hidden underbelly — human blindspots. During the study, French researchers discovered that more women were promoted after the scientists in charge of awarding research positions became consciously aware of the impact of their implicit bias.
When it was no longer being highlighted, their biases discriminatory effect re-asserted itself, with award grants regressing to their traditional, pro-male pattern. Other research suggests that diversity training doesn't really help and may even exacerbate the problem it seeks to address.
We can glean a new approach, though — one that could result in better outcomes — from the new research.
About the study
Image source: Tartila/Shutterstock/Big Think

What the new study encouragingly reveals is that a conscious awareness of one's own hidden bias can mitigate its effect. The mechanism, it would appear, is that awareness may not delete the bias so much as make it less implicit, or unconscious.
The study looked at the awards handed out during annual nationwide competitions for elite French research positions. There were 414 people on the committees altogether, assessing candidates' worthiness across a spectrum of research specialties — "from particle physics to political sciences." The study analyzed committee-level data without digging too deeply into whether a committee was internally gender-balanced. The assumption was that the consensus decision reached by group represented the outcome of its internal makeup, whatever that may be.
The study took place over two years. In the first year, committee members were given Harvard's implicit association test (IAT), which established there was a significant implicit gender biases among them. Nonetheless, that year, the influence of such biases appeared to be significantly suppressed in the awards the committees handed out.
To the researchers, this outcome suggested that simply being aware of one's own implicit biases may take away their invisibility — the callout could make the bias more apparent and, therefore, something that can be more readily over-ridden.
The second year of the study, from the subjects' point of view at least, was quite silent. The researchers were still watching, but the issue of implicit bias wasn't called out. What ended up happening? The committee members returned to awarding more positions to men than women. A regression, it seemed.
It should be said, there are some possible flaws in the study: Perhaps the committee members were simply on their good behavior the first time around — until they thought that they were no longer being observed. Additionally, the study notes that there were more male submissions to the committees than female, which could skew the test. Further studies will need to be done to get a more accurate picture.
Nonetheless, the study's authors do conclude that becoming aware of one's own implicit biases may be the first step — maybe the most essential step — needed to overcome them.
How do I know if implicit bias is affecting my judgement?
Image source: AlexandreNunes / Shutterstock / Big Think
While the study looked at gender bias, of course, it's not the only variety to be concerned about, others pervade our culture: race bias, ethnicity bias, anti-LGBTQ bias, age bias, anti-Muslim bias, and so on. There are a couple of online methods available for sussing out our own. Note that if the researchers are correct, then just making yourself aware of your implicit biases can help you combat them.
The IAT mentioned above is one widely used way to identify your own bias issues. Project Implicit — from psychologists at Harvard, the University of Virginia, and the University of Washington — offers a self-test you can take. Be aware, though, that the IAT requires multiple tests to produce a meaningful result.
If you're willing to invest a little time, there's also the "bias cleanse" offered by MTV in partnership with the Kirwan Institute for the Study of Race and Ethnicity. It's a seven-day program aimed at helping you sort out implicit gender, race, or anti-LGBTQ biases you may be harboring. Each day you receive three eye-opening email thought exercises, one for each type of bias.
Side note: Did you know that more people die in female-named hurricanes because they're typically perceived as less threatening? We didn't.
Step 1
It's a well-worn bromide that simply acknowledging you have a problem is the first step to solving it, but the new study provides supporting evidence that this is especially true when dealing with implicit biases — a pernicious, stubborn problem in our society. Our brains are clever beasties, silently putting together shortcuts that reduce our cognitive load. We just need to be smarter about seeing and consciously assessing them if we can ever hope to be the people that we hope to be. That may mean, on occasion, being humble enough to receive feedback in the form of callouts.
Stereotyping isn't about "bad people doing bad things." It's about our subconscious biases, and how they sneak into organizational structures.
Psychologist Valerie Purdie Greenaway is the first African American to be tenured in the sciences at Columbia University, in its entire 263 year history. Despite her celebrated position—and, in fact, perhaps because of it—she still struggles with perception, subtle stereotyping, and the enormous stakes of being one of few women of color in a leadership role. Here, Valerie Purdie Greenaway speaks with diversity and inclusion expert Jennifer Brown about being "the only" in a workplace, whether that is along lines of gender, race, culture, or sexual orientation, and how organizations and individuals can do more to recognize and address their biases. That also means letting go of the idea that stereotyping is a malevolent case of "bad people doing bad things." What does discrimination really look like day to day? Most of it is subconscious, subtle, and is deeply embedded into the structure of organizations, which can have an impact on performance, mentorship, and staff turnover. Do you recognize any of your own behavior in this discussion? This live conversation was part of a recent New York panel on diversity, inclusion, and collaboration at work.
AI is leaving human needs and democracy behind in its race to accomplish its current profit-generating goals.
It doesn't have to be this way, but for now it is: AI's primary purpose is to maximize profits. For all of the predictions of its benefits to society, right now, that's just window-dressing—a pie-in-the-sky vision of a world we don't actually inhabit. While some like Elon Musk issue dire warnings against finding ourselves beneath the silicon thumbs of robot overlords, the fact is we're already under threat. As long as AI is dedicated to economic goals and not societal concerns, its tunnel vision is a problem. And as so often seems to be the case these days, the benefits will go to the already wealthy and powerful.
Right now, while artificial intelligence is focusing on profit-generation, natural intelligence has proven to be more than up to the task of manipulating it, as if sneaking up behind someone distracted by a shiny object.
We're coming to understand just how adroitly AI can be played as we learn more and more about Russia's manipulation of social media during the 2016 presidential election. Facebook's much-lauded AI was working to "consume as much of your time and conscious attention as possible," as Facebook's first president Sean Parker recently put it to Mike Allen. After all, as we've often been told, "You're not the customer—you're the product" meant to draw advertisers to the platform. Cleverly parsing our newsfeeds for clues to our most addictive interests and associations, Facebook's AI somehow completely failed to notice it was being gamed by Russia, as noted in this stunning exchange between Senator Al Franken and Facebook General Counsel Colin Stretch:
What neither man explicitly says is that it was not the job of Facebook's AI to do anything but maximize the platform's profits. Democracy? Not Facebook's problem—until it was. Stretch's classic tech-speak/euphemism is that Facebook's algorithms should have had a "broader lens."
This lack of a broader lens is at the root of growing concerns that automation is going to mean the loss of a significant number of jobs. Katherine Dempsey, writing for The Nation, discussed the issue via email with deep-learning expert Yoshua Bengio, and he summed up the end game this way:
"AI will probably exacerbate inequalities, first with job disruptions—a few people will benefit greatly from the wealth created, [while] a large number will suffer because of job loss—and second because wealth created by AI is likely to be concentrated in a few companies and a few countries."

The future currently under construction is frightening if you're not among those few people. Dempsey cites a McKinsey & Company report, 'A Future That Works', describing a time in which fewer actually will. According to that report, 51% of all the work done in the U.S. economy could be automated at a savings for companies—and loss in workers' salaries—of $2.7 trillion. While only about 5% of all occupations could be fully automated, about a third of the work in 60% of them can be taken over by machines.
Dempsey also notes that AI is reinforcing existing biases. Its mistakes may be attributable to the narrowness of programmers' intentions and sensitivities, or not, but the algorithms are just not that smart so far. The New York Times cites Google Photos tagging black people as gorillas, the algorithms in Nikon cameras assuming Asian people are blinking, and a terrifying expose by ProPublica revealing that AI is being used to identify future criminals.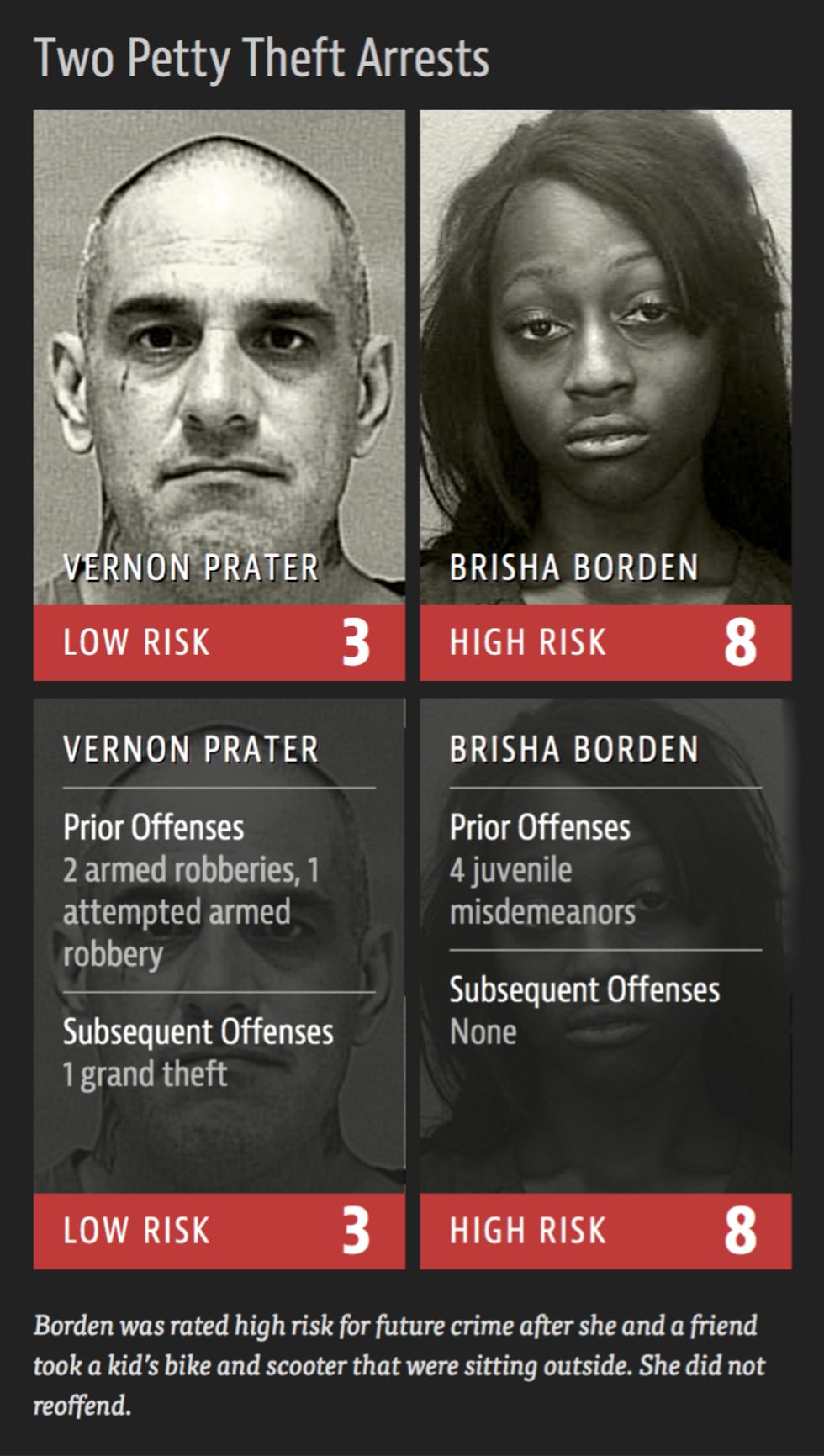 (PROPUBLICA)
A Princeton study found that a "machine-learning program associated female names more than male names with familial attributes such as 'parents' and 'wedding.' Male names had stronger associations with career-related words such as 'professional' and 'salary.'" No surprise then that, as a Carnegie Mellon study found, Google is targeting ads for high-paying jobs primarily at men. Still, as Michael Carl Tschantz of the International Computer Science Institute admits, "We can't look inside the black box that makes the decisions."
And there's the problem at its basic level. As long as AI is primarily dedicated to advancing economic goals, its workings are likely to remain largely proprietary and thus unavailable for scrutiny—that's assuming its creators even know how it works. Our best—and maybe only—defense against this danger to our society is to educate ourselves and our children about AI and machine-learning technology so we aren't treating AI as some sacred form of modern magic whose workings and effects we're forced to unquestioningly accept. Forget robot overlords for now—it's the short-sighted greed of our human ones that should worry us.