Have you been feeling like democracy is in trouble lately? According to this report, you're right.
A woman confronts riot police during a protest in Caracas on December 28, 2017. (Photo: Getty Images)
But, unpopularity might be the least of democracy's problems.
The annual Democracy Index report by the Economist Intelligence Unit shows that democratic governments are in trouble everywhere. Of the 167 countries ranked this year, 89 of them received lower scores than last year. The scores reflect a wide range of liberties, attitudes, and norms that are vital elements of a free society.
How does it work?
The report ranks countries on a scale of 0-10 in the categories of electoral process and pluralism, civil liberties, government functionality, political participation, and political culture. Each of those categories is further composed of a dozen, more concrete, indicators. The scores are then aggregated to create a single score for the state of freedom and democracy in that country.
A country's overall score then places it in one of four categories: full democracy, flawed democracy, hybrid regime or authoritarian regime. The map which shows how each country ranks is rather interesting.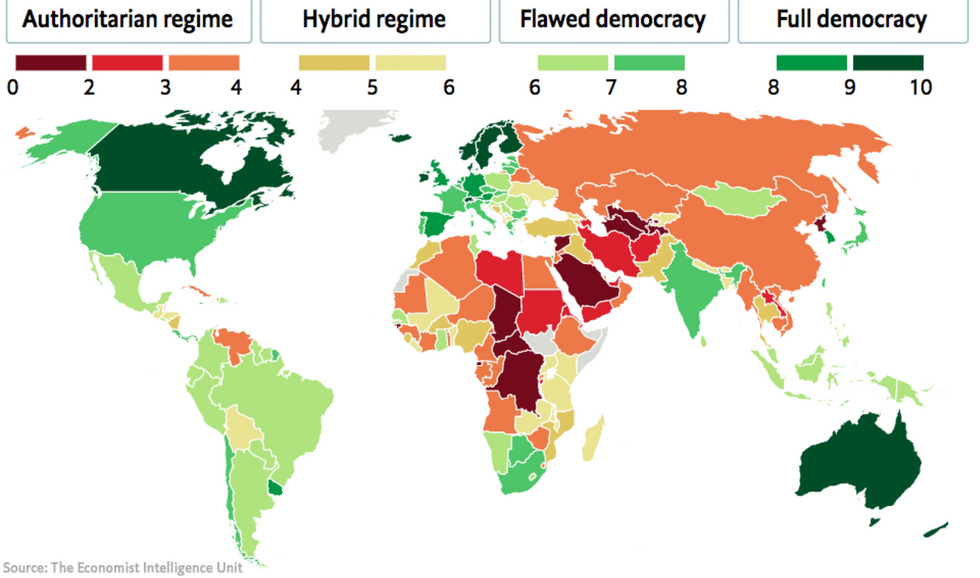 As you can see, darker greens correspond to higher scores for the health of a democracy. Red and yellow countries are hardly democratic at all. Credit: The Economist Intelligence Unit.
So, how bad is it?
This year less than half of the world's population lives in a democracy "of some sort." While the margin is thin, a one percent swing would tip the scale; it is symbolic of the decline of democracy over the last decade. One-third of the global population lives in outright authoritarian regimes, primarily due to the massive population of the People's Republic of China. The percentage of the world's population that lives in a "full democracy" fell to less than five percent.
Asia was a significant driver behind this decline. India, a democracy since independence, saw a substantial fall in its score due to increasing religious and ethnic unrest. Myanmar, Cambodia, and Vietnam all descended further into authoritarianism, and the recent religiously focused election for the governor of Jakarta caused Indonesia to see a major drop in its score.
The average Asian country is now a hybrid regime, as opposed to the full democracies which are typical in Europe and North America. The average Latin American country is a flawed democracy, although Uruguay has the distinction of being the only developing country which is also a full democracy.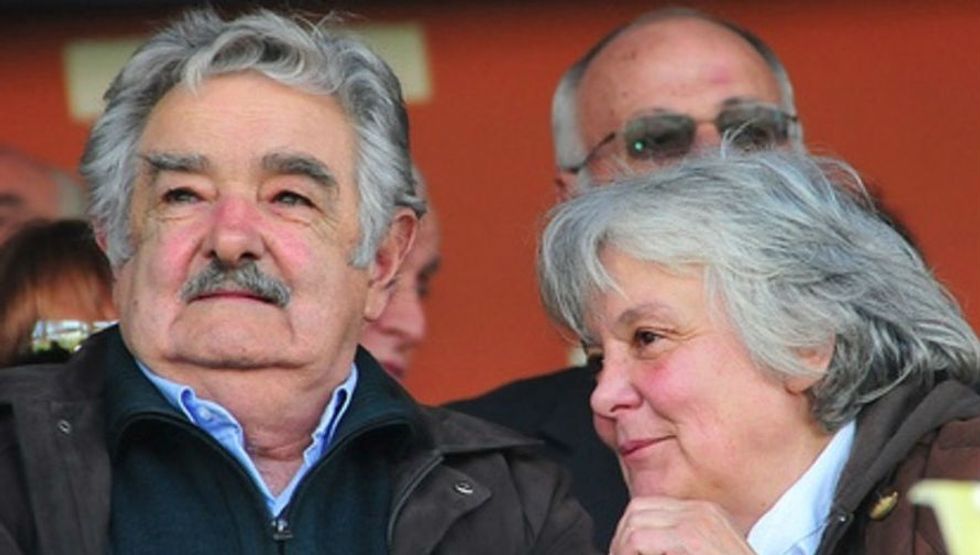 Uruguay's government is already rather unusual. As former president Jose "Pepe" Mujica donated nearly his entire income to charity. 
Why did this happen?
While some of the global decline is attributable to the gratuitous use of authoritarian tactics, such as the Spanish response to the ever-rebellious Catalonia or the crackdowns on dissent in Venezuela, some of it was due to much more subtle problems in the established democracies.
The report cites a "serious decline" in trust for governmental institutions for the decay of the United States' score, which fell low enough in 2015 to earn the title of "flawed democracy." The authors suggested that the decline was caused by factors which go back to the 1960s and helped facilitate the election of Donald Trump.
The authors also warn that many elements of a falling score can create vicious cycles, such as increasing polarization preventing government functionality. The decline in functionality almost inevitably leads to further erosion of confidence in public institutions.
Is there any good news in the report?
Some nations managed to improve their scores. The Gambia, in particular, saw so much improvement that it was promoted to a hybrid regime. Norway can celebrate its eighth year at the top of the list, scoring 9.87 points after a slight drop from last year.
It is also important to remember that while many nations are listed as "flawed" democracies, being even a hundredth of a point below the cut off is the same as being a full point below it. This year the United States tied with Italy at 7.98 points, making both nations "flawed" democracies. 
The authors also see some reasons to be optimistic. "If 2016 was notable for the populist insurgency against mainstream political parties and politicians in the developed democracies of Europe and North America, 2017 was defined by a backlash against populism," they write. As the decline in democratic norms in many nations was the result of populism gone mad, the reversal of the trend might offer hope for democratic norms in those places.
Last year was a difficult year for democracy around the world. Between direct challenges to freedom in places like China, Vietnam, and Venezuela and a deterioration in democratic norms in places like the United States, the world became a little less safe for democracy. If this report will be the beginning of a new trend or a blip on the march of democracy is yet to be seen.
Many great minds have plenty of bad things to say about democracy, but what about the people who think it is great?
Pericles, the great Athenian leader, speaks of the greatness of liberty to the people of Athens.
Socrates had several issues with democracy, most of them stemming from events that took place during his lifetime in Athens. Some of the decisions made by the Athenian democracy were rather insane and made by a body politic that had no business trying to determine foreign policy. Socrates is depicted in Plato's Republic as favoring a totalitarian regime managed by iron-fisted philosopher kings, in which all citizens are raised to fit a particular role, the state regulates bedtime stories, and harmony between individual and society reigns supreme. 
His objections to democracy are countered in the works of John Stuart Mill, whose love of democracy is as great as Socrates' hatred of it.
John Stuart Mill was an English philosopher in the 19th century who is best known for his work on utilitarianism, though his writings span an incredible range of topics. His ideas on democracy, liberty, and the benefits of both are laid out in two of his works; On Liberty, and Considerations on Representative Government.
What does he have to tell us?
While Mill agrees that the unwashed masses should not have absolute power, in Considerations on Representative Government he argues for a giving the votes of the educated more weight than anybody else's; he counters Socrates' idea of the philosopher king with an observation on what happens to the citizens of a "good" despotism. Seeing the society they would rule as being:
"One man of superhuman mental activity managing the entire affairs of a mentally passive people. Their passivity is implied in the very idea of absolute power. The nation as a whole, and every individual composing it, are without any potential voice in their own destiny. They exercise no will in respect to their collective interests. All is decided for them by a will not their own, which it is legally a crime for them to disobey. What sort of human beings can be formed under such a regimen? What development can either their thinking or their active faculties attain under it?"
The population living in a despotic society would be reduced to unthinking drones who need only enough mental capacity to get their daily chores done. Only a democracy can produce citizens capable of enough cognitive power to maintain a democracy, argues Mill, by requiring them to use that mental ability. He notes with envy that while the typical English voter only had to be prepared to vote and serve on a jury, the typical Athenian had to be ready to serve in nearly any office that existed. Mill sees this as a mostly good thing, as it requires the Athenian to be more fully developed as a person in order to fill those roles.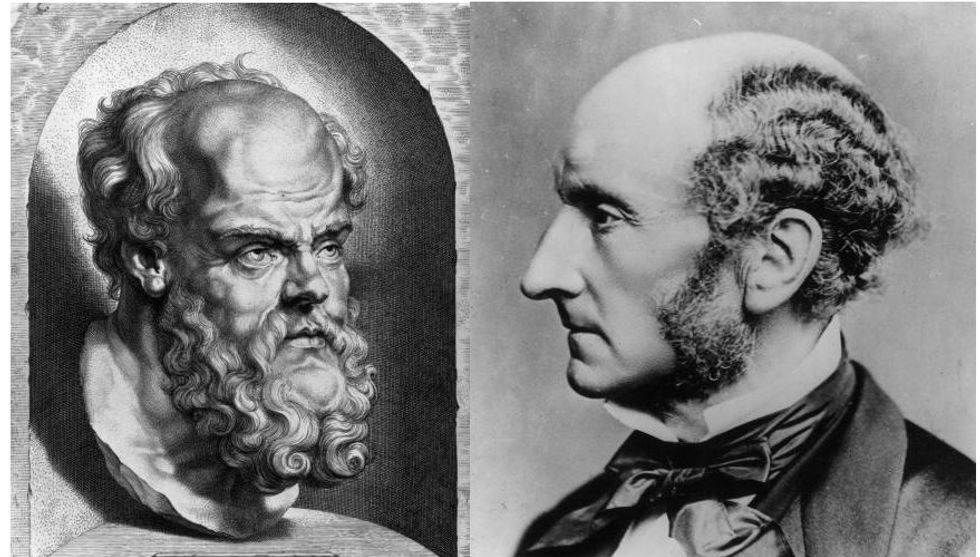 Could a Socrates have been produced in Sparta? Mill thinks not, despite Socrates' praise for the Spartan government. 
Democracy is great and all, but why is freedom good?
In On Liberty, Mill argues that we all need the freedom to choose our lifestyles. This is vital, as without this liberty people will be stifled and unable to explore new ideas, make discoveries, and fully develop as people. In a society where we must all follow the same religion, value the same things, and enjoy the same hobbies, individualism can never flourish. Mill sees this as a horrible situation, explaining that:
"It is only the cultivation of individuality which produces, or can produce, well developed human beings." and "In proportion to the development of his individuality, each person becomes more valuable to himself, and therefore capable of being more valuable to others."*
In Considerations on Representative Government, he notes that the best defense of liberty is an active population working inside of a democratic system. Mill allows us to connect the dots. Only a democratic government can safeguard freedom, and only a free society can hope to promote the development of the individual. The development of the individual is both good by itself and as a means to other ends. We, therefore, need democracy to help individualism and self-development to flourish and the world to progress.
But democracy can lead to such dangerous outcomes! Look to Athens and their mob!
Mill understands that people might make bad choices when they vote. However, he points out that the United Kingdom and the United States of the 19th century were doing rather well compared to the authoritarian states of Eastern Europe and Asia. He also reminded us that Athens, even with occasional lapses in judgment, produced much greater men than did any of the other Greek city-states. Liberty gives positive results, so it seems.
So, was Socrates just wrong about everything?
It is important to remember, however, that Mill was a progressive. He saw the march of history as moving ever forward and the ideal society as one that understood this progress was possible and promoted it. The ancient Greeks were interested in harmony, and in the Republic Plato built a utopia that would remain harmonious for the longest time possible. They even went so far as to define justice as harmony between parts of the whole, both for people and cities. The goals of Mill and Socrates differ considerably, and this must be remembered when comparing their worldviews.
Socrates offers us some excellent critiques of democracy. The problem of properly educating the voters, the threats of demagoguery, and the insistence that the people with direct power should be enlightened are all valuable insights. However, Mill shows us how democracy, flawed as it may be, offers us the best opportunity for growth as individuals and as a society. If, of course, we are willing to do what it takes to make democracy work.
*Mill was a utilitarian. He firmly believed that democracy and freedom lead to better outcomes and more happiness than tyranny. A common objection to utilitarian endorsements to democracy is that if it could be proven that oppression leads to better results, we would be morally obligated to institute that instead. Mill does dodge this problem, somewhat, by placing a high value on individualism. A high enough value, perhaps, to always make the math come down on the side of liberty. If this solves the problem or not is another issue. 
The one thing both extremes of Left and Right agree on.
Castle Bravo nuclear test, 1 March 1954. Public domain.
From all sides, the message is coming in: the world as we know it is on the verge of something really bad. From the Right, we hear that 'West' and 'Judeo-Christian Civilisation' are in the pincers of foreign infidels and native, hooded extremists. Left-wing declinism buzzes about coups, surveillance regimes, and the inevitable – if elusive – collapse of capitalism. For Wolfgang Streeck, the prophetic German sociologist, it's capitalism or democracy. Like many declinist postures, Streeck presents either purgatory or paradise. Like so many before him, Streeck insists that we have passed through the vestibule of the inferno. 'Before capitalism will go to hell,' he claims in How Will Capitalism End? (2016), 'it will for the foreseeable future hang in limbo, dead or about to die from an overdose of itself but still very much around, as nobody will have the power to move its decaying body out of the way.' 
In fact, the idea of decline is one thing the extremes of Left and Right agree upon. Julian Assange, avatar of apocalyptic populism, gets kudos from neo-Nazis and social justice crusaders alike.  He noted to one reporter how American power, source of the planet's evils, was in decline like Rome's. 'This could be the beginning,' he whispered with a smile, repeating it like the mantra of an avenging angel.
Rome's decline looms large as the precedent.  So, world historians have played their part as doomsayers. At the same time as the English historian Edward Gibbon's first volume of The History of the Decline and Fall of the Roman Empire (1776) was published, the American colonists said good-bye to their overlords; some read that as an omen. The First World War brought endism into the modern age. The most famous rendition was the German historian Oswald Spengler's The Decline of the West (1918). The carnage of Flanders and the influenza plague of 1918 – which wiped out up to five per cent of the world's population – made The Decline of the West more than timely. Spengler added a spin: he predicted that, by the end of the century, Western civilisation would need an all-powerful executive to rescue it, an idea that autocrats have seized upon with repeated glee ever since.
It is almost part of the modern condition to expect the party to be over sooner rather than later. What varies is how the end will come. Will it be a Biblical cataclysm, a great leveller? Or will it be more gradual, like Malthusian hunger or a moralist slump?
Our declinist age is noteworthy in one important way. It's not just the Westerns who are in trouble; thanks to globalisation, it's the Resterners too. In fact, we are all, as a species, in this mess; our world supply chains and climate change have ensured that we are poised before a sixth mass extinction together. We should worry less about our lifestyle and more about life itself.
Declinisms share some traits. They have more purchase in times of turmoil and uncertainty. They are also prone to thinking that the circles of hell can be avoided only with a great catharsis or a great charismatic figure.
But most of all: they ignore signs of improvement that point to less drastic ways out of trouble. Declinists have a big blindspot because they are attracted to daring, total, all-encompassing alternatives to the humdrum greyness of modest solutions. Why go for partial and piecemeal when you can overturn the whole system?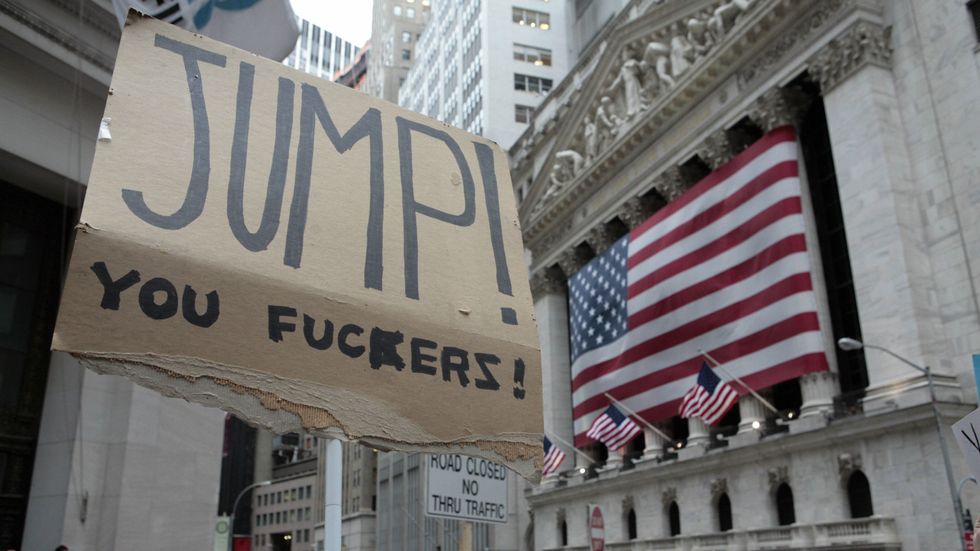 Declinists claim to see the big picture. Their portraits are grandiose, subsuming, total. Consider one of the all-time bestsellers, the Club of Rome's The Limits to Growth (1972). With more than 30 million copies sold in 30 languages, this 'Project on the Predicament of Mankind' gave alarmed readers a portrait of demise, mapped out with gloomy confidence about 'feedback loops' and 'interactions'. In fact, it shared much in common with the good Reverend Thomas Malthus, including the obsession with diminishing returns. Fixated with the decline of arable land, Malthus could not see sources of increasing returns – at least not at first. Some of his friends eventually convinced him that machinery and colonialism solved the problem of too little food for too many mouths; later editions of his Essay on the Principle of Population (1798) went through contortions to figure this out. In the same way, systems analysts at the Massachusetts Institute of Technology simulated the whole world, but could not admit little pictures of ingenuity, problem-solving and adaptation – some of which had the perverse effect of unlocking so many more sources of carbon that we'd begin to bake the planet several generations later!
One dissenting voice in the 1970s was Albert O Hirschman's. He worried about the lure of doomsaying. Dire predictions, he warned, can blind big-picture observers to countervailing forces, positive stories and glimmers of solutions. There is a reason why: declinists confuse the growing pains of change with signs of the end of entire systems. Declinism misses the possibility that behind the downsizing old ways there might be new ones poking through.
Why the allure of declinism if history seldom conforms to the predictions? To Hirschman, it was traceable to a prophetic style, one that appealed to intellectuals drawn to 'fundamentalist' explanations and who preferred to point to intractable causes of social problems. For revolutionaries, what awaits is a utopian alternative. For reactionaries, what lies in wait is dystopia. The result is an 'antagonistic' mode of thinking, a belief that history swings from one big, integrated, all-encompassing system to another. Compared with modest advances, compromises and concessions – how boring! – the magnificent vision of a complete overhaul has so many charms.
The preference for the bold and the big has hazards. The inability to see unheralded achievements and hopeful signs in a frenzy to overhaul can often yield more destruction than construction. Hirschman had seen the toll of declinism before. Growing up in Weimar Germany, he watched his country fall prey to an 'ideological trap', and fork into extremes in the early 1930s, as Communists and Fascists agreed to tear down the republic in pursuit of their rival utopias – while disagreeing on everything else.
Decades later, Hirschman observed how Latin Americans despaired about the prospects for democratic reform. Their slide into what he called 'fracasomanía' – the propensity to see failures everywhere – blotted out real, incremental advances and achievements that fell short of high expectations. And the reason they fell short was because Latin America's decline had gripped democratic reformism. The result was to put more faith in ever-more extreme views and the temptations of direct action. Students at the University of Buenos Aires joined the ranks of urban guerrillas. At the other end of the spectrum, Argentine reactionaries bemoaned the end of Western civilisation and turned to paramilitary death squads. When the coup d'état finally came in March of 1976, the military junta baptised itself as the 'process of national re-organisation'. As close friends slipped into hiding or fled, Hirschman felt pangs of déjà vu. He began to have nightmares about the ideological traps of his youth. When German publishers asked him to write a special preface to the German translation of his classic Exit, Voice, and Loyalty (1970), memories of Berlin 1933 came storming back.
The problem with declinism is that it confirms the virtues of our highest, impossible solutions to fundamental problems. It also confirms the disappointments we harbour in the changes we have actually made. This is not to say there aren't deep-seated problems. But seeing them as evidence of ineluctable demise can impoverish our imaginations by luring us to the sirens of either total change or fatalism.

Jeremy Adelman
--
This article was originally published at Aeon and has been republished under Creative Commons.
Why is Machiavelli's The Prince still relevant today?
Machiavelli, Machiavelli-ng.
When you think of classic books, you probably think of books that are two hundred years old at most. Hugo, Dickens, Austen, Twain, Shelly, and so on. The great works of Shakespeare being the oldest literature that most people ever really read, outside of religious texts. But one work of Renaissance literature in Italy still stands out as one of the most important books ever written, and still strikes us with an uncanny feeling of understanding and dread when we think of it; The Prince, by Machiavelli.
Few books have garnered as much controversy during their existence as The Prince. It has been banned by the Catholic Church, seen as cynical by many, and was the basis for the naming of one of the worst psychological traits a person can have-Machiavellianism. This is the book that gave us such quotes as "It is better to be feared than loved, if you cannot have both", and "The ends justify the means". History's greatest how-to-rule guide has also been one of the most widely reviled books of all time.
And the worst part? This book is still incredibly relevant to us today.
The book begins by telling us that it is about how to run (specifically) an Italian renaissance autocracy in the same way that the (irony alert) ever relevant Art of War pertains to iron age warfare. While several portions of the book, such as the section discussing the proper ratio of local troops and mercenaries to build an army with are relics of times past, The Prince still offers us practical lessons in politics today.
While some of the best ideas in the book can seem obvious, like that a council of advisers should be wise men rather than flatterers; many people still don't follow the advice. Before Machiavelli, many of the big ideas he wrote about weren't even well agreed to.
Here are a few of the ideas that can be used, for good or evil, laid out by Machiavelli. 
"A prudent man should always follow in the path trodden by great men and imitate those who are most excellent."
"It is essential therefore for a prince to have learnt how to be other than good and to use, or not to use, his goodness as necessity requires."
"All courses of action are risky, so prudence is not in avoiding danger (it's impossible), but calculating risk and acting decisively. Make mistakes of ambition and not mistakes of sloth. Develop the strength to do bold things, not the strength to suffer."
"Be it known, then, that there are two ways of contending, one in accordance with the laws, the other by force; the first of which is proper to men, the second to beasts. But since the first method is often ineffectual, it becomes necessary to resort to the second."
"And here we must observe that men must either be flattered or crushed; for they will revenge themselves for slight wrongs, whilst for grave ones they cannot. The injury therefore that you do to a man should be such that you need not fear his revenge."
As you can see, many of the pieces of advice in the book are benign or even admirable. Most of them, however, suggest that a wise leader tend to healthy doses of brutality, suppression, and nighttime raids as needed. An idea that offends those of us who suppose that a righteous leader will always prevail in the end. It is that very idealism we love that The Prince warns us against.
While we might want our leaders to be Christlike or be the kind of guy we would want to have a beer with, Machiavelli points out that what we really need is effectiveness. The things that make a person nice are rarely the things that make a politician effective. A detail which is relevant not only to the petty tyrant, but also to the voter. 
Machiavelli had written extensively on republics before writing The Prince, and was held by many Enlightenment philosophers to be a closet republican. Rousseau went so far as to suppose The Prince was a satire on how brutal autocracy can be. In all likelihood, however, The Prince is a sincere how to guide on bringing wealth, glory, and stability to the state, by any means necessary. No matter what the author truly felt about the best way to run a country.
But, if it has all these useful tips, why do we dislike it so much?
Victor Hugo may have summed up our distaste for The Prince best in Les Miserables:

"Machiavelli is not an evil genius, nor a demon, nor a miserable and cowardly writer; he is nothing but the fact. And he is not only the Italian fact; he is the European fact, the fact of the sixteenth century."
We dislike him because he told us that our politicians cannot all be saints, if any of them can be. We know that Richard Nixon was both unscrupulous and effective, while our sense of justice tells us it shouldn't be so. Machiavelli's The Prince reminds us to focus on the real, understand that the virtuous politician is not the same as a saint by any measure, and that it is better to be feared than loved not only for kings, but also for political books.
Science fiction author David Brin analyses the moral within the Star Wars films – and it might not be one that you like.
Star Wars is one of the most successful film franchises in history. With millions of fans, and several spin off films coming into production, the series seems destined to continue for years to come. An excellent example of the Hero's Journey, the films are great fun, and are a decent way to spend a few hours.

But, in watching the movies, have you ever considered what the moral might be? Is there a message?
Science fiction author David Brin – author of The Postman, Startide Rising, and an astronomer who works with NASA – thinks he knows what the moral is, and it might not be one that you like.

He suggests that Star Wars "belongs to our dark past. A long, tyrannical epoch of fear, illogic, despotism and demagoguery that our ancestors struggled desperately to overcome, and that we are at last starting to emerge from, aided by the scientific and egalitarian spirit that [George] Lucas openly despises."
Oh, and he notes who he thinks the most evil character is… Yoda. As he put it:
"I do hope folks will notice, for example, that Yoda, in Attack of the Clones, orders the Jedi into a suicide charge that kills most of them, then conveniently shows up with the new clone army that he ordered. An act of treachery and betrayal so stunning that I had to watch the movie twice."
"I have defied folks to name one time when he says or does anything that is indisputably wise. The trail of destruction that follows him and every decision that he makes is inarguable and overwhelming."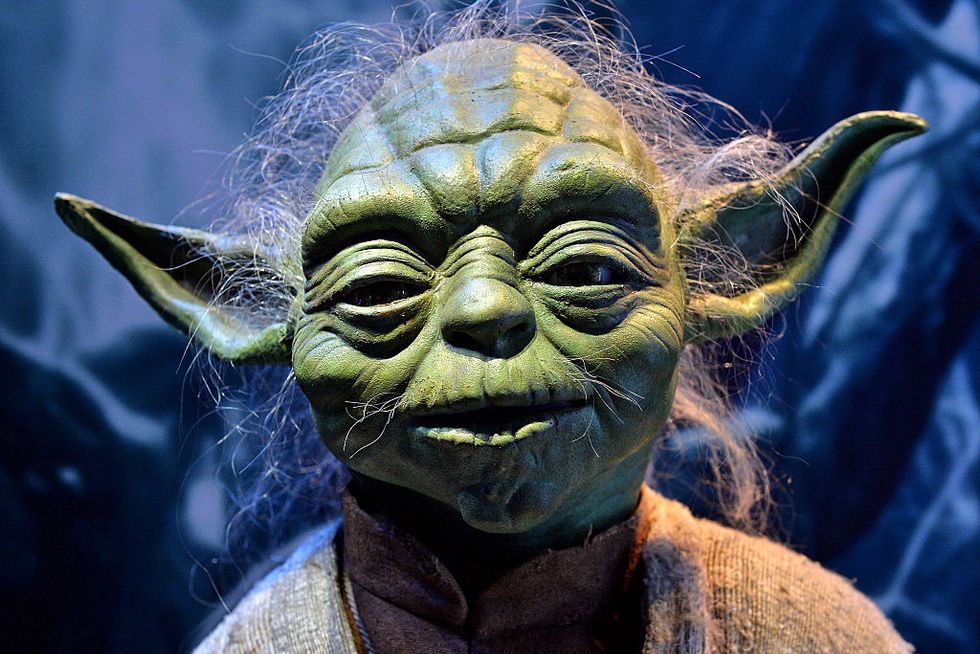 The face of a tyrant. 
If we look at it from Brin's perspective, the story reads like this:
In a galaxy where people are biologically disposed to being able to use magic, a group of those chosen few are asked to protect democracy and liberty. Not only do they fowl it up horribly, but their leader orders most of them into suicide missions and the one person who comes close to doing his job only manages it by means of a coup attempt, which is foiled by a poorly trained member of his own cult.
After that the dysfunctional republic, which never does anything, collapses. The empire, which seems much more on top of things, takes over. Billions are killed, but the story shows us that the main villain is redeemed merely by saving another chosen individual. No mention is made of the possibility of Darth Vader still being rather evil, or having more to do to redeem himself at this point.
In the most recent film, the new Republic is never shown doing anything but being destroyed – it is the First Order and a dictatorship that manages to build an impossibly large space station, using the energy of an entire star. An impressive level of technical achievement.  
Oh, and all the people responsible for half of this are related, because you need to be biologically disposed to use the force. These Mutant Demigods are the cause of, solution to, and focus of all the problems that kill billions of people. People who are not mentioned again after the plot point passes. 

He does note, however, that the first film had egalitarian, democratic messages. In that film, the ways of the force can be learned, Obi Wan even offers to train Han Solo in the force; but these messages are largely gone by the sixth film, as is the ability to learn the use of the force. 
Maybe Dr. Brin is just looking too far into it. After all, it's just a story!
Yes it is, but stories are important. Mythology allows us to make sense of the world, it is how we send messages across generations. Shared myths can give us a sense of community, in the science fiction genre especially.

And of course, the argument that something is "just a story" belittles it. If we are to take something seriously as a work of art, a great movie, or a strong narrative, we must analyze it. Saying that it is "just a story" as a way to get out of that analysis makes the film less substantial.
And, Lucas has admitted to supporting government by "A good despot", so maybe the idea that the films belittle democracy, as people think in China, is not too far of a stretch.
Dr. Brin does offer a lesson to potential writers on how not to fall into the pitfalls that Star Wars did. To him, most of it comes down to lazy writing.
"Why do almost no films ever show civilization functioning, institutions doing their jobs, democracy working? The answer is simple: laziness. A storyteller's job is to keep his or her characters in pulse-pounding jeopardy for 90 minutes of film, or 600 pages of a novel. It's hard to do that if they can dial 911 and get skilled professionals to come to their aid. So you see a panoply of tricks used by directors and authors to deny their characters useful aid. That's fine, but when the trick is to simply spread the assumption that there are no decent civil servants, there are no smart cops, there are no loyal first responders out there, then that spreads a propaganda message that such things are impossible in our real world. It takes real writing to come up with a way of keeping your characters in jeopardy, despite there being skilled professionals who want to help them…
How much better would it be if they showed the Republic sending its fleet to help and it was kept at bay by the First Order's fleet? Then you have a chance for three minutes of rollicking space battle that gives the Rebellion just enough of a gap to get through and attack the super mega granddaddy Death Star. It would be more exhilarating, and it would also say you know the Republic isn't useless. It's not going to save the day—that's going to be our heroes—but it could help them, and then you would come away with a notion that civilization isn't futile. It can help the heroes even if just a little bit."
So there you have it. Does Star Wars offer us a tyrannical, elitist message? Perhaps, but then again, some elements of the story were clearly not planned in advance: as pointed out in The Secret History of Star Wars. Luke wasn't related to Darth Vader until the last draft of the script for the second film. Perhaps this message is an error?
Then again, even if this message was planned, maybe that's alright. After all, in the West the idea of having several points of view in the public discourse is held as ideal. Maybe Star Wars is the voice arguing for dictatorships?

Or maybe, it is just a kids movie.